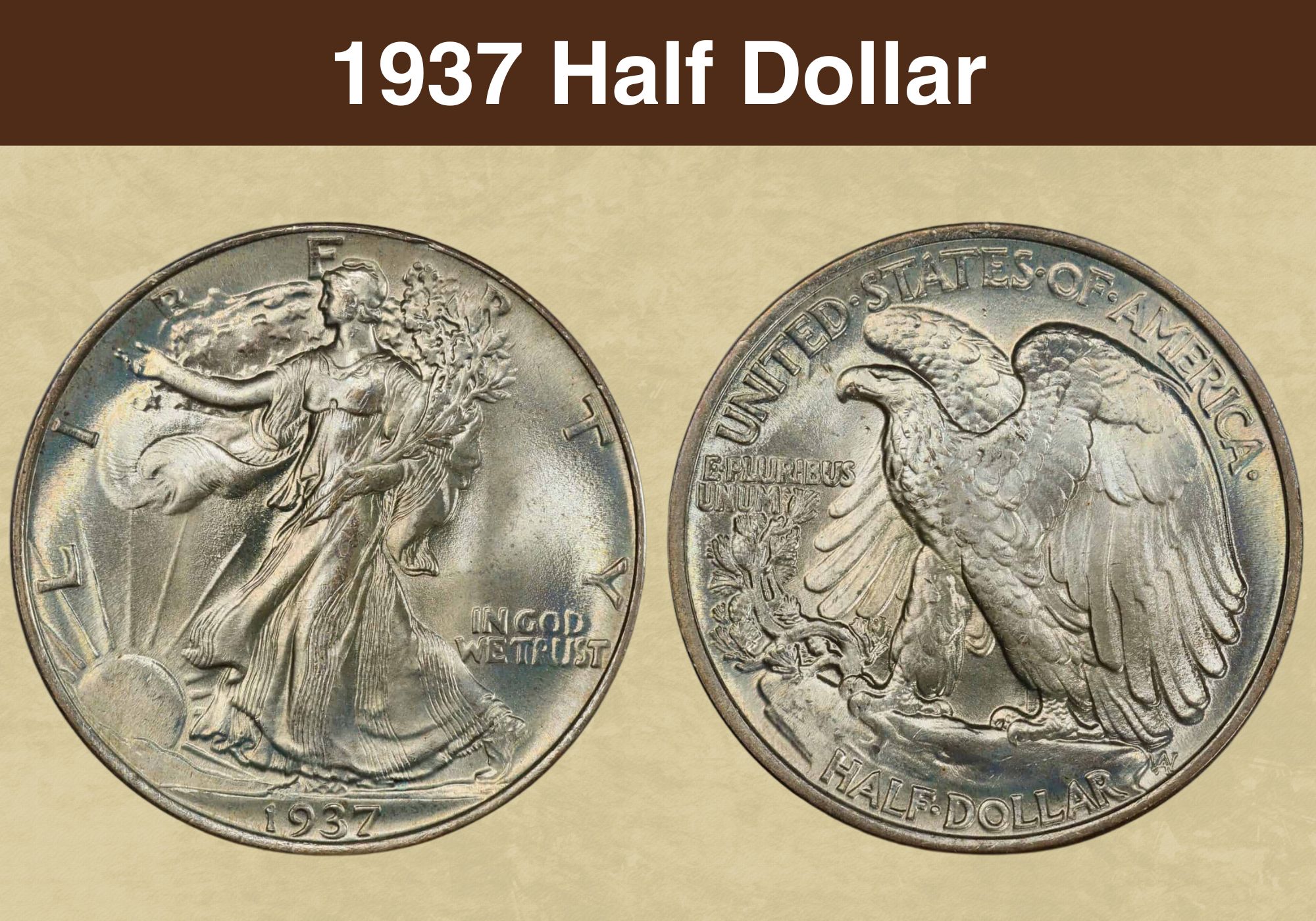 The 1937 half dollars are considered by many to be among the most beautiful American coins but what is a 1937 half dollar worth? The worth of 1937 half dollars, known as the Walking Liberty half dollars, depends on many factors that together determine its value.
In this article, we explore the 1937 half dollar value from circulated coins in good condition to uncirculated specimens. You can also find out about the historical background of the half dollar and the grading system used to determine the value of a 1937 silver dollar.
1937 Half Dollar Value Chart

Mint Mark
Good G4
Fine F12
About Uncirculated AU50
Uncirculated MS63
Uncirculated MS68
1937 No Mint Mark Half Dollar Value
$19
$21
$32
$85
$17,000
1937 D Half Dollar Value
$19
$21
$118
$312
$20,000
1937 S Half Dollar Value
$19
$21
$72
$244
–
The Walking Liberty half dollars were first minted in 1916 amid the First World War and economic disruption in the United States. Produced from 1916 until 1947, the coin's history is linked with two world wars as well as the Great Depression.
In 1915, the US Mint was still using a design by the US Mint Chief Engraver Charles E. Barber on the half dollar. The design dated back to 1892, and many considered it was time to refresh the look of the half dollar. Others also felt that the old design did not compare favorably against new coin designs, such as the Lincoln penny.
As a result, the Treasury Department looked into ways to elevate old designs to the level of the already redesigned ones. First, the Mint asked Barber and his assistant George T. Morgan to redesign the silver dollar, but their ideas were rejected by the National Commission of Fine Arts that oversaw coin designs.
Following their rejection, the commission asked three artists to submit ideas for the new coins. Among these was Adolph Weinman whose designs were selected not just for the half dollar but also for the dime.
Objections from Barber
Barber, who came from a family of Chief Engravers, felt rejected and made many objections under the pretence of making the new designs more easily coinable. At one point, he even tried to rework the design of several new coins, including the half dollar.
Barber even tried to get Weinman's design scrapped and replaced with his own design. When this suggestion was rejected, he reduced the size of Weinman's design and added a beaded border to make the coin easier to produce. However‌, these elements were removed and the US Mint used Weinman's original design.
Also read: 13 Most Valuable Franklin Half Dollars Worth Money
1937 No Mint Mark Half Dollar Value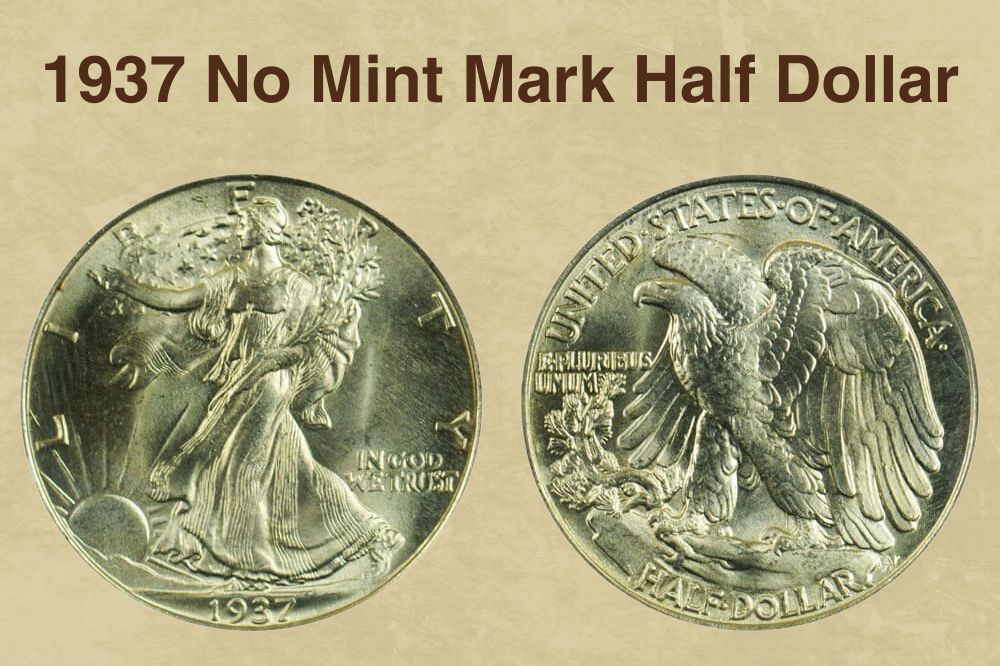 In 1937, the no mint mark half dollars were produced at the Philadelphia Mint and the facility released 9,527,728 coins into circulation. This number was far larger than the coins produces at the other two facilities, Denver and San Francisco, in 1937.
As a result, while the values of good and fine graded coins are valued the same across the three different mint varieties, 1937 no mint mark half dollars are usually valued lower at high grades. For example, an MS68 half dollar is worth $17,000 when found in Philadelphia mint variety compared to $20,000 for D minted coin.
On average, you can expect to buy or sell 1937 half dollars for $20 when they are in good or fine circulated condition. A coin with an about uncirculated grading, meaning that it looks almost as good as an uncirculated coin, is valued at $32.
However, when a coin is entered into an auction, it is not always possible to predict what will happen. For example, in 2006, an MS68 graded 1937 no mint mark half dollar was auctioned by Bowers & Merena. It had a guide price of $22,500 but ended up selling for $46,575. This is the auction record for 1937 no mint mark half dollar.
In 1937, the three mint facilities produced 13,288,000 half dollars in total. They were made with a composition that contained 90% silver and 10% copper. The coins have a diameter of 30.6 millimeters and weigh 12.5 grams. The half dollars are round coins with a reeded edge.
The Obverse
For the obverse of the half dollar, first released in 1916, Weinman designed an image of Lady Liberty, walking towards the rising sun. The sun represents a new day and the hope for a better future. She is wearing a flowing gown and a Phrygian cap, symbolic of freedom and liberty.
Lady Liberty holds an olive branch in her right hand to symbolize peace. In her left hand, she is carrying oak and laurel branches, which are symbolic of strength and victory. The word LIBERTY is inscribed along the top rim of the coin and the minting date is below Lady Liberty's feet. The phrase IN GOD WE TRUST is to the right of Lady Liberty, in the lower half of the coin.
The Reverse
On the reverse of the 1937 half dollar is an image of a bald eagle, which is perched on a rock and has its wings spread open. It looks like it is about to fly off. A branch of mountain pine is growing out of the rock to the left.
Above the eagle are the words UNITED STATES OF AMERICA, curving along the top rim. The Latin phrase E PLURIBUS UNUM is to the left of the eagle and above the branches of the mountain pine. The designer's initials are to the right of the rock, at the same level as the mint mark on the rock's opposite side.
1937 Proof Half Dollars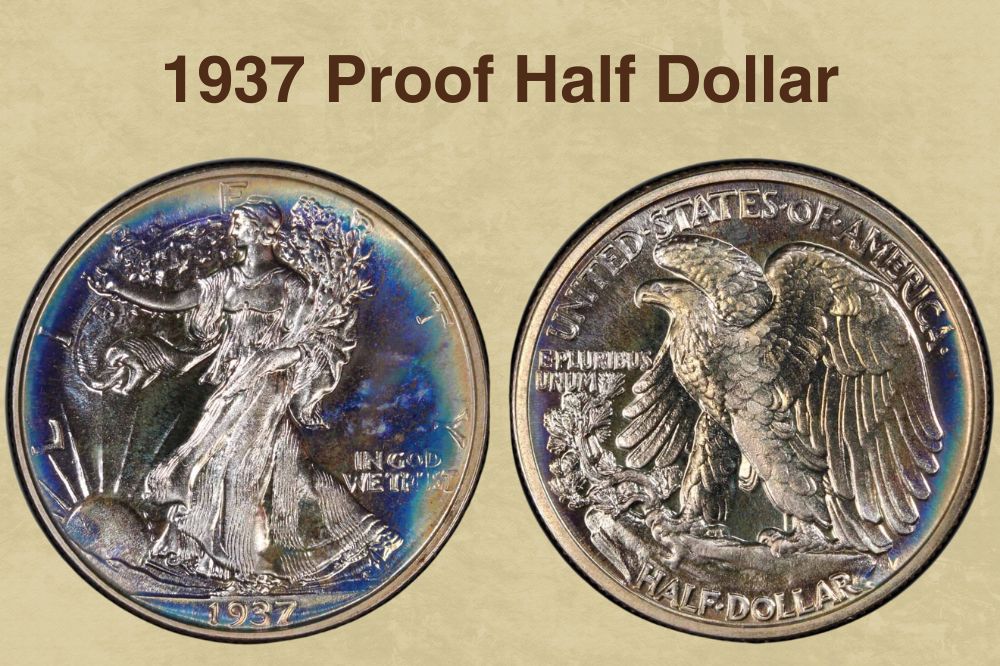 Philadelphia Mint was also responsible for minting proof half dollars in 1937. Only 5,728 proof coins were minted that year, which increases their value. Proof coins are different from regular strike coins as they are minted for collectors and not for circulation.
Proof coins are struck multiple times, which gives them a more detailed, mirror-like finish compared to regular-strike coins. Because of this, proof coins are graded slightly differently from regular coins and identified using the letters PR in front of the grade.
A 1937 proof half dollar is valued at $1,112 at PR63 and their values increase when the grades get higher. At PR68, the valuation is $17,500. However, the auction record for a PR68 graded proof is $60,000. It was achieved in 2020 at a Heritage Auctions sale.
1937 D Half Dollar Value
With just 1,676,000 half dollars minted in Denver in 1937, the facility produced the lowest number of half dollars that year. This has led to them being more expensive in the higher uncirculated grades. For most circulated specimens, the prices are on par with the other two mint varieties.
The higher values become noticeable when you compare the values for about uncirculated half dollars. While a no mint mark variety is worth $32, the Denver variety is worth $118, almost three times as much. It is also valued higher than the S-mint mark half dollar, which at this grade is worth $72.
The most valuable 1937 D half dollars are graded as MS68 and worth around $20,000. The auction record is from 2007 when a 1937 D half dollar was sold at Heritage Auctions for $23,000. However, this MS68+ specimen failed to achieve its guide price, which was an incredible $50,000.
1937 S Half Dollar Value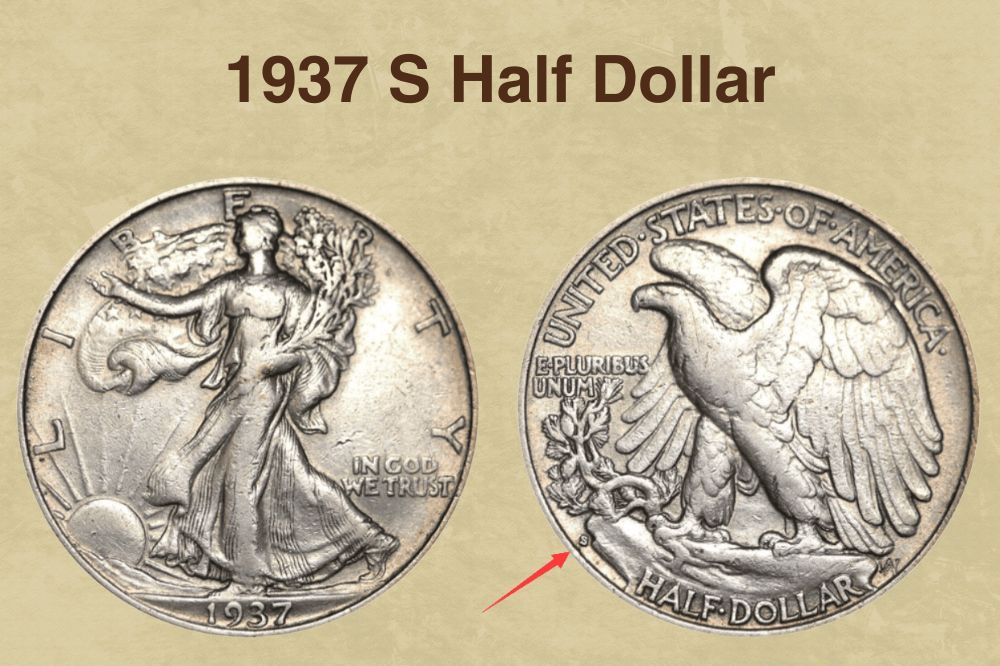 The San Francisco mint was the third facility tasked with producing half dollars in 1937. 2,090,000 S half dollars were released into circulation from San Francisco. The "about uncirculated" S half dollars are worth more than double the Philadelphia variety, but less than D-minted half dollars.
At MS67, S-minted 1937 half dollars are valued the highest among the three mint varieties. 1937 S half dollars are worth around $4,000 compared to $3,250 for D or $1,100 for no mint mark half dollars. There are no known 1937 S half dollars rated at MS68.
The auction record belongs to an MS67+ graded coin sold at a Stack's Bowers auction in 2020. The coin didn't quite meet its guide price, which was set at $30,000. Instead, it sold for $24,000.
Why do Some Coins Sell For Less Than Their Valuation?
When the auction-record-breaking S and D half dollars were sold, they both failed to reach the guide price set by the professional coin graders. In contrast, the no mint mark half dollar sold for more than twice its guide price, and the proof coin was sold for over three times the guide price. Why does this happen?
The guide prices are set by the professional coin graders based on a range of factors, such as the coin's availability, its mint variety, and its overall condition. However, the sale price depends on what happens on the day the coin goes under the hammer.
Sometimes, there may be many collectors who all want the same coin. If they enter a bidding war, this can result in the sold price being significantly higher than the guide price. On the other hand, if there are not enough interested collectors, the coin may not reach its guide price.
Also read: 13 Most Valuable Kennedy Half Dollar Worth Money
1937 Half Dollar Grading
Half dollars from 1937 are graded using a grade called the Sheldon scale, which is used for all old coins and starts with 1 and finishes with 70. The numbers from 1 to 59 are used for circulated coins and numbers 60 to 70 for uncirculated coins. The higher a coin's grading, the more valuable it is likely to be.
Rare 1937 Half Dollar Error Lists
1937 Half Dollar Double-Strike and Rotated In-Collar Error
While double-strike errors, where the coin has been struck more than once, occur comparably often, it is not often that the error is combined with a rotated in-collar. These errors occur when the planchet moves around the die machine's collar before the second strike. As a result, when the die strikes again, it strikes the image at a different angle.
The value of 1937 half dollars with this error depends on a range of factors, including the severity of the error and the overall condition of the coin. However, they can sell for higher prices than regular coins, such as the AU58 graded half dollar that was auctioned for $575.
1937 Minor Lamination Error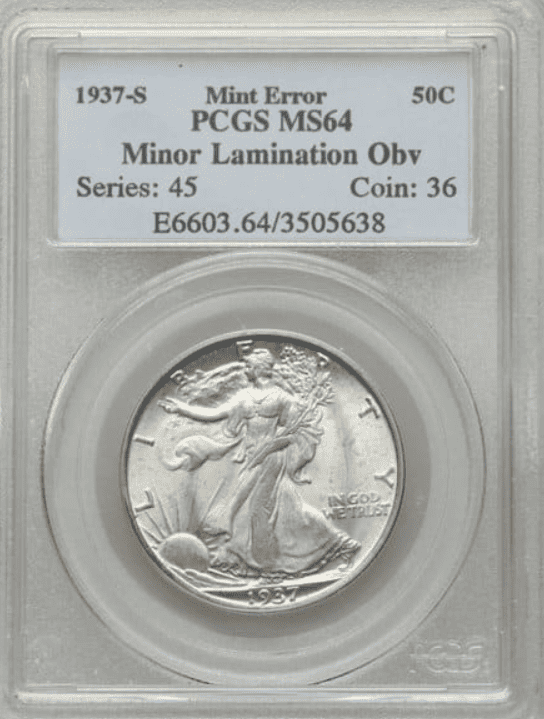 These errors, known as minor lamination errors, only occurred on the 1937 half dollars minted in San Francisco. While many mint errors can increase a coin's value, others can decrease it. Minor lamination errors are a good example of depreciating errors.
For example, 1937 S half dollars graded as MS64 are usually valued at around $300. In 2019, an MS64 graded half dollar with a mint lamination error sold for $120, which is less than half of what coins graded at this level could achieve in a normal condition.
Also read: 11 Most Valuable Half Dollars In Circulation
1937 Half Dollar Frequently Asked Questions
How much is a 1937 half dollar coin worth?
The values of 1937 half dollars vary depending on their mint variety, rarity, and overall condition. While coins in good to fine condition are worth around $20, mint state coins can be worth hundreds or thousands of dollars.
How can you tell if a half dollar is rare?
There are many factors that affect how rare a half dollar is. These factors include the number of coins minted, the mint variety, and error varieties. The condition of the coin is also a key determining factor. For example, coins meant for circulation are often rare in an uncirculated condition.