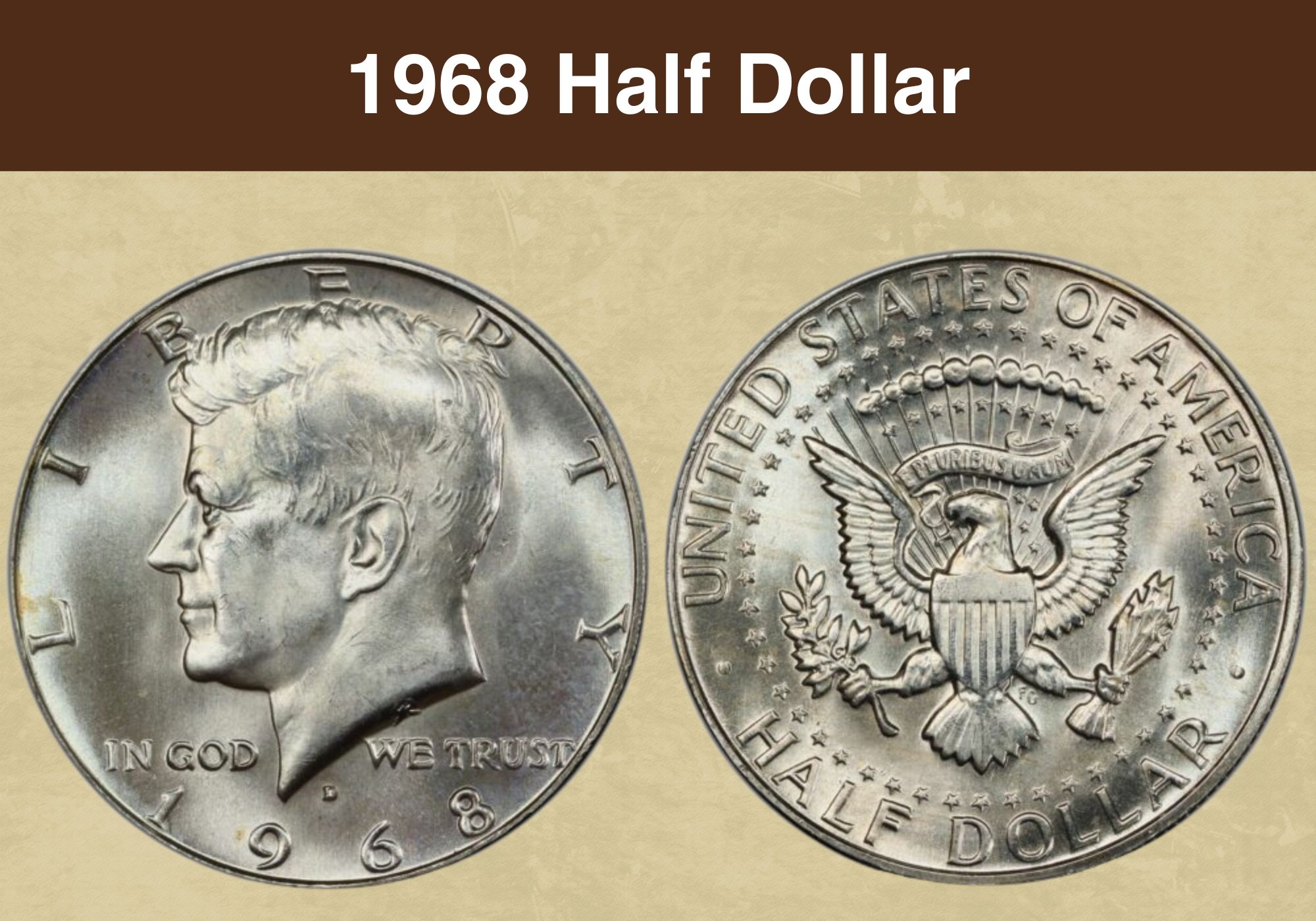 The 1968 Half Dollar was a Kennedy Half Dollar. It's an interesting year because it's smack in the middle of the transition from silver coins to cupronickel ones. It also perked people up because mint marks had reappeared after three years. Let's check the 1968 Half Dollar Value.
1968 Half Dollar Value Chart

Coin
Poor PO 1
Extremely Fine EF/XF 55
About Uncirculated AU 58+
Mint State MS 60
Mint State MS 65
Mint State MS 67
Proof PR/PF 70 DCAM
1968-D Half Dollar Business Strike
$25
$5
$6
$7
$20
$750
–
1968-S Half Dollar Proof Strike
–
–
–
–
–
–
$15,500
History of the 1968 Kennedy Half Dollar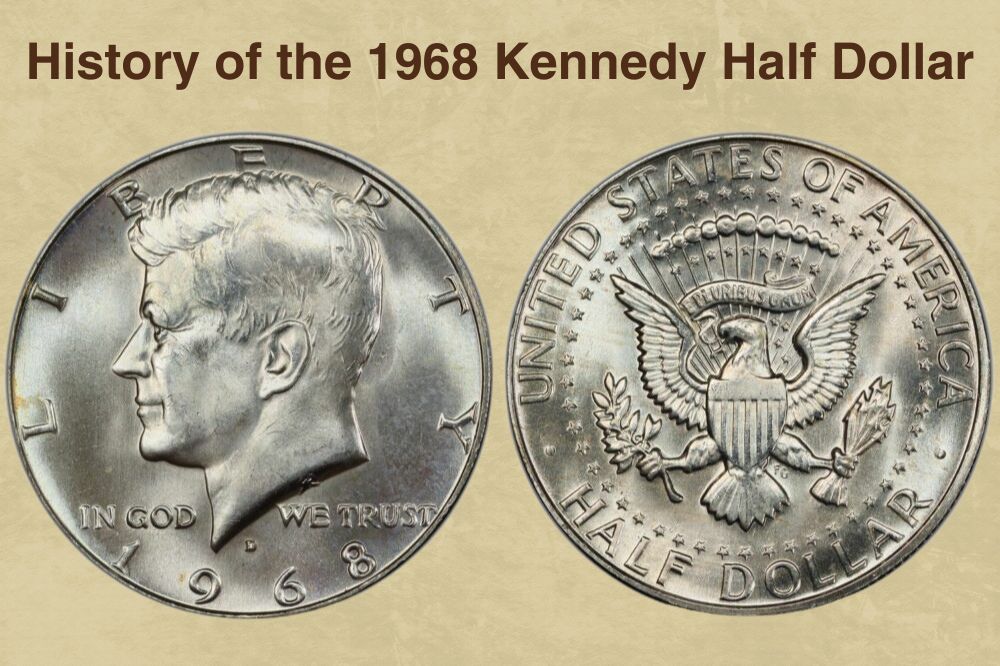 In the 1960s, silver prices shot up. This made members of the public hoard silver coins. The idea was to melt them and resell the molten metal at market prices, which were now higher than the coin denominations. In other words, the melt value was higher than the face value, so people were stashing coins for profiteering purposes. And this was a problem for the mint.
You see, people required coins for daily use. So the US Mint produced more and more but citizens continued to hide them, costing the mint a lot of money. To solve this problem, they introduced the Johnson Sandwich, named after President Lyndon Johnson. This new metal mix replaced the silver content in coins with a base metal alloy of copper, nickel, and zinc.
But the Half Dollar was the largest circulating coin so they didn't want to make it in base metal. As a compromise, they reduced the silver content from 90% to 40%. They tried this from 1965 to 1970, but since the Half Dollar remained a hoarding target, the mint gave in and switched to cupronickel in 1971. This means the 1968 Half Dollar was a 40% silver coin.
Also, the coin was fairly fresh, using the JFK design introduced in 1964. This was in honor of John Fitzgerald Kennedy, the 35th US President who had been assassinated late in 1963. So in addition to its precious metal value, the coin is a fan favorite since JFK was – and still is – one of the most beloved US presidents. Let's find out more about its features and specs.
Also read: 13 Most Valuable Franklin Half Dollars Worth Money
Features of the 1968 Kennedy Half Dollar
Let's look at a few technical terms that will help you describe the 1968 Half Dollar. The coin has words called mottos or legends while the image is called the device and the backdrop is known as the field. The thinnest part of the coin is the edge, which can be reeded or smooth depending on the denomination and design. The raised coin border is called a rim or collar.
The Obverse of the 1968 Half Dollar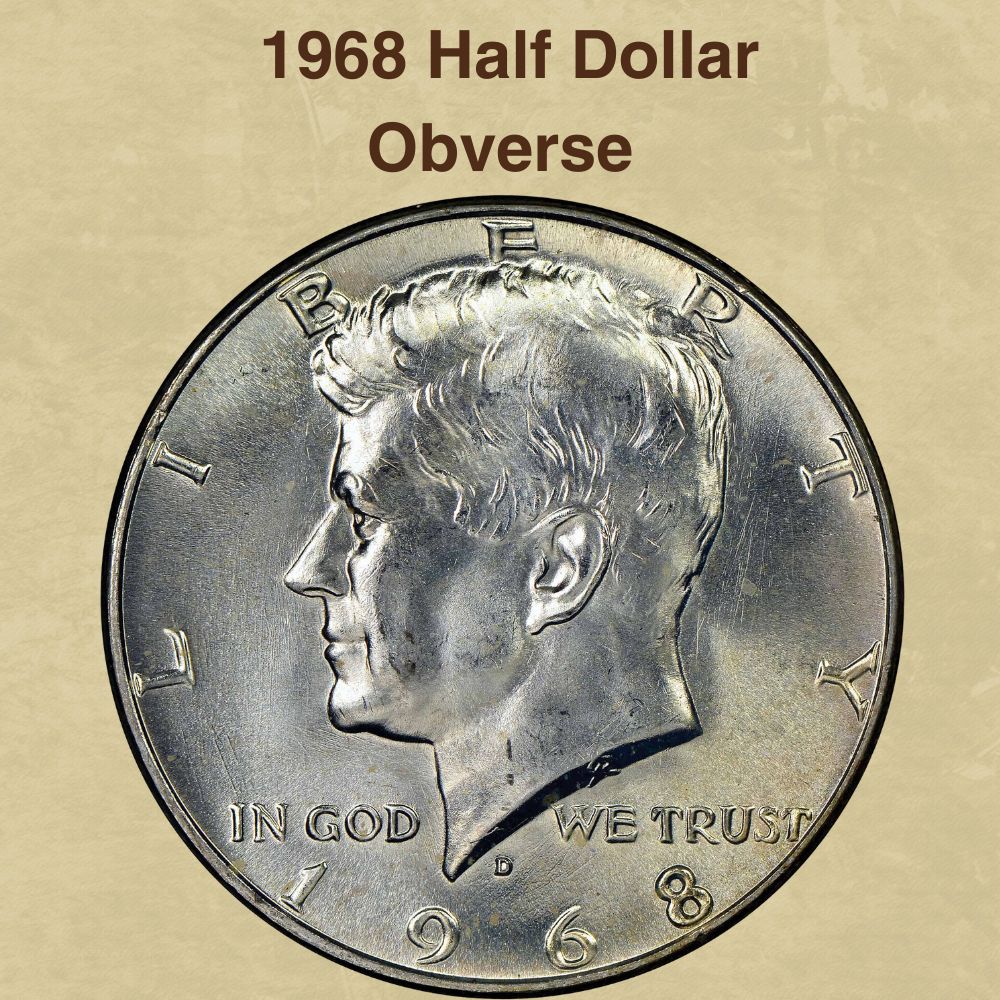 It shows John F. Kennedy facing left. The legend Liberty coils around his head, with BER partly covered by his hair. The motto In God We Trust flanks his neck with In God on the left and We Trust on the right. The date is at the bottom of the coin, with the mint mark above 9 and 6. GR for designer Gilroy Roberts is on the neckline cut-off above the We in We Trust.
The Reverse of the 1968 Half Dollar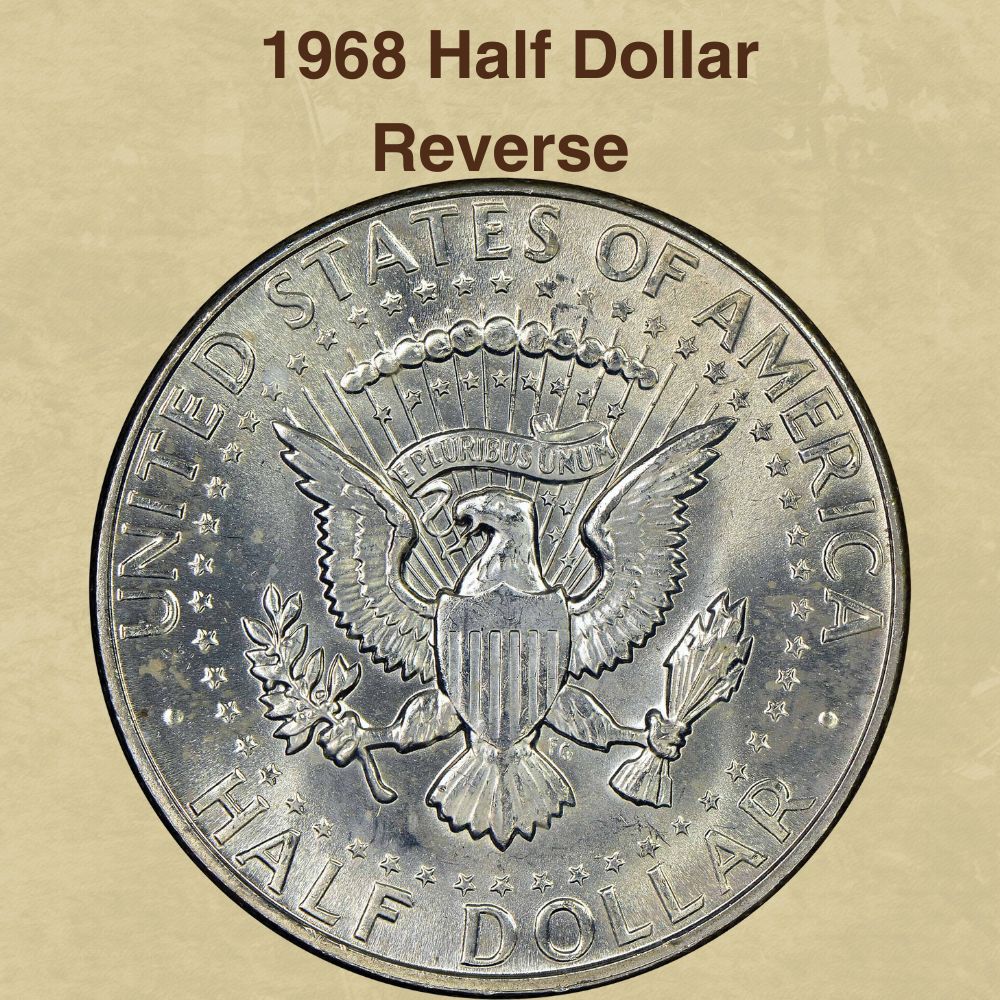 It shows the Seal of the US President, which is an eagle holding an olive branch and arrows. It has a shield on its chest and holds a ribbon that says E Pluribus Unum. Above the ribbon are puffs of clouds, rays of sunlight, and stars. FG for designer Frank Gasparro is between the tail and the right leg. The top says United States of America. The bottom says Half Dollar.
Other Features of the 1968 Half Dollar
As we mentioned, the 1968 Half Dollar was Silver Clad, meaning it had a total of 60% copper and 40% silver. The coin measured 30.61mm in diameter (1.205") and was 2.15mm thick (0.085"). Like all Silver Clad Half Dollars, they weigh 11.5g. Kennedy Half Dollars have 150 reeds. They're the largest circulating denomination in the US since $1 coins are rarely used.
Also read: 13 Most Valuable Kennedy Half Dollar Worth Money
1968 Half Dollar Value Guides
From 1965 to 1967, Half Dollars didn't have any mint marks because of the coin shortage. The Mint Director, Eva Adams, believed removing mint marks would discourage collectors and thereby deter hoarders. Then from 1968 to 1970, the Philadelphia Mint didn't make any Kennedy Half Dollars. So 50-cent coins from those years all had D or S Mint Marks on them.
1968-D Half Dollar Value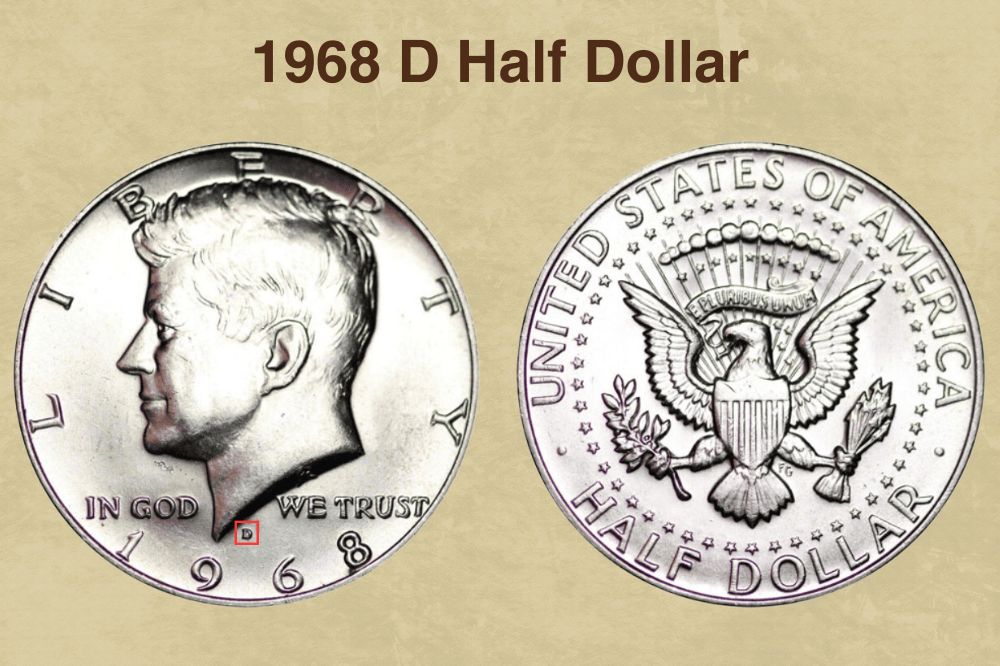 In 1968, the Denver Mint produced 246,951,930 Half Dollars for circulation. These 50c coins all had the D Mint Mark. On 21st August 2019, a coin graded MS 67+ sold for $7,500 on eBay though PCGS only sold one for $4,920 in January 2022. They've received four coins in this grade so they appraise the price at $5,000 in July 2023. But they estimate MS 68 at $15,000.
That said, coin prices depend on the sales date and rarity, so in July 2023, a PO 1 is evaluated at $25 with only 3 submitted for grading. Meanwhile, a PO 2 was $70 in June 2021 but with 8 coins submitted, their value is down to $8. Further up, PCGS has received more than 60 coins graded MS 67, the third-highest grade so far. That makes their July 2023 value $750.
1968-S Proof Half Dollar Value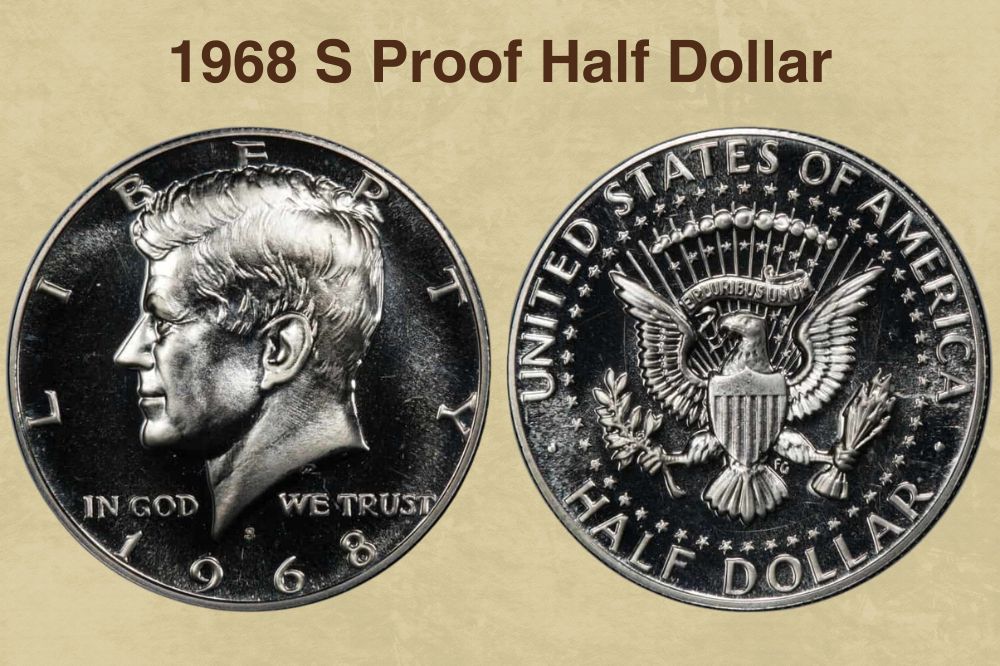 Proof coins are slightly different from circulation coins aka business strikes or regular strikes for everyday use. Mirror-like proofs are made with burnished blanks and frosted fields. They have a strong contrast between the image and its background. Coins that show the highest level of distinction are graded as Deep Cameo coins, followed by Cameos and normal proofs.
The mirror-like finish comes from tumbling the blanks aka planchets in a drum full of 6mm stainless steel balls before striking. These burnished blanks are then struck with special dies to get a polished field and a frosted device or vice versa. The frosted sections were pickled in acid until 1970, but now the mint uses computerized lasers to create that deep hazy texture.
In 1968, the San Francisco Mint coined 3,041,506 Proof Half Dollars with the S Mint Mark. On 1st September 2008, a PR 63 sold for $1,725. And on 10th November 2013, a PR 67 CAM sold for $1,815. More recently, on 2nd November 2021, a PR 70 DCAM – the perfect grade – sold for $21,600. But PCGS has received 16 of these so their 2023 value is down to $15,500.
Also read: 11 Most Valuable Half Dollars In Circulation
1968 Kennedy Half Dollar Grading
As we keep saying, early Kennedy Half Dollars were popular with hoarders. This makes it easy to find them in good grades. So before you spend money getting them graded, you can start with some DIY assessment tips. The PCGS Photo Grade is fairly accurate, and if you're sure your coin is worth $1,000 or more, you can still send it in to validate your appraisal.
Rare 1968 Half Dollar Error List
Whenever a new coin is produced, numismatists analyze it for mint errors that could raise its value. Any mistakes discovered, verified, and recorded within 30 days of release are called First Strike Errors and numbered FS. Let's look at some examples from the 1968 Half Dollar. We'll also review the prices of mechanical errors like cud breaks, die caps, or misalignment.
1968-D Half Dollar TDO Error FS-014
Coins have detailed devices and designs that are often struck two or more times to ensure clarity. Sometimes, the second or third strike lands in a different spot. If this happens while the hub is hitting the die, it's called hub doubling or a doubled die error. In this case, we have a tripled die obverse, but it's not expensive. An eBay vendor sold an MS 64 for $299 in 2012.
1968-S Proof Half Dollar DDO Error FS-101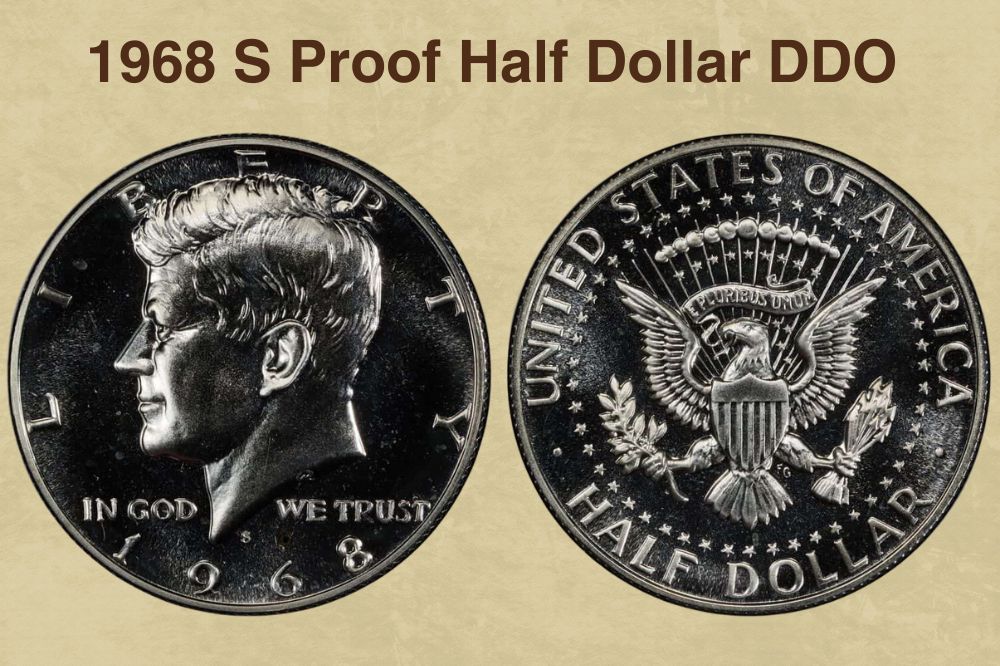 We've just explained hub doubling (or in the case above, hub tripling). When the die gets that error, it's copied on every coin made with that die, so it becomes a variety. This DDO (doubled die obverse) was only spotted on proof coins. A PR 68 was $325 on eBay in May 2022 while a PR 68 CAM went for $646 in April 2017. The latter was at Heritage Auctions.
1968-S Proof Half Dollar DDR Error FS-801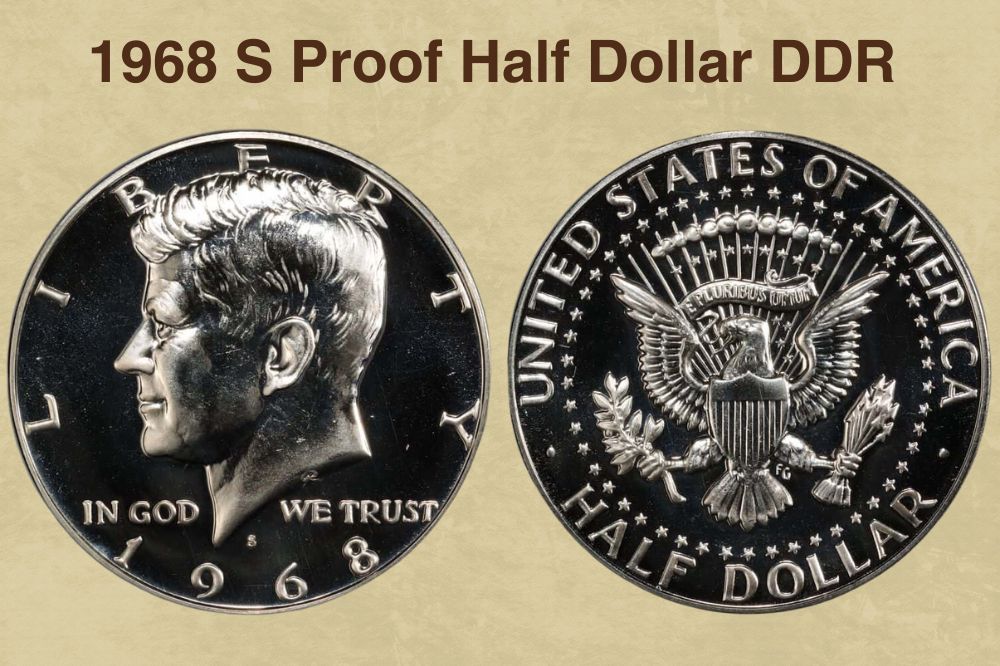 A DDR (doubled die reverse) is similar to a DDO except it occurs on the back of the coin aka the tails side. It's quite common in MS 67 with 500 samples graded. That's why a PR 67 only went for $494 in September 2016. But a PR 67 CAM was $2,820 in October 2015 and a PR 68 DCAM was $3,833 on 12th June 2022. Two coins are known, worth $2,500 in July 2023.
1968-D Half Dollar Triple Clip + Partial Collar Errors
Planchet sheets go through a blanking machine to punch them into discs. The leftover metal often has holes in it before it's melted down and recycled. In this case, the coin was struck on a blank that had holes or clips on three sides plus a collar error. Coins with multiple mistakes can be even more valuable as the errors piggyback off each other. In MS 61, it sold for $140.
1968-D Half Dollar Die Adjustment Strike + Obverse Wheel Mark
Here's another coin with multiple errors. Usually, for a design to stamp effectively, mint workers have to calibrate the right pressure. If it's too low, the imprint won't transfer fully. If it's too high, it may pierce through the metal. Error coins produced during this testing stage are called die adjustment errors. Coupled with a wheel strike thru, the coin sold for $100.
1968-S Proof Half Dollar Inverted Mint Mark Error FS 511
Before 1990, mint marks were the last coin detail and they were added to the master hub by hand. A mint worker would apply it using a tool called a hand puncheon. If the handler was unsteady, you might get a doubling error like a re-punched mint mark or a misalignment like an inverted mint mark. Here, the S was punched upside-down. A PR 66 was $705 in 2016.
1968 Kennedy Half Dollar FAQ
What is the 1968 Half Dollar Worth?
In 1968, circulating Half Dollars were made in Denver while proof coins were minted in San Francisco. The highest price for a 1968-D Half Dollar was $7,500 for an MS 67+ in 2019. But in July 2023, an MS 67 is worth $750, an MS 67+ is worth $5,000, and an MS 68 is worth $15,000. As for proof coins, a 1968-S Proof Half Dollar graded PR 70 DCAM was $21,600 in November 2021. More than fifteen of these coins exist, so their value in July 2023 is $15,500.
Are All 1968 Half Dollars Silver?
Yes, all the 1968 Half Dollar coins were 40% Silver and 60% Copper. But the mint wanted them to look as elegant as previous silver coins. So the coin was divided into inner and outer layers, each with a different metal mix. The coin's core was 79% copper and 21% silver while the outer layers were 80% silver and 20% copper. This gave the outside some extra shine.
How Do I Know if my 1968 Half Dollar is Silver?
As we confirmed earlier, all 1968 Half Dollars are 40% silver. But if you have 50-cent coins from other years and you're unsure of their precious metal content, you can check the reeds. Cupronickel clad coins get roughed up at the rims so the nickel coating may fade over time. If you check the edges, you may see traces of the copper core bleeding through so you'll know they're not silver. Also, only Half Dollars from 1965 to 1970 are 40% silver. Before that, they were 90% silver with 10% copper. And after 1971, they were 91.67% copper and 8.33% nickel.