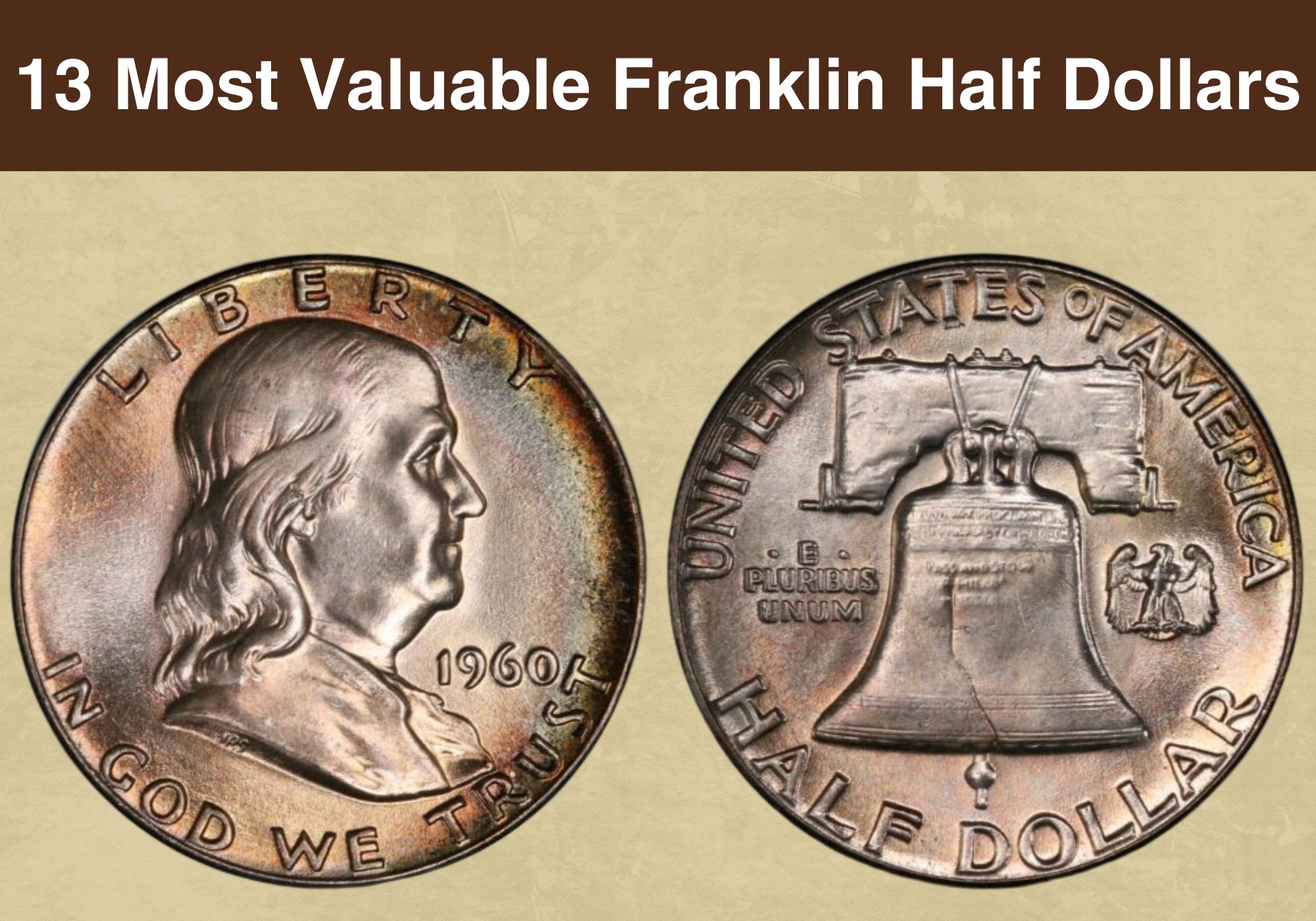 When America decided to put people on their money (as opposed to symbolic images of freedom i.e. Lady Liberty), they started with the Founding Fathers. The first three were US Presidents, and the fourth was Benjamin Franklin, a seasoned diplomat. Let's learn more about this famous man and his coin as we spot the Most Valuable Franklin Half Dollars.
Most Valuable Franklin Half Dollars Worth Money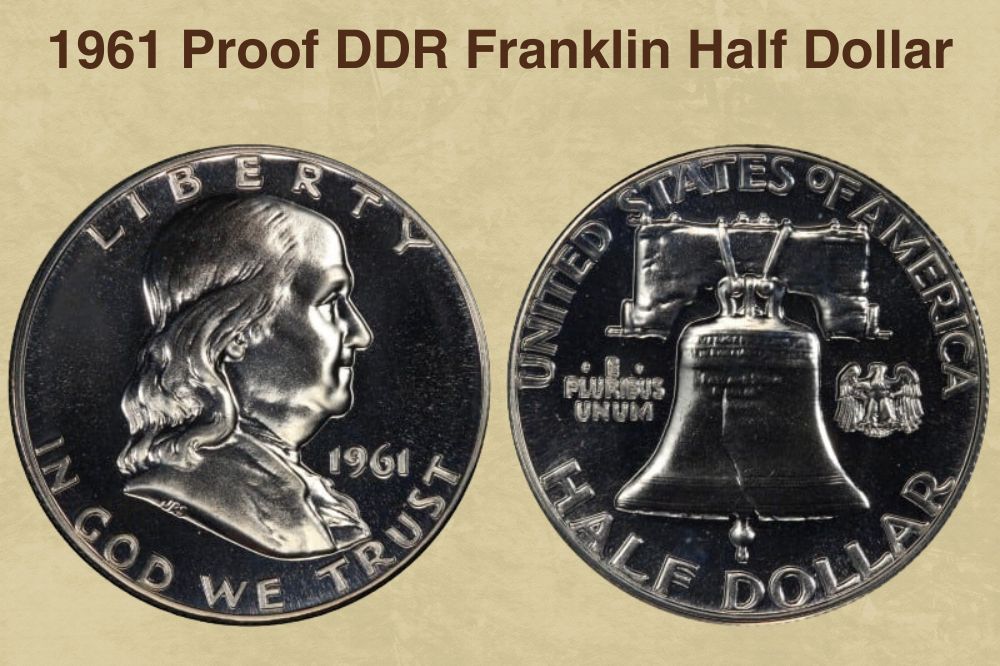 Depending on how you count them, we had about 15 Founding Fathers. That's if you list everyone that signed the Declaration of Independence. But in terms of their active roles, history acknowledged 7 as the most important ones and 4 of them went on to become US Presidents. Benjamin Franklin is one of the seven, but he never reached the White House.
Year: 1961
Mint Mark: None (Philadelphia)
Error: Doubled Die Reverse
Grade: PR 68
Date of Sale: 11th August 2020
Price: $14,400
Some say it's because he wasn't interested in the spotlight and preferred to work behind the scenes. Others say his age and health couldn't withstand presidential ambitions. Either way, he had so many achievements that many people don't know he wasn't a US president! And since he sits on the $100 bill, his image and prestige is still high centuries after his death.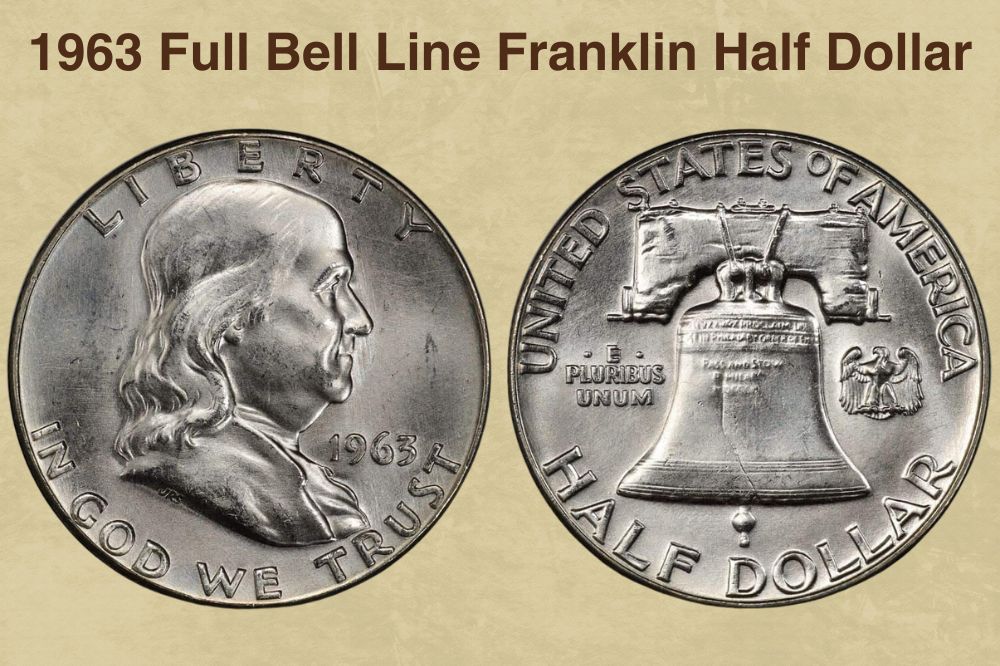 Like George Washington, Benjamin Franklin disliked having human portraits of coins. But like Washington, he was so beloved and admired that he ended up on one anyway. For Washington, the memorial happened on the 200th anniversary of his birth. For Franklin, 1948 wasn't a milestone in his life. It was simply the year that Nellie Tayloe Ross got her way.
Year: 1963
Mint Mark: None (Philadelphia)
Grade: MS 66+ FBL
Date of Sale: 26th September 2019
Price: $85,188
A great admirer of Franklin's legacy, this Mint Director lobbied to have him on the 50-cent coin. Generally speaking, Congress had to vote before any coin design could change. But the 1890 Coinage Act granted the US Mint the authority to revamp any coin that had circulated for 25 years. And the 1916 Walking Liberty Half Dollar qualified, so it was the natural choice.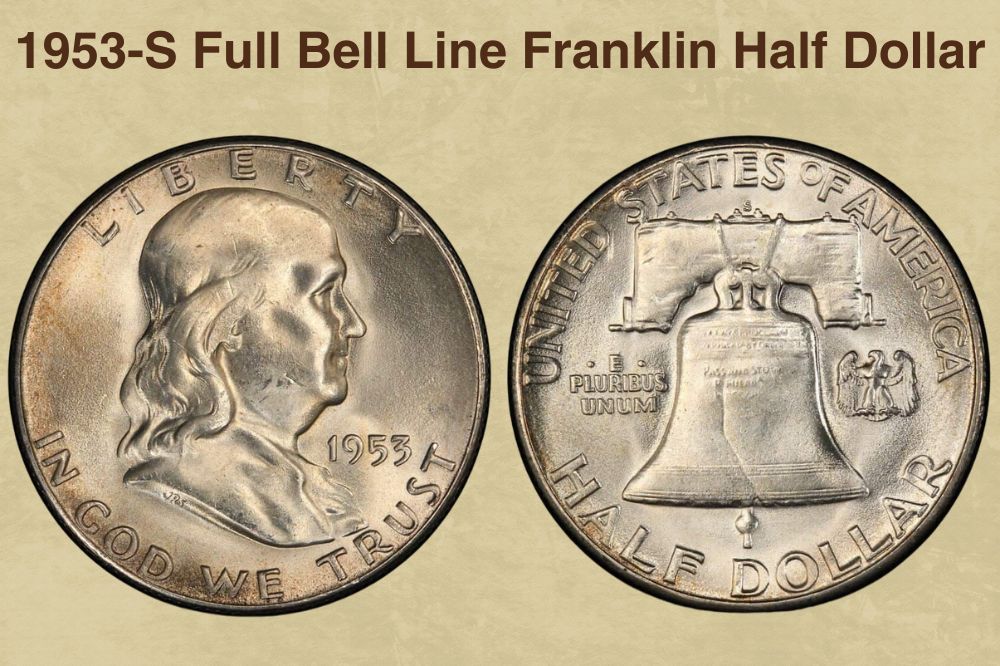 The Franklin Half Dollar was coined from 1948 to 1963. By this time, external artists were routinely commissioned to design coins. The practice began with Augustus Saint-Gaudens, who had been hired at the behest of Theodore Roosevelt, the 26th US President. He felt mint engravers were too conservative in their design choices and brought in contemporary tastes.
Year: 1953
Mint Mark: San Francisco
Grade: MS 66 FBL
Date of Sale: 3rd March 2001
Price: $69,000
These outsourced artists often clashed with government engravers, but it's what the White House wanted so the policy continued. However, in 1946, Chief Mint Engraver John Sinnock designed the Roosevelt Dime. It was a rush job that needed to be posthumously completed by FDR's 64th birthday, so it was done in-house to save time. And this reset the precedent.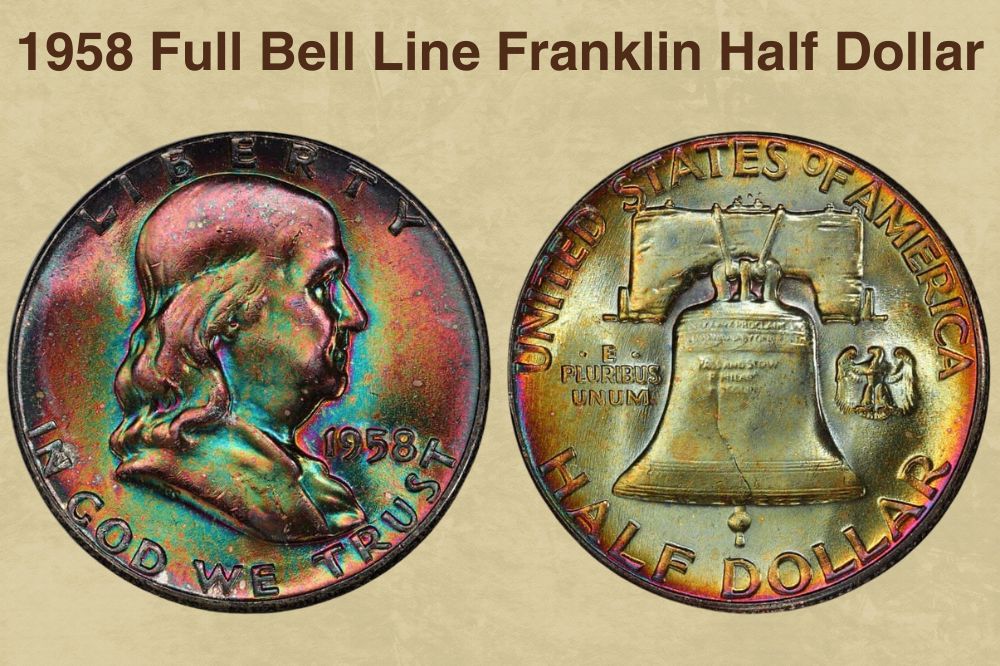 So a year later when Ross was inspired to put Franklin on the coin, she asked Sinnock to draft the design. He was unwell so the bulk of the work was done by assistant and successor, Gilroy Roberts. Roberts didn't get credit for the coin though. It only carried Sinnock's initials and that may have protected Roberts from the wrath of anti-communist conspiracy theorists.
Year: 1958
Mint Mark: None (Philadelphia)
Grade: MS 67+ FBL
Date of Sale: 27th September 2018
Price: $129,250
More on that later. Let's start with the coin design itself. While Franklin was never President of the United States, he served as the President of Pennsylvania from 1785 to 1788. The back of his coin therefore features the Liberty Bell, a key Philadelphia icon that was first mounted in the Pennsylvania State House steeple. (A steeple is a church tower with a spire and a bell.)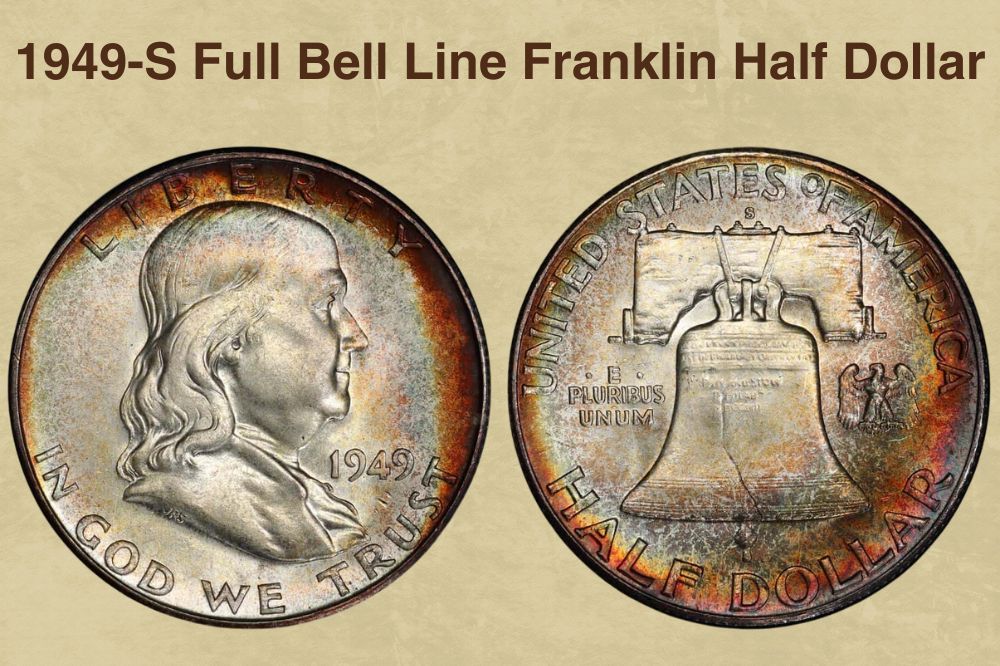 According to coinage law, 50c coins had to have an eagle on them, so a tiny one was later squeezed in beside the bell. E Pluribus Unum was tucked on the opposite flank of the bell. There was also some controversy about whether the bell should display its trademark crack on the coin. Despite objections, they decided to keep it in the interest of historical accuracy.
Year: 1949
Mint Mark: San Francisco
Grade: MS 67+ FBL
Date of Sale: 27th September 2018
Price: $31,725
For the record, the crack occurred the first time the bell rang on American soil. And although the crack was repaired multiple times, it kept reappearing because of how the bell was made. To date, the bell has inscriptions naming the first craftsmen that tried to fix the flaw, though some claim they did a shoddy job, so they were probably ambivalent about the association.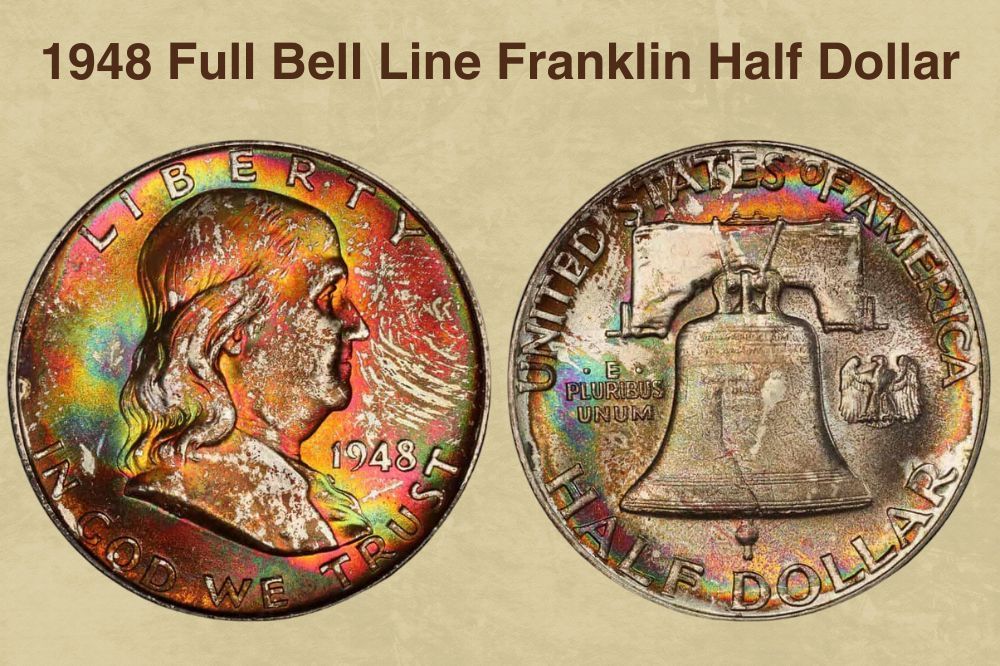 Interestingly, the liberty story is a tale of four bells. The first one was ordered in 1751 and arrived the next year. But after the two Johns (Pass and Stow) repaired it twice, Pennsylvania Assembly Speaker Isaac Norris ordered a second one from London. This newer bell cracked too, but it was duly installed at the tower clock. The old bell was quietly relegated in service.
Year: 1948
Mint Mark: None (Philadelphia)
Grade: MS 67 FBL
Date of Sale: 30th July 2003
Price: $28,750
Today, the bell sits at Liberty Bell Centre, a building at the Independence National Historical Park. It's across the street from Independence Hall, previously known as Pennsylvania State House. That initial location is why people called it the (Old) Statehouse Bell until 1835. The new title came from abolitionists who adapted its biblical quote for antislavery campaigns.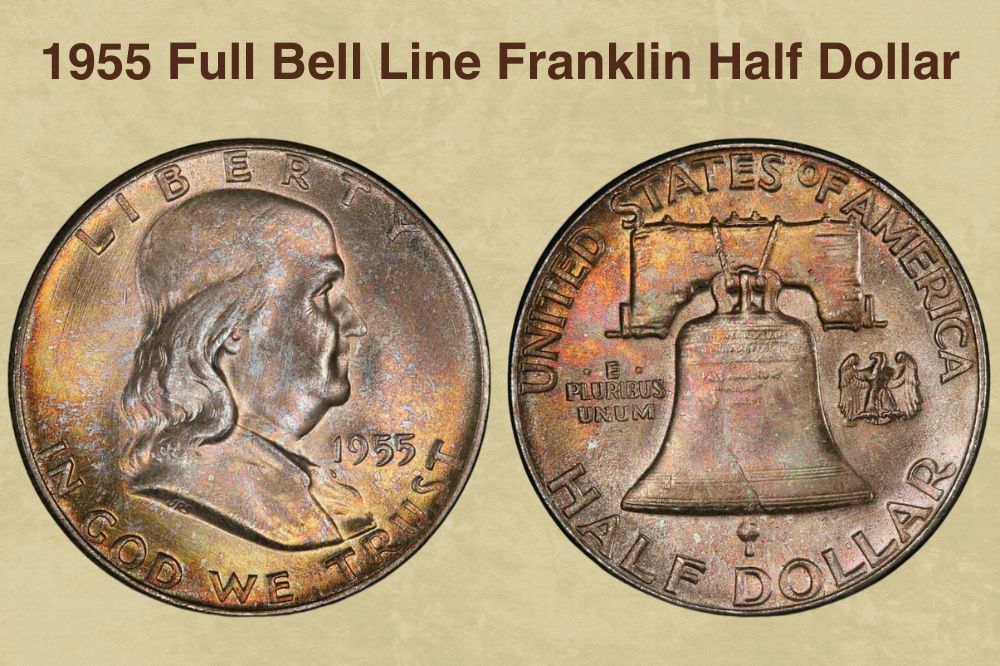 The bell moved from Independence Hall to Independence Mall in 1976. It finally settled at its current home in Liberty Bell Centre in 2003. And before it arrived in Philadelphia, the city had an older bell hung on a tree. But in 1751, they built a formal bell tower and ordered this new clanger to go with it. By the end of 1752, Pennsylvania State House hosted two big bells!
Year: 1955
Mint Mark: None (Philadelphia)
Grade: MS 67 FBL
Date of Sale: 6th January 2016
Price: $14,100
The story gets a bit murky here. One bell was protected during the Revolutionary War to hide it from the redcoats (British Soldiers). This was in 1777, and the bell came back in 1785. In 1799, the City of Philadelphia bought one bell when the state capital shifted to Lancaster. But the second bell sold to St. Augustine's, burned when the church was attacked, and was recast.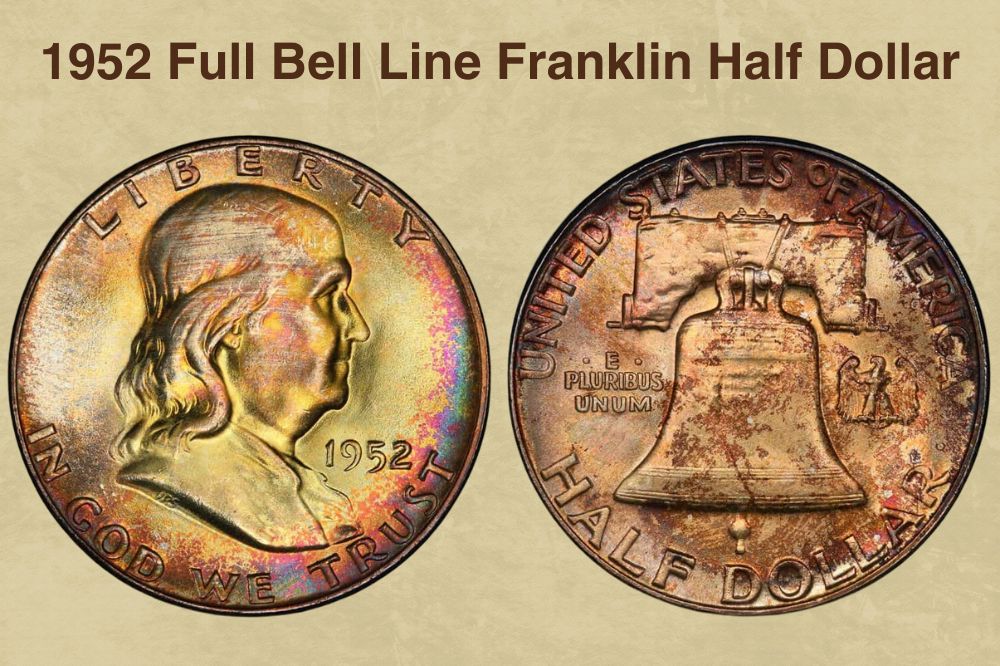 As is, one bell sits at Villanova University while the other lives in Liberty Bell Centre. They're both marred, but while we can trace the date and cause of the first bell crack, it's unclear how or when it happened to the second one. These cracks persist despite repeated repairs. Some museum analysts in 1975 think it was because the bells were cast with more tin than copper.
Year: 1952
Mint Mark: None (Philadelphia)
Grade: MS 67+ FBL
Date of Sale: 27th January 2019
Price: $42,300
What about the third bell? It was a Liberty Bell replica aka the Centennial Bell. It comprised four canons melted to make a 13,000lb bell that rang at the 4th July 1876 Centennial. It now hangs in the Independence Hall steeple. The canons were used by the British, Revolutionary soldiers, the Union, and the Confederates, while the 13,000lbs are for the 13 original states.
The Liberty Bell toured the US from 1866 to 1915, but it paid the price in damage. In 1914, city engineers reinforced it with an internal metal scaffold called the spider. Finally, the fourth Bicentennial Bell was a replica done by the original company in 1976. Queen Elizabeth II presented it and it currently hangs at the former Park Service Visitor Centre, South 3rd St.
Year: 1951
Mint Mark: San Francisco
Grade: MS 67 FBL
Date of Sale: 24th April 2013
Price: $30,550
Here's a fun fact – today's Liberty Bell Centre (LBC) covers part of the grounds at the former President's House. It was the US 'White House' of George Washington and John Adams, the first two US Presidents. Besides the four bells listed here, other Liberty Bell clones include the Suffragists Justice Bell, the 55 State + Territories Bells, and the English Freedom Bell.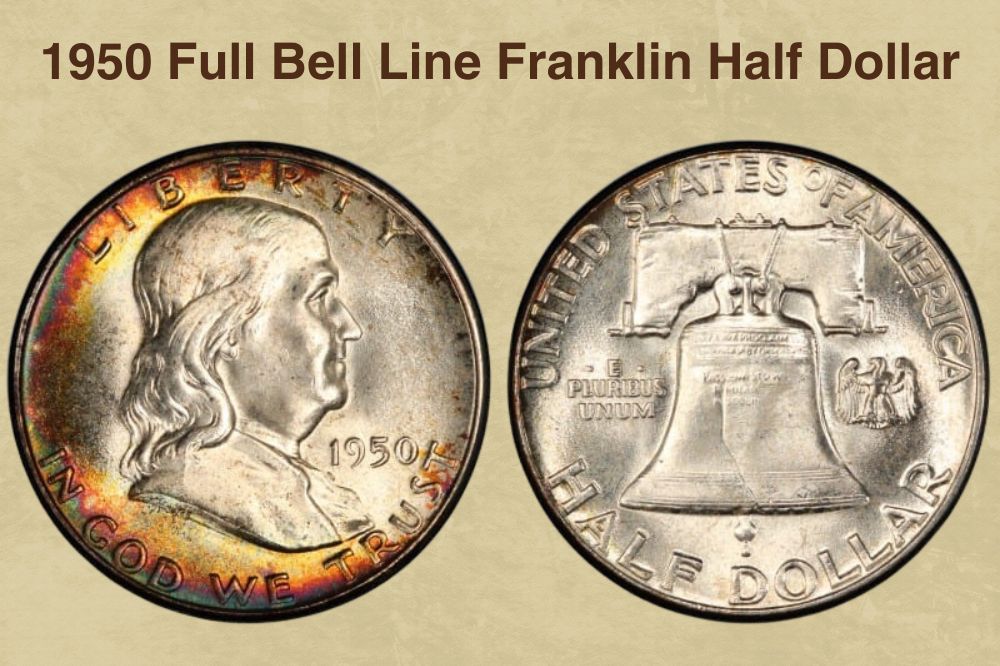 The Liberty Bell appears on both the Franklin Half Dollar and the $100 bill. But while it's a large part of their history, it isn't the whole story, so let's review some other aspects of these currencies, particularly the most valuable Franklin Half Dollars. But first, a humorous note. Franklin hated 'scavenging eagles' and felt turkeys should be the American national bird!
Year: 1950
Mint Mark: None (Philadelphia)
Grade: MS 67+ FBL
Date of Sale: 22nd October 2018
Price: $39,600
Now, remember that both the dime and the half dollar were eligible for replacement. The penny was too, but nobody wanted to mess with Lincoln. The Franklin Dime was considered for a hot minute. But when that went to FDR, the Half Dollar won the day. Sinnock modified his Franklin Medal for the 50-cent obverse (heads side). The reverse (tails) proved trickier…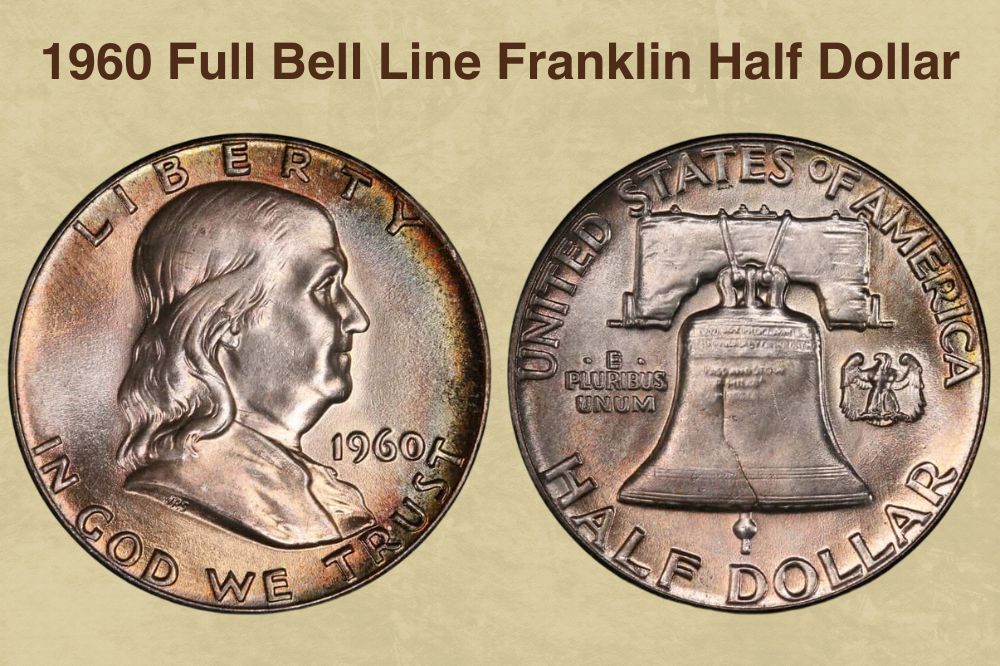 He used the 1926 Sesquicentennial Half Dollar as a starting point. But this inspiration veered toward plagiarism – the Liberty Bell sketch for the earlier coin was by John Frederick Lewis! The task was completed by Gilroy Roberts after Sinnock's death, but just like his previous FDR initials, people thought the JRS for John R. Sinnock was secret praise for Joseph Stalin.
Year: 1960
Mint Mark: None (Philadelphia)
Grade: MS 67 FBL
Date of Sale: 10th August 2016
Price: $28,200
Earlier, we mentioned Teddy Roosevelt's coin beautification program. To maintain these ideas, the Commission on Fine Arts (CFA) was launched in 1910. It's a 7-member committee that offers aesthetic advice on coins, monuments, DC buildings, etc. For the Franklin Half Dollar, they disliked the crack on the bell and the size of the eagle. The mint ignored them.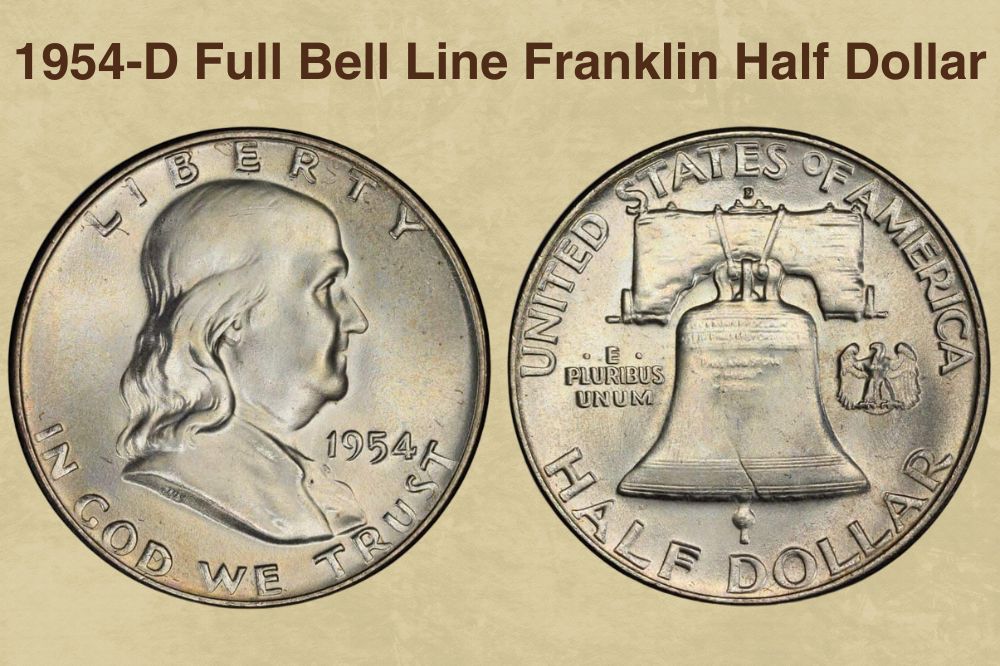 In releasing the Franklin Half Dollar, Treasury Secretary John W. Snyder and Mint Director Nellie Tayloe Ross employed a touch of propaganda. They reminded the public of Franklin's frugality and urged them to invest in savings stamps and bonds, a key source of government revenue. Also, since the coin ran from 1948 to 1963, it remained silver for its entire lifetime.
Year: 1954
Mint Mark: Denver
Grade: MS 67 FBL
Date of Sale: 1st June 2002
Price: $21,275
It was a large coin, half the weight of a silver dollar at 12.5g, 30.61mm in diameter (1.21") and 1.8mm thick. The coin had reeds along its edge and contained 90% fine silver fused with 10% copper to harden the metal. This extended its shelf life and made it easier to mint. Denver and San Francisco Half Dollars have D and S mint marks while Philadelphia ones have none.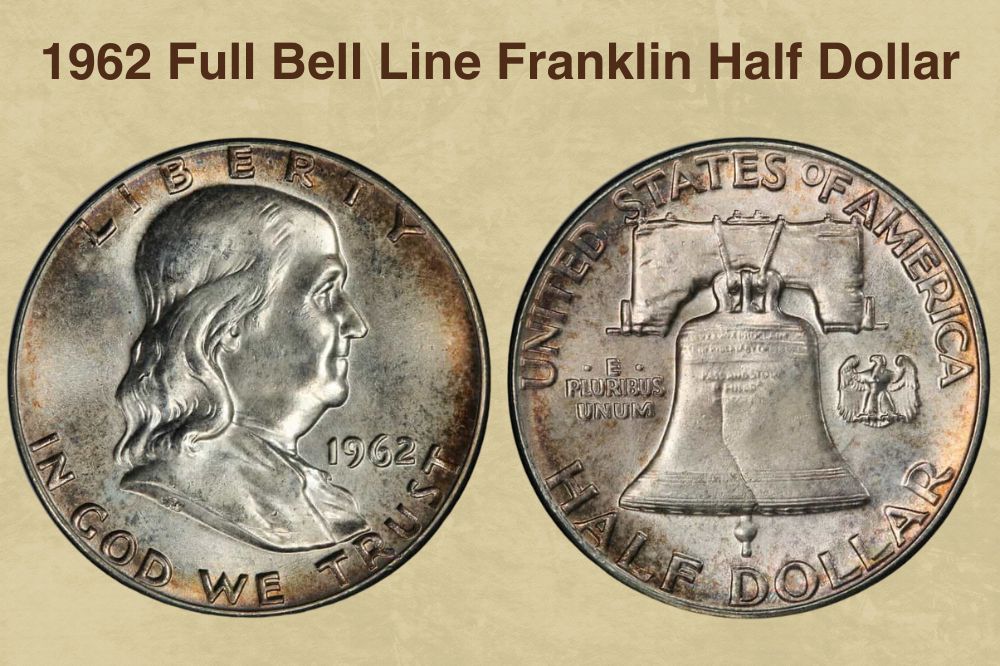 The night before launch, Ross gifted a coin to each of her 200 dinner guests. The next day was the anniversary of George Washington's 1st inauguration. Staffers wearing Revolutionary War costumes sold coins on the Sub-Treasury steps in New York. The coins were popular and were only phased out when JFK – assassinated in 1963 – replaced Franklin on the 50c.
Year: 1962
Mint Mark: None (Philadelphia)
Grade: MS 66 FBL
Date of Sale: 20th July 2004
Price: $17,825
On Franklin Half Dollars, FBL means Full Bell Line i.e. the engravings on the bell are clear. The mint made close to 466M circulating coins and 16M proofs. But in 1955 and 1956, none were coined in Denver since plenty were floating around. And from 1955 to 1965, none came out of San Francisco since that mint branch was closed, so proofs were made in Philadelphia.