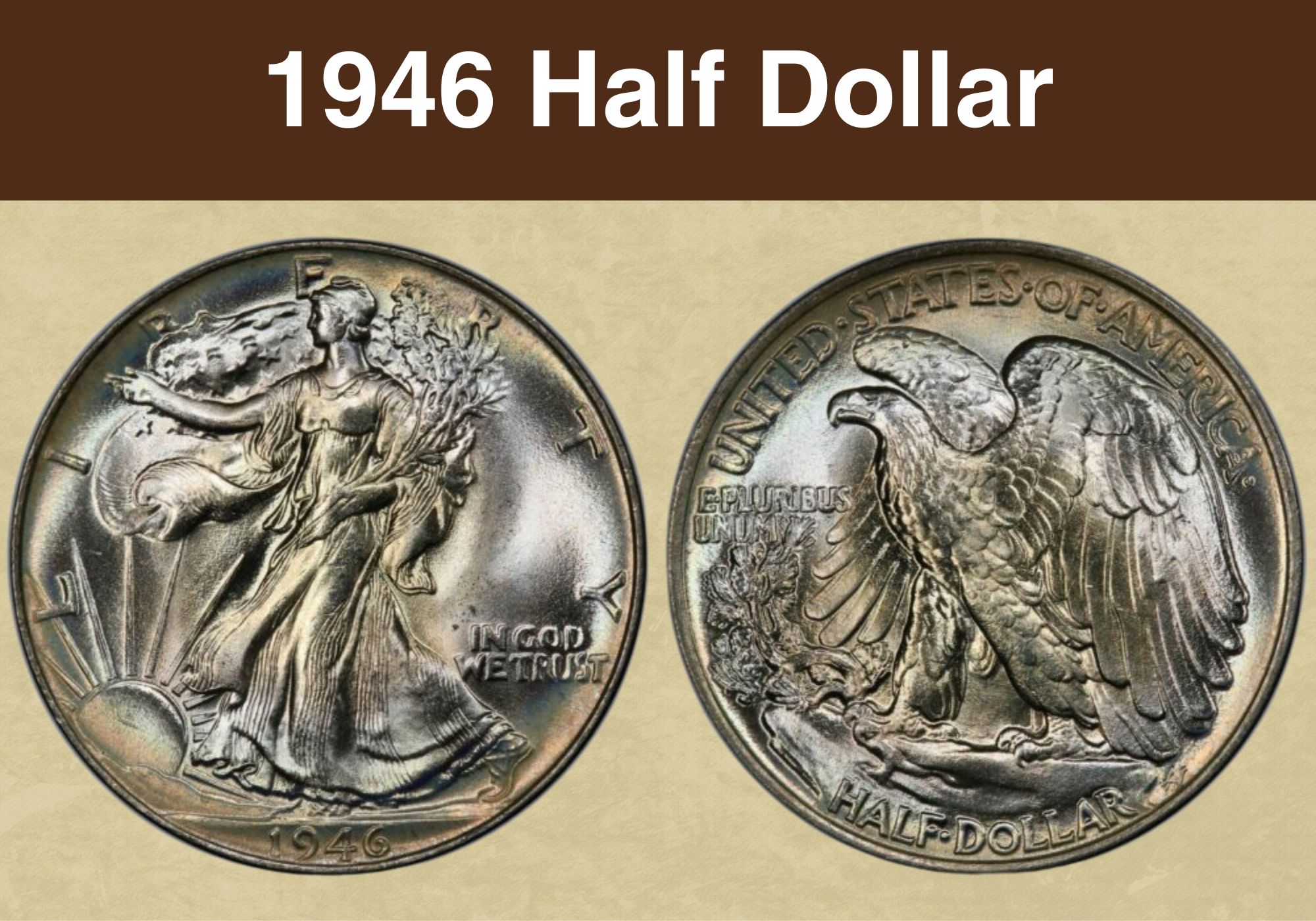 The Mint Director, Robert Woolley, decided to replace Barber coinage, including Walking Liberty 50-cent silver coins. The US Mint started production in 1916 based on Weinman's conceptual solution and continued these lovely coins' minting until 1947.
These coins immediately gained popularity, and many ended up as collectibles. Nowadays, the 1946 Half Dollar value is rarely less than $10, while those in the highest ranking are worth thousands of dollars.
1946 half-dollar value

Condition
1946 no mint mark half-dollar
1946 half-dollar DDO
1946 D half-dollar
1946 S half-dollar
Good
$18
$26
$18
$18
Very good
$19
$31
$19
$19
Fine
$20
$43
$20
$20
Very fine
$21
$71
$21
$21
Extra fine
$24
$88
$27
$24
AU
$26
$147
$40
$31
MS 60
$45
$368
$56
$53
MS 63
$59
$741
$71
$71
History of the 1946 Half Dollar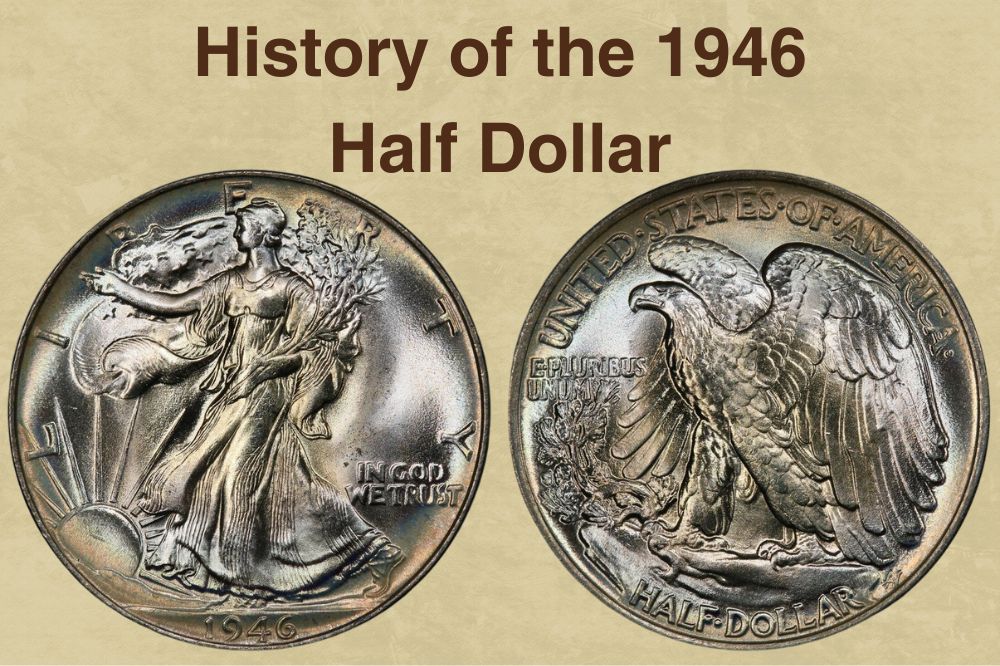 Walking Half Dollar history started in 1916 when these coins came into circulation as legal tender for the first time. Their minting ended in 1947, making the 1946 set penultimate.
Even though these coins' production stopped 75 years ago, Most Americans still consider them the most beautiful coin design in national coinage history. People like Lady Liberty's depiction that represents the spirit of freedom and national pride.
1946 half-dollar Types

Location
Year
Minted
Philadelphia
1946 No Mint mark half-dollar
12,118,000
San Francisco
1946 S half-dollar
3,724,000
Denver
1946 D half-dollar
2,151,000
Total
/
17,993,000
The Coinage Act of 1890 allowed the American coinage design replacement after 25 years of minting without explicit permission from Congress. Even though getting rid of previous Barber coins was not mandatory, officials wanted to replace them at all costs.
That was a chance for Adolph Alexander Weinman to create the most beautiful and extra-elegant American coinage of all time. He got a modest award of $500 after winning the contest, but he was forever remembered as a designer of the best-selling US coin ever.
Unfortunately, these lovely specimens included so many relief details, making them challenging to mint. Plenty of elements also made them complicated to press, shortening the die-use period.
Consequently, details wore out fast, making it tricky to find perfectly-looking pieces in the highest grades with all visible details. To paraphrase a saying, the government insisted on keeping these coins to the satisfaction of the designer despite the difficulties the mint workers had in producing them.
Also read: 13 Most Valuable Franklin Half Dollars Worth Money
Features of the 1946 Half Dollar
A. A. Weinman was responsible for the Walking Liberty half-dollar design, and it is still one of the most beautiful conceptual solutions in American coinage. The US Mint produced these lovely coins for 30 years (1916 to 1947), when the Franklin half-dollar minting began. That made coins from 1946 penultimate in the series.
The obverse of the 1946 Half Dollar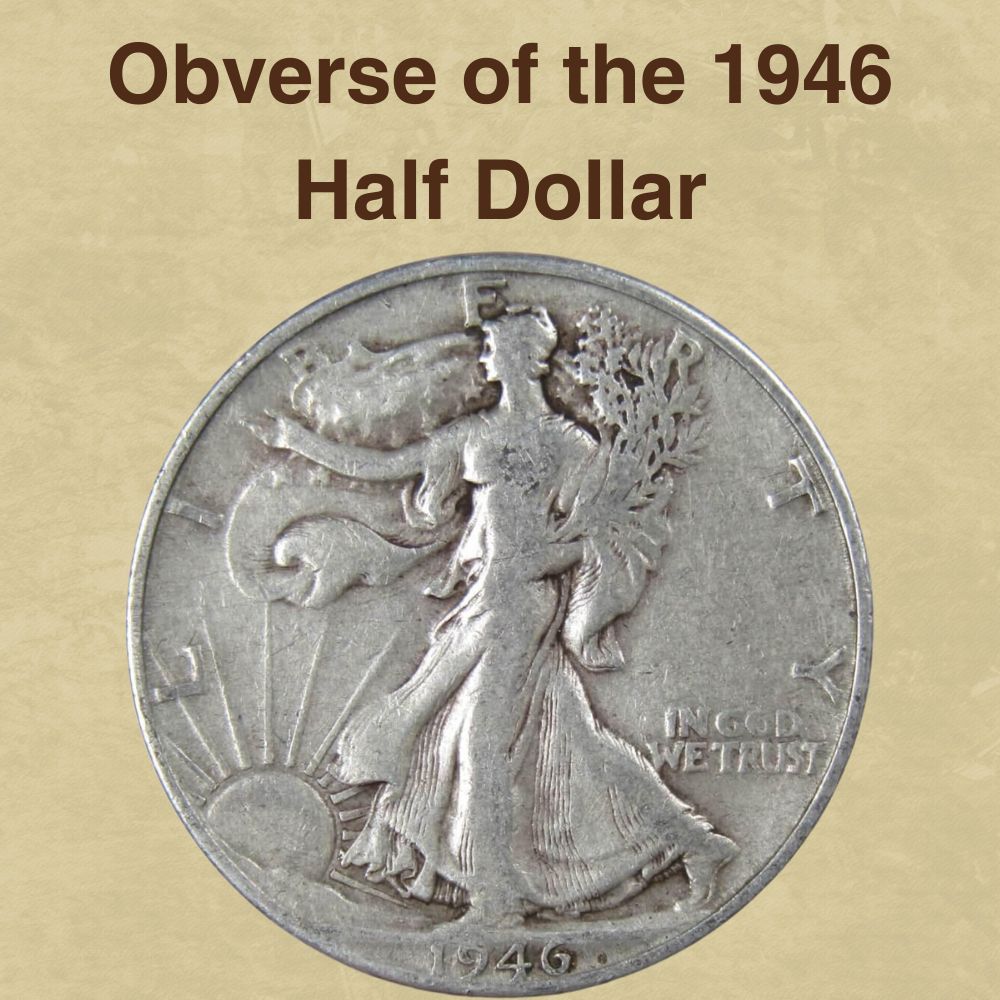 Most numismatists believe that the Walking half-dollars are the most beautiful American coins. Mr. Weinman did an amazing job by depicting Lady Liberty while elegantly walking toward the sun.
While the rays of the rising sun illuminate the path she is walking on, she holds a huge bouquet of oak and olive branches in her hand. These twigs symbolize military and civil glory, while the rays offer hope to the new nation.
The LIBERTY word looms behind the flag that covers the Lady's shoulders. The other two inscriptions include the minting date and the saying IN GOD WE TRUST struck in the bottom coin half.
The reverse of the 1946 Half Dollar
The 1946 Walking half-dollar reverse is an absolute masterpiece among American coinage. The engraver placed a sizable bald eagle over the whole surface but left some space along the coin edge where he added the required written parts of the design.
The bird, representing a distinctive American symbol, shows strength, power, and intelligence every American strives for. Its strong body with wings ready to fly looks fantastic, surrounded by the UNITED STATES oF AMERICA from above.
The eagles' talons are on a pine branch growing from a mighty cliff, with the coin denomination struck below. A tiny Latin motto is discreetly positioned between the tops of the saplings and the name of the State.
Some coins have a letter on the left cliff edge, indicating the mint. Finally, the design includes the initials AW placed right of the rock beneath the eagle's tail.
1946 half-dollar Details

Face value
Fifty cents ($0.50)
Shape
Round
Compound
0.900 silver with added 10% of copper
Coin thickness
1.80 mm (0,07 inches)
Coin diameter
30.63 mm (1.20 inches)
Coin weight
12.50 g (0.40 troy oz)
Silver weight
11.25 g (0.36 troy oz)
Edge
Reeded
Other features of the 1946 Half Dollar
The 1946 Walking half-dollars are attractive silver coins, probably the most attractive in American coinage history. You can see that their face value is $0.50, and the edge has 150 reeds.
The measures are standard in the series, meaning all coins minted are 1.80 mm (0,07 inches) thick and have a diameter of 30.63 mm (1.20 inches). Each piece weighs 12.50 g (0.40 troy oz), including 11.25 g (0.36 troy oz) of silver.
Also read: 13 Most Valuable Kennedy Half Dollar Worth Money
1946 Half Dollar Value Guides
The total mintage of the 1946 Walking half-dollars was 17,993,000 coins. The last proofs in the series were issued in 1942, so all these coins were from regular strikes.
Three mints were responsible for their production, so you can recognize one kind of Half Dollars without the mint mark and two types with the corresponding letter on the reverse.
1946 no mint mark Half Dollar Value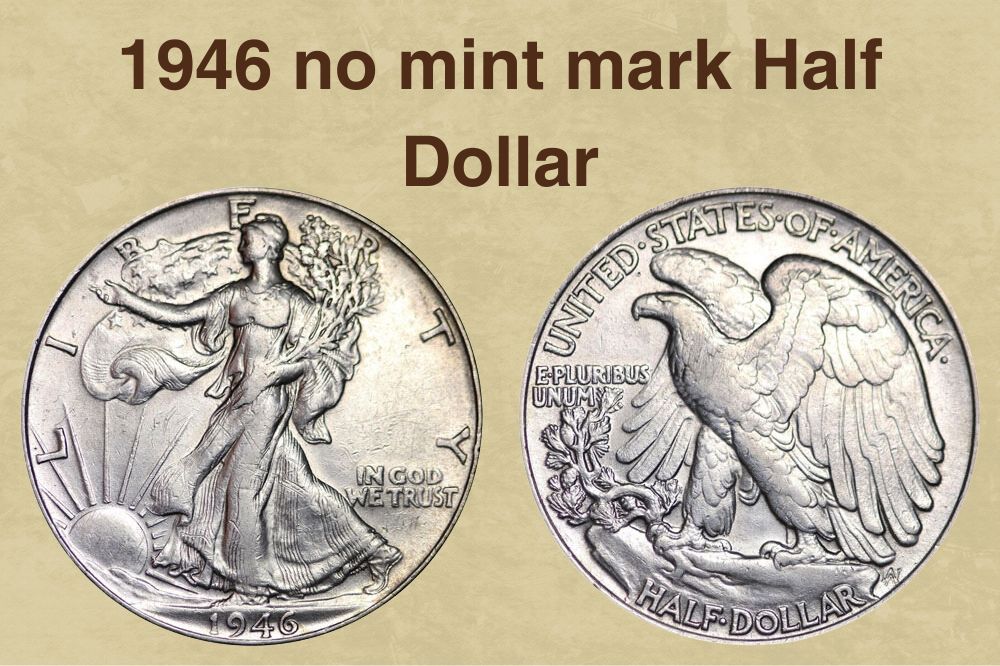 In the first post-war year, 12,118,000 Walking Half Dollars were issued in the Philadelphia mint. Nowadays, coins with the 1946 minting year struck on the obverse cost differently, depending on their use.
For instance, worn-out pieces that spent years in circulation are available at $10 to $26.60, while those in lower mint state condition (MS 60 to MS 66 grades) cost up to $200. Only those in the highest ranking are more expensive, and you can buy one rated MS 67 for $840 to $1,000.
The best-graded 1946 S Half Dollars are those in MS 68 grade, and experts estimated them at $20,000 to $25,000. On the other hand, the coin in MS 67+ grade is the best-preserved piece that ever appeared at an auction. Its price from 2019 is $28,200.
1946 D Half Dollar Value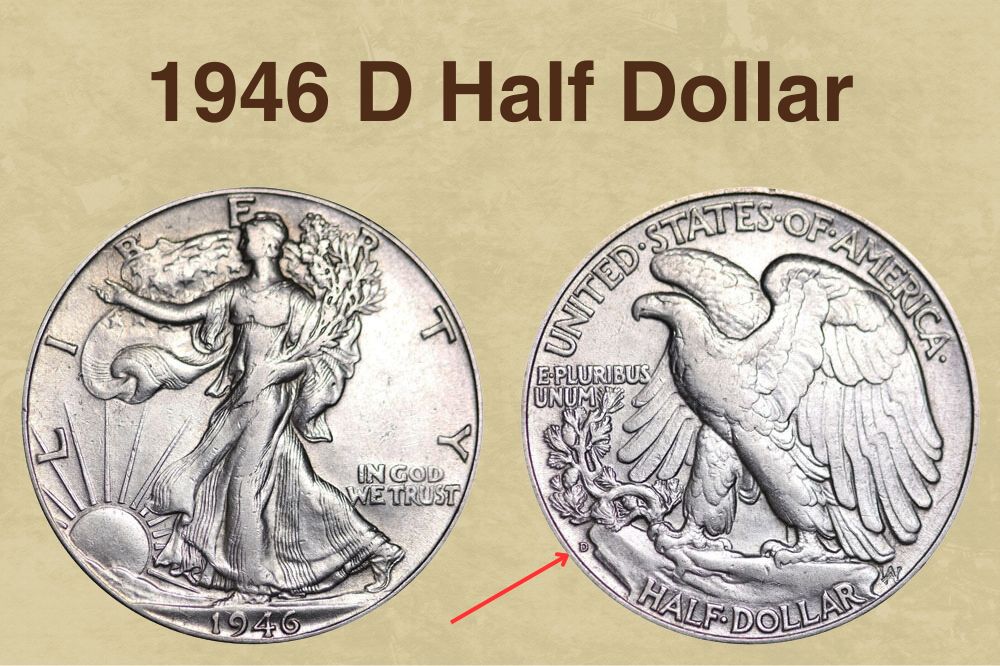 With 2,151,000 produced Walking Half Dollars, the mint in Denver had the lowest mintage in 1946. However, that fact only slightly affected their average prices compared to pieces without the mint mark.
For instance, you should set aside approximately $10 to $32 for coins that were used in everyday transactions for years. Those preserved in the mint state (MS 60 to MS 66 grades) often cost $30 to $160, and only the superb specimens are really expensive.
You can count on a price range from $960 to $1,200 for half-dollars with an MS 67 ranking, while one piece rated MS 67+ became the second most expensive in the set in 2021. That year, one collector purchased the beautiful specimen minted in this mint in 1946 for $31,200.
1946 S Half Dollar Value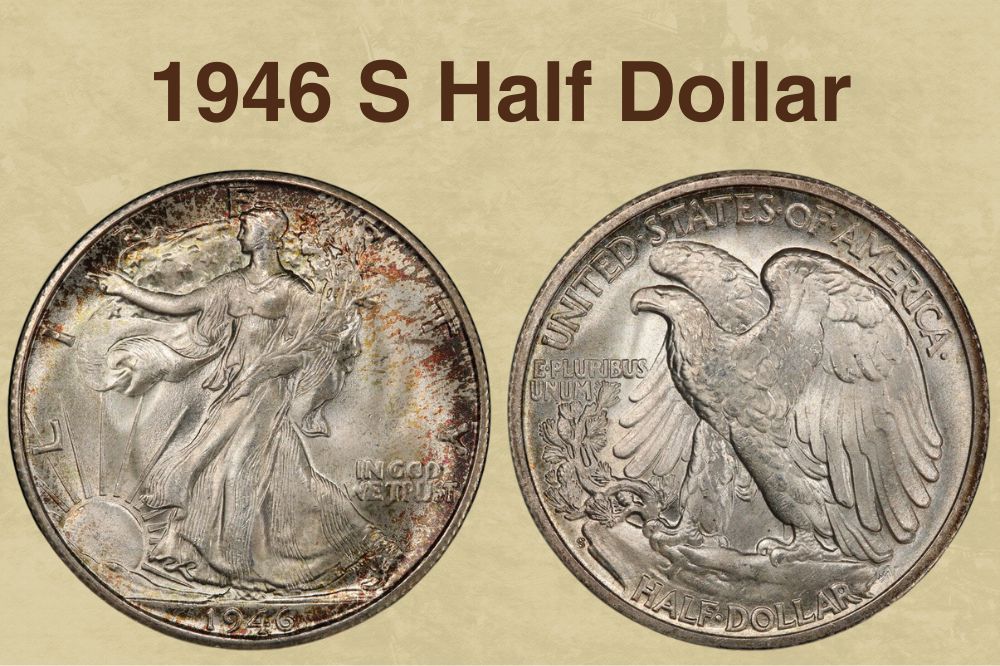 The mint in San Francisco issued 3,724,000 Half Dollars marked with the S letter in 1946. Many of these coins spent a long time in circulation. They are worth $10 to $50.50 on the current market, depending on the signs of wear and tear levels.
Coins that never spent a day in transactions cost $45 to $125 in MS 60 to MS 65 grades, while you can buy one rated MS 66 for $190 to $228. On the other hand, pieces in MS 67 grade can be rare and typically cost $1,170 to $1,800.
The most expensive Half Dollar in the 1946 set is the specimen in MS 67+ grade. Its price at Stack's Bowers, reached on June 16, 2021, was $38,400.
Also read: 11 Most Valuable Half Dollars In Circulation
1946 Walking Liberty Half Dollar Grading
The 1946 Walking half-dollars were minted after WWII, giving them historical significance. Except for this advantage, specimens in the highest grades or those with sought-after imperfections are always more expensive than standard pieces that don't stand out from the crowd in any way.
Therefore, you should pay particular attention to details and check your coins based on the Sheldon scale. Even better, you should send potentially rare and valuable specimens to one of the reputable grading companies and have them professionally appraised.
Rare 1946 Half Dollar Errors List
The Walking Liberty half-dollars minted in 1946 are well-known for three imperfection types. Coins from Philadelphia with a DDO or DDR error are highly collectible and sometimes surprisingly expensive. On the other hand, those from San Francisco with RPM are attractive and costlier than regular coins but never too expensive.
Doubled die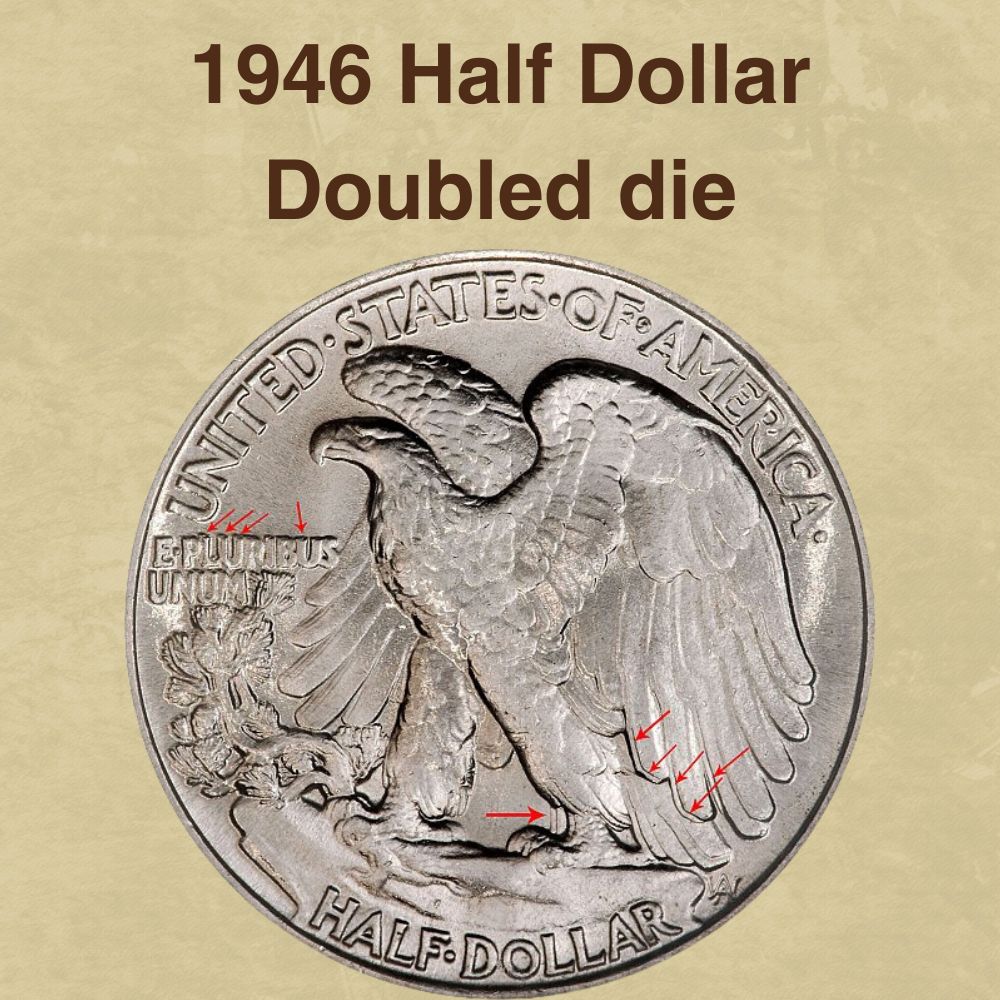 The 1946 Walking Half Dollars are known for the doubled die error on both reverse and obverse. The problem with these particular coins is their ornate design, so pieces with this imperfection are often hard to read and blurry.
Despite that, these half-dollar errors are incredibly collectible, with prices starting at a few hundred dollars. The most expensive is the 1946 MS 66+ DDR half-dollar that occurred at Heritage Auctions on January 4, 2017. Its price was $9,400. The auction record for the 1946 MS 66 DDO coin from 2020 is $2,585.
Re-punched mint mark (S/S)
The mint in San Francisco released several Half Dollars with the re-punched mint mark error into circulation by mistake. As you probably know, such coins were a result of re-struck letters after the first unsuccessful attempt.
Since this task was manual at that time, any incorrect matches resulted in letter duplication that could be minimal or significant. The average price for these coins today is about $50 to $60.
FAQ about the 1946 Half Dollar (Walking Liberty)
What makes a 1946 Half Dollar (Walking Liberty) rare?
Since the Walking Half Dollar minting lasted from 1916 to two years after the end of WWII (1947), you can expect that the oldest pieces are the scarcest. By that logic, you can conclude that coins issued in a penultimate year are among the most common.
On the other hand, the 1946 D half-dollars had one of the lowest mintages in the series. Therefore, most collectors consider them scarce, particularly those in the highest grades.
Which 1946 Half Dollar (Walking Liberty) is particularly valuable?
The 1946 S MS 67+ Half Dollar (Walking Liberty) sold at $38,400 on June 16, 2021
1946 D MS 67+ Half Dollar (Walking Liberty) sold at $31,200 on June 16, 2021
1946 MS 67+ Half Dollar (Walking Liberty) sold at $28,200 on January 27, 2019
1946 MS 66+ Doubled die reverse Half Dollar (Walking Liberty) sold at $9,400 January 4, 2017
1946 MS 66 Doubled die obverse Half Dollar (Walking Liberty) sold at $2,585 on January 30, 2020
What is the value of the Philadelphia 1946 Half Dollar (Walking Liberty)?
Even though the 1946 Walking half-dollars have a denomination of $0.50, their prices on the market are higher nowadays. You can get $10 to $26 for coins that spent a long period in use, while intact pieces are costlier, depending on their condition.
For instance, the price range for coins graded from MS 60 to MS 66 is $30 to $200, while those rated MS 67 are assessed at $840 to $1,000. According to professionals, rare specimens in MS 68 grade can reach a fantastic $20,000 to $25,000 at auctions.
What is the priciest Half Dollar (Walking Liberty)?
The Walking half-dollar prices depend on their quality and the mint they were struck. The most expensive became a coin in MS 66+ grade produced in 1918 in Denver after selling at $340,750 in 2021. The 1921 MS 66 half-dollar sold in 2016 at $188,000 holds the record price among pieces minted in San Francisco.
As for the Half Dollars minted in Philadelphia, the priciest is the specimen from 1943. One admirer bought this coin in MS 68+ grade for $120,000 in 2021. The most expensive proof is far less expensive than coins from regular strikes. The 1936 PR 68 half-dollar won a 2005 auction record after selling at $80,500.