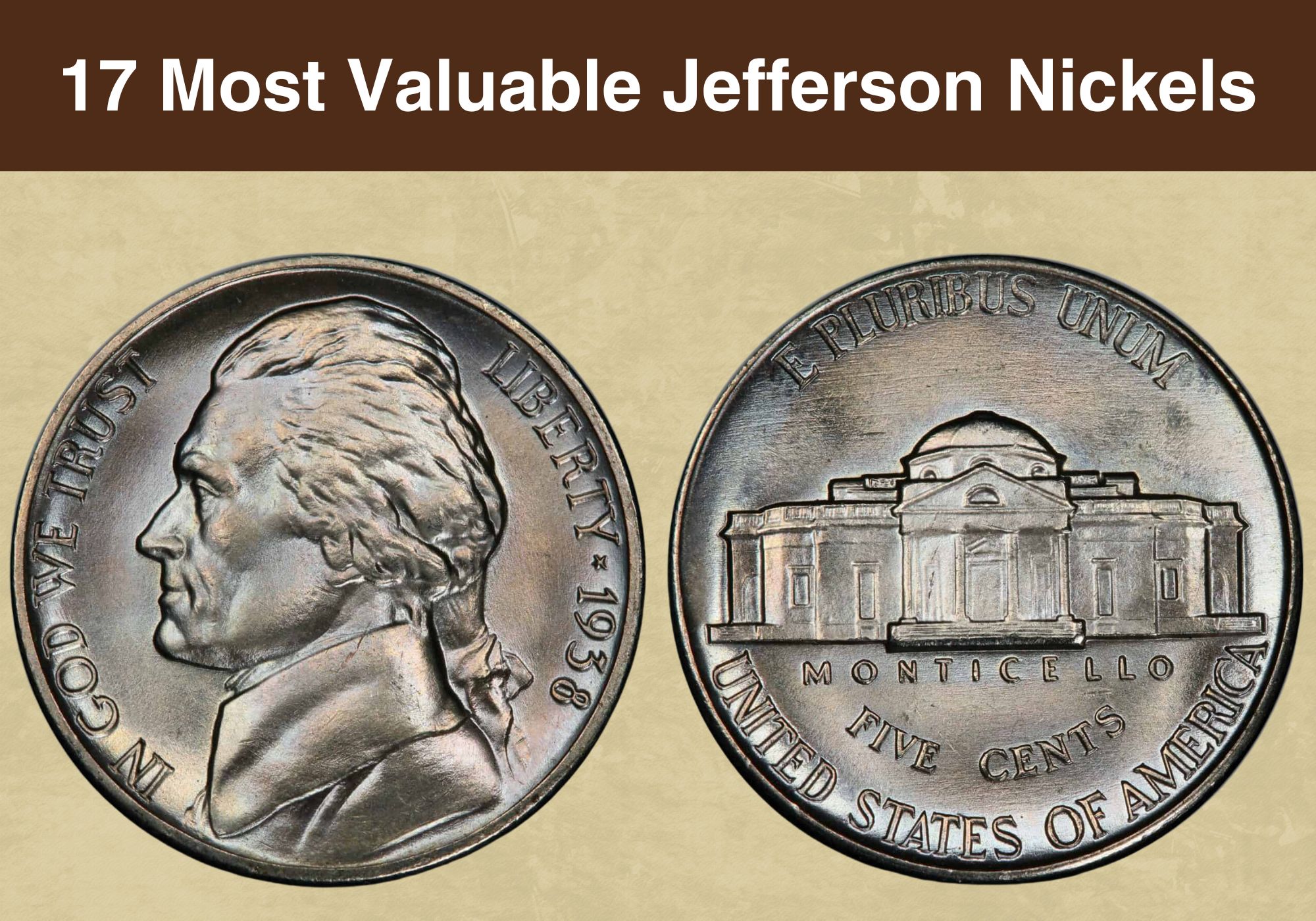 Thomas Jefferson is one of the most famous American Presidents. We started minting his coins in 1938 and we still use them today. But what are the most valuable Jefferson nickels?
Let's find out as we learn more about the coin itself, its history, and the president who graces this 5c piece. This nickel was minted in Denver, Philadelphia, San Francisco, and West Point.
Most Valuable Jefferson Nickels Worth Money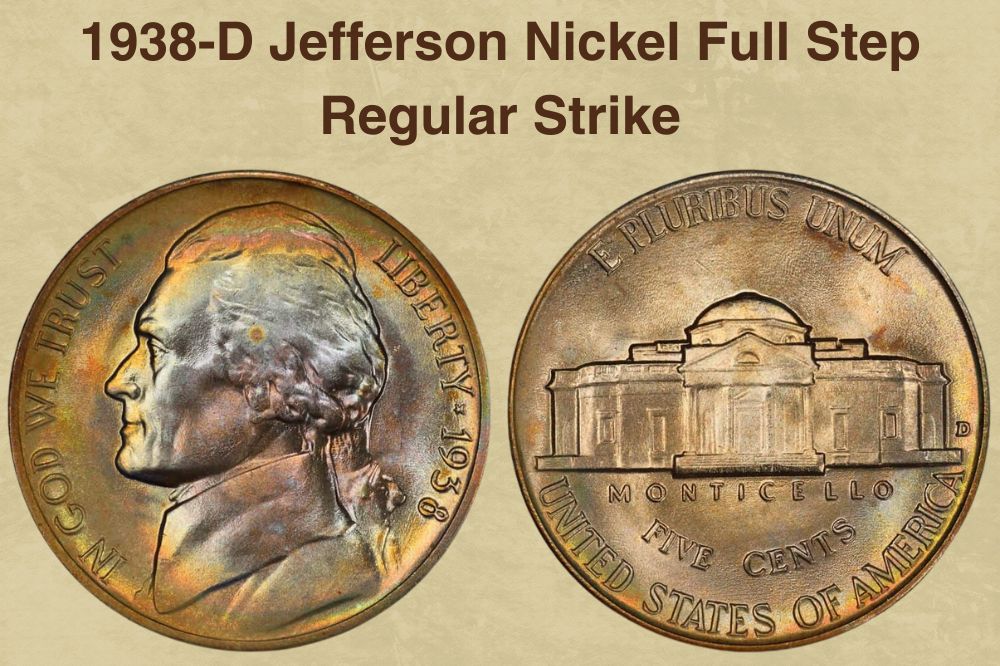 Thomas Jefferson was a skilled philosopher and penman, known as the primary author of the United States Declaration of Independence. He worked on it as part of the Committee of Five, and they all agreed he played the most active role in the drafting of this key document.
Year: 1938
Mint Mark: Denver
Grade: MS 68+ FS
Date of Sale: 17th July 2022
Price: $33,600
Jefferson was also an experienced architect, lawyer, and diplomat. As one of the Founding Fathers, he served as the First Secretary of State (to George Washington) and the Second Vice President (to John Adams) before becoming the 3rd President of these United States.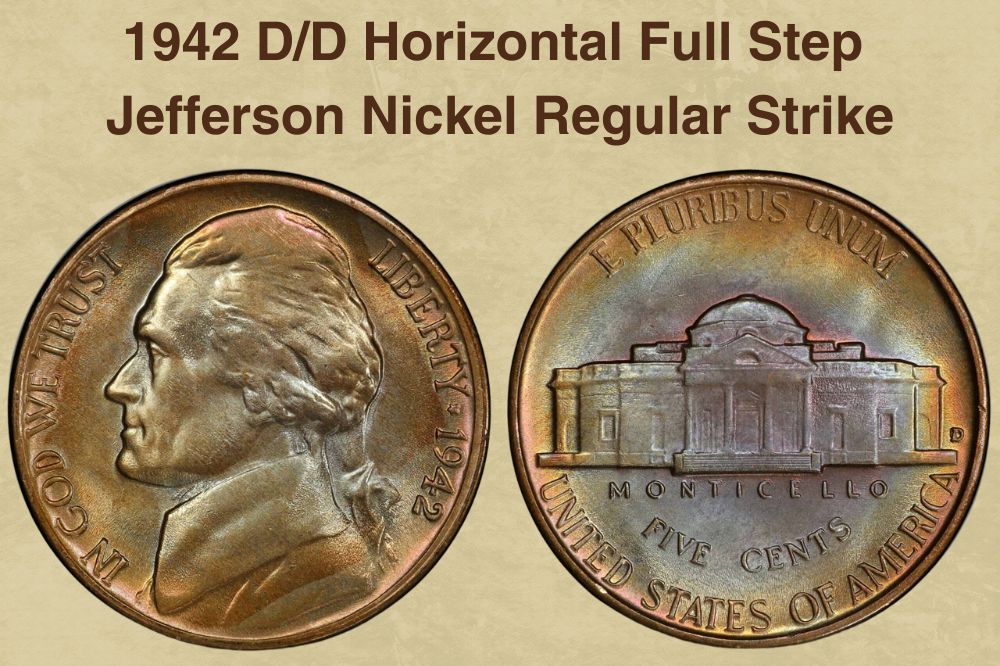 Jefferson earned the Vice Presidency in 1796 by coming second in the presidential election. Back then, the candidate with the most votes got the seat and his runner-up got the vice position. After one term, he ran against his boss and won, making him the 3rd US President.
Year: 1941
Mint Mark: Denver or Horizontal Denver
Grade: MS 64 FS
Date of Sale: 5th January 2006
Price: $32,200
He served for two terms and could have run for a third, but he voluntarily stepped down, just like Washington did. Although he fell out with John Adams during this debacle, they made up and stayed friends well into their senior years. They died on the same day, hours apart.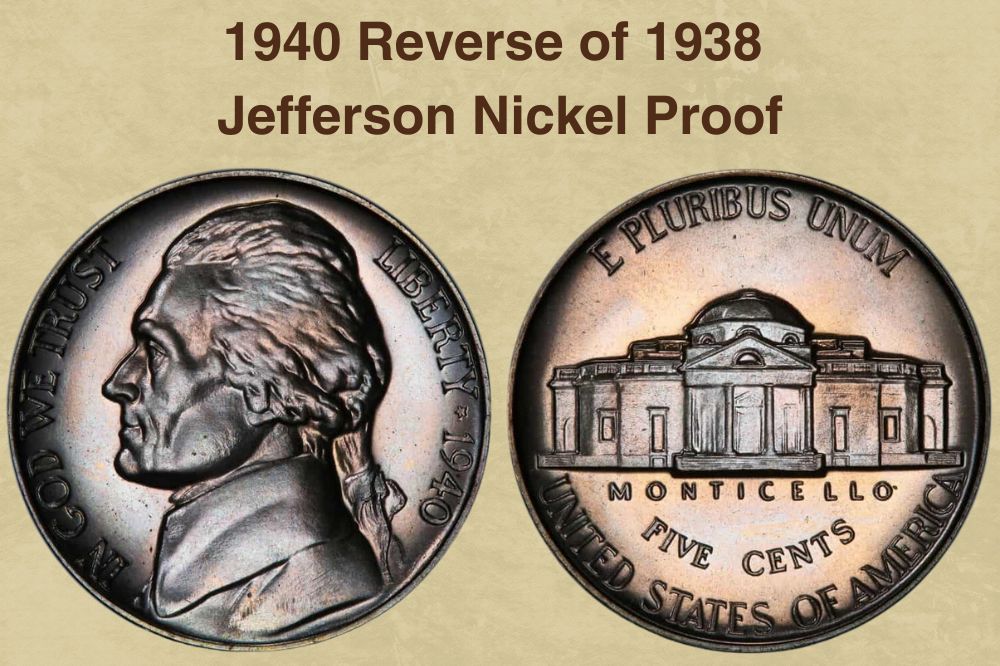 Other political positions that Jefferson held included Governor of Virginia (1779 to 1781) and US Minister to France (1785 to 1789). The fact that he achieved both elected and appointed positions proves his popularity with both the voting public and his government colleagues.
Year: 1940 Obverse with 1938 Reverse
Mint Mark: None (Philadelphia)
Grade: PR 68
Date of Sale: 5th January 2011
Price: $28,750
As a leader, he was big on individual human and state rights, especially freedom of religion, speech, and thought. He also defended US trade against pirates and punitive policies from our former colonizers, the British. He died on July 4th 1826, our 50th Independence Day.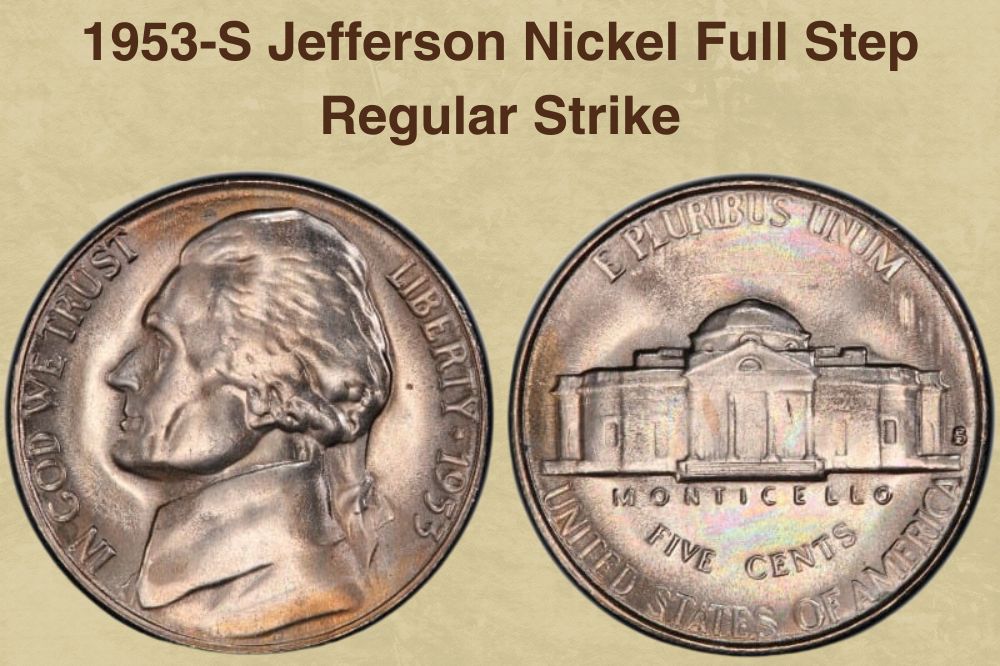 While Jefferson did a lot of good, he sometimes landed on the wrong side. Like most of the Founding Fathers, he owned slaves. Also, Indian Tribal Removal was his idea. It took Native Americans off their ancestral land, forcing them into reservations where they still live today.
Year: 1953
Mint Mark: San Francisco
Grade: MS 65 FS
Date of Sale: 14th January 2019
Price: $24,000
He did eventually endorse the Act Prohibiting the Importation of Slaves (1807), but he's also thought to have fathered 6 kids (or more) with Sally Hemings, one of his slaves. Still, public opinion leans in his favor, and he's consistently voted among America's Top Ten Presidents.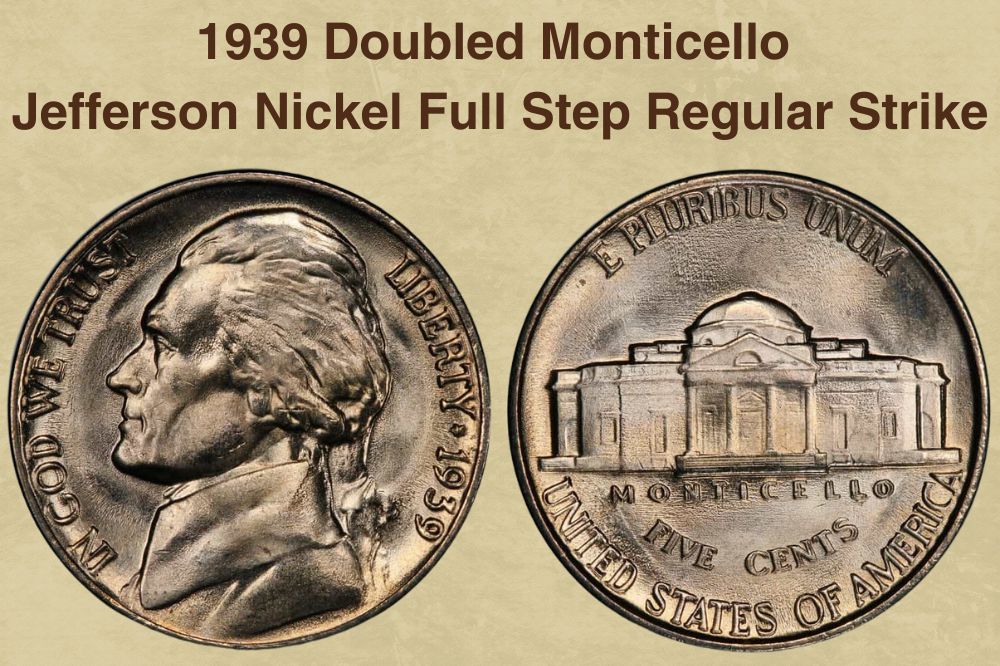 Jefferson was president from 1801 to 1809 and was placed on the nickel in 1938. His 5c coin replaced the Buffalo Nickel, which had just completed its minimum 25-year term and was unpopular at the mint. The public liked the Buffalo Nickel … but they loved the Jefferson.
Year: 1939
Mint Mark: None (Philadelphia)
Grade: MS 67 FS
Date of Sale: 26th September 2019
Price: $23,500
The coin has had three obverse designs so far (that's the heads side). But the reverse design (tails side) only changed from 2004 to 2005 when it had commemorative issues to mark the Lewis & Clark Westward Journey. Those four reverse designs were used for six months each.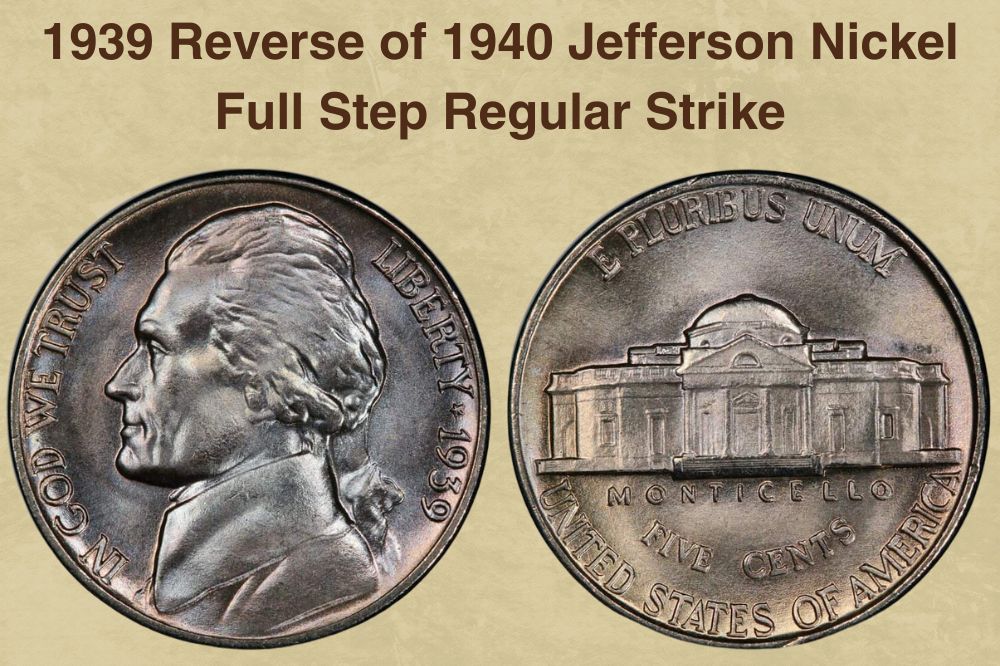 For most of its existence, the Jefferson Nickel was 75% copper and 25% nickel. It has a silver sheen to simulate the original silver content of half dimes, sometimes spelled as half dismes with a silent middle 's'. But during the war years (1942 to 1945), the metal mix was changed.
Year: 1939 Obverse with 1940 Reverse
Mint Mark: None (Philadelphia)
Grade: MS 68 FS
Date of Sale: 27th February 2014
Price: $23,500
During these years, most of the nation's nickel was redirected to the war effort where it was a key component in weapons and military equipment. So the Jefferson Wartime Nickels were made of 56% copper, 35% silver, and 9% manganese instead. Their size remained the same.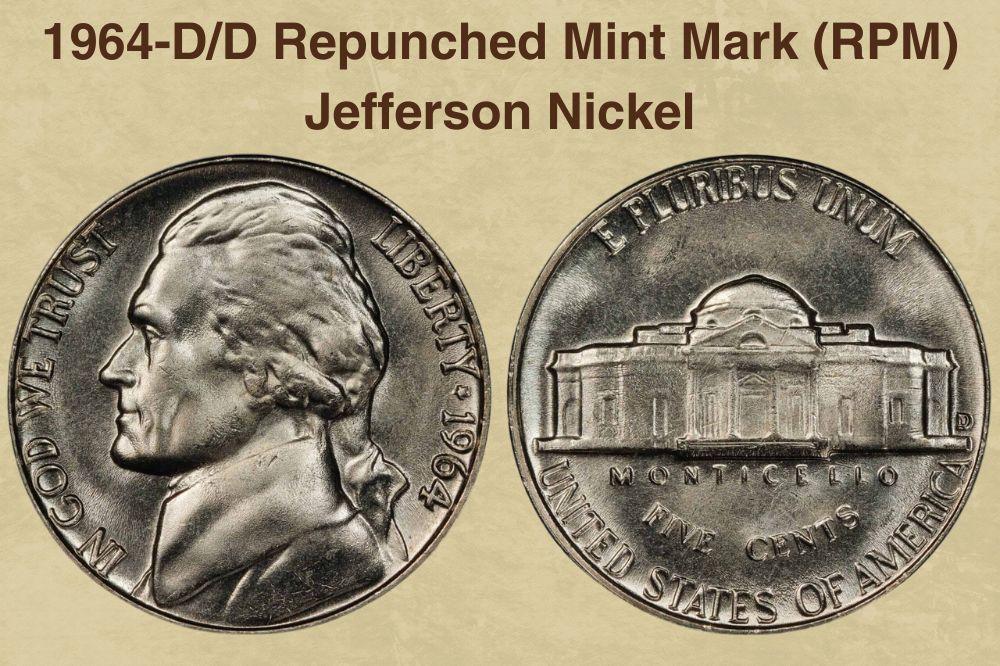 Jefferson Nickels have always weighed 5g and measured 21.21mm in diameter (0.84"). They have a plain, unreeded edge with no writing. The dominant design was by Felix Oscar Schlag, who won a design competition in 1938. His reverse sketch was altered for the coin though.
Year: 1964
Mint Mark: Denver over Denver
Grade: MS 66
Date of Sale: 17th July 2022
Price: $19,800
As we mentioned earlier, the Buffalo Nickel was pretty to look at but tough to mint. So in 1938, Mint Director Nellie Tayloe Ross announced a contest to design a new nickel. The instructions explained that Jefferson had to be on the front with his mansion on the back.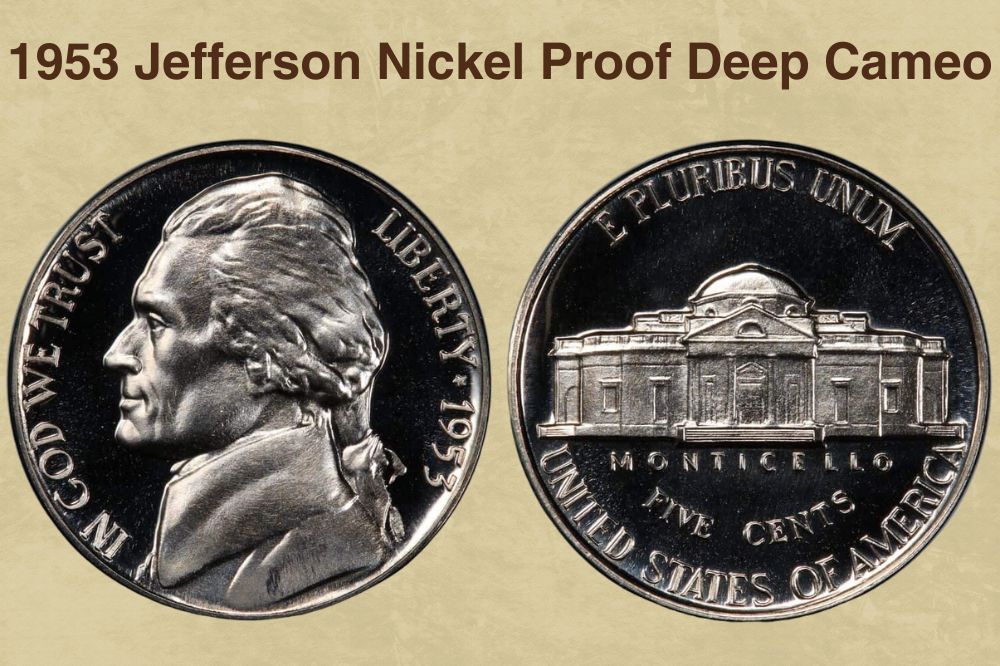 The prize was decent – $1,000. But many artists waited until the last minute to submit their entries. The deadline was April 15th, and by April 20th, the mint had received 390 sketches. The judges reviewed all submissions for four days before picking Felix Schlag as the winner.
Year: 1953
Mint Mark: None (Philadelphia)
Grade: PR 68 DCAM
Date of Sale: 24th April 2013
Price: $15,275
His background was an interesting one. He was an immigrant from Germany that had been in the US just shy of a decade when he earned his prize. It did a lot for his reputation as an artist, but his underexposure may have led to some of the 'mistakes' he made in his layout.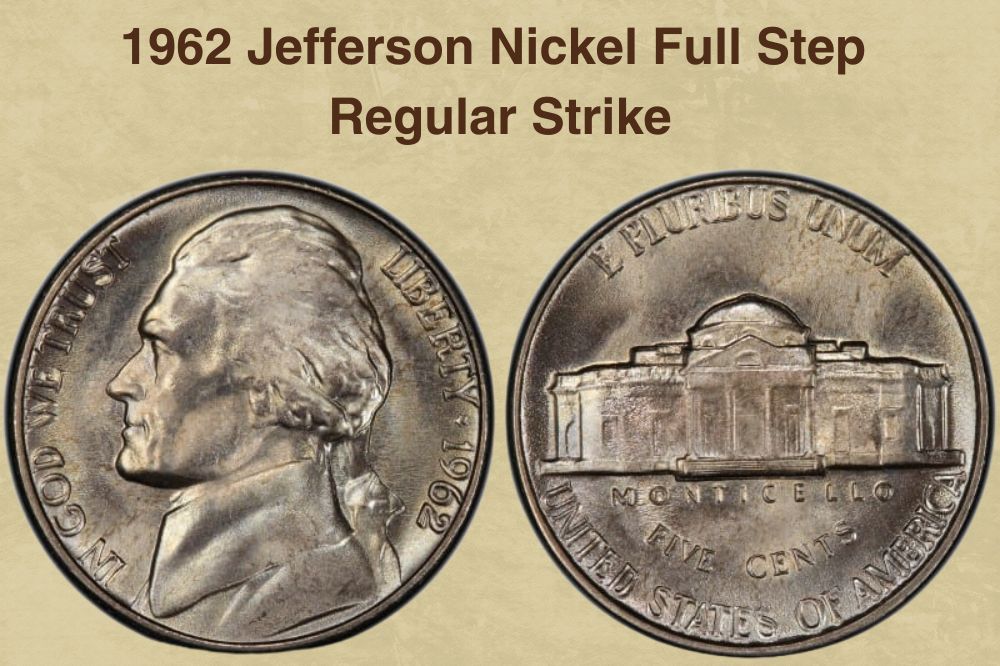 For one thing, while previous coin designers were clashing with the mint over the size of their initials on coins, Schlag didn't sign the coin at all! His FS wasn't placed until 1966 when the mint corrected the oversight. He also took a more artistic approach to mansion depiction.
Year: 1962
Mint Mark: None (Philadelphia)
Grade: MS 67+ FS
Date of Sale: 8th August 2013
Price: $21,150
In his original sketch, Monticello was at an angle complete with a tree! Also, he placed the legend United States of America at the bottom of the coin instead of the top, which is where it appears on most coins. He was asked to change both, but the wording edits were forgotten.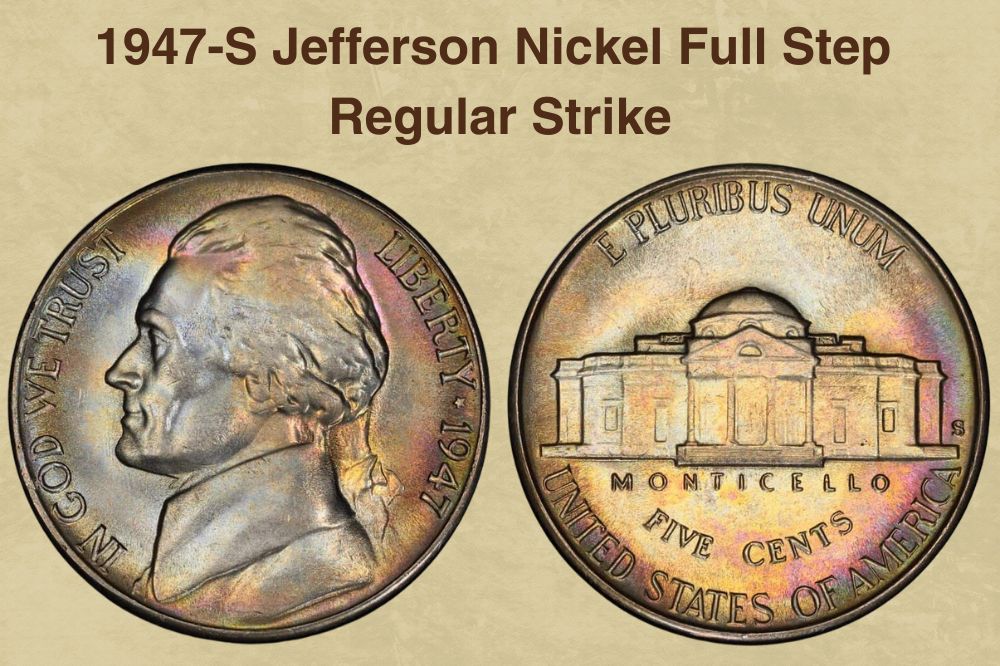 For the obverse of the coin, Schlag took a lot less license. His portrait was based on the classic piece by Jean-Antoine Houdon, and Jefferson faced left. Later versions were done by Joe Fitzgerald (partial head facing right) and Jamie Franki (at an angle but facing forward).
Year: 1947
Mint Mark: San Francisco
Grade: MS 67 FS
Date of Sale: 1st May 2007
Price: $14,950
Despite his design errors, Schlag was by no means a novice. Before coming to America, he had many European awards for his work. But it was a tough time for him, and he ended up spending his Jefferson Nickel winnings on his wife's funeral. He and Anna had three kids.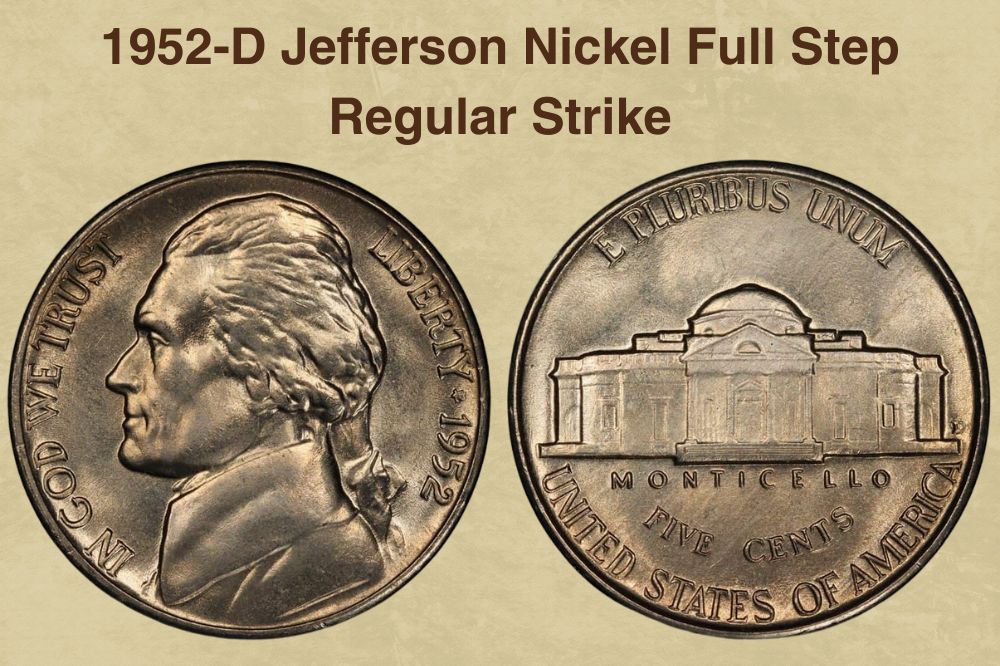 As we said before, the reverse was Schlag's except in 2004 and 2005, when four reverse designs were temporarily introduced. These were the Indian Peace Medal, the keelboat, the bison, and the landfall. The 2005 nickels were done by Jamie Franki and Donna Weaver.
Year: 1952
Mint Mark: Denver
Grade: MS 67 FS
Date of Sale: 12th July 2015
Price: $16,450
Let's talk about the Jefferson Nickel attributions. Apart from 2004 to 2005, the reverse has FS for Felix Schlag. The latest obverse has JNF for Jamie Franki and DW for engraver Donna Weaver. It was developed from a portrait of the president done by Rembrandt Peale in 1800.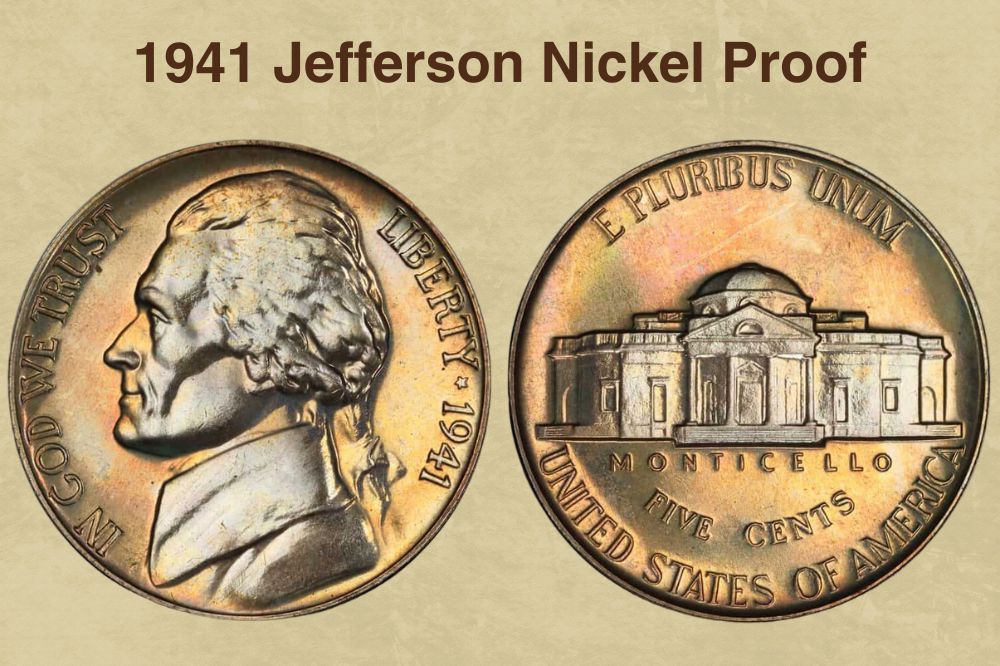 Still on the subject of artists' initials, the 2005 Jefferson Nickel has JF (Jamie Franki) and DE (for Donna Weaver) on the heads side. The tails side of this coin says 'Ocean in View! O! The Joy!' It's sometimes called the Western Waters coin, and it's signed by both JF and DW.
Year: 1941
Mint Mark: None (Philadelphia)
Grade: PR 68
Date of Sale: 5th June 2013
Price: $18,800
Meanwhile, the obverse of the 2004 Jefferson Nickel has the usual Felix Schlag portrait signed FS. As for the reverses, the Indian Peace Medal was sculpted by Norman E. Nemeth (NEN). The bison has both JNF and NEN while the keelboat was by Alfred Maletsky (AM).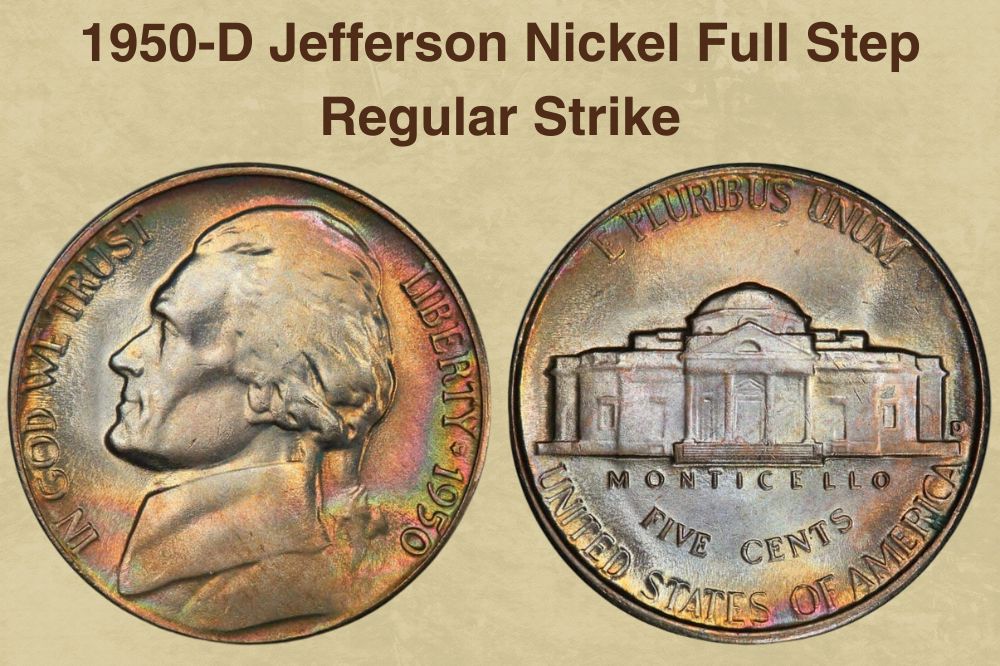 You may know that the condition or grade of a coin affects its price. And on certain coins, specific design features contribute to the grading criteria. On Jefferson Nickels, one salient factor is the steps leading to Monticello, Jefferson's mansion in Charlottesville, Virginia.
Year: 1950
Mint Mark: Denver
Grade: MS 67 FS
Date of Sale: 13th September 2006
Price: $17,250
In perfect condition, you can clearly count the six steps at the building entrance. So top-notch coins are either graded as 5FS or 6FS, where the FS means Full Step. Newer nickels have a higher proportion of FS coins because they're digitally minted so they have better accuracy.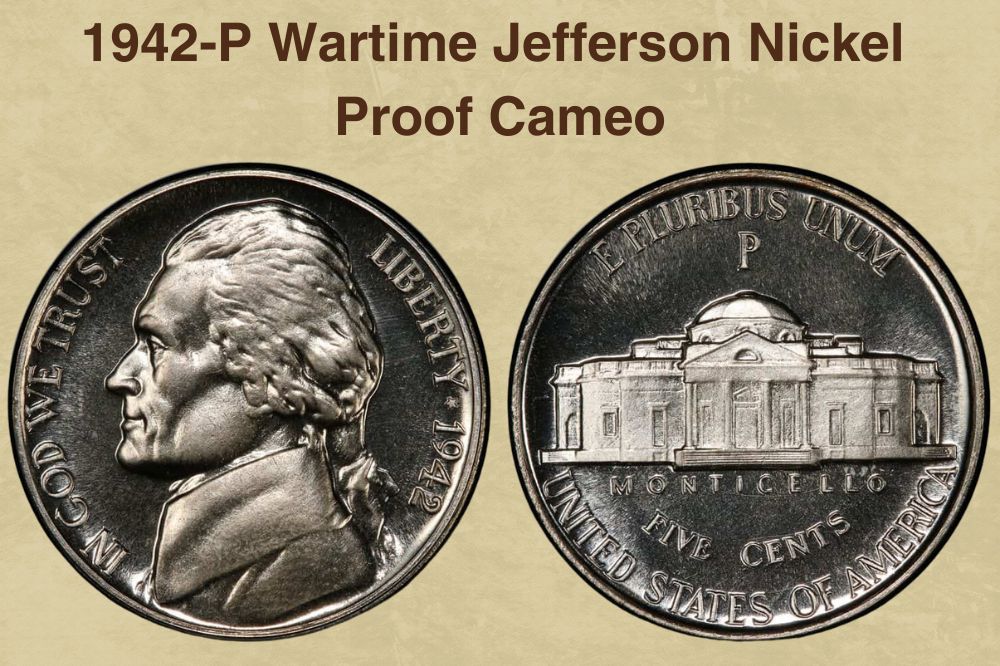 The mint mark on Jefferson Nickels has moved around a lot over the years. But it's clearest on the Wartime Nickels that contained silver. The plan was to pluck them out of circulation as soon as the war was over, so they were struck with a large mint mark on the upper back.
Year: 1942
Mint Mark: Philadelphia (Wartime)
Grade: PR 67 CAM
Date of Sale: 23rd April 2014
Price: $14,100
These nickels were also the only early coins to have a P Mint Mark. Usually, Philadelphia coins had none until 1980. Also, 2020 was the only year when some Jefferson Nickels were struck with the W Mint Mark for West Point. They were coined at all four mints that year.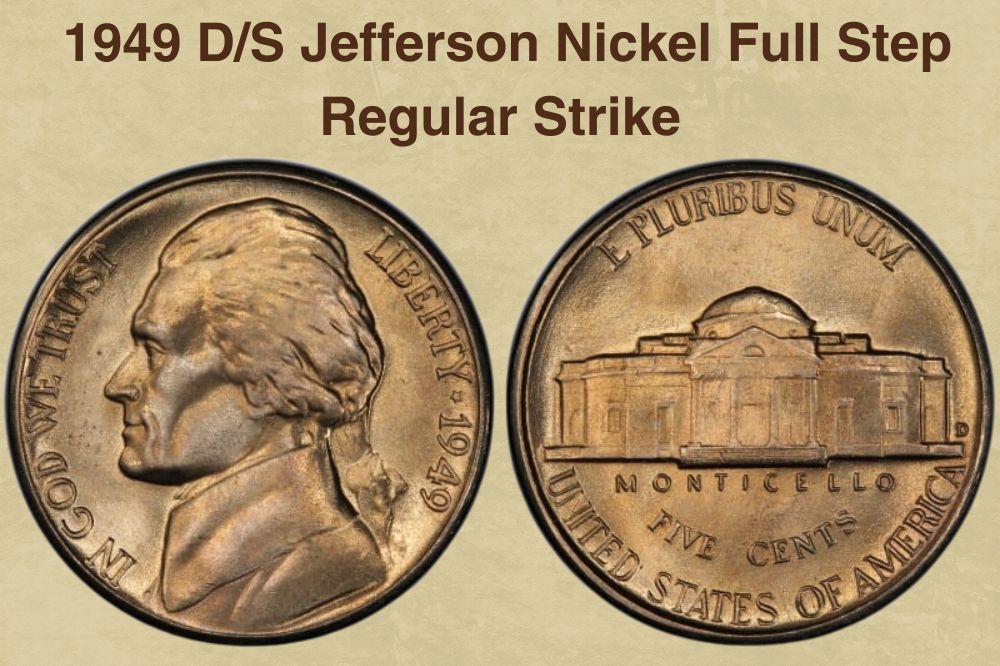 Are mint marks important? Well, in practical terms, they tell you where the coin was made by specifying its mint branch (i.e. Denver, Philadelphia, San Francisco, or West Point). From an investment perspective, some collectors target particular mint marks so they affect prices.
Year: 1949
Mint Mark: Denver over San Francisco
Grade: MS 67 FS
Date of Sale: 4th June 2014
Price: $32,900
Also, why did the mint mark move so much? To match design changes. At first, it was back right until 1964, then no coins had any mint marks until 1968. Schlag's initials were added in 1966, and in 1968, the mint mark moved to the front, left of the date, then below it in 2006.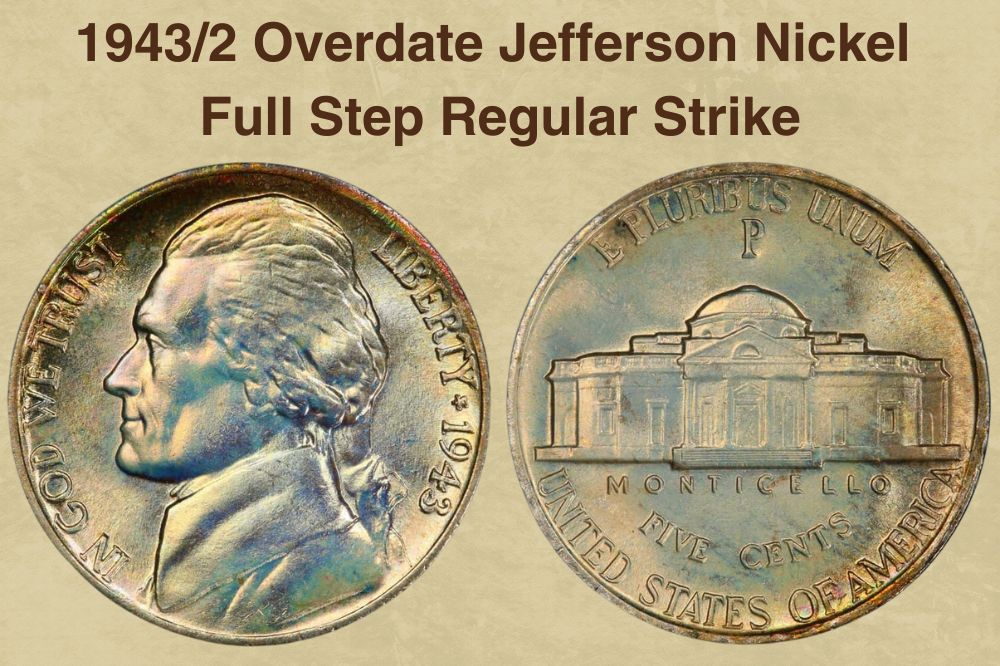 Since speculators seek coins from certain years, criminals counterfeit key dates to make a killing. One famous nickel counterfeiter was Francis LeRoy Henning. His fake coins included 1939, 1946, 1953, 1957, and a 1944 Wartime Nickel without the P. He also faked $5 bills.
Year: 1943 over 1942
Mint Mark: None (Philadelphia)
Grade: MS 67 FS
Date of Sale: 26th June 2008
Price: $16,675
Error coins are another pricing factor for collectors. The Jefferson Nickel has some notable ones. The 1943/2 Overdate is a big one, with a 2 peeking under the 3 from a 1942 die used on a 1943 coin. There are also several D/S coins where the D Mint Mark was struck on top of an S.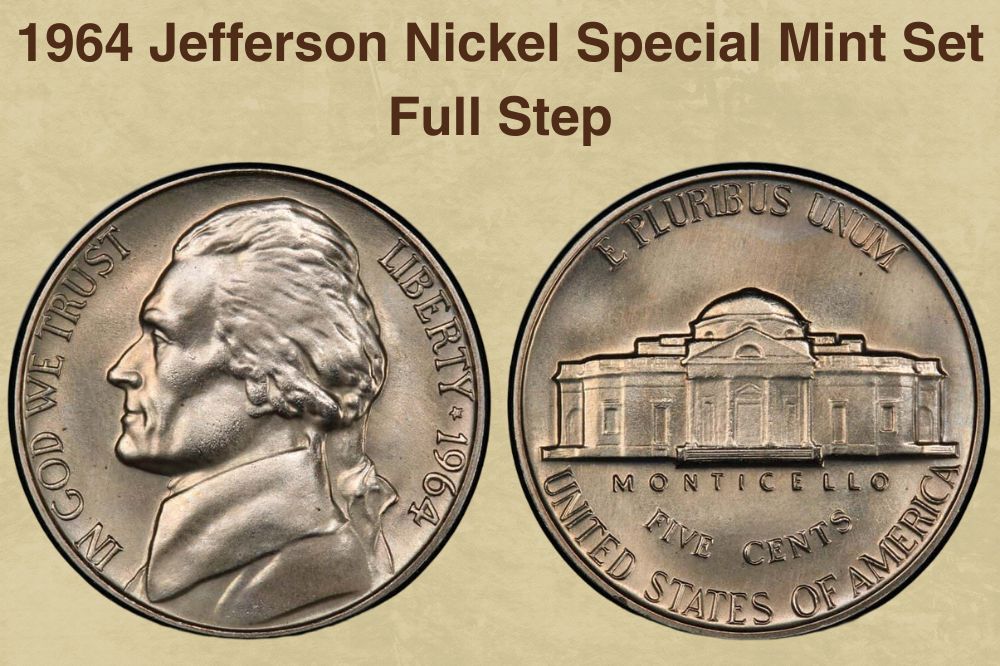 While the Jefferson Nickel has been struck every year since 1938, the mint didn't always make proofs. This was sometimes due to a lack of interest among collectors. Other times, it was driven by budgetary problems and coin shortages. Occasionally, they made SMS instead.
Year: 1964
Mint Mark: None (Philadelphia)
Grade: SP 68 FS
Date of Sale: 6th January 2016
Price: $32,900
SMS are Special Mint Sets with a similar finish to proofs but a quicker and cheaper coinage process. Other coin categories include satin finish coins that are typically graded as SP for Special Strike. Uncirculated Sets and Matte Proofs with a grainy finish are two other styles.