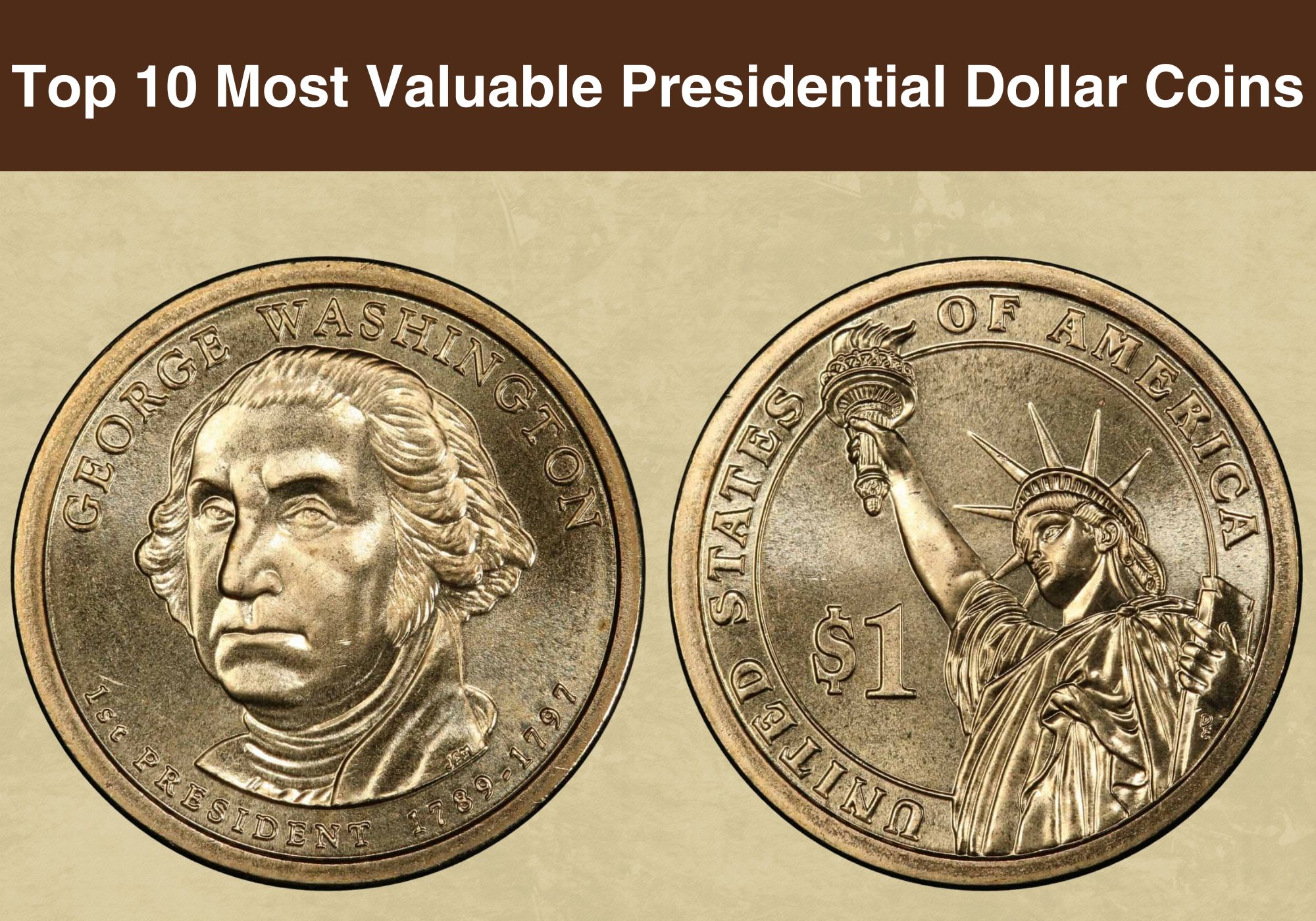 Between 2007 and 2011, the US Mint produced a series of dollar coins commemorating US presidents. But are any of them worth much more than their face value today?
That's what we're going to find out! We'll investigate the most valuable presidential coins to have come to the market. And we'll discover what it is that makes them special.
So if you're ready to find out more, let's get started!
Most Valuable Presidential Dollar Coins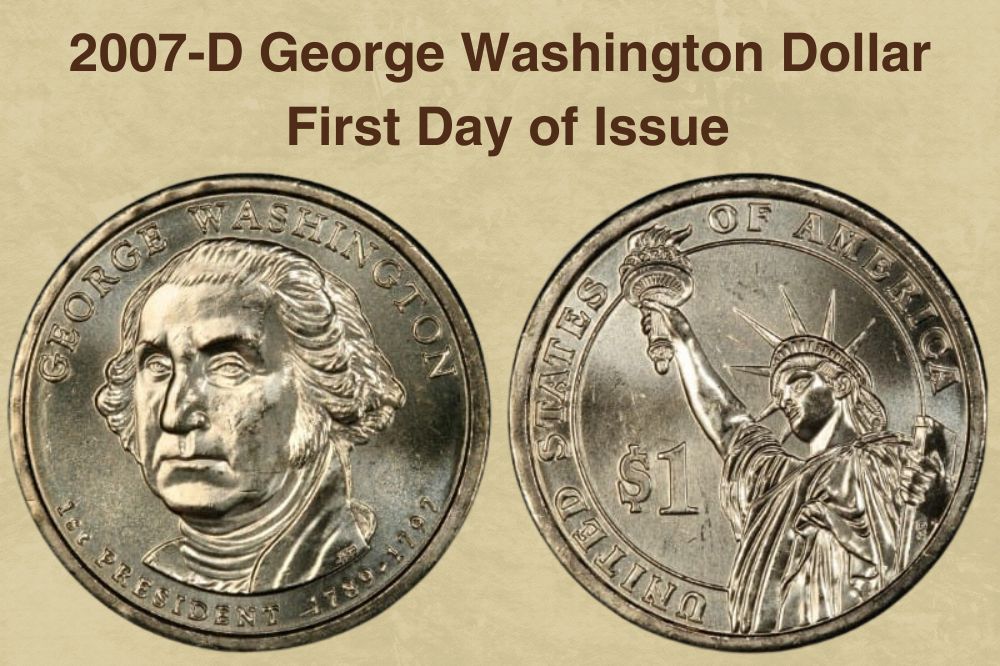 Modern coins like the presidential dollar series are produced in very large numbers. So in order for them to be worth more than their face value, there has to be something special about them. For some collectors, that's a coin that's issued on the very first day of the mintage.
These coins are known as "first day of issue", often abbreviated to FDI. In order to be designated, they need to be submitted to an independent coin grading agency on the first day of release. In the case of the 2007 D Washington dollar, that was 15 February 2007.
The agency will then include the FDI designation in the description of the coin printed on its holder. And that designation usually adds a small premium to the value.
Even so, most FDI coins still aren't worth a great deal of money. Well over 163 million George Washington coins were minted in Denver in 2007, with another 176 million struck in Philadelphia the same year. So lots of coins were produced on that first day.
The mintmark telling you where you coin was struck appears on the edge. It's "D" for Denver and "P" for Philadelphia.
With all coins, quality and condition are key to value. Coins in the best condition – those that have never been circulated – are known as "mint state". But even most mint state 2007 Denver Washington dollars will be worth only around $2.
There are exceptions, however. The finest known examples are graded MS67 by the independent coin graders, the PCGS. And because only two coins have been certified at that level, they're much more valuable.
One of them sold on the online auction website eBay for $228 in 2012. And today, the PCGS estimates their value at $475 apiece.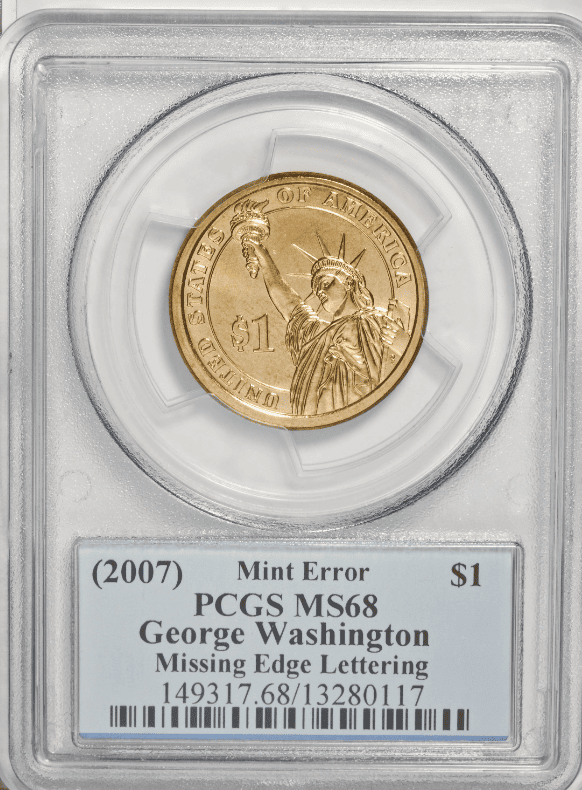 Some of the Washington dollars struck in 2007 don't have any lettering on their edge. That makes it impossible to tell whether they were struck in Denver or Philadelphia. And because the date was also supposed to have appeared on the edge, that's missing too.
Collectors spotted the issue very quickly, with coins coming to light as early as a couple of weeks after their launch.
At that point, no-one knew how rare the error was, or even what to call it. Because the motto "In God We Trust" was also supposed to have been on the coin edge, some referred to it as the "Godless dollar".
Some of the first coins to be found made big money, as collectors gambled on their rarity. The auction record for a Washington dollar with missing edge lettering was set in 2010 by a coin graded MS67. That sold for $1,007.
But as time went on and more examples appeared, prices dropped. Today, the PCGS values that same MS67 coin at $260.
The finest examples known to exist, however, command a big premium. They are three coins graded MS68. And the PCGS values those at an impressive $4,250 apiece.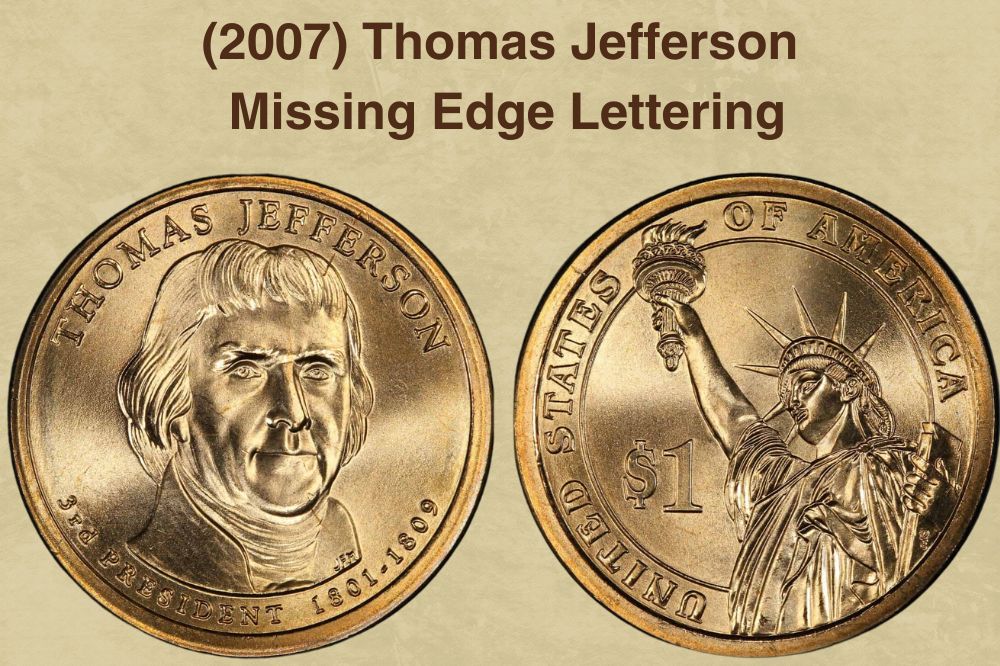 A number of different presidential dollars include examples with missing edge lettering. And the finest quality coins can be worth serious money.
Amongst the coins struck in 2007, a number of those commemorating President Thomas Jefferson have missing edge lettering. That means there's no mint mark to show where they were struck. There's no date mark either, but these were a single year dollar, struck only in 2007.
As with other presidential dollar error coins, prices tended to start high, as collectors speculated on their rarity. The auction record was set in 2009, just a couple of years after the coins were issued. The coin in question was rated MS66 by the PCGS, and it sold for $1,725.
Today, far more examples of that quality have come to light. The PCGS has certified over 700 of them so far, and values them at just over $100 each. And there are also over 100 MS67 coins, each valued at $375.
But collectors are still prepared to pay serious money for the crème de la crème of a particular mintage. In the case of the 2007 Jefferson dollar with missing edge lettering, that award goes to a single coin graded MS68. The PCGS values that one at $6,500.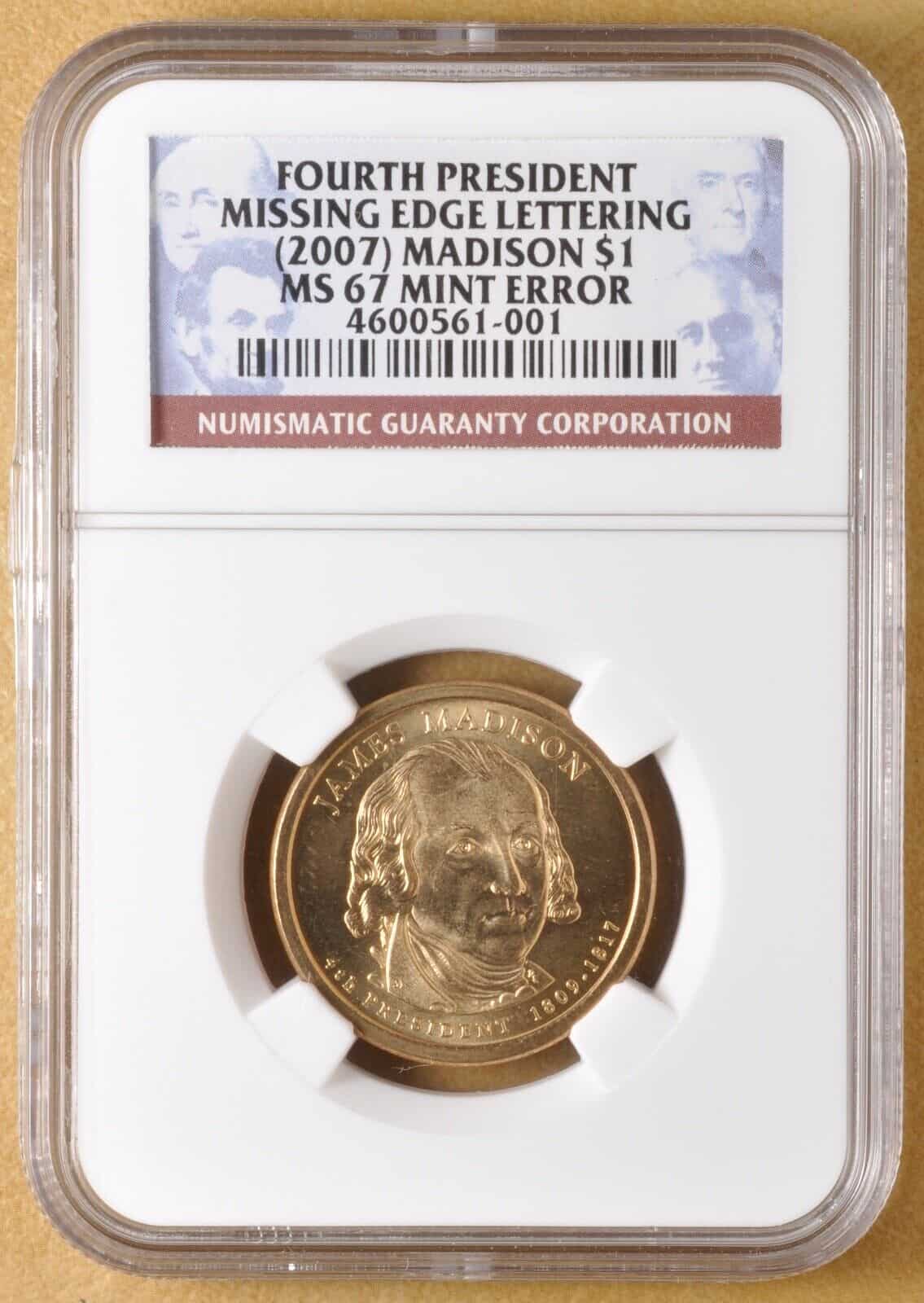 It's a similar story for another of the presidential dollars minted in 2007 and missing its edge lettering. This coin commemorated James Madison, and was the fourth in the series.
Well over 200 million of these coins were struck in Denver and Philadelphia. But a much smaller subset were missing their edge lettering. And if you find one of them in mint state – graded 60 or above – it will be worth much more than its face value.
The PCGS estimates a coin graded MS60 at $70, and values slip into three figures at MS63. But they rise more steeply at MS66 and above.
The PCGS has certified 33 coins as MS66. One of those was last sold at auction in 2013 for $441, and today, the PCGS values it at $600.
But the finest example is a single coin graded a point higher. Its value has never been tested in a public sale, but the PCGS places it at a cool $4,000.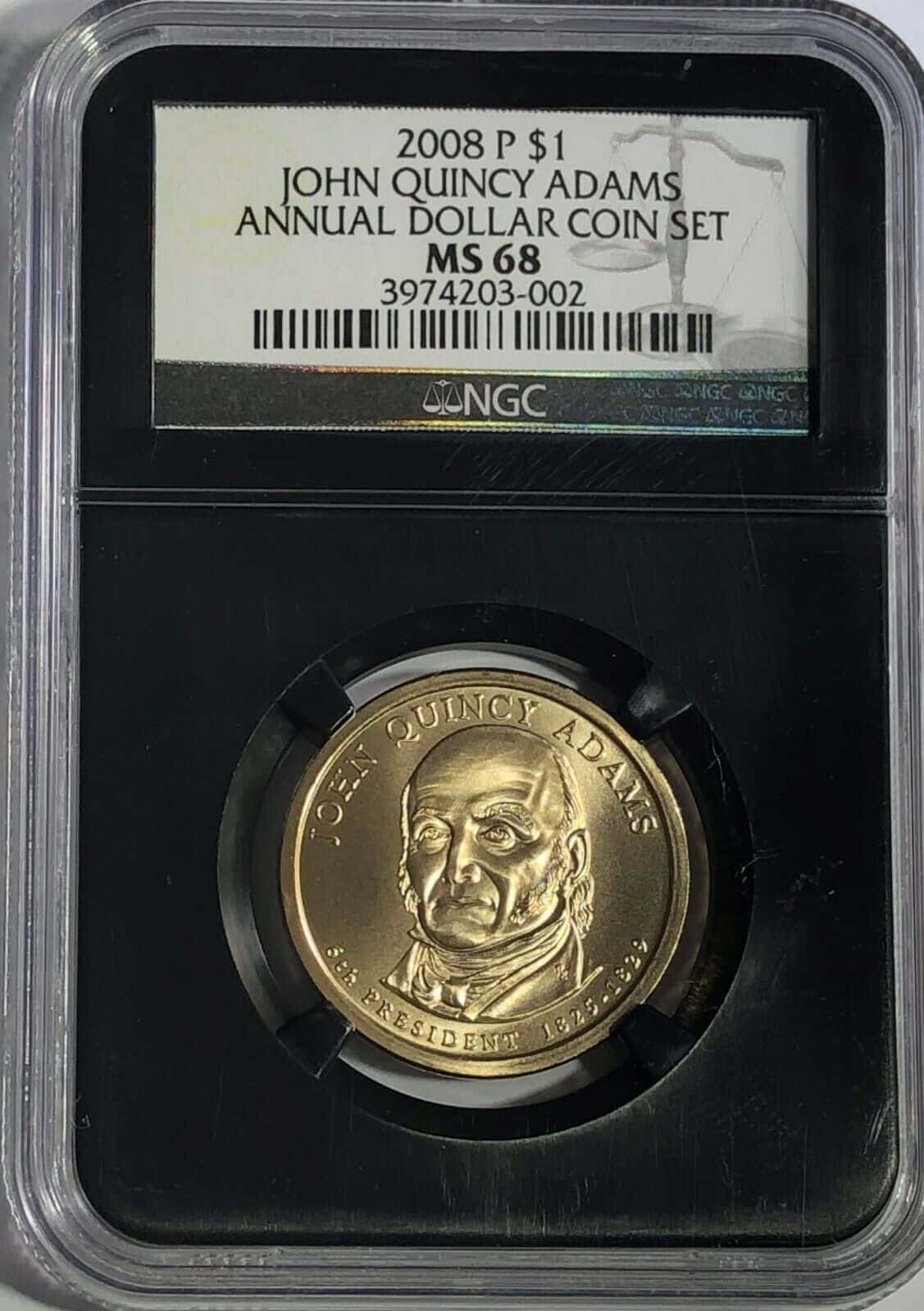 The dollar coin commemorating John Quincy Adams was minted in 2008. And just as with the previous year's dollars, some of them were missing their edge lettering.
By now, collectors were used to seeing dollar coins with plain edges. But it soon became clear that the John Quincy Adams versions were scarcer than the plain edge Washington dollars.
Even so, prices have generally fallen over time. The auction record for a plain edge Adams dollar was set in 2012. The coin in question was graded MS66 and sold on eBay for $1,104. Today, the PCGS has certified four coins at that level, and values them at $200 each.
The finest quality coins to have come to light to date are graded MS68. But seventeen of those have been certified by the PCGS – so they're not quite as desirable as other "best in class" examples. The PCGS values them at $425 apiece.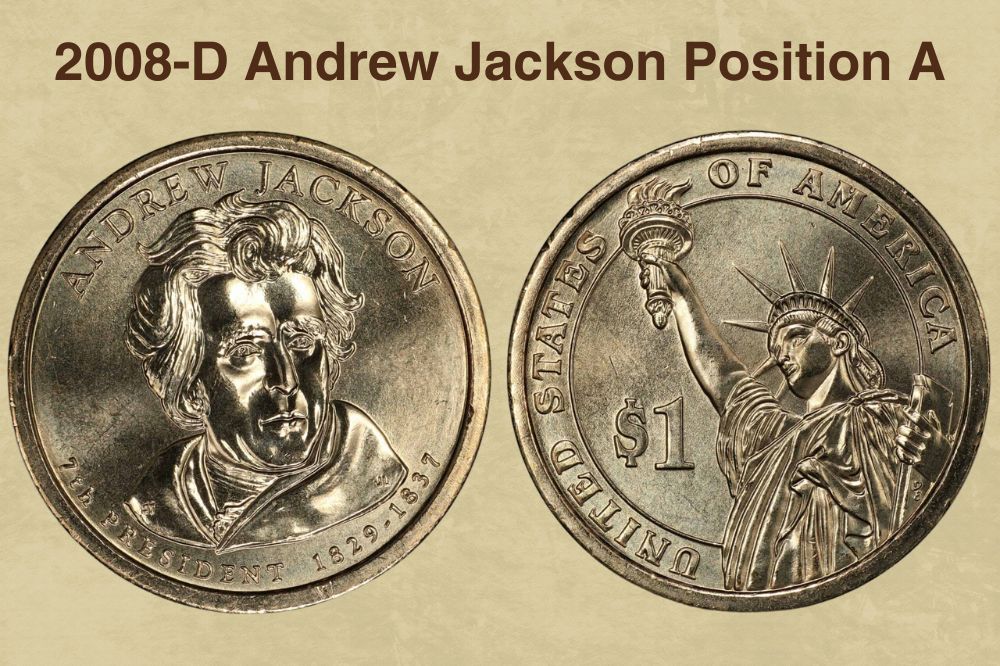 As the seventh US president, Andrew Jackson's dollar coin was the seventh in the series. It was minted in 2008, with a total of just over 122 million coins struck. Around half of those were struck in Denver, and bear the "D" mintmark on the edge.
The presence of coin edge lettering gave rise to two distinct variants of most presidential dollars. In those known as "Position A", the coin edge lettering is upside down when the president's portrait is facing up. With "Position B" coins, the opposite is the case.
Coins in circulated condition, even "about uncirculated" examples, are worth only their face value. And you can pick up a mint state coin graded MS60 for just a couple of dollars more.
The cream of the Position A crop – to date, at least – are coins graded MS67. Seven of those have so far been certified by the PCGS, which values them at $370 each.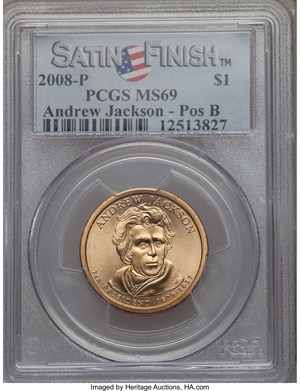 So even the finest standard Jackson dollars aren't worth vast sums. But if you find an interesting coin with an error, it could command a far higher price.
That's the case for two coins known to exist that are missing their edge lettering. There are plenty of those around. But these are also "special strikes", made in limited numbers for collectors. They have a special satin finish.
The combination isn't unique. The PCGS has graded hundreds of Jackson dollars with missing edge lettering and a satin finish. And over 100 have been certified at SP67 alone (the PCGS uses the SP prefix for special strike coins).
But these two particular examples are in almost perfect condition, graded SP69. That's why the PCGS values them at $1,000 each.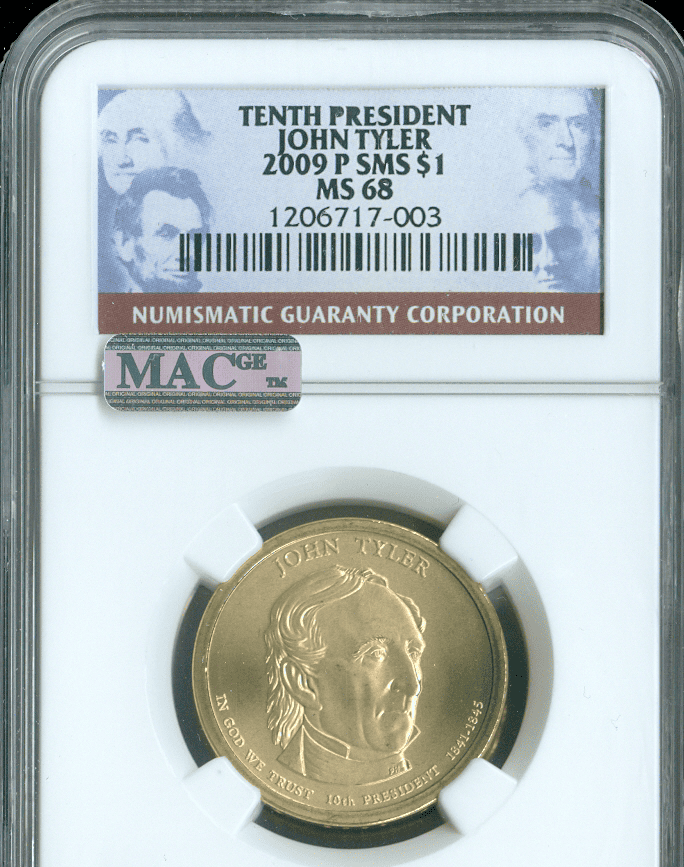 2009 was the third year in which presidential dollars are minted. By now, some collectors were losing enthusiasm, and mintage numbers were falling. That year saw just over 87 million dollar coins struck to commemorate the tenth US president, John Tyler.
As with other presidential dollars, the position of the coin edge lettering determines the variant. And one coin that broke records was a Position A example.
It was minted in Philadelphia, and sold at auction just a year after its release. It was graded MS67 by the PCGS, and achieved a price of $1,150.
But this is another case where prices have fallen over the years as more high-quality coins have come to light. Today, the same coin is valued by the PCGS at around $225. The finest known example is graded MS68, and is valued at $900.
William Henry Harrison was the ninth President of the USA, and his dollar coin was issued in 2009. Just as with previous presidential dollars, an unknown proportion of the 98.4 million mintage were lacking their edge lettering.
The PCGS has certified Harrison dollars with missing edge lettering at grades MS63 and above. You can get your hands on one at the lower end of the range for about $30. And prices remain in double figures up to and including MS67.
But at MS67+, the value rises to $200, and at MS68, it's a shade under $1,000.
The finest coin in existence is graded MS69. It has been sold twice in recent years. In 2019, it sold at Heritage Auctions for a modest $456. But just three years later, it was offered for sale again on eBay. And it changed hands then for a best offer of $1,250.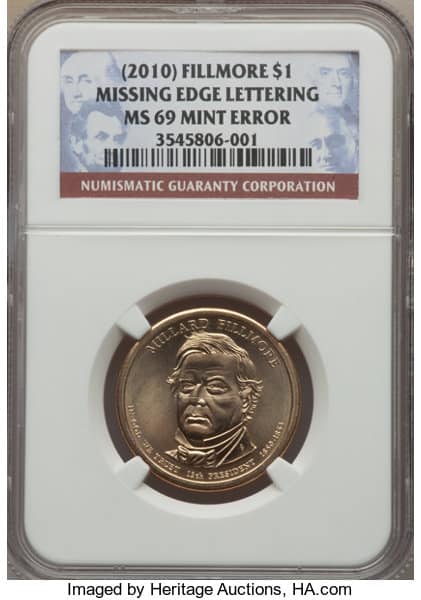 Millard Fillmore was the 13th president, and dollar coins commemorating his presidency were struck in 2010. Mintages had continued to fall, and around 74.5 million coins were produced.
But three years after the first presidential dollars were issued, the problems with missing edge lettering continued. And as ever, collectors were prepared to pay a premium for good quality coins exhibiting this error.
Values for mint state examples start at around $15, and a gem quality MS65 coin could be yours for around the $40 mark. Coins at this level aren't rare. The PCGS has certified well over a thousand at MS65.
It wasn't always that way. The auction record for this mintage and error is $646, and it was set in 2016 for a coin graded MS65. It just goes to show that gambling on the rarity of modern coins doesn't always pay off!
And even at MS68, these coins remain relatively affordable today. The PCGS population at this grade stands at 270, and the value remains a modest $275 as a result.
Go up half a point, though, and that changes. If you find a coin graded MS68+, its value will be around $875. And the finest coin of all is a single example graded MS69. It's never been sold, but is valued by the PCGS at $5,500.
Presidential dollars that are worth money
That brings us to the end of our look at some of the most valuable presidential dollars out there. We hope you've enjoyed learning more about them.
Circulated coins are generally not worth more than their face value. But if you have one that's in pristine condition, it could be worth far more – especially if it has an interesting error.