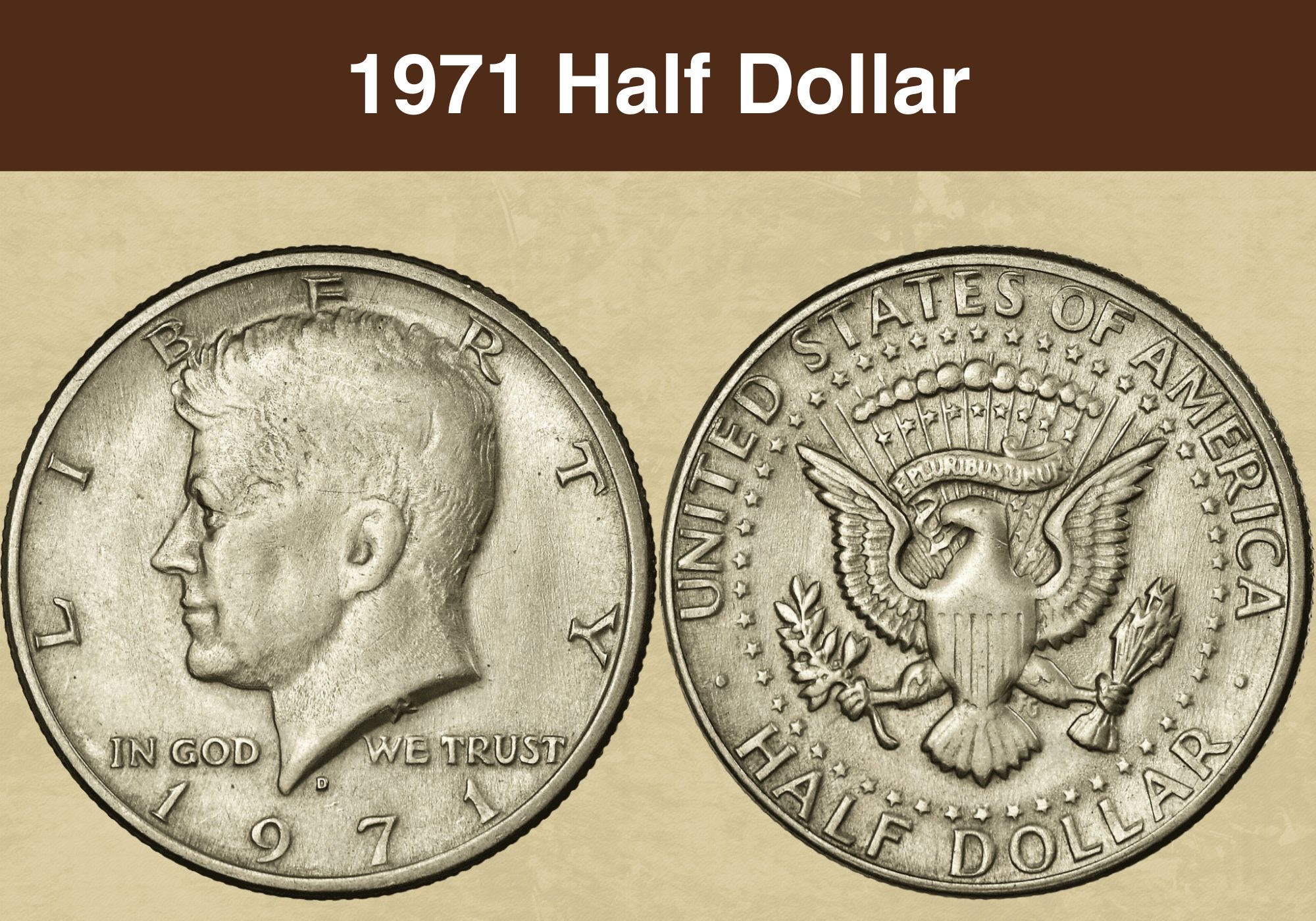 Do you know the Kennedy half-dollar is the largest U.S. currency in circulation?
As the name suggests, the half-dollar commemorates America's favorite president John F. Kennedy, assassinated on November 22nd, 1963.
Designed by Gilroy Roberts and Frank Gasparro, the 1971 half-dollar features J.F. Kennedy on the obverse and the Presidential seal on the reverse. It stands out because it's the first American coinage with a copper-nickel composition.
The 1971 half dollars do not command a high value because they were produced in millions, and most still survive. However, some pieces, especially in MS67 and MS68 grades, command a premium because they are rare.
Today, we'll learn about the 1971 Kennedy half-dollar, including its background, value, and errors. Whether you are a beginner or a specialist in rare coins, we hope you find this article helpful.
1971 Half-Dollar Details
Category: Kennedy Half Dollars
Mint: Philadelphia, Denver, and San Francisco
Obverse Designer: Gilroy Roberts
Reverse Designer: Frank Gasparro
Metal Composition: Copper-Nickel Clad
Diameter: 30.6mm
Weight:34g
Edge: Reeded
The Obverse Side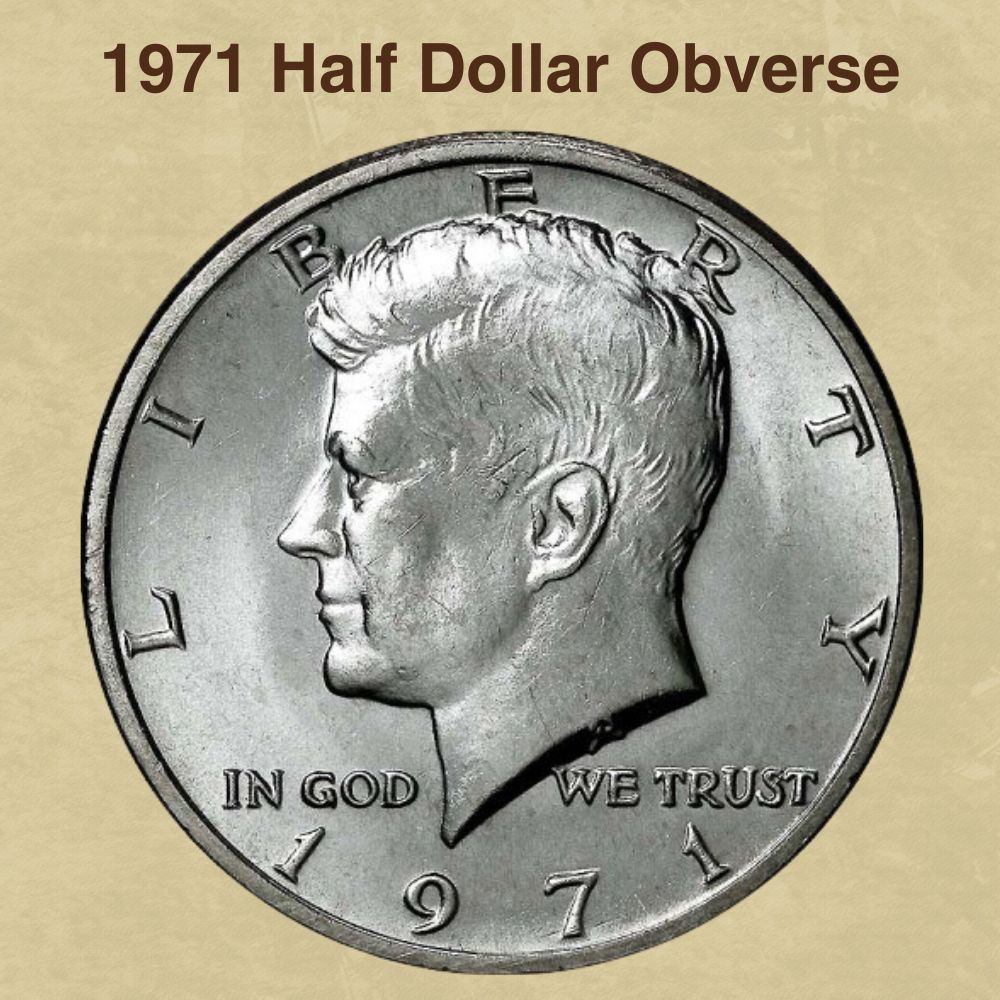 The 1971 half-dollar obverse design is one of the greatest works by Chief Engraver Gilroy Roberts. It showcases a bust of the assassinated President J.F. Kennedy facing left. The words "LIBERTY" arch above the late president's head, slightly covered by his hair.
Below the profile lies the phrase "IN GOD WE TRUST" divided into two sections. The minting date and mark fall at the bottom of the bust.
The Reverse Side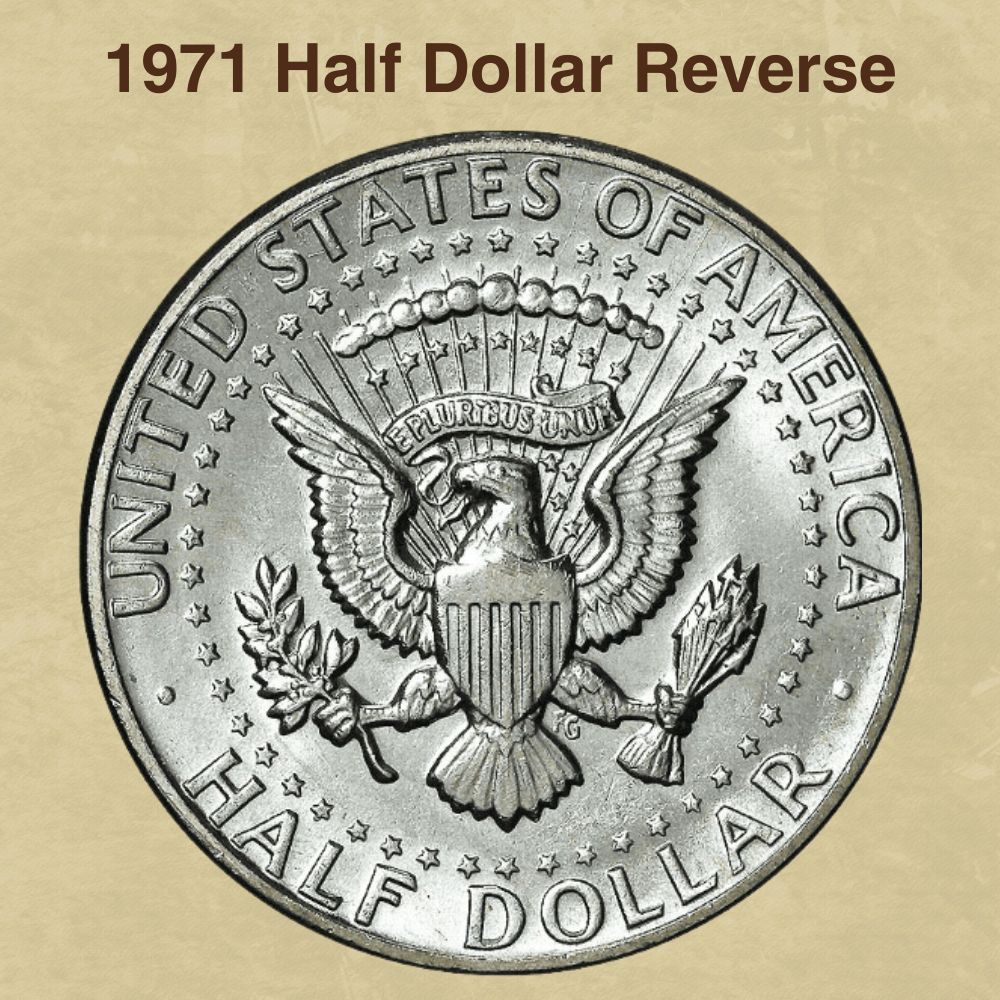 For the 1971 half-dollar reverse, designer Frank Gasparro modified his design from the Kennedy appreciation medal. In 1962, J.F. Kennedy had the U.S. mint design three hundred appreciation medals, which he presented to several nations during his 1963 trips.
The reverse design depicts several elements from other coins. At the center, you can see the image of the Presidential Seal. The seal includes the heraldic bald eagle as its main design element.
With wings outstretched and the President's Coat of Arms on its chest, the eagle holds a bundle of arrows and an olive branch in its talon to symbolize the nation's readiness for war and desire for peace.
The Latin motto "E PLURIBU UNUM" falls above the bird's head. And below it, you can find the coin's denomination.
Arch on top is the inscription "UNITED STATES OF AMERICA", separated from the eagle design by a ring of 50 stars.
In 1975, the Independence Hall reverse by Seth G. Huntington replaced Frank's design.
Additional Details
One thing that separates the 1971 half-dollar from its earlier version is its metal composition. Initially, the Kennedy half-dollar comprised 90% silver and 10% copper.
But the U.S. mint later transitioned to a new metal composition of 40% silver and 60 % copper. In 1971, the mint eliminated silver from the half-dollar completely, ushering in the age of copper-nickel half-dollar coins.
The 1971 half-dollar comprises 91.67% copper and 8.33% nickel. It weighs 11.34g (0.4 ounces) and has a diameter of 30.61 mm (0.08464 inches). It also comes with a reeded edge.
1971 Half Dollar Value Chart

Mint Mark
Condition
Good
Fine
Extremely Fine
Uncirculated (MS 65)
1971 "no mint mark" Half Dollar
$0.60
$0.60
$0.60
$35
1971 "D" Half Dollar
$0.60
$0.60
$0.60
$20
1971 "S" proof Half Dollar
–
–
–
$5.70
Also read: 13 Most Valuable Franklin Half Dollars Worth Money
1917 Half Dollar Value and Varieties
In 1971, the US government struck half-dollar coins in three centers, namely Philadelphia, Denver, and San Francisco. The units from the Philadelphia mint bear no mint marks. But pieces from Denver and San Francisco come with the "D" and "S" mint marks. Now, let's break down each 1971 half-dollar variety.
1971 No Mint Mark Half Dollar Value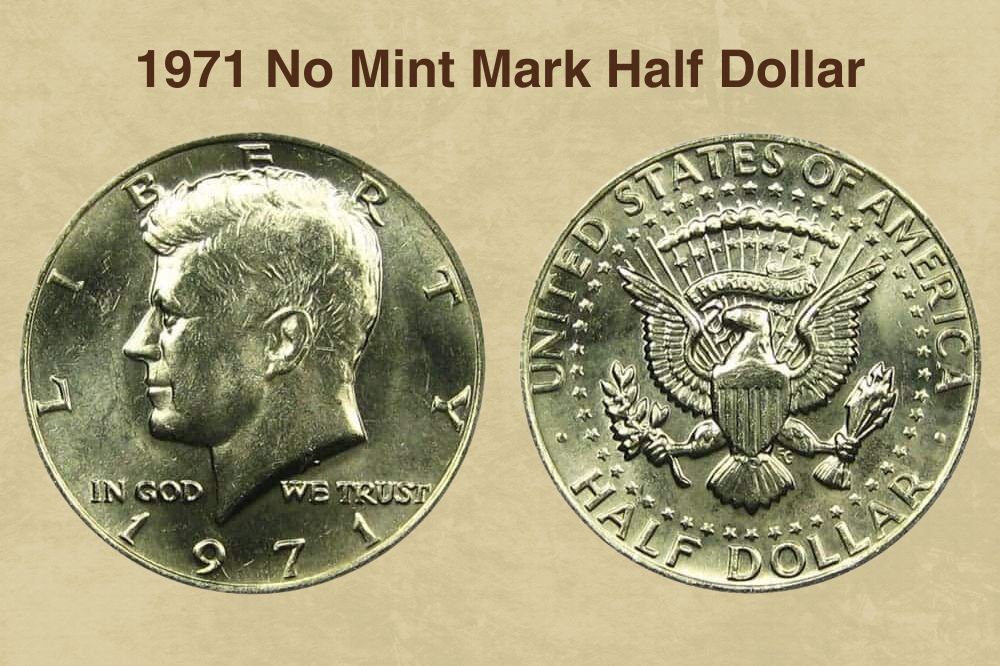 Type: Kennedy Half Dollar
Mint Mark: No Mint Mark
Place of Minting: Philadelphia
Year of Minting: 1971
Face Value: 05 UD
$ Price: $0.06 – $2,050
Mintage: 155,164,000
In 1971, the minting center in Philadelphia produced over 155 million Kennedy half-dollar coins. Like previous units, the 1971 half-dollar coins from Philadelphia have no mint mark
Although the mint didn't have the highest mint that year, nearly all pieces entered circulation. That explains why it's difficult to find a 1971 half-dollar specimen in uncirculated condition. However, they are not super rare.
According to NGC, a 1971 no mint mark half-dollar in circulated condition can sell for slightly more than its face value or about $0.60. Those in the mint state have a higher value and can fetch around $45 or more.
However, there are a few 1971 half dollars that have reached impressive prices. In 2018, a high-grade 1917 "no mint mark" half dollar sold for $1,560. Another piece graded by NGC at mint state 67 sold for $2,900 earlier this year.
1971 "D" Half Dollar Value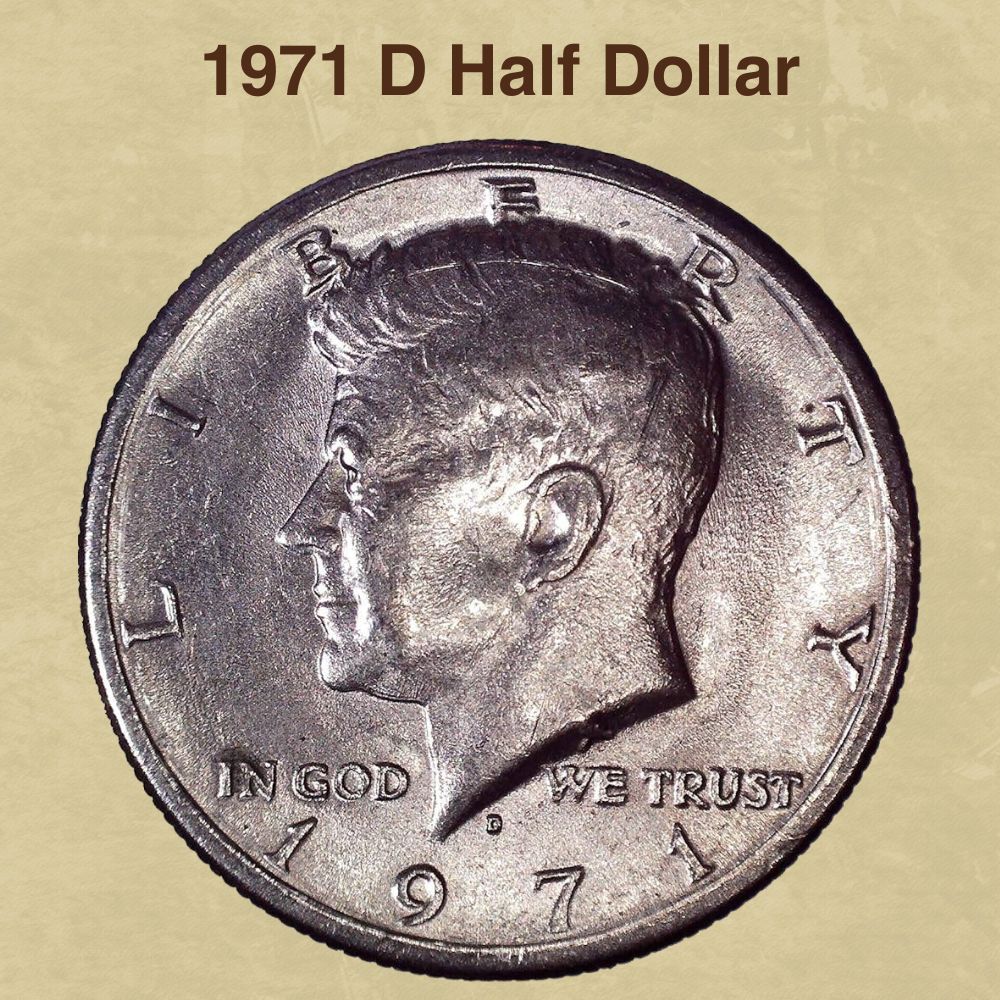 Type: Kennedy Half Dollar
Mint Mark: D
Place of Minting: Denver
Year of Minting: 1971
Face Value: 05 UD
$ Price: $0.06 – $3,100
Mintage: 302,097,424
The Denver mint recorded the highest mintage in 1971. The facility struck more than 302 million units of the half-dollar with the "D" mint mark.
Because of their huge number, 1971-D half-dollars are readily available. These coins have a pretty low value. Circulated pieces are not even collectible.
Expect a 1971-D half dollar in circulation to cost between $0.60 to $0.75. However, pristine pieces that have their original luster and texture can fetch much more. For example, a 1971-D at mint state 63 can sell for about $2.28 to $3.
In auctions, the value of some specimens can increase significantly. According to PCGS, a 1971-D graded at MS61 sold for an incredible price of $13,000 in 2018. Also, two other pieces in AU 58 grade reached $6,038 and $3,910 in 2003.
1971 "S" Half Dollar Value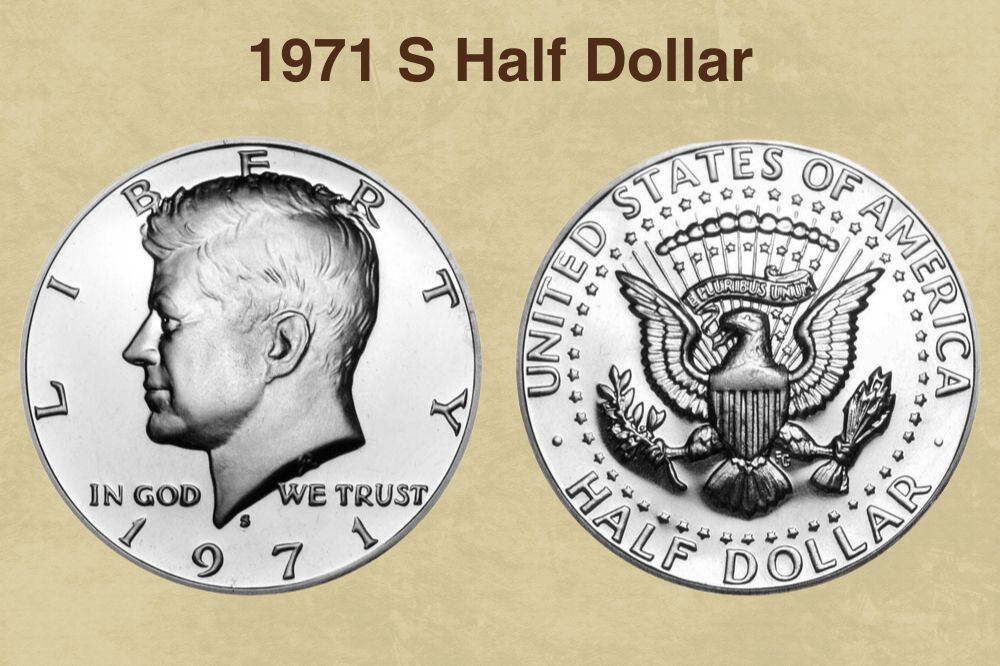 Type: Kennedy Half Dollar
Mint Mark: S
Place of Minting: San Francisco
Year of Minting: 1971
Face Value: 05 UD
$ Price: $0.06 – $5.70
Mintage: 3,220,000
About 3.2 million 1971 half dollars got minted in San Francisco. However, these are not your typical regular strike coins. Instead, they were produced with coin collectors and investors in mind.
Proof coins from the San Francisco mint have an "S" mark on the obverse and can fetch a slightly higher price than coins from Philadelphia and Denver.
If you have a 1971-S half-dollar in average condition, expect it to sell for $2 or more. But in PR 65, the half-dollar can cost between $4.63 to $5.70. Of course, those with original texture and deep cameo will be super expensive.
Also read: 13 Most Valuable Kennedy Half Dollar Worth Money
1971 Half Dollar History
Immediately after the assassination of the 35th President of the United States of America, John F. Kennedy in 1963, Congress authorized the re-designing of one of the large silver coins to honor the nation's fallen president.
The Mint Director, Eva Adams, contacted Chief Engraver, Gilroy Roberts, updating him on the possibility of changing the design of the silver dollar, half dollar, or quarter dollar.
On November 27, 1963, the late president's widow, Jacqueline Kennedy, selected the half-dollar as the commemorative coin. She reasoned that replacing George Washington on the quarter dollar won't be patriotic.
After the selection, Roberts worked on the half-dollar obverse, replacing the portrait of Benjamin Franklin with a modified bust of Kennedy from the John F. Kennedy Presidential Series. As for the reverse, designer Frank Gasparro adjusted the design he had created for the Kennedy appreciation medal.
In 1964, the US mint released the Kennedy half-dollar to the public, and it immediately became a hit. Millions of American mourning the death of their favorite president jumped at the opportunity to own the memento.
Most people inherently believed this half-dollar was more valuable and worth saving than the other half-dollars. As a result, the Kennedy half-dollar was rarely seen in circulation despite the high mintage.
The high price of silver also increased hoarding. People melted the coins for their silver content. This forced the US mint to change the half-dollar composition from 90% silver and 10% copper to 40% silver and 60% copper.
But despite the change, very few Kennedy half-dollars saw circulation. Eventually, the mint removed silver from the half-dollar in 1971 and replaced it with a copper-nickel clad.
As a result, the 1971 half-dollar became the first specimen in American coinage history to have this metallic composition. The same composition was also featured in the 1965 dime.
Also read: 11 Most Valuable Half Dollars In Circulation
1971 Half Dollar Grading
The Sheldon Scale is arguably the best grading system/method for the 1971 half-dollar. It involves assigning coins a numerical value based on their condition. For example, AU50 implies that an uncirculated piece displays signs of wear on high points and has a few contact marks.
Rare 1971 Half Dollar Error List
The switch from silver to copper-nickel half dollars in 1971 meant the mint had to create new planchets. This gave rise to 1971 half-dollar varieties with errors.
Here, we have highlighted popular minting errors in the 1971 Kennedy half dollar.
1. 1971-D Half Dollar Struck on A 40% Silver Planchet Error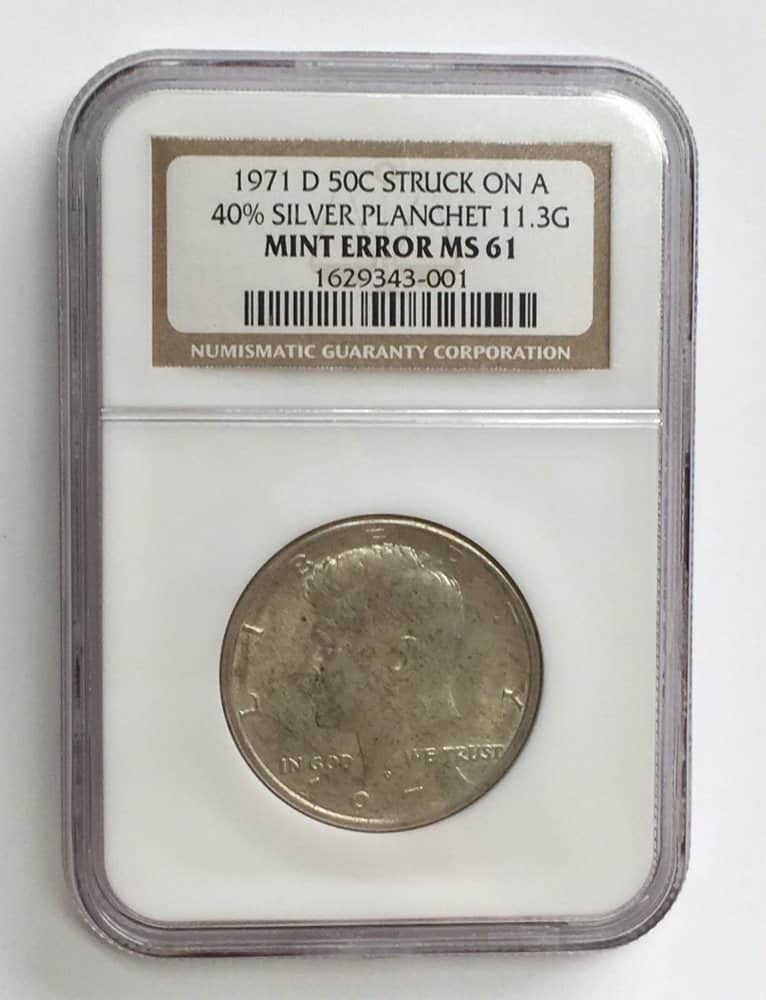 Yes, 1971 half dollars struck on 40% silver planchet exists. The United States mint produced these coins by striking some leftover silver planchets from 1970.
Due to their rarity, these pieces are highly sought-after by numismatics and investors alike. They are also expensive and sell for as much as 10,000 or more in auctions.
The best way to determine if you have a 40% silver 1971 half dollar is to look at its reeded edge. If there's a copper ring in the center, it's not a silver coin.
2. 1971 Half Dollar Struck on A Nickel Planchet Error
In some instances, the mint struck the 1971 half-dollar on nickel planchets. These coins usually have a smooth, plain edge, instead of the standard reeded edge. They also miss a large piece of their design along the rim. The reason is, the nickel's diameter is not wide enough to accommodate the half-dollar design elements.
3. 1971 Half Dollar Struck on A Quarter Clad Strip Error
Also referred to as a wrong stock error, it happens when the mint struck the 1971 half dollar on clad strips intended for quarters.
Because the clad strip has a large diameter, the half-dollar will be the same size as copper-nickel clad pieces. However, the coins will vary in terms of weight. Those struck from the clad strip weigh 8.8 grams instead of 11.3 grams.
Specimens with this rare error have a value of approximately $400 in MS60. But in higher grades, expect the piece to cost much more.
4. 1971 Half Dollar Struck on 1C Penny Planchet Error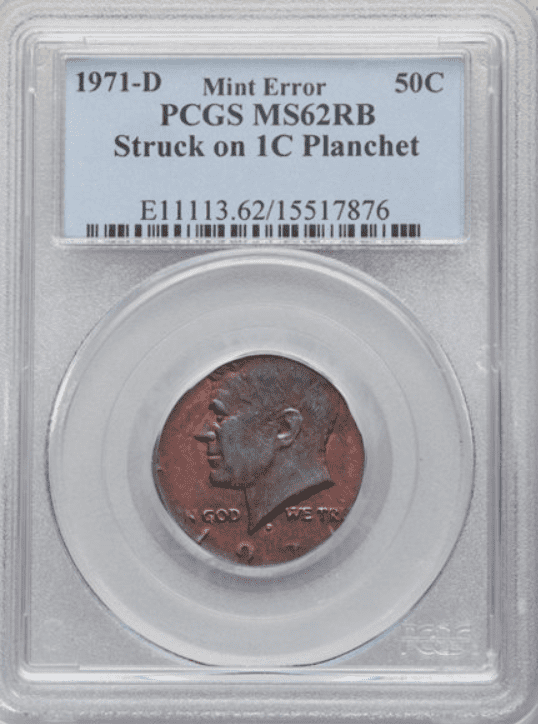 1971 half dollar struck on the 1 cent penny planchet have red or brown shades. They are also small and thin and miss a huge section.
5. 1971 Half Dollar Off-center Strike Error
Misaligned planchet and dies during the minting result in specimen with off-center errors. 1971 half dollars with this error usually have a blank section on the surface.
Often, off-center errors are measured by percentage. The higher the percentage, the higher the value of the coin.
6. 1971 Half Dollar Double Die Error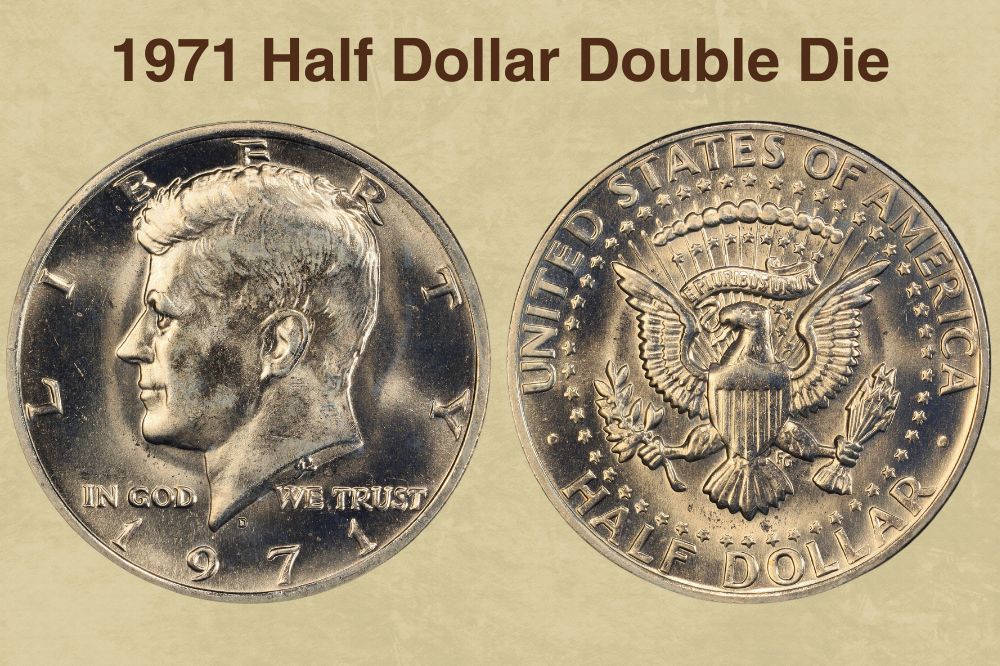 Sometimes a damaged die might strike the blank planchet twice, resulting in doubled design elements. When this happens, we get a specimen with a double die error on the obverse or reverse side.
1971 Kennedy half dollar with double die obverse (DDO) or double die reverse (DDR), usually display doubling on the letters, number, and mint marks. These coins can fetch around $2,000 or more.
7. 1971 Half Dollar Clipped Planchet Error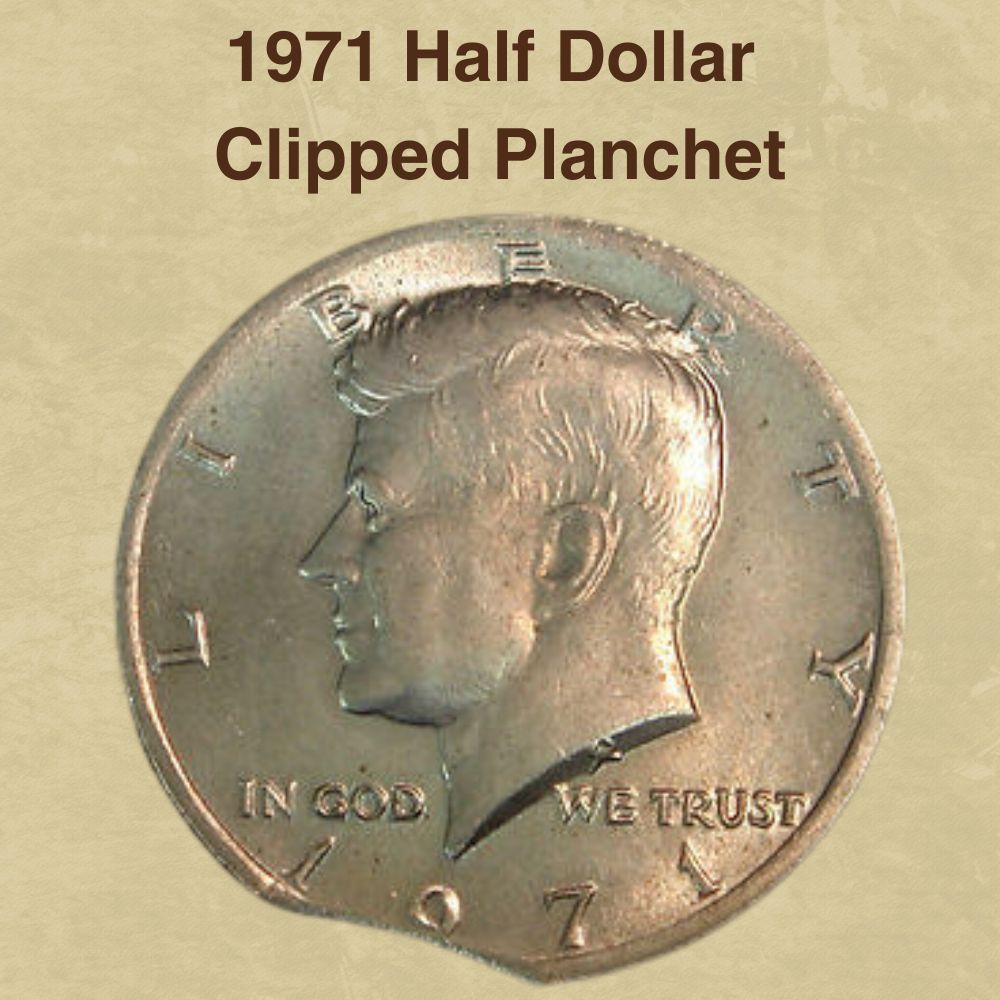 This error occurs when a coin die accidentally clips the coin's edge, resulting in a piece with a crescent-shaped portion missing.
1971 Half Dollar FAQ
How can you tell if a 1971 half-dollar is silver?
If you believe your 1971 Kennedy half dollar is silver, view the coin's edge. If there is a copper ring, then your piece is clad. Silver coins usually have a solid silver stripe.
Besides the edges, you can use a magnet because silver has no magnetic properties. You can also weigh the coin. 1971 silver coin weighs 11.5 grams, while those made of copper-nickel weigh 11.34 grams.
What should I look for in a 1971 half-dollar?
One factor that can help you determine the value of a 1971 half-dollar is its metal composition. 1971 half-dollar pieces with silver composition are rare and expensive. For example, a 40% silver 1971 Kennedy half-dollar can sell for as much as $10,000.
Also, check for errors, like double dies obverse/reverse, off-center, or planchet errors.
What does the 1971 half-dollar mark on Kennedy's neck mean?
After designing the Kennedy half-dollar obverse side, Chief Engraver Gilroy Roberts added his initials "GR" at the bottom of the late president's neck. According to Roberts, this half-dollar was one of his greatest works.