The Buffalo Nickel is sometimes called the Indian Head Nickel. But since it has a Native American Chief on the heads side and an American Bison on the tails side, both names are slightly erroneous. We'll look into those mistaken monikers and lots of other factoids as we confirm the pricing of the most valuable Buffalo Nickel. And we'll learn about designers too!
Most Valuable Buffalo Nickel Worth Money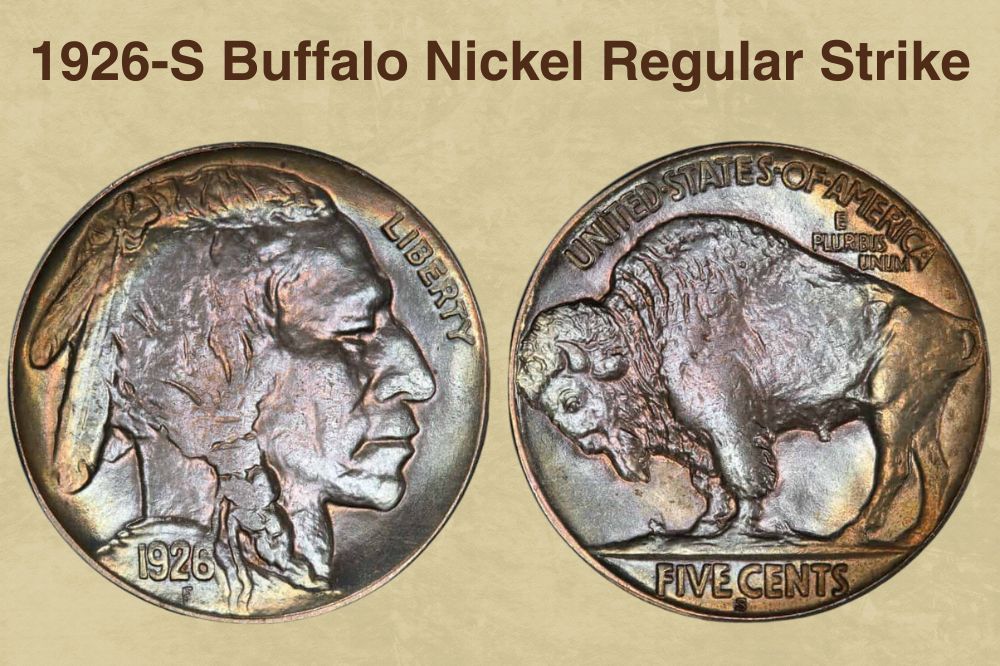 The US Mint opened its first branch in 1792. And for a long time, their Philadelphia office was their only branch. That's why Philadelphia coins didn't have mint marks for centuries. It was understood that mint marks (e.g. O, CC, S, D, etc.) represented the other mint branches.
Year: 1926
Mint Mark: San Francisco
Grade: MS 66
Date of Sale: 1st April 2008
Price: $322,000
Back then, coins were designed by in-house mint employees i.e. the Chief Mint Engraver and his assistants. This changed in 1904 when President Theodore Roosevelt asked for a coin beautification initiative that was continued by his successor, President William Howard Taft.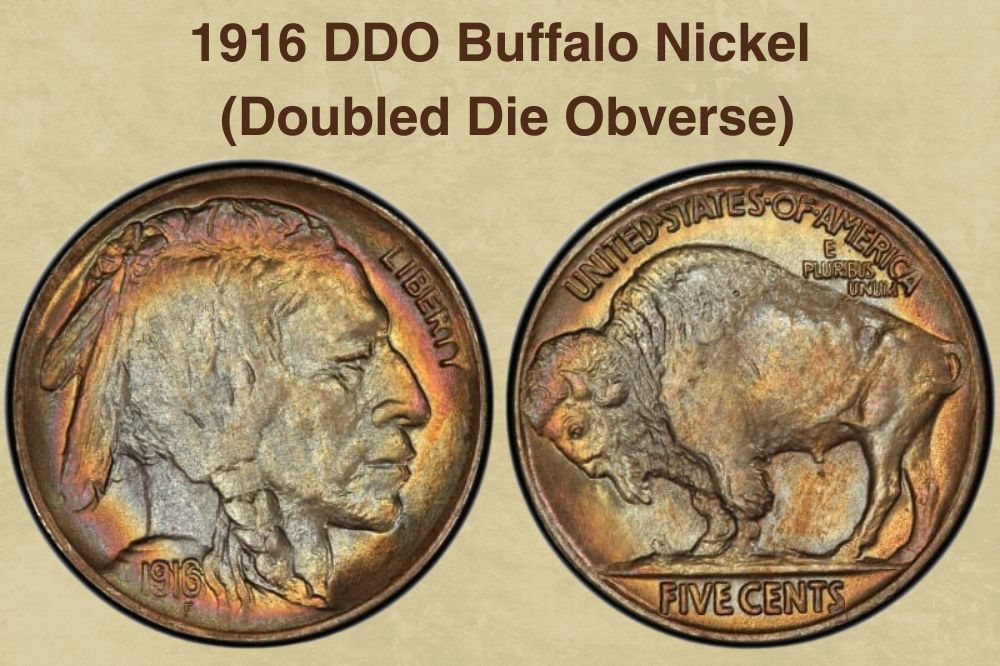 The Buffalo Nickel was one of the coins from that project. It replaced the Barber Nickel and was minted from 1913 to 1938. Like many products from this beautification project, the coin was popular with the public but highly unwelcome among mint engravers and numismatists.
Year:1916
Mint Mark: None (Philadelphia)
Grade: MS 64
Date of Sale: 14th August 2004
Price: $281,750
This was because the coins emphasized aesthetics over practicality. They looked gorgeous but were tougher to mint. Why? The higher relief and deeper artistic detail needed additional strikes to render clearly. This meant equipment wore out faster, raising replacement costs.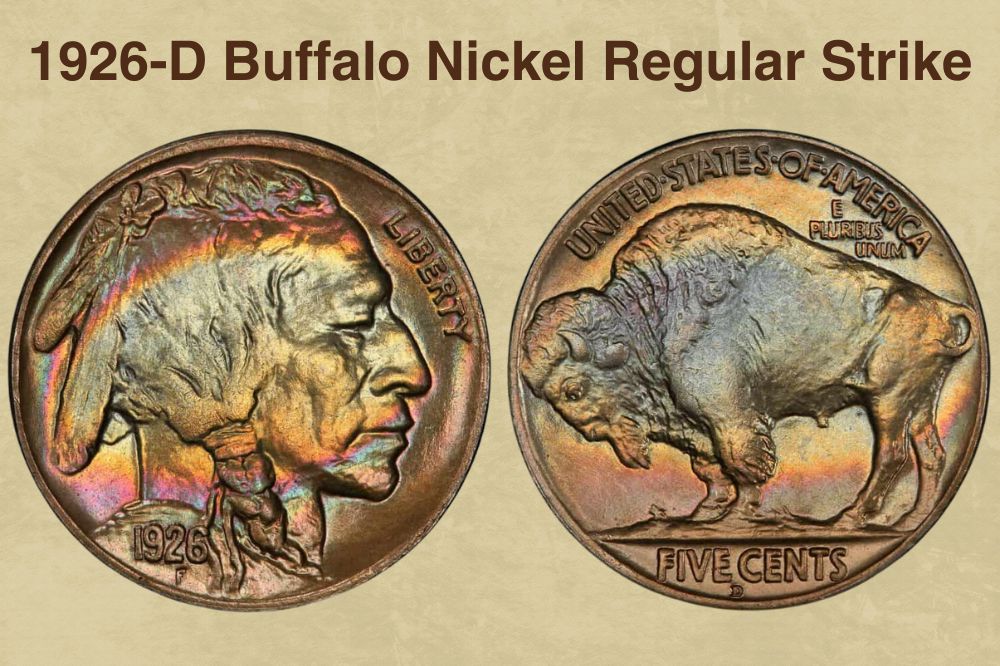 The design of these pretty coins also faded quickly, especially the elevated portions. On the Buffalo Nickel, these included the cheekbones and the date on the obverse (heads side) as well as the legs, horns, and tail on the reverse (tails side). These soon got lost in circulation.
Year: 1926
Mint Mark: Denver
Grade: MS 67
Date of Sale: 8th October 2020
Price: $70,500
As multiple fingers handled the coins, these design details rubbed off the nickels. Lots of Buffalo Nickels appear dateless today, and that's exactly what numismatists were worried about. Right from the start, they warned that this pretty currency would grow ugly as it aged.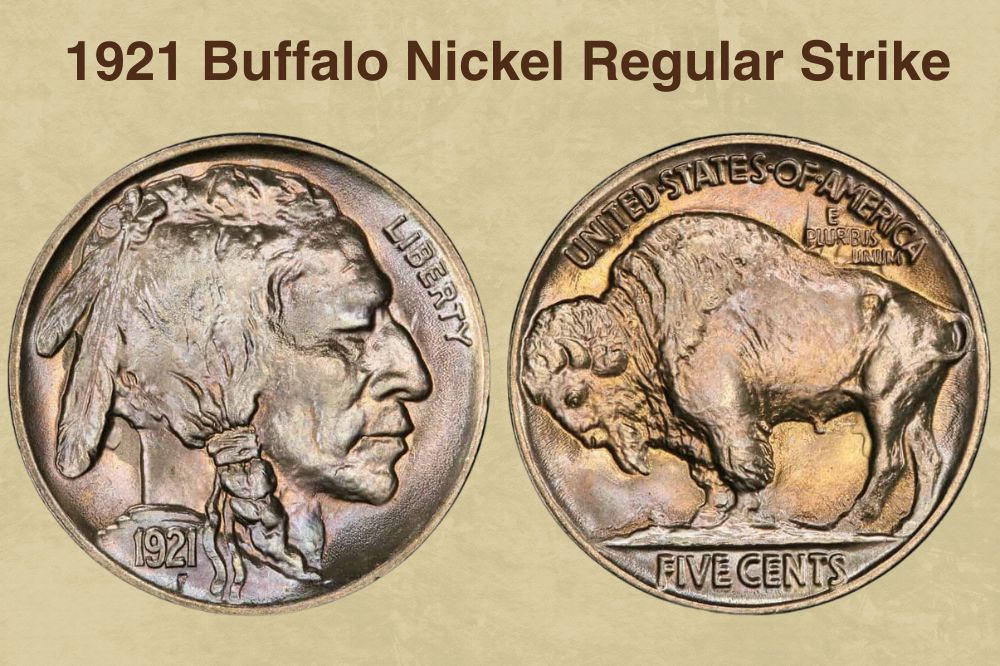 But let's go back to the beginning. When the coin project started in 1904, President Roosevelt recommended his friend and famed artist, Augustus Saint-Gaudens. Despite his issues with the mint, many of the subsequent coins were designed by his assistants, staff, and students.
Year: 1921
Mint Mark: None (Philadelphia)
Grade: MS 65
Date of Sale: 11th August 1990
Price: $30,800
One of these assistants was James Earle Fraser. Like the other artists, he clashed with the mint regarding 3D-style depictions and prominent accreditation. Mint engravers opposed both for being ostentatious and tough on dies, but commercial artists felt their necessity.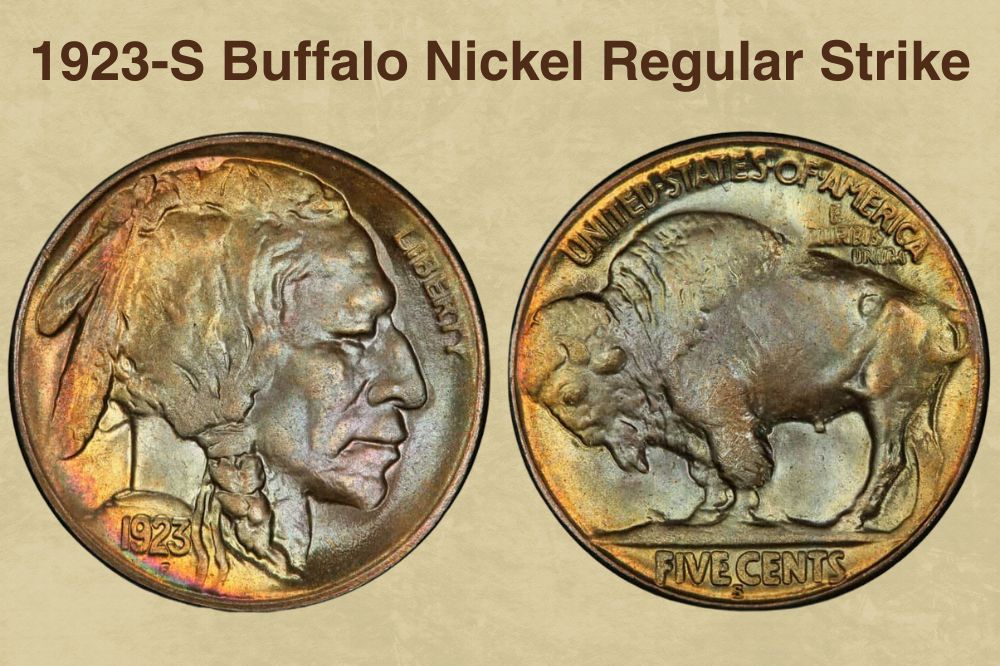 To explain this further, mint engravers were often trained in medals and casting. They worked on 'small flat canvases' that were rarely larger than 2". Even their prototypes stayed at 8" max. And since they were government workers, self-promotion was frowned upon.
Year: 1923
Mint Mark: San Francisco
Grade: MS 66
Date of Sale: 5th June 2013
Price: $67,563
This is why mint engravers hid their signatures subtly on coins. But commercial sculptors were used to movement and massive pieces 360° viewed from all angles. They need to loudly mark their work to ensure future commissions. This explains most of the currency clashes.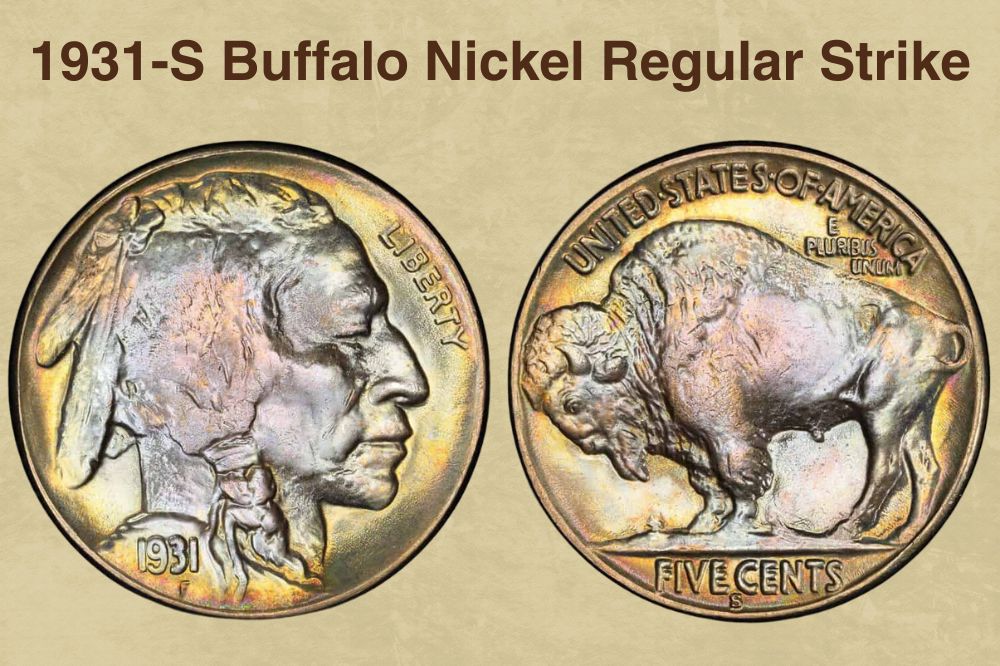 Let's look at the coin specs for a moment. The Buffalo Nickel was 21.21mm in diameter (0.835"). It weighed 5g and was an alloy of 75% copper and 25% nickel. On the obverse, a Native American Chief faces right, and on the reverse, a hairy American Bison faces left.
Year: 1931
Mint Mark: San Francisco
Grade: MS 67
Date of Sale: 1st September 2008
Price: $63,250
The front bears the legend Liberty, as well as the mint date and the designer's initial, F for Fraser. The reverse has E Pluribus Unum, United States of America, Five Cents, and the mint mark at the bottom. The devices (images) are close-cropped and almost touch the coin's rim.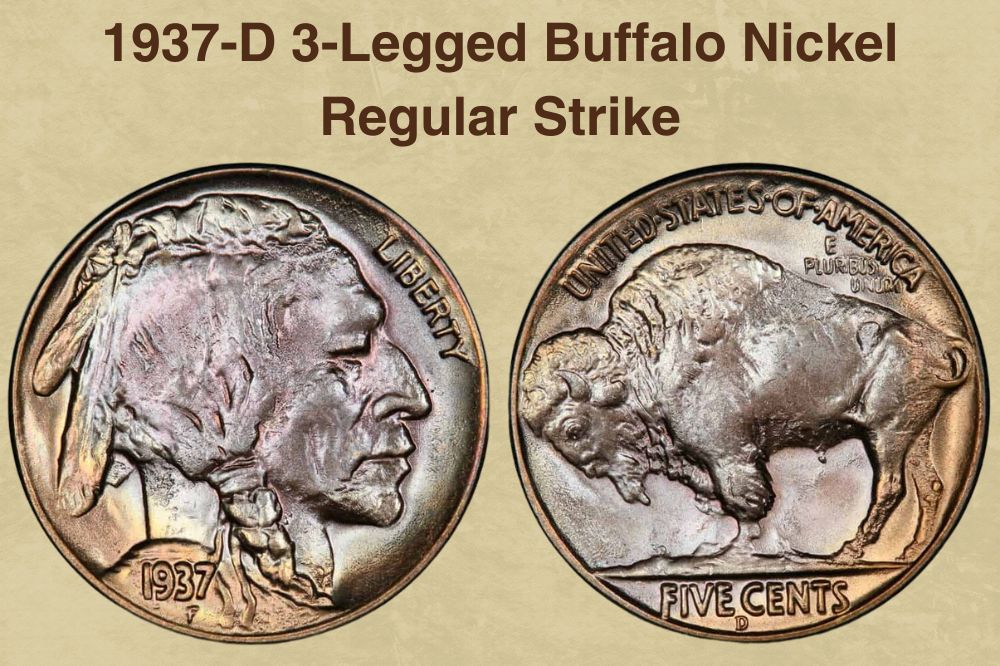 As the story goes, the portrait on the heads side was a composite of three Native American chiefs – Two Moons, Iron Tail, and Big Tree. But many others claimed to be the model and the issue was never fully cleared up. The bison model is equally controversial in its origin.
Year: 1937
Mint Mark: Denver
Grade: MS 66+
Date of Sale: 28th October 2021
Price: $99,875
Some say he was a Bronx Zoo resident named … Bronx. Others say he was Black Diamond from the Central Park Zoo. In either case, he wasn't a buffalo, since those are less hairy and native to Africa and Asia. Bison generally have smaller horns and are only found in America.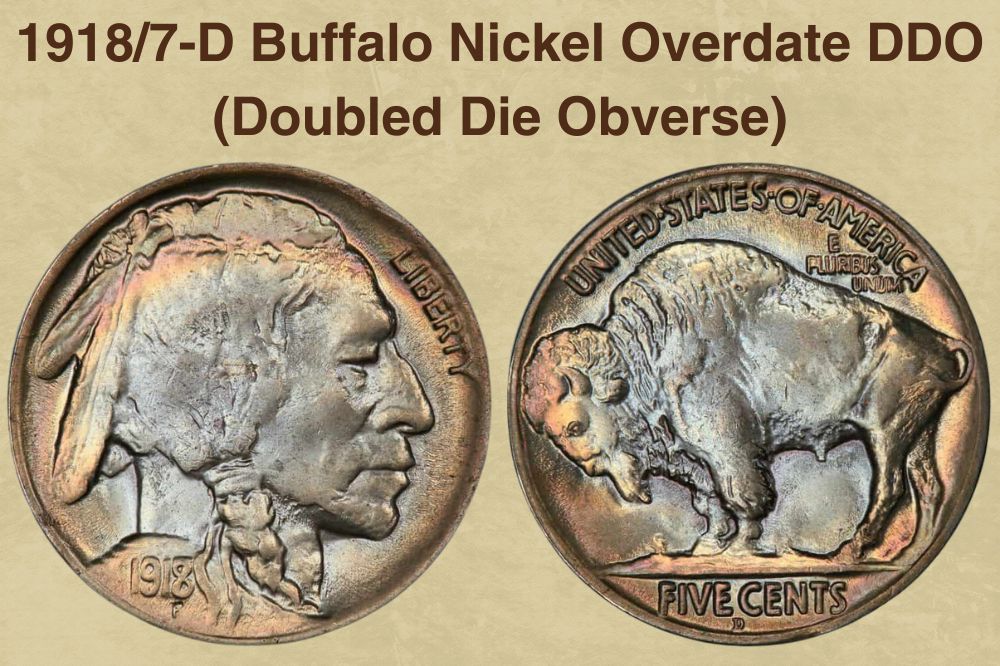 Fraser claimed that his obverse source models were from the Cheyenne, Sioux, and Kiowa tribes respectively (i.e. Two Moons, Iron Tail, and Big Tree). But their exact identity wasn't confirmed by the time Fraser died in 1953. So lots of posers cashed in for money and fame.
Year: 1918 over 1917
Mint Mark: Denver
Grade: MS 65
Date of Sale: 16th August 2006
Price: $350,750
These included Two Guns White Calf (Blackfoot Tribe) and John Big Tree (Seneca Tribe). They toured and hosted public events as 'The Buffalo Nickel Indian', but Fraser and the mint didn't endorse them. On the contrary, they openly stated that neither character was genuine.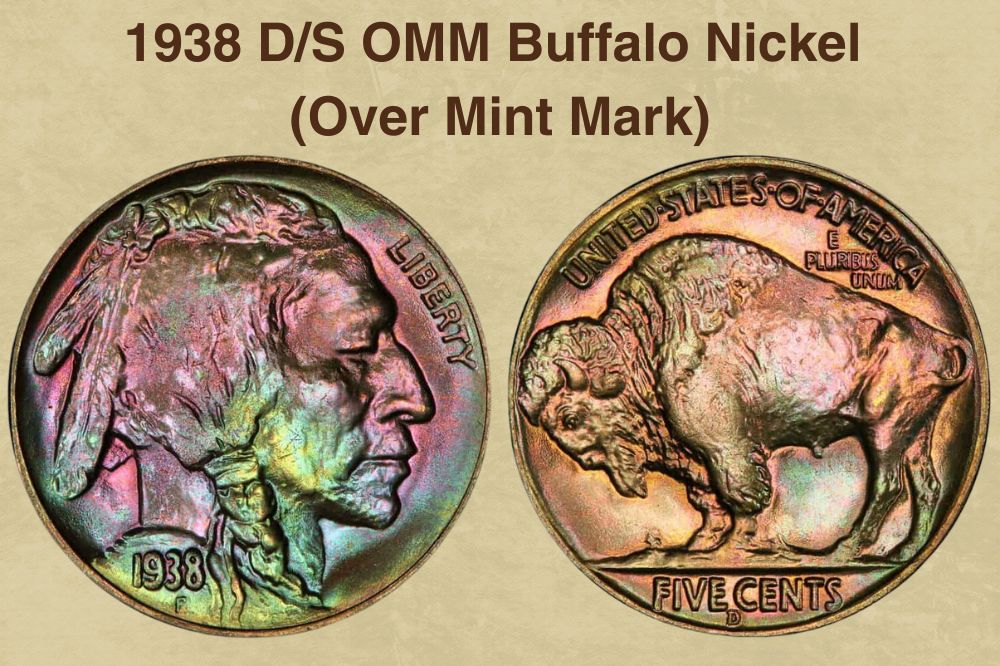 Before the Europeans arrived, Native Americans lived off the land. They had a nomadic lifestyle built around bison and local fish, matching their migratory patterns to the breeding seasons of surrounding wildlife. So in Fraser's mind, these two devices were a natural fit.
Year: 1938
Mint Mark: Denver over San Francisco
Grade: MS 68
Date of Sale: 18th August 2004
Price: $25,300
He felt they were quintessential symbols for America, and many people agreed with him. As an aside, a device is any image, picture, or portrait depicted on a coin. This contrasts against the words, which are called legends or mottos. Meanwhile, the coin background is the field.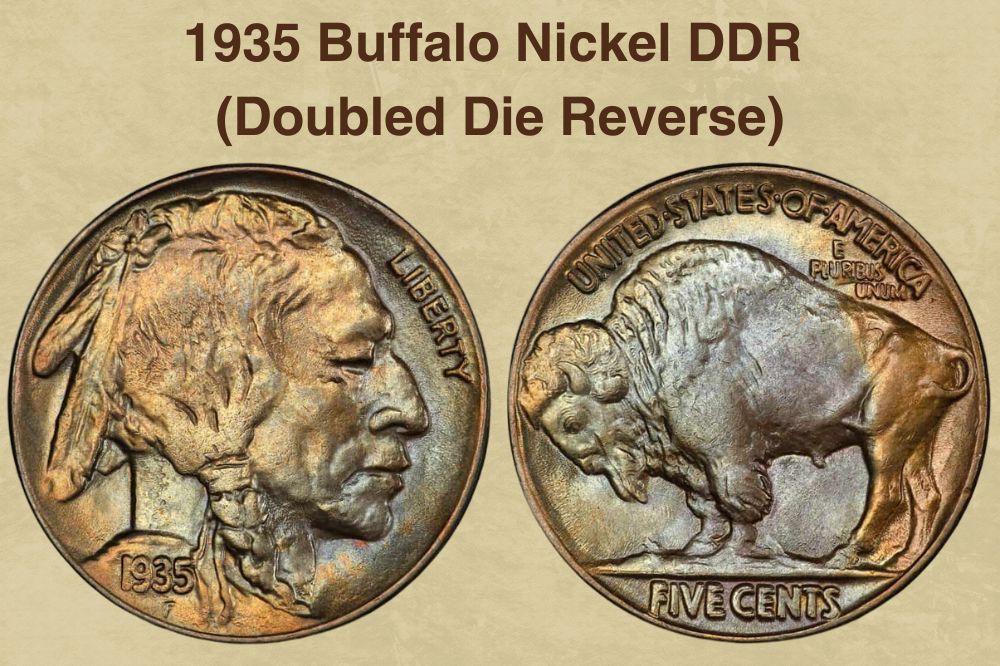 Apart from the desire for beautiful coins, two other factors drove the adoption of the Buffalo Nickel. One, the earlier versions of the Barber Nickel had no denomination stamped on them so crooks would coat them thinly in gold and pretend they were $5 coins instead of 5 cents.
Year: 1935
Mint Mark: None (Philadelphia)
Grade: MS 65
Date of Sale: 4th August 2007
Price: $104,650
Two, the Barber Nickel had been circulating for over 25 years, so its design could legally be changed without much hubbub. Suggestions included a Washington or Lincoln Nickel, and Barber was asked to produce new nickel designs. But Fraser's drawings were more popular.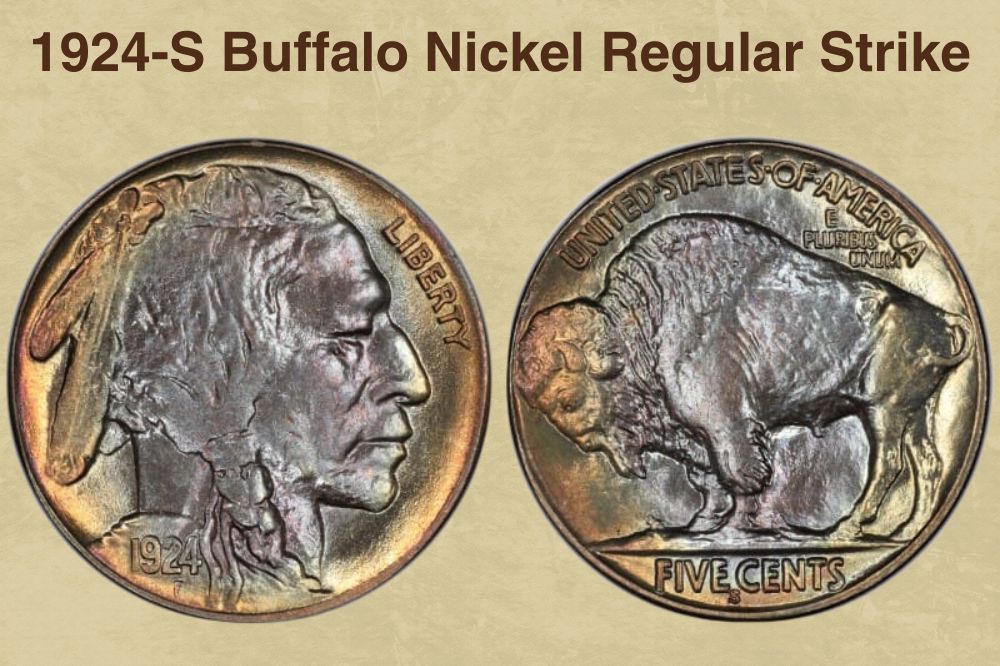 To earn and complete the Buffalo Nickel, Fraser had to exercise extreme patience. His first sketches were done sometime in May 1911. The outgoing and incoming Mint Directors – Abram Andrew and George Roberts – loved and recommended these drawings in July 1911.
Year: 1924
Mint Mark: San Francisco
Grade: MS 66+
Date of Sale: 2nd November 2016
Price: $105,750
But Fraser had to wait until January 1912 to be officially hired. It took another six months to produce coin-sized electrotypes in June and present them in July. But grumbles by Hobbs Manufacturing delayed mintage until February 1913. They were finally released on 4th March.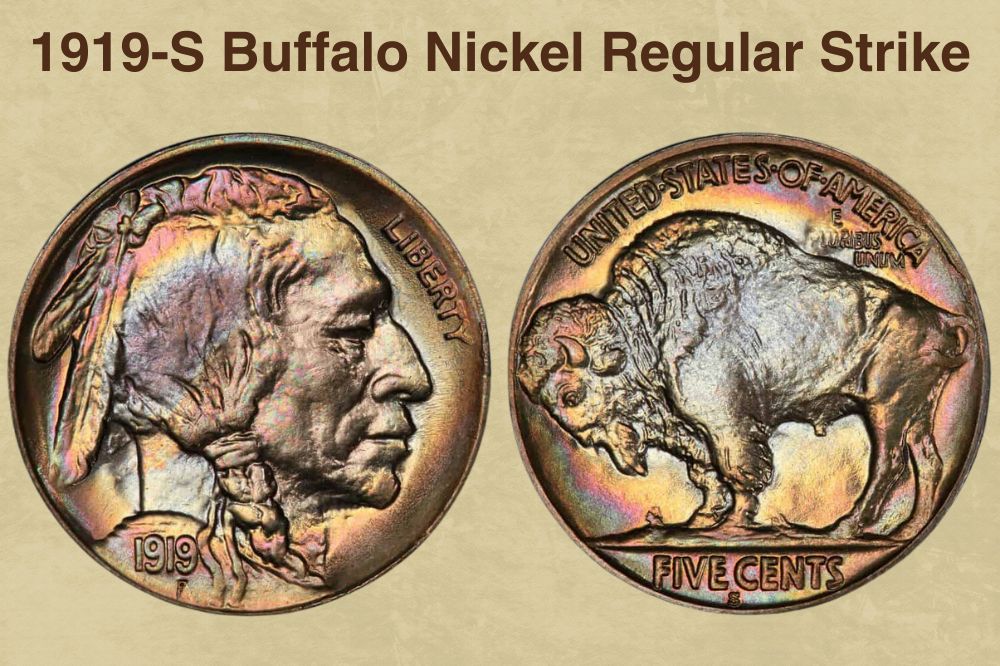 So … what was Hobbs Manufacturing and what did they have to do with anything? It was a company that made anti-counterfeiting devices for vending machines and coin slots. These machines had a magnet that could detect steel slugs and washers pretending to be coins.
Year: 1919
Mint Mark: San Francisco
Grade: MS 66
Date of Sale: 24th October 2006
Price: $109,250
Since nickel coins had no steel or iron content, the machines couldn't recognize them. So the owner, Clarence Hobbs, demanded multiple changes to the coin. Hobbs clashed with Fraser for months until MacVeagh overruled Hobbs and minted the Buffalo Nickel against his wish.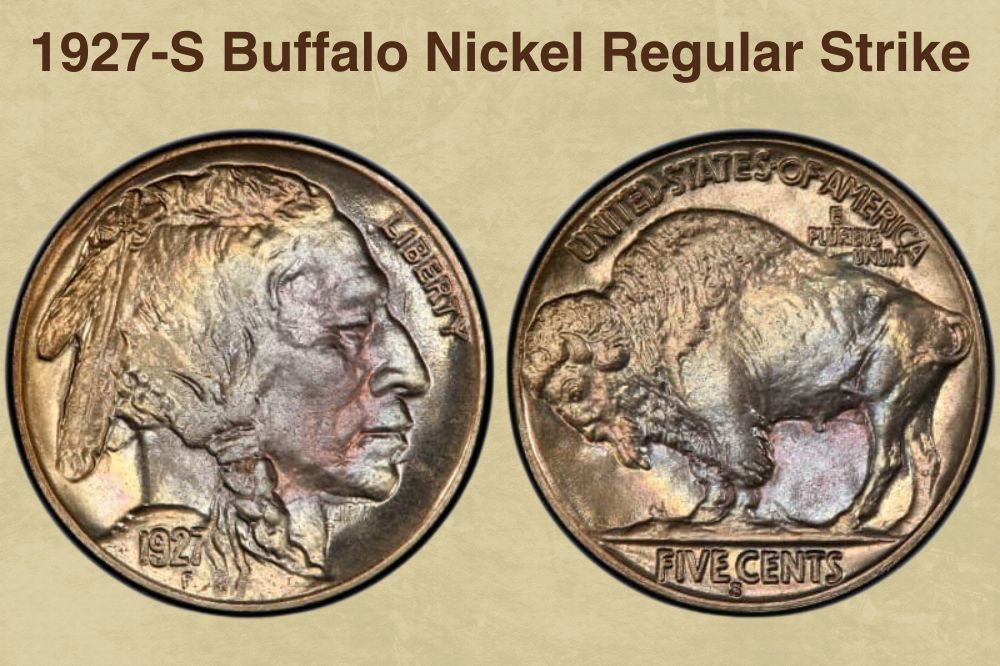 While Clarence Hobbs remained unhappy with the coin, the person that actually designed the anti-counterfeiting machine – a mechanic named George Reith – had collaborated with Fraser at his studio, and seemed satisfied with the result. Mint officials were equally pleased.
Year: 1927
Mint Mark: San Francisco
Grade: MS 66+
Date of Sale: 1st April 2008
Price: $125,350
On 7th January 2013, experimental samples were struck at the mint. Reith, Fraser, and Chief Mint Engraver Charles Barber were present. But later, a Hobbs Manufacturing agent named C. U. Carpenter claimed Reith had been too intimidated to demand the changes he wanted.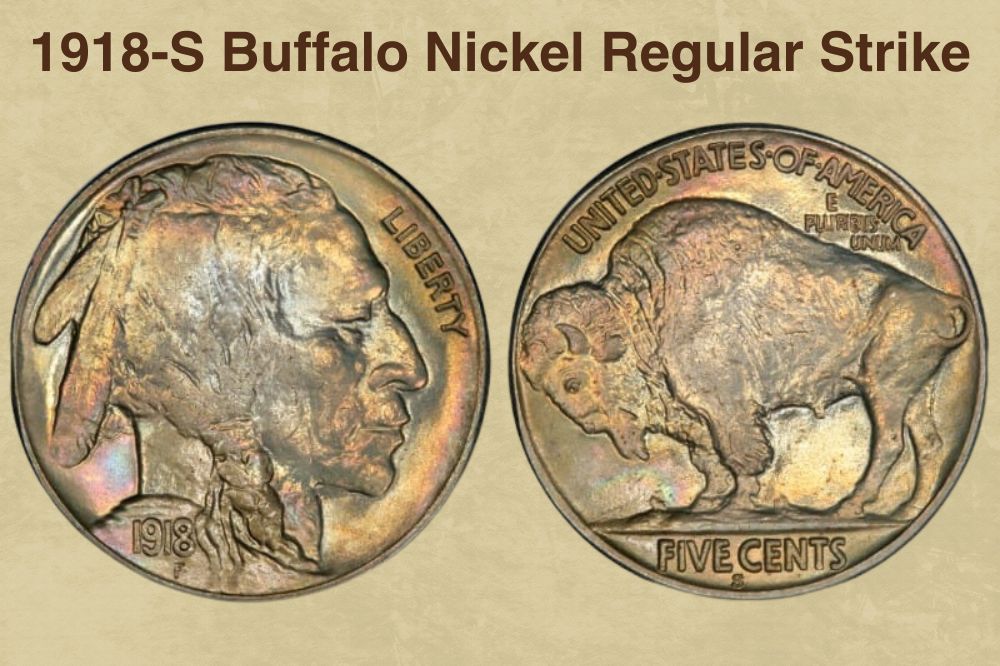 As it turned out, the Hobbs Machine had been rejected by vendors for underperformance! Months later, William G. McAdoo took over from Franklin MacVeagh as Treasury Secretary. He had some fresh ideas and changes for the Buffalo Nickel, but Fraser wasn't interested.
Year: 1918
Mint Mark: San Francisco
Grade: MS 66
Date of Sale: 1st April 2008
Price: $125,350
Also, in case you're wondering, beyond bragging rights, Fraser was paid $2,500 to design the Buffalo Nickel. That's worth about $75,800 in June 2023. He got a further $666.15 for all the edits demanded by Hobbs, which is worth around $19,274 today. He got paid in March 1913.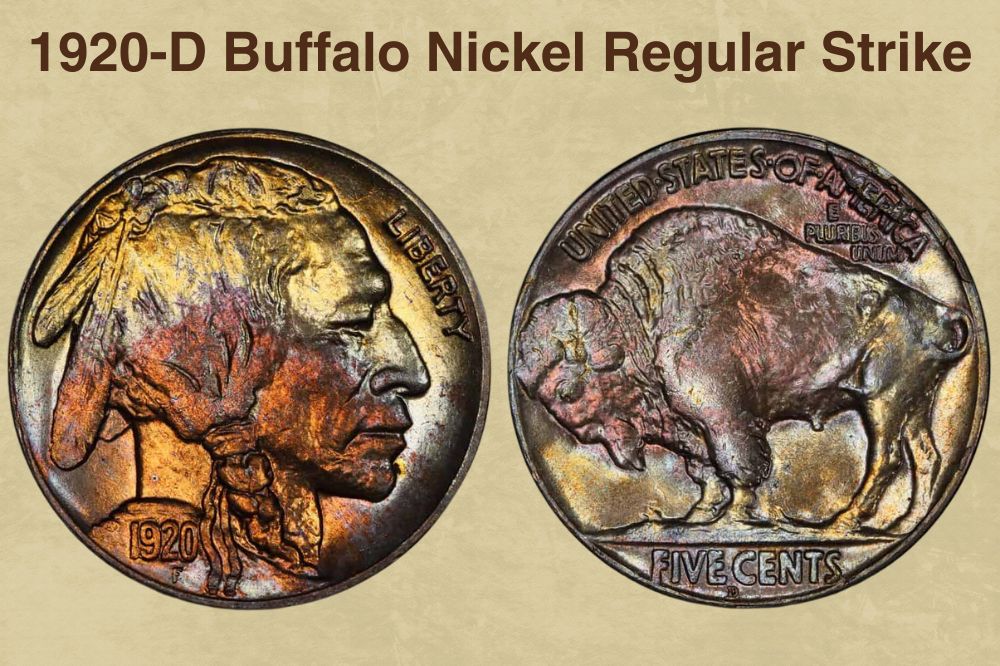 Once production and distribution started, Barber kept an eye on things. He soon reported that Buffalo Nickel dies were used up three times faster than the previous Liberty Head Nickel dies. This meant the mint had to spend a lot more money on maintenance and repair.
Year: 1920
Mint Mark: Denver
Grade: MS 67
Date of Sale: 1st November 2008
Price: $138,000
It also increased mint expenses since they had to make triple the number of new dies. Barber suggested some changes, which Fraser was fine with. He wanted the denomination enlarged and the ground under the bison flattened (Type II coins). This made dies expire even faster!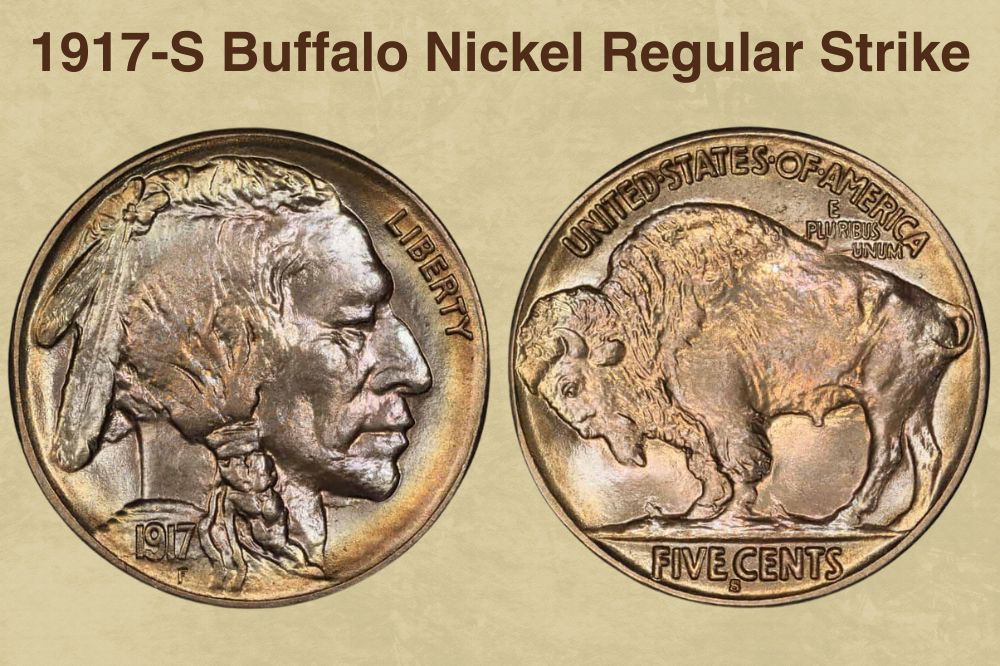 Over the years, more changes were made to the Buffalo Nickel. Little things, like changing the font and position to emphasize Liberty. The rapid death of dies and the continual fading of details led to die errors like the 3-leg and 3-and-a-half leg that were worth thousands of $!
Year: 1917
Mint Mark: San Francisco
Grade: MS 67
Date of Sale: 1st July 2008
Price: $138,000
These mint mistakes often happened when dies were buffed and re-polished to extend their shelf life. The varieties created by these seemingly endless tweaks contributed to the price and range of Buffalo Nickels. But dissatisfaction at the mint led to its eventual phasing out.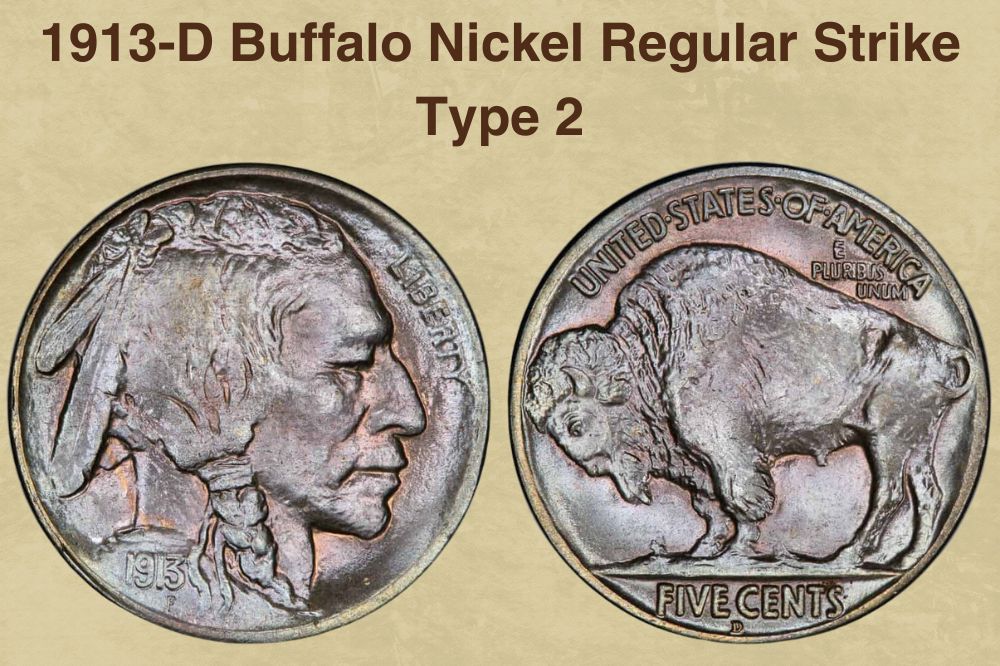 The Buffalo Nickel was intended to be a diplomatic coup as well as an aesthetic one, so the government intended to get as much positive PR out of it as possible. One step was to launch the coin at the intended location of the Staten Island National American Indian Memorial.
Year: 1913
Mint Mark: Denver
Grade: MS 68
Date of Sale: 8th January 2008
Price: $143,750
This Fort Wadsworth landmark was the brainchild of Rodman Wanamaker, and 40 Native American Chiefs were invited to the event as honored guests. They each received a Buffalo Nickel as a ceremonial gift. Sadly, the memorial ended up being abandoned and wasn't built.