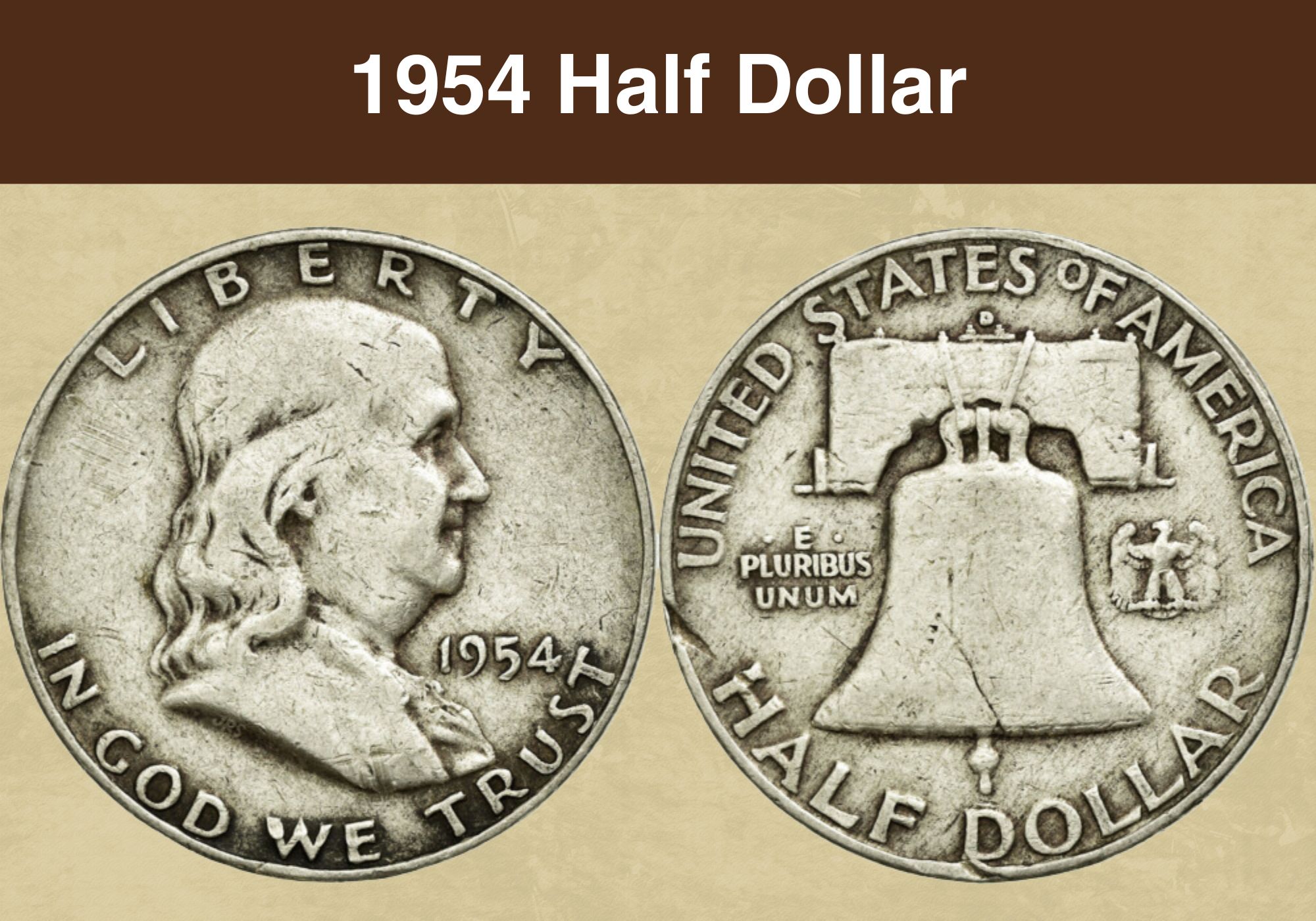 Are you interested in collecting Franklin half dollars dated 1954 and want to know whether doing so is profitable?
Or, are you considering selling your 1954 half dollar and want to get value for your money?
Like other Franklin half dollars, the 1954 half dollar is highly collectible for its historical value and, more importantly, its silver bullion content.
We wrote this article to explain everything you need to know about the 1954 half dollar value. You will learn about the coin's history and significance in American coinage history, its unique attributes, and tips for grading uncirculated examples.
You will also discover error varieties in this series that can be worth hundreds or thousands of dollars. But you need to know what to look for to spot these coins.
So, without further ado, let's figure out: How much is a 1954 half dollar worth?
1954 Half Dollar Value Chart

Mint Mark
Good
Fine
Extremely Fine
Uncirculated
1954 No-Mint Mark Half Dollar Value
$9.25
$9.25
$9.25
$475
1954- D Half Dollar Value
$9.25
$9.25
$9.25
$4,850
1954 –S Half Dollar Value
$9.25
$9.25
$9.25
$4,750
1954 Proof Half Dollar Value
–
–
–
$4,250
The History of the 1954 Franklin Half Dollar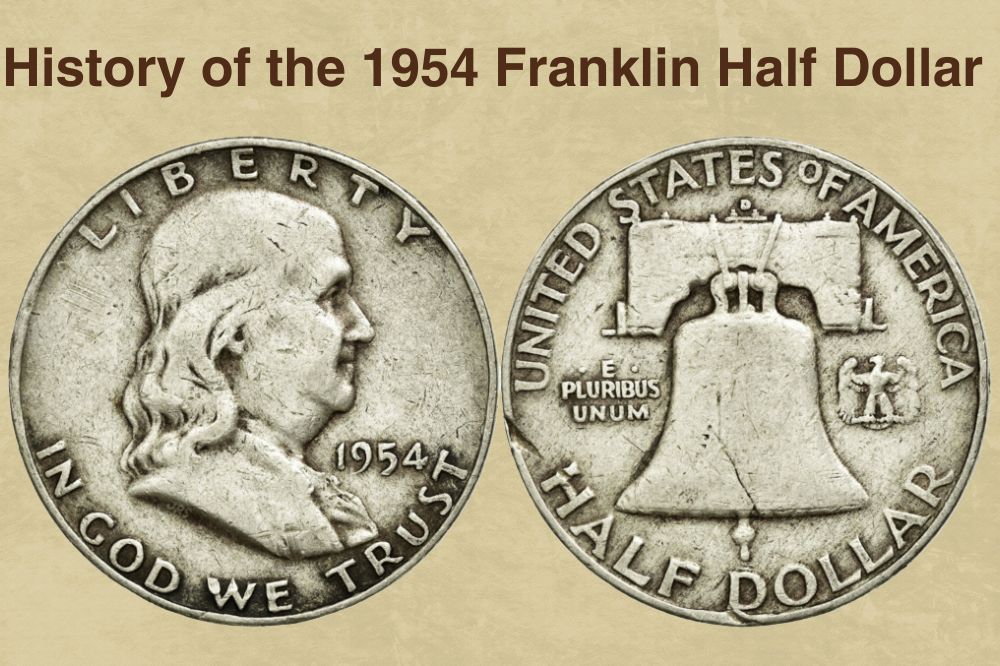 The United States Mint struck the Franklin half dollar from 1948 to 1963 for fifteen years. Also known as a fifty-cent coin, the half dollar depicted Benjamin Franklin, a popular and much-admired Founding Father.
Mint director Nellie Tayloe Ross proposed making a coin to depict Benjamin Franklin, whom she admired. Ross asked chief engraver John R. Sinnock to create designs for a new half-dollar commemorative of Benjamin Franklin.
Sinnock obliged Ross's request and went to work to create designs for half a dollar coin. Unfortunately, he passed away before completing his designs and gaining approval. Gilroy Roberts, who took after Sinnock completed the designs and submitted them to the Commission of Fine Arts.
Although the Mint okayed the designs, the Commission had some reservations and was particularly critical of the small eagle on the reverse and the crack on the Liberty Bell. Despite these reservations, the Mint went ahead and struck the new coins using Sinnock's original designs for the obverse and reverse.
The Mint released the half dollar into circulation in April 1948. The new Franklin coin was struck in 90% silver at the Philadelphia, San Francisco, and Denver mints.
Although the public had highly anticipated the release of the Franklin half dollar, the coin's release was mired in controversy, particularly regarding Sinnock's initials on the obverse. The public sentiment was that the initials JRS represented the Soviet dictator, Joseph Stalin, even though Stalin had no middle name starting with the letter R.
Despite the hullaballoo, the Mint went ahead and retained the initials and responded by simply affirming that the initials were John R. Sinnock's.
Early versions of the Franklin half dollars were well-struck, but the quality declined in the 1950s due to an overused master die. That said, these coins, including the 1954 half dollar, have a greater bullion value than their face value, making them highly collectible.
Also read: 13 Most Valuable Franklin Half Dollars Worth Money
The Features of the 1954 Franklin Half Dollar
By familiarizing yourself with the features of Franklin half dollars, you can quickly identify 1954 half dollars worth money. Let's look at this coin's unique characteristics.
The Obverse of the 1954 Half Dollar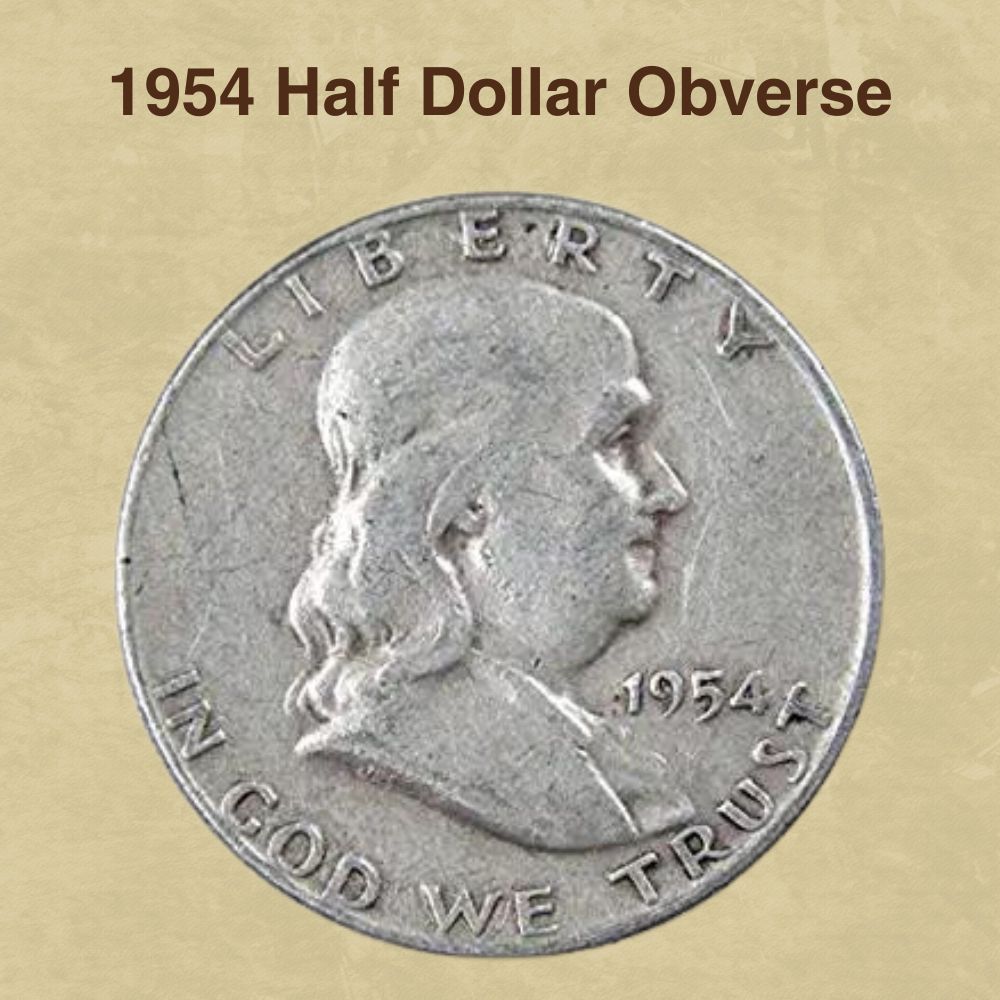 The obverse of the 1954 half dollar depicts a right-facing portrait of Founding Father Benjamin Franklin. Chief engraver John Sinnock had designed this portrait from a bust created by the sculptor Jean Antoine-Houdon.
The word LIBERTY prominently appears at the top along the inner rim, while the motto IN GOD WE TRUST is shown directly opposite along the rim at the bottom.
You will notice the year 1954 on the right, close to Franklin's chin.
The Reverse of the 1954 Half Dollar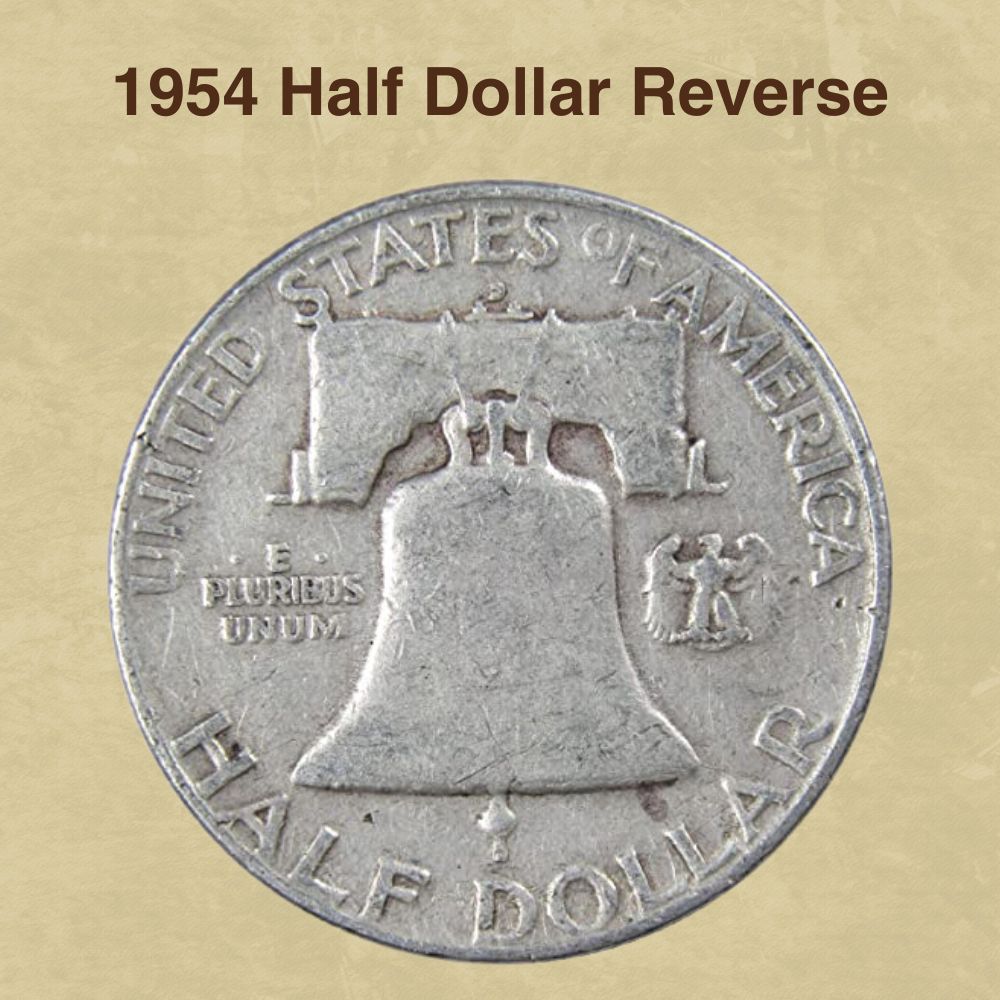 On the reverse of the 1954 half dollar, you will find a depiction of the Liberty Bell.
Previously known as the Old State House Bell, the Liberty Bell was installed in the Philadelphia Provisional Assembly in 1752 and is an important symbol of American independence.
On the coin, the Bell is depicted as having a crack, as with the real-life bell. The bell appeared in the early days of being struck and has remained in place to date.
At the top, along the rim, you will see the country's name, UNITED STATES OF AMERICA. The coin's denomination, HALF DOLLAR, appears directly opposite at the bottom.
On the left, you will notice the motto, E PLURIBUS UNUM, in a small inscription. To the right of the bell, there is a tiny eagle. Despite general disapproval, the Mint retained the small eagle, a national symbol of status and superiority.
A closer look at the bell shows bands at the neck and skirt. A bell with visible bands is considered well-struck and desirable to collectors.
Other Features of the 1954 Half Dollar
The Sinnock-designed 1954 half dollar comprises 90% Silver and 10% Copper.
This reeded coin is large and heavy, measuring 30.00 millimeters in diameter and weighing 12.50 grams due to its silver content.
The 1954 half dollars struck in Denver and San Francisco bear a mint mark D and S, respectively. You will notice this mark on the reverse right above the bell.
The coins minted in Philadelphia have a mint mark neither on the reverse nor obverse.
Also read: 13 Most Valuable Kennedy Half Dollar Worth Money
1954 Half Dollar Value Guides
In this section, we'll answer the question: Is the 1954 half dollar worth anything?
The short answer is that 1954 half dollars are worth more than their face value due to their silver content, which is good news for collectors.
However, the 1954 half dollar value will depend on factors such as condition, mint mark, rarity, and error varieties. The presence or absence of the so-called Full Bell Lines will also significantly affect how much your Franklin half dollar is worth.
There are four varieties of the 1954 half dollars whose values we will explore. These include the:
1954 No-Mint Mark Half Dollar
1954-D Half Dollar
1954-S Half Dollar
1954 Proof Half Dollar
1954 No-Mint Mark Half Dollar Value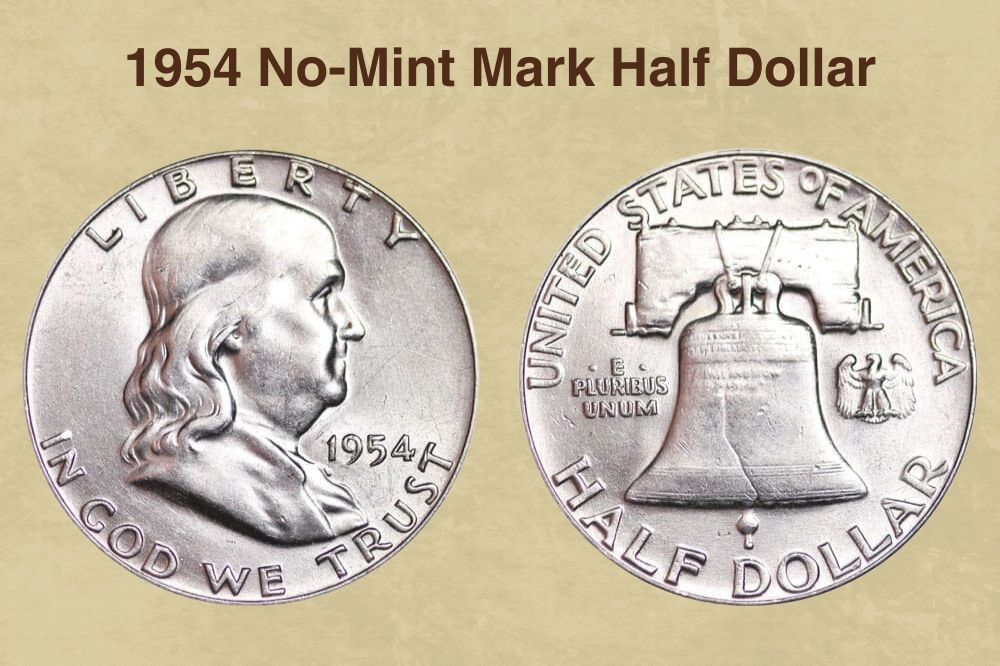 The Philadelphia minting facility struck an estimated 13,188,203, a rebound from the low mintage of 1953. These coins do not have a mint mark but are generally well-struck to attract collectors' interest.
The 1954 no-mint mark half dollar is common and affordable across all grades up to MS65. However, Full Bell Lines examples graded MS67 and above are rare, and MS69 to gem-quality specimens are extremely uncommon.
Circulated examples will fetch more than the face value, bringing in between $9.25 and $11.75. Lower-grade half dollars in mint state are surprisingly affordable; with just $70, you can get an MS65. Gem-quality examples can fetch up to $475.
Full Bell Lines specimens are significantly more valuable and highly sought-after among collectors. You might be worth a fortune if you are lucky enough to own such a coin.
According to the Numismatic Guaranty Company, a Full Bell Line half-dollar graded MS67 can fetch up to $14,750.
1954-D Half Dollar Value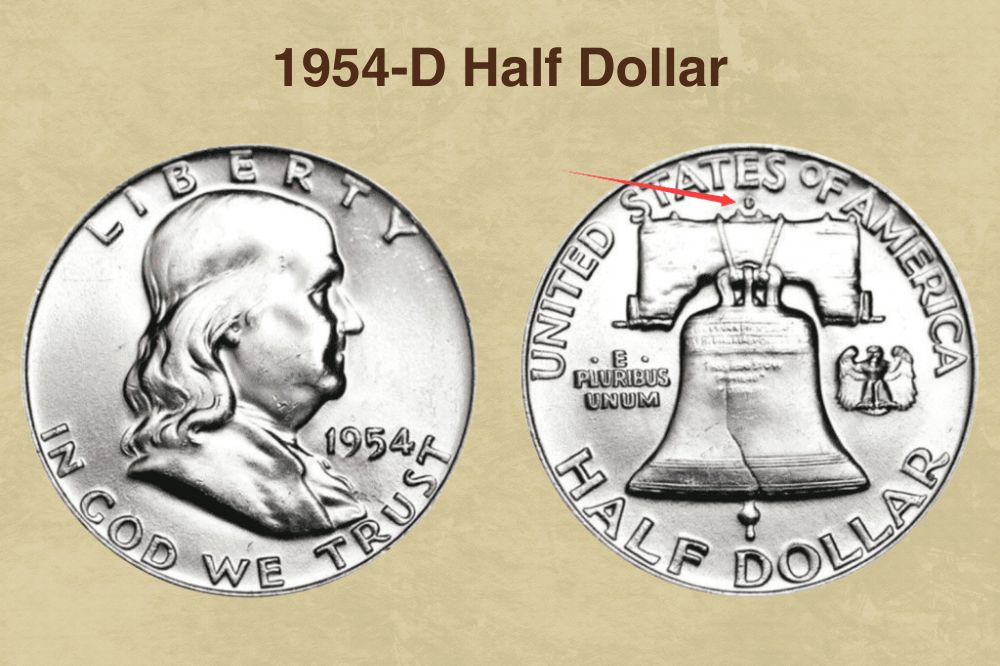 The Denver mint had the highest mintage of 1954-D half dollars, producing 25,445,580 coins that year. Despite the high mintage, these coins were better struck than the half dollars from Philadelphia and San Francisco.
The high coin population also means that 1954-D Franklin half dollars are plentiful across all grades, from the circulated to the uncirculated.
Most pieces from Denver display contact marks, limiting the number of examples graded MS-65 and above.
You can expect between $9.25 and $11.75 in circulated condition for your 1954-D half dollar. Mint state specimens are affordable even for collectors on a budget. For example, you can obtain a nice MS62 half-dollar for only $24 and an MS64 for just $45.
The prices increase further up the grading scale, with 1954-D half dollars graded MS67 fetching up to $4,850, which is hardly surprising given how scarce these specimens are.
The 1954 Denver half dollars designated Full Bell Lines can be worth a fortune, with examples costing up to $12,350. The most expensive example to date is an MS67 Full Bell Line that sold for an eye-popping $21,275 at a 2002 Heritage Auction sale.
1954-S Half Dollar Value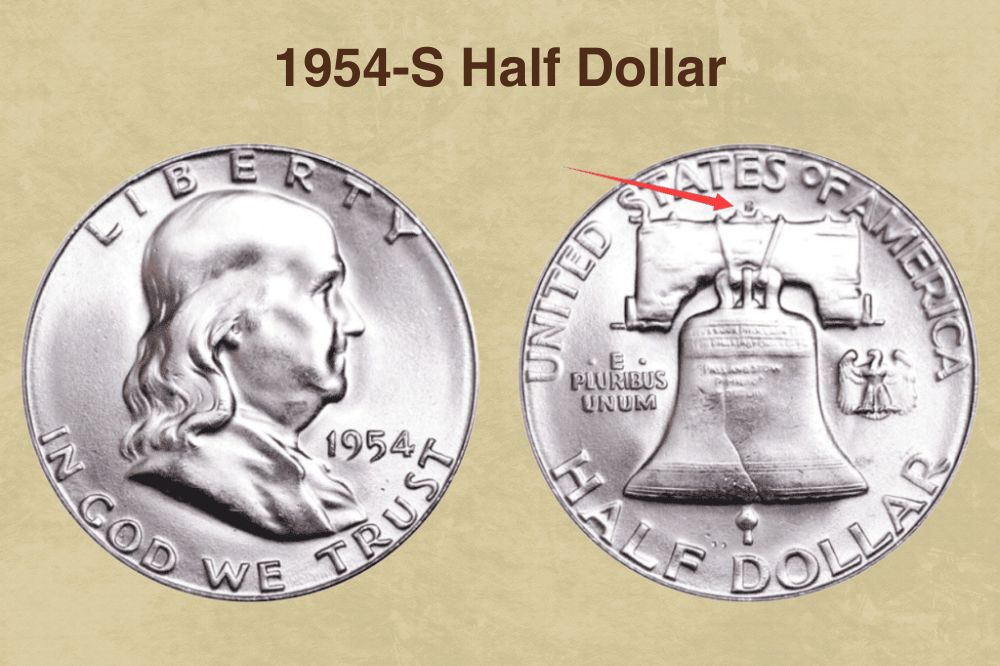 San Francisco had the lowest mintage in 1954, producing only 4,993,400 half dollars. This was the last year the mint struck Franklin half dollars, taking a 10-year hiatus before re-opening in 1965.
Being the final year, the mint failed to pay attention to quality control, resulting in half dollars with astonishingly poor strikes.
That said, gems graded MS66 and above are plentiful because many of these coins were preserved in rolls and only intermittently released into circulation. Due to the poor strikes, Full Bell Line examples from the 1954-S series are extremely rare.
Circulated 1954-S half dollars are worth between $9.25 and $11.75. Like their Denver and Philly counterparts, these coins are fairly affordable even in mint state. With just $20, you can get your hands on an MS62, while $50-$75 can get you an MS65.
Due to their rarity, prices increase significantly for gem examples graded MS67 and above, with these fetching as much as $4,750 and the occasional Full Bell Lines specimen fetching even more.
According to the Professional Coin Grading Service (PCGS), the most expensive Full Bell Lines 1954-S half-dollar to date was graded MS67 and sold for a whopping $13, 853 in 2017 at a Heritage Auctions sale.
1954 Proof Half Dollar Value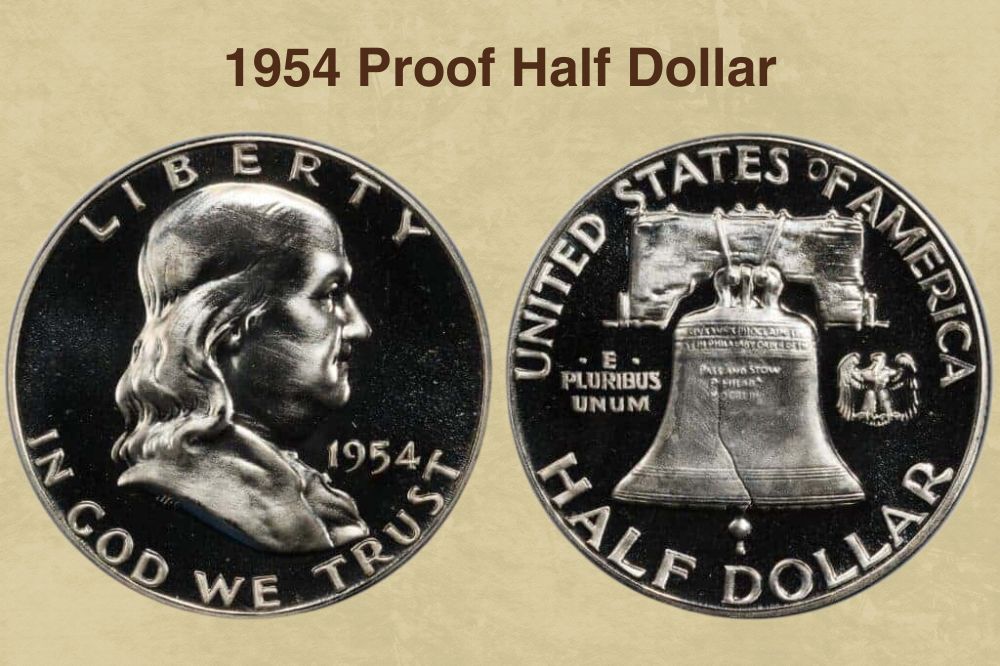 In addition to the regular strike of Franklin half dollars, the Philadelphia mint struck an estimated 233,300 proof coins.
Gem examples of the 1954 proof half dollars are generally plentiful, but the Cameo and Deep Cameo population is fairly small for this issue compared to the previous year.
Changes in the striking mechanism at the Philadelphia mint resulted in 1954 proofs with poor toning, dampening collectors' fascination with these coins.
Examples in this series are surprisingly affordable, ranging from only $30 for specimen certified and graded MS62 to $100 for MS65 examples.
Gem pieces graded MS69 will fetch as much as $4,250. In the past, collectors have paid up to $10,200 for Cameo pieces and $23,000 for Ultra Cameo gems.
Also read: 11 Most Valuable Half Dollars In Circulation
1954 Franklin Half Dollar Grading
Today's silver value of $23.05 per ounce greatly influences the value of your Franklin half-dollar. Pay attention to the high points on the obverse and reverse to identify a valuable, uncirculated 1954 half dollar.
Observe your coin under a single light source and check for a continuation of luster from one end of the rim to the other.
Check that there are no luster breaks on high points, including above Franklin's eye and on his cheek. Inspect the hair behind his ear, which should be separate and not matted in an uncirculated specimen. Also, be sure to inspect the area around the lower shoulder to rule out signs of wear.
On the reverse, luster must be present along the bell's rim, the wooden beam, and the straps from which the bell hangs. Pay attention to the inscriptions and lines on the bell; these should be present in circulated examples.
Check out this video for additional tips on grading.
Rare 1954 Half Dollar Errors List
Error varieties can increase the value of your coins if you know which ones to pay attention to. Check out these 1954 half dollars worth money:
1954 Doubled Die Half Dollar Error
The doubled die error is seen in the half-dollar struck at all three mints in 1954. Doubling is visible on the inscriptions on the obverse, particularly on the words LIBERTY and TRUST. You may also notice some doubling of some digits on the date.
Doubled die errors on 1954 half dollars can fetch between $20-$50 depending on the coin's condition.
1954 Bugs Bunny Half Dollar Error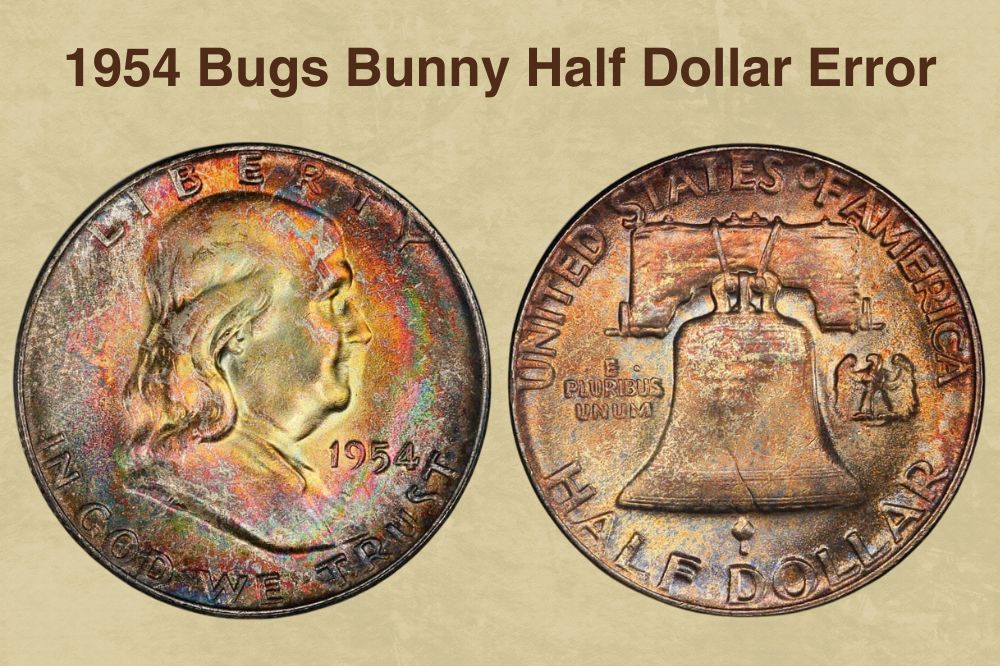 There is quite some fascination around the so-called Bugs Bunny error on Franklin half dollars. In essence, this is actually a die clash error caused when the obverse and reverse dies clashed.
The clashing caused the small eagle's profile to penetrate the obverse, unintentionally giving Franklin what seemed like bucked teeth.
A 1954 Bugs Bunny half dollar error is fairly common and will bring $20-$90 depending on the condition.
1954 Re-Punched Mint Mark Half Dollar Error
The re-punched mint mark error is mostly seen in the half dollars struck in Denver.
The mark D on the reverse above the bell is filled in as a result of the master die being punched multiple times at slightly different angles.
You will get about $20 and $30 for a 1954 re-punched mint mark half dollar error.
FAQ
What makes a 1954 half dollar rare?
The 1954 half dollar was a relatively high mintage and is plentiful in circulated and uncirculated condition. However, some varieties, such as doubled die, re-punched mint mark, or clash die errors, are rare and can fetch a premium depending on the coin's value.
Does a 1954 half dollar have silver?
Yes, like all Franklin half dollars struck from 1948 to 1963, the 1954 half dollar contains 90% silver. However, it is illegal to smelt silver coins for their bullion worth. Besides, the ounces of silver in the half dollar are so negligible it is not worth the hustle and will ultimately not earn you a premium.
How do I know if my half dollar is worth money?
Your half dollar from 1954 is probably worth money if it spots full bell lines on the neck and skirt of the Liberty Bell on the obverse. A half dollar designated Full Bell Lines is typically very well struck and in mint condition.