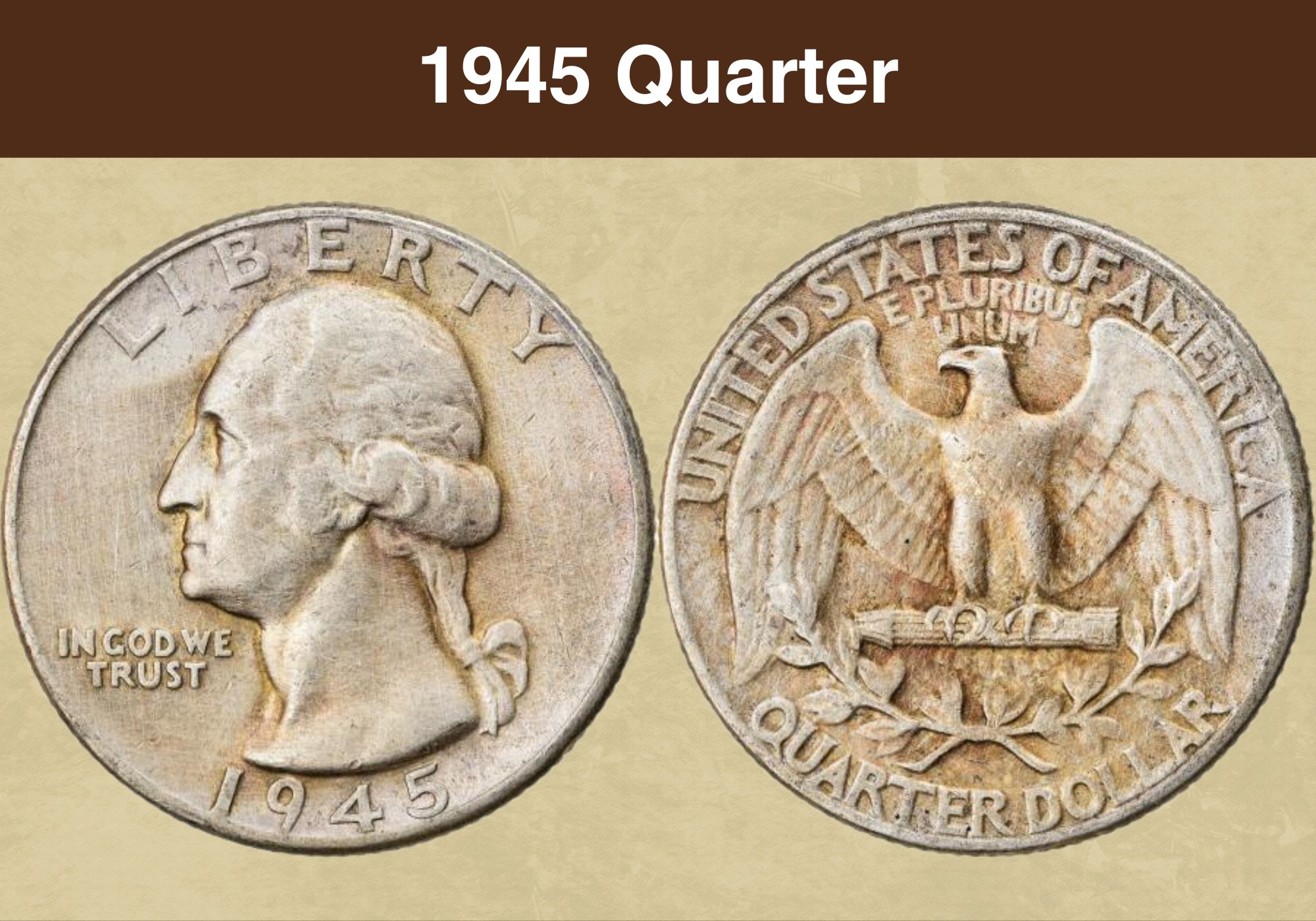 The US Mint produced the first Washington quarters in 1932, containing 90% silver for decades. Since coins minted during WWII were also made of precious metal, you can expect the 1945 quarter value to be significant.
The best is that you don't need to be a collector to find value for these pieces. Thanks to a high silver percentage, early quarters are an excellent way to invest your money for the future time that comes.
1945 quarter value Chart

Condition
1945 no mint mark quarter
1945 D quarter
1945 S quarter
Good
$8.79
$8.79
$8.79
Very good
$8.79
$8.79
$8.79
Fine
$8.79
$8.79
$8.79
Very fine
$8.79
$8.79
$8.79
Extra fine
$8.79
$8.79
$8.79
AU
$10.19
$13
$10.19
MS 60
$12
$15
$12
MS 65
$40
$48
$40
History of the 1945 Quarter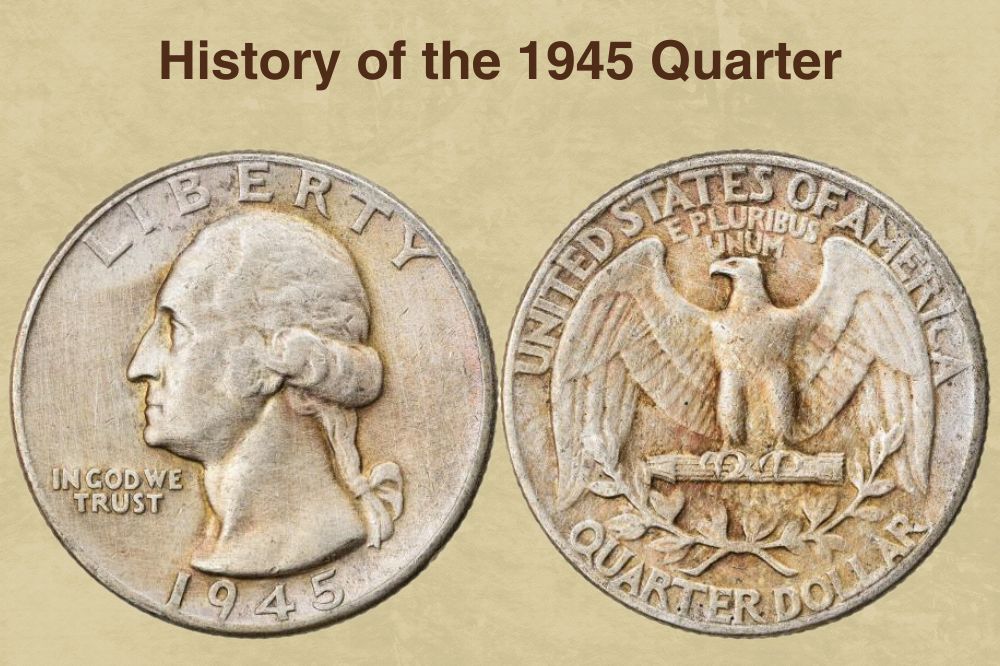 The first silver American quarters appeared in 1796, and they lasted until 1964 when the US Mint decided to replace them with cupronickel coins. This unpopular decision was due to increased prices in the precious metal market.
Washington quarter minting in 1932 was one of the ways to celebrate the first President's 200th birth anniversary. Interestingly, there was no production of coins with this denomination in the previous and following years. In 1934, the minting was stabilized and has continued until today.
1945 Washington quarter Types

Location
Year
Minted
Philadelphia
1945 no mint mark quarter
74,372,000
San Francisco
1945 S quarter
17,004,001
Denver
1945 D quarter
12,341,600
Total
/
103,717,601
The 1945 silver Washington quarters were minted in a specific year when World War II was finally finished. After returning American troops, it was crucial to adjust the economy to new peacetime conditions. That was one of the reasons for the slightly lower mintage than in the previous year.
You can notice significant sale price variations even among quarters of the same grade. The reasons for such a reality are numerous. In most cases, prices depend on the coins themselves, including their quality, rarity, and place of minting, but you should also be aware of the sailing place's importance.
For instance, prices at auctions are often higher than estimation values and sums of money reached on eBay or pawn shops. At such places, the coin value is only a part of the reason, and it is more often about competition and the desire to win the auction.
Also read: Top 13 Most Valuable State Quarters Worth Money
Features of the 1945 Washington Quarter
The Washington quarters replaced the Standing Liberty quarters in 1932. Interestingly, there are no coins with this denomination minted in 1930 and 1933. All coins produced by 1965, including 1945 quarters, were made of 0.900 silver.
The obverse of the 1945 Washington quarters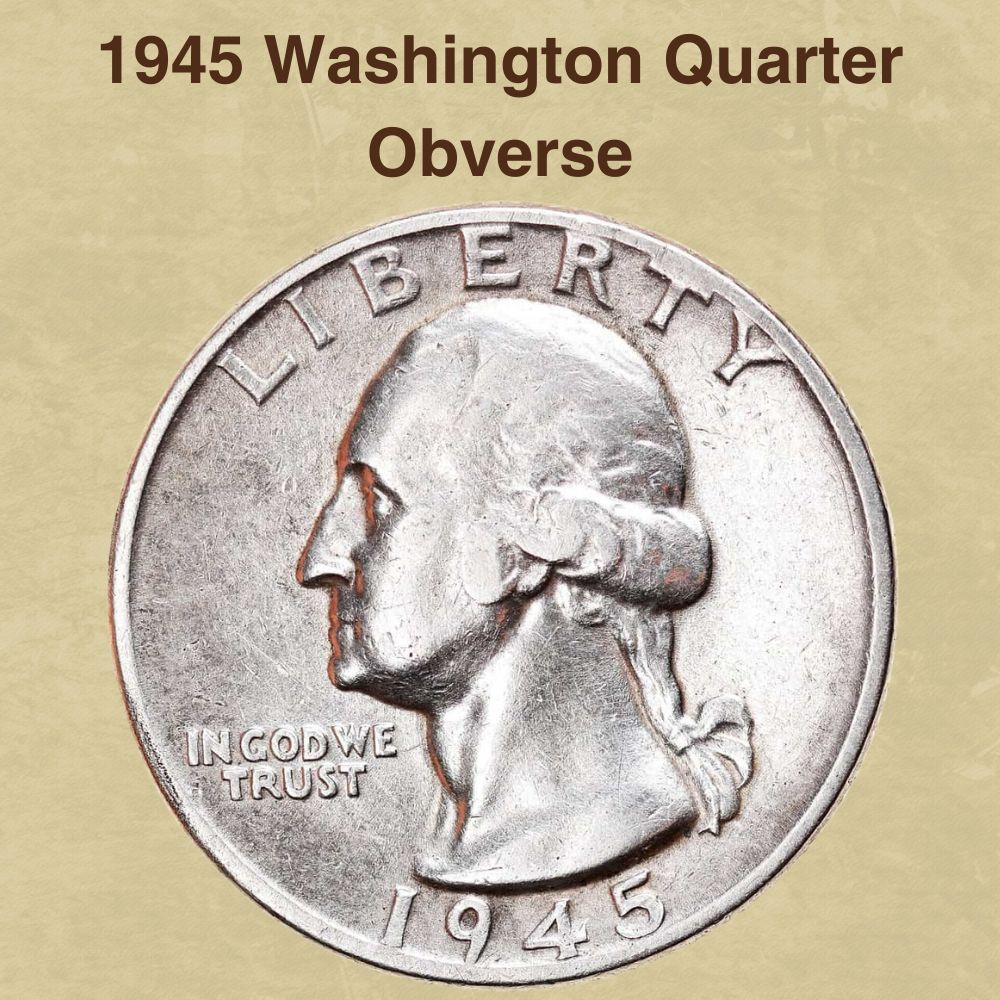 Officials decided to honor George Washington by placing his profile on the obverse. They chose a quarter for that purpose, replacing hard-to-mint Standing Liberty quarters. The decision was made despite this honorable President's disdain for such a practice that was a standard for British coinage.
John Flanagan took the job seriously and depicted the first US President's left profile. He paid particular attention to details and faithfully showed his authentic hairstyle, including the signature ponytail tied with a bow.
Interestingly, the artist based this image on his own sculpture. However, he made some changes, particularly in the hairstyle. Then, he added inscriptions required by federal law, including:
IN GOD WE TRUST – This phrase is struck in two lines, left of Washington's throat.
LIBERTY – This word excellently describes the American nation's aspirations, making it unavoidable on all metal coinage since the Coinage Act of 1792 was passed.
1945 – In most cases, you can see the minting date placed along the bottom coin rim, which was also the case with these quarters.
JF – The designer incorporated his initials into a neck truncation, following the tradition of adding them to honor authors.
The reverse of the 1945 Washington quarters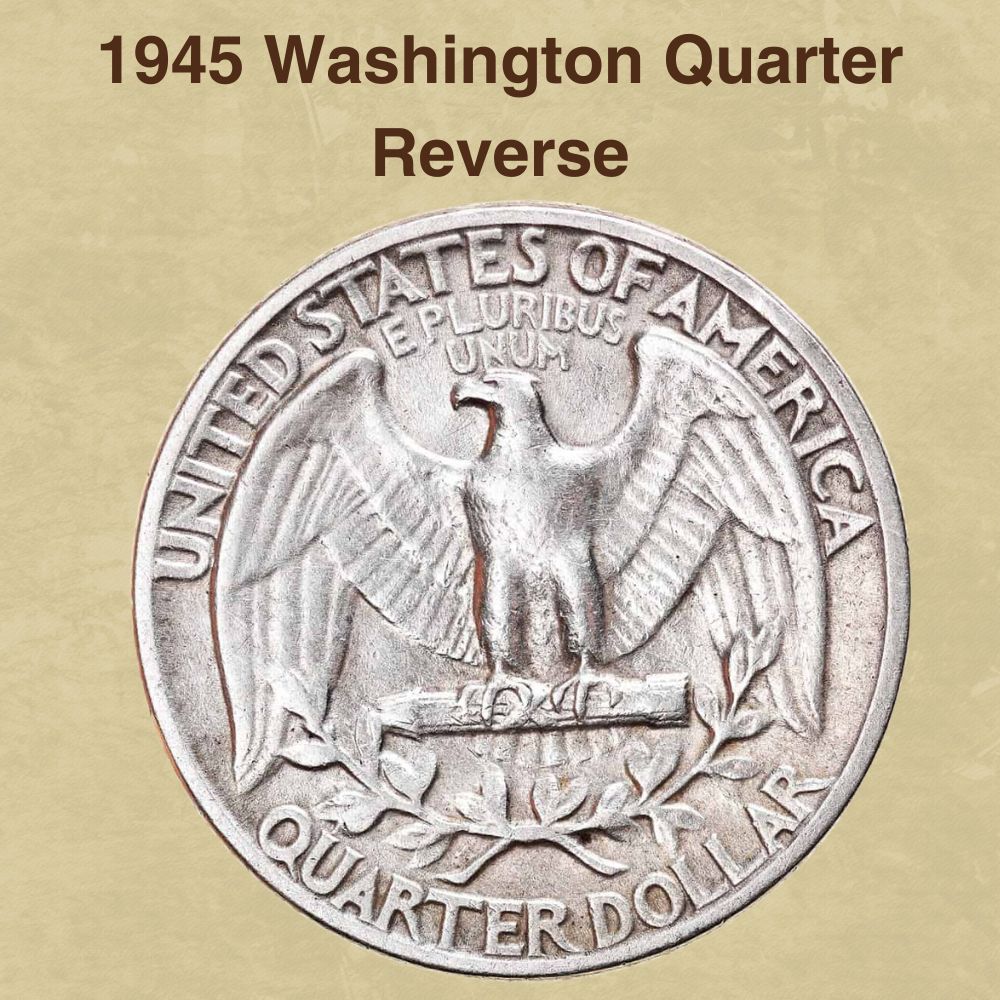 Unlike the relatively simple coin obverse, the designer made the reverse too complicated. He planned to add all the necessary symbols crucial for the nation, but the result was somehow cluttered look.
A bald eagle is one of the oldest American symbols, representing freedom, courage, strength, and immortality. It spreads wings while standing on a bundle of arrows, symbolizing the nation's power and readiness for war.
As a balance, there are two olive branches with tied ends as a generally accepted symbol of peace. The surrounding inscriptions include:
UNITED STATES OF AMERICA – Each American coin includes the name of the country where it is used in everyday transactions.
E PLURIBUS UNUM – This Latin phrase symbolizes the unity of many states that decided to unite and create one powerful country.
QUARTER DOLLAR – This denomination is struck along the coin's bottom rim, showing this coin is worth 25 cents.
The S or D mint mark – Unlike pieces struck in Philadelphia that came without the P mint mark in 1945, the other two mints issued quarters with a tiny letter. Its place is under the olive twigs.
1945 Washington quarter Details

Face value
25 cents ($0.25)
Coin thickness
1.75 mm (0,06870 inches)
Coin diameter
24.3 mm (0,95669 inches)
Coin weight
6.25 g (0,2204 ounces)
Compound
0.900 Silver with added copper
Silver weight
5.623 g (0.1808 troy ounces)
Edge
Reeded
Shape
Round
Other features of the 1945 Washington quarter
Like all quarters minted from 1932 to 1964, those from 1945 were made of 90% silver, which was 5.623 g (0.1808 troy ounces). Those coins had a total weight of 6.25 g (0,2009 troy ounces), a thickness of 1.75 mm (0,06870 inches), and a diameter of 24.3 mm (0,95669 inches).
1945 Washington Quarter Grading
The grading system helps experts and collectors appraise each coin's genuine value based on its features. Roughly speaking, coinage falls into two groups, circulated and uncirculated.
Those that spend some time in use can be non-collectible when they are too worn-out, while collectible pieces are those graded as GOOD and better. The best-appreciated specimens are those in the mint state, which are more or less perfectly preserved.
| # | Grade |
| --- | --- |
| 1 | Basal State-1 |
| 2 | Fair |
| 3 | Very Fair |
| 4, 5, 6 | Good |
| 7, 8, 10 | Very Good |
| 12, 15 | Fine |
| 20, 30 | Very Fine |
| 40 | Extremely Fine |
| 50 | About Uncirculated |
| 60 | Mint State |
| 65 | Mint State |
| 70 | Mint State |
Please check our grading guides to know your coin scale, It's the necessary step to know the exact value of your coin.
Check out now: How to Grade Washington Quarter?
1945 Washington Quarter Value Guides
About two-thirds of Washington quarters minted in 1945 of a total mintage of 103,717,601 coins came from Philadelphia. The rest of the coins were produced in the other two mints. Be prepared that no proof coins were minted from 1942 to 1950, so all quarters from the last war year were from regular strikes.
1945 No Mint Mark quarter Value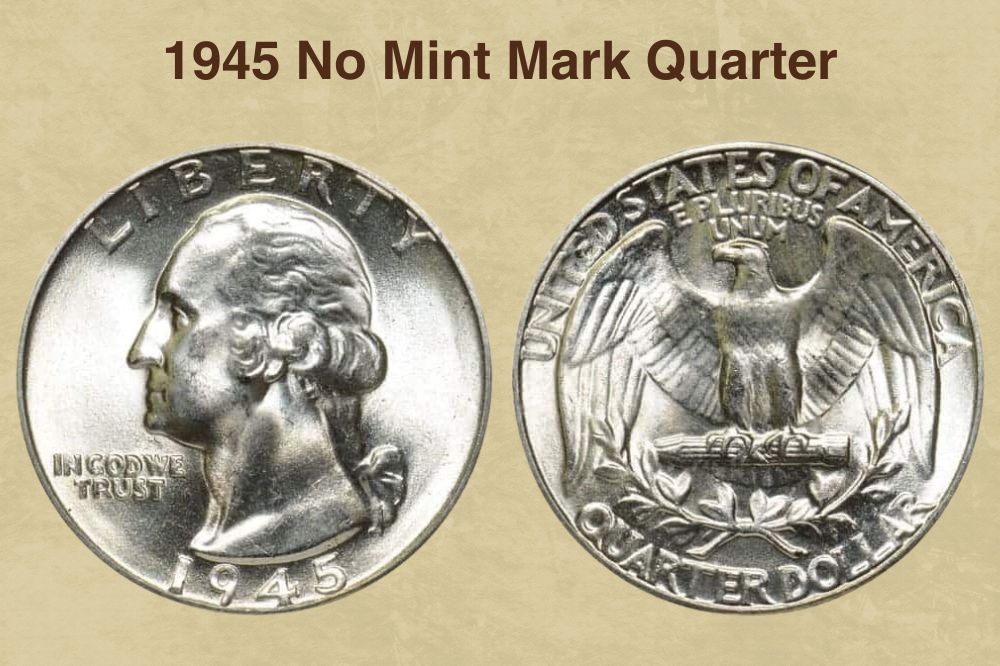 Thanks to a significant number of 74,372,000 minted coins, you can enrich your collection with a beautiful piece at an affordable price.
The 1945 No Mint mark quarters in circulated condition cost about $5 to $8.50, while most perfectly looked specimens come in a price range from $7 to $480. As always, their value depends on the grade.
The estimated price for the MS 68-ranked quarters is $7,000 to $8,400, but some of these coins can be real auction surprises. For instance, one such piece reached a price of $16,450, winning an auction record in 2015.
1945 D quarter Value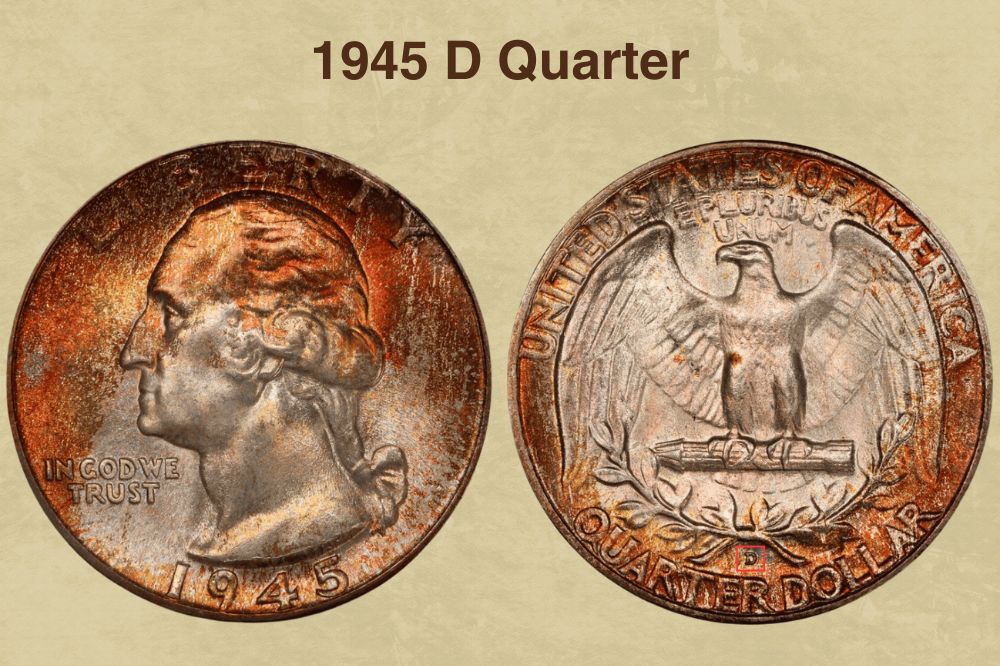 The Denver mint issued the lowest number of 1945 Washington quarters, only 12,341,600 coins. Nowadays, they are worth $5 to $8 after years spent in circulation, while you can buy one in the mint state for:
MS 60-graded quarters – $7.25 to $8.70
MS 61-graded quarters – $7.50 to $9
MS 62-graded quarters – $7.75 to $9.30
MS 63-graded quarters – $20 to $24
MS 64-graded quarters – $23 to $27.60
MS 65-graded quarters – $26 to $35
MS 66-graded quarters – $45 to $65
MS 67-graded quarters – $285 to $380
The only exception is scarce MS 68-rated specimens with an assessed price range of $14,000 to $16,000. One of such quality coins with the D mint mark is the most expensive in the set. Its auction price from 2021 is $20,400.
1945 S quarter Value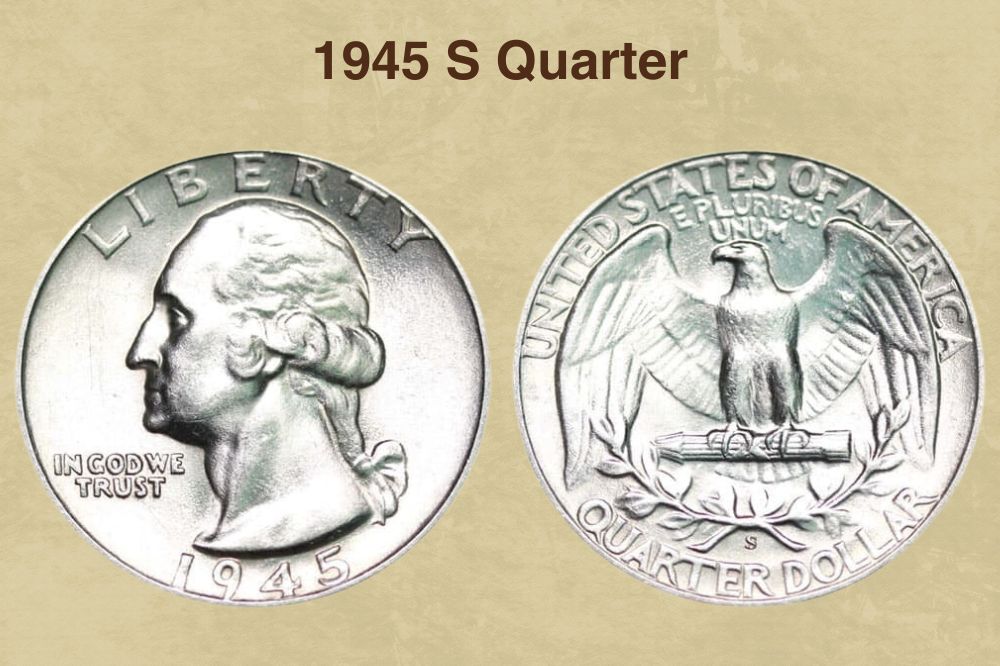 The San Francisco mint produced an interesting number of 1945 S quarters. Precisely 17,004,001 coins with the S mint mark came from this mint. The current price range for these used for years is from $4.80 to $8.40, but collectors prefer pieces in the mint state for affordable prices.
You can buy quarters ranked from MS 60 to MS 66 for $7 to $65, while MS 67-grading ones are significantly more valuable. So, you should set aside about $240 to $300 to get one.
The highest estimated price of $6,000 to $7,200 goes to the 1945 MS 68 quarters. The auction record of $7,200 achieved in 2020 made one Washington quarter in MS 67 grade the costliest specimen struck in this mint.
Also read: Top 16 Most Valuable Modern Quarters Worth Money
Rare 1945 Washington Quarter Errors List
Errors typically add some value to collectible coins. That is why collectors look for particularly rare and significant imperfections on their specimens' surfaces. As for the 1945 quarters, you are unlikely to make money on them. However, you can find that the process of searching is fun in itself.
Off-center
The quarter series is packed with coins showing this error in different percentages. Their value varies depending on the crescent-shaped blank part on the coin surface. It is possible to buy one piece with 30% off-center for about $30, while those with a higher percentage and visible date can reach $200 online or at auctions.
Doubled die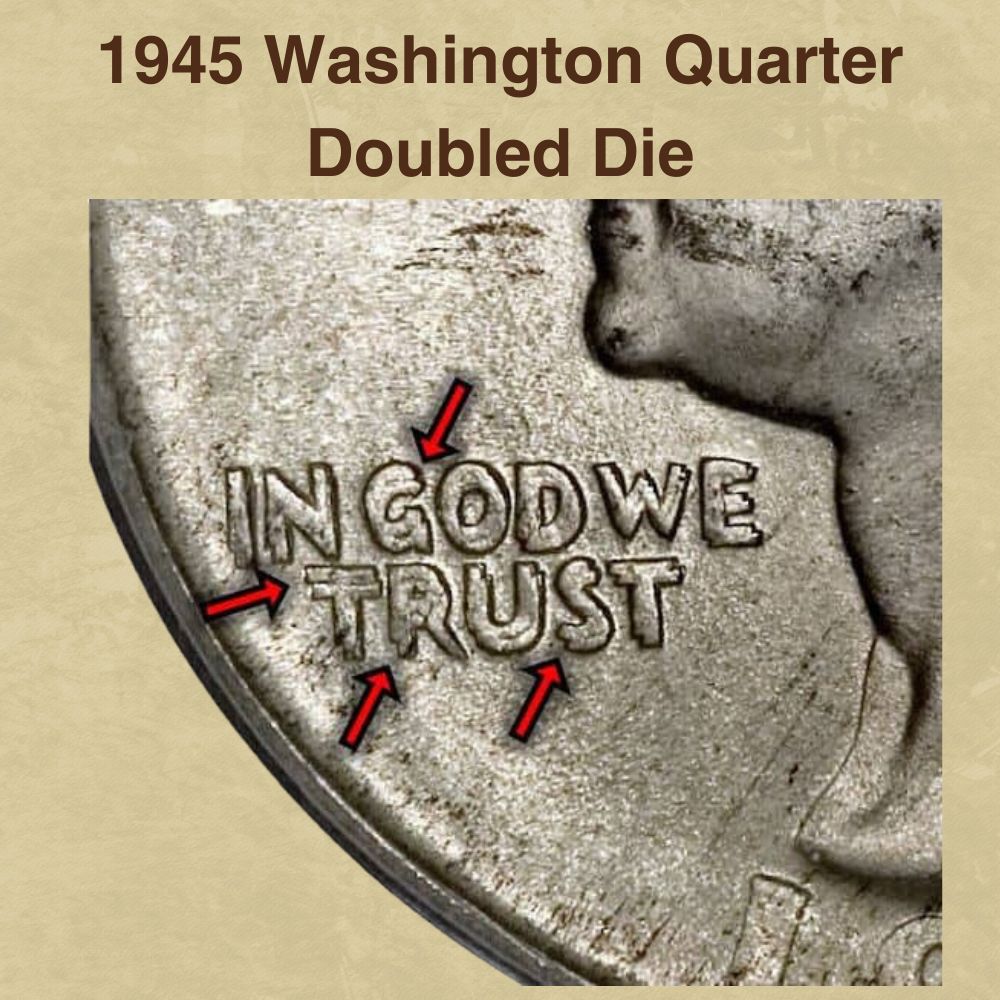 The doubled die error is probably the most common among quarters minted in 1945. Their pronounced and detailed design appeals to collectors, and they often set aside hundreds of dollars to get a piece with a severe double image.
For instance, the MS 65-rated 1945 DDO Washington quarter reached $552 at an auction in 2018. Pieces minted in San Francisco in MS 66 grades were sold at $840 and $870 the same year.
Quarter struck on a clipped planchet
You can sometimes come across the 1945 quarters struck on damaged planchets. Such pieces come in various shapes, including curved, straight, bowtied, or irregular.
The mint reuses these pieces after melting, but rare ones enter circulation to the delight of collectors who love such deformed coins. Despite collectibility, these coins are typically worth a modest $40.
Broad struck
Minters used collars to get the standard round coin shape with a required thickness and diameter. However, it sometimes broke off or loose, leaving thinner quarters with more sizable diameter. One collector set aside $253 at an auction to get such a quarter with atypically weak details in the date.
Also read: 17 Most Valuable Quarter Errors Worth Money
Where to Sell Your 1945 Washington Quarter ?
Now that you know the value of your coins, do you know where to sell those coins online easily? Don't worry, I've compiled a list of these sites, including their introduction, pros, and cons.
Check out now: Best Places To Sell Coins Online (Pros & Cons)
FAQ about the 1945 Washington Quarter
What makes the 1945 Washington quarters unique?
Even though most quarters from 1945 are common coins without valuable pieces and sought-after errors, you can find a few ultra-quality and beautiful coins that cost a lot of money. In this case, the highest-graded coins produced in Denver are the rarest.
What are the 1945 Washington quarter auction records?
The 1945 D Washington quarter in MS 68 grade won $20,400 at an auction in 2021
The 1945 Washington quarter in MS 68 grade won $16,450 at an auction in 2015
The 1945 S Washington quarter in MS 67 grade won $7,200 at an auction in 2020
The 1945 S Washington quarter in MS 66 grade with DDO error won $870 at an auction in 2018
The 1945 S Washington quarter in MS 66 grade with DDO error won $840 at an auction in 2018
The 1945 Washington quarter in MS 65 grade with DDO error won $552 at an auction in 2018
How much is each Washington quarter minted in Philadelphia in 1945 worth?
The No Mint mark quarters from 1945 are worth approximately $5 to $8.50, but uncirculated specimens can reach up to $480. If you are lucky and find one MS 68-rated coin, you can count on about $7,000 to $8,400. This sum results from a professional assessment.
What is the most pricey Washington quarter?
The most expensive quarter ever sold at an auction is the 1932 D MS 66 silver coin Type 1. Its price was $143,750, reached at Bowers & Merena in 2008. The priciest silver quarter (proof) Type 1 that reached $31,200 at Heritage Auctions in 2022 was the 1950 PR 68 coin.
As for clad quarters Type 2 from this series, the most valuable is the 1966 MS 68+ one with an auction record of $21,000 from 2023. The costliest proof coin with the same features is the 1974 S PR 70 quarter, sold at $10,925 in 2009.