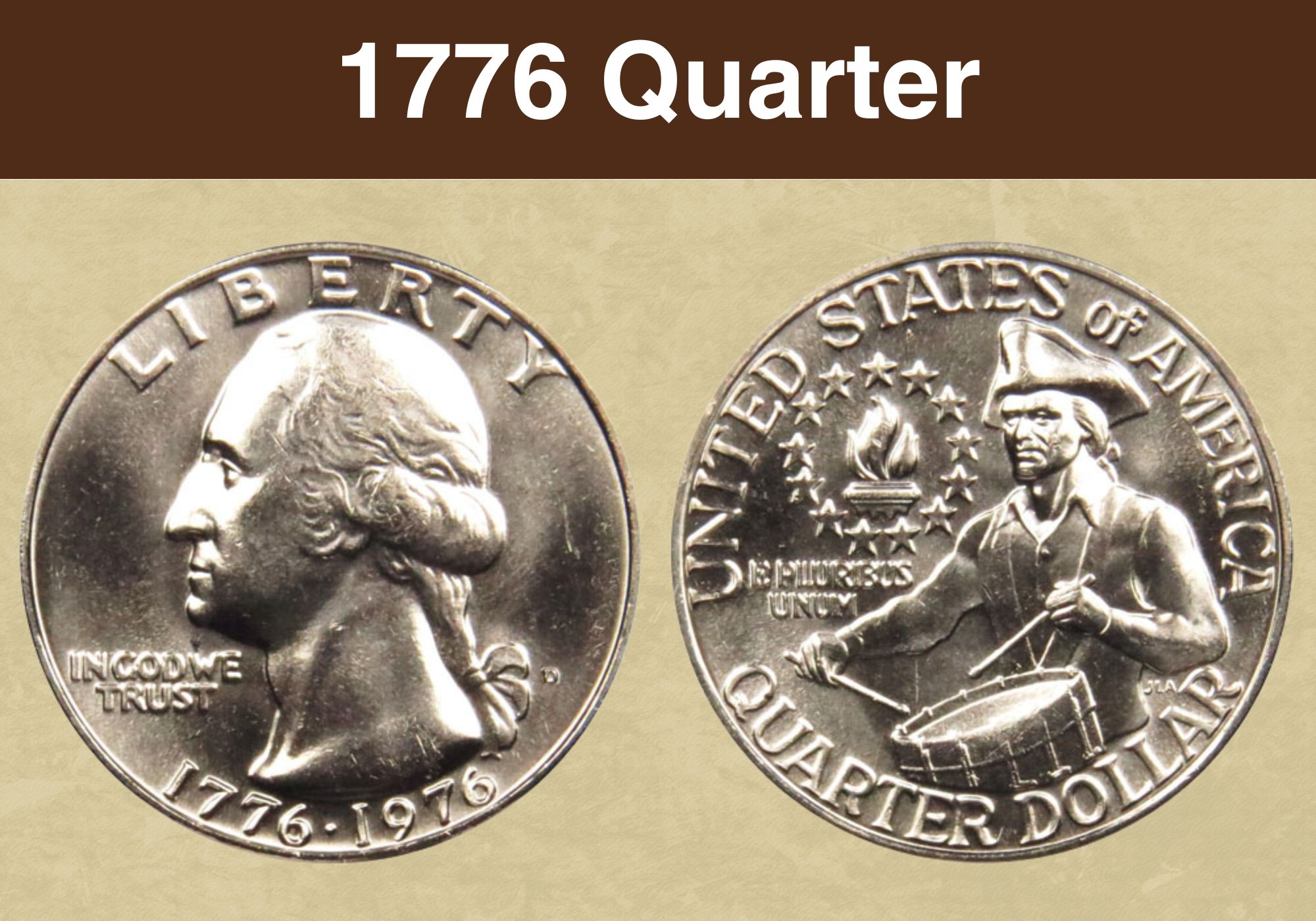 Have you found a quarter inscribed with the dates 1776 and 1976? If so, you're probably wondering if this interesting coin is valuable. The good news is, you've come to the right place to find out!
This coin is sometimes referred to as the 1776 quarter, although it was actually struck in 1976. We're going to explore the 1776 quarter value, history, and design. And we'll check out some of the interesting error coins that managed to sneak past the Mint's quality control processes.
So if you're ready to learn more, let's get started!
1776-1976 Quarter Value Chart

Mint mark
XF45
MS63
MS65
MS67
1976 No Mint Mark Clad Quarter Value
$0.25
$4
$28
$85
1976 D Clad Quarter Value
$0.25
$4
$28
$110
1976 S Silver Quarter Value
$4
$6
$10
$27
PR65
PR68
PR69
PR70
1976 S Clad Proof Quarter Value
Cameo: $8Deep cameo: $10
Cameo: $9Deep cameo: $10
Cameo: $18Deep cameo: $32
Cameo: $125Deep cameo: $150
1976 S Silver Proof Quarter Value
Cameo: $11Deep cameo: $12
Cameo: $12Deep cameo: $18
Cameo: $20Deep cameo: $30
Cameo: n/aDeep cameo: $180
History of the 1776 Quarter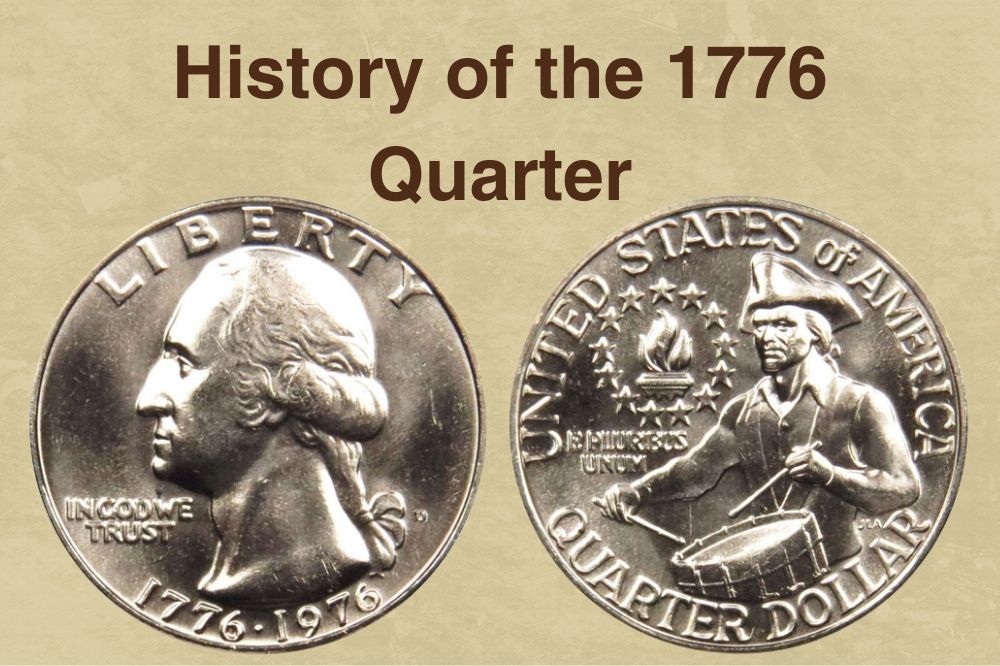 The very first US quarter-dollar coins were struck in 1796. But some quarters nevertheless carry a date 20 years earlier. So what's going on?
Well, the coin that's sometimes referred to as a 1776 quarter was actually struck in 1976. Both dates appear on the obverse, or "heads" side of the coin. That's because it was created to mark the bicentenary of American independence.
It was one of three denominations given a new design for the occasion – the others were the half-dollar and dollar. But the idea of bicentennial coins had at first been strongly resisted by the Treasury. The previous issue of a commemorative coin, back in the 1950s, had gone badly wrong.
Back then, any organization could ask Congress to authorize a commemorative coin. A coin featuring George Washington Carver and Booker T. Washington had been approved in this way. But it had failed to sell, even after being heavily discounted.
As a result, many of those coins had entered circulation, and the Treasury had been criticized. They were unwilling to see the same thing happen again.
But the idea of special coins to mark the bicentenary had strong support in Congress, and eventually the Treasury backed down.
They originally proposed to change the design of the half dollar and dollar only. But there was concern that these were the two least popular denominations. Under questioning from a congressional committee, the Mint Director, Mary Brooks, agreed to a commemorative quarter too.
Both clad and silver commemorative quarters were produced. And the Treasury ran a competition to find designs for the new coins.
The silver quarters were struck at the Mint facility in San Francisco. They were issued in sets, alongside the silver half-dollar and dollar. Both mint state and proof sets were offered for sale.
Business strike clad commemorative quarters were struck at the facilities in Philadelphia and Denver. Clad proofs were struck in San Francisco too.
In total, almost two billion bicentennial quarters were struck. And the silver coins were sold for over a decade, finally being withdrawn in 1986.
Also read: Top 13 Most Valuable State Quarters Worth Money
Features of the 1776 Quarter
The Obverse of the 1776 Quarter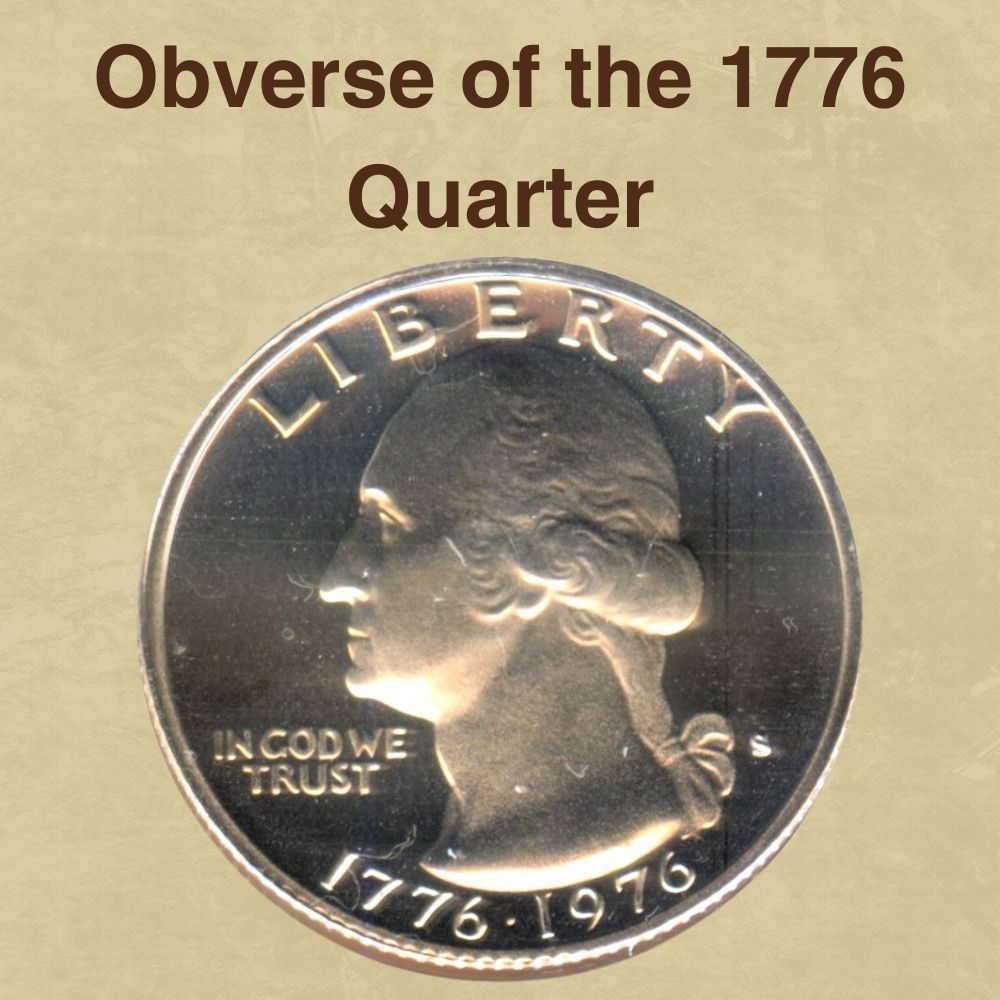 The obverse of the 1776 quarter shows the same portrait of George Washington that has been used on quarters since 1932. It's the work of an artist called John Flanagan, and shows Washington's head and shoulders in profile. He faces towards the left-hand edge of the coin.
Like all the bicentennial coins, the quarter includes the dates 1776-1976, marking 200 years of American independence. Both dates appear at the bottom of the design, separated by a dot, and curving parallel to the lower coin edge.
Just as with standard Washington quarters, the word "LIBERTY" arches above the portrait. And to the left, tucked beneath the President's chin, are the words "IN GOD WE TRUST".
The Reverse of the 1776 Quarter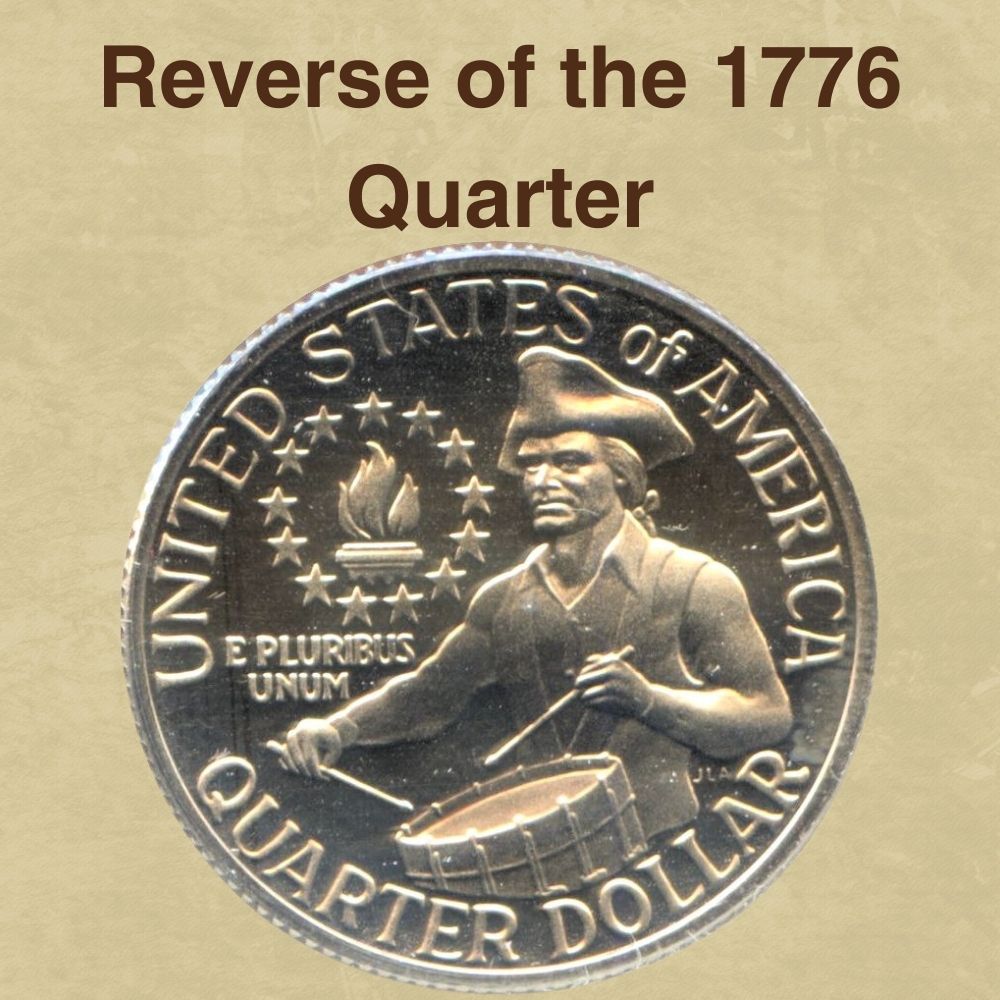 The designs for the reverse of the bicentennial coins were the result of a nationwide competition. Every US citizen could submit one design in the form of a drawing, plaster model, or photograph. Almost 900 entries were received.
The winner of the competition for the quarter was Jack L. Ahr. His design shows a colonial drummer in the foreground. In the background, over the drummer's right shoulder, is a torch representing victory. This is surrounded by 13 stars, representing the states.
The legend "E PLURIBUS UNUM" – Latin for "From the many, one", a reference to the union of states – appears below the torch. The country name arches over the top half of the design, while the denomination is at the bottom.
Look closely just below the drummer's left elbow, and you'll see the letters "JLA". These are the initials of the artist.
Other Features of the 1776 Quarter
The 1776 to 1976 quarter can be found in two different compositions. And both business strike and proof coins were produced in each case.
Clad quarters are composed of a copper core with a cladding of cupronickel. It's this cladding which gives them their silver color. They measure 24.3 millimeters in diameter, weigh 5.67 grams, and have a reeded edge.
So-called silver quarters are actually only 40 per cent silver, the rest being copper. They have the same dimensions and reeded edge as the clad versions. But they are slightly heavier, weighing 5.75 grams.
This YouTube video from CoinWeek looks in detail at the bicentennial quarter.
1776 Quarter Grading Guides
| # | Grade |
| --- | --- |
| 1 | Basal State-1 |
| 2 | Fair |
| 3 | Very Fair |
| 4, 5, 6 | Good |
| 7, 8, 10 | Very Good |
| 12, 15 | Fine |
| 20, 30 | Very Fine |
| 40 | Extremely Fine |
| 50 | About Uncirculated |
| 60 | Mint State |
| 65 | Mint State |
| 70 | Mint State |
Please check our grading guides to know your coin scale, It's the necessary step to know the exact value of your coin.
Check out now: How to Grade Washington Quarter?
1776 Quarter Value Guides
1976 No Mint Mark Clad Quarter Value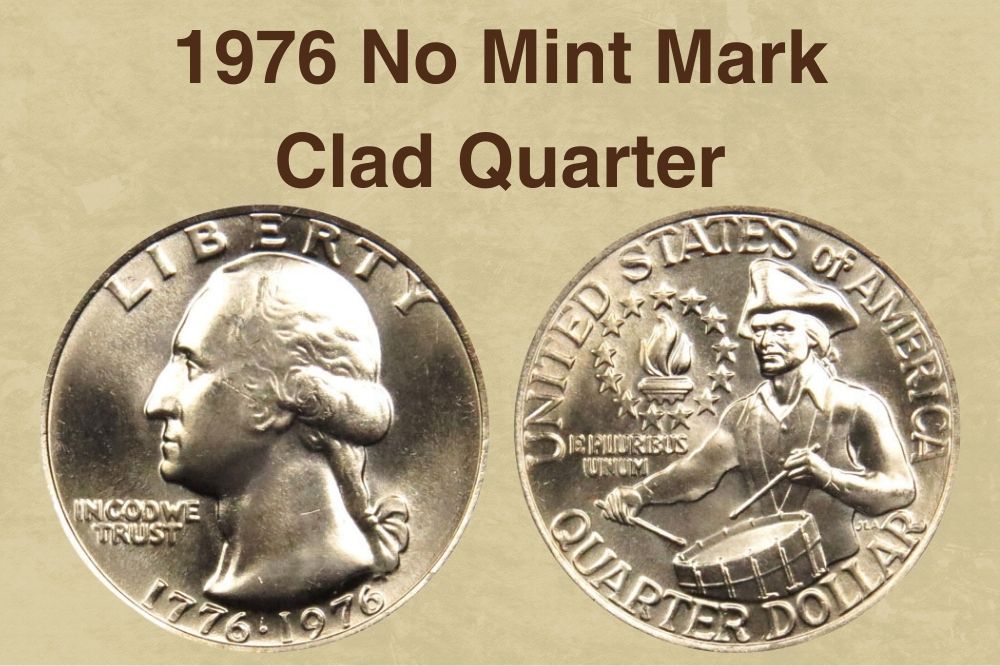 The Mint facilities at both Philadelphia and Denver struck clad quarters in 1976. The Philadelphia versions don't have a mint mark, and they're the rarest of the two kinds.
But they're still pretty easy to find. A shade under 810 million of them were produced. And because they were considered collectors' items, many of them were stored carefully away.
Today, it's believed that in the region of 300 million survive at all grades. More than 90 million of those are "mint state". These are uncirculated coins with a grading of 60 or above on the coin grading scale (which runs from 1 to 70).
Coins graded 65 or above are known as "gems". And the independent coin grading agency, the PCGS, estimates that over 18 million gem 1976 no mint mark quarters still exist.
All this means that it's possible to buy a great quality Philly bicentennial quarter without spending a lot of money. Coins in circulated condition are usually worth no more than their face value. And even mint state coins in grades from MS60 to MS62 are worth around a dollar apiece.
At MS63, the PCGS places the value of one of these quarters at $4. That rises to $28 for a gem MS65, and $85 at MS67.
Beyond this point, however, availability drops sharply. Only four coins have been certified at a higher grade by the PCGS. Three of those are at MS67+, and they're each valued at $2,350.
And top of the class is a single MS68 quarter, valued at an impressive $4,500.
1976 D Clad Quarter Value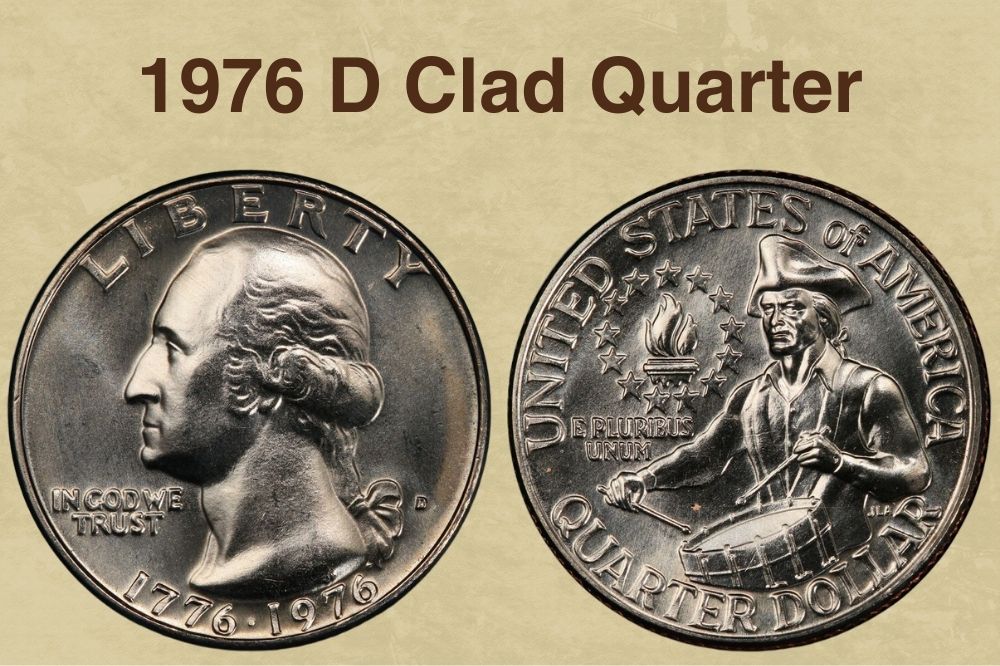 The Denver Mint facility struck some 860 million clad quarters in 1976, 50 million more than Philadelphia. They can be identified by the small "D" which appears on the obverse, to the right of Washington's braid.
As with their Philadelphia counterparts, examples in circulated condition are readily available and generally worth no more than their face value. Lower graded mint state coins are worth a dollar or two. And those graded MS63 are worth around $4.
At MS65, that value rises to $28, to $50 at MS66, and to $110 at MS67. Nine examples have been certified by the PCGS at MS67+, and those are each worth around $400.
And the crème de la crème are 11 coins certified MS68, each valued at $4,350.
1976 S Silver Quarter Value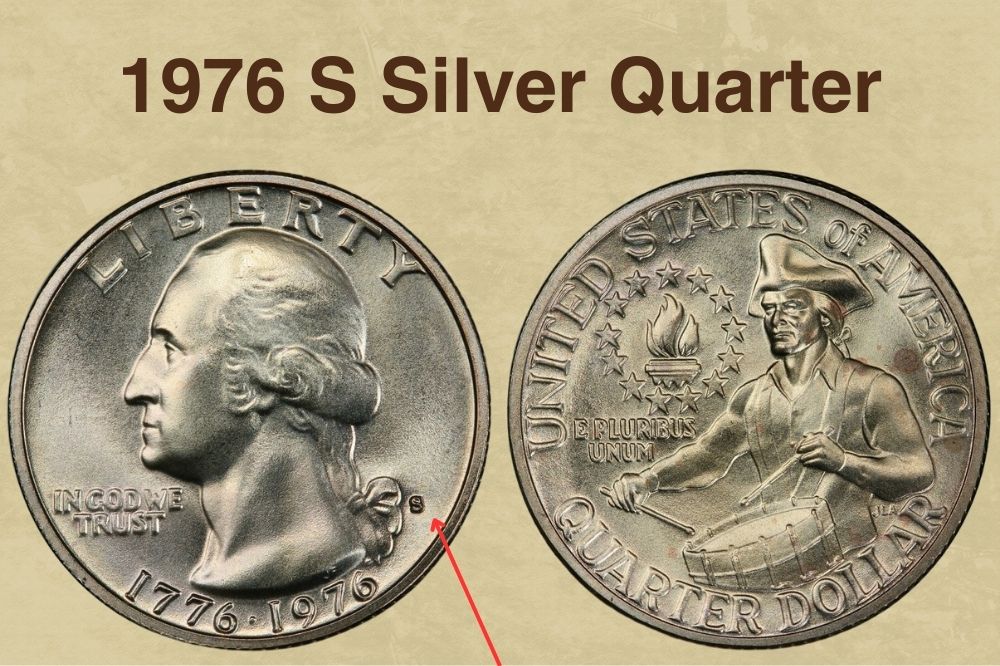 Silver bicentennial quarters were struck at the Mint facility at San Francisco. These can be either proofs or business strike coins. Proofs have a mirror-like finish, while business strike coins are matte.
The mintage of the 1976 S silver business strike quarters numbered 11 million. Around one in ten of those are believed to survive to this day, with the PCGS estimating 367,500 survivors in mint state. Gems are thought to number around 73,500.
The intrinsic value and collectability of silver coins means that circulated examples are worth $3 to $4, whatever their condition. Mint state examples start at around $6, rising to at least $10 for a gem.
Unusually, a couple of business strike silver quarters have been awarded the "deep cameo" (DCAM) designation by the PCGS. This is usually reserved for proof coins with a strong contrast between glossy fields and frosted designs.
A silver quarter graded MS69 DCAM sold on eBay in 2022 for $21.
1976 S Clad Proof Quarter Value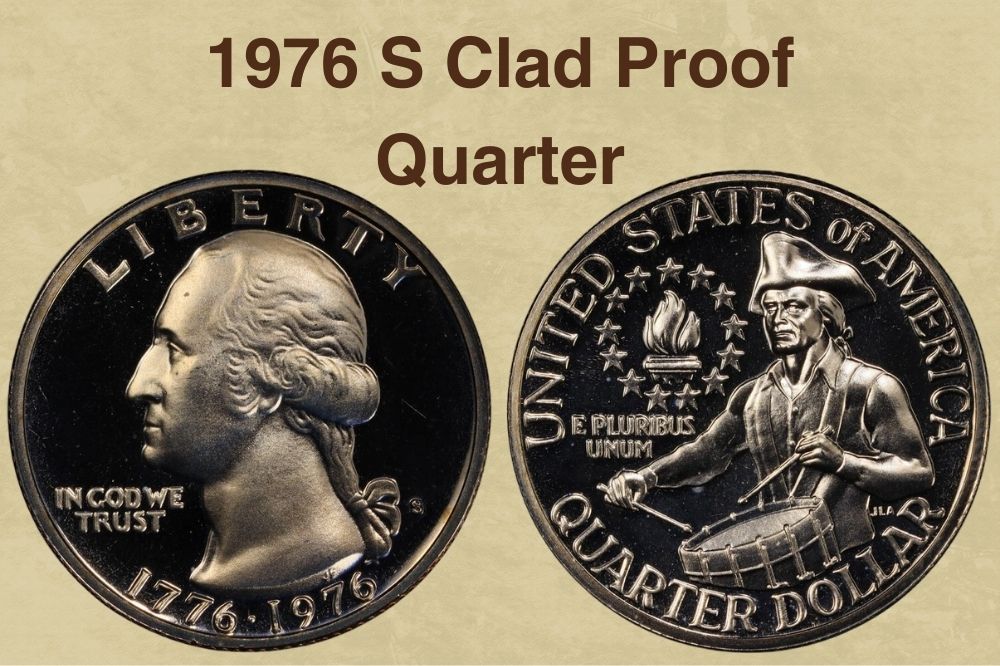 The San Francisco Mint facility also produced proof bicentennial quarters with a copper core clad in copper and nickel. These numbered over 7 million, and they're divided into three categories: standard proofs, cameos, and deep cameos.
Standard proofs are not particularly collectible, simply because there are so many of them. Cameos, too, are easy to find and are valued at between $8 at PR65 and $18 at PR69. Even a flawless PR70 example can be yours for just north of $100.
Deep cameos are a little more valuable, ranging from $10 at PR65 to $150 at PR70.
1976 S Silver Proof Quarter Value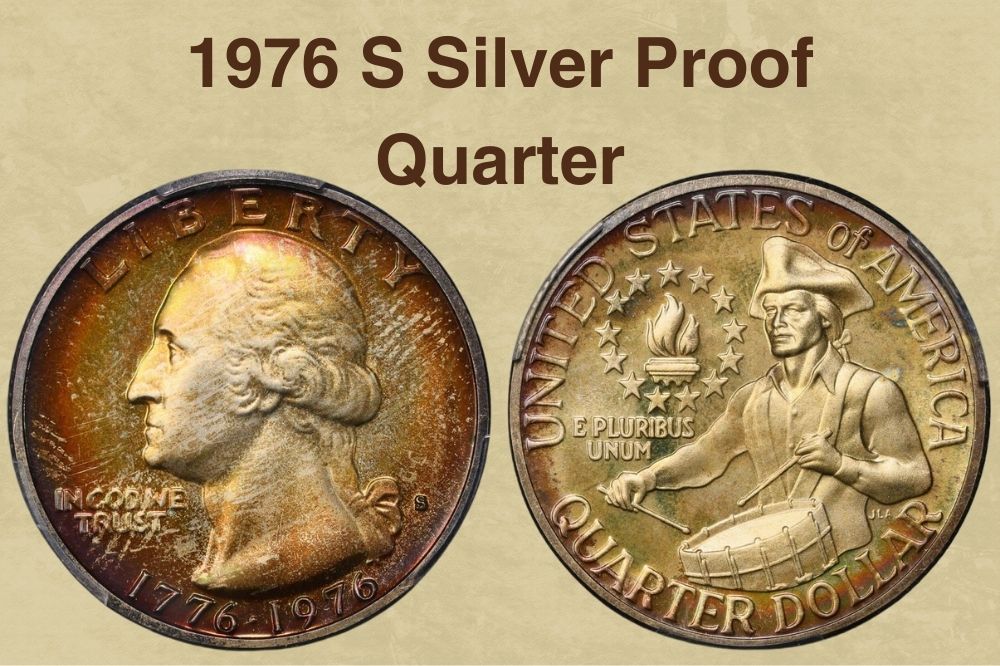 Like the clad proofs, 1976 silver proof quarters were struck at the San Francisco Mint facility. The mintage was lower, 4 million. And today, values at most grades are slightly higher than the clad equivalents.
A cameo proof graded PR65 is worth $11, rising to $20 at PR69.
For deep cameos, prices start at around $6 for the lowest uncirculated grades. That rises to $12 at PR65, and $180 for a top quality PR70 coin.
Also read: Top 16 Most Valuable Modern Quarters Worth Money
Rare 1776 Quarter Varieties and Errors List
1976 D Clad Quarter, Double Die Obverse, FS-101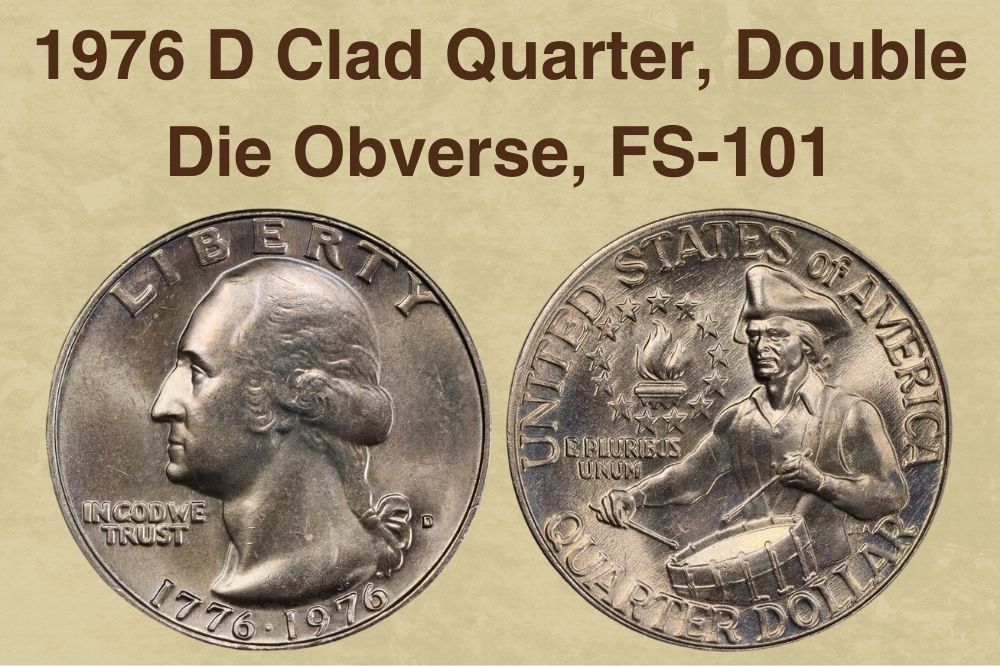 Sometimes something goes wrong in the process of crafting the die used to strike the design onto the planchet. In the past, the die had to be struck several times with a hub. This transferred every detail of the design onto the die.
If there was any movement during that process, double lines would be left on part of the design. And these would then be mirrored on the coins struck by the defective die.
This type of error is known as a "double die". Coins struck by a defective obverse die are known as double die obverse errors, or DDOs. A defective reverse die creates a double die reverse error, or DDR.
This type of error happened to two different obverse dies used to strike clad quarters at Denver in 1976. The PCGS gives them two different codes to distinguish them – FS-101 and FS-102.
The FS-101 is the rarest and most valuable – and you'll need a microscope of loupe to spot it. Look for double lines on the left-hand edges of the letters of "LIBERTY".
The value of a coin with this error depends on its condition. Even a relatively poor coin graded 4 is worth around $20. Values breach three figures ($110) at VF25 (the letters stand for "very fine"). And a coin graded XF45 ("extremely fine") is worth $235.
In mint state, values range from $725 at MS60 to $3,250 at MS65. The highest grade certified to date is MS66 – and that coin sold at auction in 2023 for $8,400.
1976 D Clad Quarter, Double Die Obverse, FS-102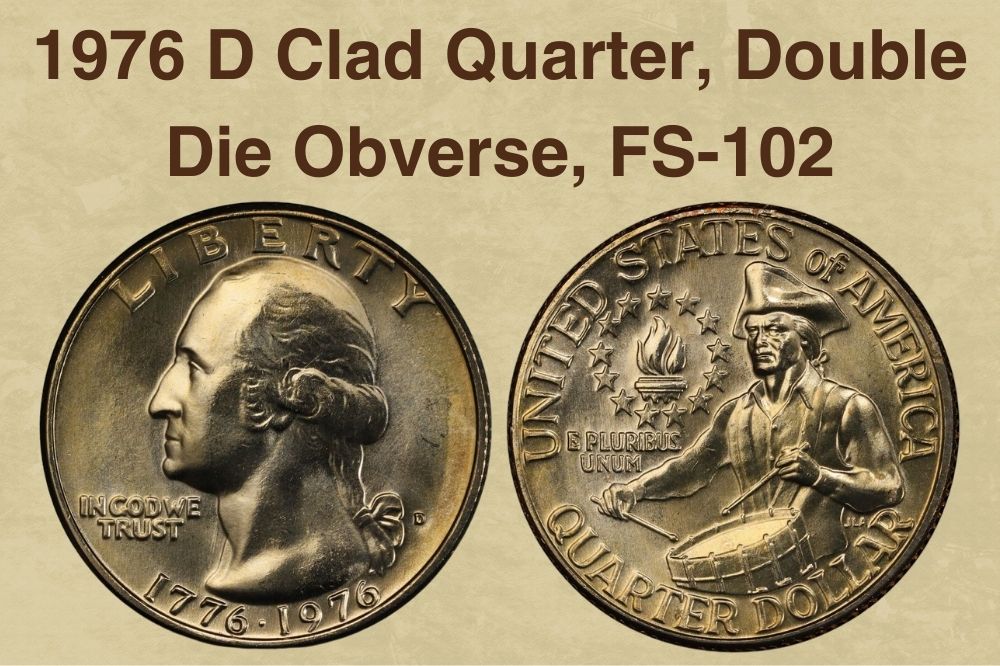 The second double die obverse on the 1976 D quarter is graded FS-102.
Here, the doubling is again evident on the letters of the word "LIBERTY". But in this case, the double lines appear to the right of and above the letters.
While coins with this error aren't as valuable as those with the FS-101 error, they're still collectible. A specimen graded VF20 is worth around $10, rising to $15 at XF45, and $25 at MS60.
A gem example graded MS65 will be worth around $125, while a point higher the value jumps to $200. The finest to have so far come to light are three coins graded MS67, but there is no public sales information for those.
Also read: 17 Most Valuable Quarter Errors Worth Money
Where to Sell Your 1776 Quarter ?
Now that you know the value of your coins, do you know where to sell those coins online easily? Don't worry, I've compiled a list of these sites, including their introduction, pros, and cons.
Check out now: Best Places To Sell Coins Online (Pros & Cons)
FAQs
Are 1776 quarters silver?
Some are made of 40 per cent silver and 60 per cent copper. Others are made of copper clad in an alloy of copper and nickel.
All the silver coins have "S" mint marks. But beware – not all quarters with the S mint mark are silver!
To tell the difference, try turning your coin on its side. If you can see any red or brown along the edge, it's a clad quarter. But you might not be able to see those traces of copper on coins that have minimal wear.
Weighing your coin is the best approach – but you'll need a set of scales that is accurate to 0.01 grams! The silver quarter weighs slightly more than the clad one – 5.75 grams compared to 5.67 grams.
How can I tell what my 1776-1976 quarter is worth?
To get a good idea of value, you'll need to know the condition of your coin. That's measured on a scale from 1 to 70, with 1 denoting a coin in the poorest condition.
To be worth serious money, standard quarters will need to be "best in class". And telling the difference between that and a coin a few points lower on the grading scale can be challenging.
Mint errors, however, can add a significant premium to coin value.
If you have a 1976 quarter with a D mint mark, look for signs of doubling on the letters of "LIBERTY". And if the doubling appears to the left of the letters, your coin could be worth a lot of money.