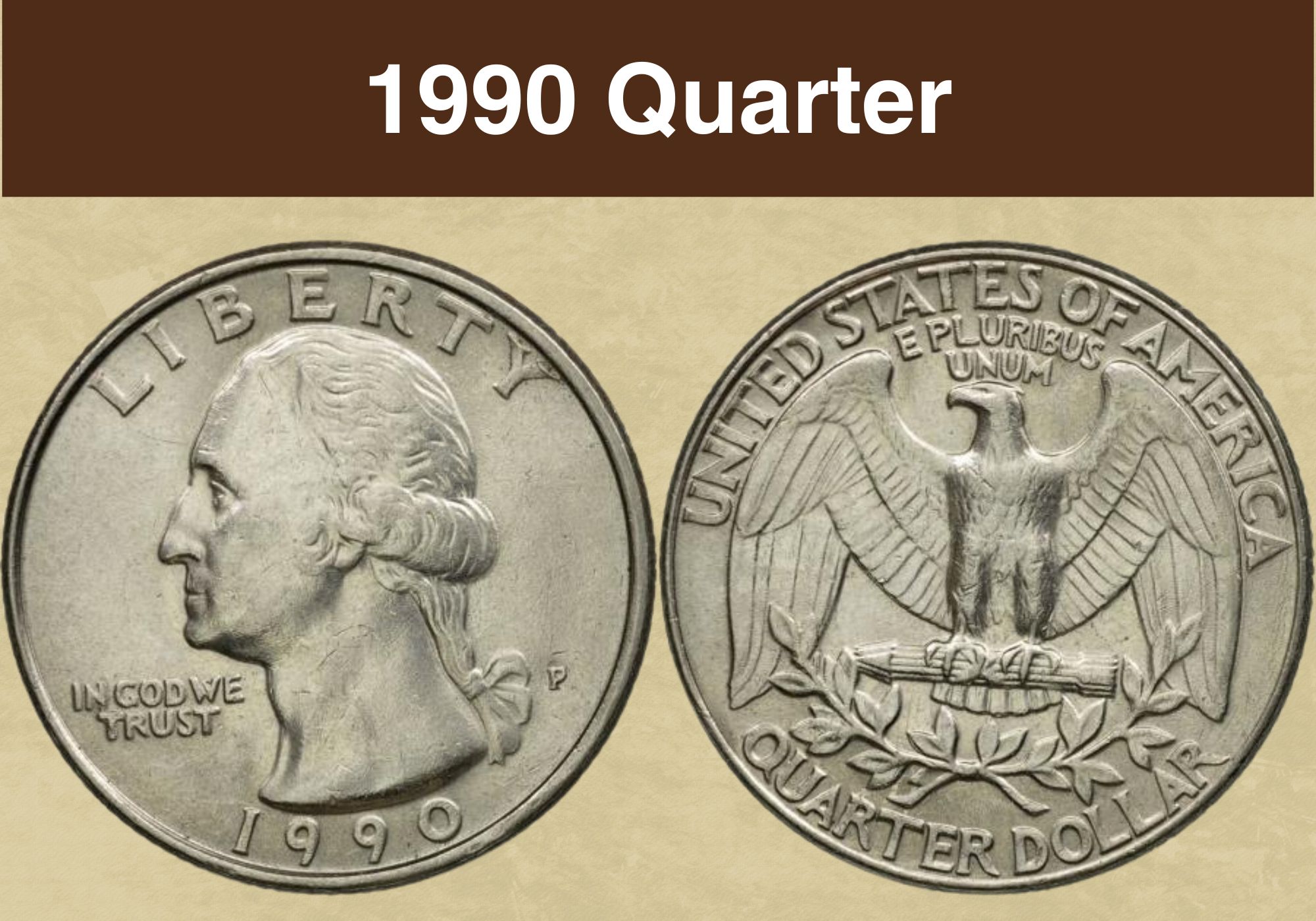 1990 is a significant year because it launched the final decade of the 20th Century. This makes it an interesting target for coin collectors. Plus, the 9s and 0s are psychologically satisfying. So let's explore the 1990 Quarter Value and look into any other factors that might increase its investment potential. We'll learn about its history, features, and important mint mistakes.
1990 Quarter Value Charts (Business Strike)

Coin
MS 62+
MS 63+
MS 64+
MS 65+
MS 66+
MS 67
MS 68
1990-P Quarter
$1
$2
$6
$14
$120
$1,550
–
1990-D Quarter
$1
$2
$6
$10
$45
$235
$4,500
1990-S Proof Quarter Value Chart

Coin
PR/PF 60 DCAM
PR/PF 62 DCAM
PR/PF 64 DCAM
PR/PF 66 DCAM
PR/PF 68 DCAM
PR/PF 70 DCAM
1990-S Proof Quarter
$2
$4
$6
$8
$10
$26
1990-S Proof DDO Quarter
$110
$125
$235
$325
$475
$5,500
History of the 1990 Quarter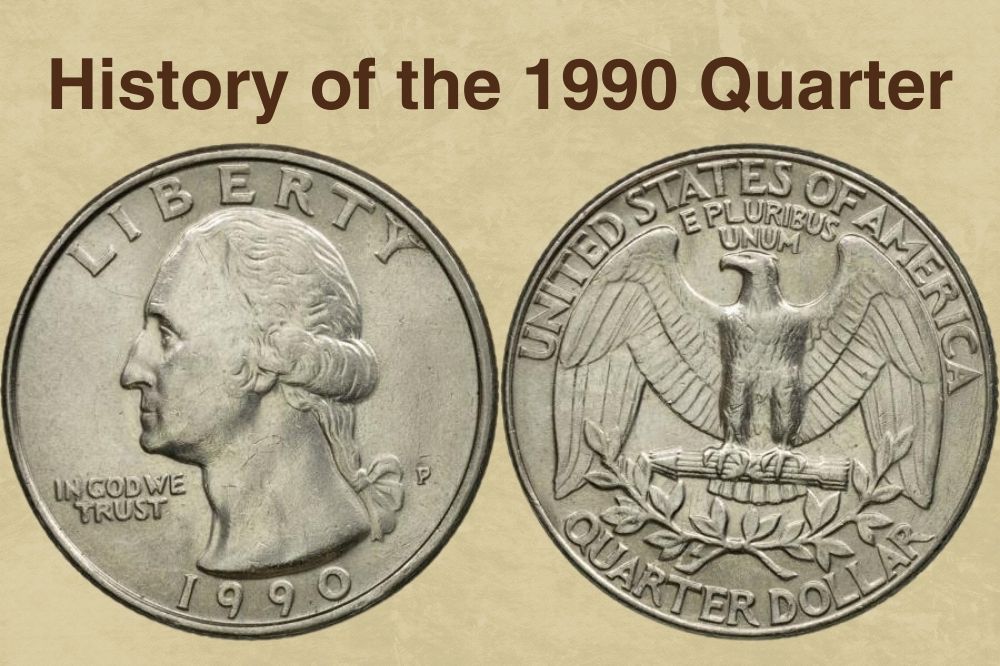 The most commonly used American currencies are the $20 Bill and the Quarter, which is a 25c coin. The latter got its nickname because it's a quarter of a dollar. It's a slightly strange figure because you'd expect the most popular coin to be 20 cents, just like 20 dollars. The reason goes back to colonial times when we used the Spanish Silver Dollar as our main coin.
Back then, a dollar could be an entire day's pay, so it was a lot of money. And the Spanish Silver Dollar could be sliced into eight wedges for easier trade and exchange. These wedges were called bits, and lots of things were priced at two bits or Two-Bit. So once we started minting our own money in 1792, Two-Bit became 25c. That's how the US Quarter was born.
The Heads Side of the 25c Coin
Today's Quarter has a portrait of George Washington. He was the 1st US President and is one of our most beloved leaders. But this Founding Father didn't like the idea of being celebrated on a coin. It was a common practice among colonial monarchs and he felt this new American democracy shouldn't do things like that. Still, we put him on the coin 200 years after he died.
The portrait of Washington that is currently on the Quarter was sculpted in 1931. It was done by Laura Gardin Fraser, and it won a coin contest for the 25c redesign. Fraser was the wife and former student of James Earle Fraser. They designed several significant coins, both separately and as a couple. But Mint Director Andrew Mellon chose another artist instead.
It's not clear why he did this. Some speculate it was a gender thing. Others say it was because Laura Gardin Fraser had recently designed the Oregon Memorial Trail Half Dollar, which wasn't selling well. Either way, the Quarter ended up with a portrait by James Flanagan and we wouldn't use Laura Gardin Fraser's version until the American Women's Quarter in 2022.
The Social Justice of Quarters
This coin has become a symbolic canvas for milestones and social causes because it circulates more widely than any other coin. This visibility makes it ideal for messaging and has led to Quarter Series like the 50 States, DC + Territories, American Women, and National Parks. These designs spread awareness and encouraged people to start collecting coins as a hobby.
People who study, display, and trade in coins, tokens, medals, and paper money are called numismatists. They spend a lot on premium coins, proofs, special edition bank notes, and other collectibles, so they're an important source of revenue for the US Mint. It's why the mint produces commemorative coins and series when they're raising funds or celebrating.
Also read: Top 13 Most Valuable State Quarters Worth Money
Features of the 1990 Quarter
In describing the features of a quarter, you'll find these technical terms helpful. Refer to the heads side as the obverse, the tails side as the reverse, the thin side as the edge, the raised border as the rim or collar, the images or portraits as devices, the words as mottos or legends, and the background as the field. Blank discs that make coins are called planchets.
The Obverse of the 1990 Quarter
It shows George Washington facing left. The legend Liberty is above his head while the motto In God We Trust is on the left, below his chin. The mint date sits along the lower rim of the coin. Towards the right of the neckline cut-off, JF is engraved to identify the coin designer, John Flanagan. On the right of Washington's ponytail is a mint mark to show the location.
The Reverse of the 1990 Quarter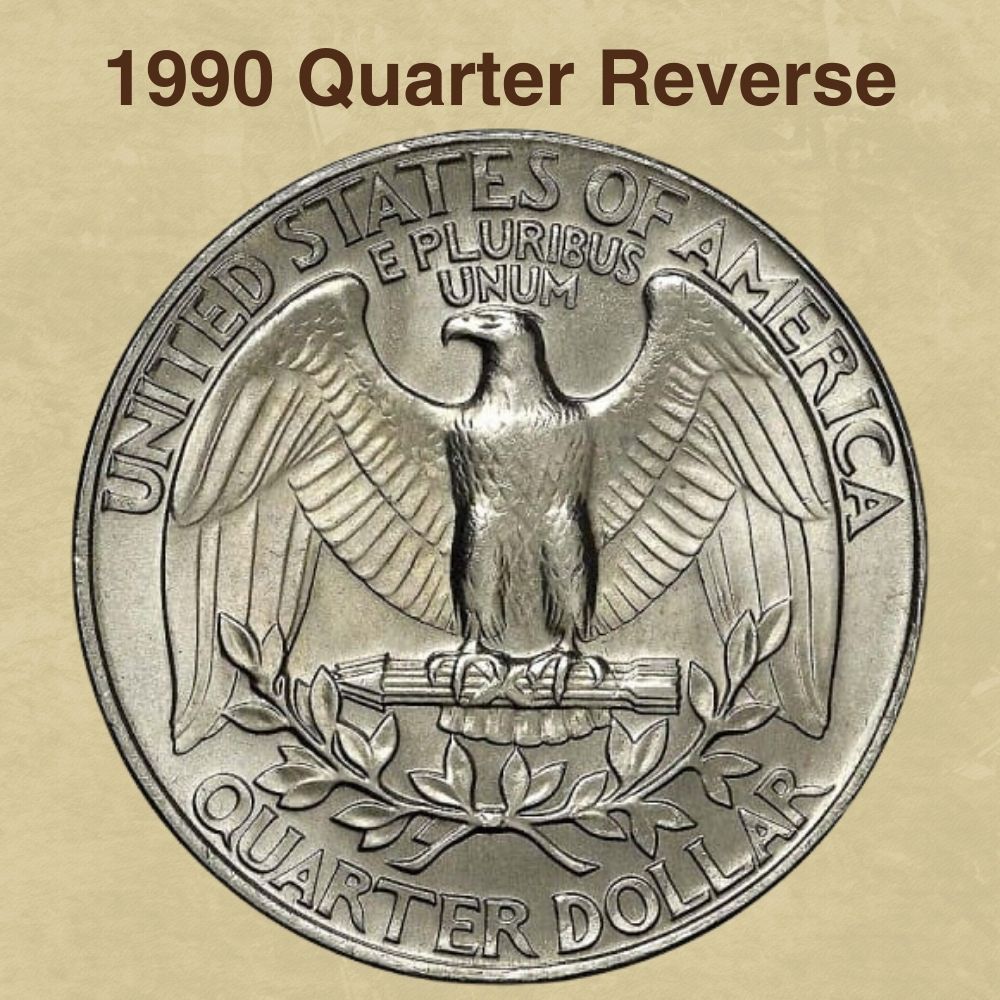 It shows an eagle with its wings spread out and its wing tips facing down. These tips have an olive wreath curled below them from one wing to the other. The face value, Quarter Dollar, is below the wreath. The eagle is holding a bundle of arrows and the motto E Pluribus Unum is above its head, between its wing bones. The top of the coin reads United States of America.
Other Features of the 1990 Quarter
In 1990, the Quarter was 91.67% Copper and 8.33% Nickel. The middle of the coin was pure copper while the outer layers had 75% copper and 25% nickel. This cupronickel cladding is meant to mimic the silver appearance of older coins. The 1990 Quarter is 24.3mm across, is 1.75mm thick, weighs 5.67g, and has 119 reeds along its edge. They leach the copper below.
1990 Quarter Grading
Like all coins, the 1990 Quarter is graded using a derivative of the Sheldon Scale. It rates coins from 1 to 70, using terms like Poor, Good, Fine, Circulated, and Mint State. Collectible coins have separate grades, such as PR or PF for proof, SMS for Special Mint Set, or SP for Specimen or Special Strike. Start with an online guide before seeking paid grading services.
| # | Grade |
| --- | --- |
| 1 | Basal State-1 |
| 2 | Fair |
| 3 | Very Fair |
| 4, 5, 6 | Good |
| 7, 8, 10 | Very Good |
| 12, 15 | Fine |
| 20, 30 | Very Fine |
| 40 | Extremely Fine |
| 50 | About Uncirculated |
| 60 | Mint State |
| 65 | Mint State |
| 70 | Mint State |
Please check our grading guides to know your coin scale, It's the necessary step to know the exact value of your coin.
Check out now: How to Grade Washington Quarter?
1990 Quarter Value Guides
The minting location is a key criterion in determining the resale value of any coin. And in 1990, the US Mint made quarters in Philadelphia, Denver, and San Francisco, so that's our first port of call as we look into the 1990 Quarter Value. For the record, other factors include grade, errors, rarity, and date of sale. We'll review those points in later sections of the article.
1990-P Quarter Value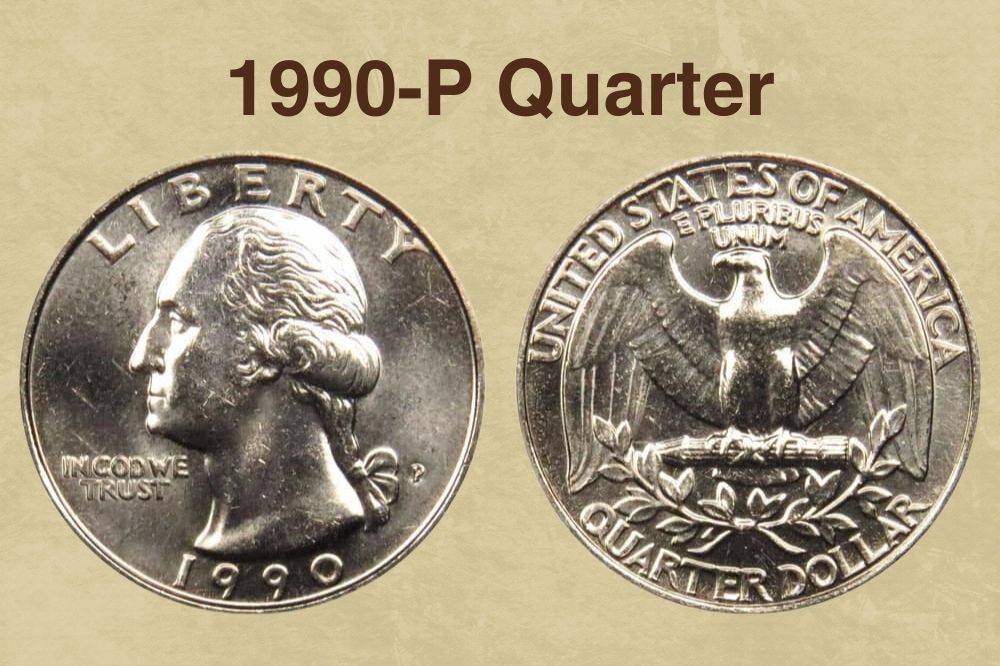 By 1990, all Philadelphia coins (except pennies) had the P Mint Mark. And in 1990, the mint made 613,792,000 Quarters. On 5th February 2021, an eBay vendor sold an MS 67 for $1,625. That said, eBay prices don't always follow market conditions. You can get a more accurate assessment by checking rates in the PCGS Price Guide (Professional Coin Grading Service).
In September 2023, they've graded 15 coins as MS 67 so they estimate their value as $1,500. That's fairly close to the eBay sale, so it wasn't a bad price. Half a step down, MS 66+ coins are valued at $120 with 9 coins submitted. Drop another half step and you'll see over 100 coin submissions in MS 66. That sinks the price by half to $50. And MS 65 coins are just $7.
1990-D Quarter Value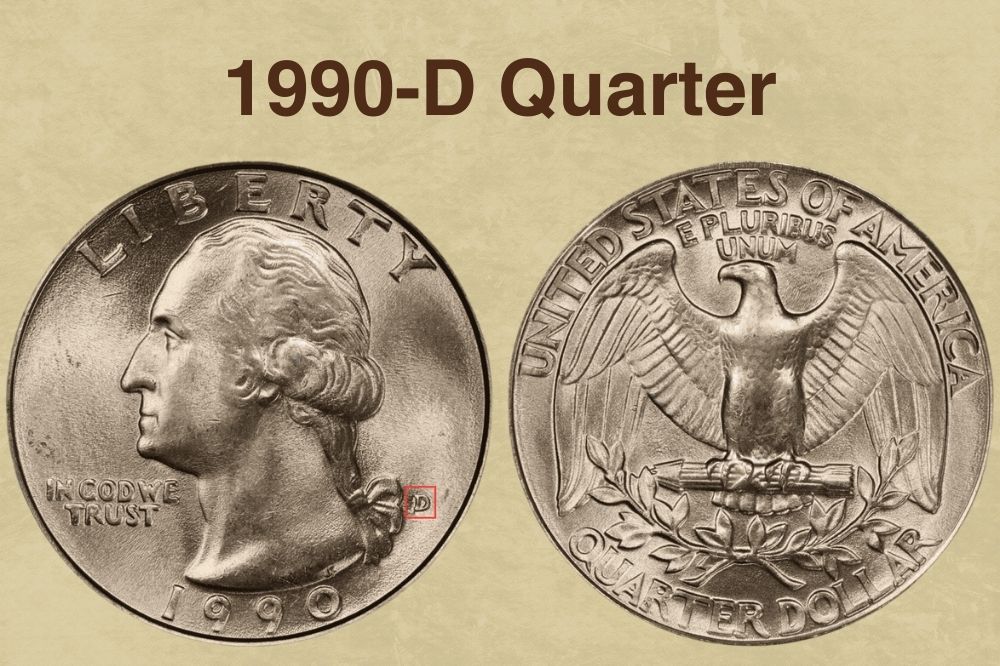 The Denver Mint made 927,638,181 Quarters in 1990 and they all had the D Mint Mark. On 3rd January 2018, an MS 67+ sold for $1,440. PCGS has seen three coins in this grade so in September 2023, their estimated value is slightly higher at $1,800 each. But one coin has shown up in MS 68, the top grade so far. PCGS estimates its current value at $4,500 in 2023.
That said, we've mentioned that rarity influences the price of a coin. So while an MS 67+ is worth almost $2,000, an MS 67 is only worth $235 in September 2023, since PCGS has seen nearly 40. Similarly, an MS 66 is just $25 in September 2023 because PCGS has received more than 200 submissions. But with only 7 coins in MS 66+, their value doubles to $45.
1990-S Proof Quarter Value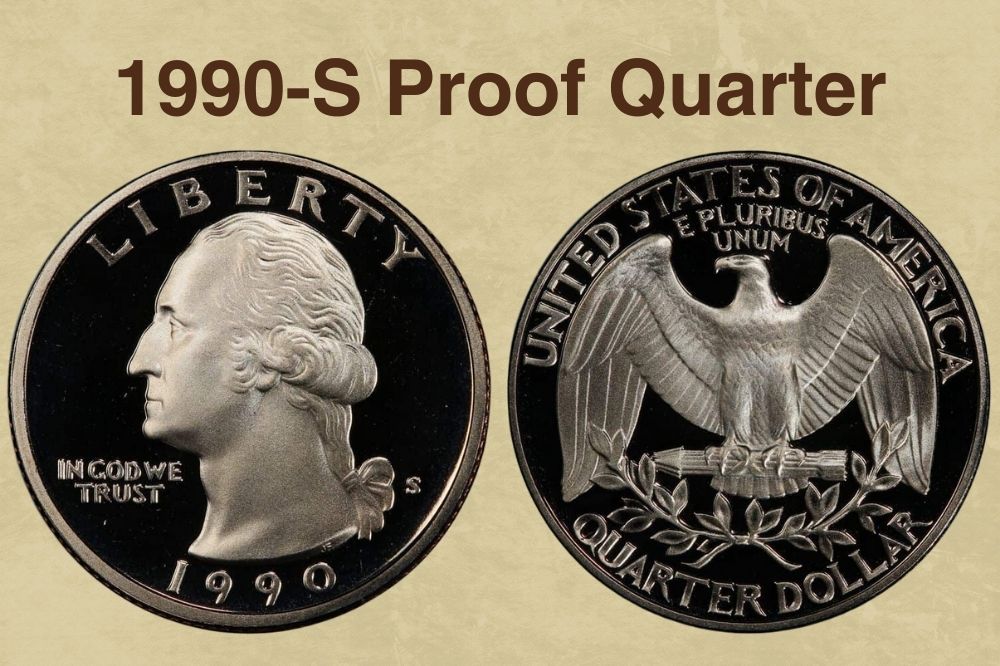 Proof coins typically come in three styles: matte proof, mirror-like proof, and reverse proof. In 1990, the San Francisco Mint made mirror-like proofs, meaning they had a mirror-like field and a frosted device. The shiny bits are achieved using two techniques. First, before it gets struck, the blank is burnished by tumbling it in a vat full of 6mm stainless steel balls.
Second, the special proof die that will strike the coin is scrubbed with horsehair to make the field extra glossy. Also, the frosted portions of the die are either pickled in acid (before 1970) or textured with computerized lasers. Pickled dies fade each time they hit a blank, so their frost-field contrast ranges from Deep Cameo (the first 50 to 100) to Cameo to regular proofs.
The Role of Rarity in Proof Coin Value
Since laser frosting doesn't fade, all 1990 Proof Quarters are graded Deep Cameo or Ultra Cameo, meaning they have the maximum contrast between their reflective die and hazy field. In 1990, the San Francisco Mint made 3,299,559 Proof Quarters with the S Mint Mark. But since these coins are fairly young, lots of people have them and they're not especially rare.
This pushes the price way down. A PR 70 DCAM, which is the highest possible grade, only sold for $329 on eBay in May 2020. PCGS has received close to 1,000 coins in this perfect grade, so their value in September 2023 is only $26 each. One step down, PCGS has seen over 6,000 submissions in PR 69 DCAM, so those are even cheaper at just $16 in 2023.
Also read: Top 16 Most Valuable Modern Quarters Worth Money
Rare 1990 Quarter Errors List
Whenever new coins are issued, experts spend the first 30 days looking for mint errors that can raise the value of the coin. These mint mistakes are assigned an FS number, meaning First Strike. FS errors are the most expensive ones but mistakes that are discovered later can be valuable as well. Let's look at some 1990 Quarter Errors, including the Proof FS-101 DDO.
1990-S Proof Quarter DDO FS-101
DDO means doubled-die obverse, sometimes called hub doubling. It happens when the die moves between hub strikes, forcing the second strike to hit a slightly different spot. This flaw is then copied to all coins made by that die, so it becomes a variety. On 4th April 2017, a coin graded PR 70 DCAM sold for $7,050. Only two are known so they're worth $5,500 in 2023.
1990-P Quarter Broadstruck Error
The rim of a coin is sometimes called its retaining collar because it helps the coin keep its shape. This ensures that every coin has the exact same width and thickness, which maintains a consistent face value. It's also useful for stacking. But if the collar gets deformed, flattened, or widened, that's called a broadstrike error. Graded MS 65, this one sold for around $35.
1990-P Quarter Double Struck Flipover in Collar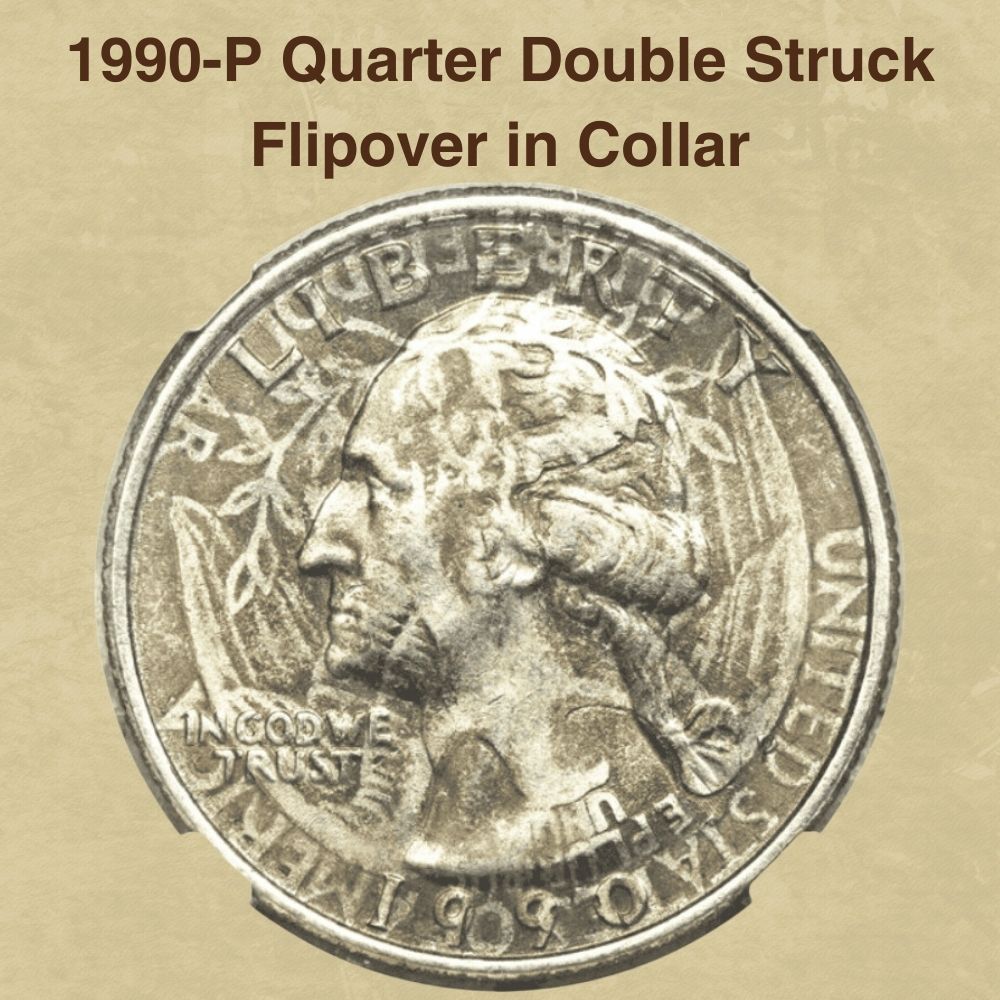 This is an interesting error. Instead of exiting the press after striking, the coin flipped. But it landed in the exact same position, smack between the dies. Because of this, the collar didn't get broadstruck. But as a result of the flip, some of the reverse details were stamped onto the obverse and vice versa. Even in the medium grade of AU 58, this unique mistake was $1,400.
1990 Quarter Double Struck 45% Off-Center
Here's a different type of double strike. The second strike hit the coin as it was already on its way out of the press, so it created overlapping designs. The coin was also slightly deformed. The second strike rotated about 90° and covered the mint mark so you can't tell the minting location. In MS 64, the presence of two errors raised the quarter's cumulative value to $280.
Also read: 17 Most Valuable Quarter Errors Worth Money
Where to Sell Your 1990 Quarter ?
Now that you know the value of your coins, do you know where to sell those coins online easily? Don't worry, I've compiled a list of these sites, including their introduction, pros, and cons.
Check out now: Best Places To Sell Coins Online (Pros & Cons)
1990 Quarter FAQ
Is the 1990 Quarter Made of Silver?
No, it's not. Since 1965, all quarters have been 91.67% copper and 8.33% nickel. But you can still find silver quarters in your change, or if you buy coin rolls from the bank. Check the date and if they were minted in 1964 or earlier, they'll be 90% silver and 10% copper so good luck!