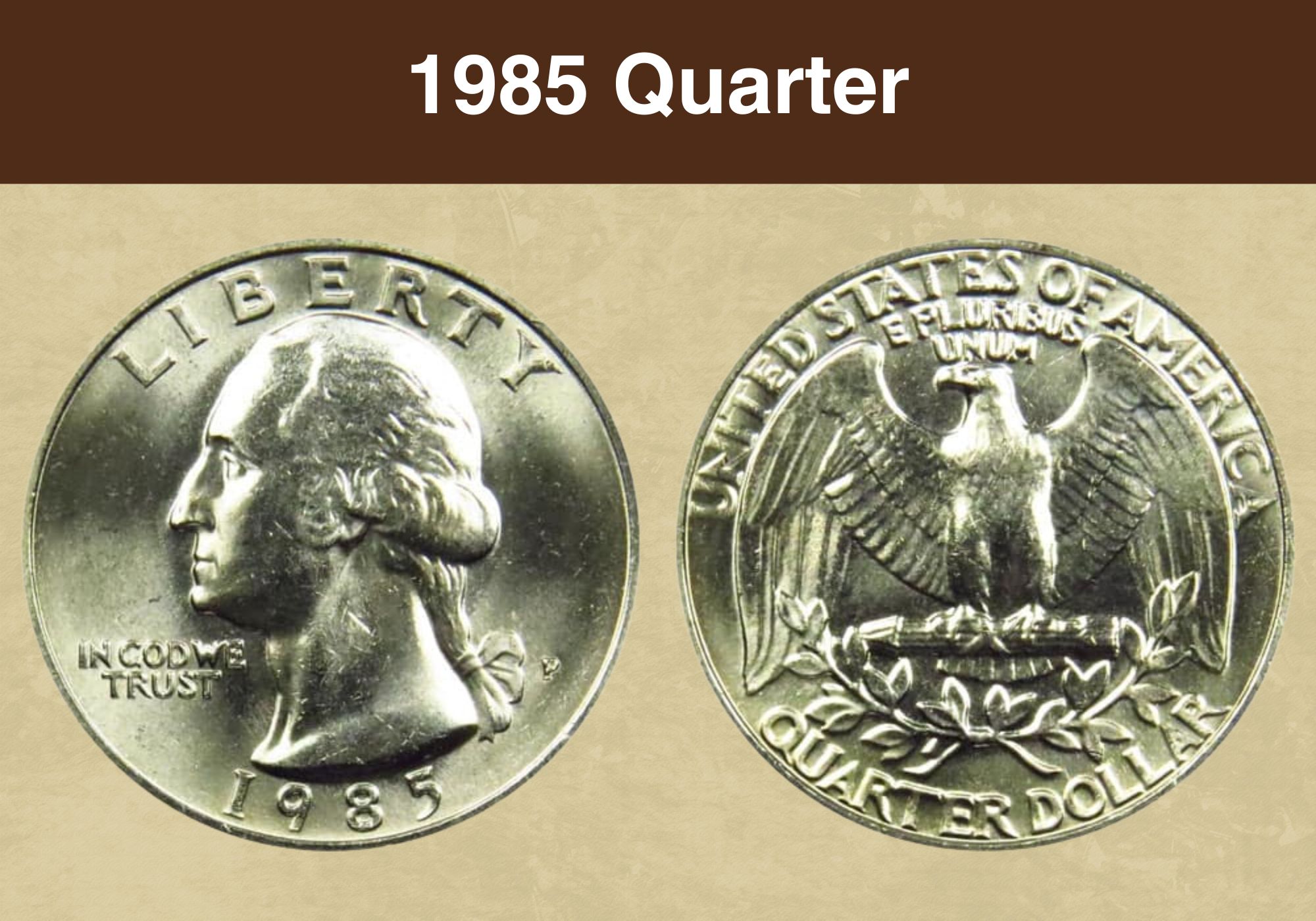 Do you own a 1985 quarter and are curious whether it is worth any money?
Are you a George Washington fan interested in adding a 1984 quarter to your collection?
We wrote this guide just for you!
Washington quarters are collectible because they commemorate our country's first president, George Washington. Some may be worth hundreds or thousands of dollars if you know what to look for.
This guide will teach you everything you need to know about the 1985 quarter value. Ultimately, you will make a smart decision whether you want to buy or sell your quarter.
We'll explore the coin's history, features, grading tips, and most importantly, find out: How much is a 1985 quarter worth?
So, let's jump in and discover the value of a 1985 quarter.
1985 Quarter Value Chart

Mint Mark
Good
Fine
Extremely Fine
Uncirculated
1985 No-Mint Mark Quarter Value
$0.30
$0.30
$0.30
$1,700
1985 D Quarter Value
$0.30
$0.30
$0.30
$325
1985-S Proof Quarter Value
–
–
–
$100
The History of the 1985 Quarter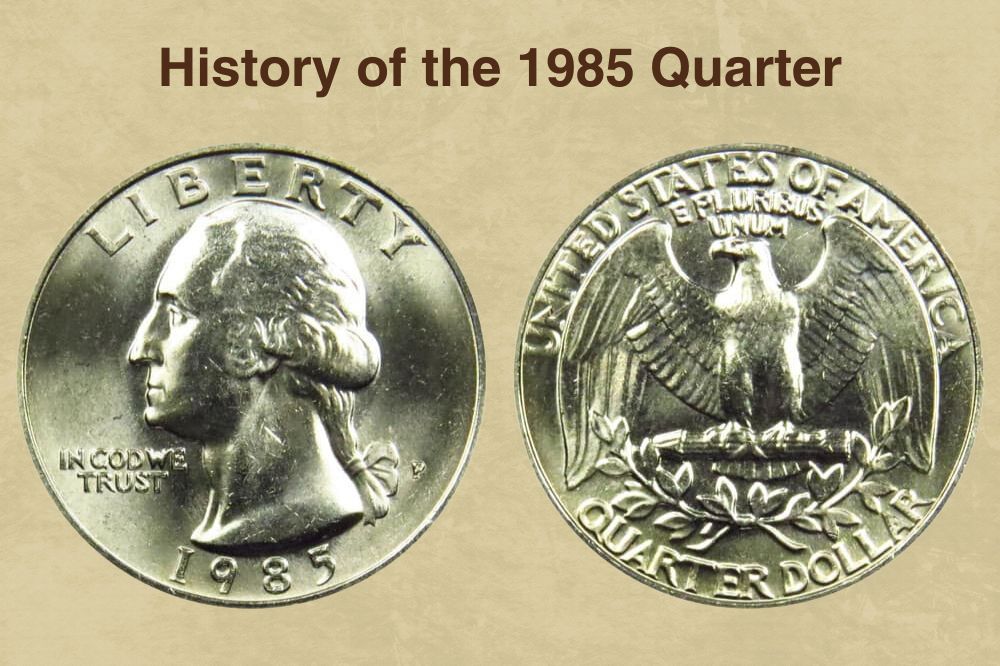 The history of the 1985 Washington quarter dates back to 1932, when the United States struck the first Washington quarter as part of George Washington's bicentennial birth anniversary celebrations.
Initially, a bicentennial committee established by Congress proposed the creation of a Washington half-dollar by replacing the Walking Liberty half-dollar for one year only. However, Congress passed legislation for a permanent Washington quarter to replace the Standing Liberty quarter.
Part of the legislation required that the new Washington quarter depict a portrait of our country's first president on the obverse.
The Bicentennial Committee had earlier chosen sculptor Lauren Fraser to design the Bicentennial commemorative medal and wanted her to use this design as inspiration for the creation of the newly proposed quarter.
Both the Committee and Commission of Fine Arts supported Fraser and had expected that she would be the official coin designer of the new Washington quarter. To their surprise, Treasury Secretary Andrew Mellon rejected Fraser and hosted a competition to elect another coin designer.
At the end of the competition, Mellon chose John Flanagan as the official designer for the newly proposed Washington quarter. After several iterations, Flanagan finally presented an acceptable design for the quarter that would replace the Standing Liberty quarter.
The new quarter was struck and released into circulation by August 1932. The Mint struck the coin in silver until 1965 when the composition of the Washington quarter changed to copper-nickel clad due to the ever-increasing silver prices.
The design remained largely the same on the obverse and reverse, only changing in 1975 and 1976 for the United States Bicentennial. Washington quarters featured the double date, 1776-1976, for these two years.
The 1985 quarter retains much of Flanagan's design on the obverse and reverse. Millions of these coins were struck across all three minting facilities in Philadelphia, Denver, and San Francisco.
Also read: Top 13 Most Valuable State Quarters Worth Money
The Features of the 1985 Quarter
Let's now look at the physical attributes of the 1985 quarter. Knowing a coin's appearance and unique features can help you grade and identify 1985 quarters worth money.
The Obverse of the 1985 Quarter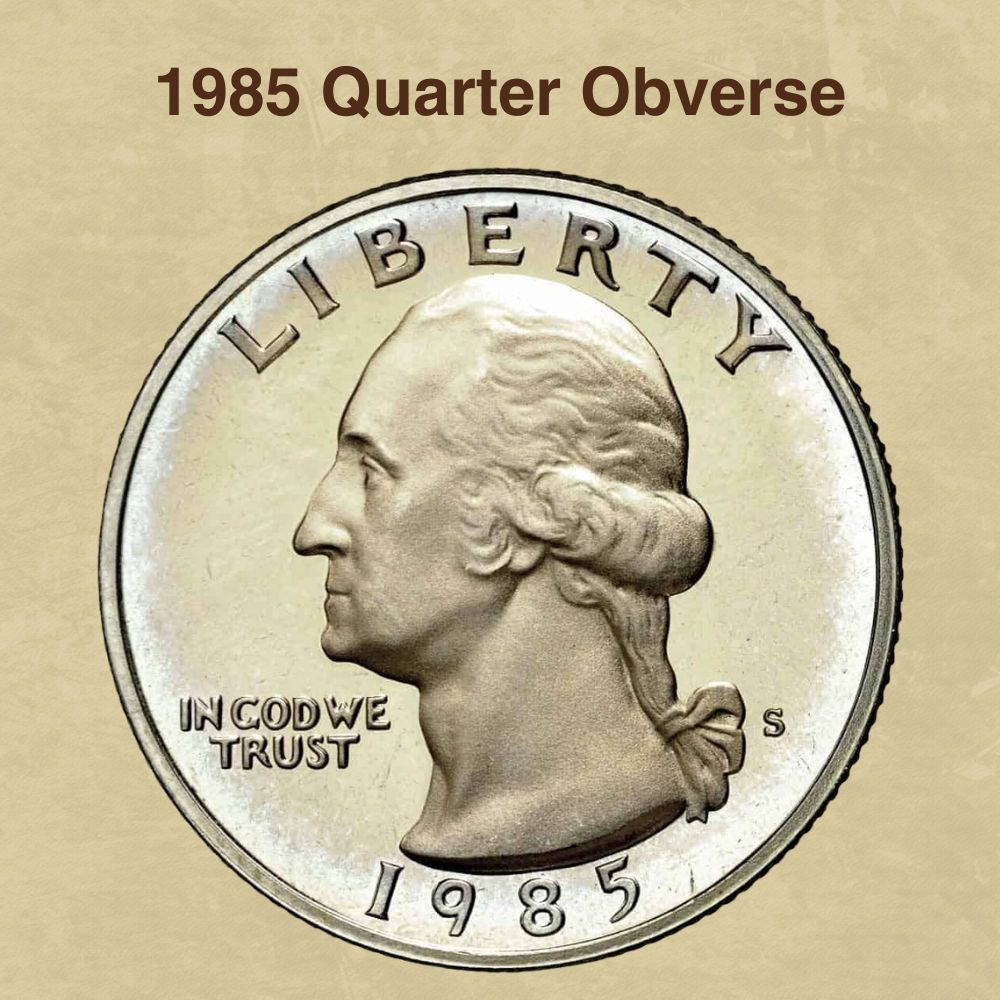 On the obverse of the 1985 quarter, you will see the left-facing portrait of President George Washington. The coin's designer, John Flanagan, based this portrait on a 1784 bust of Washington created by sculptor Jean-Antoine Houdon.
The motto, IN GOD WE TRUST, appears on the left surface, while the date, 1985, can be seen at the bottom around the inner rim. The word LIBERTY appears prominently at the top, above Washington's head.
You will also notice the mint mark on the right surface behind Washington's ponytail. The mint marks P and D are for coins struck in Philadelphia and Denver, respectively.
The Reverse of the 1985 Quarter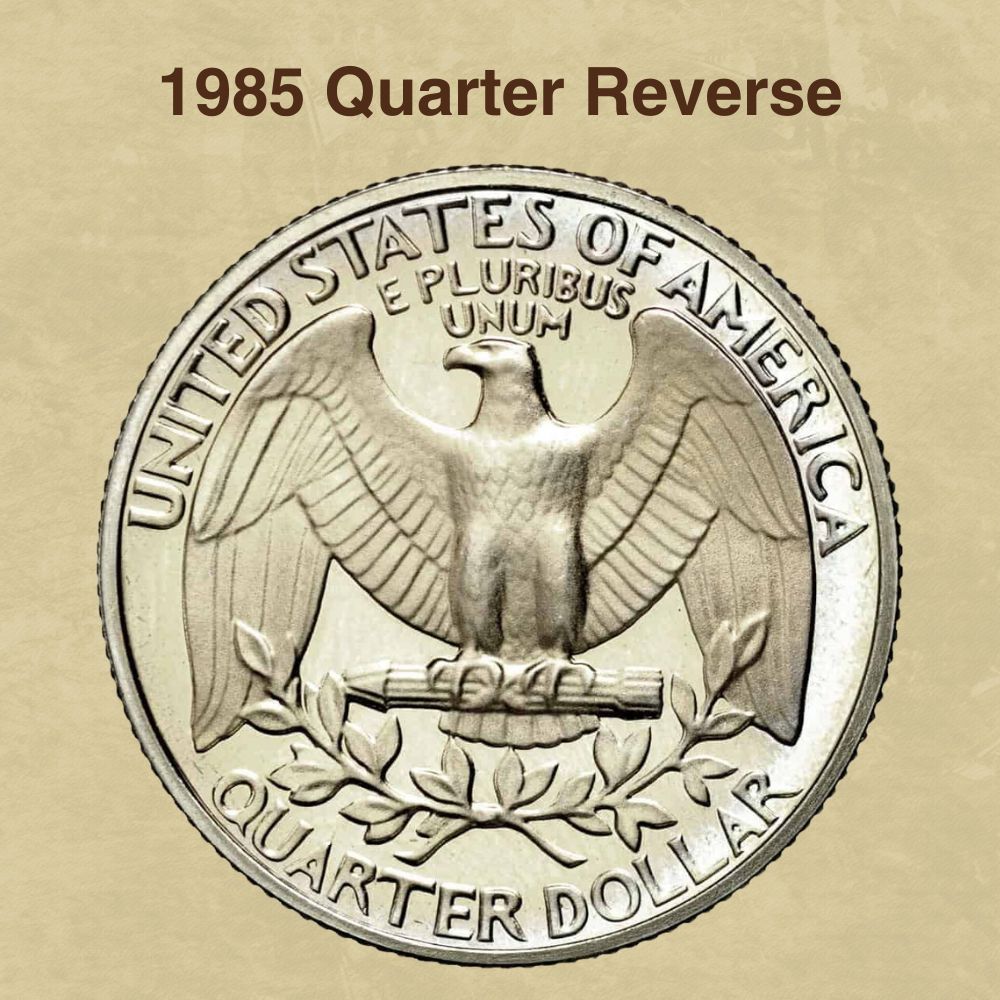 Admittedly, there is a lot going on, on the reverse of the 1985 quarter. The balding eagle with wings spread out wide occupies most of the coin's surface.
The eagle is perched on a bunch of arrows, representing readiness to defend the Union against adversaries. Underneath, you will notice an olive branch; this branch usually symbolizes peace, unity, and diplomacy, indicating the country's commitment to uphold peace.
The county's name, UNITED STATES OF AMERICA, appears at the top of the coin and is immediately followed by the motto, E PLURIBUS UNUM.
The coin's denomination, ONE QUARTER, appears around the bottom, bringing the beautiful reverse design together.
Other Features of the 1985 Quarter
The 1985 quarter comprises a pure copper core and an outer clad layer comprising 75% copper and 25% nickel.
It measures 24.30 millimeters in diameter and weighs only 5.67 grams. The coin has a modern reeded edge with ridges running parallel to the face on both sides.
1985 Quarter Value Guides
In this section, we'll answer the question: How much is a 1985 quarter worth?
The answer is that it depends on factors such as the condition, rarity, mint mark, and errors. Quarters in uncirculated condition and those with a notable error will fetch more.
There are three main varieties of the 1985 quarter. These include the:
1985-P Quarter
1985-D Quarter
1985-S Proof Quarter
Let's look at how much each of these quarters is worth.
1985-P Quarter Value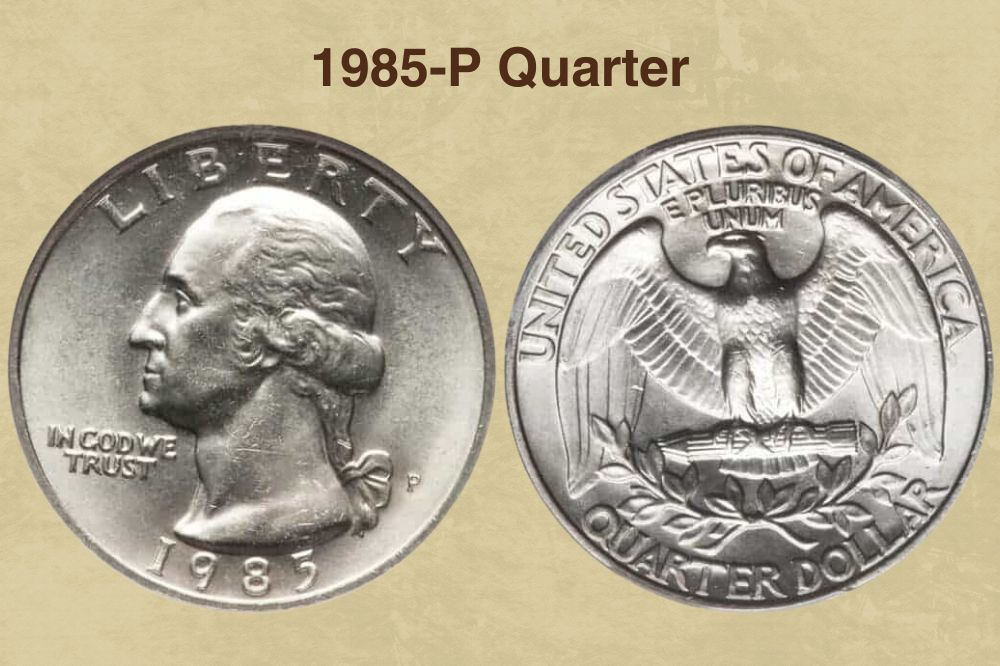 The Philadelphia mint struck an estimated 775,818,962 Washington quarters in 1985, the highest mintage that year compared to the production levels in Denver and San Francisco.
You are right if you think this is a large number of coins minted in a single year! As a result, the 1985-P is very common and generally affordable in all grades.
You can identify quarters minted at the Philadelphia facility by the mint mark on the obverse, just behind Washington's ponytail.
Many of the over 700 million 1985-P Washington quarters were released into circulation, so most of the examples you will come across today will be well-worn and will typically not fetch a premium.
In circulated condition, you can expect between $0.30 and $0.85 for a 1985 quarter struck in Philly. This coin is relatively affordable even in higher-mint grades, with an MS65 costing about $20.
Gem-quality specimens are extremely rare and will fetch as much as $1,700 when they appear at auction.
1985-D Quarter Value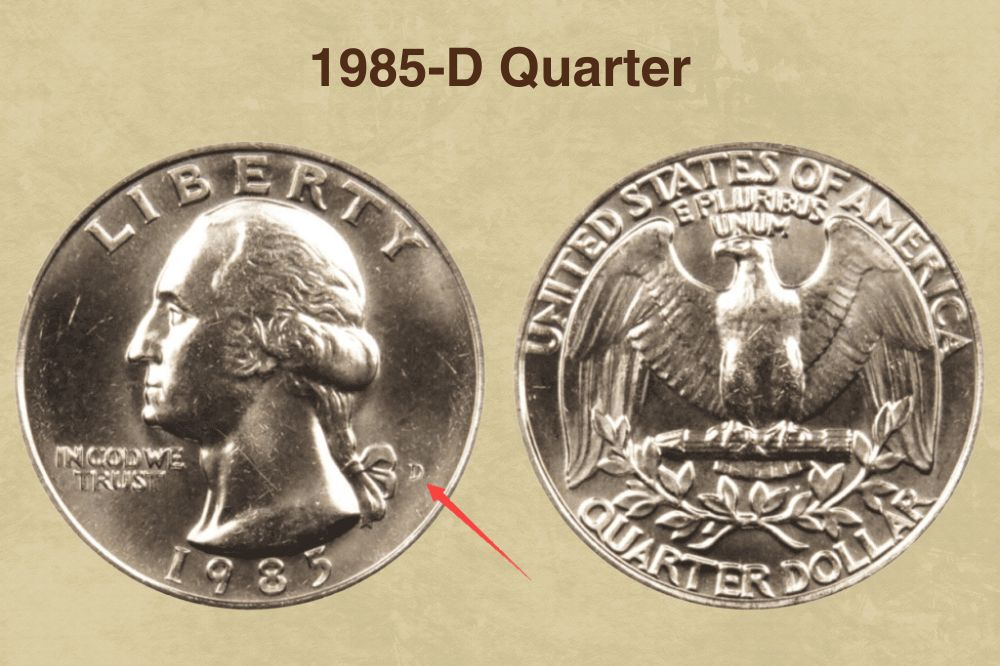 The Denver mint produced about 519,962,888 quarters in 1985, the second-highest mintage after Philadelphia.
Coins were generally better struck at the Denver facility than those made in Philadelphia, making these quarters slightly more valuable. Still, 1985-D quarters are worth more or less their face value in circulated condition.
You should expect between $0.30 and $0.85 for circulated quarters. This price can increase to $325 for mint state examples graded MS65.
There is a noticeably large price difference between the different mint state grades. With just $13, you can get your hands on a 1985-D quarter that is graded MS65, but this price can peak at more than $300 for specimens graded MS67 and above.
1985-S Proof Quarter Value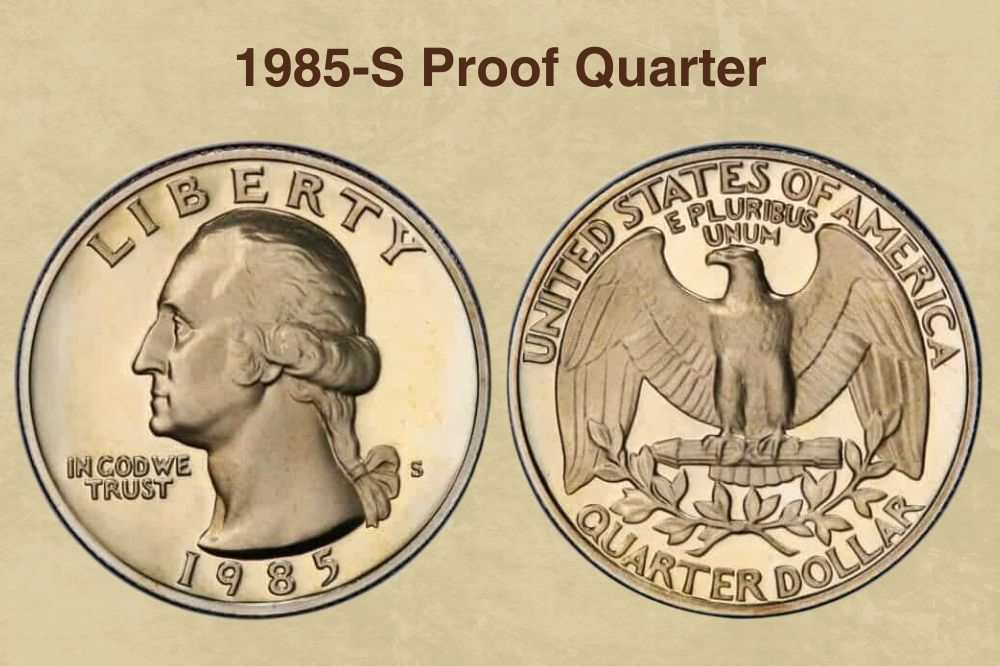 While the Philadelphia and Denver minting facilities produced business strikes, the San Francisco facility made proof coins for collectors.
An estimated 3,362,821 proof quarters were struck in 1985, a significantly lower number than the business strikes.
Proof coins are struck using a special process and on designated planchets, resulting in sparkling coins with brilliant surfaces, intense attention to detail, and an undeniable eye appeal.
Because they were meant for collectors, most of the 1985-Sproof quarters were stored carefully and are easy to find in their original mint state.
Because these proof coins are abundant, they do not command as much a premium as other scarce proofs. You will also not notice a big price difference across the grades.
For a specimen graded PF60, you can expect about $1.15, and about $11 for one graded MS66. What would be considered a deep cameo gem-quality 1985-proof quarter is graded at PF70 and would fetch as much as $70.
With such affordable prices, there is no reason why you should not add a 1985-S proof quarter to complete your Washington collection.
Also read: Top 16 Most Valuable Modern Quarters Worth Money
1985 Quarter Grading
Grading Washington quarters, including those minted in 1985, entails assessing your coins for signs of wear on the high points. Since circulated grades this year do not fetch a premium, it is best to focus your efforts on uncirculated examples.
On the obverse, you should pay attention to high points such as the hair around his ear and cheeks; these are more prone to dulling and wear and tear. On the reverse, keep an eye on the upper section of the eagle's legs and its breast, which tend to wear out faster.
Ultimately, an uncirculated 1985 quarter will have very few, if any, contact marks and scratches. The shiny, original luster will be intact, and the design elements, such as Washington's face, the lettering on both sides, and the wreath on the reverse, will be in perfect condition with no major flaws.
Check out this video for great tips on grading Washington quarters.
Rare 1985 Quarter Errors List
Although 1985 quarters are worth only more or less their face value, the value of these coins can increase if they have a notable error.
Errors during the minting process result in small quantities of unique coins, an appealing combination to collectors. Due to their scarcity and oddity, error coins sometimes fetch a premium.
Let's look at a few 1985 quarter errors that are worth money.
1985 Doubled-Die Obverse/Reverse Quarter Error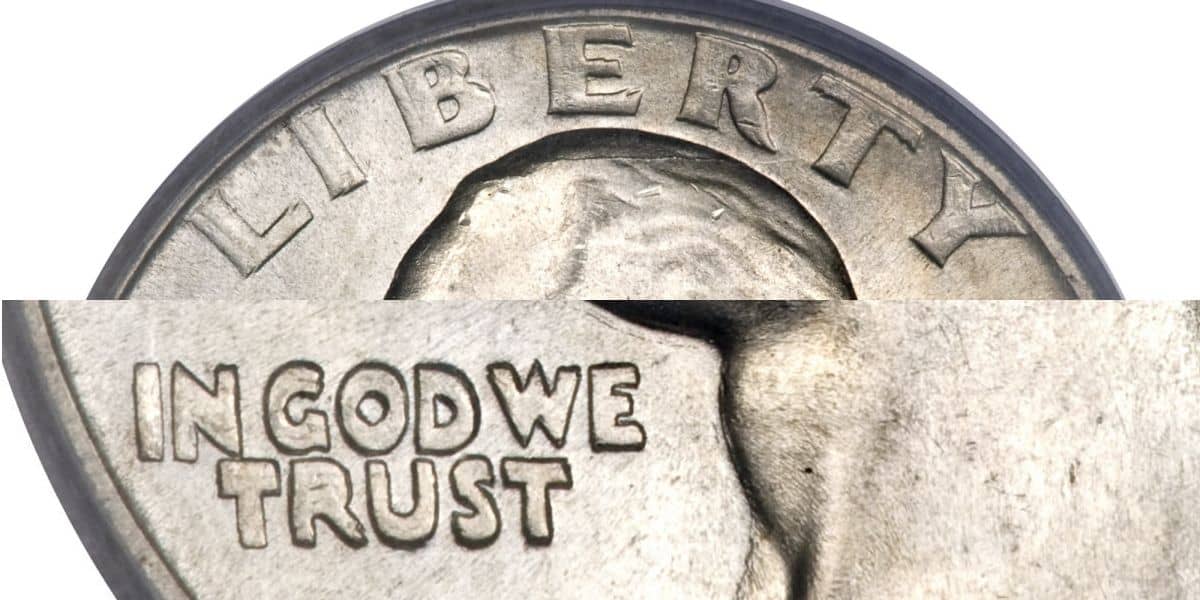 Doubled-die errors are relatively common among Washington quarters, and the 1985 quarters are no exception.
This error occurs when the punching die strikes the planchet two or more times, landing at a slightly different angle with each strike. This results in visible doubling on the obverse, reverse, or both sides.
In the case of the 1985 quarter, you will notice doubling around Washington's profile on the obverse. Doubling also occurs on the lettering, IN GOD WE TRUST, and the date. On the reverse, doubling is more profound on the eagle's neck, wings, and lettering on this side of the coin.
A 1985 doubled-die error coin will fetch between $150 and $250 depending on the coin's condition and the extent of doubling. The better the coin's condition and more doubling, the more valuable the quarter would be.
1985 Off-Center Strike Quarter Error
Off-center errors occur when the planchet is improperly placed inside the press.
This results in the design being printed away from the center as it should, potentially leading to some missing details on the obverse and reverse.
The value of an off-center strike error largely depends on the percentage, with off-strikes that are 50% more fetching a premium.
A 1985 30% off-center strike quarter error is worth about $135, which is impressive for a coin less than one dollar in value.
1985 Lamination Mint Quarter Error
Lamination errors affect the planchet, causing the coin's surface to flake and break.
This error occurs when contaminants cause the planchet metal to weaken horizontally, flaking the clad layer and exposing the inner core metal.
Collectors will pay up to $195 for a 1985 lamination mint quarter error.
Also read: 17 Most Valuable Quarter Errors Worth Money
FAQS
Is a 1985 P Quarter rare?
The 1985 P quarter is not rare by any measure, considering that more than 700 million of these coins were struck that year alone. Today, you can still find 1985-p quarters in circulation, although most of these coins are worn out. Due to their commonality, circulated 1985-P quarters are not worth more than their face value.
How many quarters were made in 1985?
The Philadelphia, Denver, and San Francisco facilities produced more than 1.2 billion quarters in 1985. That is a massive mintage, underlining that quarters from this date are highly common and accessible to any collector, even for those with a low budget.
Is the 1985-P quarter worth anything?
The 1985-P quarter has the highest mintage compared to the coins struck in Denver and Francisco. Due to the extremely high mintage, these coins are easily available across all grades. If you want to sell your 1985-P, do not expect a premium unless the coin has a valuable error or is a certified gem-quality specimen. Otherwise, your 1985-P quarter is worth only more or less its face value.