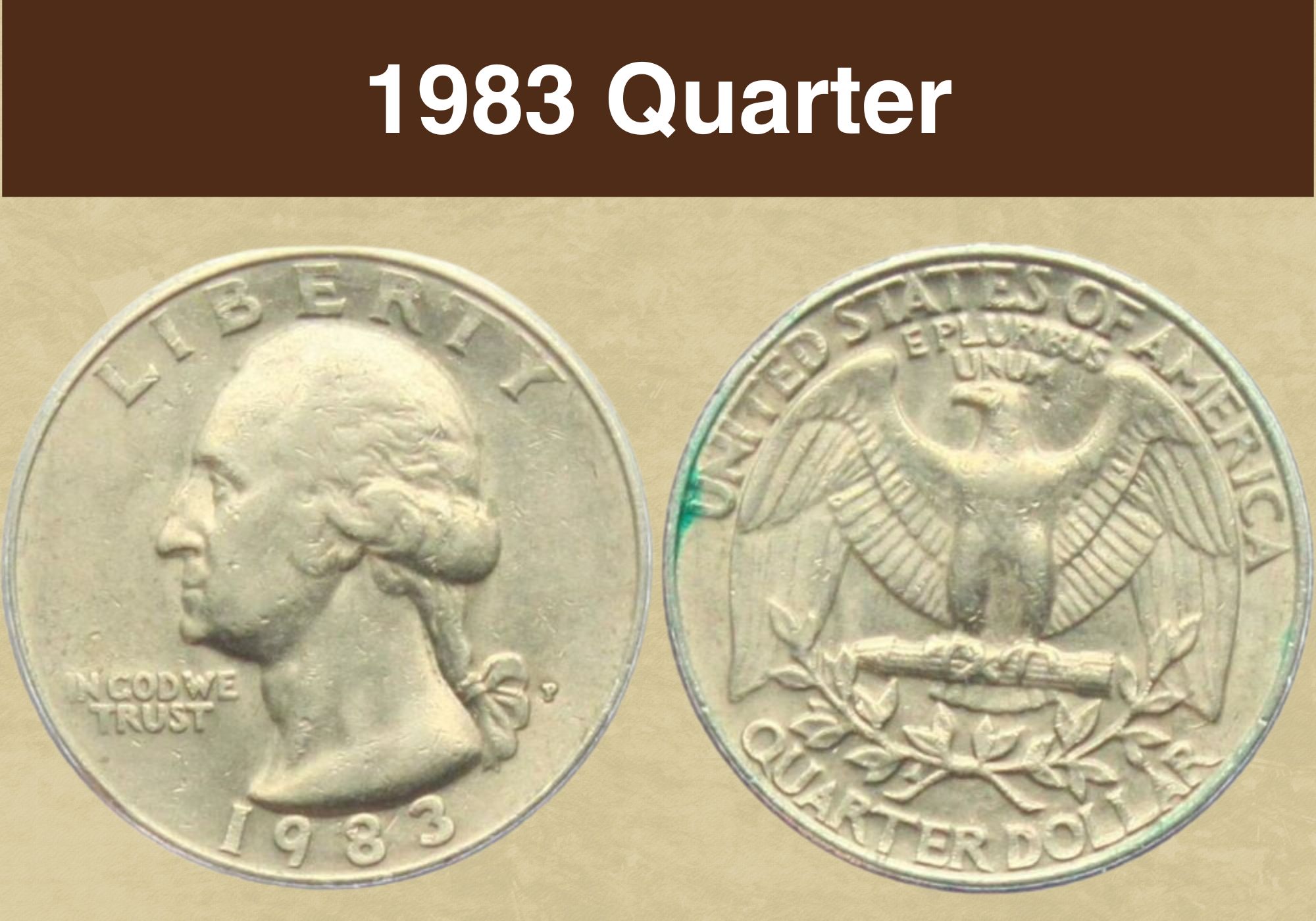 Most 1983 quarters are still in circulation nowadays and are worth their denomination. You should remember that the total this-year mintage was released in circulation, making the circulated 1983 quarter value pretty low.
That makes several impeccable specimens in the mint state scarce, making them collectible. Besides some expensive errors, only the highest-graded coins can bring you more money than expected.
1983 quarter Value Chart

Condition
1983 P quarter
1983 D quarter
1983 S quarter
MS 65
$76
$52
/
PR 65
/
/
$4.63
History of the 1983 quarter (Washington)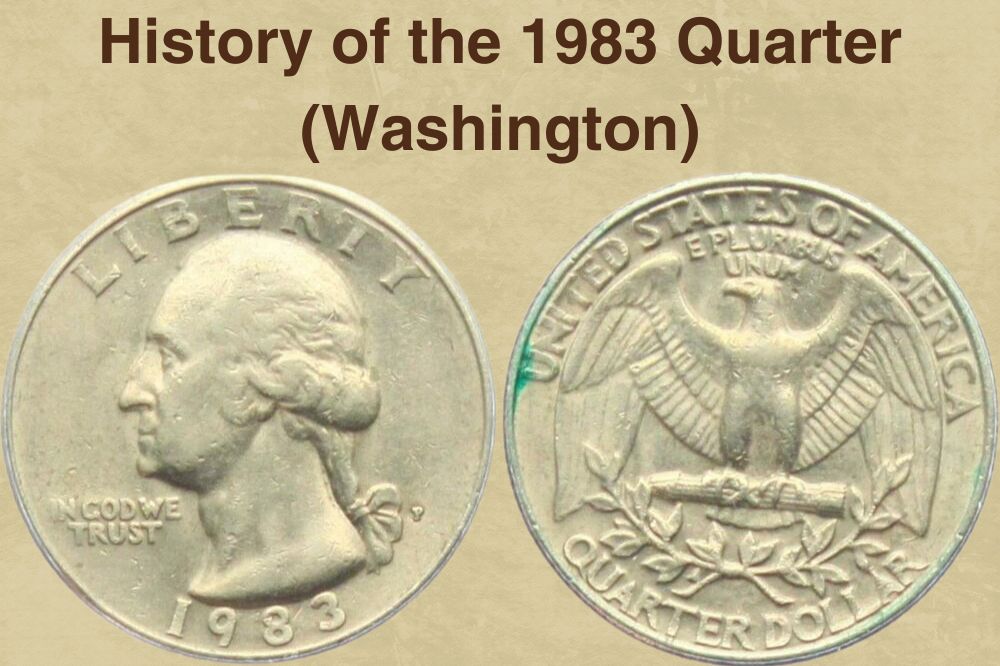 The 1983 quarter is part of the Washington quarter series that appeared in 1932, based on John Flanagan's design. The idea was to create a jubilee coin to commemorate 200 years of the President's birth, so no pieces were minted in 1933. However, Americans loved their new coins, so they stayed, and the US Mint has still minted them.
Unfortunately, one of the most famous controversies and injustices was connected with this coinage. Laura Fraser was the real competition winner for the most beautiful design. However, the private treasury secretary's views and beliefs prevailed, and Flanagan got the job.
1983 quarter series

Location
Year
Minted
Philadelphia
1983 P quarter
673,535,000
San Francisco
1983 S quarter (proof)
3,279,126
Denver
1983 D quarter
617,806,446
Total
/
1,294,620,572
By 1965, all quarters were made of silver, but then the US Mint introduced cupronickel coin composition for financial reasons. Therefore, pieces from 1983 don't contain precious metals. However, that was not the only change about this coin.
For instance, the Bicentennial commemorative quarter design appeared in (1975) 1976 to celebrate the 200th anniversary of the US independence. You can recognize the double date (1776-1976) on the obverse and the drummer replacing the eagle.
In 1999, the US Mint issued the commemorative 50-state quarter program with a unique reverse design for each state and redesigned obverse. Five types of these coins appeared yearly, and the entire process lasted ten years.
The first coin was dedicated to Delaware, the first state to become a part of the new country, on December 7, 1787. The last one was Hawaii because this state joined the union almost two centuries later, on August 21, 1959.
Like most Washington quarters, particularly those from the first decades, those minted in 1983 have their place in American coinage history. Collectors enjoy including these coins in their collections to complete the series and often look for a unique error typical for this minting year.
Also read: Top 13 Most Valuable State Quarters Worth Money
Features of the 1983 Quarter (Washington)
Washington quarters appeared on the historical scene in 1932, but the US Mint stopped production in 1933 because of an oversupply. Minting continued the following year, and it continues unhindered to this day. Unlike coins struck until 1965, the 1983 quarters don't contain precious metals.
The obverse of the 1983 Washington quarter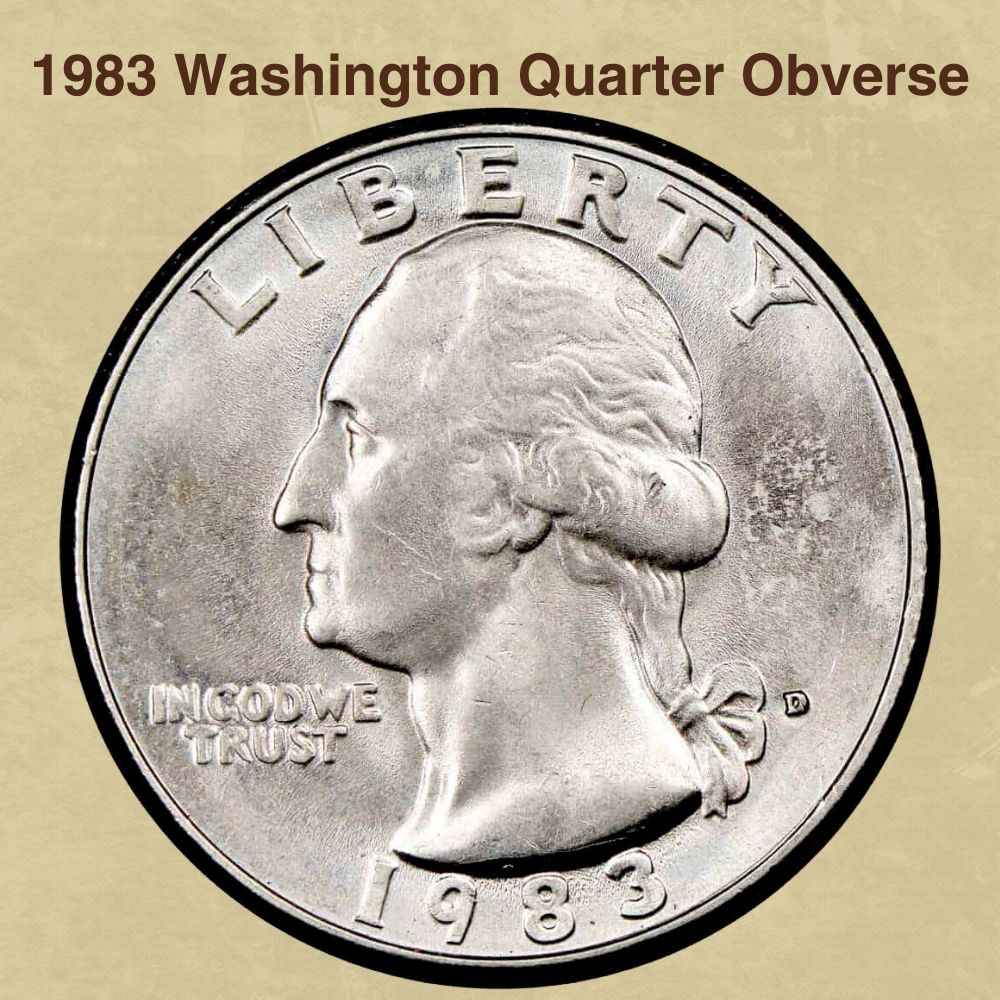 Each 1983 Washington quarter has the first American President's portrait on the coin obverse. Flanagan based it on a bust created by French sculptor J.A. Houdon, but you can notice a difference when looking at his roll of hair non-existed in the original sculpture.
As for the inscriptions, there are only two, except for the year of minting. There is one word (LIBERTY) and motto (IN GOD WE TRUST). All three coin types have the mint mark (D, P, or S) just right of the bow, tiding President's ponytail. The JF, the designer's initials, are moderately struck on the truncation.
The reverse of the 1983 Washington quarter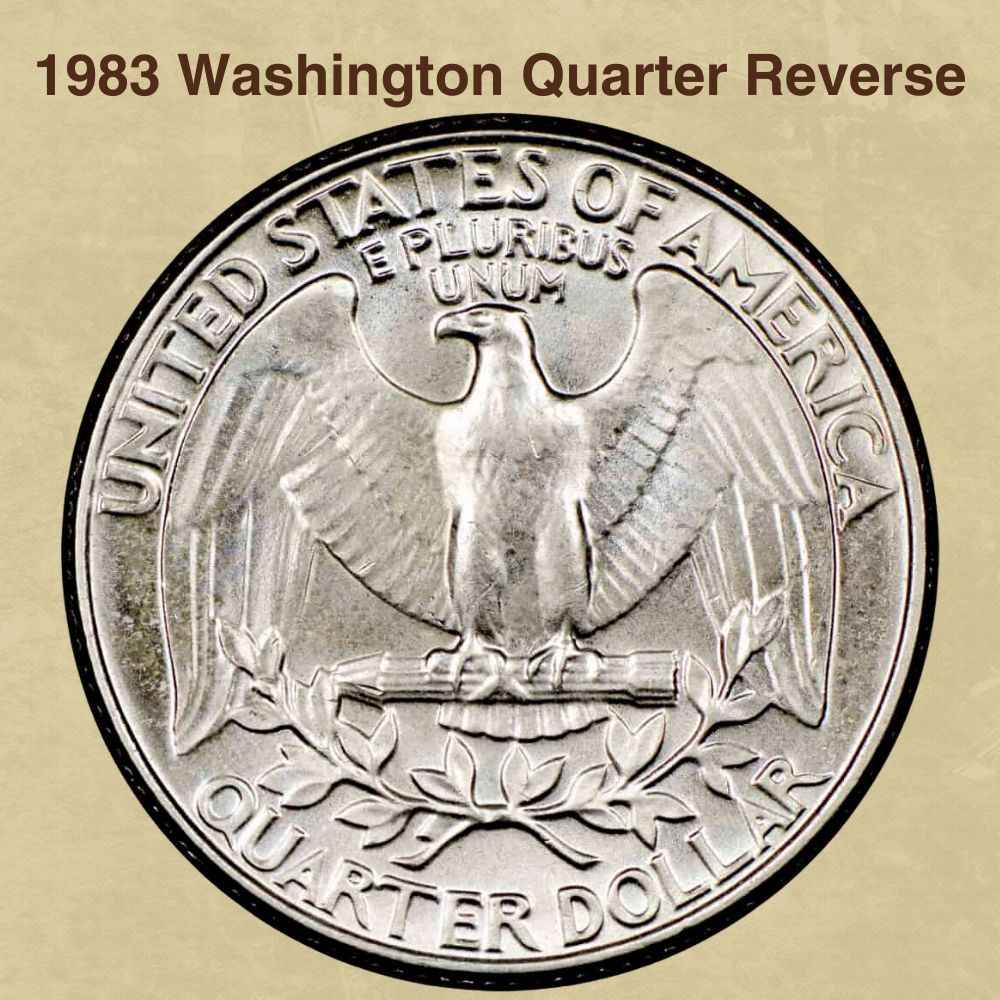 The 1983 quarter reverse is full of details and clear symbolism. You can see a proud eagle in the central position with arrows and olive twigs below its claws. They symbolize American readiness for war and peace solutions, depending on circumstances.
The New York Times journalists consulted ornithologists to check the depicted eagle species. They confirmed it was an American bald eagle, the informal symbol of this country.
Below the olive wreath is the denomination, while the name of the country is placed along the rim above the bird's head. The space in between is reserved for the Latin motto, symbolizing the union of independent and differently structured states.
1983 quarter Details

Face value
Twenty-five cents ($0.25)
Shape
Round
Compound
91.67% copper alloy with nickel
Coin thickness
0.0689 inches (1.75 mm)
Coin weight
0.2000 ounces (5.67 g)
Edge
Reeded
Coin diameter
0.9567 inches (24.3 mm)
Other features of the 1983 Washington quarter
The 1983 Washington quarters are historically significant American copper coins of twenty-five cents. Besides having a reeded edge, you should know that they weigh 0.2000 ounces (5.67 g), have a diameter of 0.9567 inches (24.3 mm), and are 0.0689 inches (1.75 mm) thick.
1983 Quarter (Washington) Grading
Precise 1983 quarter grading requires experience and adequate training. It is not enough to find a Sheldon grading scale on the Net and evaluate your coin by simply ranking its look from 1 to 70. If you believe you possess a valuable specimen, hiring one of the professional coin assay companies is the best option.
| # | Grade |
| --- | --- |
| 1 | Basal State-1 |
| 2 | Fair |
| 3 | Very Fair |
| 4, 5, 6 | Good |
| 7, 8, 10 | Very Good |
| 12, 15 | Fine |
| 20, 30 | Very Fine |
| 40 | Extremely Fine |
| 50 | About Uncirculated |
| 60 | Mint State |
| 65 | Mint State |
| 70 | Mint State |
Please check our grading guides to know your coin scale, It's the necessary step to know the exact value of your coin.
Check out now: How to Grade Washington Quarter?
1983 Quarter Value Guides
The total mintage of 1,294,620,572 Washington quarters in 1983 was high, making these coins abundant and widely available. Philadelphia and Denver released a similar number of these coins, while the third mint was in charge of producing proofs.
1983 P Mint Mark quarter Value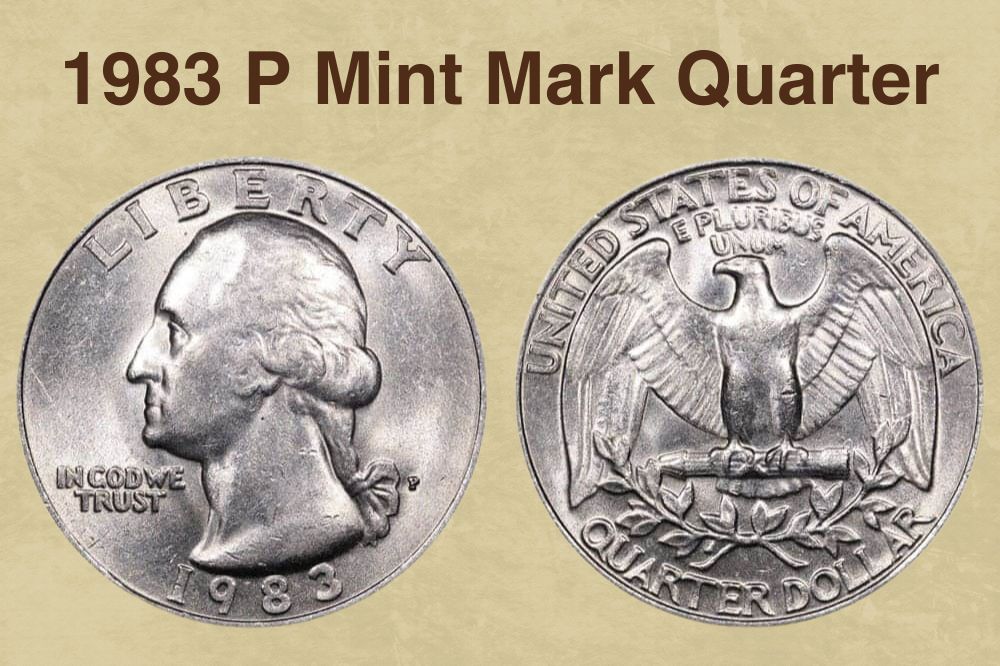 The 1983 P Washington quarter value is directly connected with the high mintage of the 673,535,000 pieces that year. Many of these 40-year-old coins are still in circulation and cost their face value.
The situation is different with well-preserved coins, and you should pay $7 to $45 for most in uncirculated condition. Only those with excellent appearance and MS 66 grade are expensive, with an average price from $95 to $114.
The costliest quarters from this year are those ranking MS 67. Their evaluated value is about $500 to $600. However, even the most optimistic predictions couldn't estimate the price of the most expensive coin in the set.
One collector spared no expense to add this specimen in MS 65 grade minted in Philadelphia to his collection. In 2014, this attractive specimen was sold at an unbelievably high $15,863.
1983 D Mint Mark quarter Value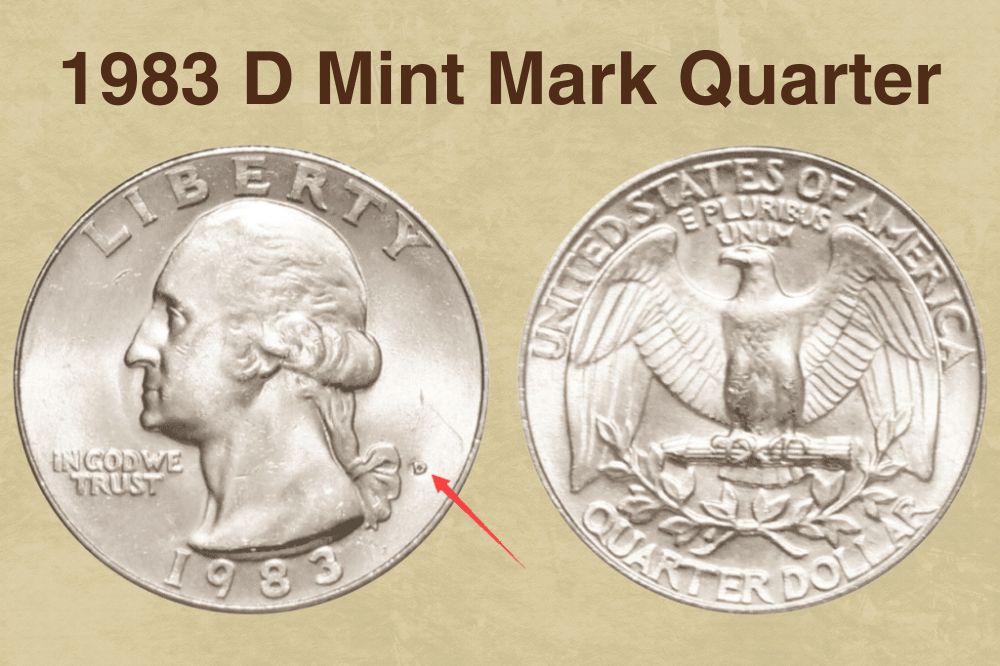 Precisely 617,806,446 Washington quarters had the D mint mark after releasing in 1983. Since these coins spent decades in circulation and some still circulate, they are worth their face value.
On the other hand, pieces in the mint stage can be surprisingly expensive for coins produced only 40 years ago. While you should set aside $4 to $25 for those in MS 60 to MS 65 grades, those ranking MS 66 are assessed $50 to $60.
Experts estimate MS 67 quarters at $1,050 to $1,260, but the costliest coin from this mint reached an even higher sum at an auction. One collector bought it in September 2016 for $1,410.
1983 S Mint Mark quarter Value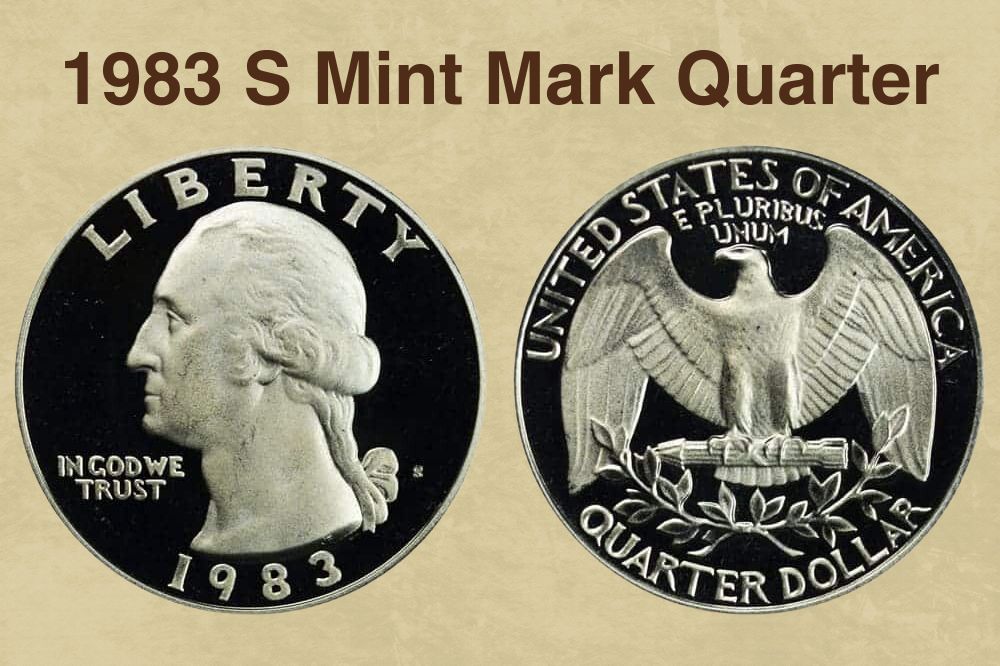 Interestingly, almost all existing 1983 proof Washington quarters of 3,279,126 produced come with deep cameo contrast, but it rarely affects their prices significantly. Therefore, you can buy one coin in PR 67 for a relatively modest $5, while better-ranking ones typically cost $9 to $11.
Even the perfectly preserved quarters minted this year are pretty inexpensive, and you need only $17 to add one in PR 70 grade to your collection. On the other hand, some of these coins do well at auctions. For instance, one collector purchased such a coin for $495 in 2003.
Also read: Top 16 Most Valuable Modern Quarters Worth Money
Rare 1983 Quarter Error List
Besides the well-known Spitting Eagle error typical for this set, you can find quarters minted in 1983 with a few other imperfections. Depending on the errors' significance and appearance, they may or may not increase these coins' value.
1983 P Spitting Eagle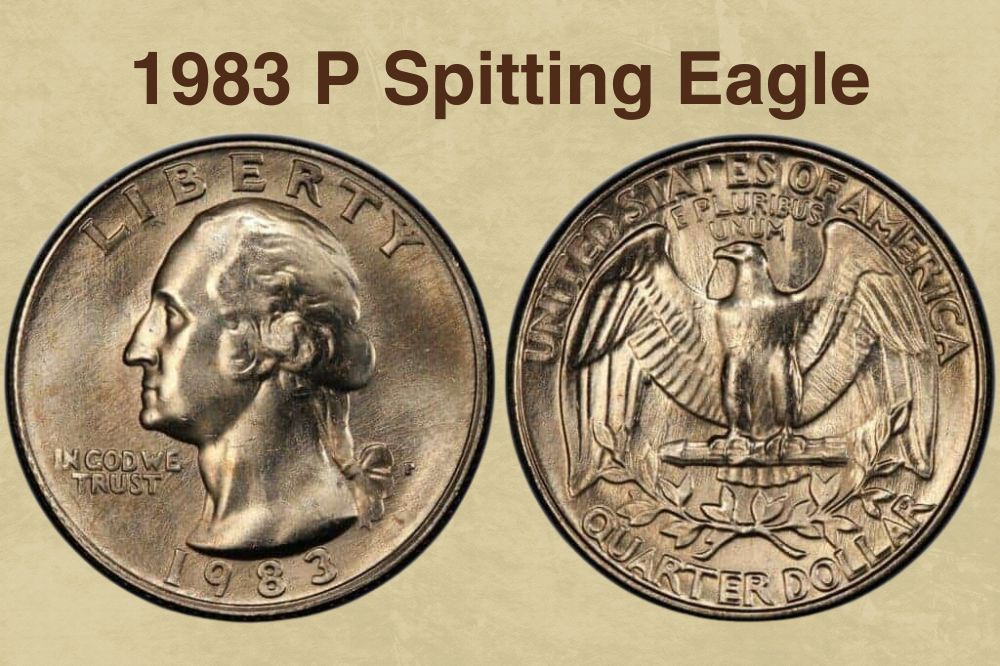 The Spitting Eagle is a specific error for 1983 quarters and one of the most famous minting errors in the series. It is a result of a die clash without the planchet in between. So, the next coin gets a short non-belonging line under the eagle's beak.
These error coins appeared in Philadelphia, and the PCGS and the NGC recognize these 1983 quarters as a unique variety. Circulated pieces are worth about $1 or $2, while those in the mint state cost $40 to $500 at MS 63 to MS 66+ ranks. The most expensive Spitting Eagle Washington quarter is the one in MS 66+ grade, sold at $504 in 2018.
Overstruck on an amusement token
No one can guess how it is possible to have the 1983 quarter struck on an amusement token, but such coins really exist. Since the probability of this being a coincidence is minimal, it is assumed that these coins were struck intentionally.
They are pretty weird, with the recognizable amusement token design. It includes lucky clovers and the THIS IS MY LUCKY DAY legends over Washington's face on the coin obverse.
A few such specimens exist, and all are from Philadelphia. Regardless of denomination, they represent the only known coins struck on this token type. One collector bought one of the existing pieces in MS 65 for $15,862.50 in 2014.
Off-center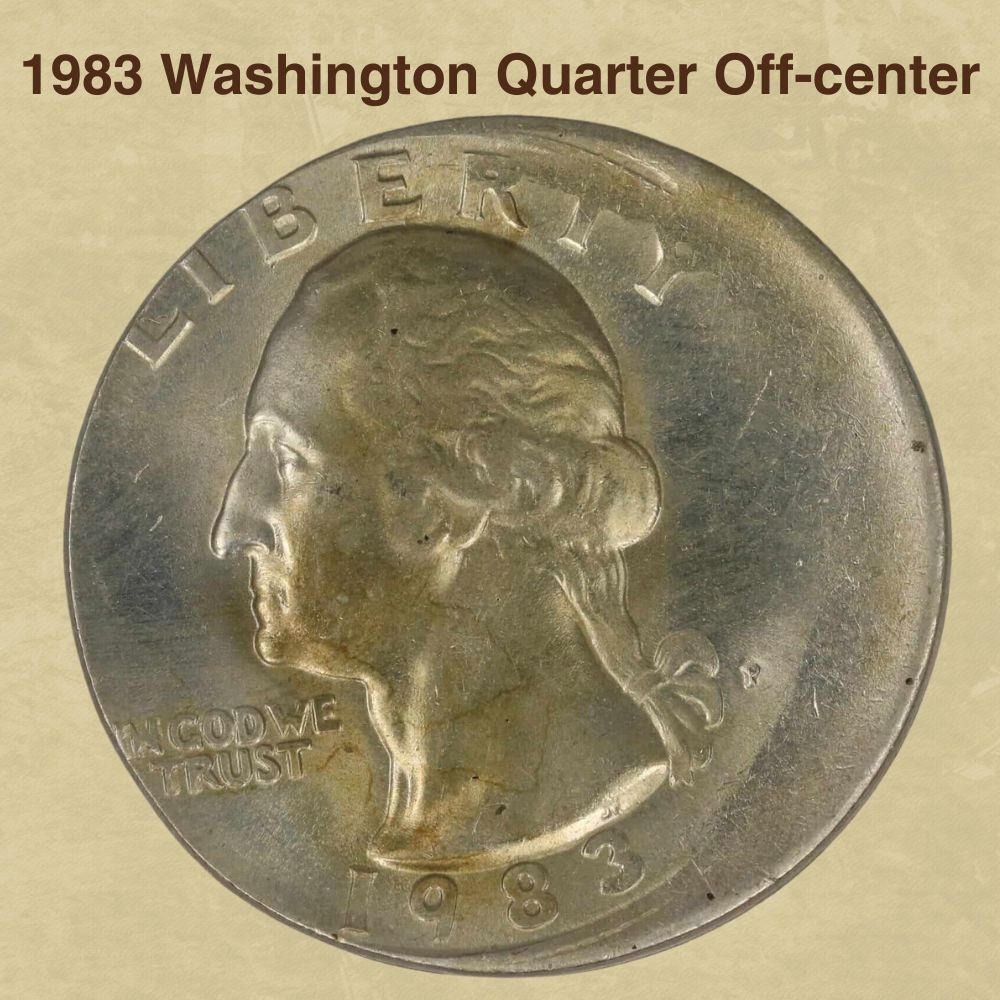 Off-center error is common among American coinage that appears when the planchet accidentally moves from the position. The result is a coin with more or less missing design. The unstruck part is crescent, occupying 5% to 95% of the coin surface.
The most collectible 1983 quarters are those with about 50% to 55% off-center. The value of high-graded coins with this error is about $50 to $100, but it is required to have a visible date and preferably the mint mark.
Finned rim
An error coin with a finned rim occurs on one or both coin sides when the die strikes one side with excessively increased pressure. It leaves a flange around the edge because of excess metal stuck between the die neck and collar. Such a specimen is collectible and more valuable than standard quarters in the set.
Reverse indent
When one planchet strikes the other on the top, the result is a quarter consisting of two pieces that form one weird whole. Even though they can be stuck on the obverse side, those attached from the reverse are more collectible. One 1983 MS 63 quarter with a combined reverse indent and a finned rim reached $310 at an auction.
1983 quarter struck on a nickel planchet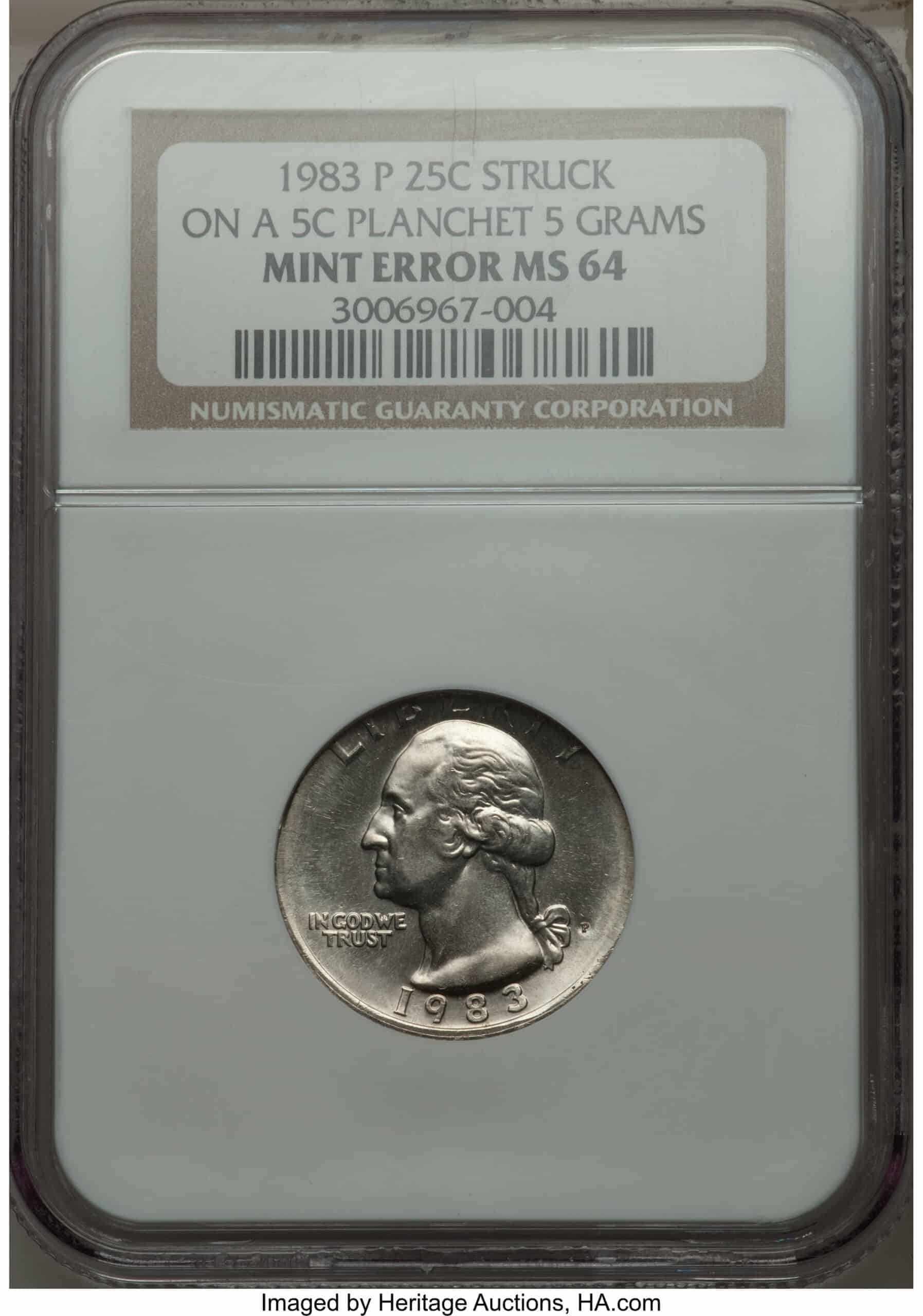 Sometimes, you can come across the 1983 quarter struck on a blank planchet intended for nickel minting. Since a quarter is more sizable than a nickel coin, you can expect that such an error specimen is lighter.
Besides, it always comes with missing design parts and is smaller than regular pieces. The price range for these coins is $180 to $260.
Also read: 17 Most Valuable Quarter Errors Worth Money
Where to Sell Your 1983 Quarter ?
Now that you know the value of your coins, do you know where to sell those coins online easily? Don't worry, I've compiled a list of these sites, including their introduction, pros, and cons.
Check out now: Best Places To Sell Coins Online (Pros & Cons)
FAQ about the 1983 Quarter (Washington)
What features make 1983 quarters special?
Most quarters minted in 1983 are common and moderately valuable. However, the whole mintage was released into circulation, making impeccable specimens with shiny finish rare. Besides, you can expect to pay more for a coin with a Spitting Eagle error.
Which are the most expensive 1983 quarters sold at auctions?
1983 P MS 65 Washington quarter sold at $15,863 (01-08-2014 • Heritage Auctions)
1983 D MS 67 Washington quarter sold at $1,410 (09-07-2016 • Heritage Auctions)
1983 P MS 66+ Washington quarter (Spitting Eagle) sold at $504 (03-13-2018 • Heritage Auctions)
1983 S PR 70 Washington quarter (DCAM) sold at $495 (09-02-2003 • Heritage Auctions)
1983 S PR 69 Washington quarter (DCAM, Treasure Hunt June LB 2017) sold at $72 (03-05-2019 • eBay)
1983 S PR 69 Washington quarter (DCAM, Treasure Hunt September LB 2017) sold at $25 (04-06-2018 • eBay)
How much money can you get for the 1983 P Washington quarters?
The 1983 Washington quarters that spent years in circulation are worth their face value, while well-preserved ones cost $7 to $45. Only the best-looking specimens in the highest grades can reach $100 to $600 at auctions.
What are the most expensive quarters with Washington's image on the coin obverse?
1932 D MS 66 quarter sold at $143,750
1932 S MS 66 quarter sold at $45,500
1949 D MS 68 quarter sold at $43,475
1948 MS 68+ quarter sold at $43,200
1932 MS 67 quarter sold at $40,250
1950 PR 68 DCAM quarter sold at $31,200
1966 MS68+ quarter sold at $21,000