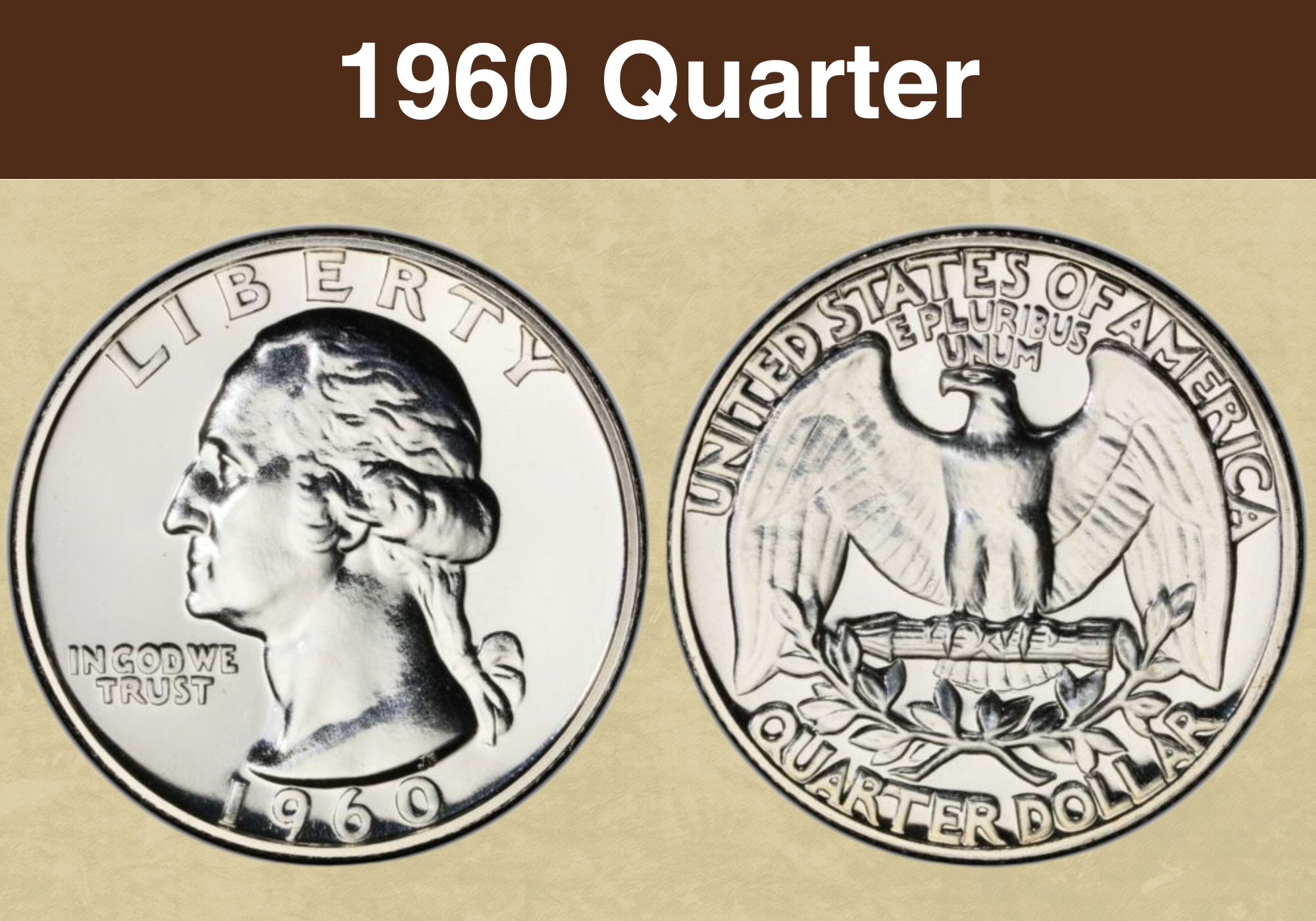 The US Mint started the Washington quarter series in 1932. The initial intention was to issue a one-time coinage to celebrate this President's 200th birthday. However, their minting has continued until now, making this series one of the most long-lasting in American history.
Grading and determining the 1960 quarter value is a job for professional appraisers because only a tiny difference in design can significantly affect the estimated prices. Besides, you can find a few precious errors worth a lot of money. Let's see.
1960 quarter value Chart

Condition
1960 quarter
1960 D quarter
Good
$8.62
$8.61
Very good
$8.62
$8.61
Fine
$8.62
$8.61
Very fine
$8.62
$8.61
Extra fine
$8.62
$8.61
AU
$10.02
$10.01
MS 60
$12
$12
MS 65
$19
$22
PR 65
$15
/
History of the 1960 Washington Quarter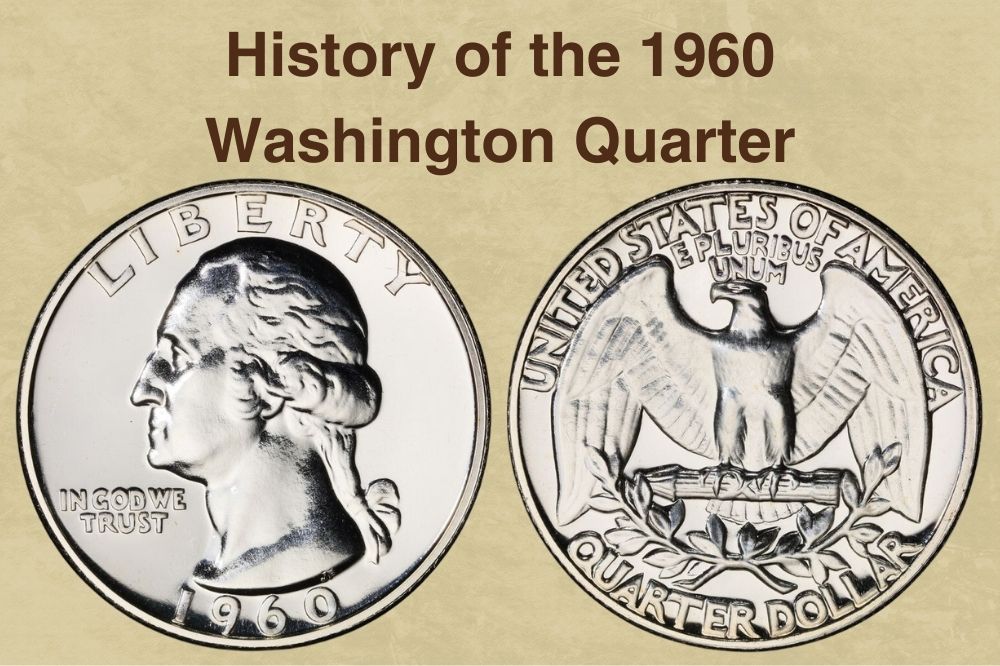 The first American silver (Draped Bust) quarters occurred in 1796. The US Mint released into circulation five main types before those with George Washington on the obverse appeared.
This popular series, staying actual until now, replaced coins showing Standing Liberty. Those issued in 1932 became the second ones with a historical person on the reverse after the US Mint did it for the first time in 1909 with Lincoln pennies.
They aimed to mark two centuries since the birth of the respected President. It initially should have minted only a year, but it was changed by a subsequent decision.
So, these quarters have stayed actual for years after the then-Treasury Secretary rejected Mrs. Fraser's design and gave priority to the one created by John Flanagan.
The US Mint still produced silver quarters in 1960, making this set one of the last with this composition. Everything changed in 1965, and new cupronickel coins replaced those made of silver because of high precious metal prices on the stock market.
1960 Washington quarter Types

Location
Year
Minted
Philadelphia
1960 quarter
29,164,000
Denver
1960 D quarter
63,000,324
Philadelphia
1960 proof quarter
1,691,602
Total
/
93,855,926
Only two mints produced Washington quarters in 1960, and these coins are available in different grades nowadays. However, they are rare in gem states because of the practice in the 1960s of selling bags with Brilliant Uncirculated coins as an investment.
As a result, bundled coins packed in bags often got scratched during each other contact. That caused so-called bag marks on pieces in perfect condition without traces of wear, making gem specimens scarce and collectible.
Also read: Top 13 Most Valuable State Quarters Worth Money
Features of the 1960 Washington Quarter
The US Mint started producing Washington quarters in 1932, only three years after the Great Depression started. Despite the hard times, Americans deserved to celebrate the 200th anniversary of their first President's birth in an appropriate way.
The plan was to issue only one special-edition coin set, but these quarters became regular coinage after a year-long pause.
The obverse of the 1960 Washington quarter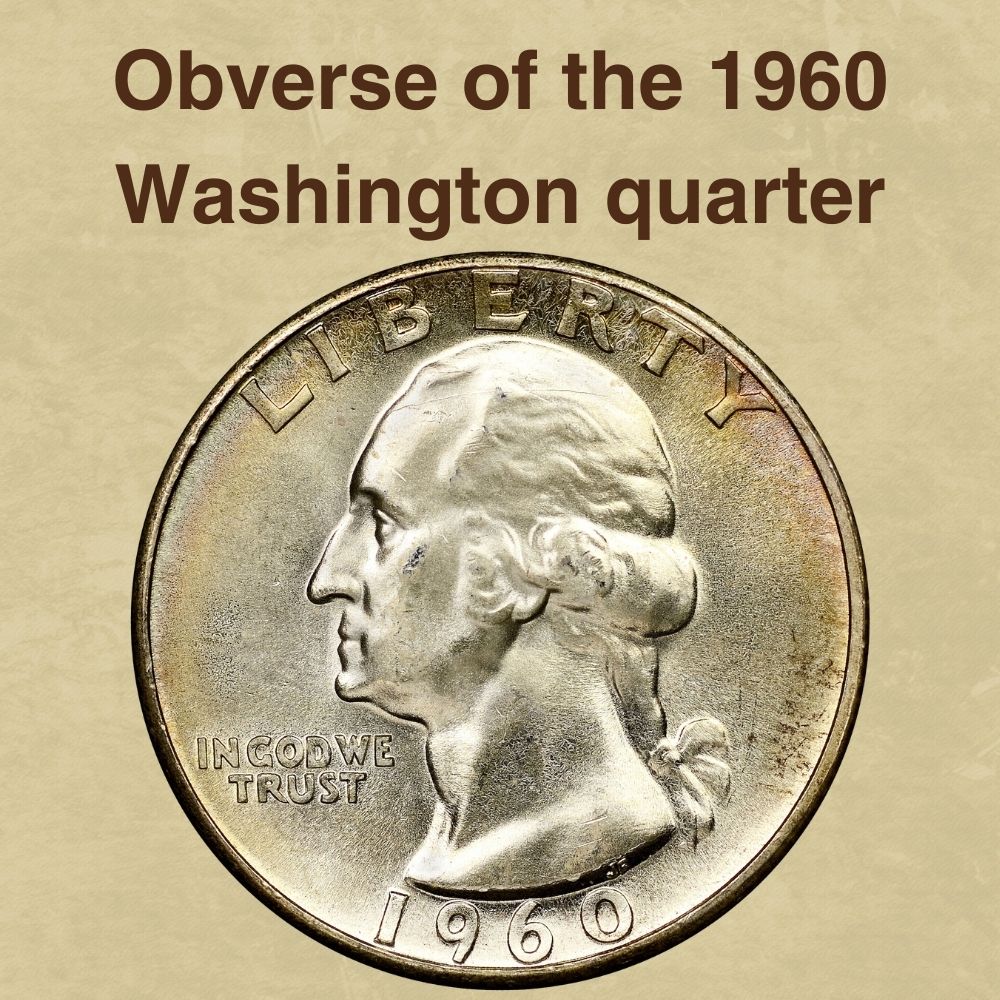 The US Mint honored the first American President serving from April 30, 1789, to 1797 on his 200th birth anniversary by putting his profile on the coin reverse.
John Flanagan created the original quarter version with inscriptions including IN GOD WE TRUST on the left, LIBERTY on the top, and 1960 below the bust. You can also notice the letters JF on the neck truncation, representing the artist's initials.
The reverse of the 1960 Washington quarter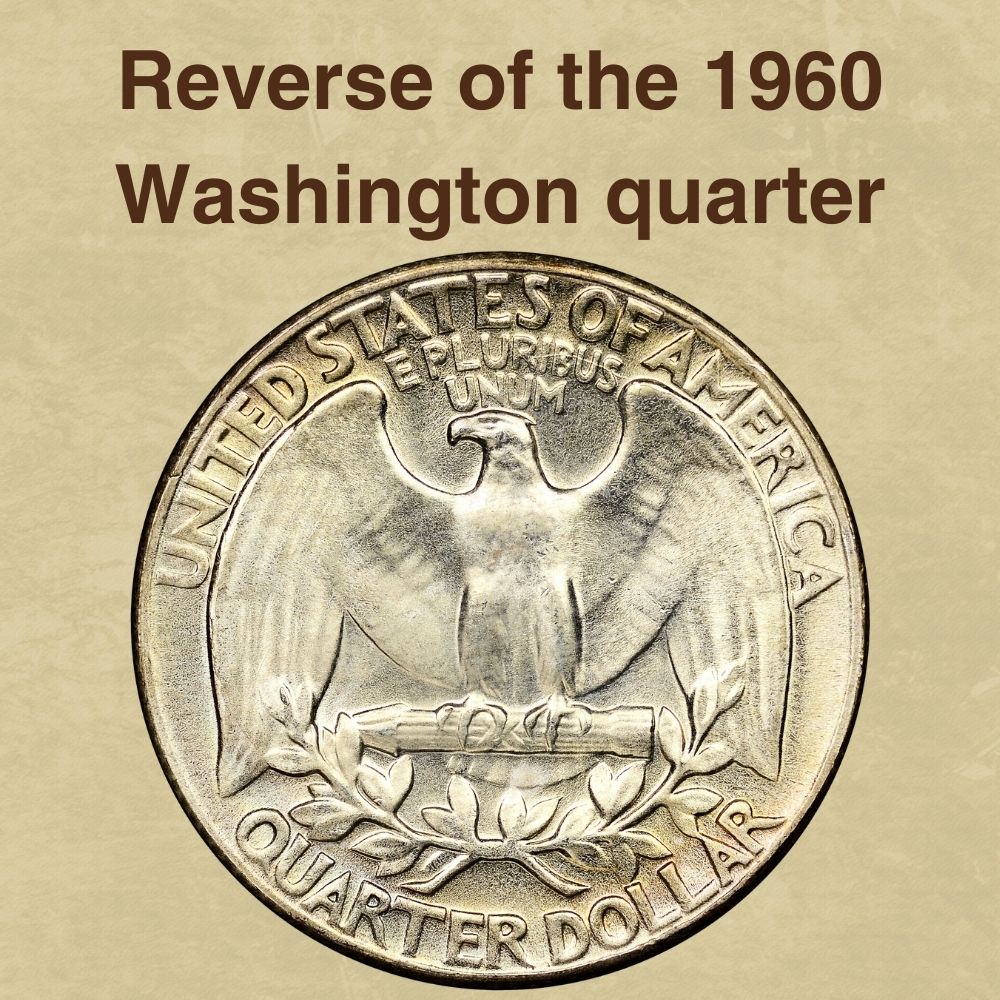 The 1960 quarter reverse is a bit complicated and full of crucial symbols for the American nation. As you know, the US national bird is a bald eagle, so the designer placed it in the coin center, where it proudly stands with wings spread wide.
The bird stands on thirteen arrows, symbolizing America's preparation for war when necessary. The wreath made of olive branches below is there as an International peace symbol.
You can also see the mint mark (D on coins from Denver, while those from Philadelphia came without any letter) and QUARTER DOLLAR below olive twigs. Two legends are struck in three lines above the eagle's head – the State name and E PLURIBUS UNUM.
1960 Washington Quarter Details

Type
Standard circulation coin
Face value
Twenty-five cents ($0.25)
Shape
Round
Coin diameter
24.3 millimeters (0,95670 inches)
Compound
Silver-copper alloy
Coin weight
6.25 grams (0.20094 troy ounces)
Silver weight
5.623 grams (0.1808 troy ounces)
Edge
119 reeds
Coin thickness
1.75 millimeters (0,06870 inches)
Other features of the 1960 Washington quarter
The 1960 Washington quarters with 119 reeds along the edge are twenty-five silver cents with a thickness of 1.75 millimeters (0,06870 inches).
Each coin has a diameter of 24.3 millimeters (0,95670 inches) and weighs 6.25 grams (0.20094 troy ounces). Ninety percent of this weight is silver, precisely 5.623 grams (0.1808 troy ounces).
Also read: Top 16 Most Valuable Modern Quarters Worth Money
1960 Washington Quarter Grading
Grading the Washington quarters is the same process as for any other coin type. Professional appraisers determine each piece's minting date, the mint mark existence, and possible errors. Then, they check the coin's luster, color, preservation level, and visible flaws. The final step is to grade it based on the Sheldon scale.
| # | Grade |
| --- | --- |
| 1 | Basal State-1 |
| 2 | Fair |
| 3 | Very Fair |
| 4, 5, 6 | Good |
| 7, 8, 10 | Very Good |
| 12, 15 | Fine |
| 20, 30 | Very Fine |
| 40 | Extremely Fine |
| 50 | About Uncirculated |
| 60 | Mint State |
| 65 | Mint State |
| 70 | Mint State |
Please check our grading guides to know your coin scale, It's the necessary step to know the exact value of your coin.
Check out now: How to Grade Washington Quarter?
1960 Washington Quarter Value Guides
The total 1960 Washington quarter mintage was 93,855,926. Most coins coming from Denver featured the D mint mark. On the other hand, the mint in Philadelphia issued two coin types, regular and proof pieces, without the mint mark.
1960 Philadelphia Washington quarters Value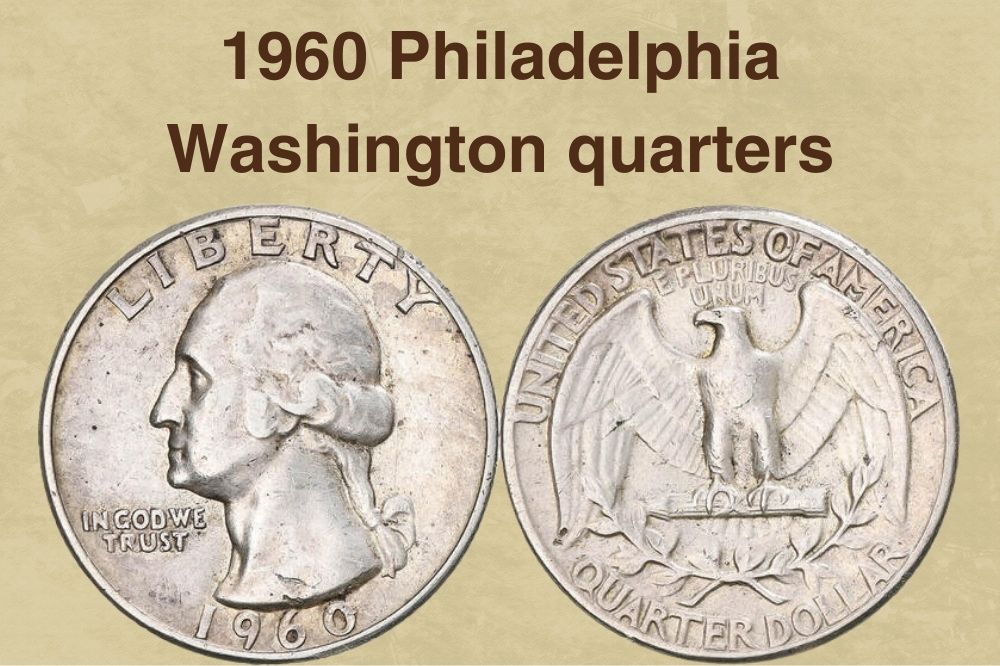 Exactly 29,164,000 Washington quarters came from the mint in Philadelphia in 1960. These 63-old coins are worth less than $5 after a long time in circulation, while those in lower-graded mint state cost up to $8.
On the other hand, you should set aside at least $12 to $18 for pieces ranked MS 65 or $35 to $75 for quarters graded MS 66. The costliest are quarters in MS 67 grade, with an estimated price range from $400 to $480.
Only rare, better-ranked pieces can be worth more. For instance, one Washington quarter graded MS 67+ and minted this year changed hands for $6,890 after winning the auction record in 2022.
1960 proof Washington quarters Value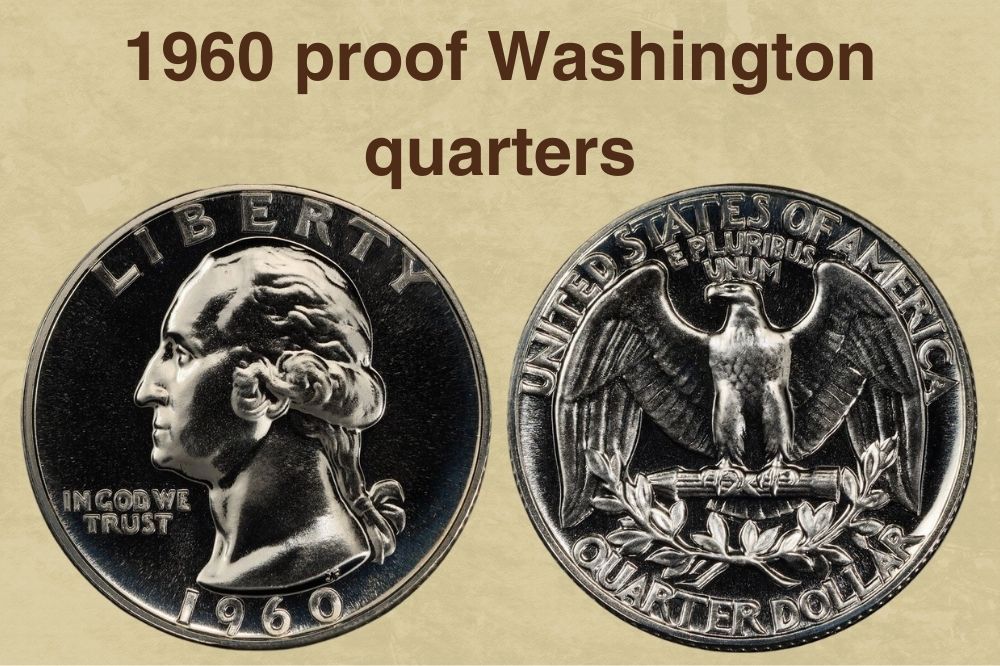 Besides quarters from regular strikes, the mint in Philadelphia struck 1,691,602 proofs in 1960. These coins with extra luster and top quality were intended for collectors. You can buy most for $4 to $20, while pieces in PR 69 are assessed at $100.
The most expensive are quarters rated PR 70, and it is necessary to set aside about $350 per one. However, auction records are typically higher, and the costliest DCAM proof quarter in PR 69 grade reached $2,174 in 2013 at an auction.
1960 D Washington quarters Value
The Denver mint achieved the record mintage in 1960 after producing 63,000,324 quarters with the D letter on the reverse, under the wreath. While circulated coins cost less than $5, you can buy one from MS 60 to MS 66 grades for $38 to $70.
The best-preserved quarters minted this year are those rated MS 67. Their estimated price range is from $1,600 to $3,000, but the absolute auction winner is the coin sold at $9,000 at Heritage Auctions in 2019.
Also read: 17 Most Valuable Quarter Errors Worth Money
Rare 1960 Washington Quarter Errors List
The list of 1960 quarter errors includes a few recognizable types, but some of these imperfections are typical only for this series and can be valuable. You can sometimes spot one of them with the naked eye, but some errors are so tiny that you need to check your coin with a magnifying glass to notice it.
Re-punched mint mark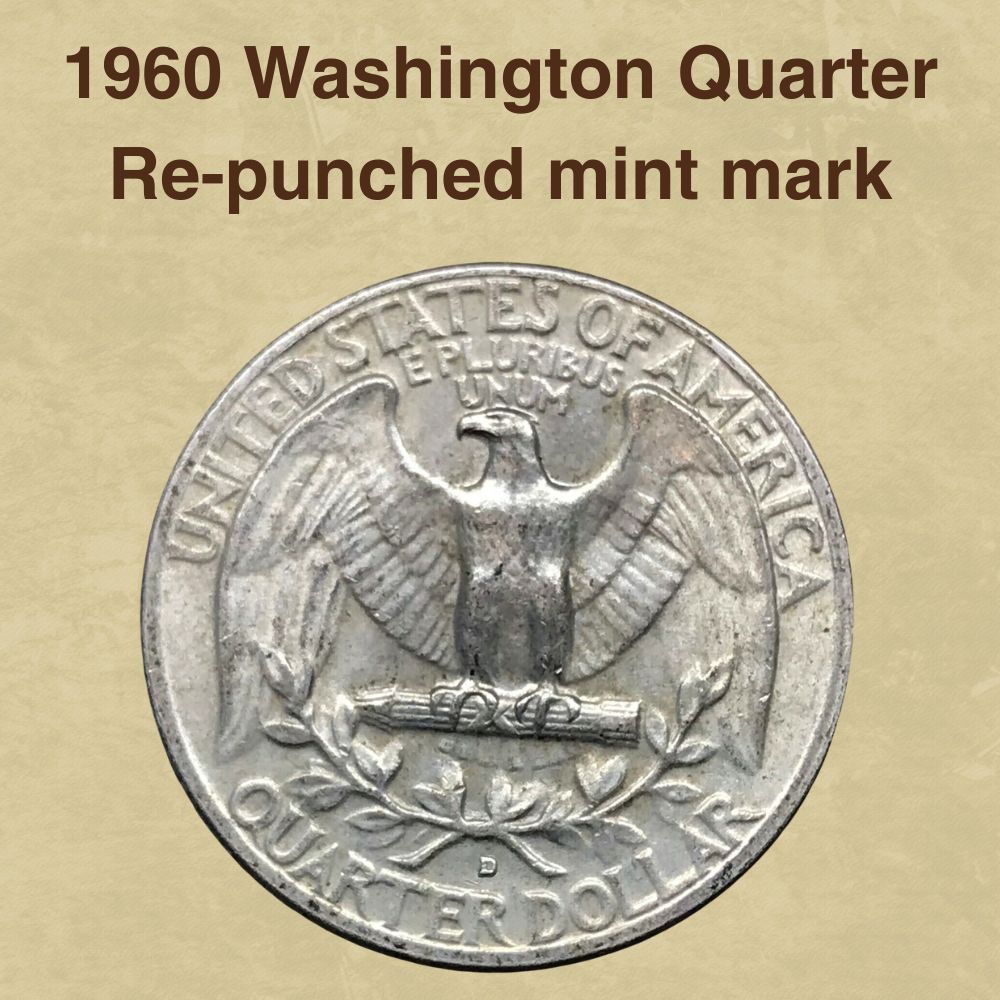 If you are looking for the 1960 Washington quarter error, the most common option is the re-punched mint mark. Since the US Mint ended hand-punching mint marks only in the 1990s, you can find plenty of coins with this imperfection among pieces minted three decades before.
It is present only on coins produced in Denver since the mint in Philadelphia issued only quarters without the mint mark. The error appeared when the worker struck the letter D twice on the same coin. Such 1960 quarters cost about $30.
Die crack or break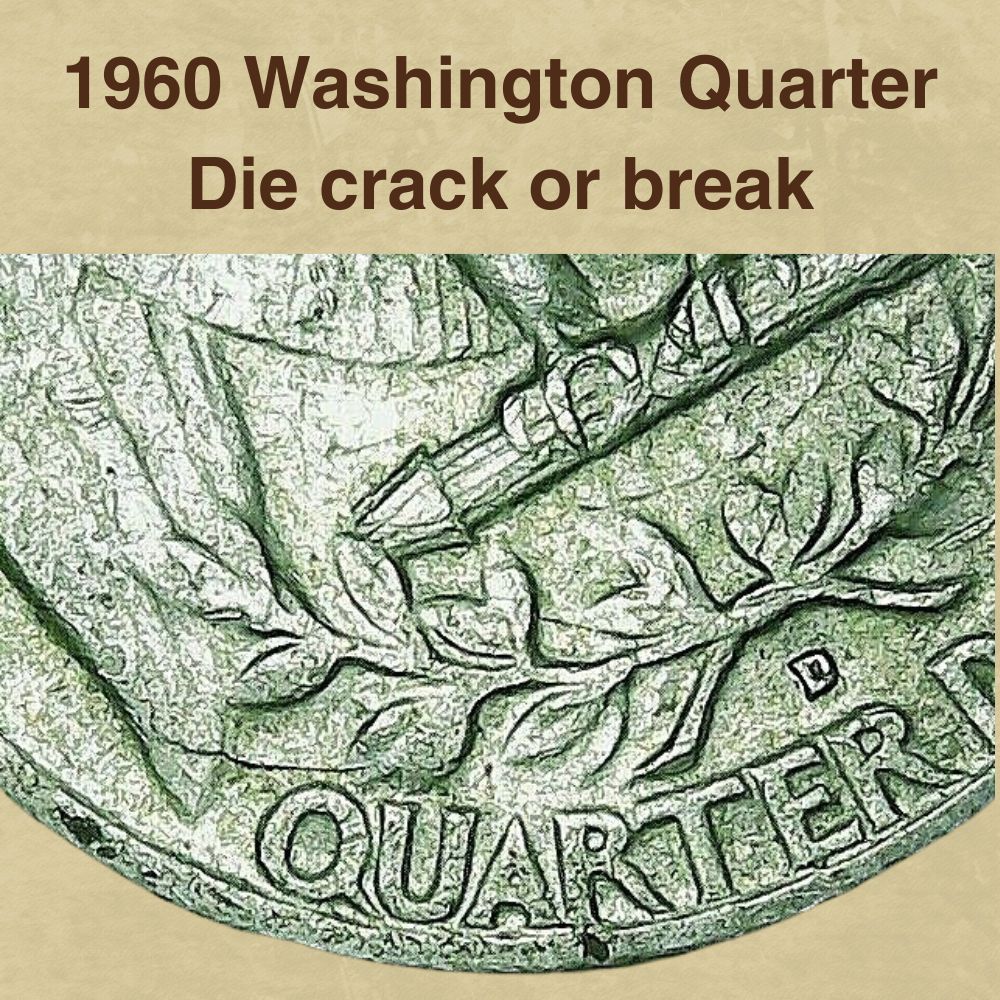 When the die cracks or breaks during use, it starts producing quarters with raised lines or even ridges. When damage is near the edge, some parts can break during use.
In most cases, this imperfection is subtle and costs about $15, but collectors like it and prefer having such one coin in their collections. On the other hand, quarters with more damage caused by the die break are valuable. Their average price range is from $30 to $90.
Doubled die reverse
The doubled die is an error with the date or lettering doubling punched onto the hub. This image transfers to the planchet during minting and leaves a double image that looks slightly blurred. You can buy such a coin for a few dozen dollars, but the auction record from 2011 for one 1960 quarter in PR 66 grade is $288.
Missed-match die (Type B Reverse)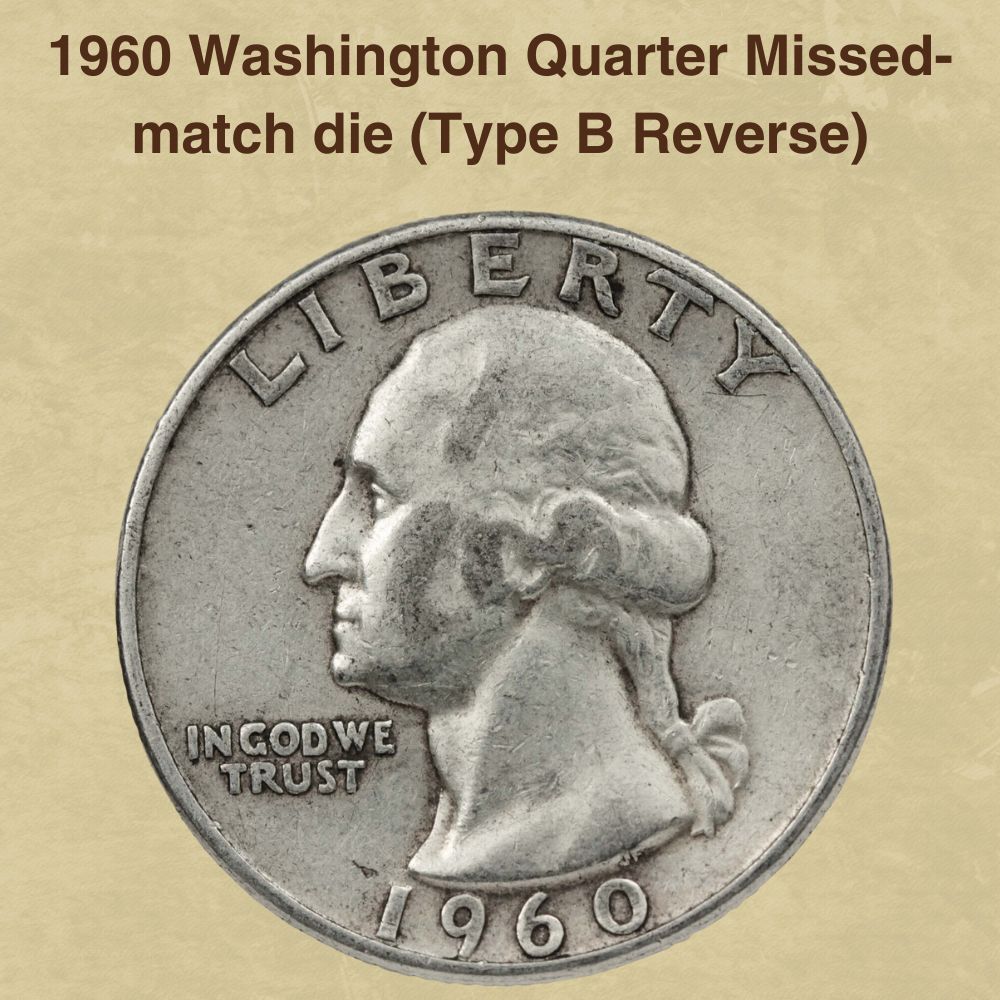 This unusual 1960 quarter error came with regular strikes on the obverse side and a proof design on the reverse. Such coins were mistakenly made on two different die types.
These rare pieces are highly collectible and worth more than regular ones. Some are available at $15 to $20, while one such coin in MS 66 grade was sold at $200 on eBay in 2013.
Off-center
Most 1960 quarters with this error have a low percentage of off-center, making them cost approximately $15 to $20. These coins occur when the planchet is positioned improperly between the dies, so only a part of the design shows on the coin surface. The rest is a crescent-shaped blank area.
Clipped planchet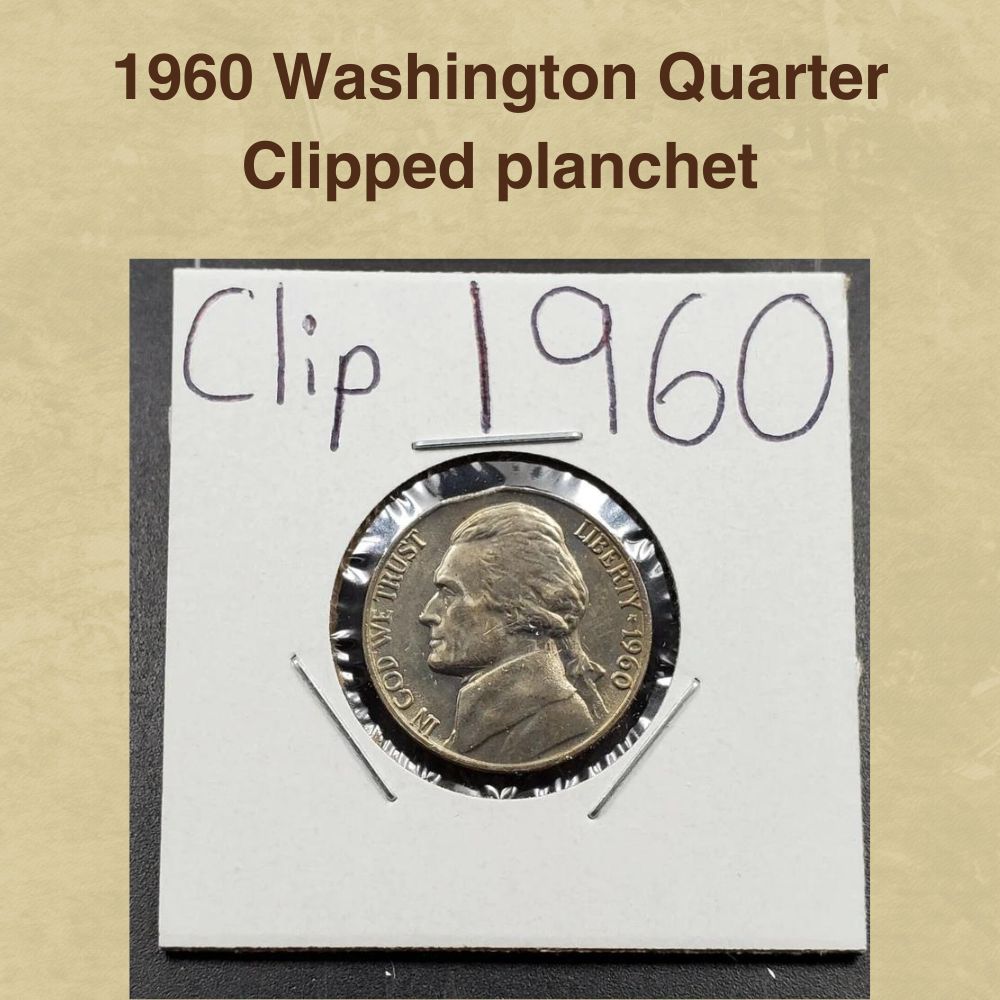 Feeding the metal strip through the blanking machine sometimes doesn't go smoothly and according to plan. The result of possible overlapping is a curved clip on the coin edge followed by detail loss in some cases. Such a cut quarter can cost about $20.
Lamination
Lamination is a defect on the planchet resulting from metal impurities that cause quarter discoloration, peeling, or even splitting of an uneven coin surface. You can find these errors for about $15.
Other errors
From time to time, you can also find 1960 quarters with barely noticed imperfections that only slightly affect their value. Some of them include:
Folded planchet
Weak strike
Broad strike
Where to Sell Your 1960 Washington Quarter ?
Now that you know the value of your coins, do you know where to sell those coins online easily? Don't worry, I've compiled a list of these sites, including their introduction, pros, and cons.
Check out now: Best Places To Sell Coins Online (Pros & Cons)
FAQ about the 1960 Washington Quarter
What makes a 1960 Washington quarter rare?
Thanks to high mintage, these over-60-year-old coins are moderately rare. Only those in Gem condition are in a group of mid-range rarities.
Which 1960 Washington quarter is worth a lot of money?
The 1960 D Washington quarter in MS 67 grade won an auction record of $9,000 on June 9, 2019 at Heritage Auctions
The 1960 Washington quarter in MS 67+ grade won an auction record of $6,890 on March 7, 2022 on eBay
The 1960 Washington quarter (DCAM) in PR 69 grade won an auction record of $2,174 on April 24, 2013 at Heritage Auctions
The 1960 Washington quarter in PR 69 grade won an auction record of $550 on June 9, 2021 on eBay
The 1960 Washington quarter (DDR) in PR 66 grade won an auction record of $288 on September 13, 2011 at Stack's Bowers
The 1960 Washington quarter (CAM) in PR 69 grade won an auction record of $204 on May 15, 2019 at Heritage Auctions
The 1960 Washington quarter (Type B Reverse) in MS 66 grade won an auction record of $200 on December 31, 2013 on eBay
How much is the 1960 No Mint Mark Washington quarter worth?
Washington quarters from 1960 are 63-old coins worth less than $5 in circulated condition. Those graded under MS 65 cost up to $8, while better-ranked pieces are estimated at $12 to $480, depending on quality.
What is the most pricey Washington quarter?
The most expensive silver Washington (Type 1) quarters are the following:
1932 MS 66 coin from Denver – $143,750
1932 MS 66 coin from San Francisco – $45,500
1948 MS 68+ coin from Philadelphia – $43,200
1950 PR 68 coin – $31,200
The most expensive clad Washington (Type 2) quarters are the following:
1966 MS 68+ coin from Philadelphia – $21,000
1983 P MS 65 coin from Philadelphia – $15,862.50
1970 D MS 69 coin from Denver – $15,000
1974 S PR 70 coin from San Francisco – $10,925