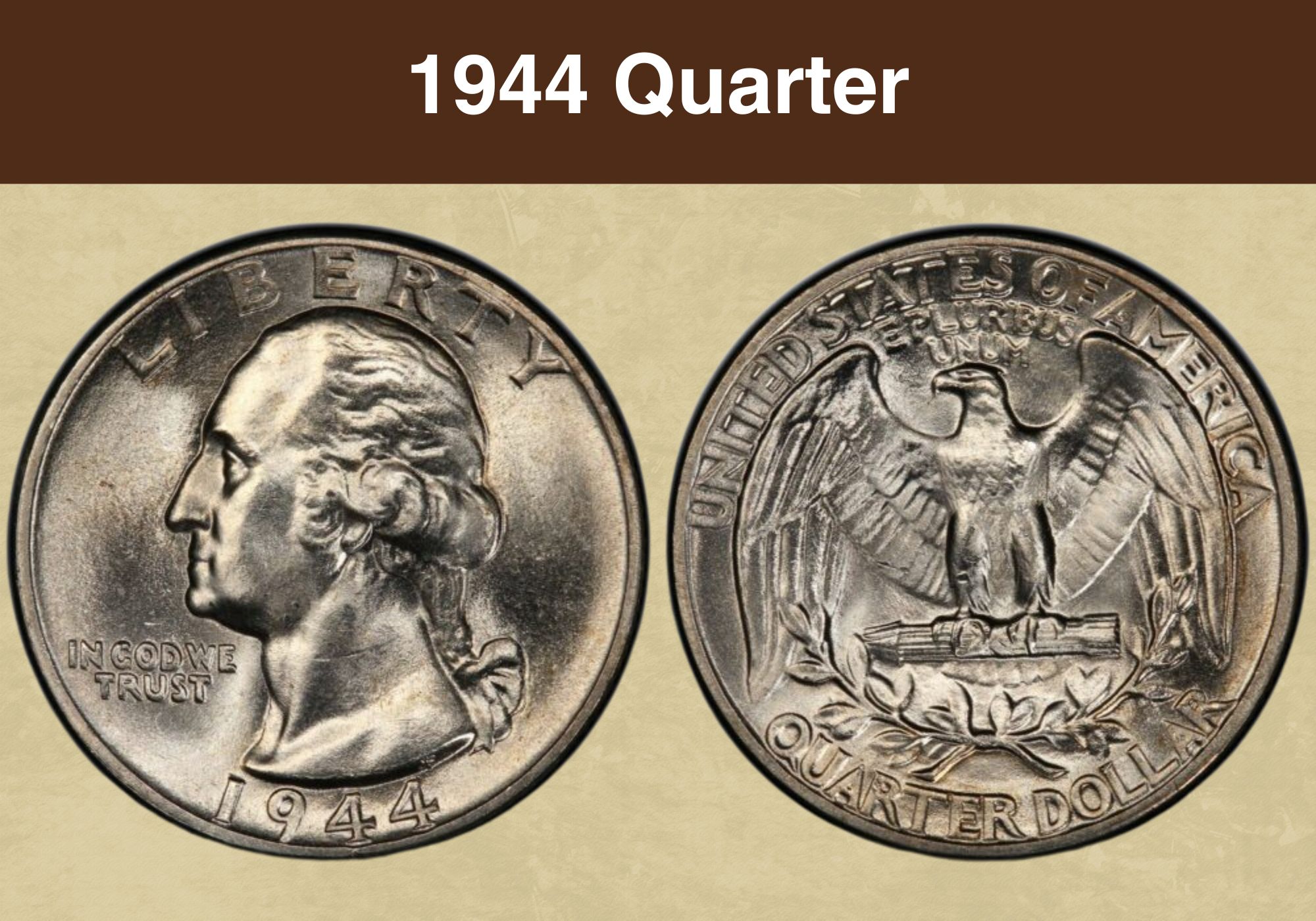 The 1944 quarter value depends on numerous things, including their quality, appearance, luster, color, and the place of minting. Most are not particularly precious, but they often cost many times more than their face value.
The best thing is that these coins are made of silver, meaning they have a particular value regardless of whether they are collectible or not. Therefore, you can buy them as an investment, although you are uninterested in numismatics.
1944 quarter value Chart

Condition
1944 no mint mark quarter
1944 D quarter
1944 S quarter
Good
$8.79
$8.79
$8.79
Very good
$8.79
$8.79
$8.79
Fine
$8.79
$8.79
$8.79
Very fine
$8.79
$8.79
$8.79
Extra fine
$8.79
$8.79
$8.79
AU
$10.19
$13
$13
MS 60
$12
$20
$18
MS 65
$32
$44
$37
History of the 1944 Quarter
The first Washington quarters appeared in circulation in 1932 as commemorative coins. The initial idea was to celebrate this President's 200th birthday. Thanks to these coins' immediate popularity, the US Mint continued their issue in 1934, after a year of break.
Unlike some American coins that lasted only a decade or two, these pieces are still actual, and their minting will probably continue for a long. However, there was a moment when officials considered the possibility of replacing Washington's portrait with Kennedy's.
After the 35th President's assassination, one of the suggestions was to put his image on quarters. Although it was almost certain that this would happen, Mrs. Jacqueline Kennedy opposed such a decision. Replacing such an important man in American history was unacceptable to her.
John F. Kennedy got a half-dollar and quarters with the first President on the obverse have survived by now. Unfortunately, it was impossible for their composition to remain the same.
High silver prices made minting unprofitable, and the US Mint was forced to replace coins made of 90% silver with smaller and lighter cupronickel-clad pieces in 1965.
1944 Washington quarters Types

Location
Year
Minted
Philadelphia
1944 no mint mark quarter
104,956,000
Denver
1944 D quarter
14,600,800
San Francisco
1944 S quarter
12,560,000
Total
/
132,116,800
The 1944 quarter set was in a group of those made of precious metal. Their mintage was huge in that period, and the Philadelphia mint issued a record number of coins.
This mintage was the highest in the first three decades of series existence, but many coins were in relatively poor condition. The Philadelphia mint surpassed that level of production only in 1964.
Also read: Top 13 Most Valuable State Quarters Worth Money
Features of the 1944 Washington Quarter
Despite considering putting portraits of historical figures on coinage to be a monarchical custom, Washington got his own coin in 1932. It happened 135 years after he finished the second presidential mandate.
The officials considered replacing his profile in 1964 and replacing it with Kennedy's after his assassination, but Mrs. Jacqueline Kennedy disagreed.
She found it inappropriate to replace such a prominent historical figure regardless of the tragic circumstances that befell her family and the entire nation a few months earlier.
The obverse of the 1944 Washington Quarter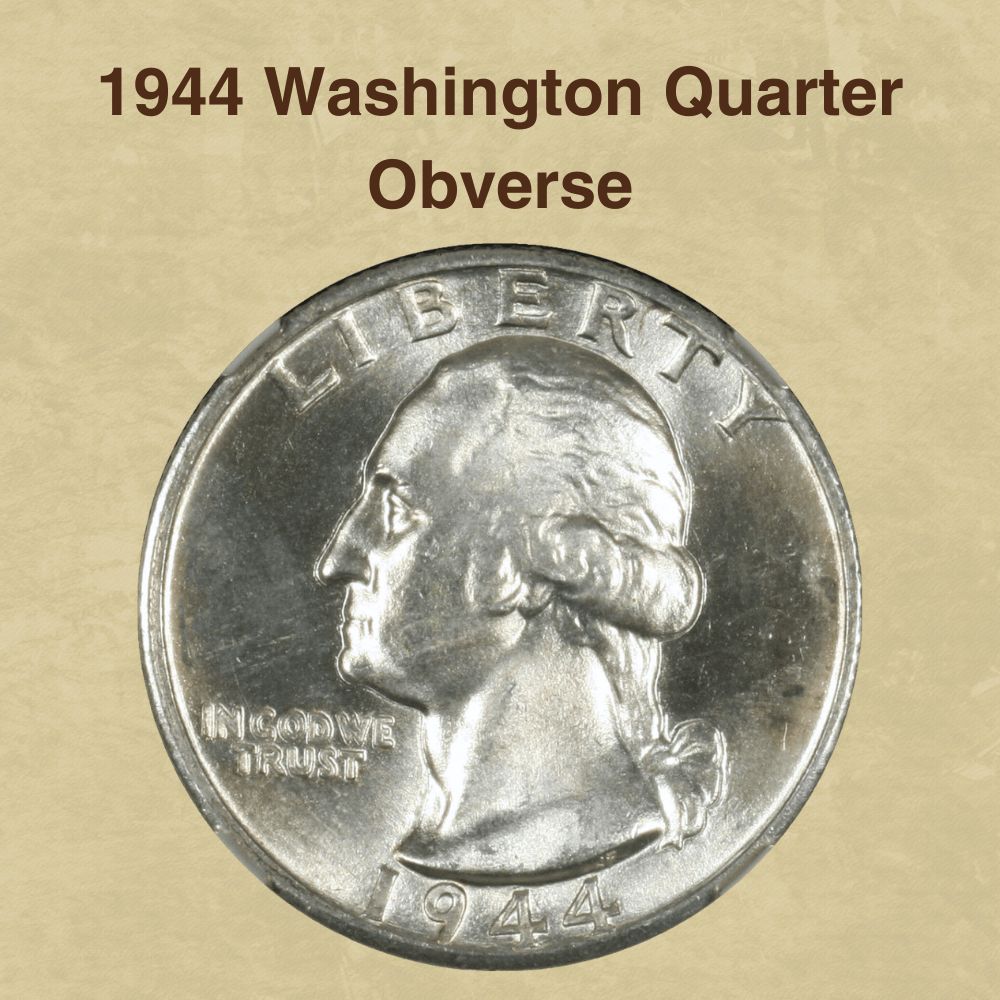 The 1944 Washington quarter obverse shows a relatively simple design with the first American President in the center.
You can see his portrait facing left and recognize details like a specific hairstyle typical for this historical period. Engraver John Flanagan faithfully portrayed his sharp profile, determined gaze, and lush hair tied back in a ponytail.
Besides the Founding Father's image, you can also see inscriptions IN GOD WE TRUST and LIBERTY, the minting date, and Flanagan's initials, JF, on this coin side.
The reverse of the 1944 Washington quarter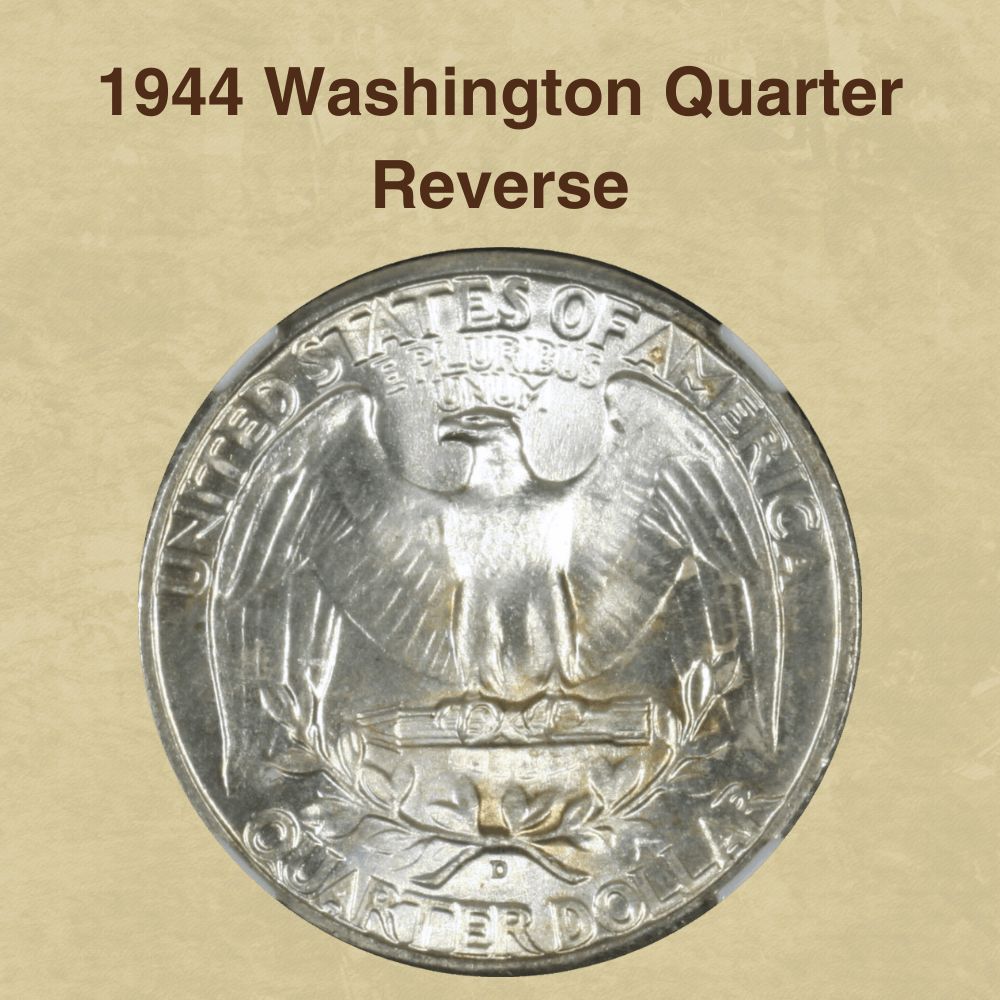 The designer decided to make a complicated reverse design with the American bald eagle in the coin center. The bird with outspread wings perches on an arrow bundle and looks to the left.
Under its claws are two olive branches with QUARTER DOLLAR below. Coins from Denver and San Francisco also have the letter D or S, representing the mint mark, between them. Those from Pfiladelphia have this space empty.
The top part is reserved for the name of the country, the UNITED STATES OF AMERICA, and the significantly smaller inscription, E PLURIBUS UNUM. It represents the unity of many states in one country.
1944 Washington quarters Details

Face value
25 cents ($0.25)
Shape
Round
Compound
Silver – copper alloy
Silver weight
5.623 g (0.1808 troy ounces)
Total coin weight
6.25 g (0,2204 troy ounces)
Coin diameter
24.3 mm (0,95669 inches)
Coin thickness
1.75 mm (0,06870 inches)
Edge
Reeded
Other features of the 1944 Washington quarter
Every 1944 Washington quarter has a reeded edge, diameter of 24.3 mm (0,95669 inches), and thickness of 1.75 mm (0,06870 inches). These silver coins weigh precisely 6.25 g (0,2204 troy ounces), including 90% precious metal. It is always 5.623 g (0.1808 troy ounces) of silver.
1944 Washington Quarter Grading
Coin grading is a way to determine each piece's quality, preservation level, price, and collectibility. Since some 1944 quarters are rare and expensive, you should have your coin evaluated. Sometimes, only a few details distinguish a premium piece from a cheap one. In such cases, only an expert can see the difference.
| # | Grade |
| --- | --- |
| 1 | Basal State-1 |
| 2 | Fair |
| 3 | Very Fair |
| 4, 5, 6 | Good |
| 7, 8, 10 | Very Good |
| 12, 15 | Fine |
| 20, 30 | Very Fine |
| 40 | Extremely Fine |
| 50 | About Uncirculated |
| 60 | Mint State |
| 65 | Mint State |
| 70 | Mint State |
Please check our grading guides to know your coin scale, It's the necessary step to know the exact value of your coin.
Check out now: How to Grade Washington Quarter?
1944 Washington Quarter Value Guides
With over 100 million produced quarters, the Philadelphia mint released most of these coins in 1944. The other two mints issued approximately a quarter of the total mintage of 132,116,800 coins. Because of war conditions, all were regularly struck pieces without a specific bunch intended for collectors.
1944 No Mint Mark quarters Value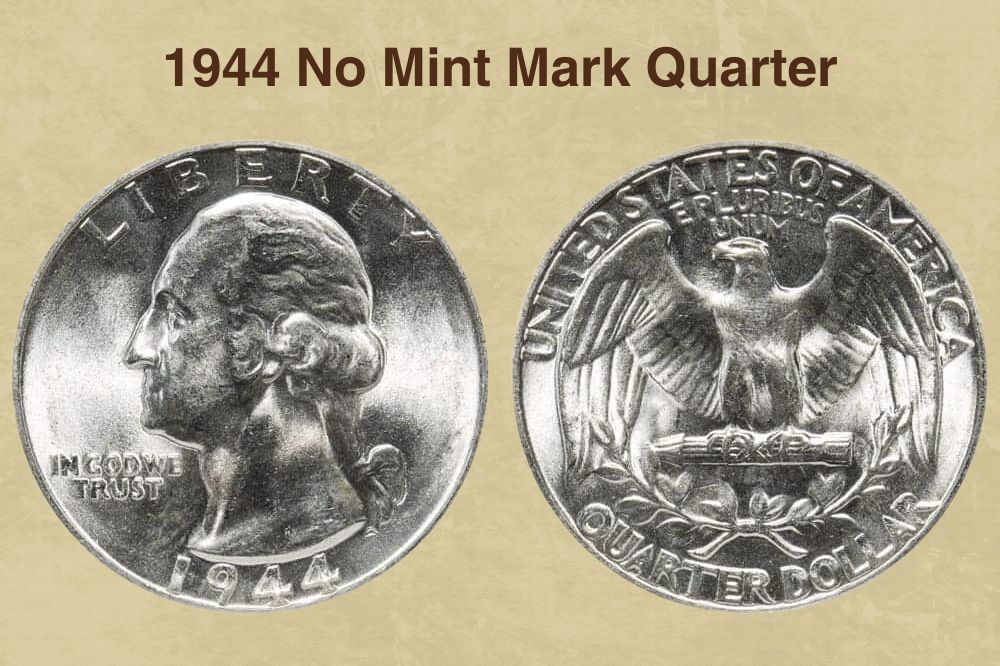 The highest mintage of 1944 Washington quarters was reached in Philadelphia. This mint issued 104,956,000 coins, and all were without the mint mark, according to the regulations of the time.
Nowadays, these pieces are available on the market, particularly those in lower grades. Therefore, you can expect to find circulated coins for $4.80 to $7, while those in lower uncirculated conditions are barely one dollar more expensive.
Better-ranked specimens in MS 63 to MS 67 grades are more sought-after, so their prices are expectedly higher. Depending on quality, you can find such quarters for $8 to $260.
Only coins in the high MS 68 ranking are rare, reflecting their price. You can buy one such quarter for $9,000 to $10,000. The record price for this coin type is $16,800, reached in 2022 at Heritage Auctions.
1944 D quarter Value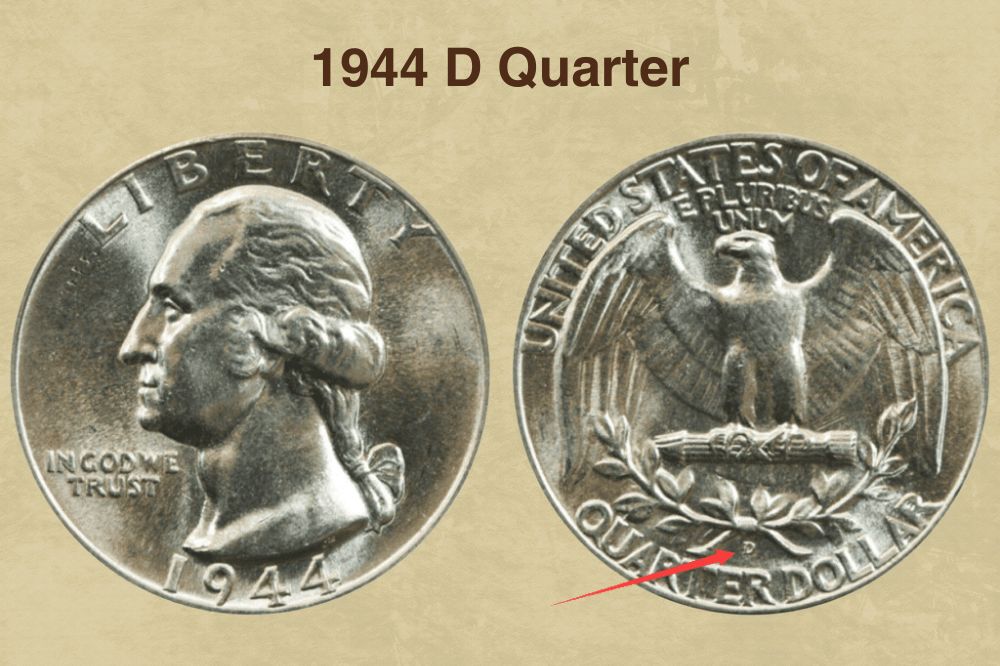 The Denver mint issued 14,600,800 quarters in 1944, and many of these coins still exist. In most cases, pieces in lower grades cost $5 to $9.50, while you can find those in the mint state starting from $10.
Quarters in quality under MS 66 are often worth $10 to $68, while it is possible to find the best-looking ones for:
$120 to $220 (MS 67)
$6,000 to $7,000 (MS 68)
One collector paid $10,575 for the 1944 D MS 68 quarter in 2015, making it the most expensive among those released in Denver.
1944 S quarter Value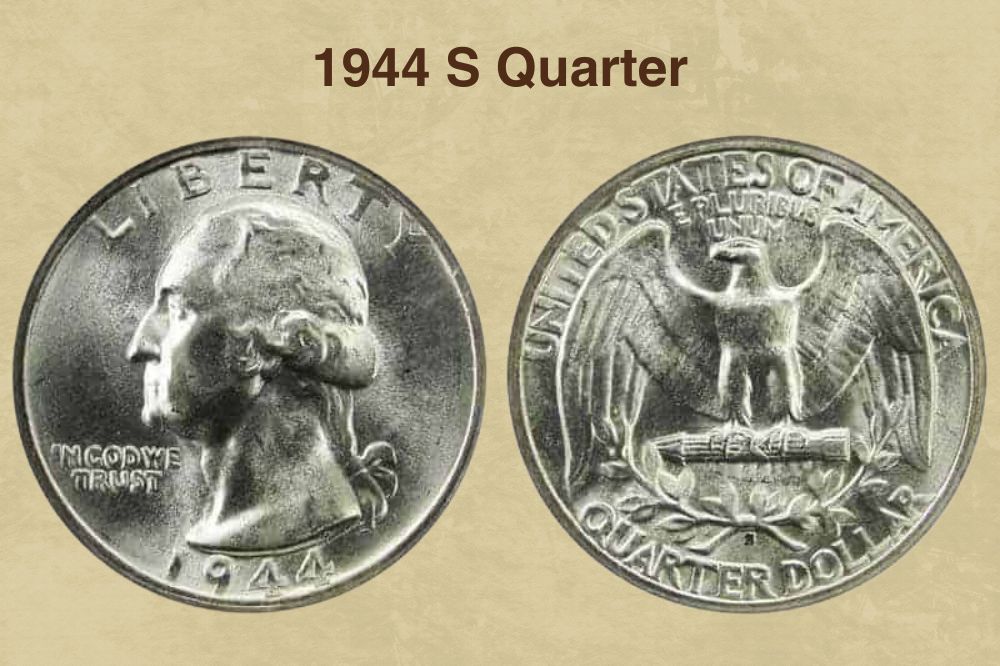 The San Francisco mint had the lowest 1944 quarter mintage of precisely 12,560,000 coins. These specimens with the S mint mark on the reverse are worth approximately $4.80 to $9.60, depending on the period spent in circulation and the degree of wear and tear.
The lowest-graded pieces in the mint state cost about $10, while the price increases with better coin quality. So, you can expect them to cost:
MS 61-rated quarters – $11 to $13
MS 62-rated quarters – $13 to $15.60
MS 63-rated quarters – $15 to $18
MS 64-rated quarters – $17 to $20.40
MS 65-rated quarters – $24 to $35
MS 66-rated quarters – $45 to $65
MS 67-rated quarters – $145 to $220
The 1944 MS 68 quarters are rare and expensive, and their estimated price is about $6,500 to $7,500. However, the auction record is many times higher, since one such piece sold at $16,100 in 2011.
Also read: Top 16 Most Valuable Modern Quarters Worth Money
Rare 1944 Washington Quarter Errors List
Since the US Mint issued billions of quarters for years, it is impossible to find a set with all perfectly struck pieces.
However, quarters came without countless errors, meaning you can't find numerous imperfect coins among those minted in 1944. That dictates these specimens' price range and makes them more collectible than regularly minted coins.
DDO and DDR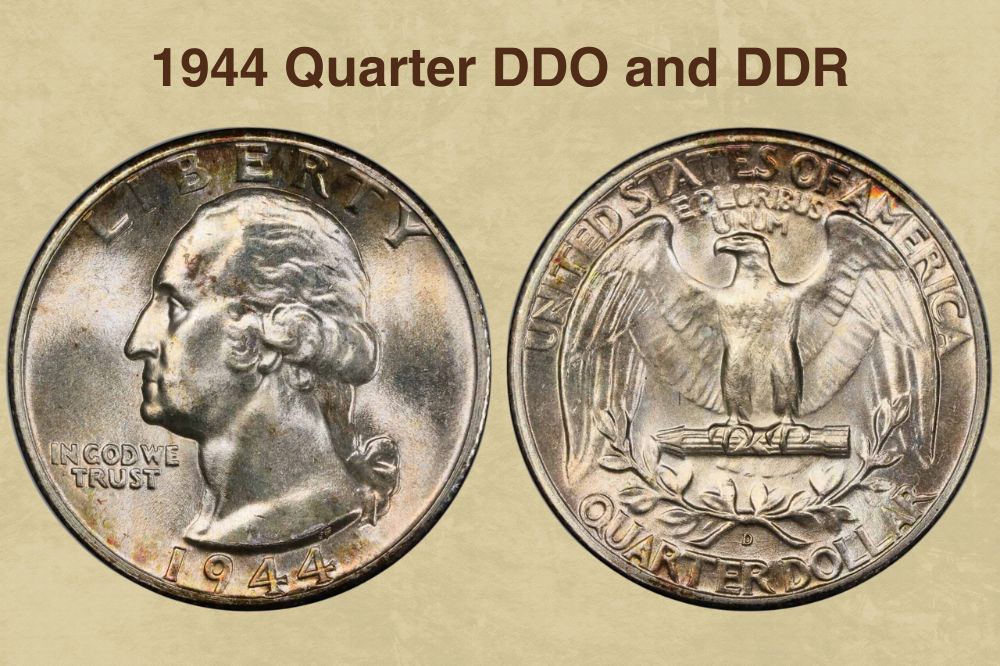 This error type results from a die failing, which depicts a double image. Such a die transfers its imperfect surface to coins, causing doubling. In the case of the 1944 quarters, it can appear on both the obverse and reverse, making quarters in lower grades cost approximately $75 to $135.
Double die obverse appears on some letters, designer initials, and the date. Most imperfections on the reverse are barely visible to the naked eye, and you need a magnifying glass to spot one. This error is rarely visible on the eagle.
Only rare specimens have visible doublings on the obverse, which increases their prices. One such piece from Philadelphia in MS 66 grade was paid $780 in 2018.
On the other hand, the coin from Denver of the same quality was twice as cheap and reached $360 at an auction the same year. The 1944 S MS 63 quarter with DDO error is the most expensive coin in the set. One collector bought it for $18,400 in 2004.
Re-punched mint mark
The 1944 D quarters sometimes have the visible re-punched mint mark, but it is almost always subtle. Therefore, you often need a magnifying glass or even a microscope to spot it. These coins are typically worth about $25.
Strike-through error
Striking machines sometimes strike through the coin by mistake. The probable reason is an inaccuracy that leads to a dash appearing across the letter or number in inscriptions.
Quarter struck on the wrong planchet
After WWII, the US Mint struck some quarters on the 5-cent Philippines plates in 1944, while others appeared on 5C nickel planchets. You can see letters overlapping the image or vice versa because of the different planchet dimensions used for these coin types.
Distorted John Flanagan's initials
This error appeared because of a design modification and appeared only in 1944.
Also read: 17 Most Valuable Quarter Errors Worth Money
Where to Sell Your 1944 Washington Quarter ?
Now that you know the value of your coins, do you know where to sell those coins online easily? Don't worry, I've compiled a list of these sites, including their introduction, pros, and cons.
Check out now: Best Places To Sell Coins Online (Pros & Cons)
FAQ about the 1944 Washington Quarters
What makes 1942 Washington quarters rare and collectible?
The 1944 quarters are common coins available for everyone who wants to start new collections. Only a few coins of incredible beauty and top quality are scarce. They can reach thousands of dollars in rare situations when becoming available at auctions or on eBay.
Which are the costliest Washington quarters minted in 1944?
At 2004 Heritage Auctions, one collector bought the 1944 S MS 63 quarter (DDO error) for $18,400
At 2022 Heritage Auctions, one collector bought the 1944 MS 68 quarter for $16,800
At 2011 Stack's Bowers, one collector bought the 1944 S MS 68 quarter for $16,100
At 2015 Heritage Auctions, one collector bought the 1944 D MS 68 quarter for $10,575
At 2018 Heritage Auctions, one collector bought the 1944 MS 66 quarter (DDO error) for $780
At 2018 Heritage Auctions, one collector bought the 1944 D MS 66 quarter (DDO error) for $360
How much does the 1944 No Mint mark Washington quarter cost?
Most No Mint mark 1944 quarters cost approximately $5 to $7 because they spent a long period in use. However, numerous perfectly preserved pieces are also available on the market, and you can buy them for $7 to $260.
Besides these average coins, there are unique, superb species in MS 68 grade attainable only to those for whom the price is not a problem. Their assessed price range is about $9,000 to $10,000.
What is the most expensive Washington quarter?
Silver quarter, Type 1
$143,750 for the 1932 D MS66 quarter (2008)
$45,500 for the 1932 S MS66 quarter (2020)
$43,475 for the 1949 D MS68 quarter (2019)
Clad quarter, Type 2
$21,000 for the 1966 MS68+ quarter (2023)
$15,862.50 for the 1983 P MS65 quarter (2014)
$15,000for the 1970 D MS69 quarter (2023)
Silver proof quarter, Type 1
$31,200 for the 1950 PR68 quarter (2022)
$18,400 for the 1937 PR68 quarter (2005)
$16,800 for the 1942 PR69 quarter (2020)
Clad proof quarter, Type 1
$10,925 for the 1974 S PR70 quarter (2009)
$9,987.50 for the 1998 S PR65 quarter (2014)
$7,475 for the 1971 S PR69 quarter (2007)