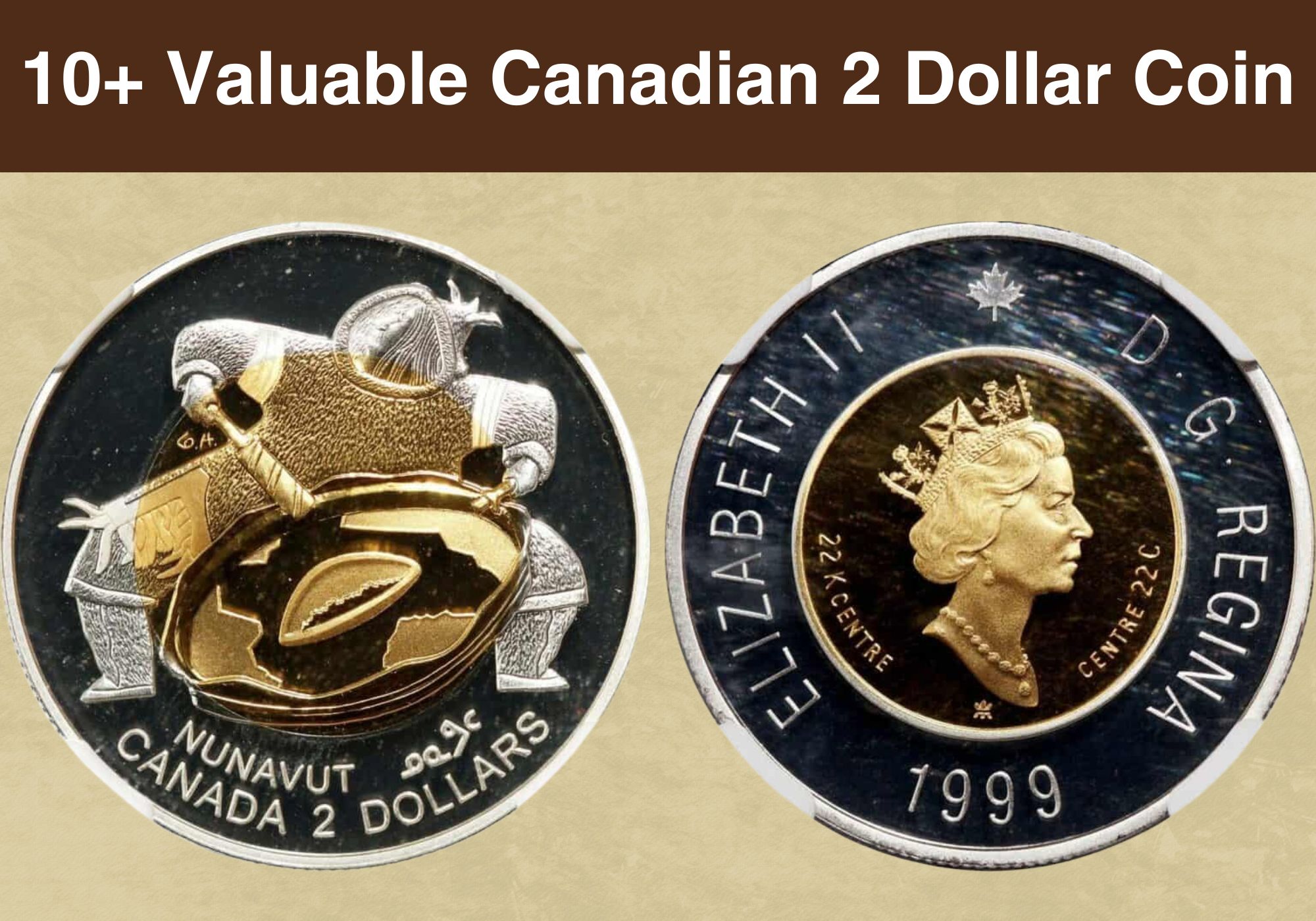 Are you interested in collecting Canadian 2-dollar coins?
In the coin-collecting world, old is definitely gold. Although Canadian toonies are a modern currency, some errors and varieties are worth more than face value.
It is also worth mentioning that there are a few old two-dollar coins dating back to the 1800s. These are rare but the most valuable Canadian 2-dollar coins you can land your hands on.
In this guide, we've listed Canadian dollars worth money. You will discover valuable errors and varieties that can significantly increase the coin's value, and you will also learn about ancient, mint state Canadian 2-dollar coins worth thousands of dollars.
So, let's get started!
A Brief History of The Canadian 2-Dollar Coin
The most modern Canadian two-dollar coins were introduced in 1996. But many years before this, Newfoundland, then a British colony, minted its two-dollar coin. These gold coins were first struck in 1865 before the Canadian Confederation and continued to be struck well into the late 1880s.
Not only was the gold two-dollar coin used in Newfoundland, but it was also widely used in eastern Canadian provinces. Just a few of these coins were struck yearly, with the highest mintage being 25,000, struck between 1882 and 1888.
The Newfoundland two-dollar gold coin gradually declined, and when the colony's banking system collapsed in 1894, the currency lost all its value and disappeared.
The next time Canada had a two-dollar coin was in 1996. In a cost-saving measure, the government sought to replace the two-dollar circulating bank notes with coins of an equivalent value, although the remaining two-dollar notes would still be legal tender.
After consultations and a public survey, findings showed that most people preferred the new coin to feature wildlife. A design competition was held among five Canadian artists, with Brent Townsend's design emerging as the winner. Townsend's design featured an adult polar bear perched on floating ice at the beginning of summer.
A unique feature of the toonie is its bi-metallic composition. While other countries have minted bi-metallic coins, the Canadian two-dollar is lighter and thinner than any other. From 1996 to 2012, the coin comprised an outer nickel ring and a core of 92% copper, 6% aluminum and 2% nickel.
In 2012, the coin's composition changed to become multi-ply. The inner core is aluminum bronze plated with brass, while the outer ring is nickel-plated steel.
While the coin's design has generally remained the same, there have been temporary adjustments for special years and commemorative events. For example, in 1999, the two-dollar coin showcased an Intuit drummer on the reverse to commemorate the founding of the Territory of Nunavut. Overall, the toonie has had about twenty designs over the years.
Let's now look at the most valuable Canadian two-dollar coins.
Valuable Canadian 2-Dollar Coin Worth Money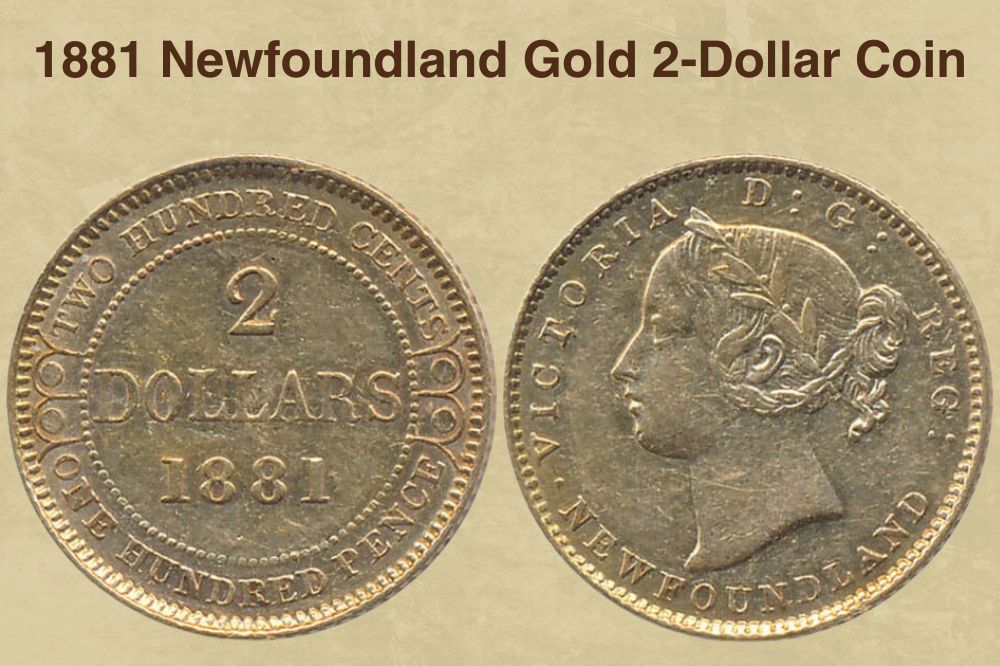 In 1881, the London Mint struck 10,000 two-dollar gold coins for Newfoundland.
Today, finding any of these ancient coins is extremely difficult, especially those in good condition. The few existing examples have many visible contact marks and damages.
One rare example sold at auction in 2019 was graded About Uncirculated (AU) 58. This two-dollar Coin shows some luster, which is uncommon for ancient circulated coins. But there is noticeable wear at some high points, such as in Victoria's portrait.
According to the Professional Coin Grading Service, this rare example sold for $480. While this might not seem like much, it is quite a lot considering it is many times more than face value.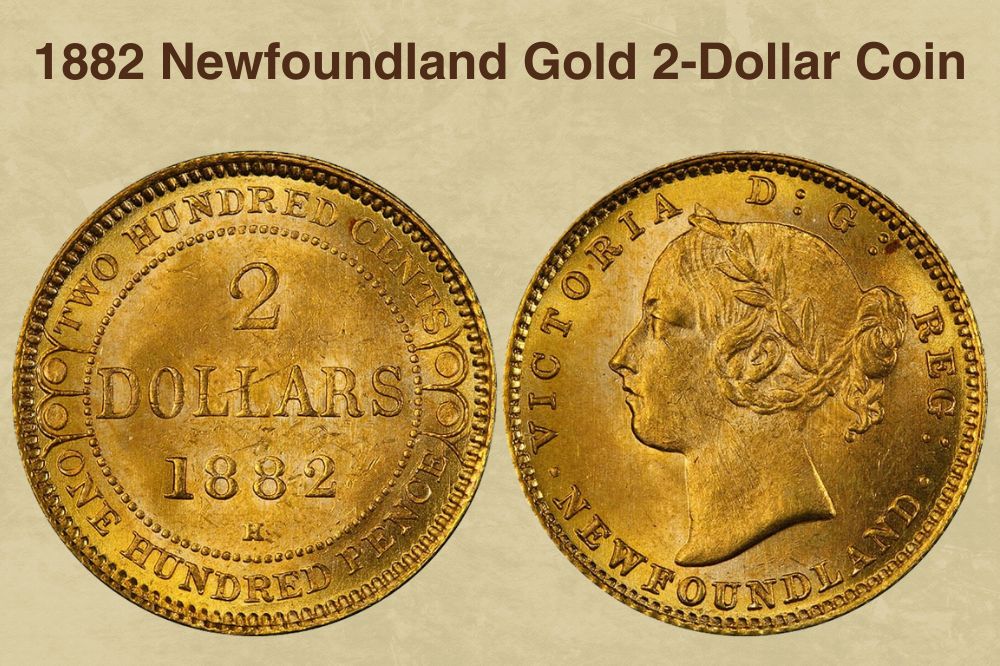 While most coins were struck in England and later shipped to various colonies, some were minted at other smaller facilities. A good example is the 1882 Gold 2 dollar coin for Newfoundland which was minted at the Heaton facility in Birmingham.
This Coin has the mintmark H on the reverse, indicating its minting origin. Like other Newfoundland gold dollar coins, the Coin features Queen Victoria's portrait on the obverse, denomination, and year on the reverse.
Very few of these coins exist today, typically very worn. One exception was a specimen of 1882 Newfoundland gold 2-dollar coin graded MS64, just a point shy of gem condition.
This particular example shows very few, if any, marks, and these are mostly on the high points, such as the Queen's forehead and cheeks. Given its mint state, the Coin fetched $5,520 at a Heritage auction in 2018.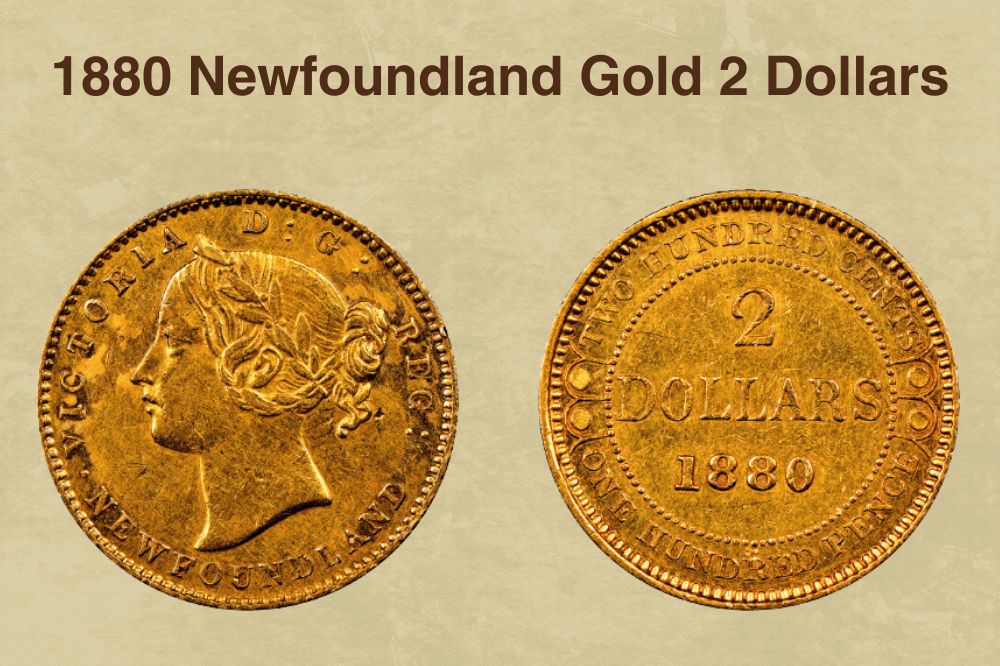 The 1880 20-dollar gold coin struck for Newfoundland is rarely found in mint condition. In addition, only a handful of circulated examples can be found, mostly held by avid collectors.
Only four of these coins are known to exist in mint state, with three graded MS63 and one graded MS64. One of the rarest examples classified as MS62 sold for $7,639.
This particular example features clear design details and a lustrous surface, which is quite rare for a coin this old. As mentioned, only four examples exist in mint state, and you should be prepared to pay a fortune if any of them come up for auction.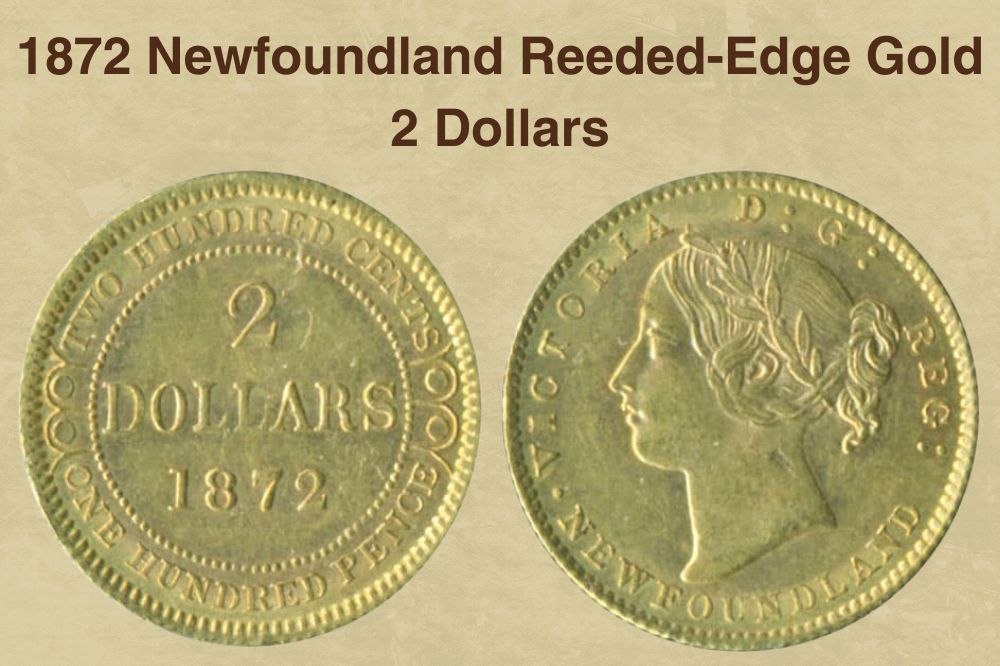 The 1872 2-dollar coin was minted in England for Newfoundland. Since this is a very old coin, examples are extremely rare, even in circulated condition.
If you come across one with a lustrous surface, sharp design details, and few to no marks, you might have found a rare specimen and one of the most valuable Canadian dollar coins.
One such gem-quality gold dollar coin graded MS65 came up for auction in 2003 and fetched an impressive $23,025.
In addition to its attractive physical features and immaculate condition, this specimen had a perfect obverse to reverse alignment, which is rare for old coins due to the nature of the minting technology.
The Coin also features a reeded edge, while other two-dollar gold coins of the same lot had a smooth edge. In fact, smooth edges were the norm as they were considered less cumbersome than reeded edges.
It's been more than two decades since another 1871 gem-quality coin came up for auction, which tells you how rare and valuable this specimen is.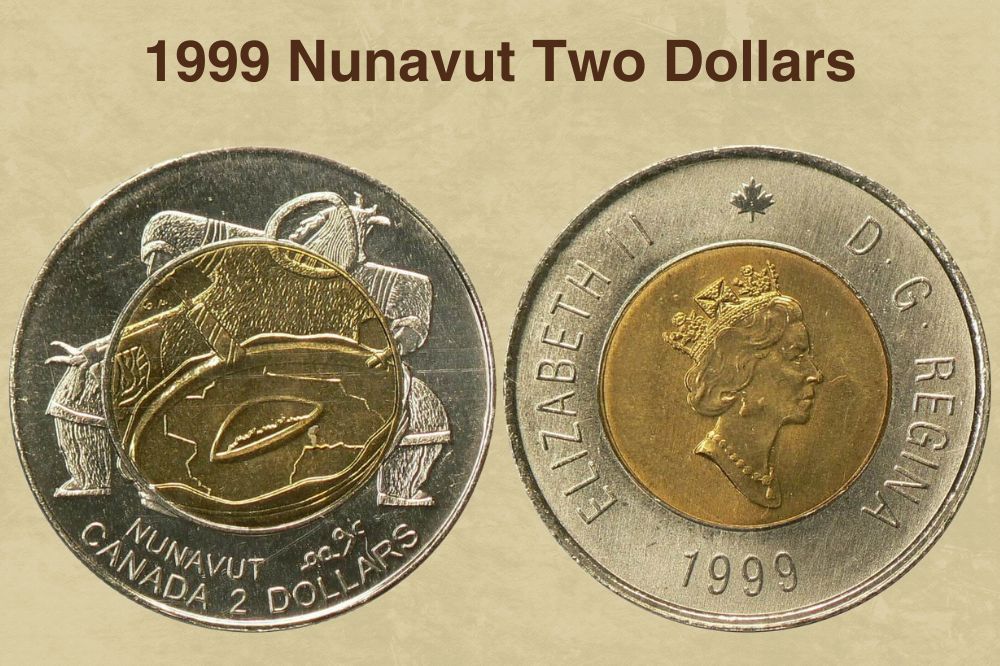 The Nunavut 2-dollar coin was introduced in May 1999 in commemoration of the new territory of Nunavut.
The Coin features an Inuit drummer on the reverse, while the obverse features a portrait of Queen Elizabeth II.
These toonies were struck in precious metals specially made for collectors, while others were struck in base metal for normal circulation. The latter has a raised rim where the outer ring and inner insert meet.
Only about 3,000 proofs were struck solely for collectors. These feature a gold-yellowish center and a white periphery.
Although initially sold to collectors, some coins have entered general circulation. You might come across some proofs in pristine condition while others might be worn.
One example, graded PF69 came up for auction in 2021, and professional graders estimated it to be about $2,200. The value of proof 1999 Nunavut toonies may vary depending on the quality, but you can expect a nice profit if you own one and would like to sell.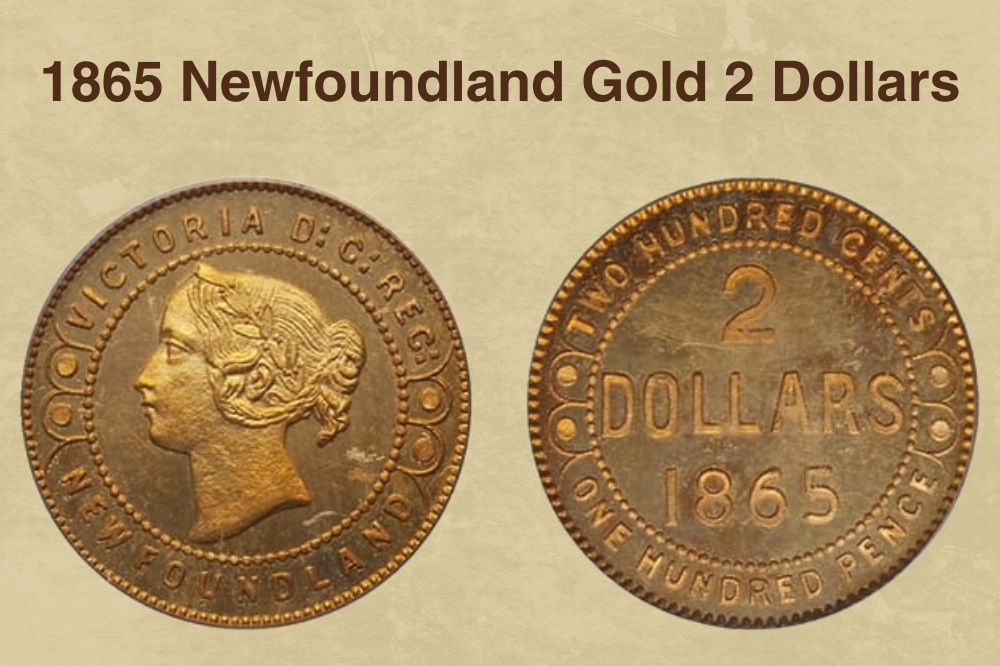 Like other early Newfoundland gold two dollars, the ones minted in 1865 feature Queen Victoria's portrait on the obverse and the denomination and year on the reverse.
The year 1865 was the first time a 2-dollar coin was struck for the British colony of New Zealand. As you might have already guessed, very few coins from this date exist either in mint state or in circulated condition.
So, it was very surprising when an example graded MS64 came up for auction in January 2022. At MS64, this coin is considered a true specimen, with frosted high spots and lustrous fields with few noticeable marks. There are probably fewer than ten examples of the 1865 Newfoundland two-dollar gold coin.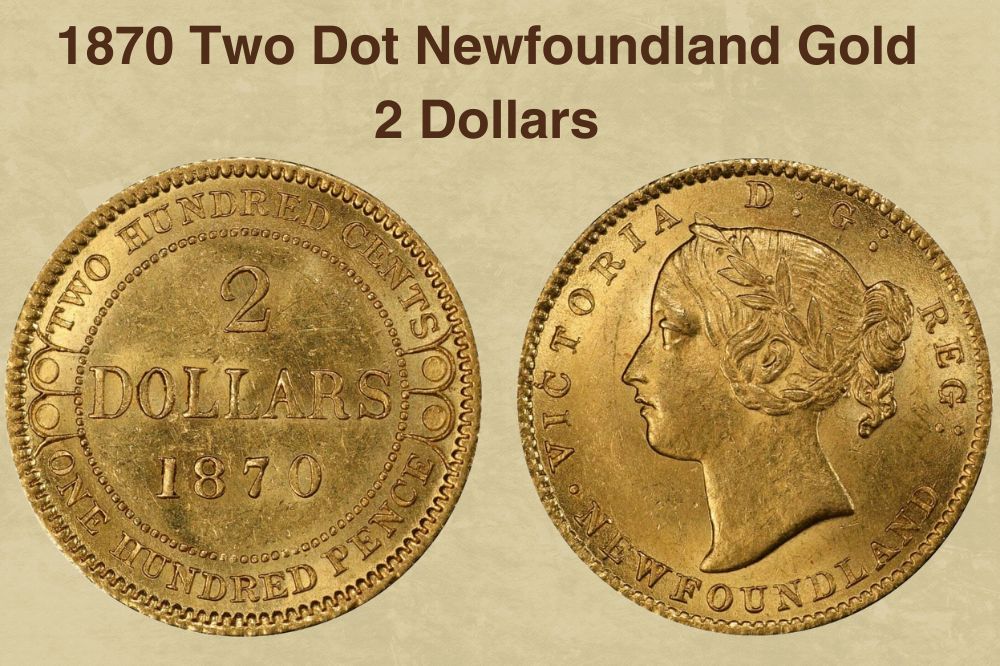 The 1870 gold two-dollar coin was among the earliest coins struck in London and shipped to Newfoundland.
There are two types of 1870 Newfoundland 2-dollar coins. The two-dot type is the most common of the two. You will notice it does not have a dot after the name Newfoundland while all other gold two-dollar coins minted for the colony had the dot.
Although the two dot is common, good-quality examples can be hard to come by. One rare example graded 63, the second-highest Coin in the series, sold for $8,625 in a 2003 auction.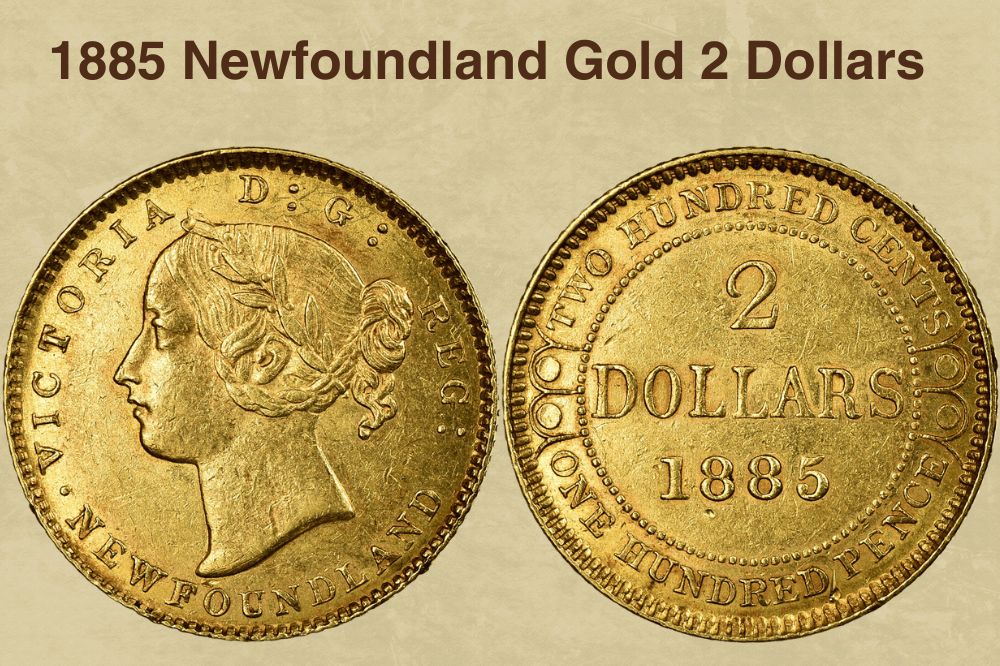 The early Newfoundland gold 2-dollar coins were generally poorly made with dull surfaces and unappealing high points. But, there were a few exceptions, such as the one example that came up for auction in 2019 and fetched an impressive $3,000.
This particular Coin, which the Professional Coin Grading Service graded MS64, is a rare find. While it doesn't fully qualify as a prof, it is a high-quality two-dollar considering age.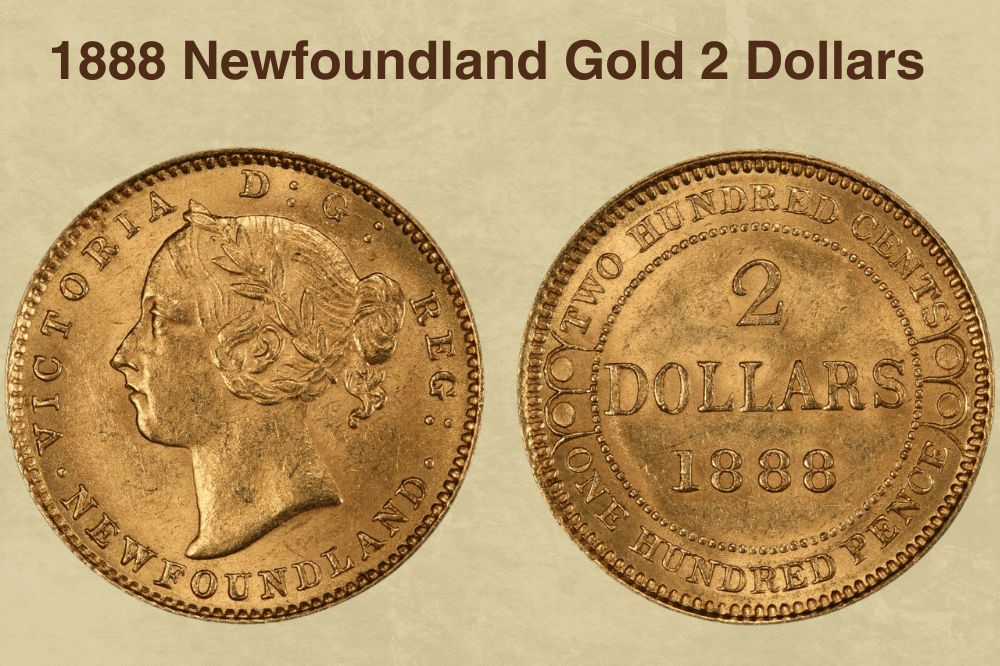 Like other Newfoundland gold two-dollar coins, the ones minted in 1888 are rare and very hard to come across today, whether in circulated condition or mint state.
These old coins feature a portrait of Queen Elizabeth on the obverse while the reverse showcases the denomination and date dz
An extremely rare example came up for auction in 2011 and was graded MS64, just one point to a gem condition designation. This was the last time an 1888 gold 2-dollar was offered for sale, showing how rare these coins were.
The 2011 example fetched $4,000. If another example were to come up for auction today, it would probably sell for much more.
The beaded two-dollar Coin was offered in 1996, so it is a pretty modern coin. Also known as the Beaded Twoonie, this Coin features distinctive beads all around the Coin's inner circumference on the obverse and reverse, making it different from all other twoonies struck that year.
There are only four known examples of the beaded 2-dollar Coin, and the design is still a mystery. According to professional coin graders, the beaded twoonie might have been experimental; the Mint may have been trying a new design, although there's no evidence of this d
The mystery shrouding this Coin's design adds to its interest among collectors. One of the four examples came up for sale in 2021 for the first time ever and was graded Almost Uncirculated (AU) 55. The highest bidder bought the 1996 Beaded 2 dollar coin for $4,000.
11. 1994 Platinum 2 Dollars, Maple Leaf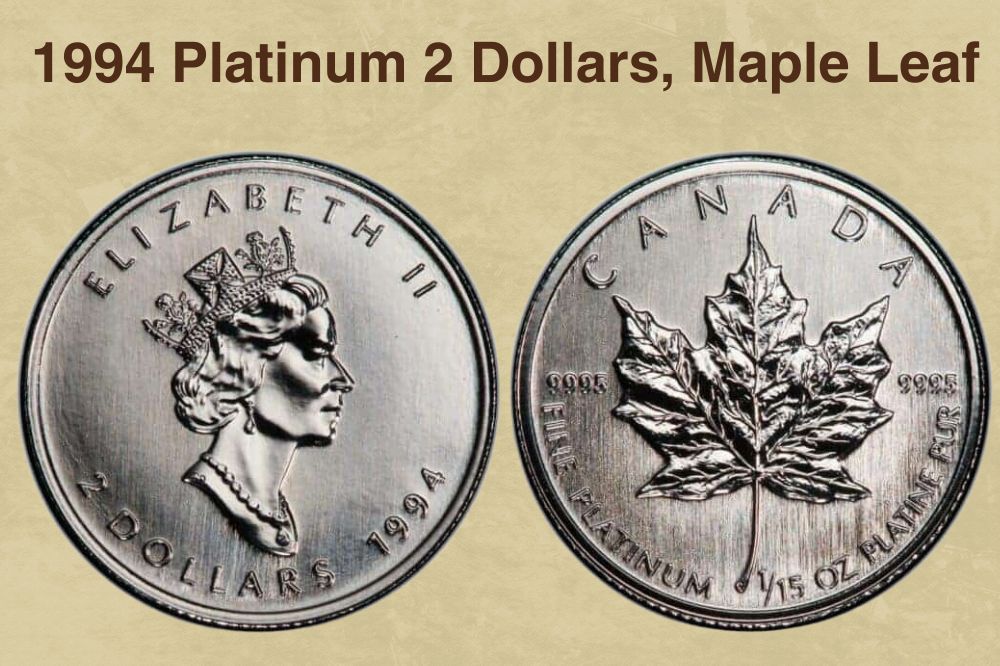 The Platinum 2-dollar Coin struck in 1994 is another example of a modern yet valuable Canadian twoonie.
Although minted for general circulation, this Coin is made from the precious metal platinum. As such, in numismatic terms, the Coin is categorized as a bullion.
There are plenty of Canadian Platinum 2 dollars in mint state, given that collectors hoarded many of these coins before they entered circulation.
According to the PCGS, there are more than 60 examples graded MS68, 110 graded MS69, and more than 15 graded gem MS70 or gem condition. So, the chances are good that many of these examples will come up for auction in the near future.
One example that came up for sale in 2012 sold for $350. This modest price can be attributed to the fact that there are still many existing examples of this bullion coin.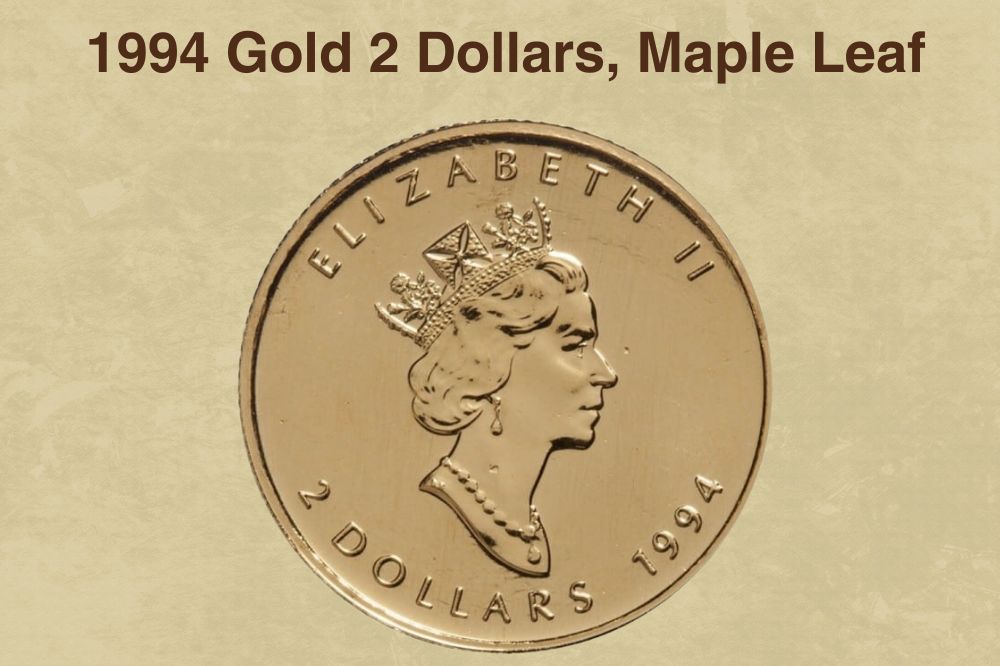 The Gold Canadian Maple Leaf is the country's official bullion coin and one of the world's purest gold coins issued for use in normal circulation.
The coins contain no base metals; it is made from gold from Canadian mines. Although it was first introduced in 1979, the two-dollar coins were struck in 1994 in gold and platinum.
About 3,400 gold 2-dollar bullion coins were minted; today, the majority are still in mint state. An example that came up for auction in 2018 was sold for $345.
The public's uptake of the gold and platinum maple leaf bullion coins was not as great, forcing the Royal Canadian Mint to limit production to just that one year.
Summary
Whether you are looking to collect old or modern valuable Canadian two-dollar coins, knowing what to look for is important. Older 2-dollar coins, specifically those minted in the 1880s for the then British colony of Newfoundland, are especially valuable in mint state and can fetch thousands of dollars. Modern twoonies are also worth money if you can find examples in mint state or even better in gem condition.