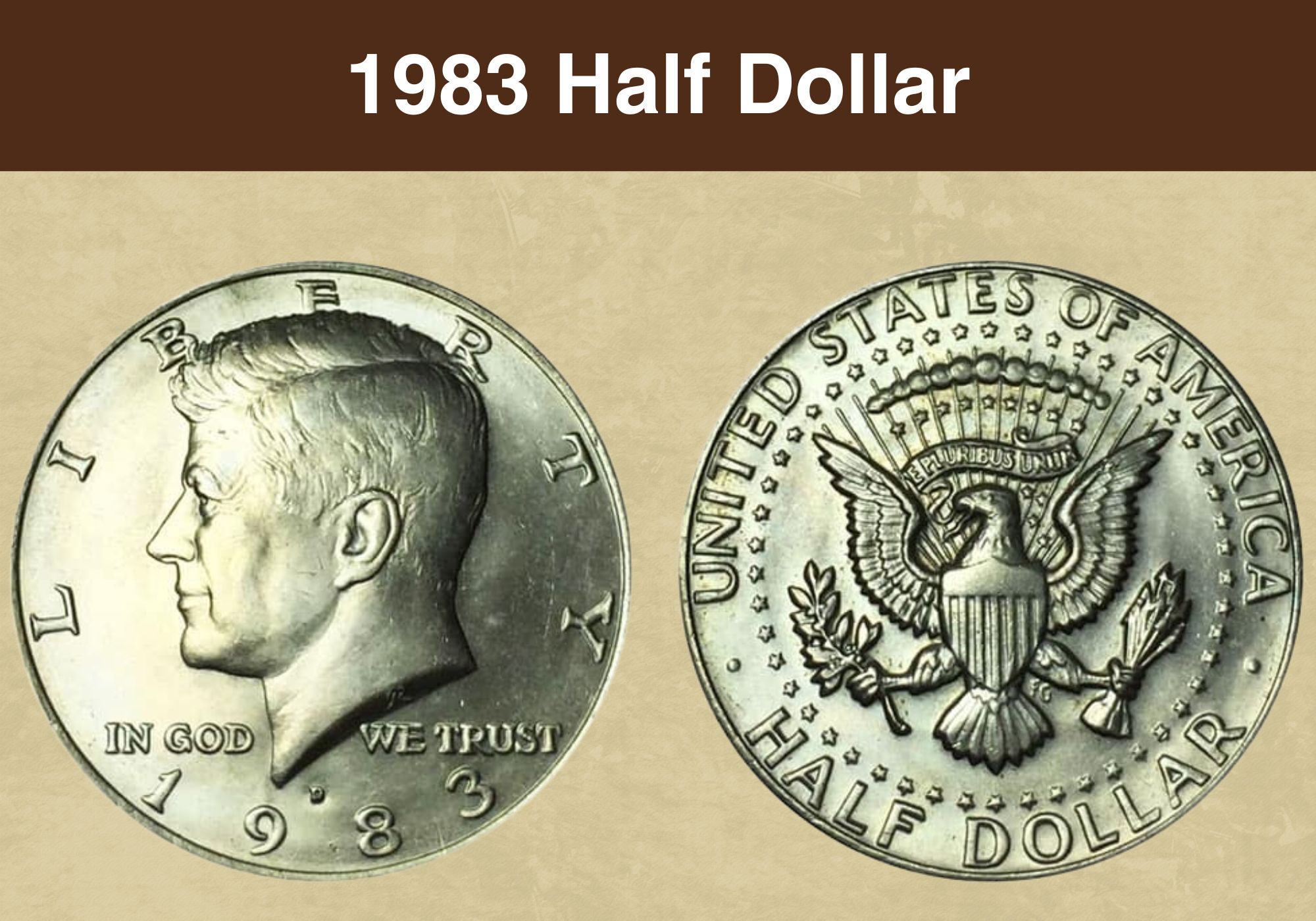 Kennedy Half Dollars from 1983 are collectible but not among the most valuable American coins. However, they honor a crucial figure in American history and his achievements.
The 1983 Half Dollar value depends on numerous factors. Their price range is estimated according to the grading standards, existing varieties and errors, and the mint mark struck on each coin obverse.
1983 Half Dollar value Chart

Condition
1983 P dollar
1983 D dollar
1983 S dollar
MS 63
$9.36
$8.07
/
PR 65
/
/
$4.63
History of the 1983 Half Dollar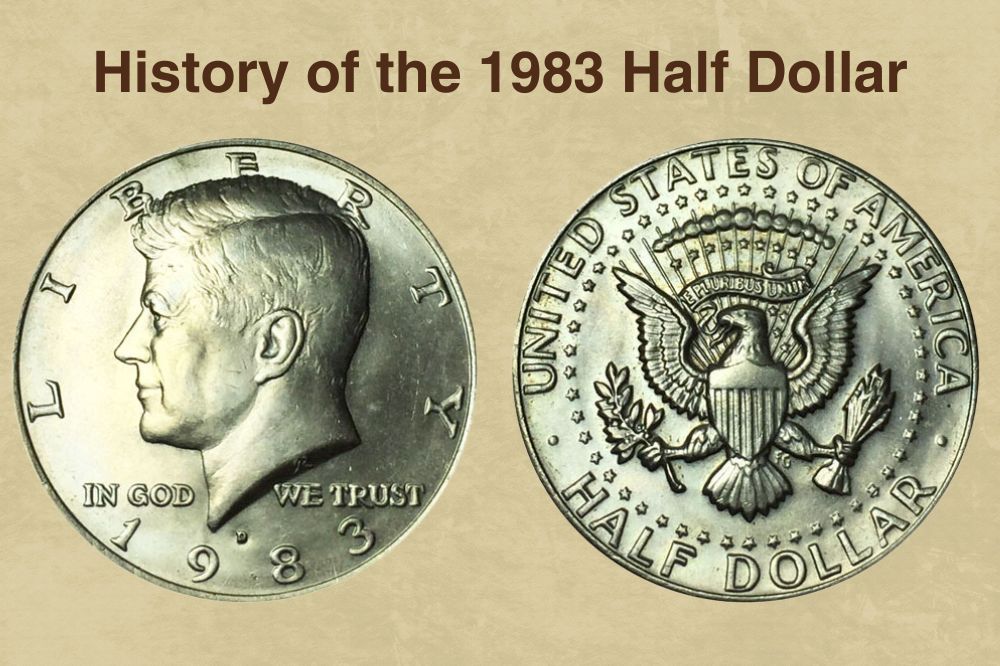 The 1983 Half Dollars appeared in circulation twenty years after Kennedy's assassination. The only coin set minted in 1964 contained silver, but the US Mint quickly replaced them with pieces made of less percent of precious metal to prevent hoarding.
Since the US Mint ended 40% silver coin production in 1970, you can expect coins from 1983 to be made of copper alloy. As you know, Americans avoid one-dollar coins and prefer bills. Therefore, half dollars are unofficially the heaviest and most sizable American coinage used in everyday transactions.
1983 Kennedy Half Dollars Types

Location
Year
Minted
Philadelphia
1983 P dollar
34,139,000
San Francisco
1983 S dollar (proof)
3,279,126
Denver
1983 D dollar
32,472,244
Total
/
69,890,370
The story of Kennedy Half Dollars is sad because these coins appeared in circulation after such a horrifying event. Only a few hours after the President's assassination, Mint Director Eva Adams asked Chief Engraver Roberts about putting Kenendy's portrait on a silver coin.
Officials accepted the project within five days, which was the fastest coinage approval in American history. Since Jackie Kennedy wanted to keep Washington on quarters, the decision was to replace the Franklin half-dollars minted since 1948.
Frank Gasparro and Gilroy Roberts utilized their previous, already-approved work and modified it to the new half-dollar design. Americans treated these coins as collectibles and mass hoarding forced the US Mint to reduce silver content the following year.
All these half-dollars are still the official currency, but it is unlikely to see them in circulation. Many were melted, and the remaining pieces are more valuable than their face value, making them a valuable part of collectible sets.
Also read: 13 Most Valuable Franklin Half Dollars Worth Money
Features of the 1983 Kennedy Half Dollar
The period from creating to releasing Kennedy Half Dollars was the shortest in American coinage history because of the situation's urgency. Gilroy Roberts and Frank Gasparro based the coin obverse and reverse on their previous work, allowing fast release of these coins into circulation.
The obverse of the 1983 Kennedy Half Dollar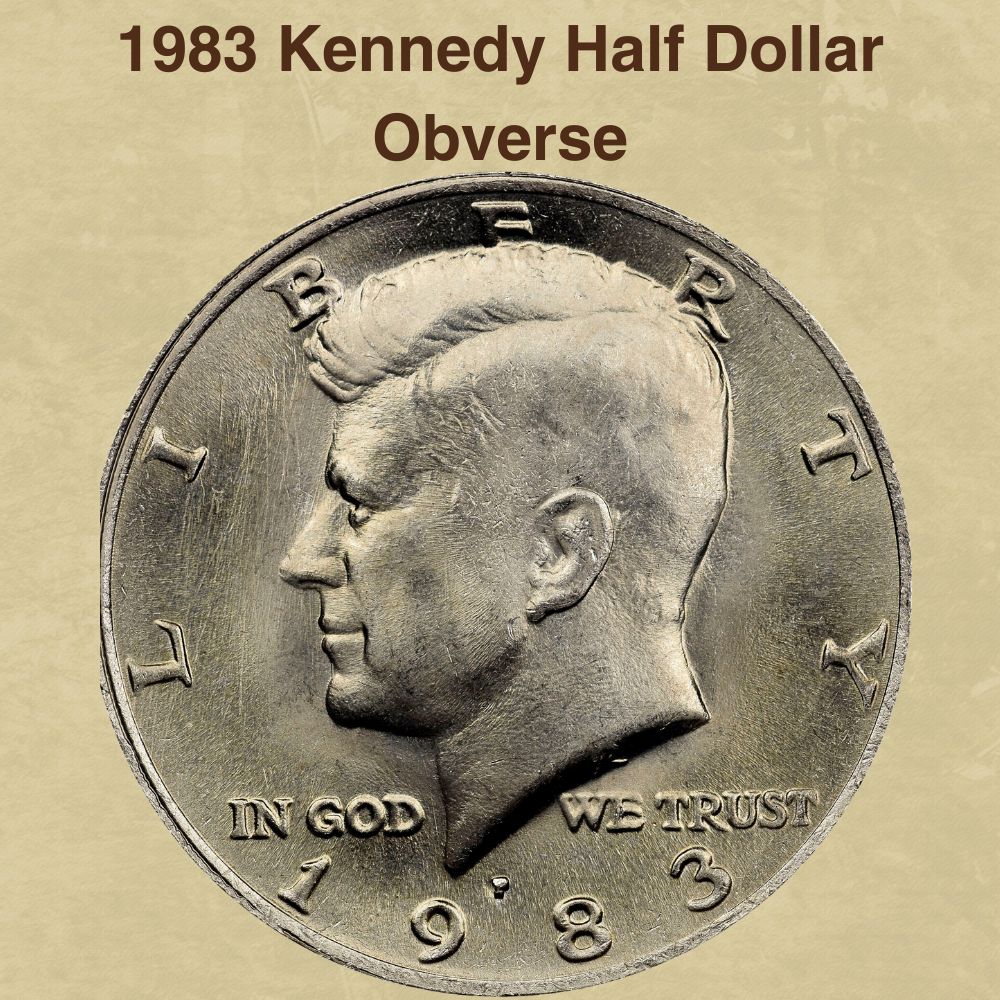 Gilroy Roberts used John F. Kennedy's portrait to fulfill the obverse coin side. The tragically assassinated President's face is turned left with the word LIBERTY struck above his head, partially covered by his wisps of hair.
The date, 1983, is placed below the image, with a small D, P, or S above its middle. The motto IN GOD / WE TRUST is struck left and right of the neck truncation, while the designer initials GR are on its cut.
The reverse of the 1983 Kennedy Half Dollar
You can see a modified American presidential seal centrally positioned on the coin reverse. A bald eagle holds a shield with vertically struck stripes on its chest while its wings are widely spread.
The bird holds a ribbon in its beak with the inscription E PLURIBUS UNUM written along. Thirteen dots and stars added above its head symbolize the first states.
In the eagle's right talon is an olive twig with 13 olives, representing peace, while 13 arrows in its left claw symbolize war readiness. The bird is positioned inside the two circles. The first is made of 50 stars, one for each Member State, while the second includes inscriptions · HALF DOLLAR · UNITED STATES OF AMERICA.
Finally, there are letters of FG for designer Frank Gasparro's initials. They are placed between the left bird's leg and its tail.
1983 Kennedy Half Dollars Details

Face value
Fifty cents ($0.50)
Coin diameter
1.20472 inches (30.61 mm)
Shape
Round
Compound
Copper and nickel (91.67%: 8.33%)
Coin thickness
0.08464 inches (2,15 mm)
Coin weight
0.3646 ounces (11.34 g)
Edge
Reded (150 reeds)
Other features of the 1983 Kennedy Half Dollar
The 1983 Kennedy Half Dollar is a fifty-cent dollar made of cupronickel clad. In other words, it contains a pure copper central part coated with a metal layer of 75% copper with added nickel.
In a general sense, each piece is made of a copper-nickel alloy in a 91.67%: 8.33% ratio. You can count 150 reeds on its edge and measure a thickness of 0.08464 inches (2,15 mm) and a diameter of 1.20472 inches (30.61 mm). Its weight is 0.3646 ounces (11.34 g).
Also read: 13 Most Valuable Kennedy Half Dollar Worth Money
1983 Kennedy Half Dollar Value Guides
In 1983, three mints produced 69,890,370 Kennedy Half Dollars. Two issued regular coins in very similar mintage, while the one in San Francisco was responsible for collectors and issued proofs. There are still enough well-preserved halves to keep these coins abundant on the market and their prices modest.
1983 P Half Dollars Value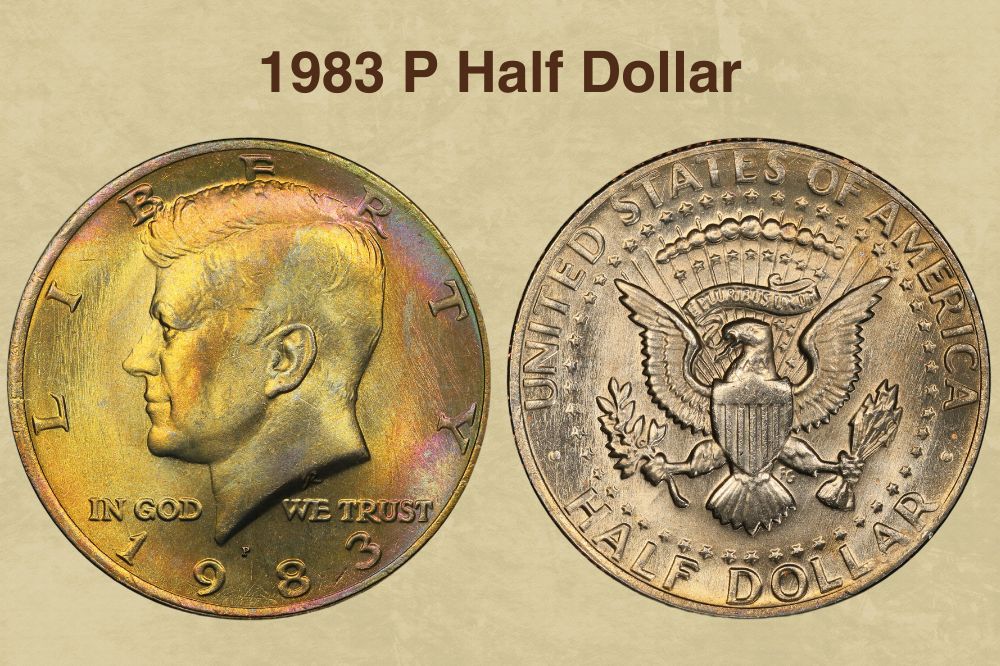 The Philadelphia mint had only a slightly higher mintage than the one in Denver in 1983. The total number of 34,139,000 produced coins made them widely available and pretty affordable in most grades.
The About Circulated condition makes coins slightly more valuable than their face value, and you can buy one for $0.70 to 1.70.
Those in the mint state cost $3 to $55, and their prices depend on each piece's appearance and quality. If you prefer having the best-preserved half-dollars in your collection, you can get one of those in MS 67 grade for $280.
The rarest half-dollars are those rated MS 68, which cost about $3,000. For now, the costliest 1983 P MS 66 Kennedy Half Dollar was bought for $805 after appearing at an auction in 2010.
1983 D Kennedy Half Dollars Value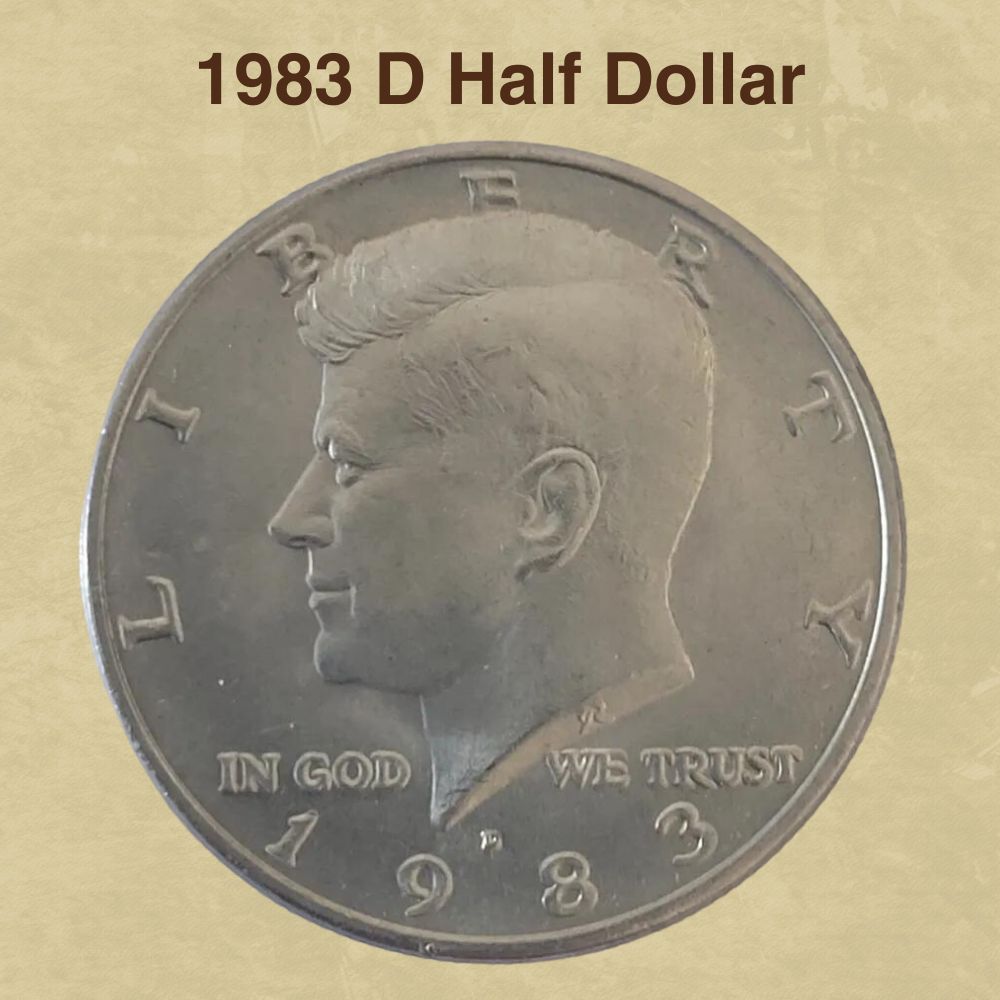 Precisely 32,472,244 half-dollars came from the Denver mint in 1983, the second-highest number of this coin type produced that year. While circulated coins cost up to $0.70, you can buy most for $0.75 to $15. Only the highest-graded pieces are worth more, including:
1983 MS 66 half-dollars cost $44
1983 MS 67 half-dollars cost $275
1983 MS 68 half-dollars cost $3,000
Despite an estimated price of about $3,000 for coins in MS 68 grade, one such piece was paid more at an auction. One collector set aside $4,230 to get one on January 6, 2016.
1983 S Kennedy Half Dollars Value (proofs)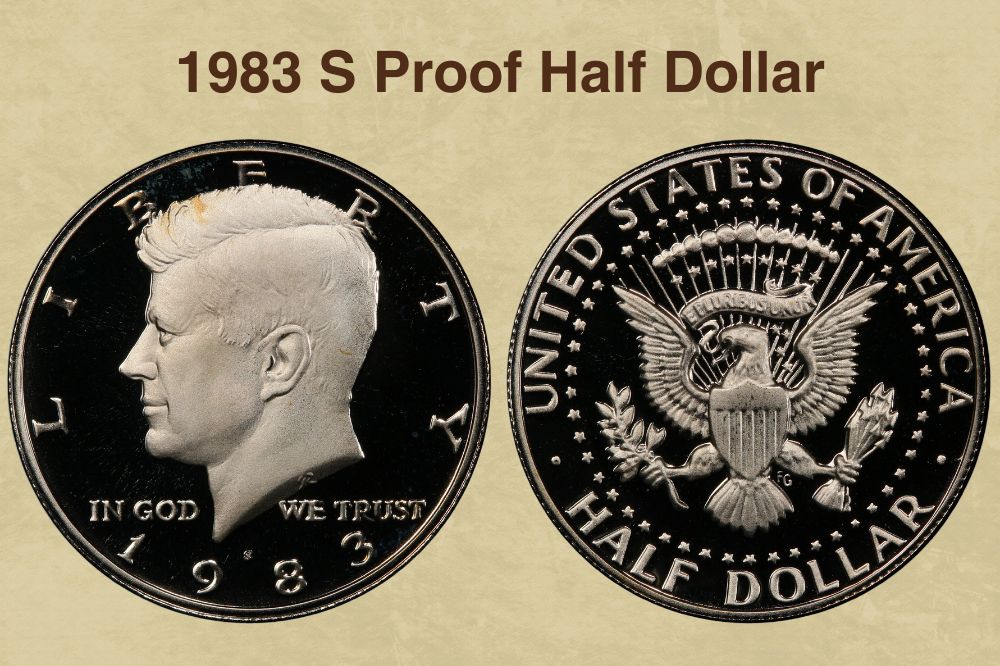 The San Francisco mint was responsible for releasing proof half-dollars in 1983. This mint issued 3,279,126 of these superior-looking coins intended for collectors.
The most sought-after pieces are those with DCAM quality, but their high mintage dictates the average prices. Most of these coins are affordable at relatively low prices for such quality:
It is necessary to spend $3.75 to get one 1983 PR 64 half-dollar
It is necessary to spend $4.25 to get one 1983 PR 65 half-dollar
It is necessary to spend $6 to get one 1983 PR 66 half-dollar
It is necessary to spend $6 to get one 1983 PR 67 half-dollar
It is necessary to spend $7 to get one 1983 PR 68 half-dollar
It is necessary to spend $11 to get one 1983 PR 69 half-dollar
Even the best-graded coins in PR 70 rank are relatively inexpensive and available at an average price of $45. However, it is sometimes possible for owners to earn more when the day at auctions is particularly good.
Such a thing happened in 2008 when one 1983 S PR 70 Kennedy Half Dollar with deep cameo contrast changed the owner for $546 at Heritage Auctions.
Also read: 11 Most Valuable Half Dollars In Circulation
1983 Kennedy Half Dollar Grading
The 1983 Half Dollar grading is a responsible job because these coins are only four decades old and contain no precious metal.
They are abundant on the market, and it can be tricky to recognize the one in pristine condition. Besides, most collectors are looking for the best-graded specimens, making those in a circulated condition worth only their face value.
Rare 1983 Kennedy Half Dollar Errors List
While you might think the US Mint has not released too many error coins in recent decades due to advances in technology, that is not always the case. A good example is the 1983 Half Dollar set packed with imperfect coins. It is not good news for officials, but collectors are delighted with such a situation.
Missing FG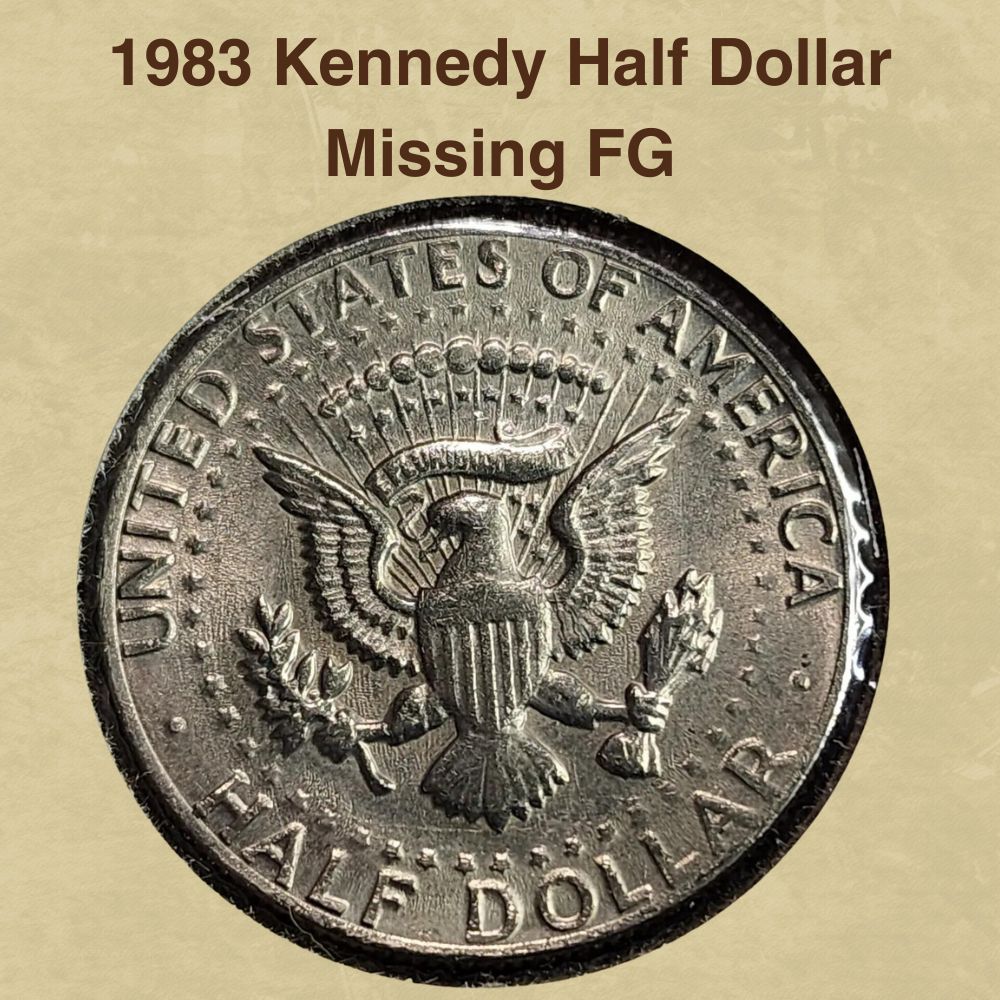 Engraver Frank Gasparro created the 1983 Half Dollar reverse, so you can expect to see his initials near the eagle's body. Thanks to a mistake during the minting process in the Philadelphia mint, numerous coins appeared without the FG initials.
Depending on the preservation level, such pieces often cost $15 to $100. Be careful when buying one such specimen to avoid fraud because some regular coins lost the initials post-mint by intentional polishing.
Filled S
All proof Hald Dollars produced in 1983 came from the San Francisco mint. Interestingly, some coins have a so-called Filled S on the obverse, resulting from the mint mark over-punching during the minting process.
Since coins with this atypical letter S are highly sought-after among collectors, their prices are high. You can occasionally find such a piece on the coin market for a few thousand dollars.
Off-center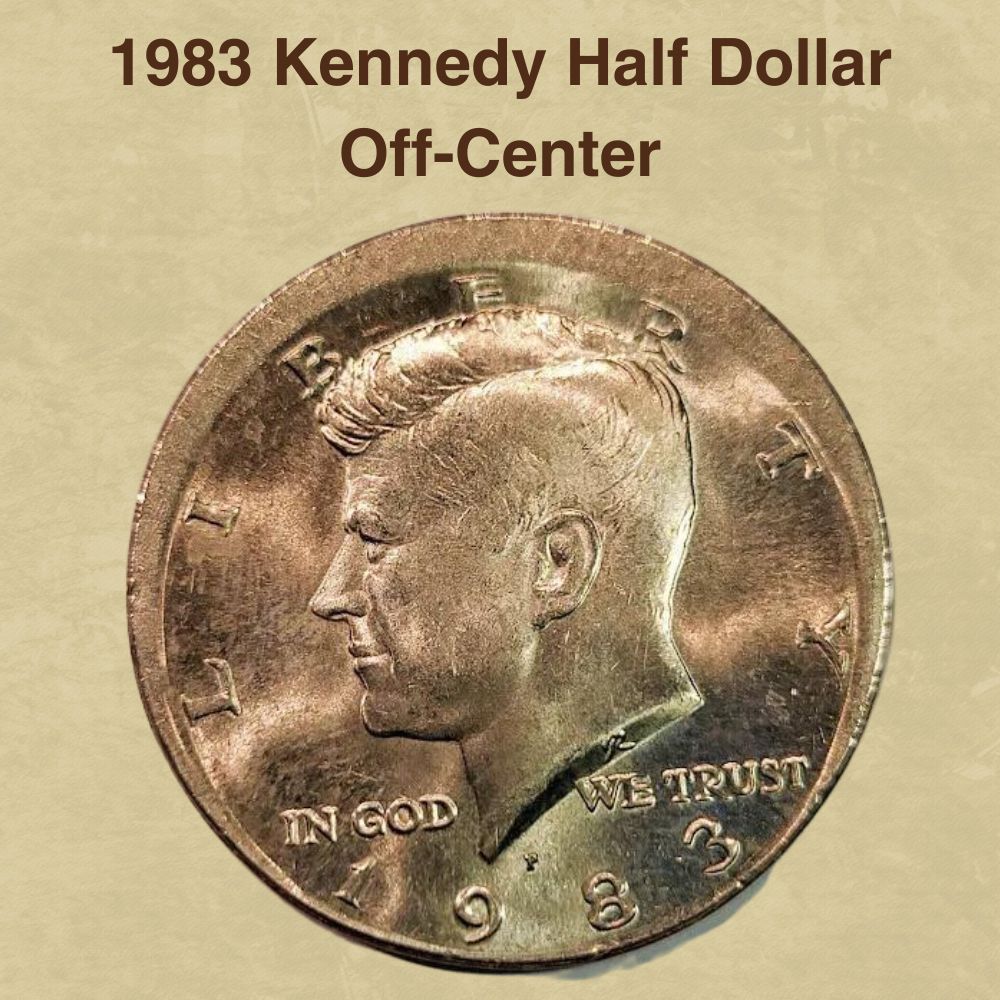 When the planchet moves a bit during the die strike, one part of the half-dollar coin surface stays with a crescent-shaped blank area.
When this area is about 45% to 60%, with the condition that the date and the mint mark are visible, you should pay about $150 per coin on the market. Specimens with a crescent part occupying less than 10% are typically inexpensive.
Doubled die
The double die error 1983 half-dollars have duplicated letters, often in the part of the motto, TRUST, on the obverse. Since this imperfection is pretty common in the set, you can expect to get less than $50 per imperfect piece.
Misaligned die
Misaligned coins result from improper die position that causes striking the coin off-center. Such pieces miss a part of the design on one side, making them look uneven. Unlike coins with an off-center error, such coins are relatively inexpensive.
Double-struck with obverse indent
Such 1983 half-dollars come with three errors. It has a doubling on the denomination and word LIBERTY. Then, you can notice a broadstrike error from spilling the metal out of the collar. Finally, this coin has dents on the date, leaving copper exposed on the coin rim. Since these pieces are relatively rare, their price is approximately $800 on the market.
FAQ about the 1983 Kennedy Half Dollar
What makes a 1983 Kennedy Half Dollar rare?
The 1983 Kennedy Half Dollars are considered contemporary coins. Even though they are 40 years old, they are not particularly old in numismatic terms. Therefore, you can barely expect to find an expensive specimen in the set, let alone a particularly important rarity.
Which 1983 Kennedy Half Dollars cost a lot?
The most expensive 1983 D MS 68 Kennedy Half Dollar cost $4,230 (Heritage Auctions held on January 6, 2016)
The most expensive 1983 P MS 66 Kennedy Half Dollar cost $805 (Heritage Auctions held on April 28, 2010)
The most expensive 1983 S PR 70 Kennedy Half Dollar DCAM cost $546 (Heritage Auctions held on January 9, 2008)
The most expensive 1983 S PR 69 Kennedy Half Dollar DCAM (Treasure Hunt Sept LB 2017) cost $25 (eBay on April 2, 2018)
The most expensive 1983 S PR 69 Kennedy Half Dollar DCAM (Treasure Hunt June LB 2017) cost $10 (eBay on December 29, 2019)
How much are the 1983 Kennedy Half Dollars from Philadelphia worth?
Most 1983 half-dollars are worth less than $1, while perfectly-looking ones cost $3 to $275. Since it can be challenging to find MS 68-rated specimens, experts estimate them at $3,000.
What is the most pricey Kennedy Half Dollar?
1964 SP 68 SMS Kennedy half-dollar – $156,000
1964 PR 69 DCAM, Accented Hair Kennedy half-dollar – $45,600
1967 SP 69 DCAM SMS Kennedy half-dollar – $31,200
1968 S PR 70 DCAM Kennedy half-dollar – $24,000
1964 D MS 68 Kennedy half-dollar – $22,325