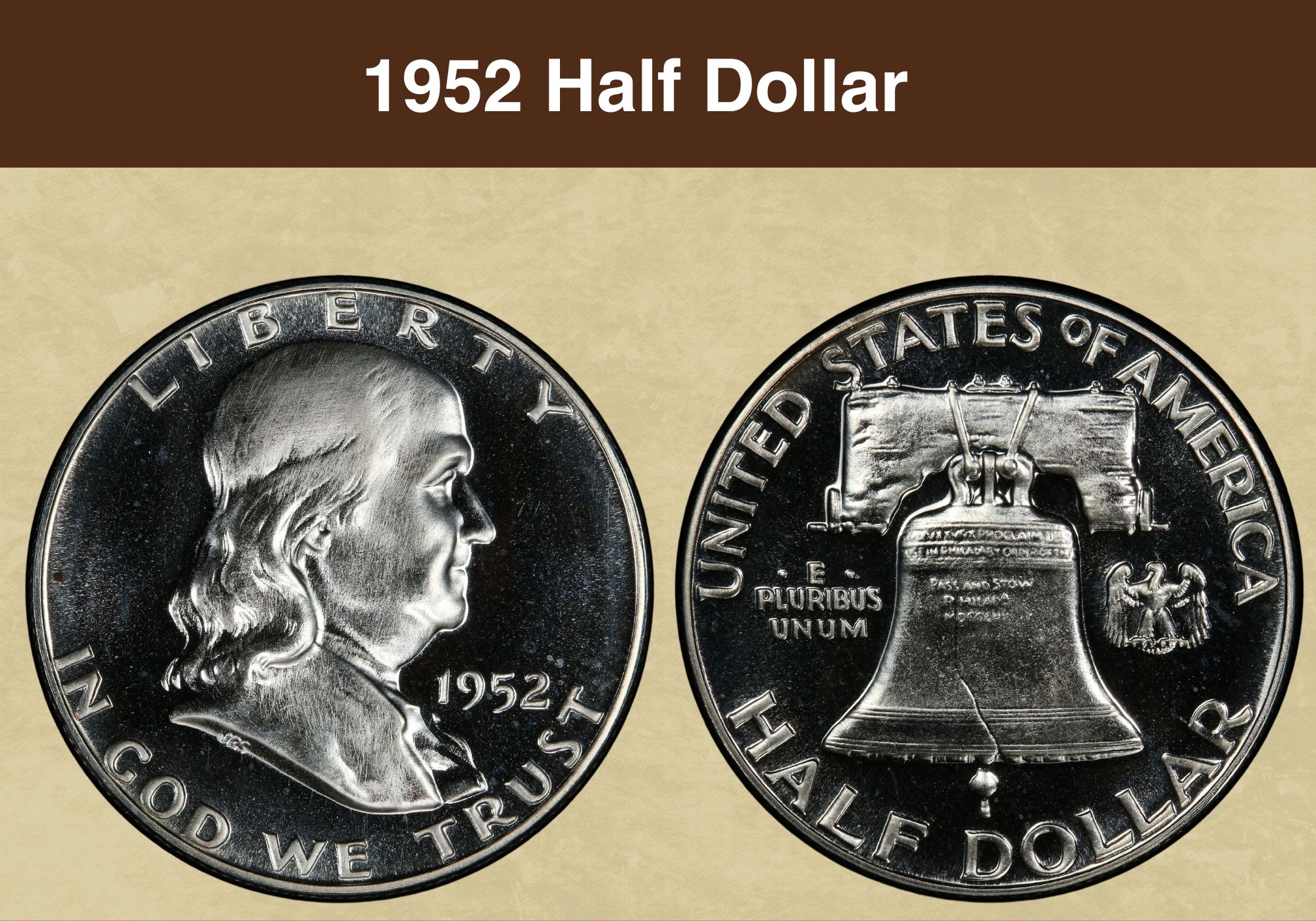 The 1952 Half Dollar was a Franklin Half Dollar bearing the face of Benjamin Franklin and backed by the iconic Liberty Bell. It wasn't an especially famous year but it did give rise to some giggle-worthy nicknames on its mint errors, with all the puns intended. Let's learn more about this 50-cent coin as we analyze, study, and verify the 1952 Half Dollar Value.
1952 Half Dollar Value Chart

Coin
Extremely / Extra Fine

EF/XF 45

Mint State

MS 60

Mint State

MS 65

Mint State

MS 66

Mint State

MS 67

Proof PR/PF 68 DCAM
1952-D Half Dollar
$15
$22
$110
$500
–
–
1952-D Half Dollar Full Bell Lines
–
–
$160
$525
$14,000
–
1952-S Half Dollar
$27
$54
$125
$200
$1,000
–
1952-S Half Dollar Full Bell Lines
–
$100
$1,250
$1,400
$10,500
–
1952 (P) No Mint Mark Half Dollar
$15
$22
$85
$160
$1,350
–
1952 (P) No Mint Mark Half Dollar Full Bell Lines
–
$23
$150
$350
$2,000
–
1952 (P) No Mint Mark Proof Half Dollar
–
–
–
–
–
$27,500
History of the 1952 Half Dollar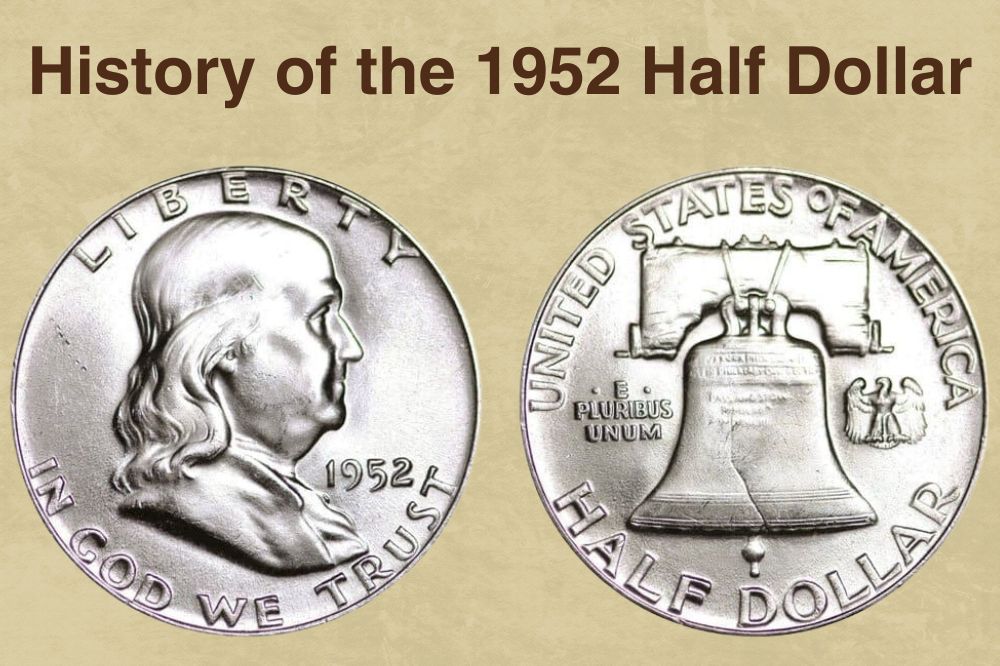 Benjamin Franklin was one of the most important Founding Fathers. But it wasn't a given that he would appear on a US coin. For one thing, he made it clear that he didn't want to! He believed putting leaders on coins was best left to the kings and queens of old, labeling it a distasteful colonial relic. But centuries later, American politicians insisted on the practice.
They began in 1909, but the focus was on popular American Presidents. So Franklin wouldn't be on the list because he's one of four Founding Fathers who never ascended to POTUS (that means President of the United States). That said, he played a crucial role in national history and had a lot of fans – including Mrs. Nellie Tayloe Ross, one of the directors of the US Mint.
Interestingly, Mrs. Ross was previously a Wyoming Governor, winning the election a year after her husband died. He was the former governor and he died in office. His Secretary of State held the post temporarily until the Ross widow was elected in her own right. As the first female governor in the US, she had a lot of political sway even before she joined the US Mint.
The First Lady at the US Mint
She achieved another record as the first female Mint Director. Five others have followed in her footsteps to date. During her tenure, she suggested placing Benjamin Franklin on a coin. Chief Mint Engraver John Sinnock started the design process in 1947 while Mrs. Ross pushed her idea through the necessary channels. In 1948, the Franklin Half Dollar arrived.
It's notable that Sinnock – who was the Chief Mint Engraver at the time – was quite sick and couldn't work long hours. So his assistant, Gilroy Roberts, did the bulk of the work on this coin. But Roberts didn't get his initials on the coin, which is just as well because Sinnock was later accused of plagiarism. He allegedly stole the Liberty Bell sketch from John Frederick.
Also, while the coin was being conceptualized, certain members of the Commission of Fine Arts wanted the bell engraved without its trademark scratch and the eagle enlarged. Turns out the eagle wasn't part of the original design. It was squeezed in at the last minute because the law dictated that any denomination larger than a dime must have an eagle on its back.
Also read: 13 Most Valuable Franklin Half Dollars Worth Money
Features of the 1952 Half Dollar
When you're formally describing the features of any coin, you'll refer to the heads side as the obverse, the tails side as the reverse, the thin side as the edge, and the raised border as the rim or collar. The image is the device, the words are mottos or legends, and the background is the field. The textured ridges that you see on the edge of some coins are known as reeds.
The Obverse of the 1952 Half Dollar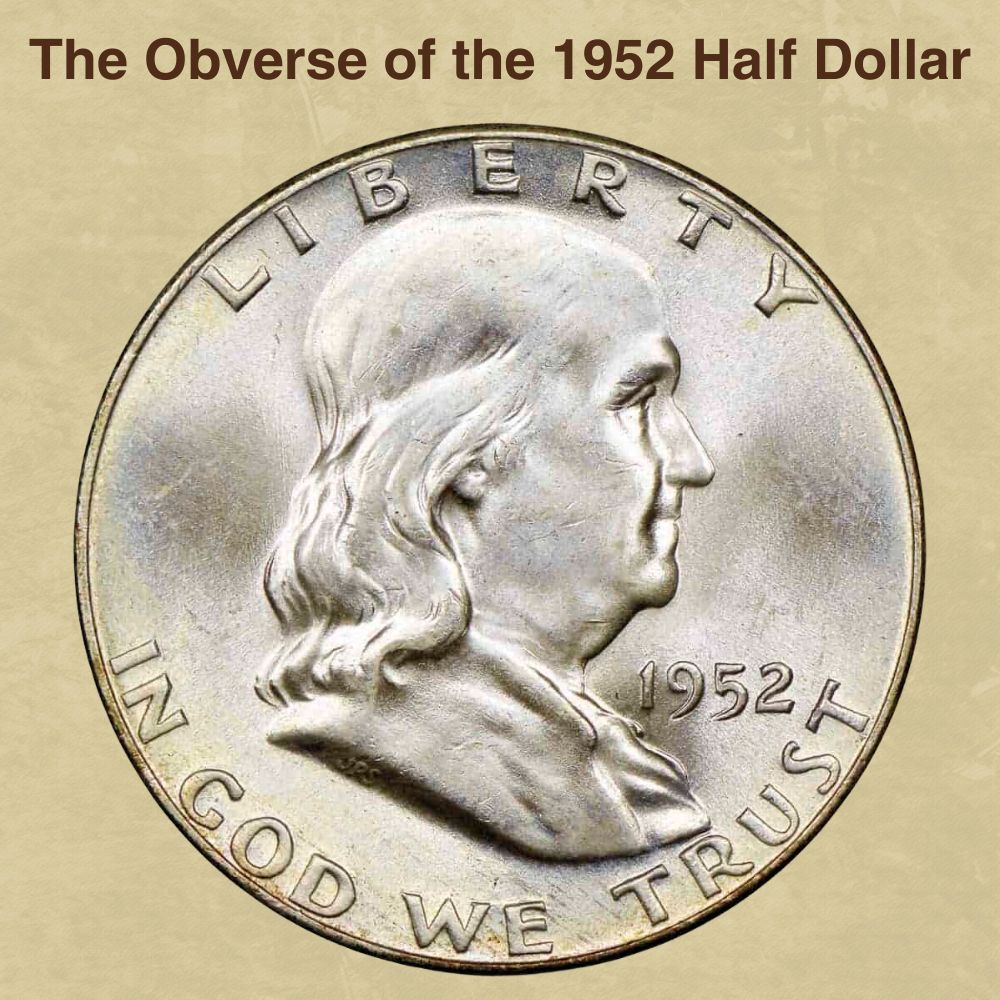 It shows Benjamin Franklin facing right with the mint date in front of him at neck level. The legend Liberty is above his head and the motto In God We Trust is under him. Toward the left of his shoulder cut-off is JRS, the initials of the coin's main designer, John Ray Sinnock.
The Reverse of the 1952 Half Dollar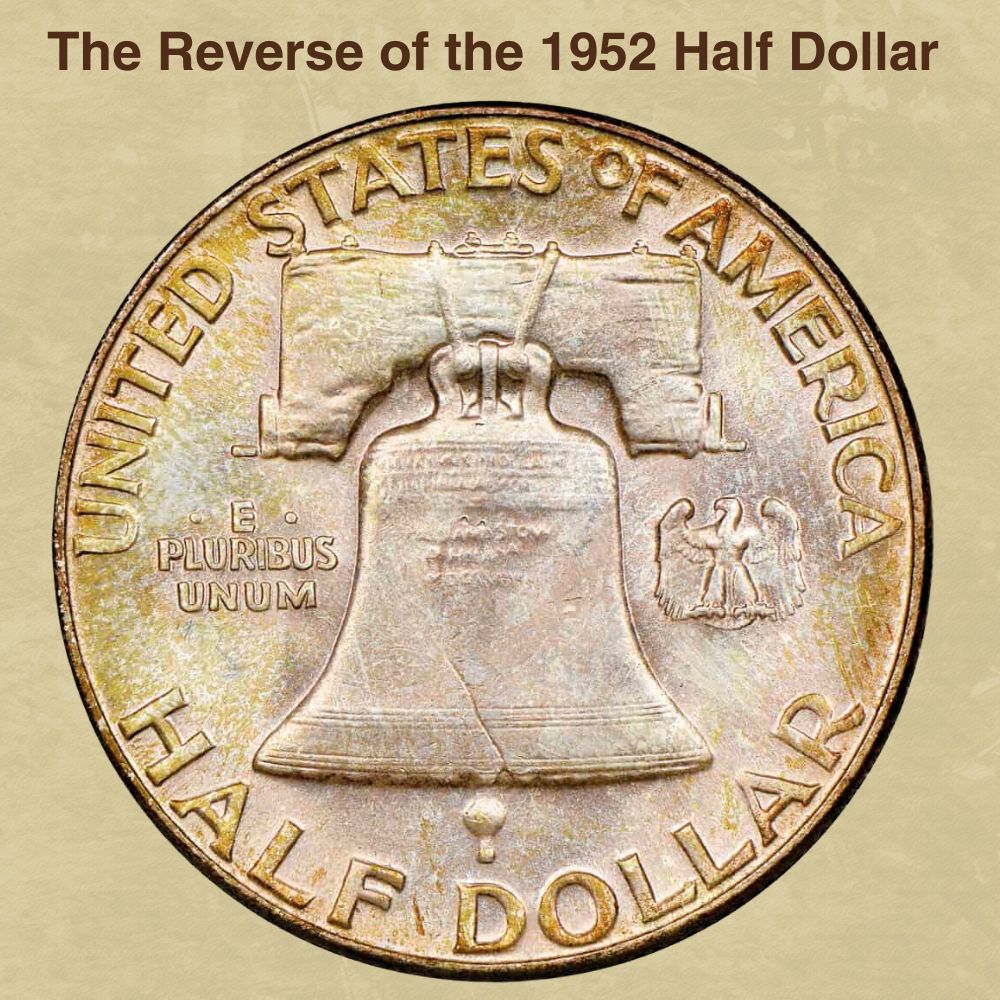 It shows the Liberty Bell with the mint mark above it, E Pluribus Unum on its left, and a bald eagle on its right. The top of the coin reads United States of America while the bottom says Half Dollar. The Liberty Bell is displayed in careful detail which includes all its inscriptions.
Other Features of the 1952 Half Dollar
This coin was 90% Silver and 10% Copper. For reference, all precious metal coins – even the gold ones – had a little copper to harden them since they were too soft to mint in their pure forms. This coin weighed 12.5g, was 30.61mm across (1.21"), and 1.8mm thick with a reeded edge. It was half the weight of one Silver Dollar and double the weight of one Silver Quarter.
Also read: 13 Most Valuable Kennedy Half Dollar Worth Money
1952 Half Dollar Value Guides
The face value of a Half Dollar is only 50 cents. But as we just said, the 1952 Half Dollar was 90% silver so it's still worth something based on its molten market price. Also, it's more than 50 years old so it does have vintage street cred. Let's look at its varieties and current pricing.
1952-D Half Dollar Value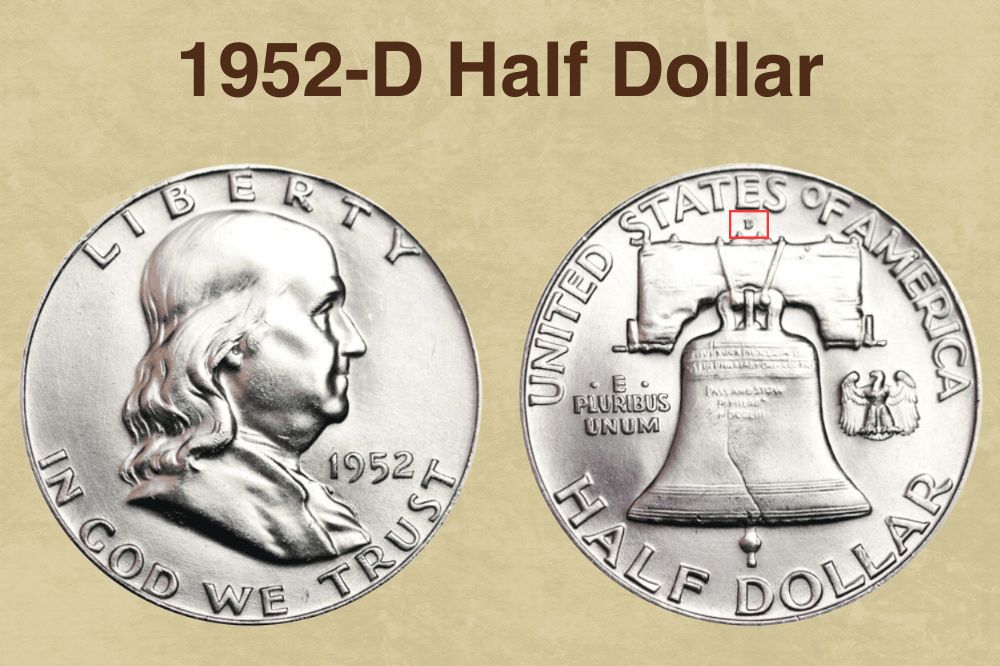 The Denver Mint coined 25,395,600 Half Dollars in 1952, all with the D Mint Mark. On 7th July 2023, an eBay vendor sold an MS 67 for $13,300. PCGS has no coins in this grade, but they place an MS 66 at $500 and they have 10 of those. Meanwhile, an MS 67 FBL went for $18,800 on 16th November 2012. PCGS has seen 9 and places their 2023 value at $14,000.
1952-S Half Dollar Value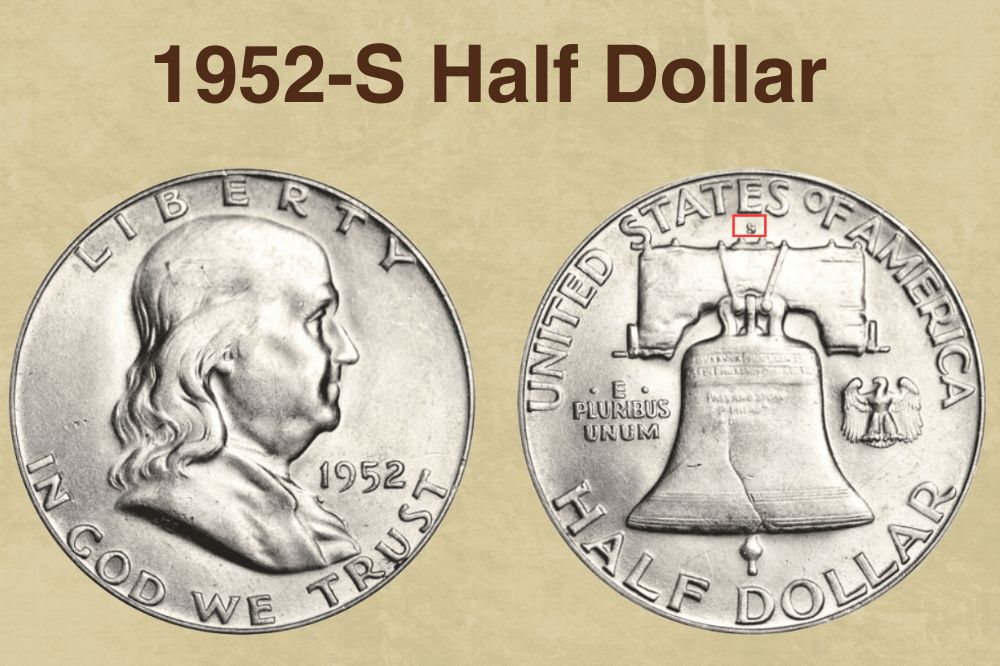 In 1952, the San Francisco Mint made 5,526,000 Half Dollars with the S Mint Mark. And on 12th April 2019, an MS 67+ sold for $6,499 on eBay. PCGS has seen 9 of these, so it rates the coins at about half that price, $3,850 in August 2023. Meanwhile, an MS 67 FBL was $25,850 on 6th November 2014. PCGS has 3 coins in this grade. Their August 2023 value is $10,500.
1952 (P) No Mint Mark Half Dollar Value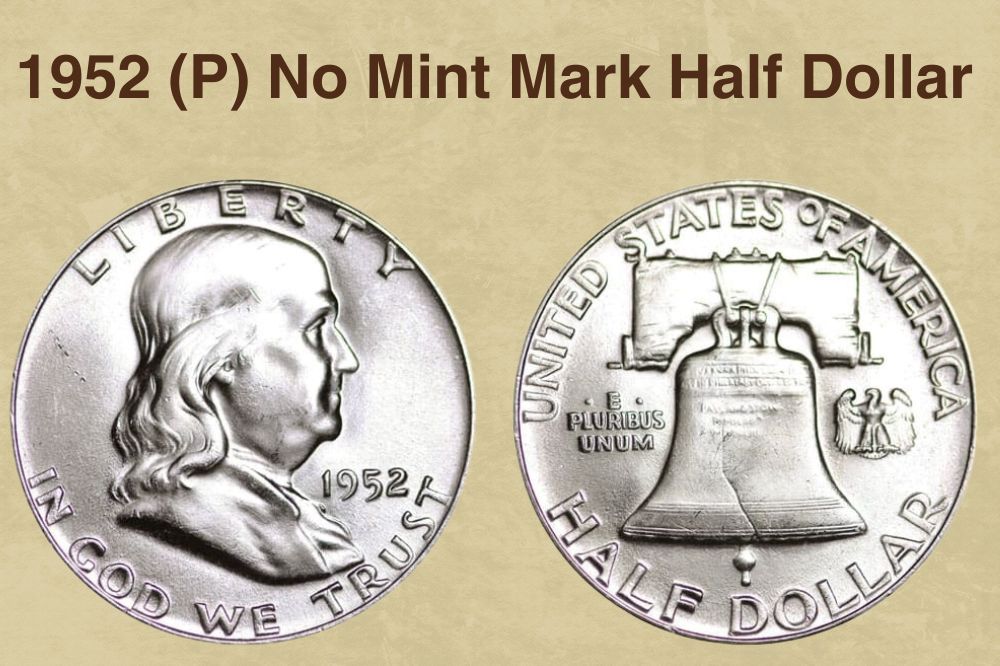 The Philadelphia Mint made 21,192,093 Half Dollars in 1952. They had no mint marks. An MS 67 sold for $3,408 on 7th January 2015. PCGS has received 6 samples over the years, so in August 2023, they estimate an MS 67 at $1,350. But an MS 67+ FBL sold for $42,300 on 27th January 2019. PCGS has received 6 of these coins as well. Their 2023 pricing is $15,500.
1952 (P) No Mint Mark Proof Half Dollar Value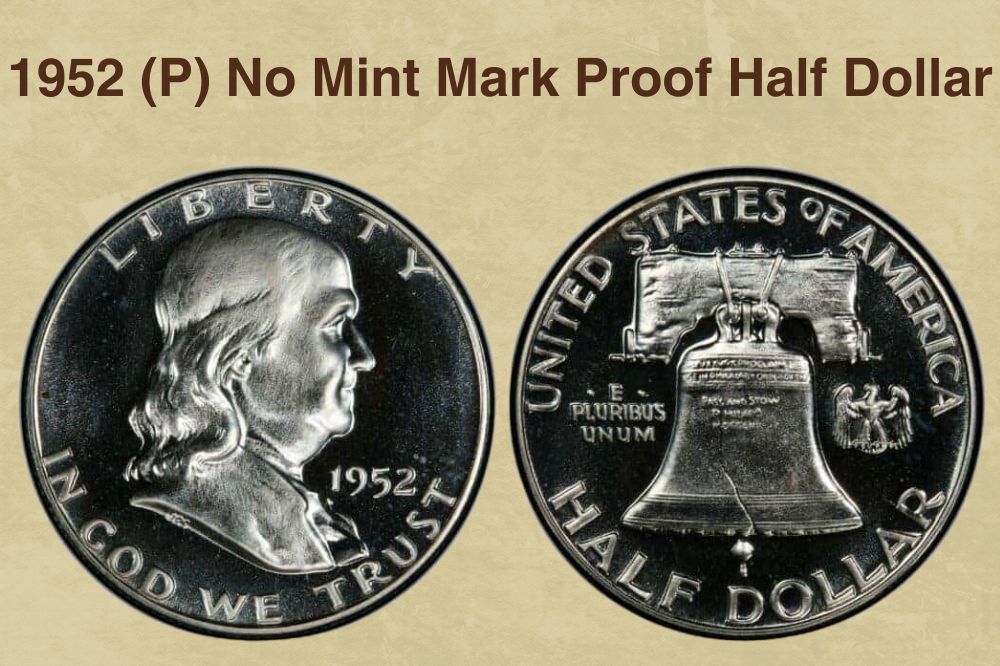 Not all coins are the same. Regular Strikes or Business Strikes are used to buy and sell things but Proofs are used for record-keeping. Excess copies are made to be sold to collectors and speculators. These coins are made using special dies and pre-polished blanks. The blanks are first burnished by tumbling them with stainless steel balls to give them a mirror-like sparkle.
The dies are also polished with horsehair brushes, and some parts are pickled in acid to give them a textured appearance. This is how proof coins get a mirrored field and frosted device. The first 50 to 100 are Deep Cameo coins, meaning there's a dramatic contrast between the two surface treatments. As the acid wash fades with every strike, you get 100 or so Cameos.
From there, the rest of the coins are just standard proof coins. In 1952, the Philadelphia Mint made 81,980 Proof Half Dollars without mint marks. As recently as 22nd June 2021, an eBay vendor sold a PR 67+ for $4,999. PCGS rates that at $975 in August 2023 but places PR 68 at $4,000. Meanwhile, a PR 68 CAM was $15,275 on 4th January 2017 and is $14,000 today.
The difference is in rarity since PCGS has received 5 coins graded PR 68 CAM and 10 graded PR 67+. Looking at Deep Cameo coins, a PR 67 DCAM sold for $18,800 on 9th January 2013. Only one coin is known to exist in this grade so in August 2023, its estimate rose to $27,500. PCGS has also received one PR 66+ DCAM. They estimate its August 2023 value at $12,000.
Also read: 11 Most Valuable Half Dollars In Circulation
1952 Half Dollar Grading
Like all coins, 1952 Half Dollars are graded from Poor (PO 1) to Mint State (MS). You can also find subsets like Proofs (PR/PF), Special Strikes (SP), or Special Mint Sets (SMS). But on Franklin Half Dollars, the term FBL is an additional descriptor. It means Full Bell Lines and it defines the clarity of the horizontal lines on the Liberty Bell. The sharper, the more pricy.
Rare 1952 Half Dollar Error List
If a coin has a noted mint mistake, it can be worth much more than a flawless sample. This difference ranges from hundreds to thousands of dollars, so it's useful to know the major errors for a given year or denomination. The 1952 Half Dollar has quite a number of them, including RPMs and die clashes with odd nicknames. Let's review 1952 Half Dollar Errors.
1952 (P) Half Dollar Bugs Bunny Error FS-401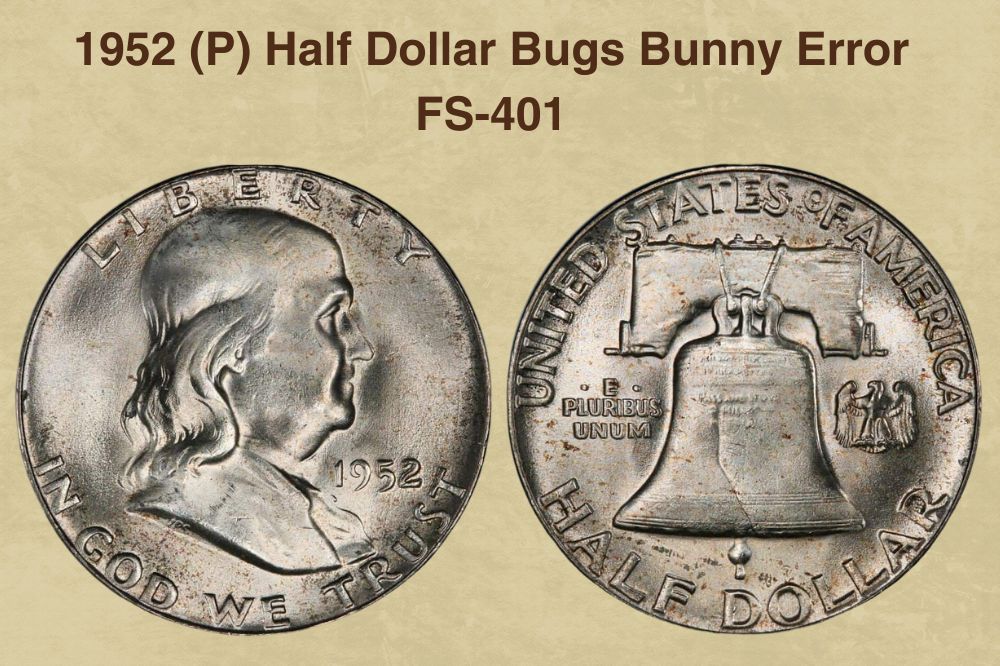 Coins are made by pressing a blank between the obverse and reverse die. But if they hit each other without a planchet between them, some of their features get copied onto each other and transferred to the next blank when it arrives. You'll see some reverse details on the front.
The opposite can happen too. On Franklin Half Dollars, this die clash leaves traces of eagle feathers on his nose or mouth. One example is the Bugs Bunny error where he appears to have buck teeth. An MS 63 was $2,447 in 2011 while an MS 65+ FBL was $3,150 in 2021.
1952-D Half Dollar Booger Error FS-401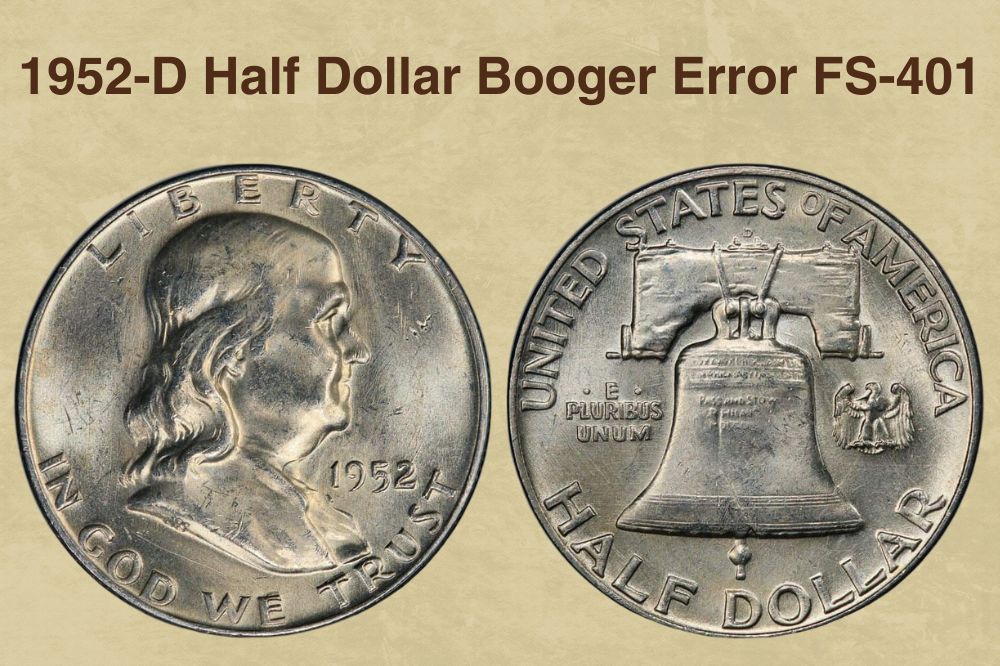 As we mentioned above, the Franklin Dollar had several versions of the obverse die clash. On Denver coins, the feathery traces resemble a booger on Franklin's nose, hence the nickname. It's a First Strike error, meaning it was discovered within 30 days of the coin's initial release. Two eBay vendors sold an MS 63 for $285 in 2022 and an MS 65 FBL for $1,250 in 2021.
1952 (P) Half Dollar Scarface Error FS-402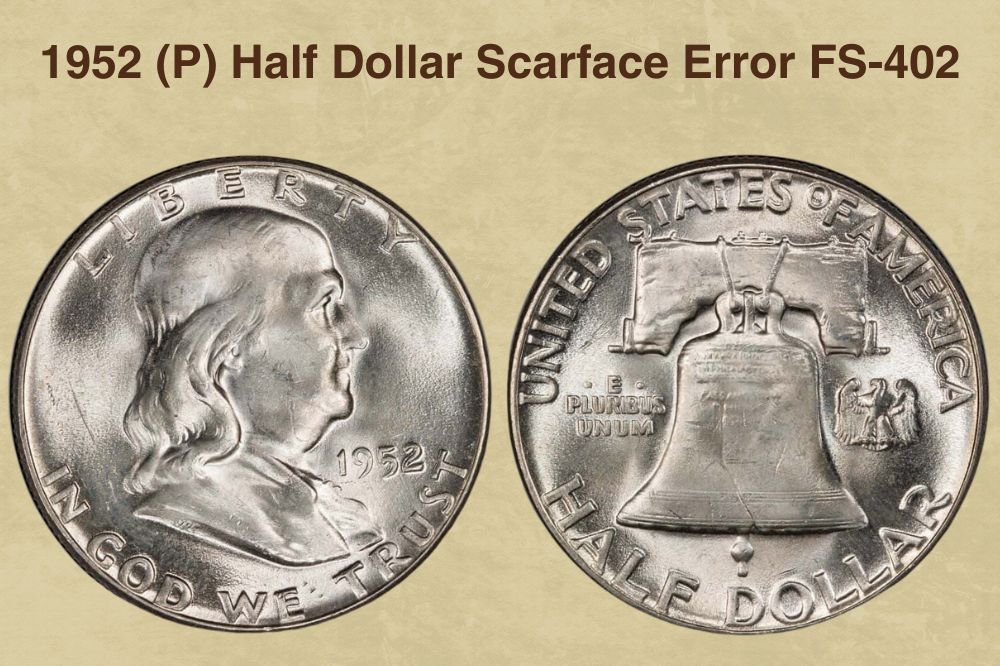 The Scarface Error was caused by a deteriorating die that had started breaking apart. Some sections of its surface were flaking off, creating die breaks aka cuds. These cracks in the die get transferred onto the coin as slashes, gashes, or scooped-out bits of metal. Here, it appears as a scar on Franklin's jowl. MS 64 was $995 in 2022. An MS 66+ FBL was $4,250 in 2020.
1952 (P) Proof Half Dollar Bugs Bunny Error FS-403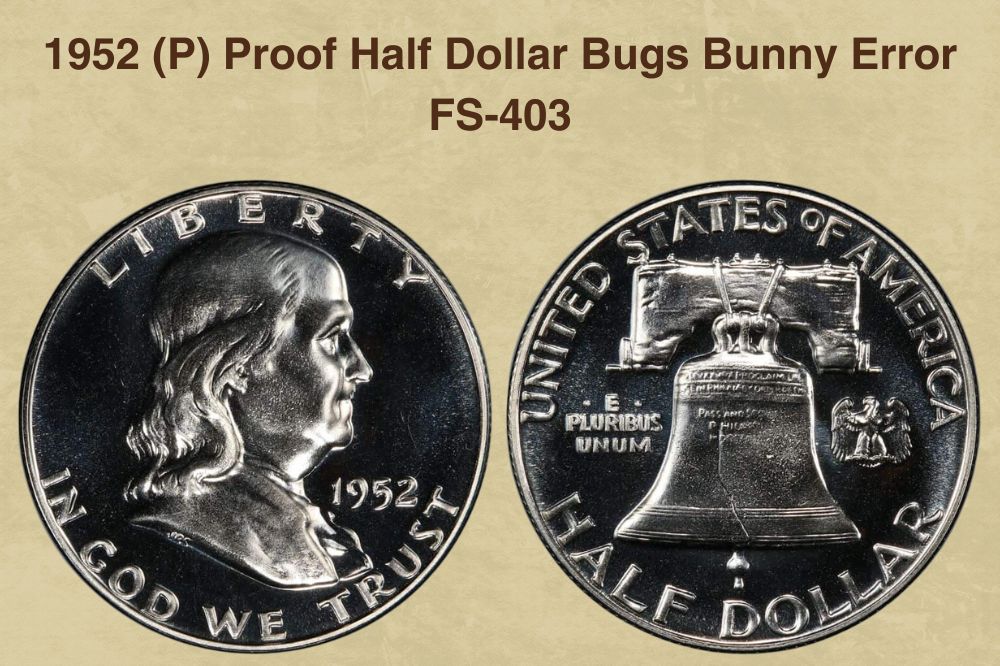 This Bugs Bunny error is the same as the other one, but it appeared on proof coins. Since proofs use different dies from business strikes, this mint mistake has its own designation i.e. FS-403. You sometimes get really good prices on eBay, but it's mostly dumb luck. A PR 63 DCAM was only $27 in 2018 while Heritage Auctions sold a PR 66 for $1,800 that same year.
1952 S/S Half Dollar RPM Error FS-501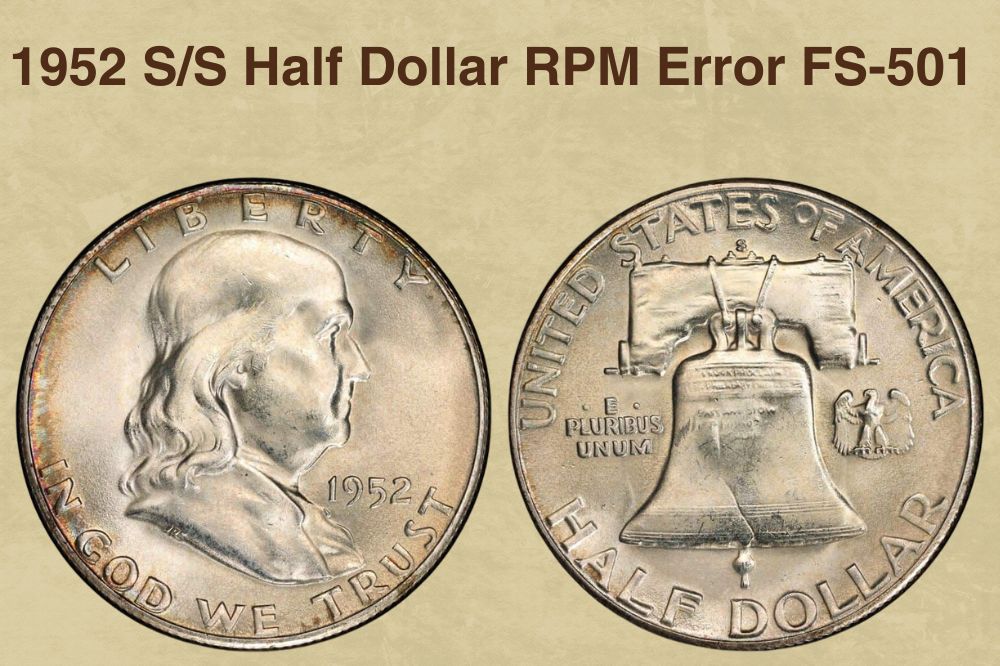 Today, coins are digitally designed and struck. But in the old days, dies were made manually and the mint mark was the last detail added to the master hub. It was placed by hand, so it sometimes slipped, shifted, or landed in a different spot. RPM means re-punched mint mark and it's written as S over S or S/S. An MS 65 was $590 on eBay in 2021. MS 66 is now $675.
1952 (P) Half Dollar Double Clip Error
The metal used to make coins comes in sheets. They go into a blanking machine that flattens and punches them into metal discs called blanks or planchets, leaving a layer full of holes. A clip error is when a coin is struck on the leftover section of the metal sheet with holes in it. Double-clip coins have holes on two sides. This AU 55 Double Clipped Half Dollar was $126.
1952 (P) Half Dollar Struck on a Quarter Planchet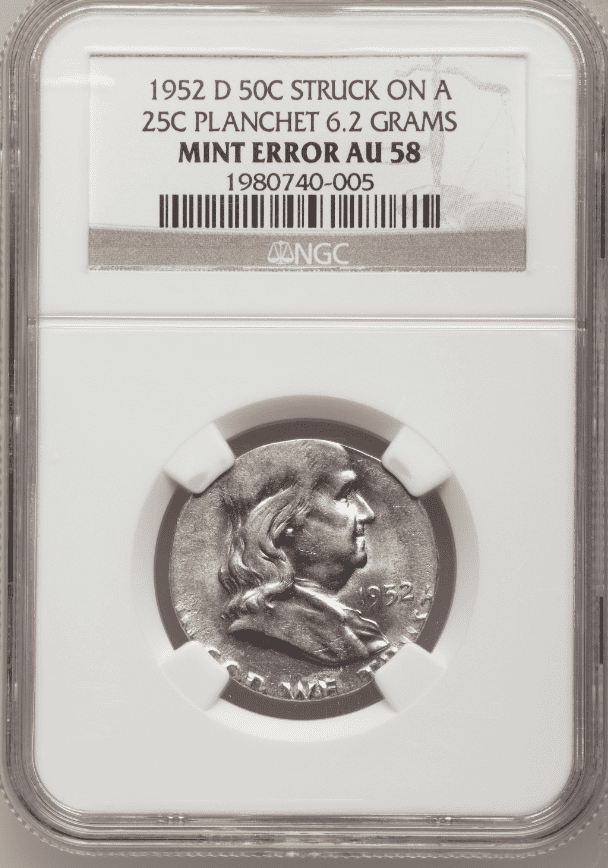 Every planchet sheet has a specified metal mixture. And the blanking machine is pre-set to cut blanks into the right size for their face value. So when a coin is struck on a blank intended for a different denomination, it's called a wrong planchet error. Here, the 50c was struck on a 25c blank so it only weighs 6.2g and some words got chopped off. In AU 58, it was $1,400.
1952 Half Dollar FAQ
Does a 1952 Half Dollar Have Silver?
Yes. Like all Franklin Half Dollars, the 1953 Half Dollar was 90% Silver and 10% Copper.