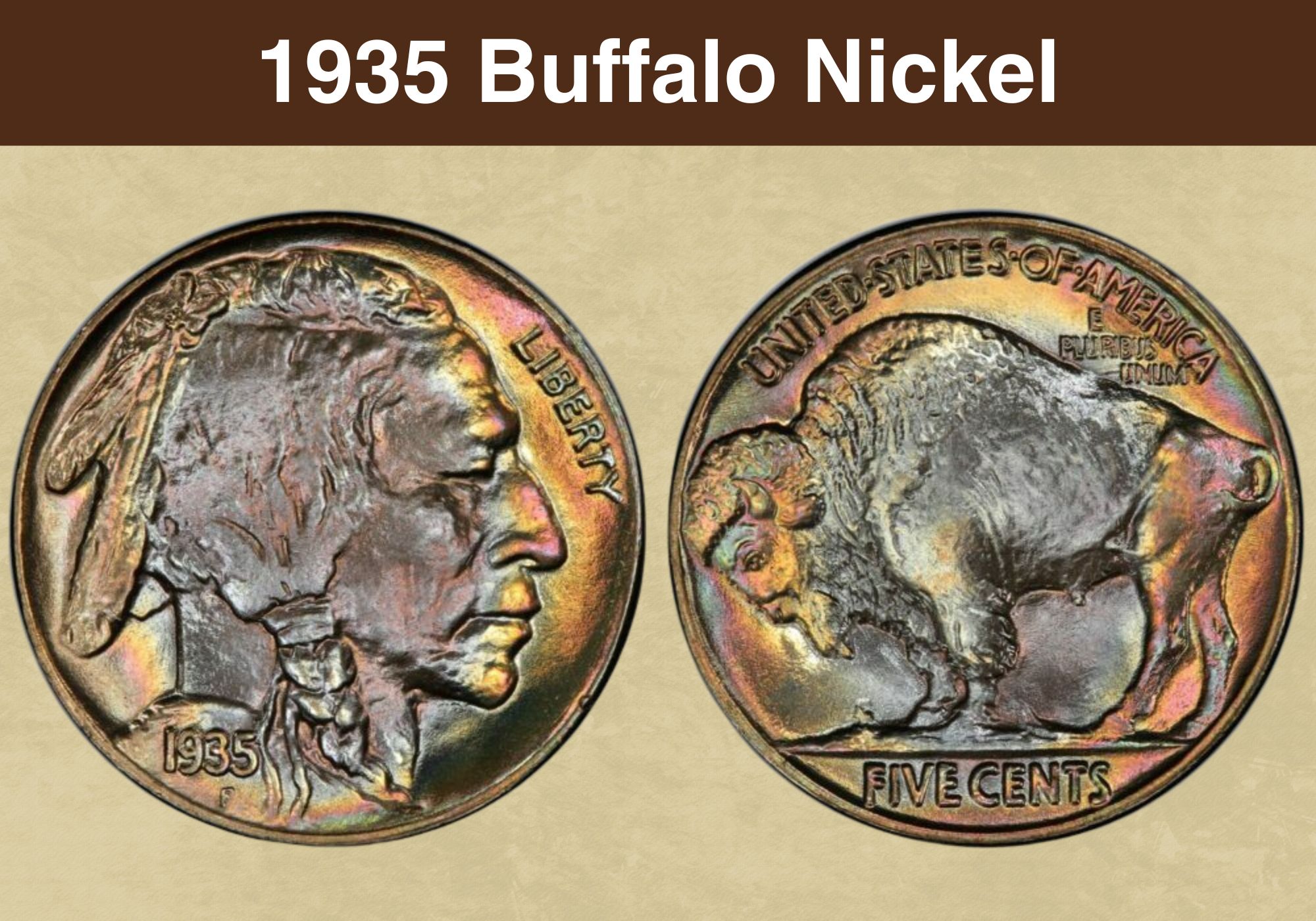 The Buffalo nickel series was minted from 1913 to 1938 and mostly ended up in circulation. Nowadays, these coins are valuable collectibles. The 1935 Buffalo nickel value can be high, particularly in pieces from Denver. However, it primarily depends on each coin's condition.
Since nickels produced this year don't contain precious metal, worn-out pieces are often inexpensive, but collectors avoid them. Most prefer well-preserved specimens, including scarce ones in first-class grades, when their budget can cover such an option.
1935 Buffalo nickel value

Condition
1935 No mint mark nickel
1935 No mint mark nickel (DDO)
1935 D nickel
1935 S nickel
Good
$1.16
$64
$1.16
$1.46
Very good
$1.75
$68
$1.75
$1.75
Fine
$2.05
$115
$2.87
$2.33
Very fine
$2.33
$152
$6.81
$2.87
Extra fine
$5.84
$519
$23
$4.63
AU
$11
$1,422
$57
$23
MS 60
$25
$4,617
$85
$64
MS 63
$52
$6,849
$115
$85
History of the 1935 Buffalo/Indian Head Nickel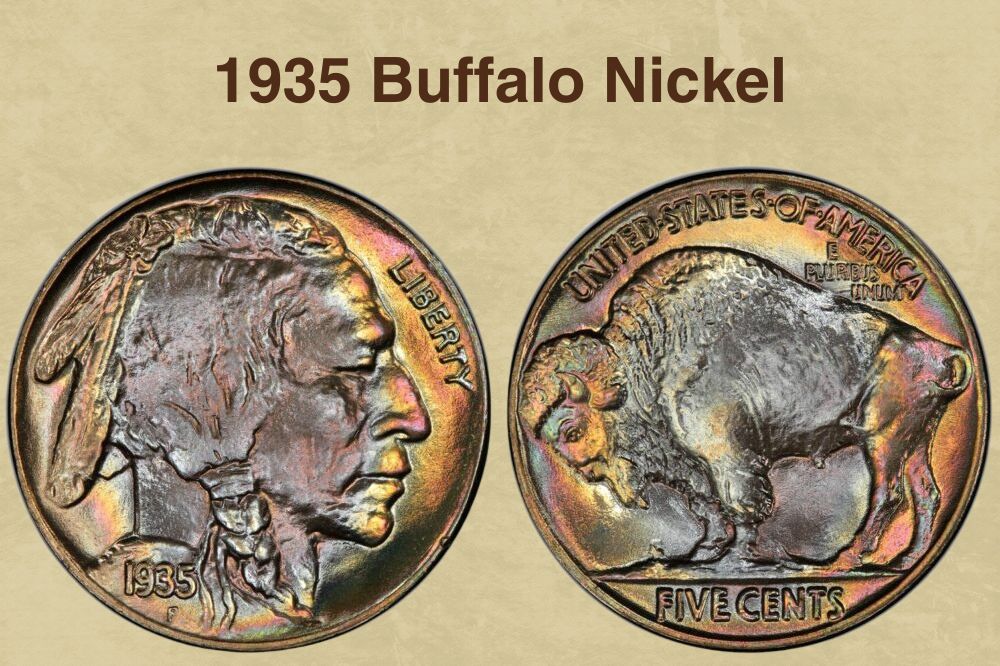 The US Mint produced silver half dismes from 1792 to 1873, but the only way to prevent silver hoarding was the cupronickel 5-cent coin introduction in circulation in 1866. The reason was high silver prices that made melted coins more valuable than coinage.
Indian Head nickels (Buffalo nickels) were the third type of these new coins appearing after the Shield nickel (1866 to 1883) and Liberty Head (V) nickel (1883 to 1913). It was also the last nickel coin design existing before the Jefferson nickel that occurred to stay by these days.
This coin is still known by two names, thanks to a Native American depicted on the obverse and an American bison on the reverse. They appeared because 26th US President Theodore Roosevelt considered American coinage ugly and without artistic value.
He demanded an entire coinage replacement from the US Mint, starting with the American gold coin series in 1904. As for nickel, sculptor James Earle Fraser got the task of creating a new design suitable to replace the Liberty Head nickels.
The first Buffalo nickels appeared in circulation on February 22, 1913. It was part of the ceremony in Staten Island, NY, when the National American Indian Memorial's foundation was laid.
The first forty coins were given to the Native American chiefs as a sign of respect. Unfortunately, the foundation was the only part of the Memorial ever built and is not finished till today.
1935 Buffalo nickel Types

Location
Year
Minted
Philadelphia
1935 No Mint mark nickel
58,264,000
San Francisco
1935 S nickel
10,300,000
Denver
1935 D nickel
12,092,000
Total
/
80,656,000
The new coin design was beautiful but difficult to mint, and the dies became worn out after a week, which was faster than usual. Besides, it was estimated that the date of minting and inscription FIVE CENTS surviving during everyday use was impossible.
Unfortunately, problems couldn't be solved even after the designer modified the original coin's look. Therefore, the Treasury hardly waited the required 25 years to replace it with the Jefferson nickel series that has stayed actual by now.
Also read: Top 10 Most Valuable Nickels Worth Money
Features of the 1935 Buffalo/Indian Head Nickel
Buffalo nickels minted in 1935 look the same as other coins minted from 1913 to 1938. James Earle Fraser created both the obverse and reverse, replacing Barber's Liberty Head nickels (V nickels minted from 1883 to 1913). Americans liked their new coin, but many experts criticized its reverse design because it was impractical to mint.
The 1935 Buffalo nickel – the obverse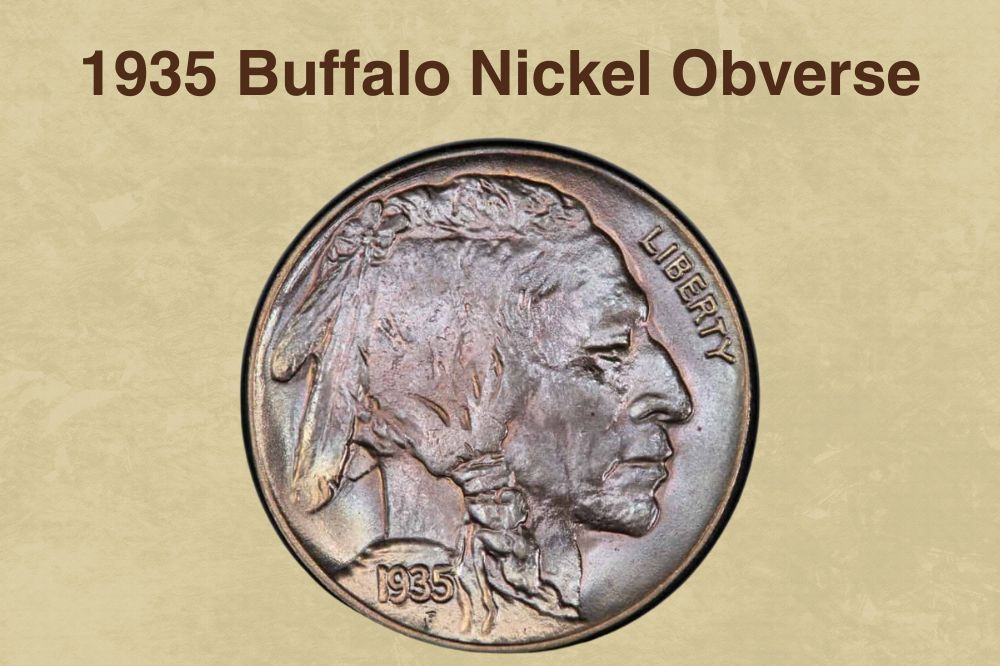 Indian Head nickels produced in Philadelphia came without the mint mark. It has an image of the Native American chief on the obverse looking to the right.
The date of minting is struck in the lower left corner, while you can spot the LIBERTY word in front of the chief's face. Finally, there is the F letter, symbolizing the designer's initial.
The 1935 Buffalo nickel – the reverse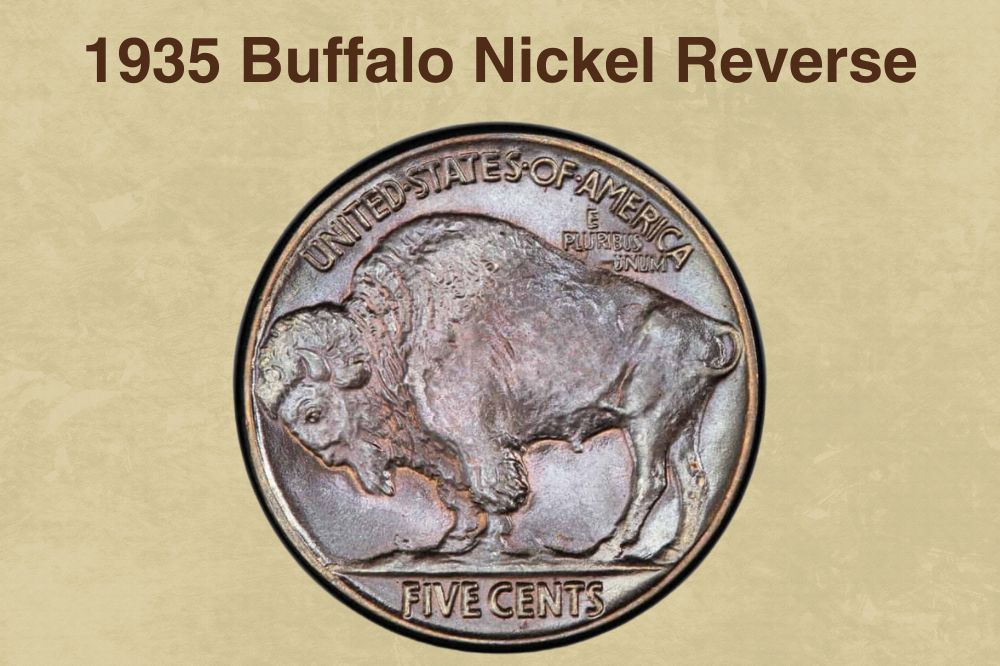 The 1935 Buffalo nickel reverse depicts an American bison in the coin center. It looks to the left while staying on the flattened ground. The E*PLURIBUS*UNUM is written in three rows in the upper right corner.
It occupies a confined space above the bison's back, while the name of the country is above it. The denomination is struck under the ground level, with the tiny mint mark placed below.
1935 Buffalo nickel Details

Face value
Five cents ($0.05)
Shape
Round
Compound
Copper with nickel
Coin thickness
0.0768 inches (1.95 mm)
Coin diameter
0.8350 inches (21.20 mm)
Coin weight
0.1764 ounces (5 g)
Edge
Plain
The 1935 Buffalo nickel – other features
The 1935 Buffalo nickel is made of copper and nickel in a percentage ratio of 75%: 25%. These five-cent coins are thick, precisely 0.0768 inches (1.95 mm), and weigh 0.1764 ounces (5 g). Finally, its edge is plain, and its diameter is 0.8350 inches (21.20 mm).
Also read: Top 17 Most Valuable Buffalo Nickel Worth Money
1935 Buffalo Nickel Value Guides
The total mintage of 80,656,000 Buffalo nickels was divided among three mints in 1935. All coins were from regular strikes without proof coins.
1935 No Mint mark Buffalo nickel Value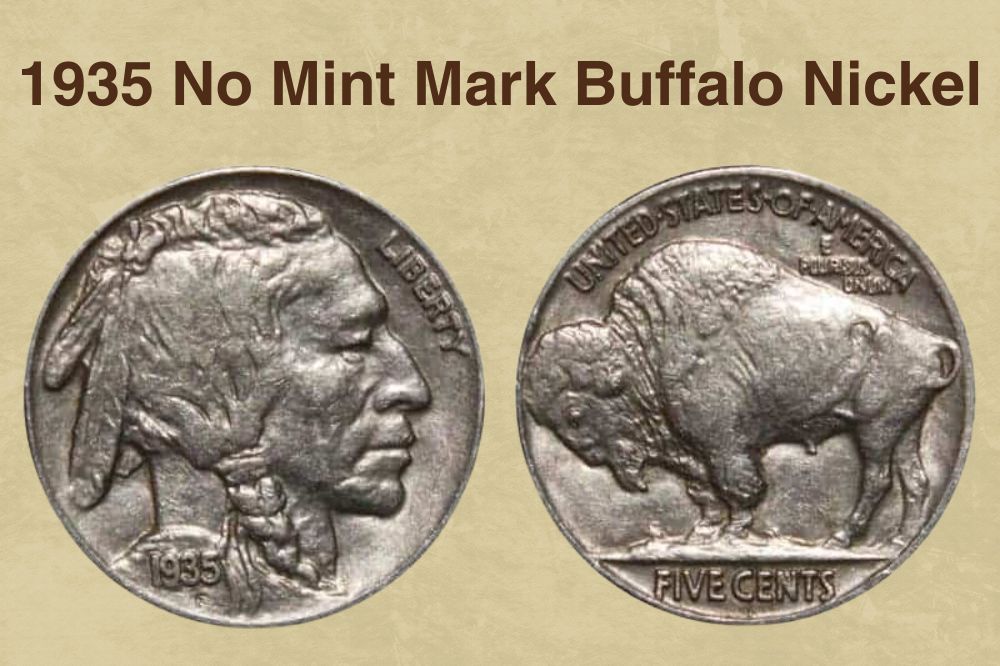 The Philadelphia mint had the highest mintage, with 58,264,000 Buffalo nickels minted in 1935. Therefore, most of these coins are affordable, and you can buy circulated ones for $0.45 to $15.50. Those in the mint state are more valuable, and their price depends on the preservation level:
MS 60 nickel costs $17 to $20.40
MS 61 nickel costs $18 to $21.60
MS 62 nickel costs $23 to $27.60
MS 63 nickel costs $28 to $33.60
MS 64 nickel costs $41 to $49.20
MS 65 nickel costs $85 to $102
MS 66 nickel costs $150 to $180
The 1935 MS 67 Buffalo nickel is often expensive, and you can find such pieces at $630 to $850 on the coin market. The most costly is a specimen in a higher grade, paid at an auction for $57,500.
1935 D Buffalo nickel Value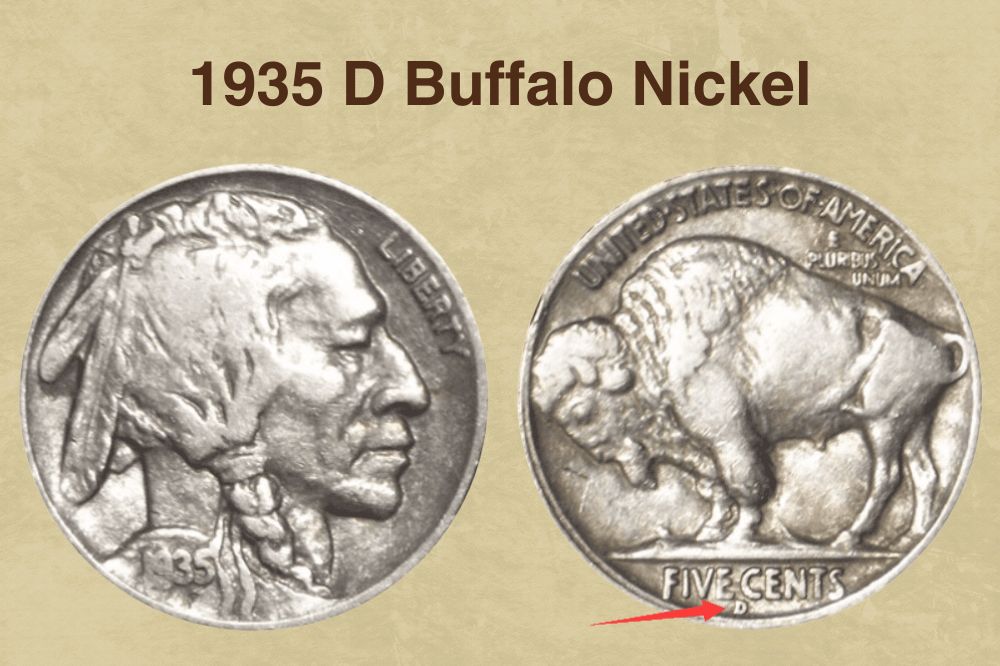 Precisely 12,092,000 Buffalo nickels came from Denver in 1935. These coins with the D mint mark are considered the most sought-after. While those in lower grades are affordable, with prices from $0.45 to $55, better-graded ones come in a higher price range:
$55 to $66 for the MS 60 nickel
$60 to $72 for the MS 61 nickel
$60 to $72 for the MS 62 nickel
$70 to $84 for the MS 63 nickel
$90 to $108 for the MS 64 nickel
$230 to $276 for the MS 65 nickel
$550 to $660 for the MS 66 nickel
The most valuable nickels in the series are those ranking MS 67, which estimated price range is approximately $6,500 to $9,000. The auction record won one beautiful piece with a 67+ grade after changing the owner in March 2021 for $34,800.
1935 S Buffalo nickel Value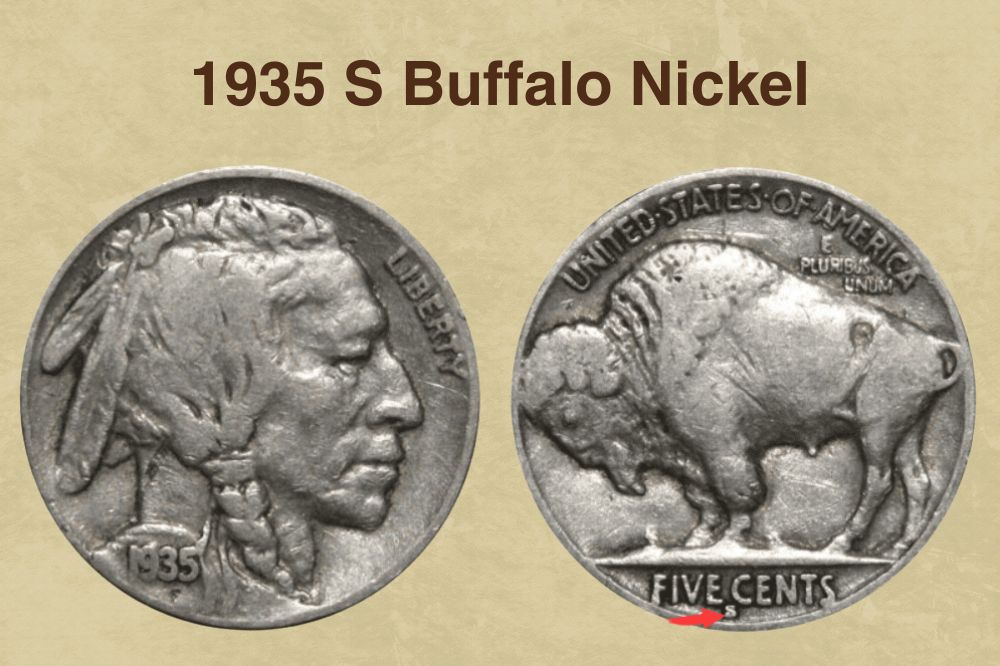 Most of the 10,300,000 Buffalo nickels minted in San Francisco in 1935 were released into circulation so that you can find them at a reasonable price range from $0.45 to $30. However, pieces that never spent a minute in use are typically more expensive, including:
MS 60 nickel – $37 to $44.40
MS 61 nickel – $40 to $48
MS 62 nickel – $43 to $51.60
MS 63 nickel – $55 to $66
MS 64 nickel – $65 to $78
MS 65 nickel – $150 to $180
MS 66 nickel – $260 to $312
However, the best-preserved coins can be significantly more costly, so you can see that those with the MS 67 grade often reach a price of $1,800 to $2,300. One of the rare exceptions is the 1935 S MS 67+ Buffalo nickel. One collector bought this attractive coin for an astonishing $15,275 in March 2019.
Also read: Top 17 Most Valuable Jefferson Nickels Worth Money
1935 Buffalo Nickel Grading
The 1935 Buffalo nickels' value directly depends on their condition determined by the time spent in circulation. The lowest grade for collectible coins is GOOD (G4), while the best-ranking circulating coins have the ABOUT UNCIRCULATED (AU 50) grade.
Only best-preserved nickels can be in a group of uncirculated coins, ranking from MS 60 to MS 70, depending on their characteristics.
Rare 1935 Buffalo Nickel Error List
Interestingly, there are not too many error types among 1935 Buffalo nickels, but existing coins with any kind of imperfection are often pricey. The most striking errors are DDO and RPM, and the price of these coins depends on the coin condition, the mint mark, and the level of their imperfection.
Doubled die obverse
Many collectors appreciate 1935 Buffalo nickels produced in Philadelphia with a doubled die error on the obverse, often on the word LIBERTY. All these coins are collectible, and even those in circulated condition are expensive. You can buy one pricing $40 to $3,000, while these in the mint state typically cost $3,000 to $24,000.
Doubled die reverse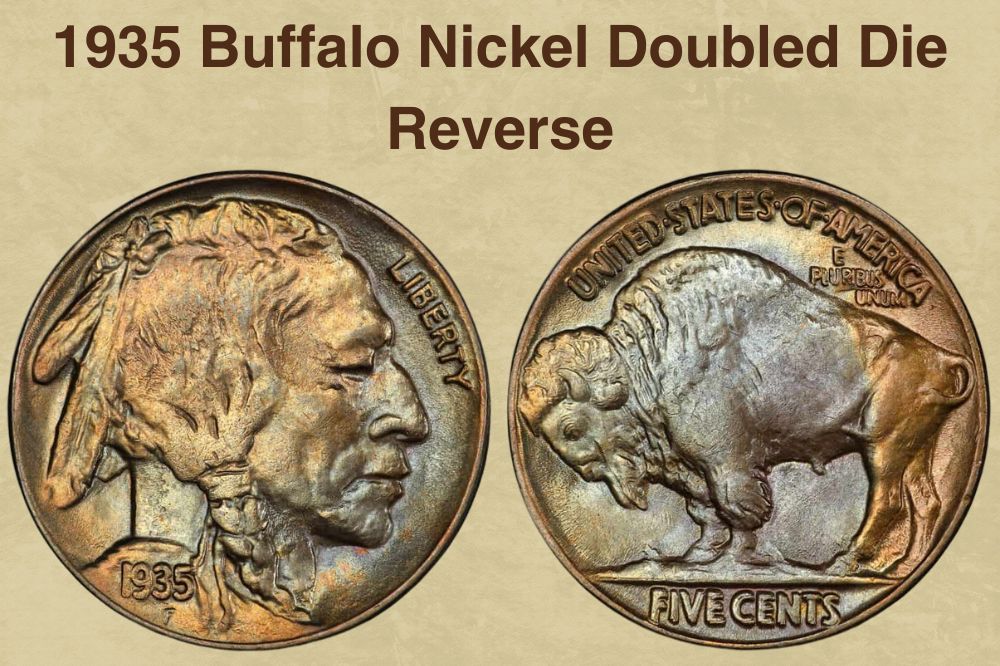 As a result of the die shifting between strikes is doubled die error. When such a thing happens on the reverse side, you can typically see a doubling of the FIVE CENTS or the lettering LU in the word PLURIBUS.
These coins cost $120 to $1,000, depending on their look and impeccability. However, some can reach insane prices at auctions. For instance, one owner sold the 1935 MS 65 DDR Buffalo nickel for $104,650 in August 2007.
Re-punched mint mark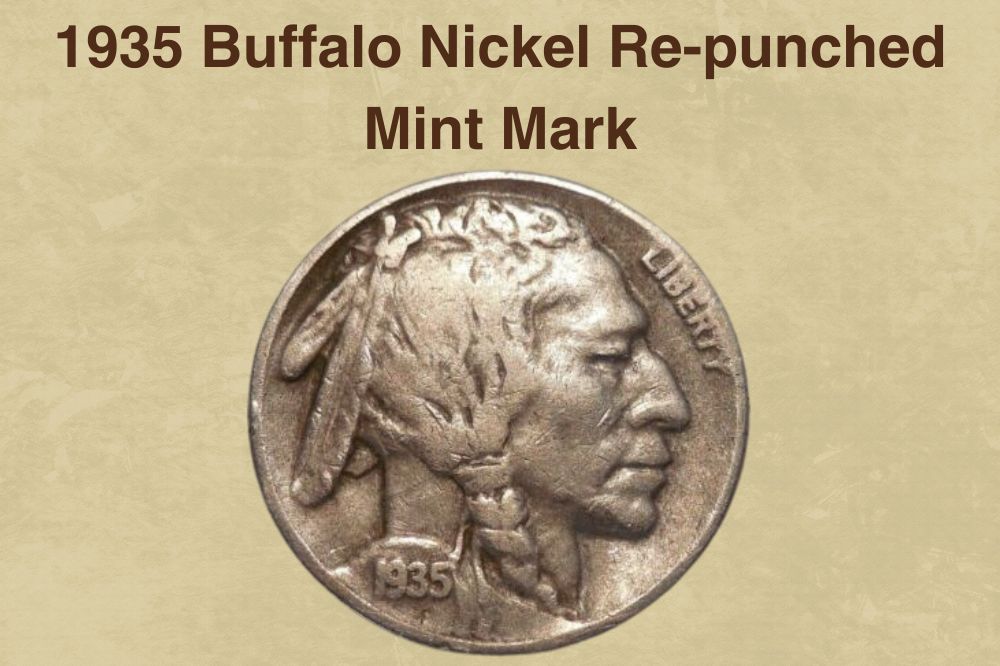 Re-punched mint mark error typically appears in nickels minted in 1935 in San Francisco and Denver. You can see the result of the second punch over the letter D or S offsetting from the initial one. These errors are common among older coins because of manual punching.
Some coins minted in San Francisco in 1935 sometimes appeared with an S/S RPM error. They show the second letter S on the top of the firstly struck S. That is a result of the slight moving of the coin between two strikes. Most of these pieces are worth $30 to $40 because of the many existing ones on the current market.
Buffalo nickels from Denver sometimes have the re-punched mint mark. It can be hidden inside the first one or with visible letter parts slightly moved aside to the left or right.
Such pieces typically cost $80 to $550, depending on error visibility and coin condition. The most expensive D/D Buffalo nickel ever sold at an auction reached the price of $999 in June 2013.
Also read: 14 Most Valuable Nickel Errors Worth Money
FAQ about the 1935 Buffalo Nickel
What makes a 1935 Buffalo nickel rare?
Even though 1935 D Buffalo nickels are not rare nowadays, some coins with DDR or RPM errors can cost thousands of dollars. In fact, the rarest and most valuable coin struck this year is an error piece minted in Denver with an auction price of over $100,000.
Which 1935 Buffalo nickels are exceptionally valuable?
The 1935 MS 65 nickel (DDR) was sold at Bowers & Merena in August 2007 for $104,650
The 1935 MS 68 nickel was sold at Heritage Auctions in January 2007 for $57,500
The 1935 D MS 67+ nickel was sold at Stack's Bowers in March 2021 for $34,800
The 1935 S MS 67+ nickel was sold at Legend Rare Coin Auctions in March 2019 for $15,275
The 1935 MS 61 nickel (DDR) was sold at Heritage Auctions in December 2010 for $5,463
The 1935 S MS 63 nickel (DDR) was sold on eBay in December 2021 for $1,595
The 1935 D/D XF 40 nickel (RPM) was sold at Heritage Auctions in June 2013 for $999
How much is the 1935 No Mint mark Buffalo nickel worth?
Most nickels without the mint mark are affordable, particularly those in lower grades. For instance, you should pay $0.45 to $15.50 for circulated ones, while excellently preserved pieces often reach $17 to $180.
If you have an unlimited budget, you should consider purchasing one of the top-notch pieces in the MS 67 grade. These coins' price range is from $630 to $850.
What is the most pricey Buffalo nickel?
1918/7 D MS 65 nickel – $350,750
1926 S MS 66 nickel – $322,000
1916 MS 64 nickel (DDO) – $281,750
1913 D MS 68 nickel Type 2 – $143,750
1917 S MS 67 nickel – $138,000
1920 D MS 67 nickel – $138,000
1927 S MS 66 nickel – $125,350