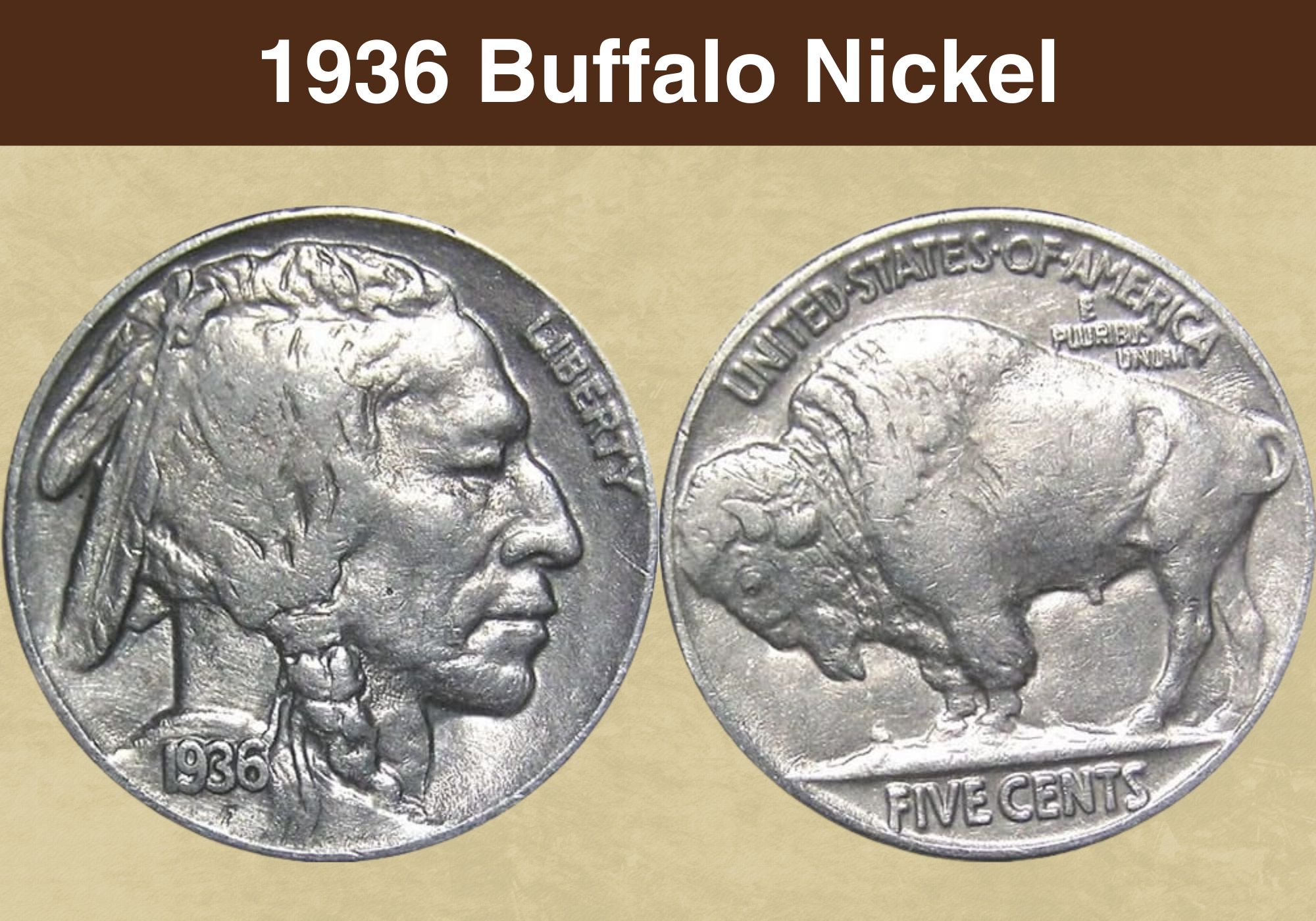 The 1936 Buffalo nickel value can significantly vary, depending on each coin's quality, preservation level, and mint mark. Despite their price, these iconic American coins are unavoidable in this country's coinage history, making most pieces collectible.
In fact, most collectors consider these nickels the most truly American coins, thanks to symbols on both sides. While the portrait of the Native American tribute to all native tribes, the bison on the reverse symbolizes the Wild American West.
1936 nickel value Chart

Condition
1936 No mint mark nickel
1936 D nickel
1936 D nickel (3 1/2 legs)
1936 S nickel
Good
$1.46
$1.46
$492
$1.46
Very good
$1.75
$1.75
$674
$1.75
Fine
$2.05
$2.05
$1,161
$2.05
Very fine
$2.33
$2.33
$1,754
$2.33
Extra fine
$3.38
$4.63
$3,394
$4.63
AU
$10
$14
$5,846
$14
MS 60
$28
$46
$14,245
$43
MS 63
$57
$52
$21,029
$52
PR 65
$1,210
/
/
/
The 1936 Buffalo Nickel History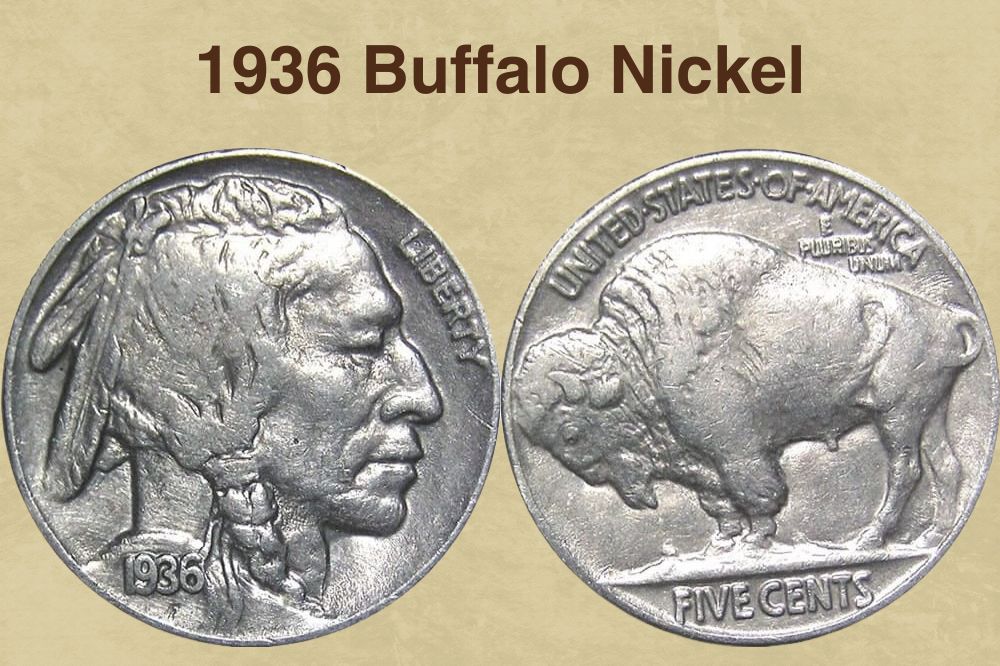 The nickel history started in 1866 when the first Shield nickels were released into circulation. Then, the US Mint produced the Liberty Head nickels from 1884 to 1912, when the first Buffalo nickels appeared.
After Designer James Earle Fraser created recognizable and symbolically crucial Buffalo nickels, the US Mint produced them from 1913 to 1938. Despite numerous troubles with minting and necessary design changes, these coins have stayed among the most beloved and collectible American coinage.
Even though the public adored these coins throughout the entire minting period, mints had numerous troubles during production. The primary reason was raised design, resulting in quick worn-out.
Pieces produced in 1936 were minted during hard times for the American economy, but you can notice that it was a year with a record number of produced nickels. It was also a period when the US Mint released proofs for the first time after 1916.
Two years later, the Buffalo nickel minting stopped, which the experts welcomed with relief. The first Jefferson nickels came into circulation and stayed actual until today, while Buffalo nickels have remained highly collectible until now.
1936 nickel Types

Location
Year
Minted
Philadelphia
1936 No Mint mark nickel
118,997,000
Philadelphia
1936 nickel proof
4,420
San Francisco
1936 S nickel
14,930,000
Denver
1936 D nickel
24,814,000
Total
/
158,745,420
Also read: Top 10 Most Valuable Nickels Worth Money
The 1936 Buffalo Nickel Features
Designer Fraser created both the obverse and reverse for this beautiful coin, and the US Mint produced them from 1913 to 1938. Even though nickels minted in Denver are typically the lowest quality, the most collectible 1936 Buffalo nickel is the error with 3 and 1/2 leg from this mint.
The obverse of the 1936 nickel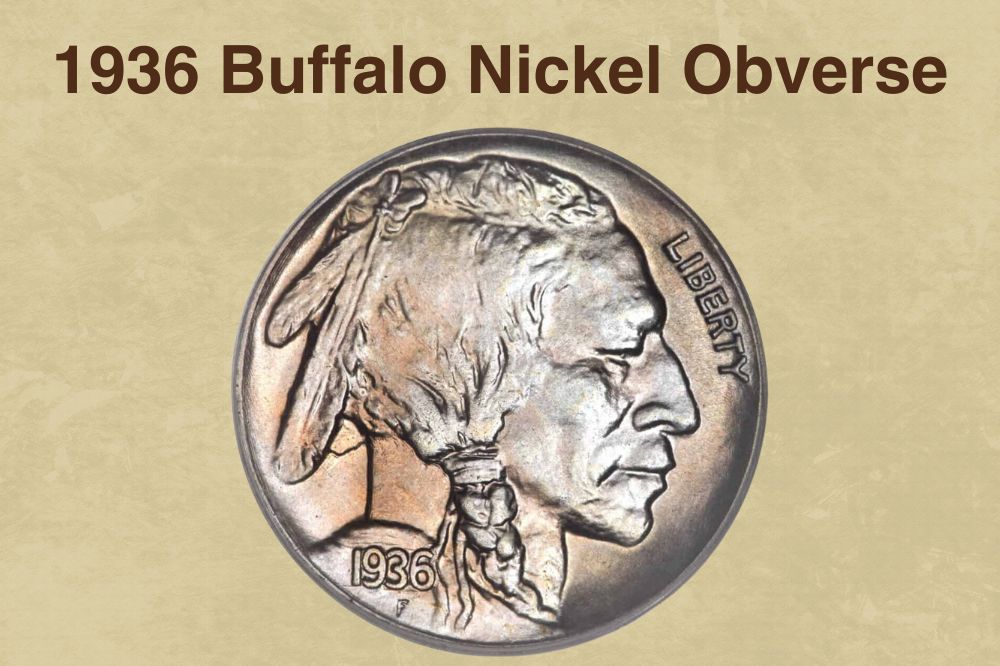 The 1936 Buffalo nickel obverse depicts a Native American warrior's profile facing right. It looks like it dreams about LIBERTY struck in front of his face, while 1936, representing the minting year, is on his right shoulder.
The letter F below the date is the designer Fraser's surname initial, appearing on all nickels produced from 1913 to 1938.
The reverse of the 1936 nickel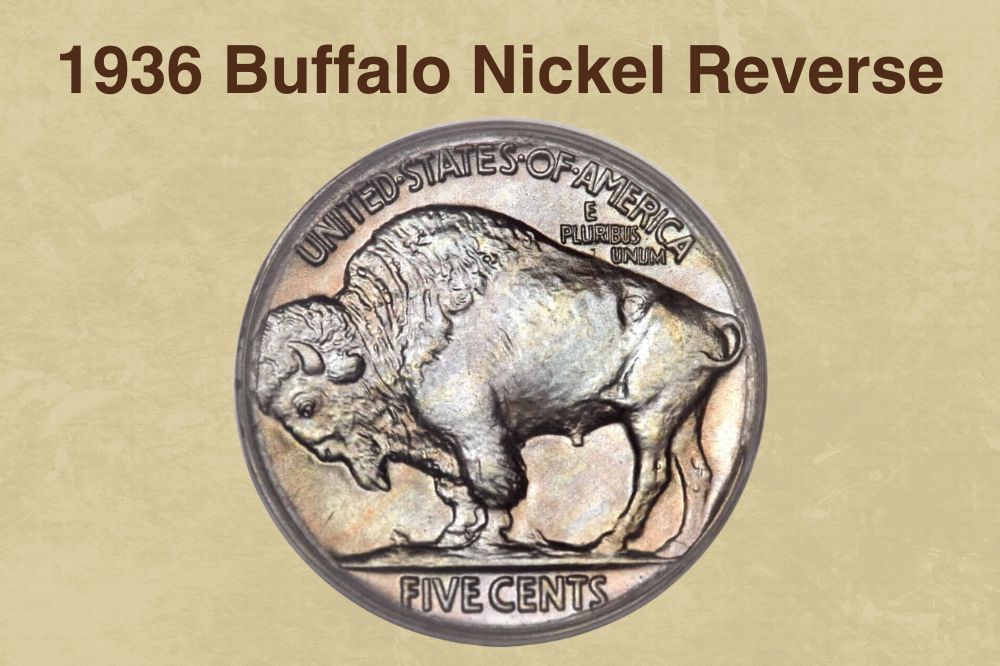 The reverse of nickels minted in 1936 has a sizable American bison turned on the left. The animal stands on the ground above the FIVE CENTS. There are also two required inscriptions by law, the country name and a Latin motto.
Finally, you can notice the letter D or S below the denomination. However, all pieces from Philadelphia came without the mint mark, which was standard in those times.
In fact, all American coins from this mint came without the letter P before 1980, except for war coins struck from 1942 to 1945. Only pennies were without this mark by 2017.
1936 nickel Details

Compound
Copper-nickel coin
Coin diameter
0.835 inches (21.2 mm)
Edge
Plain
Coin thickness
0.077 inches (1.95 mm)
Shape
Round
Coin weight
0.176 ounces (5 g)
Face value
$0.05 (five-cent coin)
Other 1936 nickel features
Similarly to other round copper-nickel coins in the series, those produced in 1936 weigh 0.176 ounces (5 g). Their diameter is 0.835 inches (21.2 mm), and the edge is plain. These five-cent coins are 0.077 inches (1.95 mm) thick.
Also read: Top 17 Most Valuable Buffalo Nickel Worth Money
1936 Buffalo Nickel Value Guides
The total mintage of 158,745,420 nickels was divided among three mints in 1936. All three produced coins from a regular strike, but the one in Philadelphia also released a low number of proofs.
1936 No Mint mark Nickel Value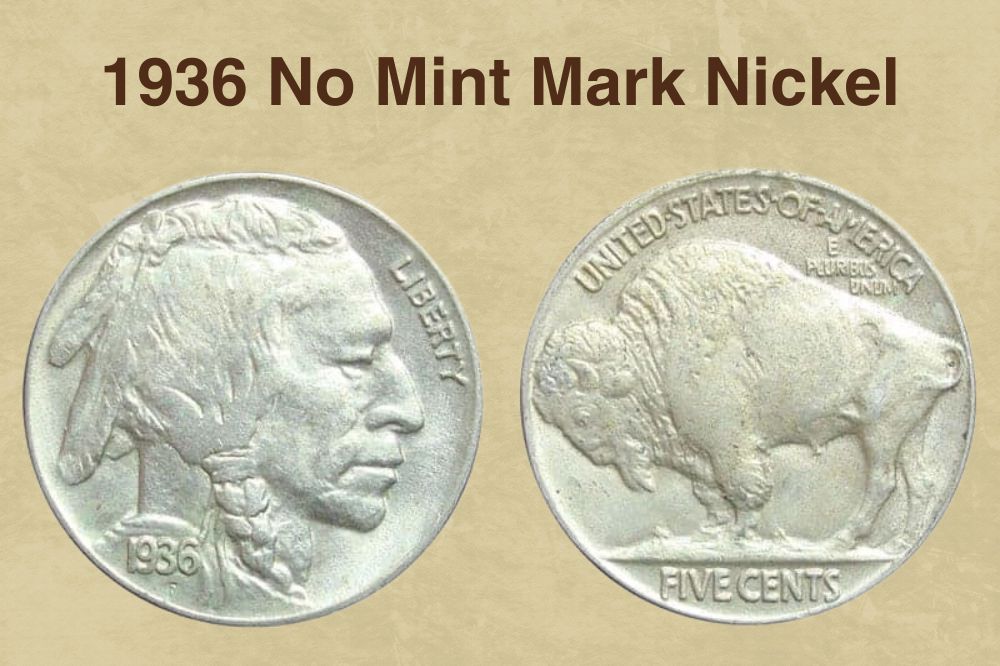 The largest number of Buffalo nickels were produced in Philadelphia in 1936, precisely 118,997,000 pieces. The lowest prices of $0.45 to $15.60 are reserved for those in circulated condition, while coins in the MS 60+ are pricier.
Be prepared to pay $17 to $20 for the lowest-graded uncirculated nickels, while others come with higher prices. For instance, you can expect to pay the following:
$25 to $30 for nickel in MS 62 grade
$34 to $40.80 for nickel in MS 63 grade
$38 to $45.60 for nickel in MS 64 grade
$55 to $66 for nickel in MS 65 grade
$85 to $110 for nickel in MS 66 grade
$385 to $462 for nickel in MS 67 grade
However, the price range of the MS 68 nickels is a real surprise. Experts estimate these scarce specimens at $12,500 to $15,000.
1936 proof nickel Value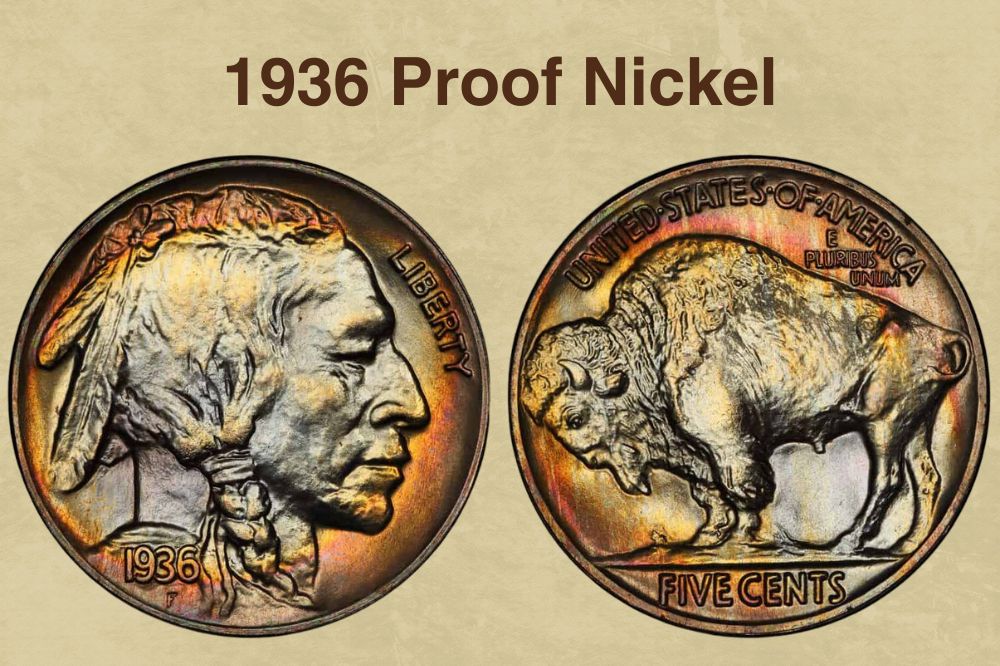 Besides 1936 nickels from regular strikes, the Philadelphia mint released 4,420 proof coins Type 2 (with a bison on the flat ground). All these ultimately beautiful coins were intended for collectors only.
Those with Satin Finish typically cost over $600, which is a price for those in PR 60 grade. Others are more expensive, so you should set aside at least the following:
$700 to $805 for coins in PR 61 rank
$750 to $862.50 for coins in PR 62 rank
$800 to $920 for coins in PR 63 rank
$1,000 to $1,150 for coins in PR 64 rank
$1,050 to $1,208 for coins in PR 65 rank
$1,250 to $1,438 for coins in PR 66 rank
$1,750 to $2,013 for coins in PR 67 rank
$5,750 to $6,000 for coins in PR 68 rank
The 1936 nickels Type 2 with Brilliant Finish are even pricier, and you can expect them to cost:
PR 60 – $750 to $862.50
PR 61 – $800 to $920
PR 62 – $900 to $1,035
PR 63 – $950 to $1,093
PR 64 – $950 to $1,093
PR 65 – $1,100 to $1,265
PR 66 – $1,380 to $1,620
PR 67 – $2,350 to $2,600
The estimated price for pieces with the PR 68 grade is $ 6,800 to $8,000. However, one such coin was bought for $40,250 at an auction, reaching the highest price for one nickel minted this year.
1936 D nickel Value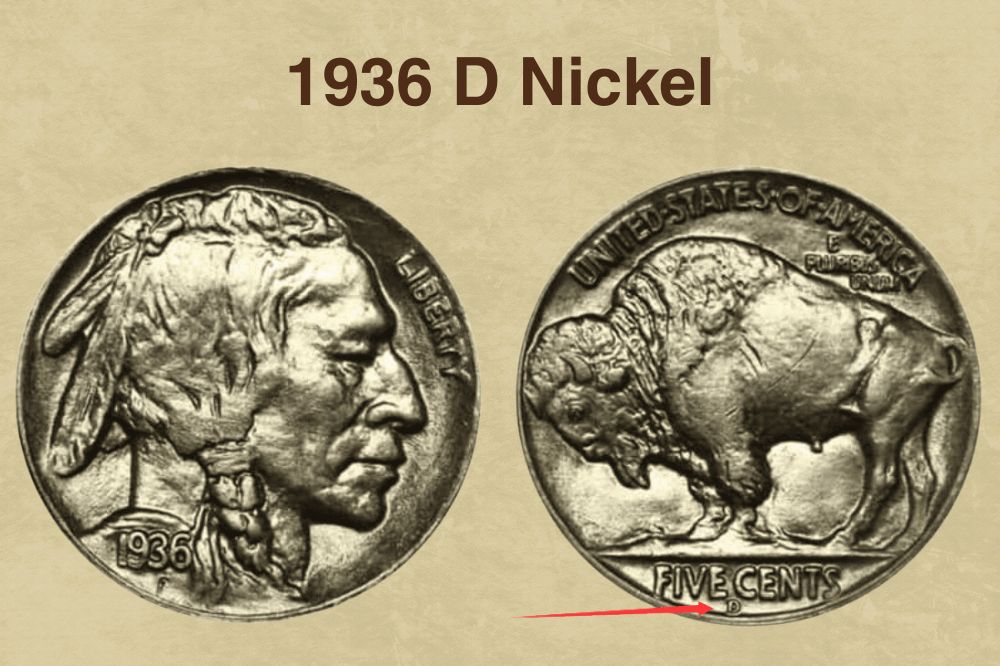 Many of the 24,814,000 Buffalo nickels from Denver have survived from 1936 to today, but most are heavily worn-out and sometimes non-collectible. However, some in better condition can cost $0.45 to $30.
The 1936 nickels in the mint state are a bit pricier, with an average price of:
$29 to $34.80 for coins with the MS 60 grade
$32 to $38.400 for coins with the MS 61 grade
$34 to $40.800 for coins with the MS 62 grade
$40 to $480 for coins with the MS 63 grade
$55 to $660 for coins with the MS 64 grade
$90 to $1080 for coins with the MS 65 grade
$140 to $1680 for coins with the MS 66 grade
As expected, the MS 67 D nickels are the most expensive, and you should pay about $800 to $1,050 per one.
1936 S nickel Value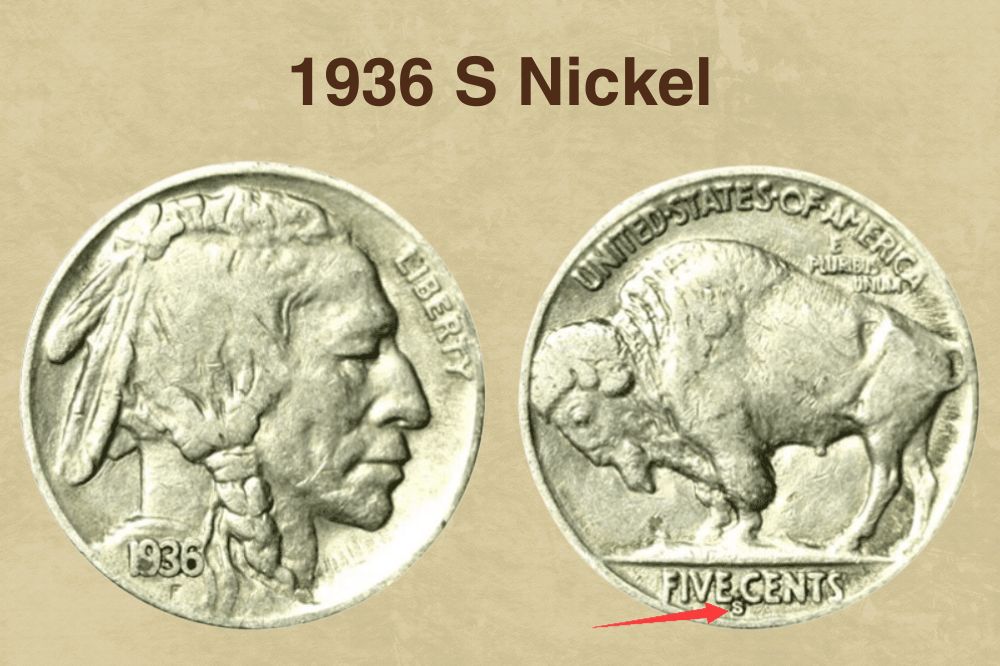 The San Francisco mint released 14,930,000 nickels into circulation in 1936. Some of these coins are still in use, and even those in high grades come with moderate prices.
For example, you need to set aside only $0.45 to $26.40 for circulated 1936 nickels, while the price range of those from MS 60 to MS 66 grades is $26 to $200. The only exception is the MS 67 S Buffalo nickels, with the assessed price range of $960 to $1,152.
Also read: Top 17 Most Valuable Jefferson Nickels Worth Money
1936 Buffalo Nickel Grading
The Buffalo nickel grading is vital in determining their value. Most experienced collectors use a standard grading scale with a ranking from 1 to 70 to evaluate their coins on their own. You can also have your specimen estimated by one of the professional services, increasing its value that way.
Rare 1936 Nickel Error List
You can find a few significant 1936 Buffalo nickel errors, and most are pricier than standard flawless coins. Their evaluation in one of the professional grading services can help you determine the value of your coin before offering it at an auction.
1936 D 3 1/2 legs nickel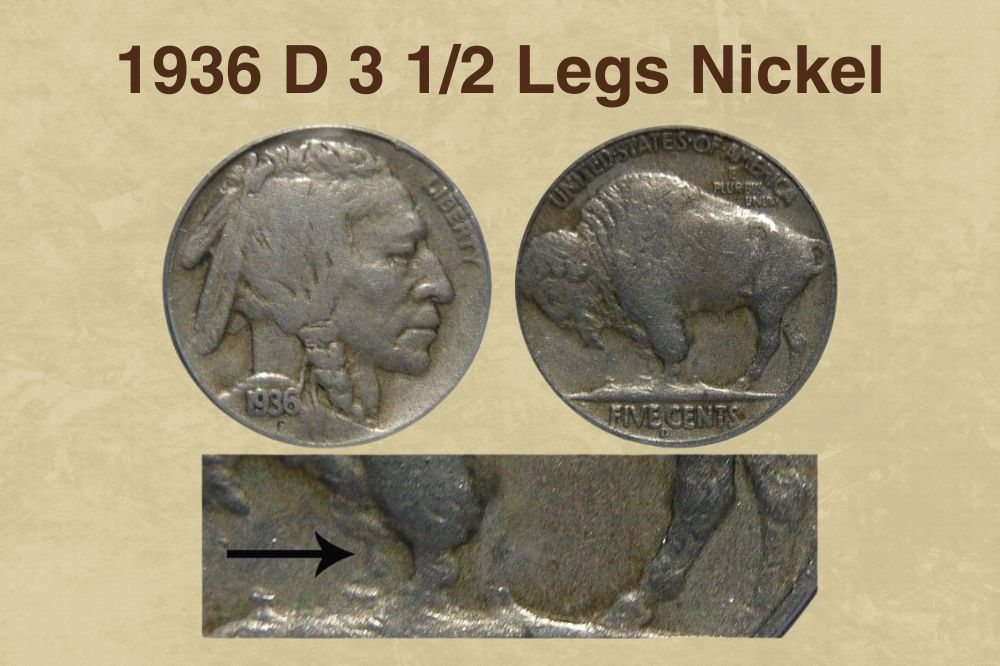 The 1936 D nickels with three and a half legs are error coins typical for this series. You can recognize such pieces based on the weak or non-existing bison's front leg. Such nickels cost $350 to $7,500, despite spending years in circulation.
On the other hand, uncirculated pieces can reach $10,000 to $16,800 at auctions. The most expensive ever became an error nickel in MS 63 after selling at an auction for $20,700 in 2009.
Re-punched mint mark
When the mint mark was incorrectly punched for the first time, workers manually solved this problem. The result was this error type, making such nickels valuable. It is possible to find:
1936 D/D nickels with a price range from $100 to $1,440
1936 D/S nickels with a price range from $280 to $2,640
1936 S/S nickels with a price range from $25 to $1,300
Doubled die
A double die error results from striking the same coin twice during the minting process. It is a rare imperfection among nickels from 1936, making them expensive. You can find more or less flaws on both coin sides, making their prices vary from $100 to $1,500, depending on the nickel condition.
Other errors
Besides errors specific to 1936 nickels, there are also standard imperfections you can find among most nickels in the series. Some are visible in the set minted in this particular year, including:
Off-center
Clipped planchet
Lamination
Die cracks
Nickels struck on a 10-cent planchet
Embedded staple obverse
Over-mint mark error
Also read: 14 Most Valuable Nickel Errors Worth Money
FAQ about 1936 Buffalo Nickels
What makes 1936 Buffalo nickels scarce and collectible?
You can find numerous rare and valuable nickels minted in 1936. The most collectible are proofs from Philadelphia and errors (3 1/2 legs) from Denver. However, even standard coins from regular strikes can be costly in the highest grades.
Which Buffalo nickels from the 1936 set are particularly costly?
The most expensive 1936 PR 68 brilliant nickel is worth $40,250
The most expensive 1936 D MS 68 nickel is worth $37,375
The most expensive 1936 D MS 63 nickel with 3 and 1/2 legs error is worth $20,700
The most expensive 1936 PR 68 satin nickel is worth $18,800
The most expensive 1936 MS67 nickel with DDO error is worth $10,869
The most expensive 1936 MS 68 nickel is worth $10,575
The most expensive 1936 S MS 67+ nickel is worth $6,169
The most expensive 1936 D MS 67 nickel with OMM D/S error is worth $5,875
The most expensive 1936 D MS 67 nickel with RPM D/D error is worth $1,783
The most expensive 1936 MS 64 nickel with DDR error is worth $1,528
The most expensive 1936 S MS 66 nickel with RPM S/S error is worth $1,150
The most expensive 1936 MS 66 nickel with DDO error is worth $1,020
How much is the 1936 Buffalo nickel from Philadelphia worth?
Most 1936 Buffalo nickels without the letter on the reverse are affordable. Circulated pieces cost approximately $0.45 to $15.60, while you need to pay $25 to $460 for most in the mint state. Only scarce nickels in MS 68 grades are estimated at $12,500 to $15,000.
Which Buffalo nickels are the priciest in the series?
Type 2 (on flat ground)
1918 D MS 65 nickel (1918/7 error) – $350,750
1926 S MS 66 nickel Type 2 – $322,000
1916 MS 64 nickel Type 2 (DDO error) – $281,750
1915 PR 69 nickel – $69,000
Type 1 (on raised ground)
1913 PR 68 nickel – $96,937.50
1913 MS 68+ nickel – $79,312.50
1913 D MS 68 nickel – $32,200
1913 S MS 67+ nickel – $16,800