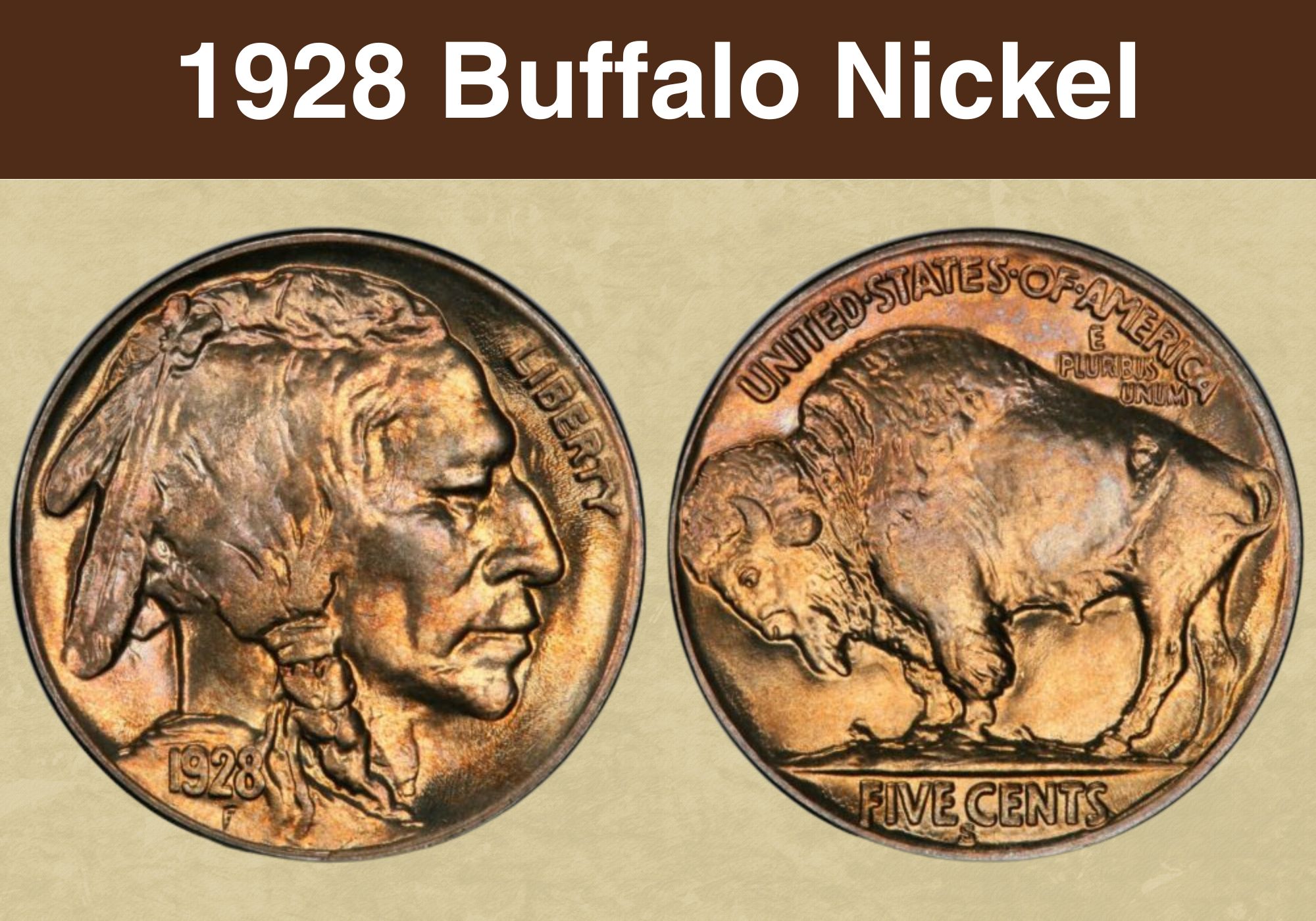 Some people refer to these coins as Indian Head Nickels. Others call them Buffalo Nickels. Both names need slight correction since we now say Native American instead of Red Indian. Also, that's a bison on the back of the coin, not a buffalo. As we dig into the significance of these clarifications, let's explore the 1928 Buffalo Nickel Value and the factors that affect it.
1928 Buffalo Nickel Value Charts

Coin
AU 50
MS 60
MS 62+
MS 64+
MS 66+
MS 67+
1928 No Mint Mark Buffalo Nickel
$30
$55
$75
$275
$1,200
$17,500
1928-D Buffalo Nickel
$60
$85
$150
$375
$6,500
–
1928-S Buffalo Nickel
$125
$400
$650
$1,700
$23,500
$67,500
History of the 1928 Buffalo Nickel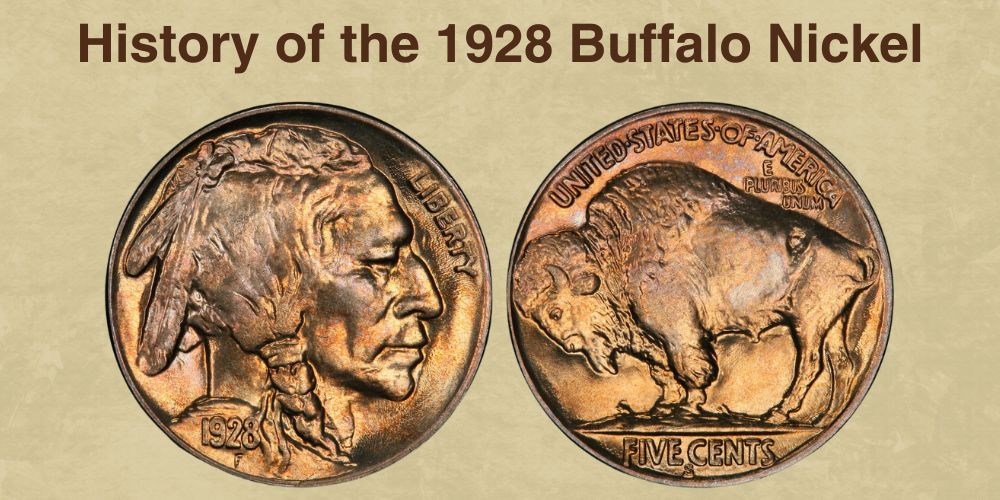 While Spanish, French, and German explorers often came to America, the majority of permanent settlers were British. This deeply influenced our early sensibilities. Money-wise, we typically used those foreign coins. The Spanish Silver Dollar was the most popular. But when we started minting our own cash, we hired an engraver born and trained in Scotland.
In the UK, coin makers typically had a background in medals, watchmaking, sealing, and casting. They brought these skills to the US, and once they were hired by the US Mint, their emphasis was on simplicity and practicality. They designed currency that was easy to mint and required a minimal number of strikes that would enable dies to be re-used much longer.
This principle continued with the next few American-born mint engravers since many had trained under English mentors. The 2nd to 4th Chief Mint Engravers were American-born, but the 5th and 6th were a father-and-son duo born in London. Their family of plate workers ran three generations – John, William, and Charles Barber. The latter two worked at the US Mint.
Theodore Roosevelt Requests Redesigned Coins
Since all three were England-trained, their design concepts were old-school. But in 1904, the sitting president, Theodore Roosevelt, wanted a change. He preferred coins with an artistic style like the Ancient Greek and Roman ones. So he hired his friend Augustus Saint-Gaudens to revamp American coins. This introduced a sculptural, high-relief influence on our coins.
After Saint-Gaudens died, several of his assistants continued his legacy. They included Victor David Brenner for the Lincoln Penny and James Earle Fraser for the Buffalo Nickel. Later, his student Adolph Weinman designed the Mercury Dime and Walking Liberty Half Dollar. This explains the stark style difference between earlier in-house coins and those after 1904.
First came the Lincoln Cent in 1909. While the public loved it, Mint Director Abram Andrew didn't. He was thinking of asking James Earle Fraser to change it. Instead, Fraser was taken on to redesign the Liberty Head Nickel which had been circulating for 25 years. His name was put forward in 1911 but thanks to bureaucracy and politics, he wasn't hired until 1912.
The Problem with Buffalo Nickels
It took another hectic year before the coin was released in 1913. Just like the Lincoln Penny, the public loved the coin, but the mint staffers didn't. It was a detailed design with lots of curves and high points. This meant each coin needed multiple strikes to render properly and the dies wore down faster. They were replaced three times more often than earlier dies.
Also, despite several modifications, the higher parts of the coin were quickly rubbed off in circulation. That's why many Buffalo Nickels have no date, no designer's initials, blurry mint marks, and faded face values. Those are the parts of the coin that people touch the most when they're handling money. The bison's legs are often affected by die re-polishing as well.
As we said before, while we often call it the Buffalo Nickel thanks to the back design of the coin, the animal depicted isn't a buffalo. It's a bison, which is American. Buffaloes, on the other hand, are native to Africa and Asia. They look slightly different, with larger side horns and a higher head. Bison have frizzy fronts, hunched shoulders, and much smaller horns.
Also read: Top 10 Most Valuable Nickels Worth Money
Features of the 1928 Buffalo Nickel
Let's talk about the technical terms used in coin description. The heads side is the obverse. The tails side is the reverse. The thin side is the edge, and it sometimes has ridges called reeds. The raised border is the rim or collar. The words on a coin are mottos or legends and the image is a device. The background is the field and the blank coin disc is called a planchet.
The Obverse of the 1928 Buffalo Nickel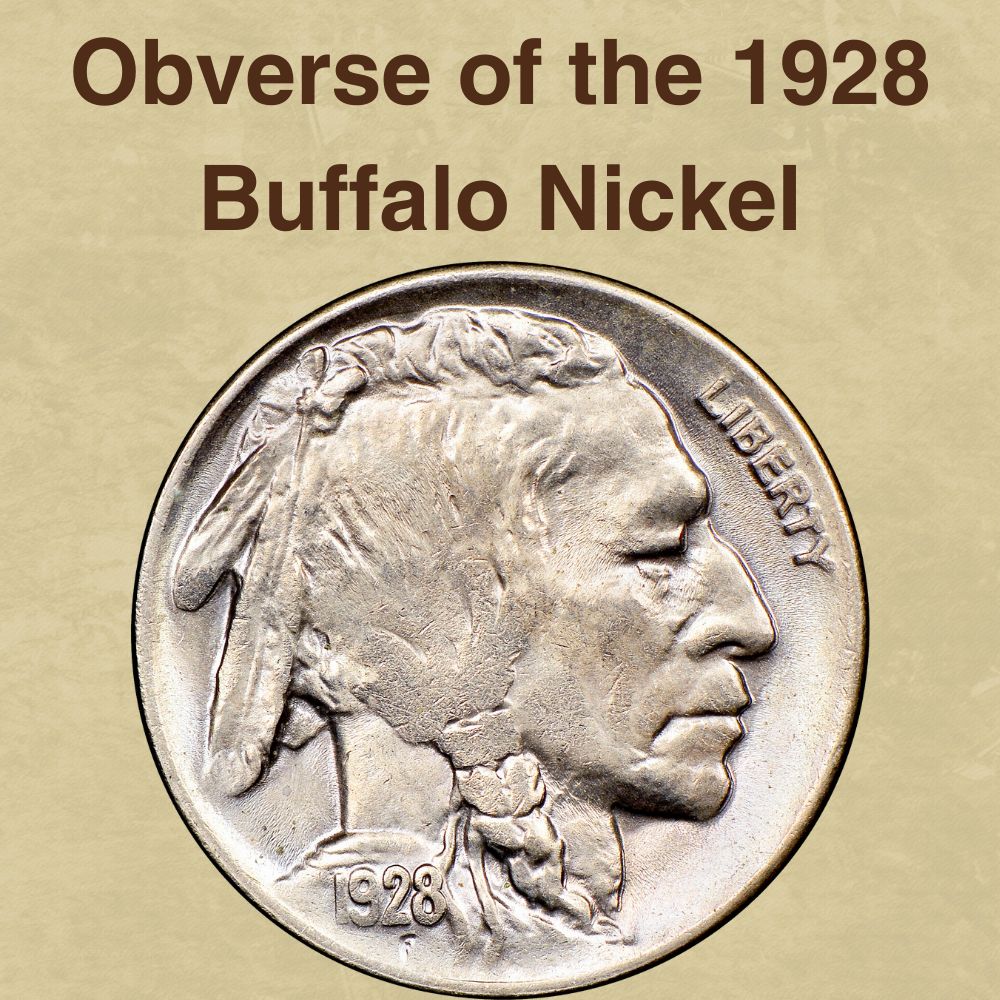 It shows a Native American man with three feathers in his hair. The third feather is partially hidden so you can only see it peeking out at the nape of his neck. The bottom of the coin has the mint date and F for Fraser. On the upper right in front of the man's face, it says Liberty.
The Reverse of the 1928 Buffalo Nickel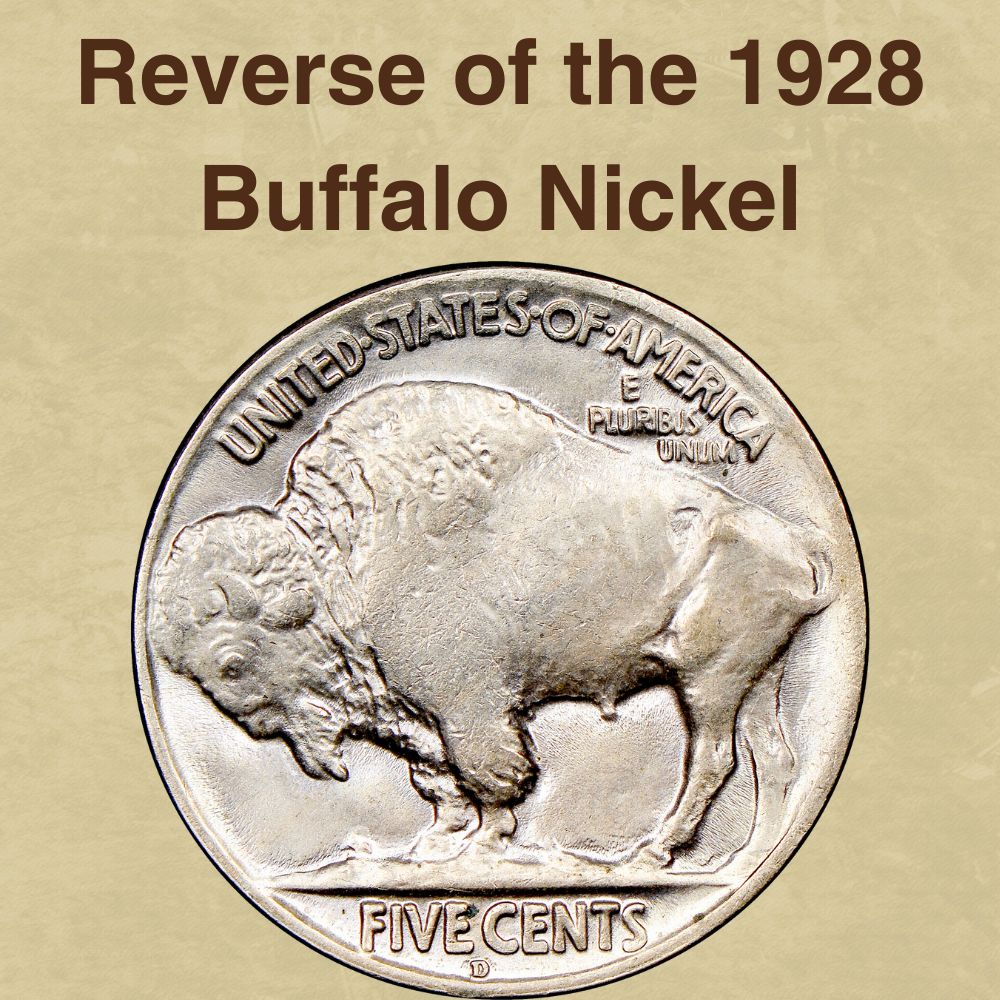 It shows a bison facing left. The top of the coin says United States of America. The motto E Pluribus Unum is tucked above the bison's back on the upper right. The bottom of the coin shows its face value or denomination, Five Cents. The mint mark is below the denomination.
Other Features of the 1928 Buffalo Nickel
The 1928 Buffalo Nickel was 75% Copper and 25% Nickel. It was 21.21mm in diameter (0.835") and had a smooth or plain edge which means it didn't have any reeds. It weighed 5g. The Buffalo Nickel was minted from 1913 to 1938. Earlier versions had the bison on a hill.
Also read: Top 17 Most Valuable Buffalo Nickel Worth Money
1928 Buffalo Nickel Value Guides
All Buffalo Nickels were regular strikes or business strikes, which meant they were coined for daily use in everyday transactions. The US Mint never made any proofs or collectibles in this series, possibly due to difficulties in rendering their design. Circulating Buffalo Nickels were minted in Philadelphia, Denver, and San Francisco in 1928, so let's look at them individually.
1928 No Mint Mark Buffalo Nickel Value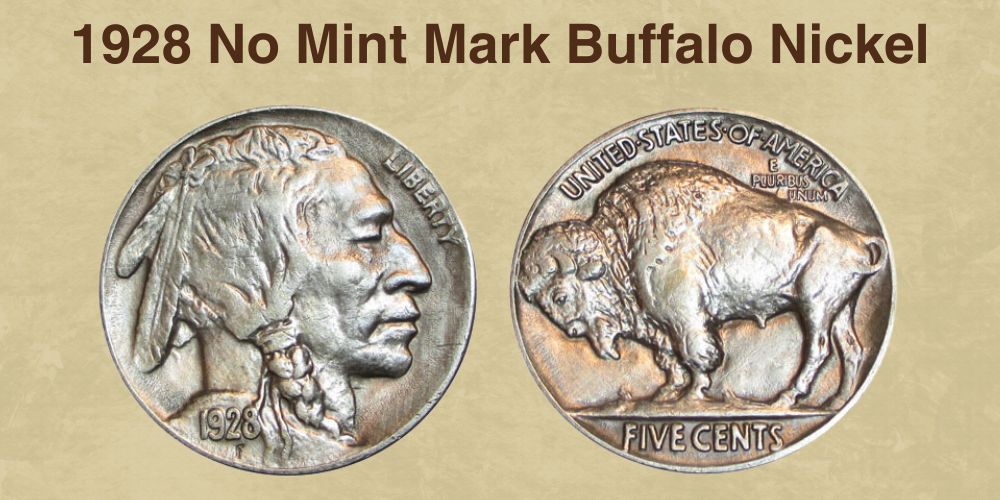 In 1928, the Philadelphia Mint made 23,411,000 Buffalo Nickels without mint marks. And on 14th August 2004, an MS 67 sold for $11,500. Today, PCGS has received more than forty in that grade so their value in October 2023 is $4,250. But four coins have shown up in MS 67+ and it's the highest known grade. In October 2023, PCGS estimates these coins at $17,500.
The most recent PCGS sale for one of these MS 67+ Buffalo Nickels was in November 2019 when a sample sold for $11,400. Meanwhile, if we look back at MS 67 Buffalo Nickels, several sales between 2021 and 2023 have fetched roughly $3,300 to $3,800 each. Interestingly, the coins graded by NGC as MS 67 have lower price points, selling for $2,400 to $2,600 in 2023.
If you look at MS 66 coins, they go for $775 with more than two hundred submitted to PCGS. And this has affected the price of MS 66+ Buffalo Nickels. Only 55 have shown up so far, but they're priced way below MS 67s at just $1,200. This is because the rarity of MS 66+ coins is trumped by the sheer volume of MS 66 coins. That said, an MS 60 only goes for $55 in 2023.
1928-D Buffalo Nickel Value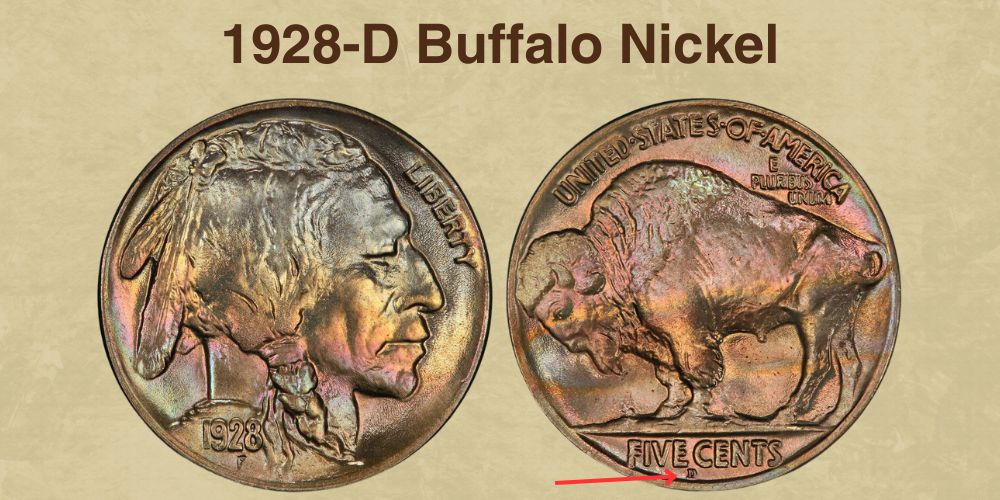 The Denver Mint made 6,436,000 Buffalo Nickels in 1928. They all had the D Mint Mark, and because their mintage volumes were roughly one-fourth of Philadelphia coins, their resale values are significantly higher. On 3rd January 2012, an MS 67* sold for $17,250. This was an NGC-graded coin though, which is why it was labeled as MS 67* instead of MS 67+.
At the moment, PCGS hasn't received any MS 67+ Buffalo Nickels. The highest grade they've seen in MS 67. And since they've only received one, they estimate its value as $30,000 in October 2023. Half a step down, they've graded seven coins as MS 67 so those are estimated at $6,500 in October 2023. As for MS 66, they've received almost seventy submissions so far.
They place the value of these coins at $3,600 in October 2023. But since lots of MS 65 coins have been sent in, their value is $675 and PCGS has seen numbers approaching 500. MS 65+ is rarer with just under fifteen submissions. But because the MS 65s are so populous, the value of MS 65+ is only $900. As for MS 60 Buffalo Nickels, they currently resell for $85.
1928-S Buffalo Nickel Value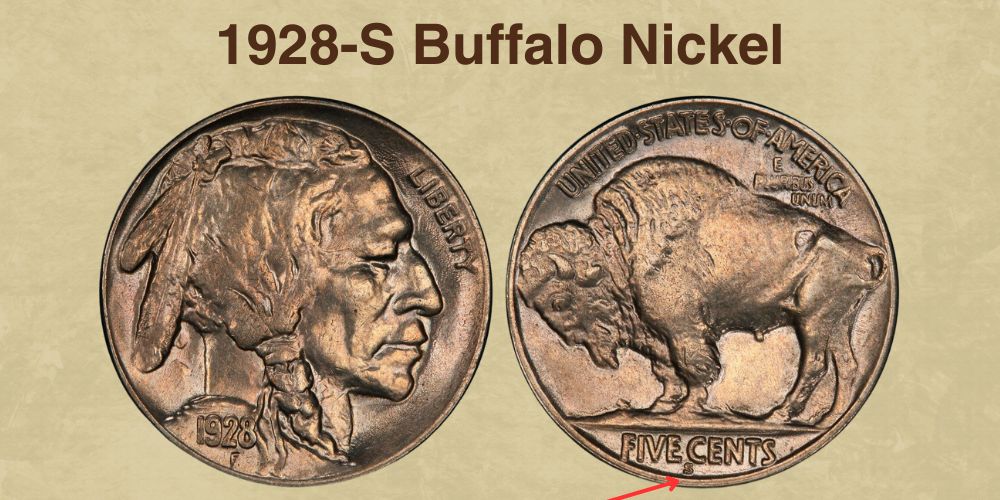 In 1928, the San Francisco Mint made 6,936,000 Buffalo Nickels with the S Mint Mark. And on 1st July 2009, an MS 67 sold for $46,000. Only two coins are known in that grade. PCGS estimates their value as $46,500 in October 2023. PCGS also estimates the October 2023 value of an MS 67+ at $67,500. So far, no samples of this coin have sold though they do exist.
Meanwhile, two coins are known in MS 66+, and those are evaluated at $23,500 in October 2023. You'll have more luck finding an MS 66 since PCGS has graded twenty of them. Their current going rate is $15,000. But the price of MS 65+ is more influenced by MS 65 coins than MS 66. With almost a hundred MS 65s at $3,000, the thirty or so MS 65+s are $4,000.
Dropping grades to MS 60, you can buy one for $400 in October 2023 and only six of these coins have popped up. But lots of people have MS 62 Buffalo Nickels, and almost ninety have been sent to PCGS for certification. Their current resale price is $500, quite a tidy profit for a 25c coin. But low-grade coins are valuable too. VG 10 is $10, VF 20 is $20, and VG 30 is $30.
Also read: Top 17 Most Valuable Jefferson Nickels Worth Money
1928 Buffalo Nickel Grading
Because the features of the Buffalo Nickel were so easily worn down, it's hard to find these coins in high grades. They're typically rated against the Sheldon Scale that goes from 1 to 70, with 1 being Poor and 70 being Mint State. Uncirculated coins range from 50 to 58. Some call these grades AU or About Uncirculated. Mint State coins go from 60 to 70 and are a lot rarer.
Rare 1928 Buffalo Nickel Errors List
When a coin is released, experts spend the first 30 days hunting for mint mistakes that could increase the resale value of the coin. These early errors are given FS numbers, meaning first strike, and they're far more expensive than mistakes discovered later. As we look at 1928 Buffalo Nickel Errors, we'll start with the FS-401 then look at other valuable mint mistakes.
1928-S Buffalo Nickel 2-Feathers Error FS-401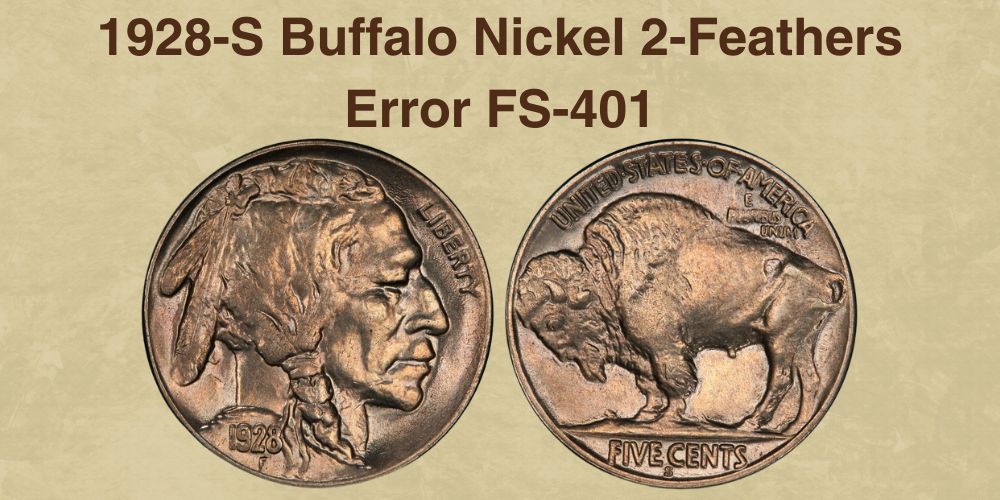 As we said before, Buffalo Nickel dies had remarkably short shelf lives. And since they were so expensive to replace, mint workers would often re-polish them to extend their viability. At times, this re-polishing would accidentally erase certain design features e.g. the legs on the reverse or third feather on the obverse. A 2-Feather Nickel in MS 63 sold for $2,040 in 2019.
1928-S Buffalo Nickel Ragged Clipped Planchet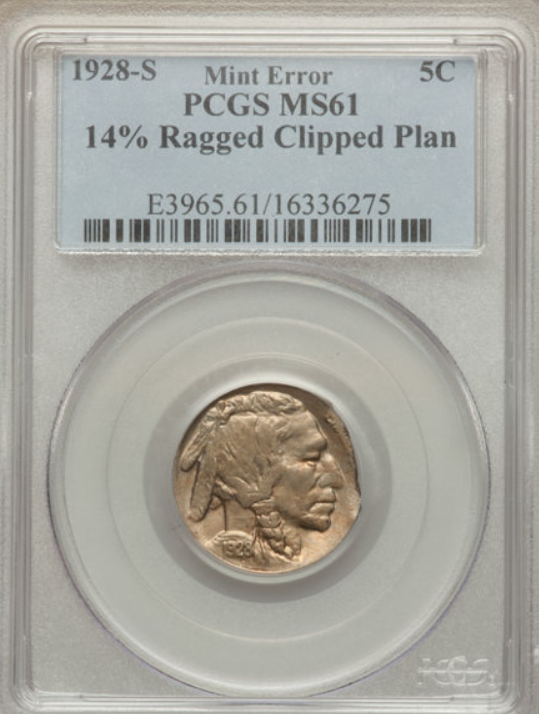 Coins are made from coiled metal sheets that are fed into a blanking machine that punches them into blank discs called planchets. The leftover metal is full of holes so it's recycled. But sometimes, coins are accidentally struck on this remnant metal so they end up with straight or curved clips where the holes were. In MS 61, this ragged clipped coin sold for over $160.
1928 (P) Buffalo Nickel Struck 15% Off-Centre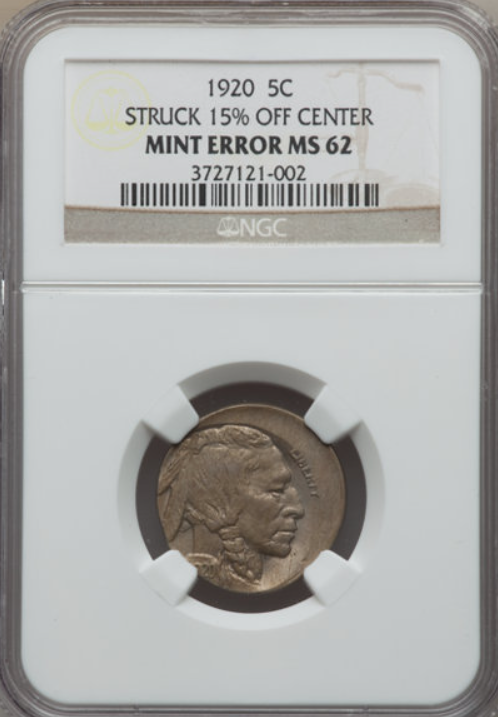 To make a coin, feeder fingers push the planchet into position between the dies. But if the blank is slightly out of place, part of its surface remains unmarked. It's called an off-centre error and the misalignment is described in percentages. This Buffalo Nickel is 15% empty on its lower right obverse and upper right reverse. In the low grade of VF 30, it sold for $400.
Also read: 14 Most Valuable Nickel Errors Worth Money
1928 Buffalo Nickel FAQ
Is a 1928 Buffalo Nickel Silver?
No, the 1928 Buffalo Nickel is 75% Copper and 25% Nickel. None of the Buffalo Nickels were silver. Only Wartime Jefferson Nickels were 35% Silver to redirect that nickel to the military.