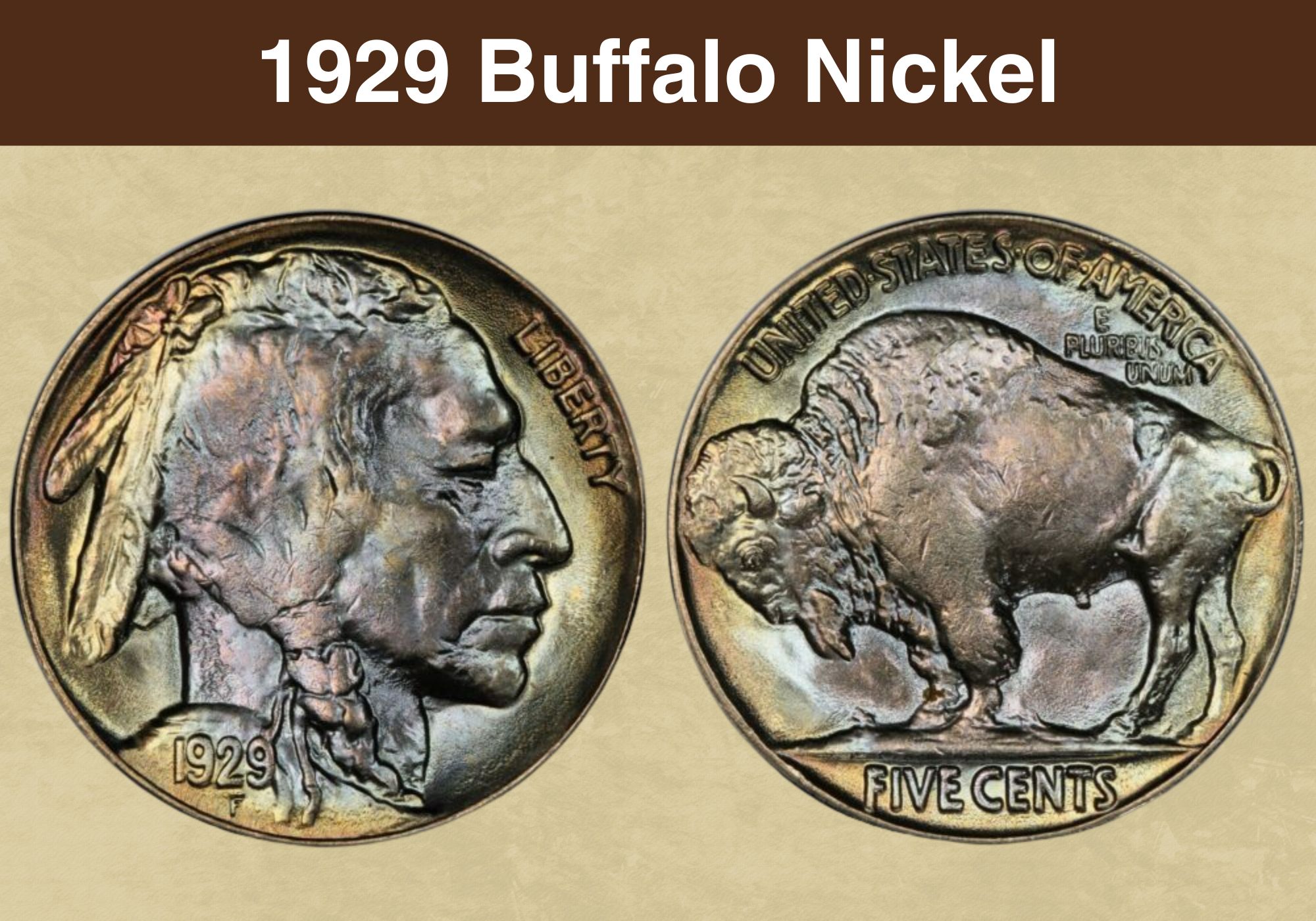 The US Mint started Buffalo nickel production in 1913 and continued minting them until 1938. Even though these coins are among the most collectible and are almost 95 years old, the 1929 Buffalo nickel value can be modest.
The reason is the high mintage despite the Great Depression. Only those in pristine condition can reach thousands, sometimes tens of thousands of dollars at auctions. Be aware that nickels minted this year have a specific intangible value because of their historical significance.
1929 Buffalo nickel value Chart

Condition
1929 No Mint Mark nickel
1929 D nickel
1929 S nickel
Good
$1.46
$1.46
$1.46
Very good
$1.75
$2.33
$1.75
Fine
$2.87
$2.87
$2.33
Very fine
$5.84
$8.07
$4.63
Extra fine
$17
$40
$14
AU
$28
$75
$28
MS 60
$46
$152
$64
MS 63
$94
/
$115
History of the 1929 Buffalo Nickels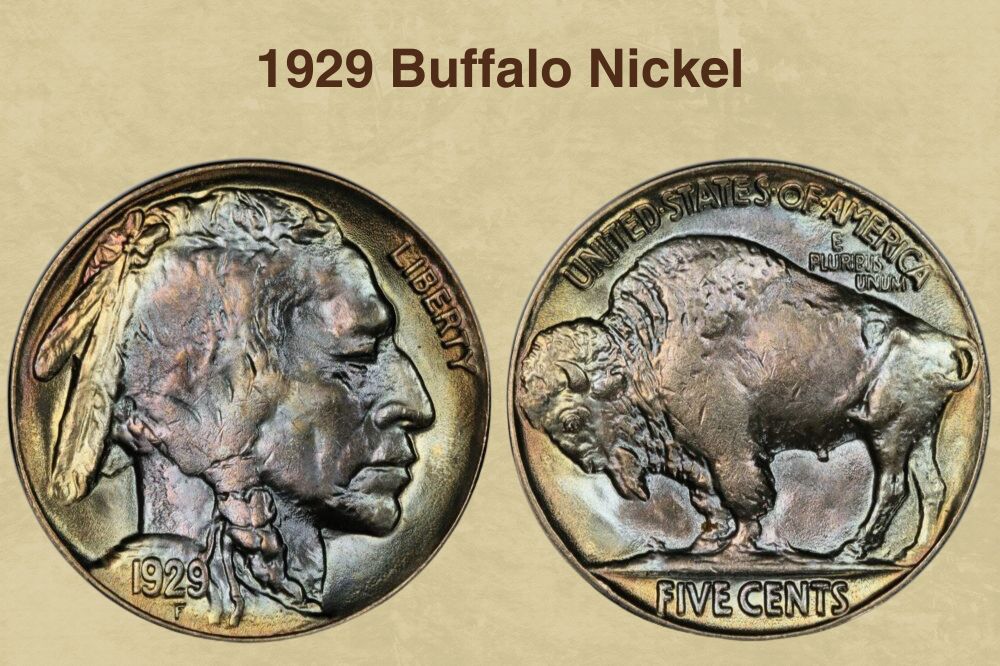 James Earle Fraser introduced Indian Head Nickels in 1913, and their production lasted until 1938 when Jefferson nickels' minting started. The purpose of the new design was to show genuine American roots and create coins that included symbols describing the new nation.
The first 40 specimens were a gift for the Native American Chiefs while laying the foundation stone for the American Indian Memorial. Unfortunately, the monument has never been finished.
1929 Buffalo nickel Types

Location
Year
Minted
Philadelphia
1929 no mint mark nickel
36,446,000
San Francisco
1929 S nickel
7,754,000
Denver
1929 D nickel
8,370,000
Total
/
52,570,000
The new coin showed a Native American on the coin obverse and a bison on the reverse. Rumors said that the model for an Indian was three chiefs, while the designer created the animal based on Black Diamond from the Central Park Menagerie.
Unfortunately, the beautiful design was entirely inappropriate for minting. Coin elements were too sizable for a small coin surface, while prominent parts quickly worn-out during production. Additionally, coins caused the die to wear too quickly.
The situation worsened without an appropriate solution during the entire minting period, despite a few changes in the design. After numerous problems, everyone breathed a sigh of relief when the Jefferson nickels replaced the old design. That way, Buffalo nickels went to history and became collectibles.
Also read: Top 10 Most Valuable Nickels Worth Money
Features of the 1929 Buffalo Nickels
James E. Fraser designed Indian Head nickel, popularly named Buffalo nickel. Minting lasted from 1913 to 1938, placing those minted in 1929 in the middle of the series. Despite numerous issues with their minting, these coins are highly collectible.
The obverse of the 1929 Buffalo nickels
The 1929 Buffalo nickel obverse is boarded by a plain edge, with a Native American occupying most of the coin center. The Indian chief has a mohawk-style haircut with a braid down his neck.
The designer claimed that he made this profile based on three Indian chiefs. One was one Oglala Sioux chief, the second was a Kiowa chief, and the third was a Cheyenne chief.
You can see three feathers in his hair on coins from the regular strikes. On the right is struck LIBERTY, while the date is on the bottom. Under the 1929 is the sculptor's initial F.
The reverse of the 1929 Buffalo nickels
The Indian Head nickel reverse shows an American bison with a lowered head. The animal stands on the ground facing left, with the UNITED · STATES · OF · AMERICA and E PLURIBUS UNUM legends struck from above. The bottom is reserved for the denomination, FIVE CENTS, and the mint mark between it and the coin rim.
1929 Buffalo nickel Details

Face value
Five cents ($0.05)
Shape
Round
Coin thickness
1.95 mm (0.0768 inches)
Compound
Cupronickel (75%: 25%)
Coin weight
5 g (0.1764 ounces)
Edge
Plain
Coin diameter
21.21 mm (0.8350 inches)
Other features of the 1929 Buffalo nickels
Five-cent coins with an American bison on the reverse are round and with a plain edge. Their diameter is 21.21 mm (0.8350 inches), and each specimen weighs 5 g (0.1764 ounces). You can expect to measure these cupronickel coins' thickness to precisely 1.95 mm (0.0768 inches).
Also read: Top 17 Most Valuable Buffalo Nickel Worth Money
1929 Buffalo Nickel Value Guides
Three mints released 52,570,000 nickels into circulation in 1929. The one in Philadelphia had the highest mintage, but none of them produced proofs this year. In fact, the US Mint didn't produce nickel proofs from 1917 to 1935.
1929 No Mint Mark Buffalo nickels Value
With 36,446,000 Buffalo nickels minted in 1929, the Philadelphia mint realized the highest mintage this year. Most of these coins ended up in circulation. They are worth $0.45 to $25 after years of use.
However, you can always find uncirculated coins with this year struck on the obverse. Their average value depends on preservation level, quality, and possible imperfection on their surface. In most cases, you need to count on the following:
$25 to $30 for nickels in MS 60 grade
$30 to $36 for nickels in MS 61 grade
$34 to $40.80 for nickels in MS 62 grade
$58 to $70 for nickels in MS 63 grade
$85 to $102 for nickels in MS 64 grade
$190 to $220 for nickels in MS 65 grade
$475 to $600 for nickels in MS 66 grade
However, the real gem is MS 67-ranked specimens estimated at $5,500 to $7,500. Interestingly, no expert could imagine how much money collectors were willing to spend for one such nickel. The most expensive one was paid $63,250 at an auction organized in 2005.
1929 D Buffalo nickels Value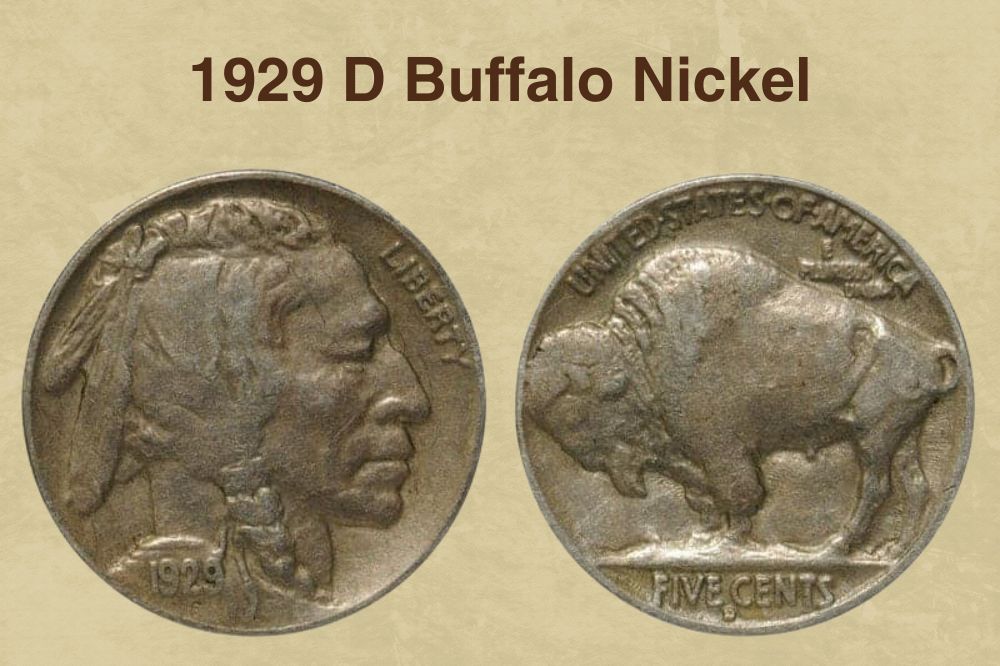 The 1929 D Buffalo nickels came in a mintage of 8,370,000 coins. Most spent decades in circulation, and their value varies depending on the degree of wear and tear. For instance, a price range for nickels in Good to About Uncirculated condition is $0.45 to $48.
On the other hand, beautiful pieces in the mint state typically cost $45 to $240 (MS 60 to MS 64 grade). Those ranked MS 65 are worth $660 to $792, while nickels in MS 66 grade cost $1,550 to $1,900.
The most expensive Buffalo nickels minted in 1929 are those with MS 67 ranking, with an estimated price range from $11,000 to $13,000. The most money got an owner for the 1929 D MS 66+ Buffalo nickel. It reached the price of $15,275 at Heritage Auctions in 2014.
1929 S Buffalo nickels Value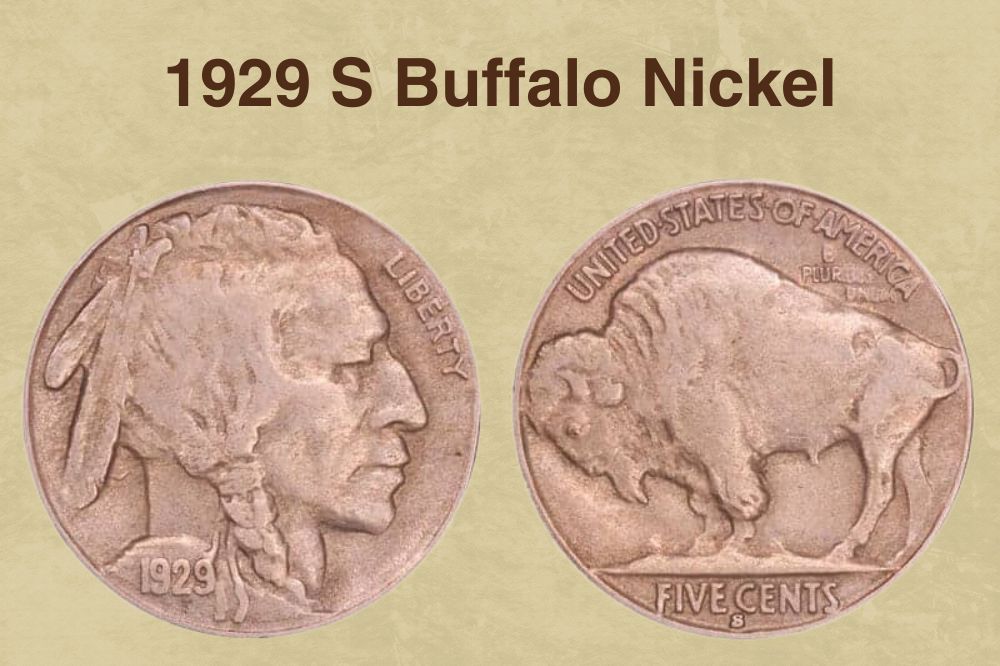 The mint in San Francisco had a slightly lower nickel mintage in 1929 than the one in Denver, with 7,754,000 struck coins. They are affordable in lower grades, and you can get about $0.45 to $36 for circulated nickels.
Well-preserved coins are expectedly more valuable, and collectors set aside approximately $38 to $690 for such pieces, depending on their look. The 1929 MS 67 nickels are estimated at $9,500 to $12,000, but some rare coins in impeccable condition can be much more expensive.
For instance, one scarce piece with the S mint mark in MS 67+ grade won an auction record in 2021. One collector purchased it for $36,000 in October this year.
Also read: Top 17 Most Valuable Jefferson Nickels Worth Money
1929 Buffalo Nickel Grading
The 1929 Buffalo nickel grading is a vital aspect when it is necessary to determine its value. It is based on each piece's look, quality, luster, and mint mark. The best-preserved coins are the most expensive, while the lowest rating for collectible nickels is the GOOD condition.
Rare 1929 Buffalo Nickel Errors List
The list of 1929 Buffalo nickel errors is moderate, including the most famous one in the series. Contrary to amateur belief, such coins are often more collectible than standard pieces, which may significantly increase their value.
Two feathers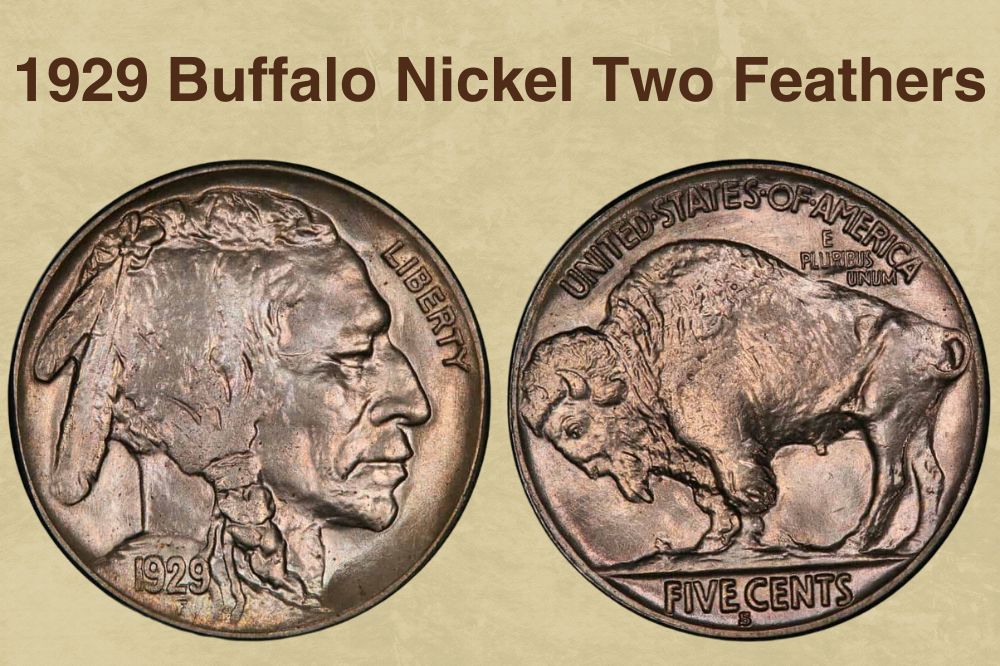 This collectible error implies that one feather was erased during coin polishing. Nickels showing only two feathers in Indian hair can be scarce and expensive. For instance, one such coin from San Francisco in MS 66 grade won an auction record of $11,750. One collector set aside that sum in 2019 to enrich their collection.
Off-center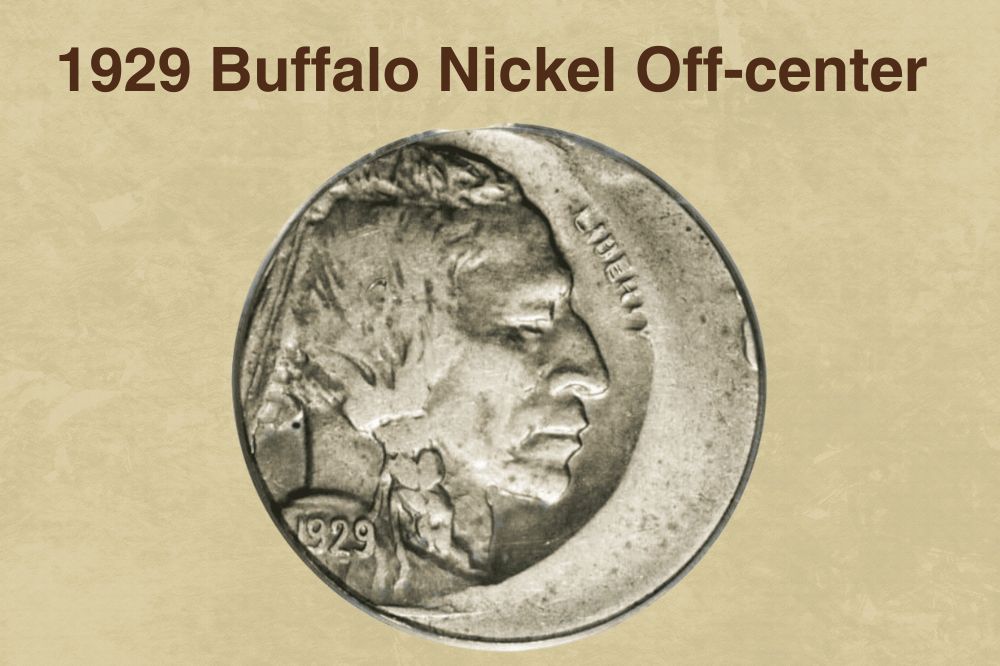 When the planchet is misaligned between two dies, the coin has only a partially struck design on one or both sides. The blank part can be 5% to 95% and is of a typical crescent shape.
Such nickel can be worthless when the part without the design is too sizable or the date is missing. On the other hand, about 20% off-center nickel can cost almost $1,000. Those with 40% off-center can reach a premium of over $2,500.
Nickels struck on the wrong planchet
The US Mint always produced different coin types in one year. Therefore, it was possible for one design to be struck on the wrong-sized planchet intended for another coin minting. These specimens' value depends on the coin type and their condition, so such nickels can be worth a few thousand dollars.
Clipped and double-clipped planchet error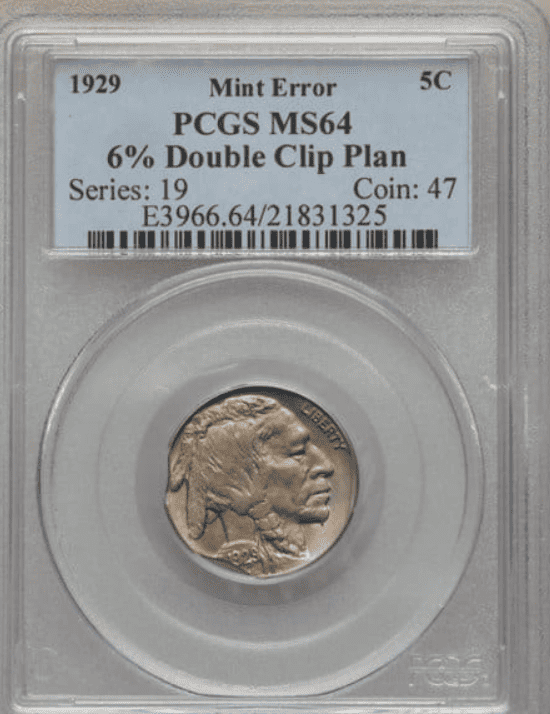 This imperfection occurred when one part of the coin was missing after striking on a clipped planchet. It could appear as a single or double clipping, and you can differentiate several shapes, including curved, straight, or irregular.
These nickels' prices depend on a missing part percentage. Since collectors like such pieces, you can expect those with more pronounced errors to be the most expensive. They can reach about $250 at auctions.
Doubled die (DDO)
Doubled die error (hub doubling) is a design duplication on a working die, leaving slight to significant errors on the coin surface. You can often see doubling on the date, but most are barely visible, and you need a magnifying glass to spot it. Such coins are usually worth about $130 to $600, but the costliest piece was sold at $1,998 in 2013.
Lamination
The 1929 Buffalo nickels with a lamination error occurred when the planchet surface cracked for some reason, often because of metal contamination. It left atypical distinct lines over the obverse or reverse design. Such a specimen typically costs $60.
Also read: 14 Most Valuable Nickel Errors Worth Money
FAQ about the 1929 Buffalo Nickels
What makes 1929 Buffalo nickels special?
The 1929 Buffalo nickels are ordinary coins minted in high numbers. Even though most were released into circulation, there are enough excellently preserved pieces for collectors. Thanks to their wide price range, everyone can pick out the desired coin that matches their budget and preferences.
Which 1929 Buffalo nickels won auction records?
The auction price for the 1929 MS 67 Buffalo nickel of $63,250 was reached at Heritage Auctions on May 4, 2005
The auction price for the 1929 S MS 67+ Buffalo nickel of $36,000 was reached at Heritage Auctions on October 10, 2021
The auction price for the 1929 D MS 66+ Buffalo nickel of $15,275 was reached at Heritage Auctions on February 27, 2014
The auction price for the 1929 S MS 66 2 Feathers Buffalo nickel of $11,750 was reached at Legend Rare Coin Auctions on December 12, 2019
The auction price for the 1929 MS 64 DDO Buffalo nickel of $1,998 was reached at Stack's Bowers on November 8, 2013
How much money for the 1929 Buffalo nickels (No Mint mark)?
The 1929 Buffalo nickels from Philadelphia had no mint mark on the reverse. Most were released into circulation, affecting their price. Worn-out pieces typically cost $0.45 to $25, while uncirculated coins are worth approximately $25 to $600, depending on the ranking level.
Be aware that nickels in MS 67 grade are estimated at $5,500 to $7,500, making professional estimation a cost-effective option.
What Buffalo nickels are the priciest by now?
You can recognize coins from regular strikes and proofs. Their auction records depend on the type, condition, and mint mark, but some are valuable because of an error. The most expensive are:
Nickels from regular strikes on raised ground
1913 MS 68+ nickel Type 1 – $79,312.50
1913 D MS 68 nickel Type 1 – $32,200
1913 S MS 67+ nickel Type 1 – $16,800
Nickel proofs on raised ground
1913 PR 68 Nickel Type 1 – $96,937.50
Nickels from regular strikes in recess
1918/7 D MS 65 nickel Type 2 – $350,750
1926 S MS 66 nickel Type 2 – $322,000
1916 DDO MS 64 nickel Type 2 – $281,750
Nickel proofs in recess
1915 PR 69 nickel Type 2 – $69,000
1913 PR 68 nickel Type 2 – $66,700
1914 PR 68 nickel Type 2 – $49,450