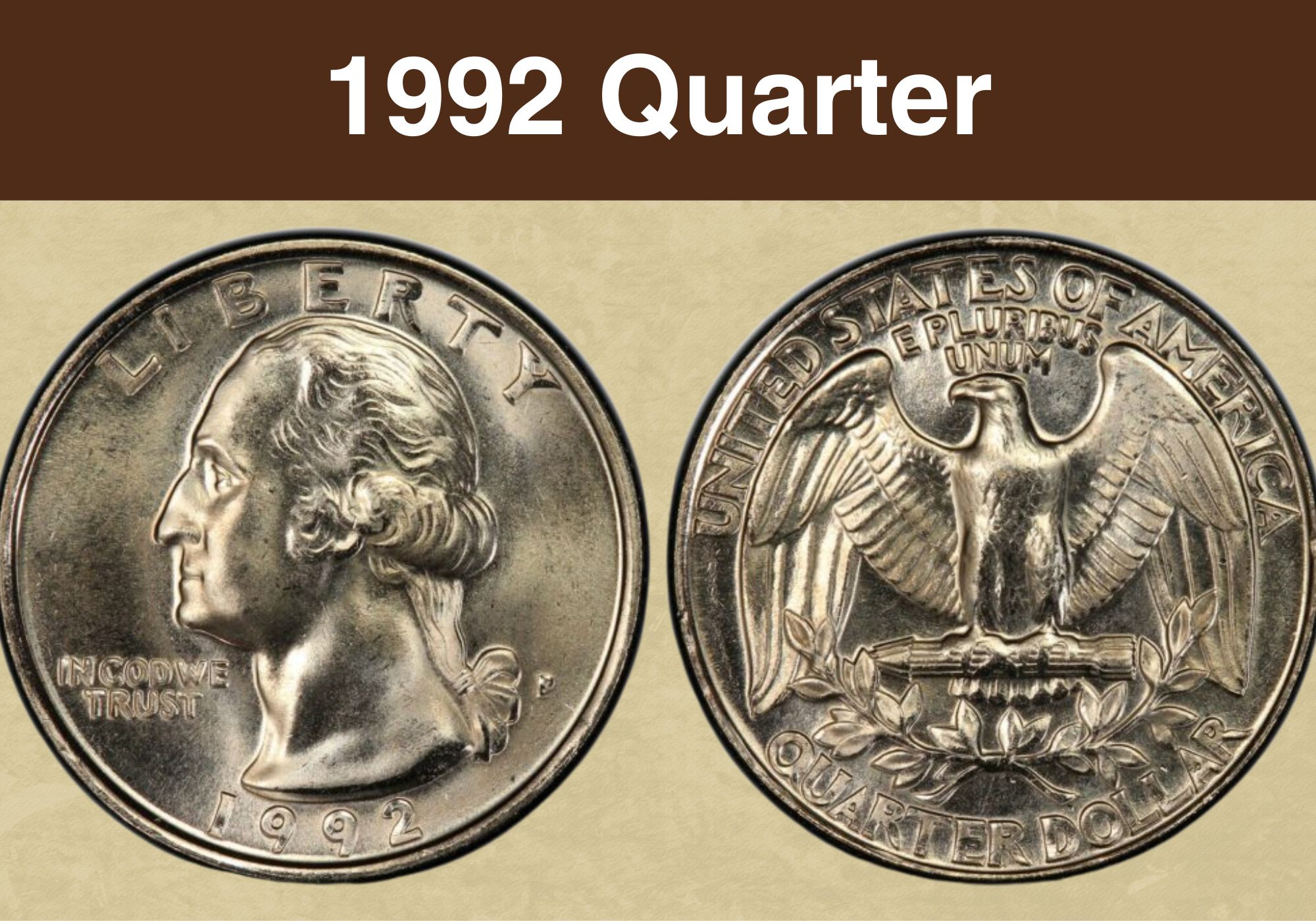 Are you considering adding a 1992 quarter to your coin collection?
Are you curious whether your old 1992 quarter can earn you good money if you sell it?
When it comes to Washington quarters, 1992 is a somewhat special year because it marked the beginning of the production of proof silver quarters.
If you are lucky to own a proof silver quarter, it could fetch a premium!
This guide will explain everything you need to know about the 1992 quarter value.
You will learn about the coin's interesting history, how to identify a 1992 quarter worth money, and error coins that can be worth hundreds of dollars.
So, let's jump in and find out just how much is a 1992 quarter worth.
1992 Quarter Value Chart

Mint Mark
Good
Fine
Extremely Fine
Uncirculated
1992-P Quarter Value
$0.30
$0.30
$0.30
$375
1992-D Quarter Value
$0.30
$0.30
$0.30
$785
1992-S Proof Clad Quarter Value
$0.30
$0.30
$0.30
$45
1992-S Proof Silver Quarter Value
$0.30
$0.30
$0.30
$65
The History of the 1992 Quarter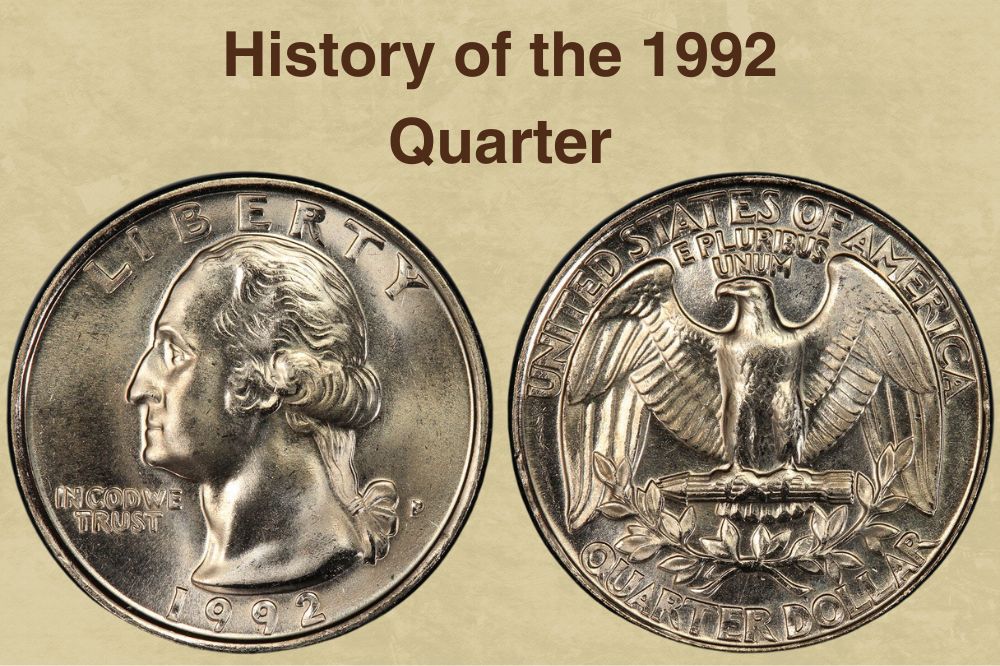 The 1992 quarter belongs to the Washing quarter series, which the United States Mint released into circulation in 1932.
The Washington quarter replaced the Standing Liberty quarter as part of the George Washington bicentennial birth celebrations.
In 1930, Congress formed a new George Washington Bicentennial Committee responsible for organizing the celebration.
Introducing a commemorative coin was part of the planned celebrations, with the Committee proposing that the new coin replace the Walking Liberty half dollar temporarily.
However, Congress requested that the new Washington dollar permanently replace the Standing Liberty quarter, and that decision stood.
The Committee had also elected sculptor Laura Gardin Fraser to design a commemorative Washington medal. It was expected that Fraser would design the new coin as well, but this proposition did not sit well with the Treasury Department under the leadership of Andrew Mellon.
Instead, the Treasury held a parallel competition to find a suitable designer for the new Washington Quarter. Eventually, the Department chose sculptor John Flanagan to design the commemorative coin.
Production of the Washington quarter began in July 1932, and the new coins were released into circulation by August.
Between 1932 and 1964, the United States Mint struck Washington quarters in 90% silver and 10% copper. However, rising silver prices and increased hoarding of silver coins forced the Mint to change its composition to copper-nickel starting in 1965.
In 1992, the Mint began issuing proof silver quarter alongside the proof clad quarters. This tradition has continued to date.
The Features of the 1992 Quarter
Let's now look at the features of the 1992 quarter. Understanding these attributes will come in handy when identifying 1992 quarters worth money.
The Obverse of the 1992 Quarter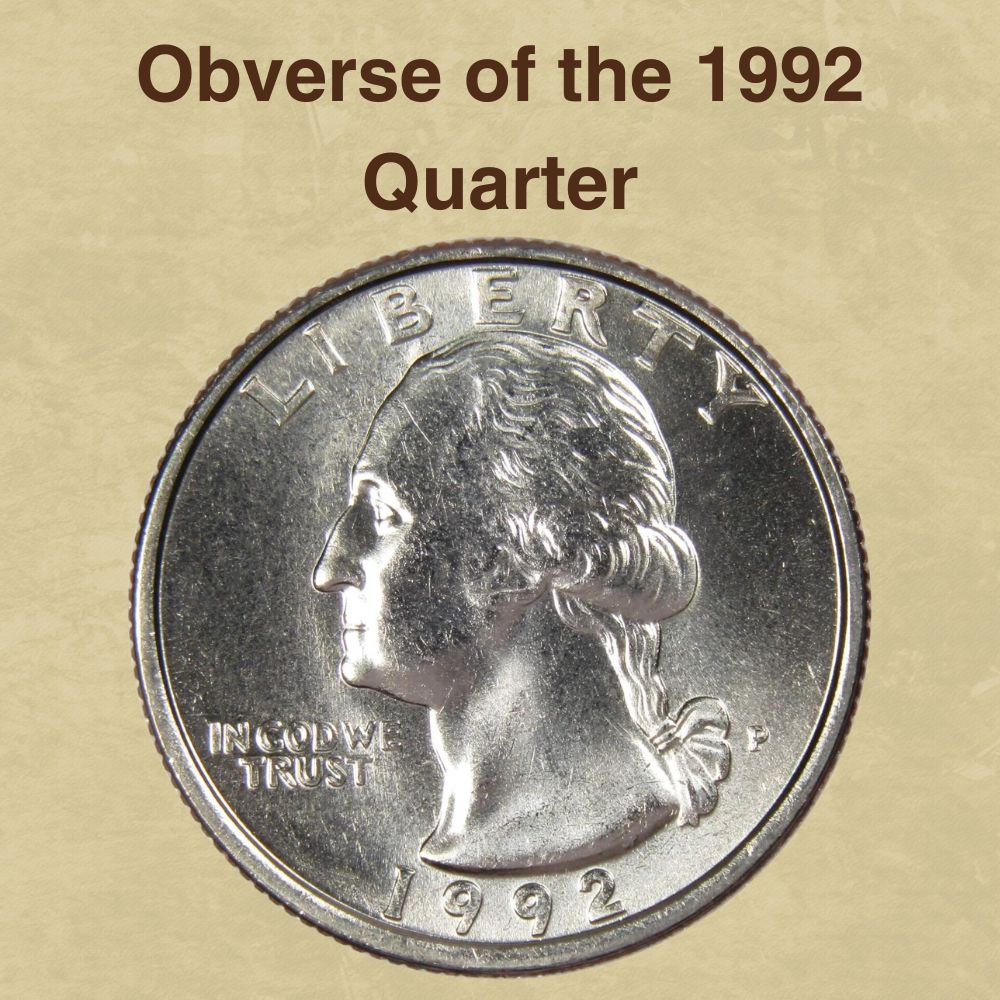 The obverse is the top side of a coin, also known as the head.
On a 1992 quarter, the left-facing profile of George Washington takes up most of the space on the obverse. The president looks straight ahead, his hair in a pigtail.
The word LIBERTY appears at the top around the coin's inner rim, while the year date, 1992, is shown at the bottom.
You will see the motto, IN GOD WE TRUST impressed on the coin's surface on the left side.
The Reverse of the 1992 Quarter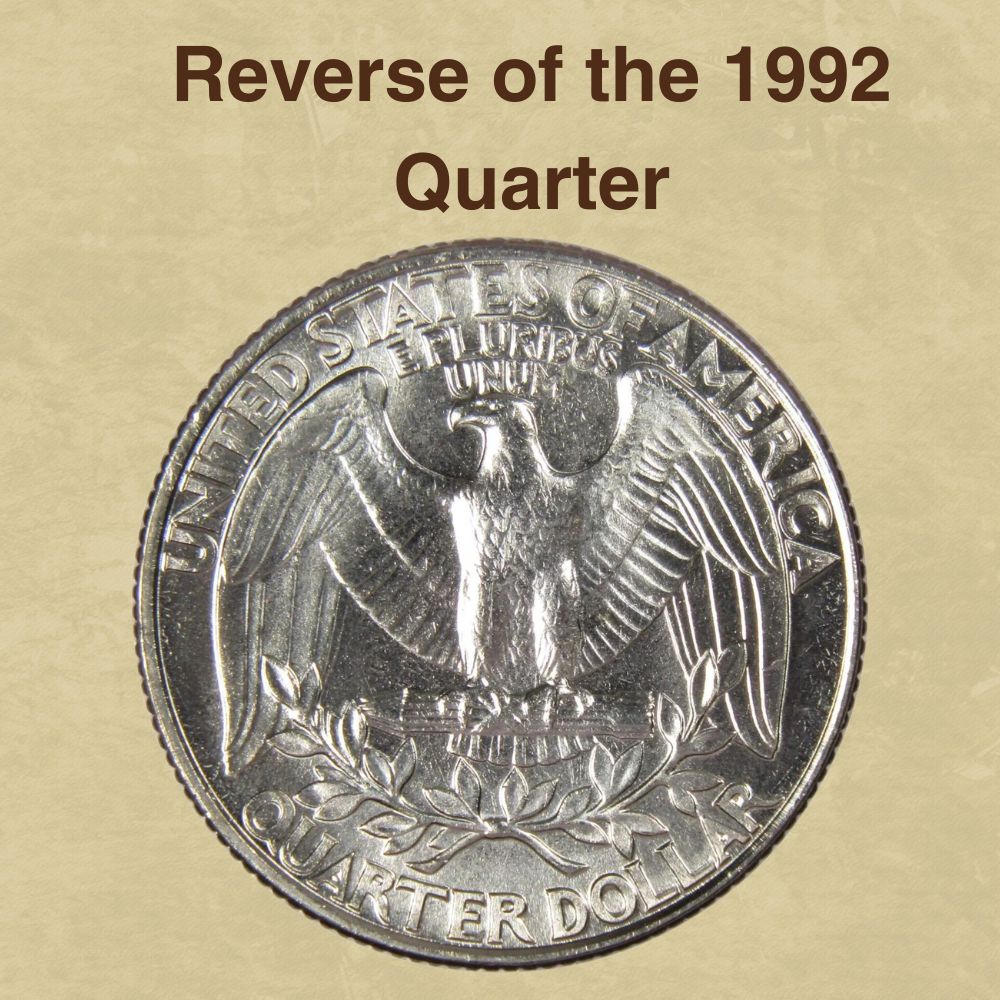 When you turn over the coin on the reverse or tail side, you are met with a more complex design. The major image is a left-facing American eagle with its wings spread out wide.
The bird is perched on a bundle of arrows representing freedom and liberty. Below are olive branches tied together, symbolizing peace and independence.
Our country's name appears boldly at the top along the inner rim, followed by the motto E PLURIBUS UNUM, which means ''Out of many, one."
The coin's denomination, ONE QUARTER, is shown at the bottom along the inner rim.
Other Features of the 1992 Quarter
Business strike 1992 Washing quarters are made of a pure copper center and an outer clad comprising 75% copper and 25% nickel.
This coin measures 24.30 millimeters in diameter and weighs 5.67 grams. The 1992 clad quarter is categorized as reeded as it spots denticles around the edge.
Silver proof quarters are made of 90% silver and 10% copper and weigh 6.30 grams, a few grams heavier than the copper-nickel clad quarters.
The mints in Philadelphia, Denver and Francisco struck Washington quarters in 1992. You can identify where a quarter was struck by the mint mark P, D, or S; the mint mark appears on the obverse next to the President's pigtail.
1992 Quarter Value Guides
So how much is a 1992 quarter worth?
Whether you want to buy or sell, the 1992 quarter value will depend on factors such as the coin's condition, rarity, mint mark, and minting errors.
There are four varieties of the 1992 quarter, each with its value. The four include the following:
1992-P Quarter
1992-D Quarter
1992-S Quarter
1992-S Silver Quarter
Let's jump in and look at the value of each variety of the 1992 quarter.
1992-P Quarter Value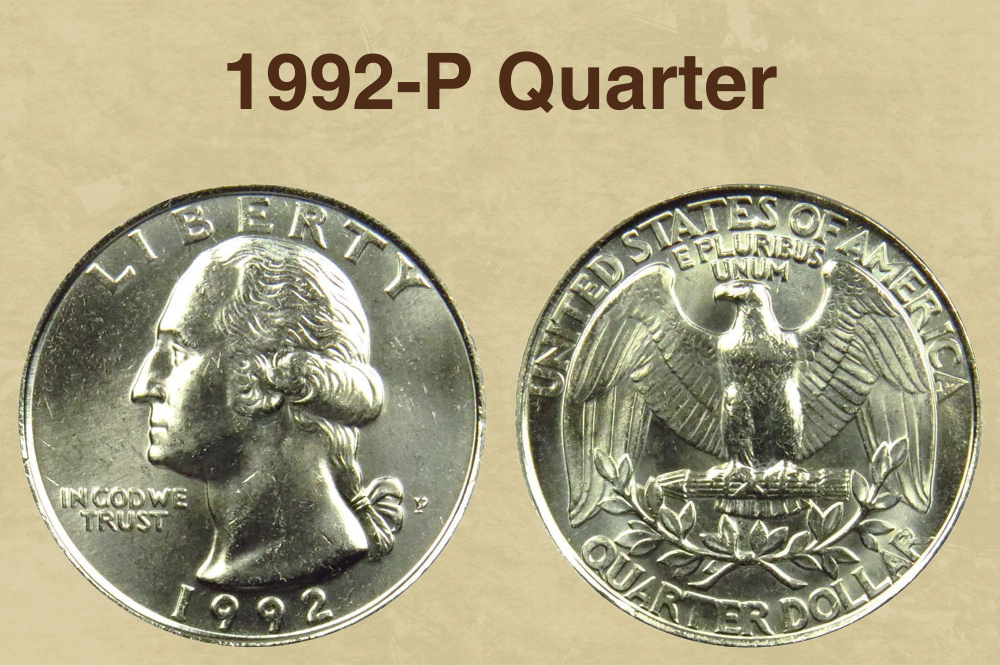 The minting facility at Philadelphia produced about 384,764,000 quarters in 1992.
With such a high mintage, you can expect these coins to be quite common and easy to find, suppressing their value on the numismatic market.
Circulated examples are plentiful, and most will show visible flaws, especially on Washington's bust. This can be attributed to low-quality dies in striking these coins.
In circulated condition, 1992-P quarters are affordable, fetching between $0.30 and $0.85. Uncirculated pieces are relatively accessible until grade MS65, which you can get your hands on for about $15.
Starting grade MS66, 1992-P quarters become very scarce, with only a few hundred known to exist. Anything from MS68 and above is extremely hard to come by, and there are probably only a dozen certified pieces.
While lower-grade uncirculated examples are inexpensive, gem-state 1992 quarters with a P mint mark can be pricey, fetching as much as $375 to $400 depending on the condition.
According to the Professional Coin Grading Company, the most expensive 1992-P quarter is graded MS67 and was sold for $764 at a 2017 Heritage Auctions sale.
1992-D Quarter Value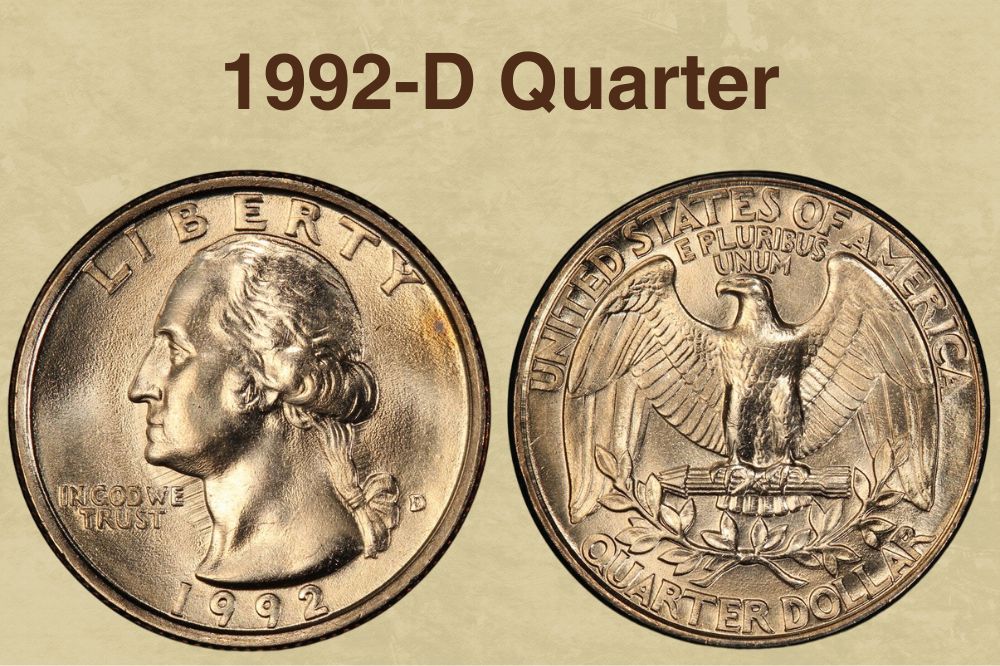 The Denver mint recorded an equally high mintage, producing an estimated 389,777,107 quarters in 1992.
Circulated 1992 quarters with a D mint mark are abundant; you won't have to hassle much to find such a coin as it is recent, and the majority were released into circulation.
Circulated pieces fetch between $0.30 and $0.85, which is affordable and accessible to any collector. The truth is, you will not make a fortune by selling 1999-D quarters.
Finding one in uncirculated condition is quite difficult because most of these coins were released into circulation. In fact, from grade MS65, 1992-D quarters are noticeably scarce, with only a handful of examples known to be certified.
Quarters from 1992 graded MS66 and will typically fetch a premium in the market. If you are lucky enough to own a 1992-D graded MS68 and above, you can expect to sell it for at least $785.
PCGS records show that a collector paid an impressive $1,763 for a 1992-D quarter graded MS67 in a 2013 Heritage Auctions sale.
1992-S Proof Clad Quarter Value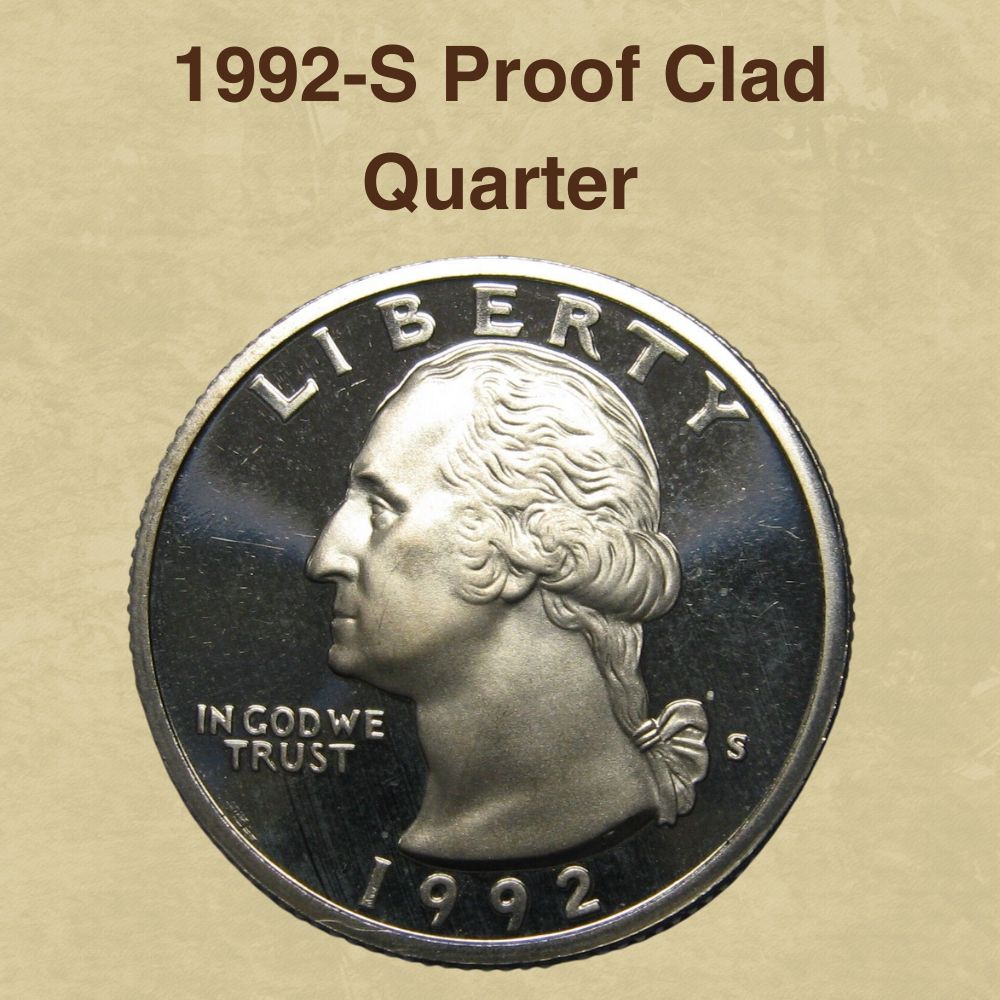 The mint in San Francisco produced about 2,858,981 proof quarters with a copper-nickel outer clad.
The U.S. Mint usually issues proof coins for collectors, producing only a limited number. However, some years, the Mint may produce millions of proof coins, as with the 1992 Washington quarter.
The high mintage of the 1992-S proof clad quarters means these coins are common, very affordable, and accessible to any collector.
Cameo and ultra-cameo examples graded PF70 are relatively rare but remain affordable. With about $45, you can get a nice, shiny, flawless 1992-S proof clad quarter graded PF70.
1992-S Proof Silver Quarter Value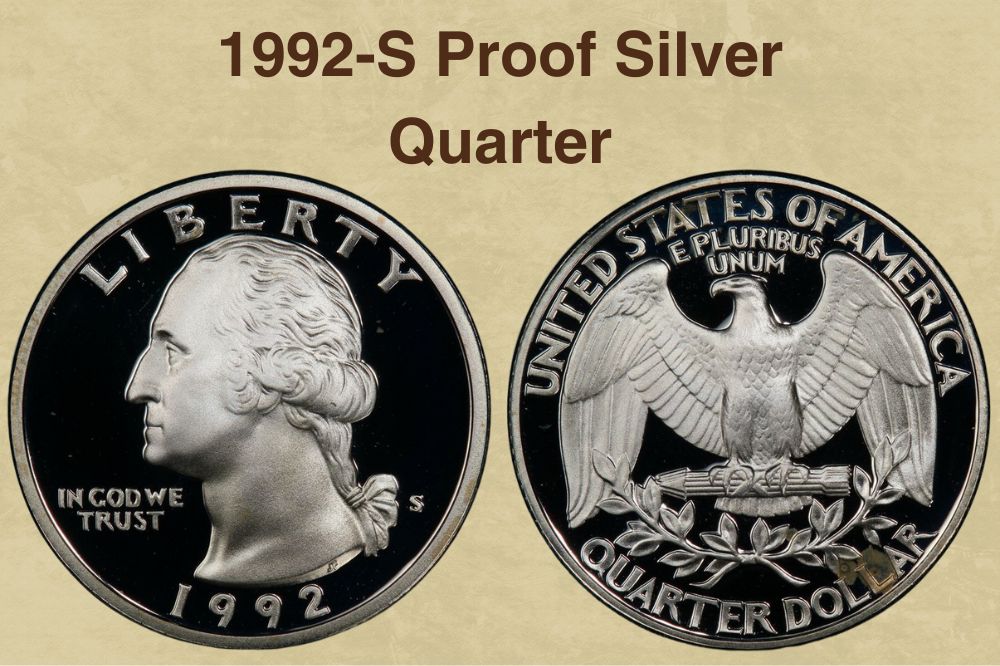 The Mint started producing commemorative proof silver quarters alongside proof clad quarters 1992. About 1,317,579 were struck that year, which is quite a high mintage for proof coins.
The relatively high mintage makes the 1992-S proof silver quarters common and inexpensive. You do not need hundreds or even thousands of dollars to acquire a sparkling silver 1992-S proof quarter; with about $60 to $70, you can add this precious coin to your collection.
To date, the most expensive 1992-S proof silver quarter was sold for $432 in a 2003 Heritage Auctions sale.
1992 Quarter Grading
Washington quarters in mint state are in high demand among collectors. There is no doubt that this is a valuable coin for sentimental and historical reasons.
Knowing how to identify mint state 1992 quarters is essential. You want to look out for signs of wear and mint luster. The luster should be complete from one end of the coin to the other.
Observe your coin under a single light source. A mint 1992 Washington quarter should retain luster at the top of the President's head, the curl around his ear, and the cheek. These high contact points are prone to wear and tear and dullness.
On the reverse, examine the eagle's breast feathers, the front of the legs, and the wings' top edges. These areas should be free of smoothness and dulling in an uncirculated coin.
If you notice any flaws or dullness, the coin will be graded as circulated. The extent of the flaws will determine whether the coin can be graded as good, fine or extra fine.
Rare 1992 Quarter Errors List
With hundreds of millions of quarters struck in 1992, minting errors are inevitable.
If you come across an odd-looking 1992 quarter error, you might be the lucky owner of an error coin that's potentially worth much more than face value.
Here are some 1992 quarter errors worth money you should look out for:
1992 Struck Through Grease Quarter Error
Struck-through errors happen when a foreign object gets between the die and the planchet.
As a result of the foreign object, the design is not fully transferred onto the planchet, resulting in a blurry coin that may sometimes miss details, such as the mint mark.
Grease from the minting machine may sometimes come between the planchet and die, resulting in a struck-thru error on the coin.
A 1992 quarter with a struck-through error can fetch as much as $65, but you can expect more if the coin is generally in good condition.
1992 Off-Center Strike Quarter Error
Off-strike errors are those in which the design elements, such as Washington's bust on the obverse or the eagle on the reverse placed away from the center.
In this case, the design may appear more to the right, left, or toward the top or base. You can expect between $70 and $90 if you own such a coin.
1992 Clad Platting Quarter Error
The 1992 quarter comprises a copper-nickel cladding, with nickel giving the coin a shiny appearance. In some instances, though, the nickel layer may be missing due to a minting error.
The absence of the nickel layer will leave the coin looking dull, old and rusty on the nickel-free spots. This certainly makes for an interesting coin that's highly desirable among collectors.
Such an error coin is valued at between $20 and $30, depending on how much of the missing nickel layer is.
FAQ
How do you know if you have a valuable 1992 quarter?
The Washington quarters from 1992 are generally only worth their face value. However, a 1992 quarter might be valuable if it is silver, has an S mint mark on the obverse, is smooth, flawless, and spots a shiny surface. This is a silver proof quarter, highly desirable among collectors and can potentially fetch thousands of dollars depending on its grade.
Is a 1992 S quarter silver?
Not all 1992 S quarters are silver. The Mint produced proof S silver quarters alongside clad S quarters. If you happen to come across one that is shiny with a reflective surface, it is probably a proof silver quarter.
How can you tell if a 1992 quarter is rare?
Generally, the 1992 Washington quarters are categorized as abundant on the rarity scale. The Mint struck millions of these coins, so they are not rare. However, some 1992 quarters spot minting errors; these rare coins can be worth hundreds of dollars.