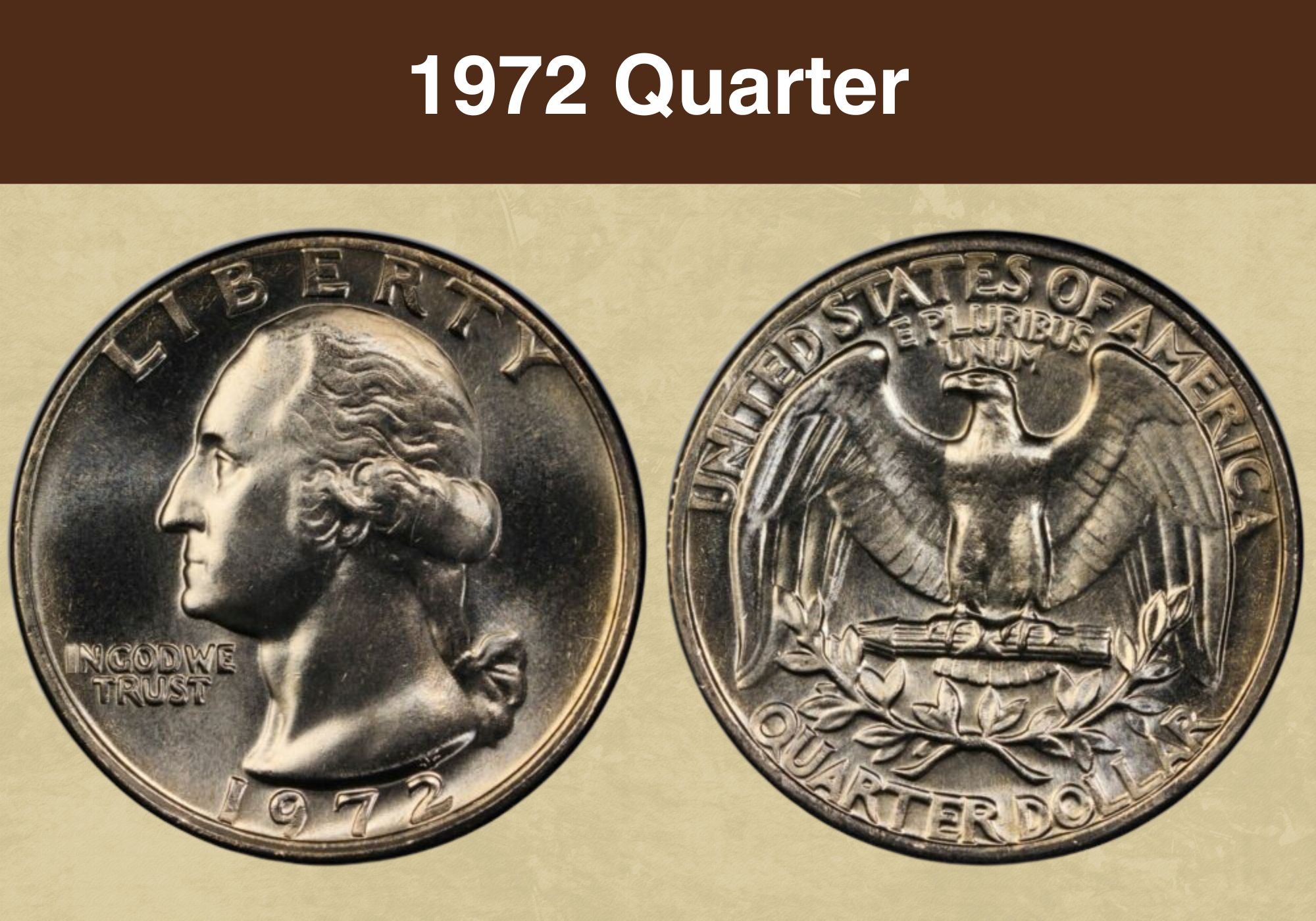 Even though only 50 years passed until these coins were minted, the 1972 quarter value can be significantly higher than their face value. However, it is only valid for those in the mint state, while circulated pieces are too worn-out to be attractive to collectors.
Be aware that this coin series started in 1932, meaning coins from the 1970s are still modern. Their significance is based on the fact that they belong to a collectible set, a respectful part of coinage history. How things are, you need to wait for another few decades to see their value increasing.
1972 quarter value Chart

Condition
1972 No mint mark quarter
1972 D quarter
1972 S quarter
MS 65
$6.81
$6.81
/
PR 65
/
/
$5.84
History of the 1972 Washington Quarter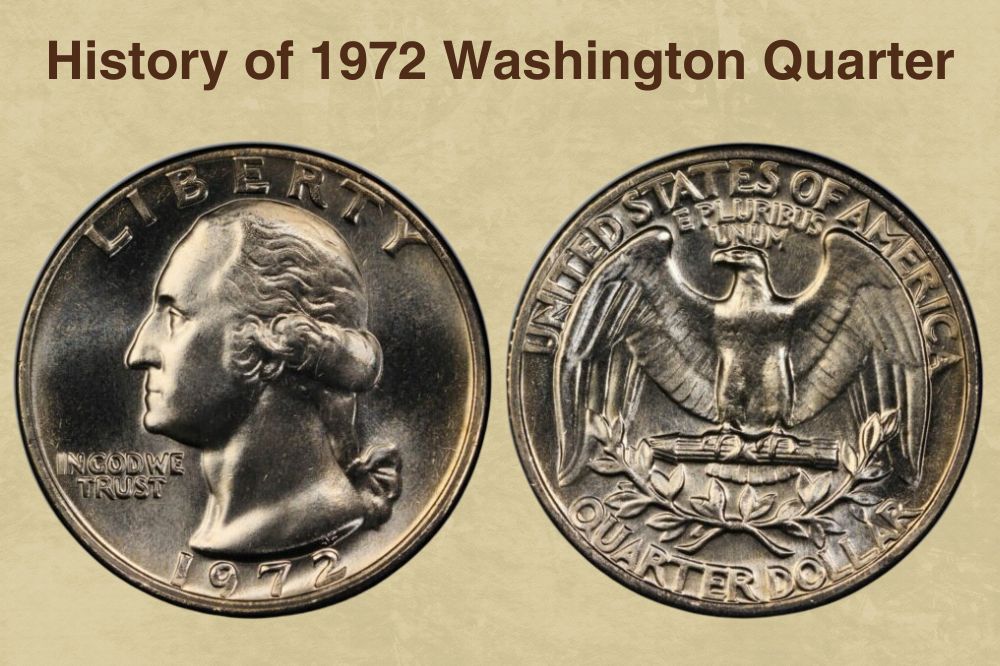 You can recognize several Washington quarter eras when the US Mint redesigned both the obverse and reverse for different reasons and on special occasions. Therefore, you can identify these coins as:
Heraldic eagle quarters (silver coins) minted in 1932 and from 1934 to 1964
Heraldic eagle quarters (clad coins) minted from 1965 to 1974
Bicentennial quarters minted in 1975 and 1976
Heraldic eagle quarters (clad coins) minted from 1977 to 1998
State quarters minted from 1999 to 2008
US territories quarters minted in 2009
America the Beautiful quarters minted from 2009 to 2021
As you can see, quarters minted in 1972 are in the second group, meaning they are made of cupronickel.
1972 quarter Types

Location
Year
Minted
Philadelphia
1972 no mint mark quarter
215,048,000
San Francisco
1972 S quarter (proof)
3,260,996
Denver
1972 D quarter
311,067,732
Total
/
529,376,728
The idea that George Washington deserved to get a coin with his image on the coin obverse was old. However, everyone knew that the first President despised such a solution and considered it too monarchist.
However, officials decided it was time to honor this crucial man in American history. Unfortunately, the entire contest about coin design was followed by an unpleasant event.
Namely, Laura Fraser sent the winning design among 99 others, but the Secretary of the Treasury had the final decision. The result was John Flanagan's creation you can see on all coins minted for decades.
The first coinage contained silver, but that was changed in 1965. Since then, all quarters have included copper and nickel instead of precious metals, including pieces minted in 1972.
Also read: Top 13 Most Valuable State Quarters Worth Money
Features of the 1972 Washington Quarter
Precisely 99 artists sent their work to the competition for a new Washington quarter. Although Mrs. Fraser's artistic solution was the best, the honor of creating this significant coin got John Flanagan. The reason is not entirely apparent and belongs to the domain of speculation.
The obverse of the 1972 Washington quarter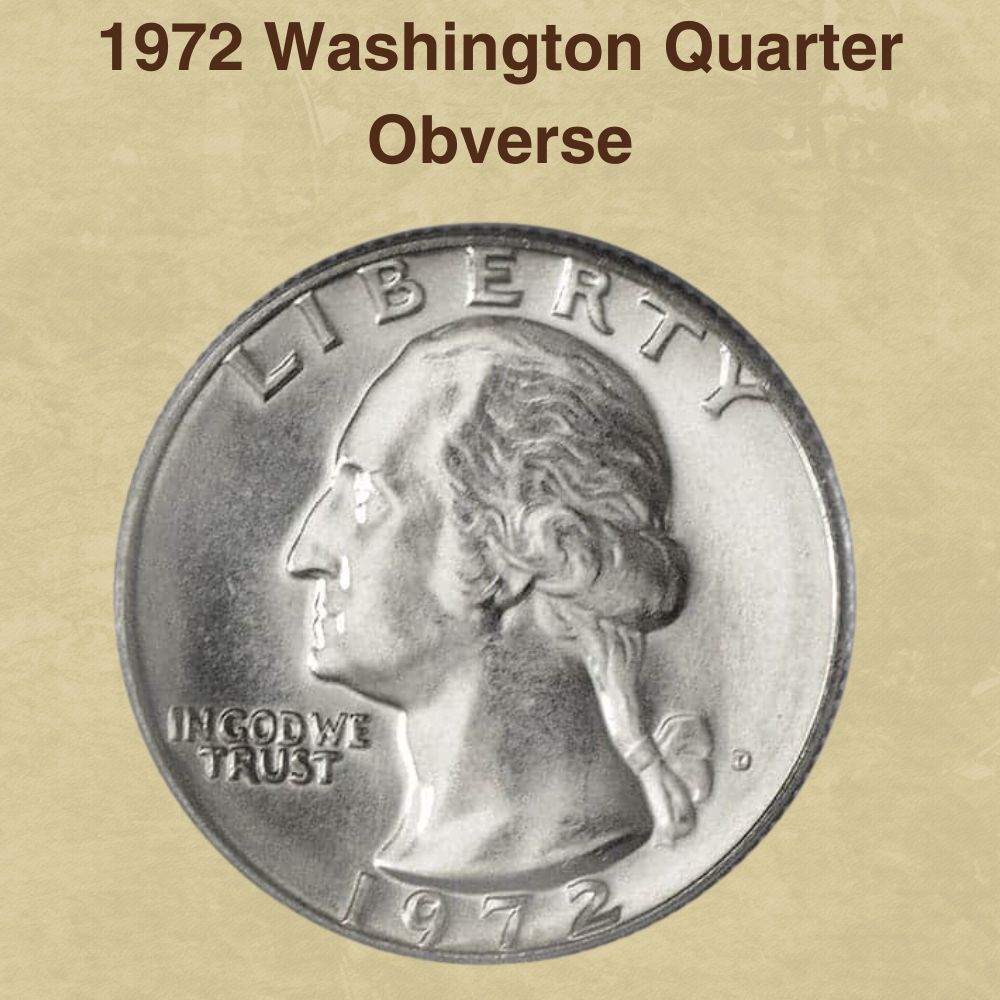 The obverse side of the quarter, minted in 1972, contains a Washington bust modeled after Houdon's sculpture from 1786. You can see the President's profile with a specific hairstyle that slightly differs from the one on the sculpture.
The designer John Flanagan surrounded the centrally positioned image with the American historical guiding word LIBERTY, and 1972, representing the minting year. The initials JF are placed on the neck bottom line, while the mint mark (D or S) is next to the hair bow.
The reverse of the 1972 Washington quarter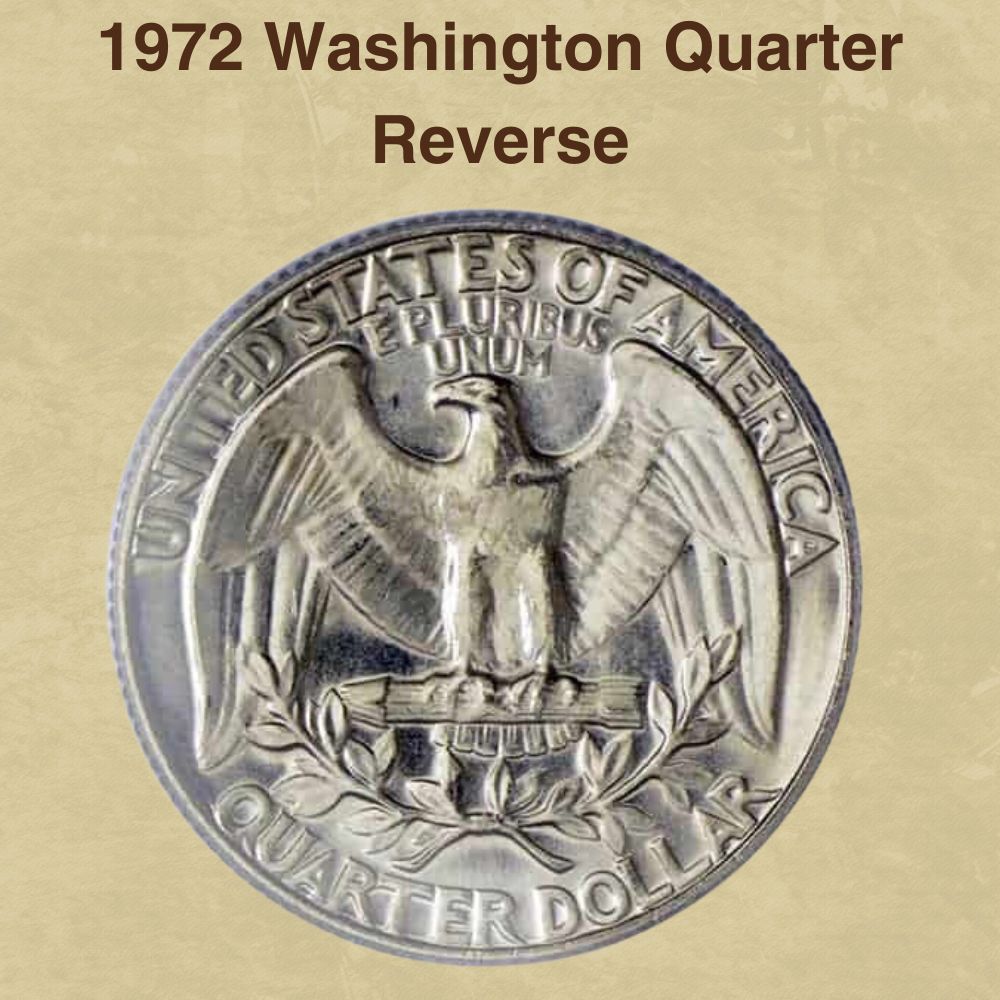 The 1972 quarter reverse is packed with symbols crucial for American history and political intentions. The central position is reserved for a bald eagle, a prominent American bird.
An olive wreath created of two branches symbolizes peace as a universal category, while a bundle of arrows in the eagle's talons represents the war efforts. The inscriptions include the country's name, UNITED STATES OF AMERICA, stamped on top, covering the entire reverse design.
The Latin saying is placed in two lines below it, looking like this:
E PLURIBUS
UNUM
Finally, the bottom coin rim is reserved for the denomination (QUARTER DOLLAR).
1972 quarter Details

Face value
Twenty-five cents ($0.25)
Shape
Round
Compound
Coper-clad with 91.67% copper in total (100% in core plus 75% in outer layer) and 8.33% nickel in total (25% in outer layer)
Coin thickness
0.0689 inches (1.75 mm)
Coin diameter
0.9567 inches (24.3 mm)
Coin weight
0.2000 ounces (5.67 g)
Edge
Reeded
Other features of the 1972 Washington quarter
The round, reeded-edged 1972 Washington quarters are coper-clad coins containing 91.67% copper in total. All 100% is in the core, plus 75% is a part of the outer layer. The rest is nickel. It makes up 8.33% of the total coin composition since 25% of the outer layer is this metal.
Like other quarters, those minted in 1972 weigh 0.2000 ounces (5.67 g), while the diameter of newly-struck coins is 0.9567 inches (24.3 mm). Their thickness is 0.0689 inches (1.75 mm) after leaving the mint.
1972 Washington Quarter Grading
The best-grading method is to have your 1972 quarter evaluated by a professional service. However, you can do it on your own with less-valuable coins. It is enough to compare their appearance and possible damage with descriptions, ranking them on a 1 to 70 official Sheldon scale.
| # | Grade |
| --- | --- |
| 1 | Basal State-1 |
| 2 | Fair |
| 3 | Very Fair |
| 4, 5, 6 | Good |
| 7, 8, 10 | Very Good |
| 12, 15 | Fine |
| 20, 30 | Very Fine |
| 40 | Extremely Fine |
| 50 | About Uncirculated |
| 60 | Mint State |
| 65 | Mint State |
| 70 | Mint State |
Please check our grading guides to know your coin scale, It's the necessary step to know the exact value of your coin.
Check out now: How to Grade Washington Quarter?
1972 Quarter Value Guides
The Washington quarter mintage of 529,376,728 coins is average for this decade, except for those with the 1776-1976 date. Even though three mints produced them, only two issued regularly struck pieces. The third struck only proofs. Let's see.
1972 No Mint Mark quarter Value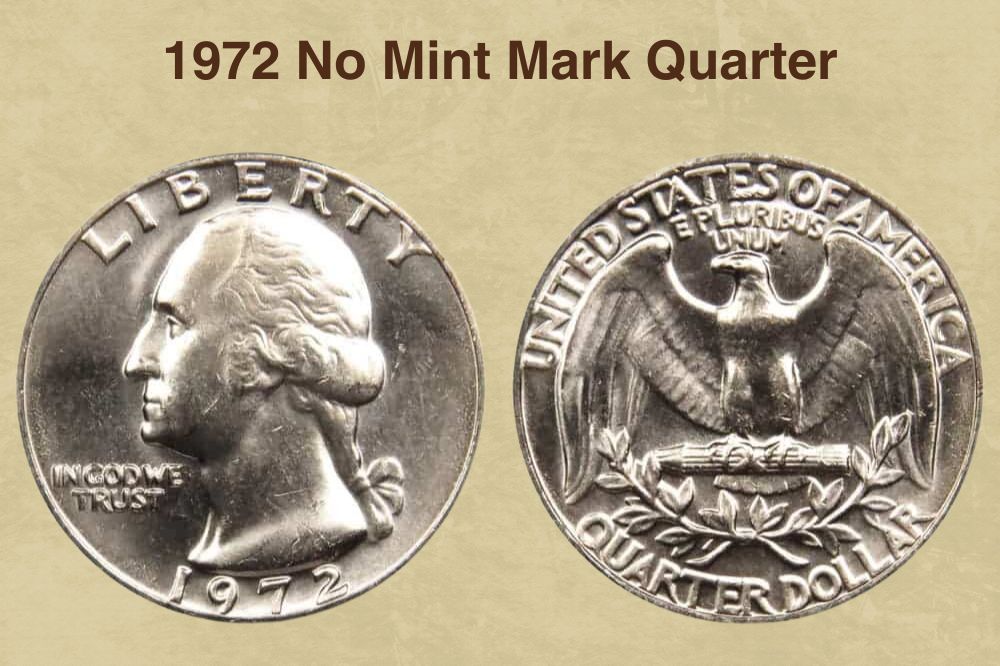 Most of the 215,048,000 quarters minted in Philadelphia in 1972 were released into circulation and spent decades in use. Since they show more or less signs of wear, their average market price is only about $0.25.
Even excellently-preserved pieces are relatively inexpensive, so you can buy one coin in MS 60 to MS 63 grade for $1 to $1.20 while ranking MS 64 and MS 65 cost $2 to $5. You can count for more money only if you have a better-graded piece.
For instance, MS 66-ranked coins are worth $27 to $32, while the 1972 MS 67 quarters are estimated at $550 to $650. The most valuable is undoubtedly a rare specimen in MS 67+ grade sold at Heritage Auctions in 2018 for $1,320.
1972 D Mint Mark quarter Value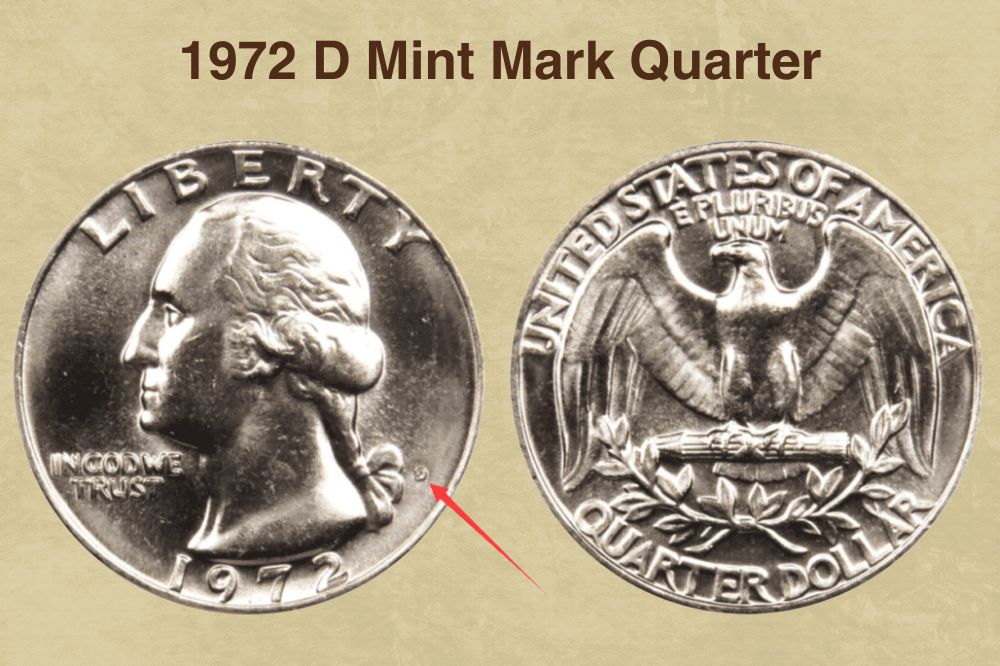 This year, the Denver mint issued about 30% more coins than the one in Philadelphia. Most of the 311,067,732 produced quarters were released into circulation and have become heavily worn out by now.
Expectedly, their value is 25 cents, while those in the mint state are worth at least four times more. So, even collectors on a budget can get flawless specimens for $1 to $54.
The only expensive quarters are those in the highest MS 68 grade, with an estimated price range from $1,400 to $1,680. One of these scarce coins became the priciest in the series after selling at $3,055 in 2014.
1972 S Mint Mark proof quarter Value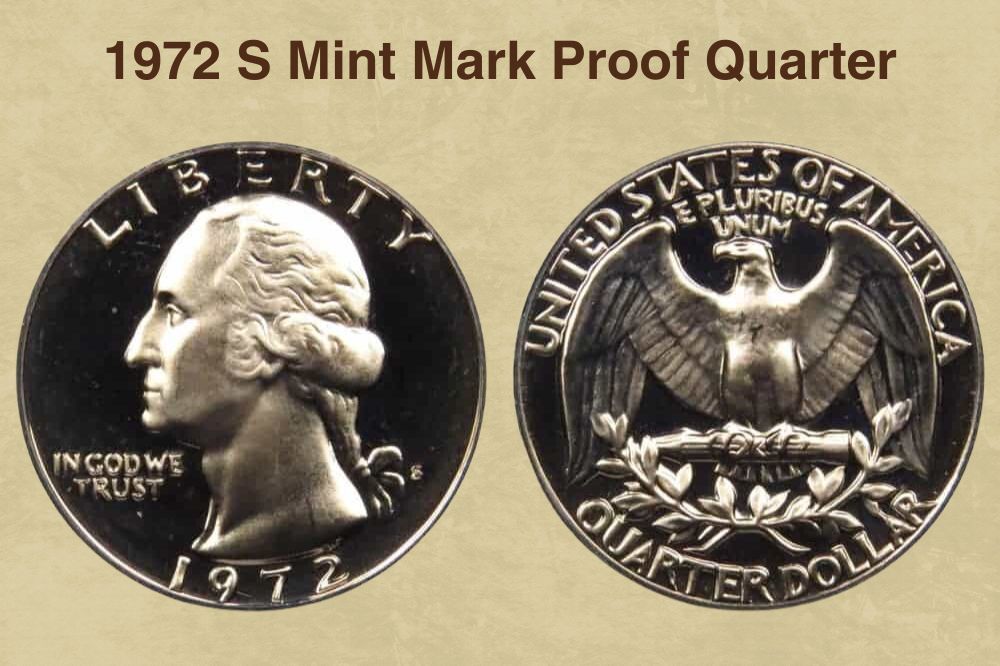 All 3,260,996 proof quarters minted in 1972 came from the San Francisco mint. Only coins with the S mint mark in the highest grades are collectible, meaning you can buy one, ranking from PR 67 to PR 69, for $6.50 to $8.
The 1972 S quarters with cameo contrast in the same grades cost a bit more, from $8 to $15. The most valuable is the 1972 S DCAM quarters, and most collectors are prepared to pay about:
$10 for PR 67-rating coins
$14 for PR 68-rating coins
$80 for PR 69-rating coins
However, the situation is quite different with auction winners. Most were sold for over $1,000 in the first decade of the 21st century.
Also read: Top 16 Most Valuable Modern Quarters Worth Money
Rare 1972 Washington Quarter Error List
Quarters with 1972 as a minting year visible on the coin obverse have only a few errors. These coins' prices are never spectacularly high, but you can expect to get more money than for flawless ones.
Doubled die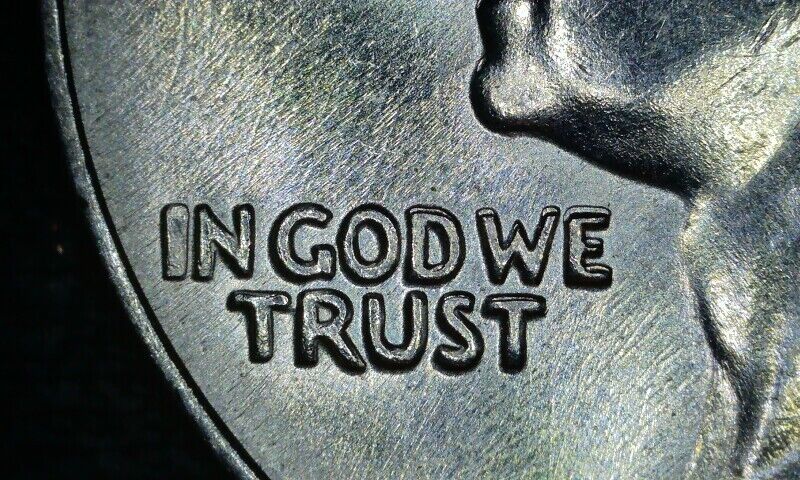 The 1972 quarters with doubled die error typically cost $25 to $50 without surprise at auctions. In most cases, their price is based on their look and error size.
Despite all the US Mint workers' efforts, imperfect specimens, including quarters, are a regular part of each coin mintage. Design doubling is among the most common errors and appears when the die causes doubling on some letters or pieces of an image.
For instance, quarters minted in 1972 often show a slight doubling in the Latin motto on the reverse or IN GOD WE TRUST on the obverse. As for the images, this error is sometimes visible in the President's eye or the eagle's wing.
Remember that smeared details are often a result of the die slipping off the press during minting. Even though such an imperfection looks like a doubled die error, it is not, and such coins are worthless.
Off-center
The most valuable imperfection among 1972 quarters is an off-center error resulting from an imperfectly positioned planchet during minting. Therefore, the die struck the design slightly off-center, leaving a crescent-shaped space along the rim.
The size of this coin part without the design dictates a coin price. For instance, off-center error coins under 5% and above 80% are often worthless, particularly when the date is non-recognizable. The best collectible quarters have 50% to 60% off-center error with the visible date and the mint mark.
You can get about $20 for the 1972 quarters with a 5% to 10% off-center error. On the other hand, pieces with the intact date and about 50% blank part cost approximately $200 to $250.
Broad strike (smooth edge)
The 1972 quarters with a broad strike can be valuable and cost $20 to $30. These pieces come with a smooth edge due to striking outside the collar. They are thinner and come with a longer diameter. That crucial feature helps differentiate these errors from worn-out pieces with smooth edges.
Missing clad
You can sometimes come across cupronickel 1972 quarters with missing clad. The quickest way to recognize these coins is to notice their dull red-brownish color instead silver toning.
Be careful when buying a specimen with this imperfection since color loss sometimes results from prolonged use and excessive wear and tear. Unlike quarters with a minting error, those are worthless.
Clipped planchet
You can effortlessly recognize 1972 quarters with this error by looking at them. Such coins are incomplete, with a missing piece cut during production. Specimens with sizable cutting and visible date can be costly, particularly those in uncirculated condition.
Also read: 17 Most Valuable Quarter Errors Worth Money
Where to Sell Your 1972 Washington Quarter ?
Now that you know the value of your coins, do you know where to sell those coins online easily? Don't worry, I've compiled a list of these sites, including their introduction, pros, and cons.
Check out now: Best Places To Sell Coins Online (Pros & Cons)
FAQ about the 1972 Washington Quarter
What makes 1972 quarters with a Washington image on the coin obverse rare?
The 1972 quarters are widely available nowadays since they are modern coins you can still find in circulation. Therefore, most are worth only their face value, and only rare pieces in impeccable condition can be worth over a thousand dollars.
Which 1972 quarters with a Washington image on the coin obverse won auction records?
Interestingly, all 1972 quarters winning the auction records were sold at Heritage Auctions from 2003 to 2018. The list includes the following coins:
One collector purchased the 1972 D MS 68 quarter with Washington on the coin obverse for $3,055 in 2014
One collector purchased the 1972 S PR 66 quarter with Washington on the coin obverse (CAM) for $1,380 in 2007
One collector purchased the 1972 MS 67+ quarter with Washington on the coin obverse for $1,320 in 2018
One collector purchased the 1972 S PR 65 quarter with Washington on the coin obverse for $1,035 in 2007
One collector purchased the 1972 S PR 69 quarter with Washington on the coin obverse (DCAM) for $357 in 2003
How much for the 1972 quarter from the Philadelphia mint?
Most quarters released from the Philadelphia mint in 1972 ended up in circulation and stayed there for years. Therefore, you can find them at their face value of $0.25. Coins in the mint state cost approximately $1 to $30, except for those in MS 67 grade, with an assessed price range from $550 to $650.
What are the priciest quarters with a Washington image on the coin obverse?
1932 D quarter in MS 66 grade – $143,750
1932 S quarter in MS 66 grade – $45,500
1949 D quarter in MS 68 grade – $43,475
1948 quarter in MS 68+ grade – $43,200
1932 quarter in MS 67 grade – $40,250
1950 DCAM quarter in MS 68 grade – $31,200
1966 quarter in MS 68+ grade – $21,000