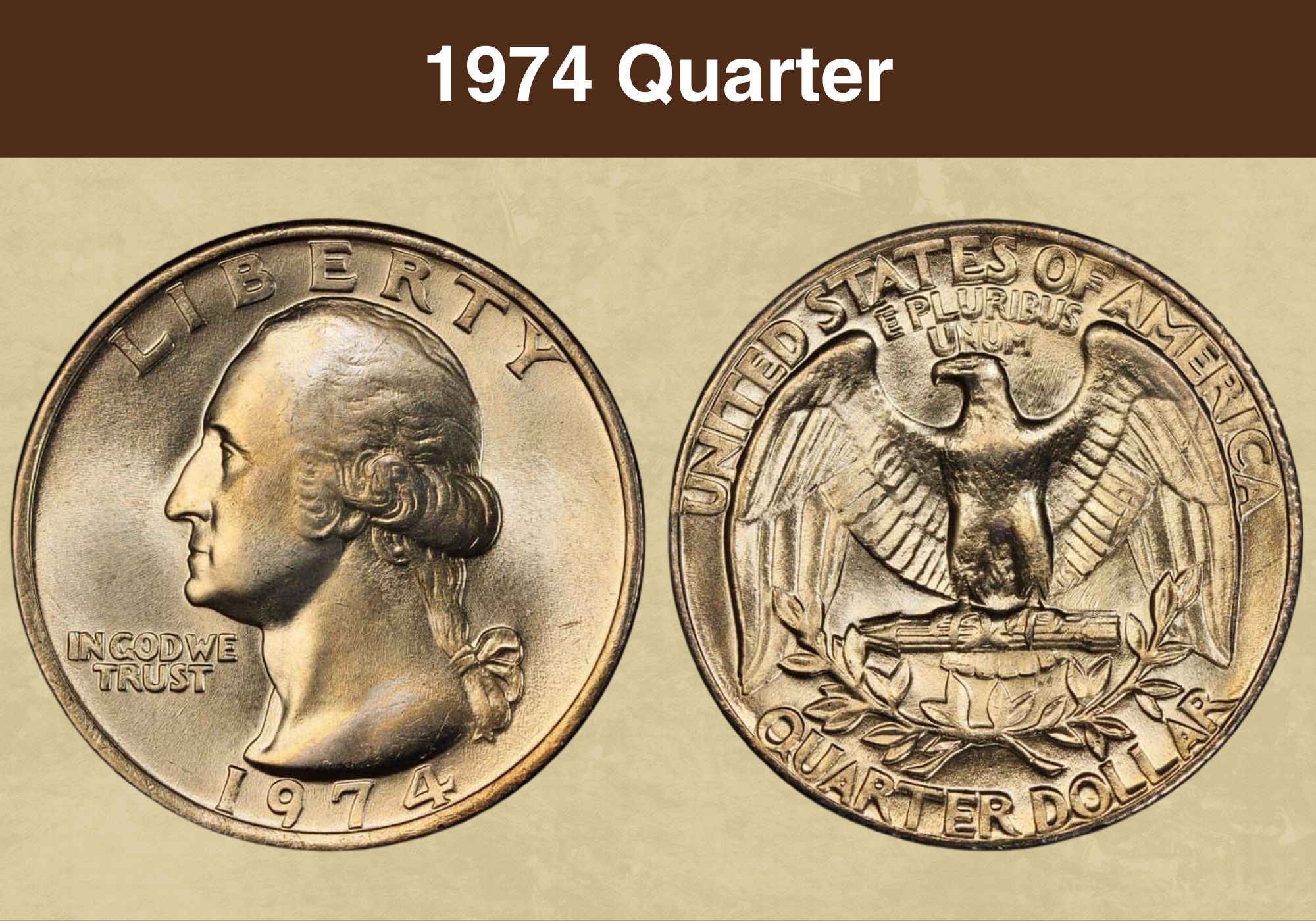 Do you own a 1974 quarter and wonder how much it would earn were you to sell it?
Are you considering buying this coin to add to your collection?
Whether you want to sell or buy, it helps to know the coin's accurate value in the marketplace. That's exactly what this article will help you do!
We'll explore the 1974 quarter value in-depth, including its features and tips on how to grade your coin. You will also learn about error coins worth good money that you should pay attention to.
Ultimately, you will have a good estimate of how much to buy or sell your 1974 Washington quarter.
Let's jump in!
1974 Quarter Value Chart

Mint Mark
Good
Fine
Extremely Fine
Uncirculated
1974 No Mint Mark Quarter Value
$0.3
$0.3
$0.3
$1,500
1974 D Quarter Value
$0.3
$0.3
$0.3
$275
1974 S (Proof) Quarter Value
–
–
–
$80
1974 S (Proof) Cameo Quarter Value
–
–
–
$200
1974 S (Proof) Deep Cameo Quarter Value
–
–
–
$800
History of the 1974 Quarter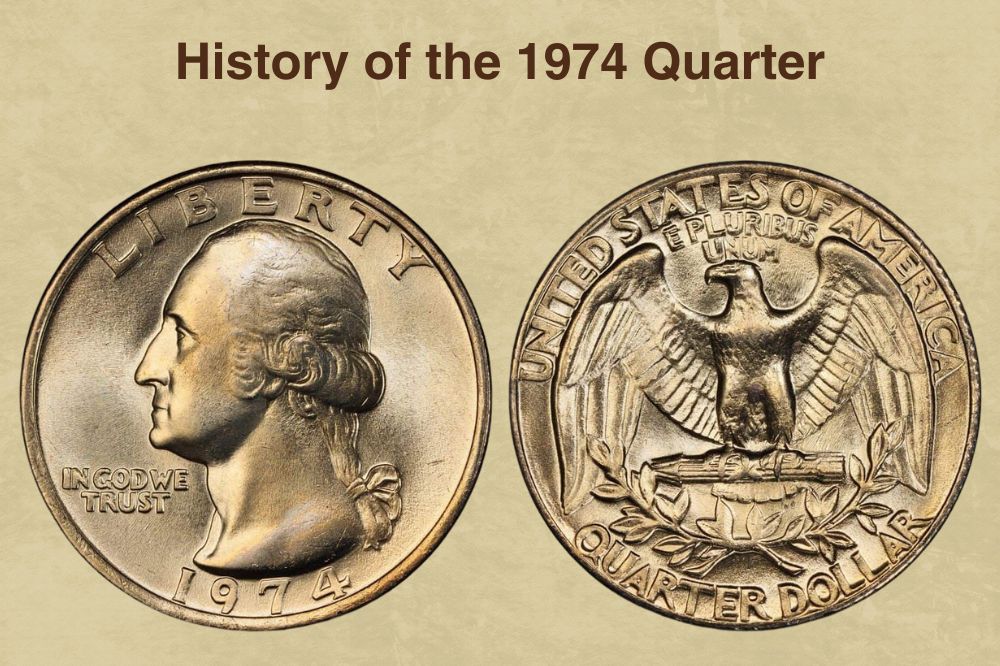 The 1974 quarter is part of the Washington quarter series, which began circulation in 1932.
The United States Mint struck the first Washington quarter to commemorate the 200th or bicentennial anniversary of President George Washington's birthday anniversary.
Being the country's first president, these celebrations were going to be a big deal. Every entity involved, including Congress, Treasury Department, and the Bicentennial Commission, wanted to plan well in advance.
Preparations began as early as 1930 when an Act of Congress established a new Bicentennial Commission. The Commission immediately launched a competition for a coin designer, requiring prospective designers to feature President Washington's portrait on the obverse. The artists were to base their work on Washington's bust sculpted by French sculptor Jean-Antoine Houdon.
Laura Gardin Fraser emerged victorious from the design competition. The Commission then asked her to design a presidential medal for the upcoming bicentennial celebration and wanted her to use the same design to create a Washington half dollar, which would replace the Walking Liberty half dollar.
However, Congress voted to replace the Standing Liberty dollar instead. Treasury Secretary Andrew Mellon also overlooked Laura Gardin's design and held their competition in favour of another sculptor named John Flanagan.
Despite the bad blood between the Commission and Treasury Department, it was announced that Flanagan's design would be used for the new Washington quarter.
By July 1932, the news was out that striking of the Washington quarter had begun, and the coins were released into circulation by August. The design of the silver Washington quarters remained largely unchanged, with the Mint initiating small modifications here and there every other year.
At the start of 1964, a severe coin shortage was propelled by speculatively high silver prices. People hoarded millions of silver coins and began hoarding Nickel and Copper coins as well. The Mint responded by striking more coins hoping that speculation would die down, but this did not solve the problem; widespread hoarding continued.
In June 1965, Congress passed the Coinage Act, halting the use of silver in coins and requiring the Mint to transition to copper-clad coins. From 1965 onwards, Washington quarters were no longer struck in silver but comprised a copper core and copper-nickel outer clad.
Also read: Top 13 Most Valuable State Quarters Worth Money
Features of the 1974 Quarter
The design of the 1974 quarter remained mostly the same as the original Washington quarter. Let's look at the features of the obverse and reverse.
The Obverse of the 1974 Quarter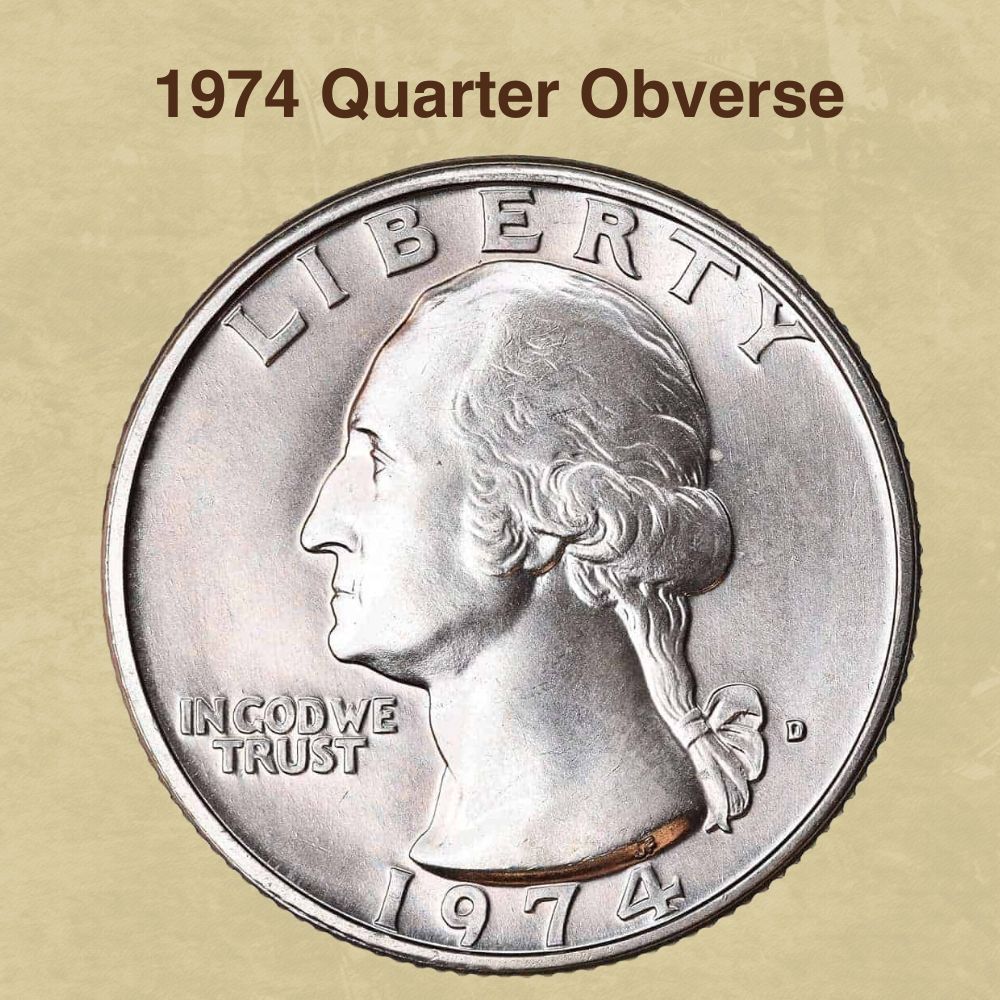 The obverse features a left-facing portrait of President George Washington's bust, based on Jean-Antoine Houdon's 1785 sculpture of the president.
The word LIBERTY is boldly imprinted along the rim at the top.
The country's motto IN GOD WE TRUST appears on the left side close to Washington's neck, while the date, 1974, is inscribed around the rim at the bottom.
If you look at the coin carefully, you will notice the initials JF for John Flanagan right on top of the 4 and along Washington's collarbone.
The Reverse of the 1974 Quarter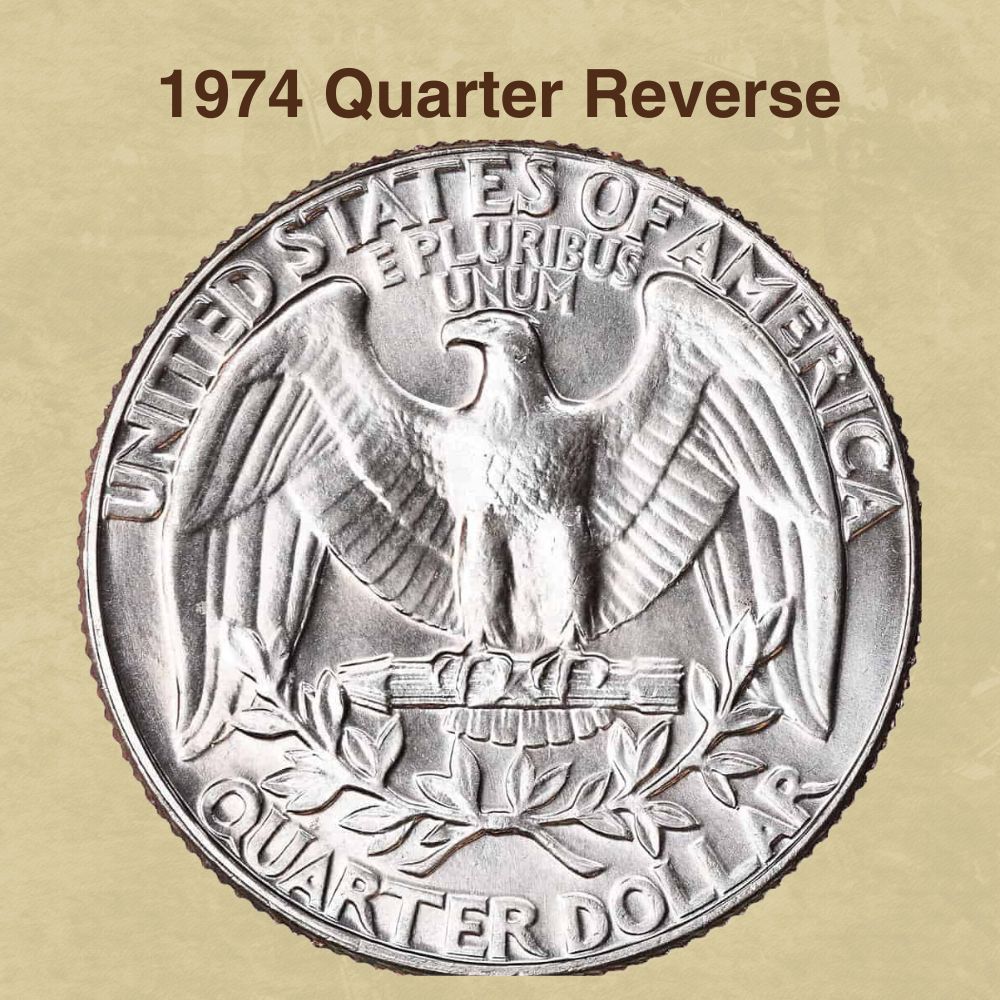 The reverse is a bit more detailed. There is an image of the bald American Eagle with its wings spread out wide open.
The bird is perched on a bundle of arrows, representing independence and readiness to protect the country's sovereignty. Two olive branches frame the bird's image. These are symbolic of peace.
At the top along the coin's rim, you will see the country's name and right below, as though sitting on the eagle's head, is the motto E PLURIBUS UNUM.
The coin's denomination, QUARTER DOLLAR, appears along the rim at the bottom.
Other Features of the 1974 Quarter
The 1974 Washington quarter comprises a copper core layered with 75% Copper and 25% Nickel.
The coin weighs 5.67 grams and measures 24.30 millimeters. It has a reeded edge.
This coin was minted in Philadelphia, Denver and San Francisco. Those minted in Philadelphia and the proofs struck in San Francisco do not have a mint mark. But you will spot the mint marks D on the coins struck on Denver.
The mint mark is placed on the obverse close to the ribbon in Washington's hair.
Check out this video to learn more about the features to look for in valuable 1974 quarters.
1974 Quarter Grading
When grading 1974 quarters, you should focus on the coin's high points.
On the obverse, the main high points prone to wear are around Washington's cheekbone, cheek surface, and jawline. The area around and behind the ear is also considered a high point.
On the reverse, pay attention to the eagle's chest and the tips of the spread-out wings. Keep an eye on the legs as well for signs of tear.
A coin qualifies for a mint state designation if the luster, design and lettering are fully intact. In addition to the high points, the rim should also be full on the obverse and reverse.
| # | Grade |
| --- | --- |
| 1 | Basal State-1 |
| 2 | Fair |
| 3 | Very Fair |
| 4, 5, 6 | Good |
| 7, 8, 10 | Very Good |
| 12, 15 | Fine |
| 20, 30 | Very Fine |
| 40 | Extremely Fine |
| 50 | About Uncirculated |
| 60 | Mint State |
| 65 | Mint State |
| 70 | Mint State |
Please check our grading guides to know your coin scale, It's the necessary step to know the exact value of your coin.
Check out now: How to Grade Washington Quarter?
1974 Quarter Value Guides
The U.S. Mint struck approximately 1.57 billion Washington quarters in 1974. That's a lot of quarters, making them very common and affordable for any collector.
There are three varieties of the 1974 quarter based on where the coins were minted. These include:
1974 No Mint Mark Quarter
1974 D Quarter
1974 S Quarter (Proof)
We'll now look at each variety's value so you can know how much you can sell or buy a Washington quarter.
1974 No Mint Mark Quarter Value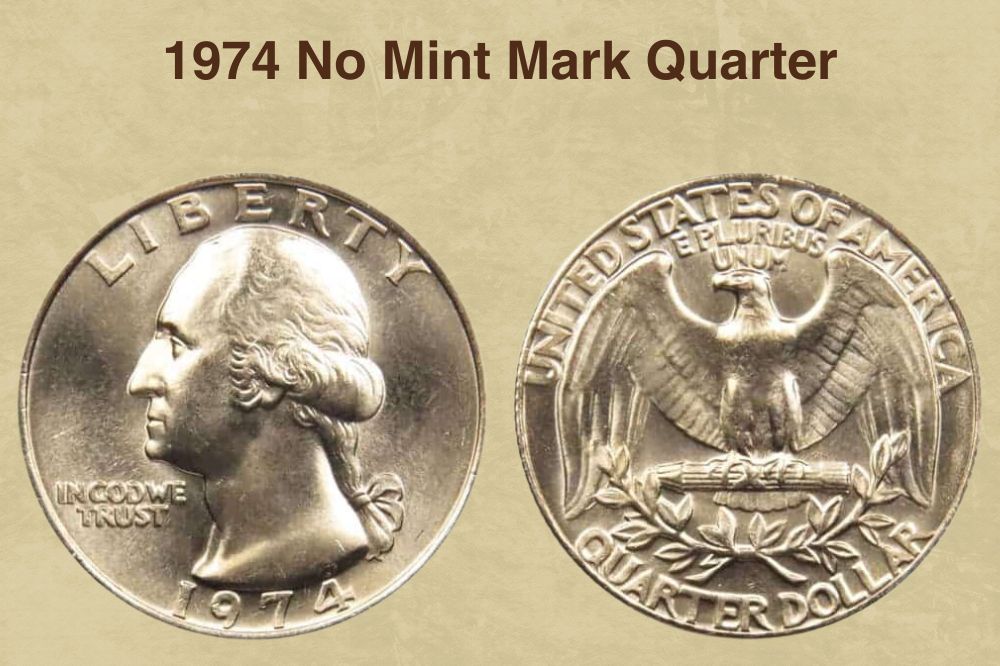 The mint at Philadelphia struck approximately 801,456,000 Washington quarters in 1974, the highest mintage of quarters that year.
The Philadelphia quarters do not have a mint mark; this is primarily how you would identify them. Their large mintage means these no-mint mark coins are extremely common, allowing you to obtain examples affordably.
Even in uncirculated condition, 1974 P quarters are easily accessible, and this is especially true for coins in lower mint state grades. Higher up the scale, you can find gem-quality quarters worth many times more.
A 1974 quarter is worth between $0.3 and $0.85 in circulated condition. This price increases only slightly for mint state coins lower on the scale. For example, an MS60 costs about $1.50, while an MS65 sells for $15.
Mint state coins higher up the scale are worth significantly more. One graded MS67 can fetch up to $1500.
Records from the Professional Coin Grading Service show that in 2020, a rare MS67+ quarter was auctioned for $2,115.
1974 D Quarter Value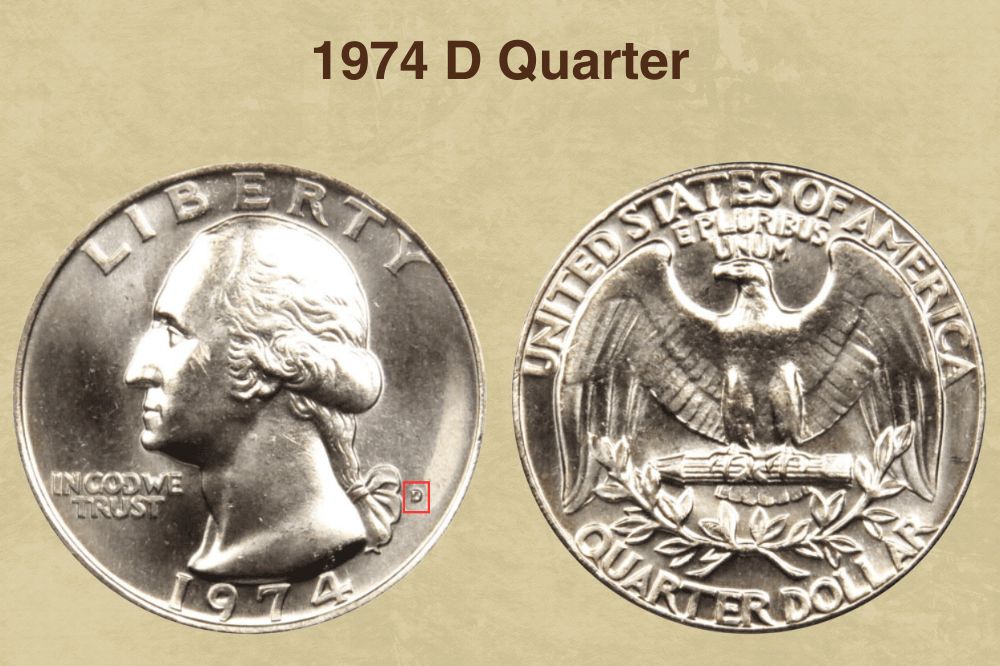 The Denver mint produced nearly half of the mintage at the Philadelphia facility. An estimated 353,160,300 quarters were struck in 1974, making these coins quite common.
Most of the coins minted in Denver were released into circulation, so the majority will be in circulated condition or lower grades of uncirculated mint state.
Circulated 1974 quarters are worth about $0.30 to $0.85. Mint state quarters are also largely affordable, with an MS60 selling for only $2 and an MS66 for $45.
In gem condition, a Washington quarter from 1974 can fetch up to $275 or more, depending on the condition. A specimen graded MS67 was sold at an online auction for $1,450.
1974 S Quarter Proof Value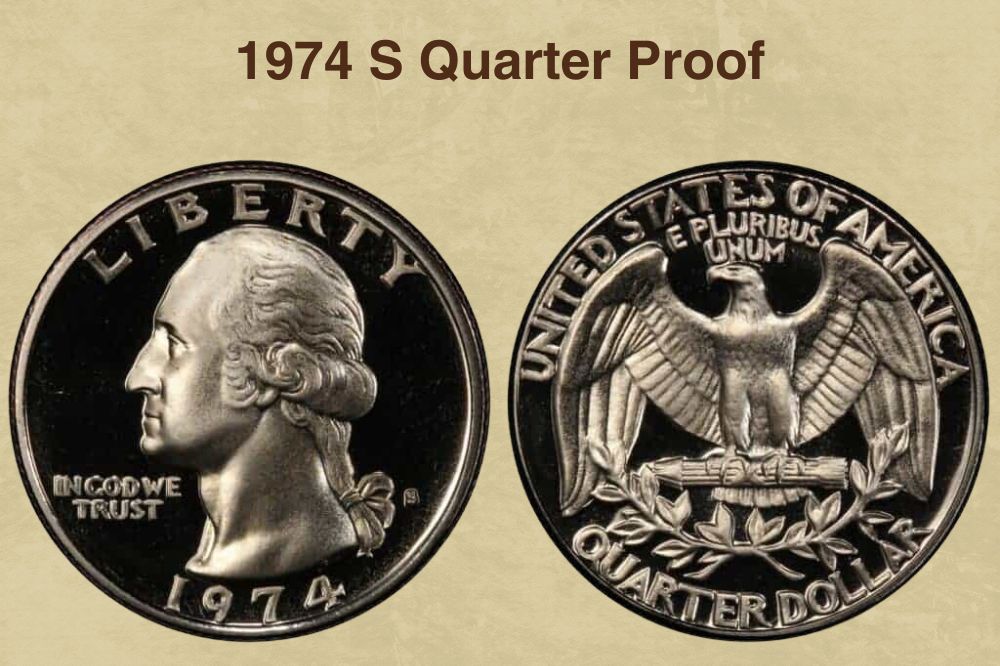 The San Francisco mint did not mint any regular strike Washington quarters in 1974. Rather, it struck about 2,612,568 proof coins for collectors.
Proof coins are usually of a higher strike quality with a satin-like finish, frosted details, intense contrast and great eye appeal.
The Mint usually strikes a few proofs for collectors, but the proof mintage can sometimes be in the millions, as with the 1974 S proof quarters.
With over 2 million copies minted, these proofs are easily accessible even for a new collector with a limited budget. Proofs up to PF66 are common in the marketplace, but these begin to be out of reach from PF69 and above.
The 1974 S quarters are available in regular proof, cameo and deep cameo varieties. A regular MS69 is worth about $15, a very affordable price for any collector.
The prices increase slightly in cameo (CAM), with a PF69 fetching about $18, while the rare PF70 can bring in as much as $200.
Gem 1974 S-proof quarters are noticeably rare and pricey in higher grades. For example, while a deep cameo (DCAM) PF68 is worth $18, an MS70 is as much as $800. The most expensive PF70 sold for a dizzying $10,925 at a 2009 Heritage Auction.
Also read: Top 16 Most Valuable Modern Quarters Worth Money
Rare 1974 Quarter Error List
As we've seen, 1974 Washington quarters are generally worth their face value and even some in mint state can be acquired for $2 or less.
That said, some minting errors can greatly increase a coin's value. With such a large mintage that characterizes the 1974 quarters series, there is bound to be quite a number of error coins, some of which are worth good money.
Let's look at some common 1974 quarter errors to keep an eye on:
1974 Clipped Planchet Quarter Error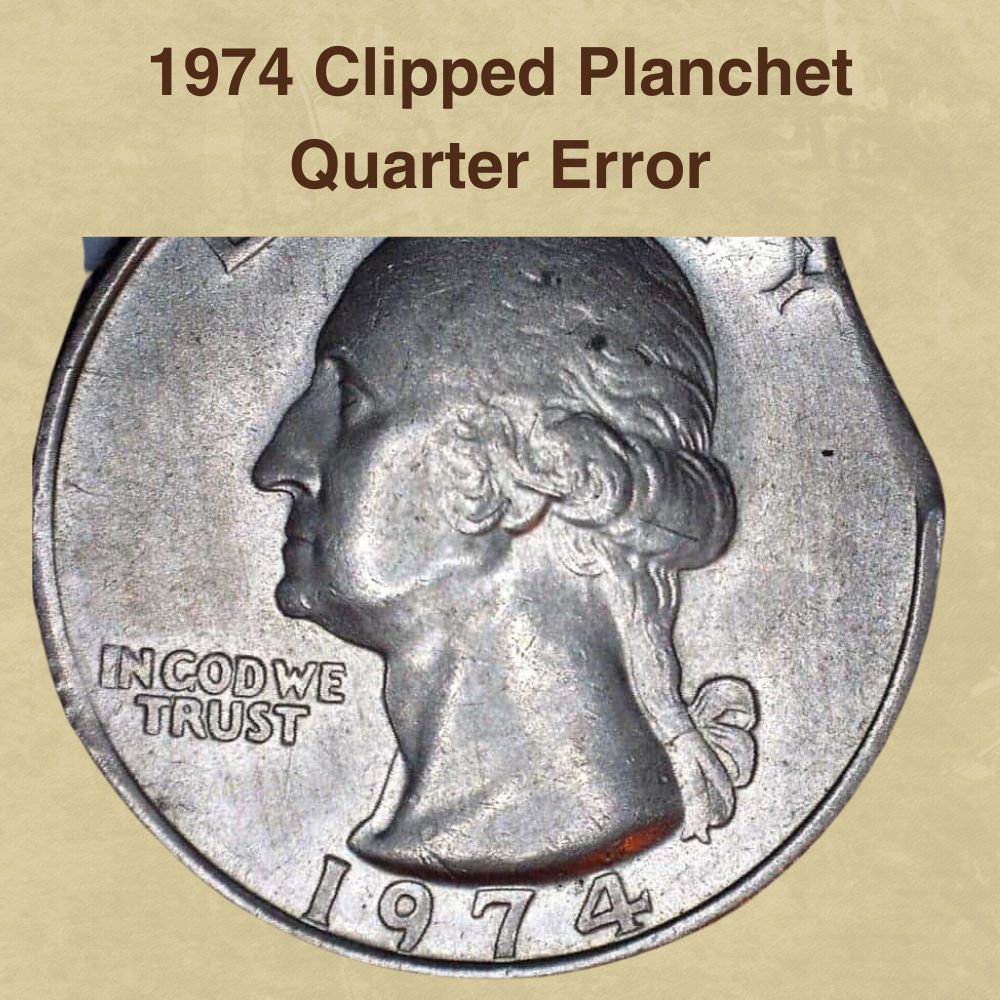 A clipped planchet error happens during the planchet cutting and shaping stage. The machinery that cuts the planchet from a larger metal sheet fails to cut a complete circular planchet, resulting in a chipped or incomplete planchet.
When the chipped planchet moves further down the striking hub, it is struck as usual, but the design doesn't completely fit because a piece of the planchet is missing.
There aren't too many examples of clipped planchet 1974 quarter errors. Depending on the extent of the breakage, this minting error can be worth as much as $200.
1974 Off-Center Stroke Quarter Error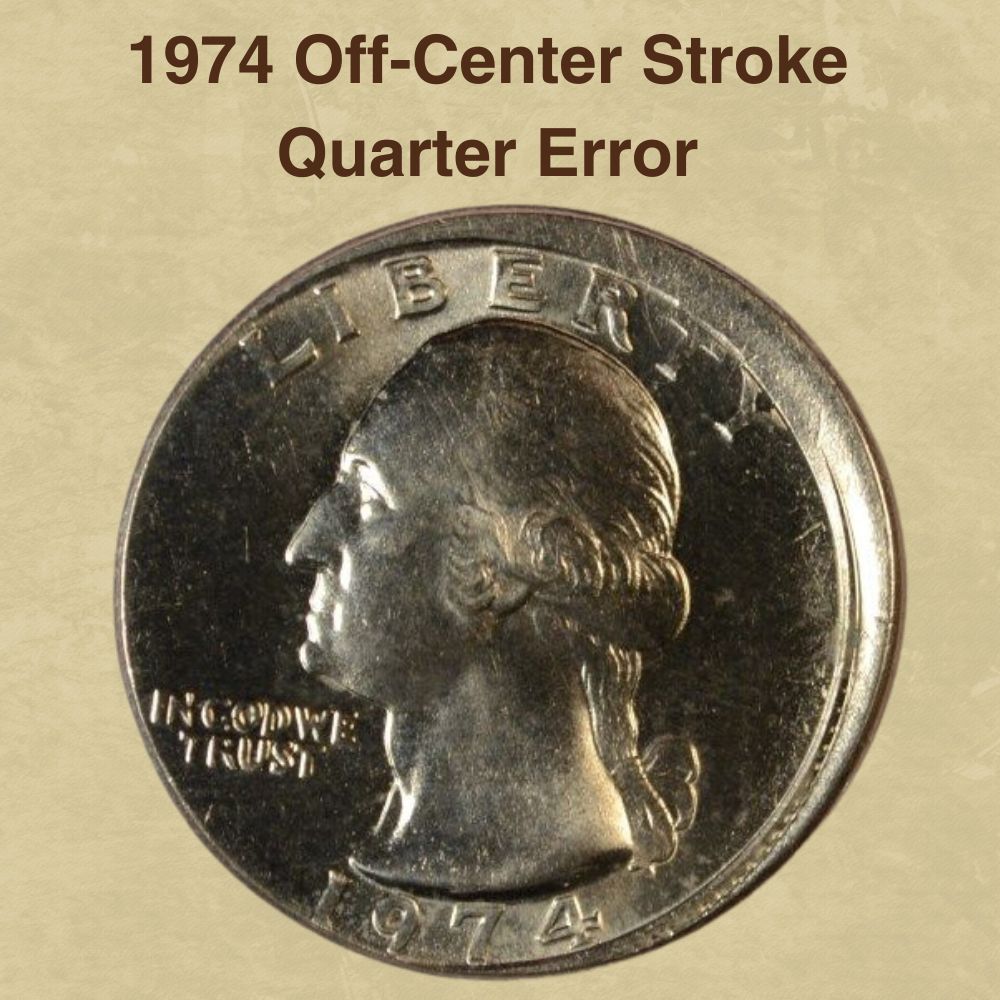 Off-center strikes are a bit common among 1974 Washington quarters.
This error occurs when the planchet is not properly centered in the striking hub. This results in the die striking the design away from the center and toward the edge of the coin.
An off-center strike error will produce a coin in which a portion contains some of the design details while the other portion remains blank.
The off-strike percentage will determine the value of a 1974 quarter with an off-center error. The greater the off-strike percentage, the more valuable the coin.
Quarters with more than 50% off-strike can bring in as much as $150, depending on the coin's condition.
Also read: 17 Most Valuable Quarter Errors Worth Money
Where to Sell Your 1974 Quarter ?
Now that you know the value of your coins, do you know where to sell those coins online easily? Don't worry, I've compiled a list of these sites, including their introduction, pros, and cons.
Check out now: Best Places To Sell Coins Online (Pros & Cons)
FAQ
What makes a 1974 quarter valuable?
1974 quarters are not worth much and are more or less their face value of $0.25. But an error can significantly increase the value of these relatively modern coins. Look out for rare, interesting errors such as off-center strikes, clipped, and doubled die errors, as this can bump up the amount you can get for your 1974 quarters.
What is special about the 1974 quarter?
The 1974 quarter is no more special than the first Washington quarter struck in 1932. The design on the obverse and reverse has remained largely the same, although the Mint raised some high points in the 1974 quarter. Like other quarters minted from 1965 and beyond, the 1974 quarter is not silver but comprises a pure copper core and copper-nickel outer cladding.
Is a 1974 quarter worth anything with no mint mark?
A 1974 quarter without a mint mark is worth about $0.30, more or less the same as the 1974 quarters from Denver with the mint mark D on the obverse. This is one example of a coin in which the presence or lack of a mint mark does not significantly affect the coin's value.