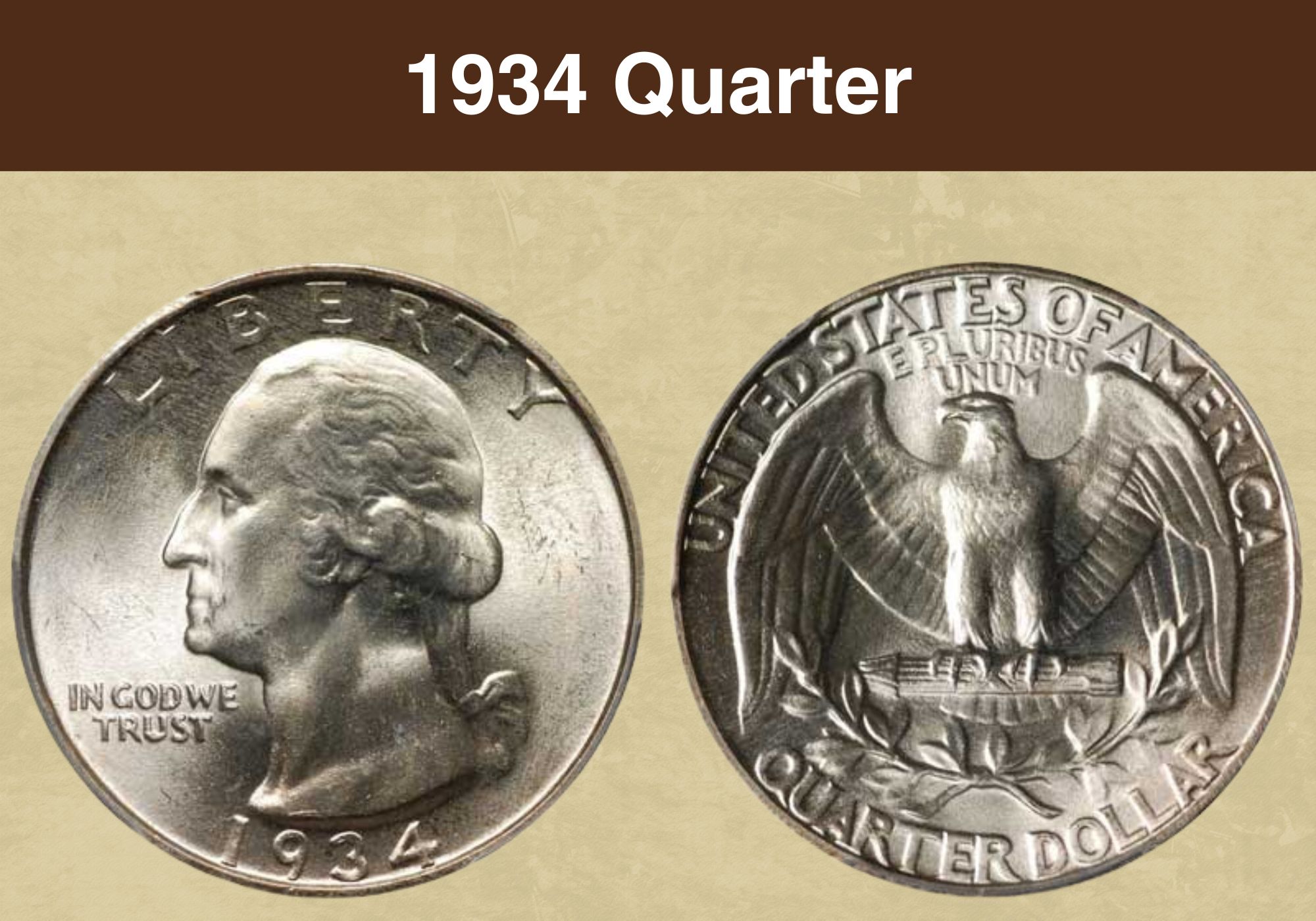 The first Washington quarters appeared in circulation in 1932, meaning pieces minted during the 1930s are the most collectible in the series. Therefore, you can expect the 1934 quarter value to be significantly higher than those produced in the following years.
The situation with these coins is unusual since the US Mint still produces them. However, that is not an obstacle for older specimens to be appreciated and sought after by collectors. Besides, these first sets contained silver, making these quarters a convenient investment.
1934 quarter value Chart

Condition
1934 quarter Light Motto
1934 quarter Heavy Motto
1934 quarter Medium Motto
1934 quarter Doubled die
1934 D quarter
Good
$8.68
$8.68
$8.68
$58
$8.68
Very good
$10.08
$10.08
$10.08
$69
$10.08
Fine
$10.68
$10.68
$10.68
$97
$10.68
Very fine
$12
$12
$12
$175
$15
Extra fine
$13
$13
$13
$264
$30
AU
$29
$19
$29
$675
$97
MS 60
$69
$36
$69
$1,163
$175
MS 65
$234
$194
$234
$3,803
$494
History of the 1934 Quarters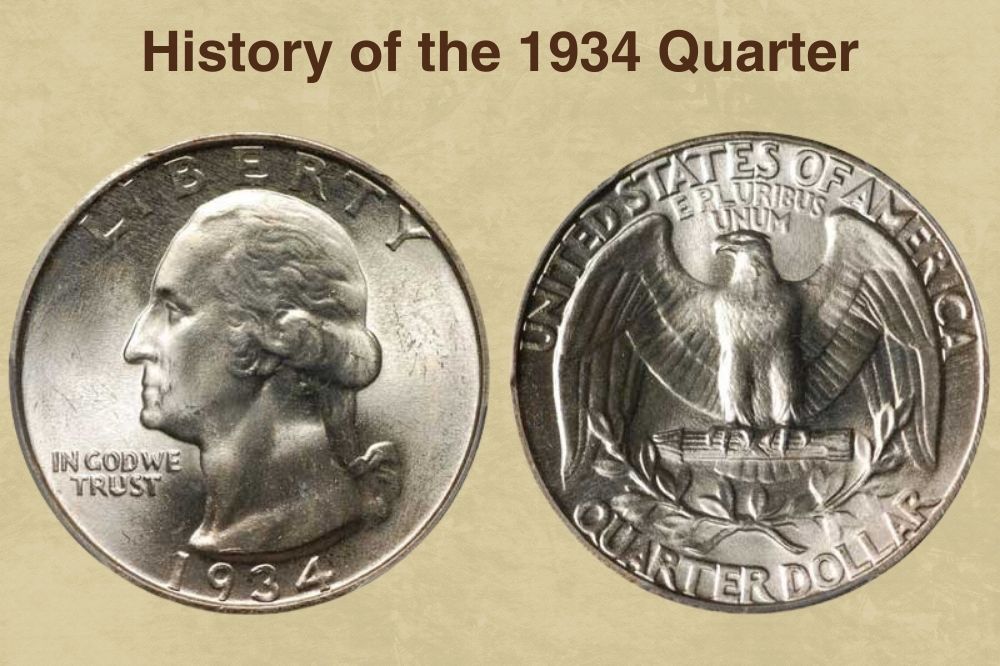 The initial idea was to issue the commemorative 1932 quarter series for George Washington's bicentennial birth anniversary. The preparations started in 1930, so there was enough time to finish the task properly.
It was decided to use the existing Washington sculpture, the piece of art by French neoclassical sculptor Jean-Antoine Houdon. The reverse should have included required inscriptions and American symbols, but this coin side design depended on the artist's imagination.
Laura Gardin Fraser created the winning creative solution, but then-Treasury Secretary disapproved of the artist and chose sculptor John Fraser instead. Despite the apparent injustice, the chosen design stayed on quarters minted to this day.
1934 quarters Types

Location
Year
Minted
Philadelphia
1934 quarters
31,912,052
Denver
1934 D quarters
3,527,200
Total
/
35,439,252
Since these coins became highly popular, the original idea of a one-time issue of commemorative coins was changed. After a break in 1933, the US Mint continued with their minting.
Also read: Top 13 Most Valuable State Quarters Worth Money
Features of the 1934 Quarter
John Flanagan was an engraver responsible for the Washington quarter design. After a year of pause in minting, two mints issued coins with three different IN GOD WE TRUST looks in 1934. Both minted pieces came with the Medium Motto and Heavy Motto, while the one in Philadelphia had the third variety, Light Motto.
The obverse of the 1934 quarter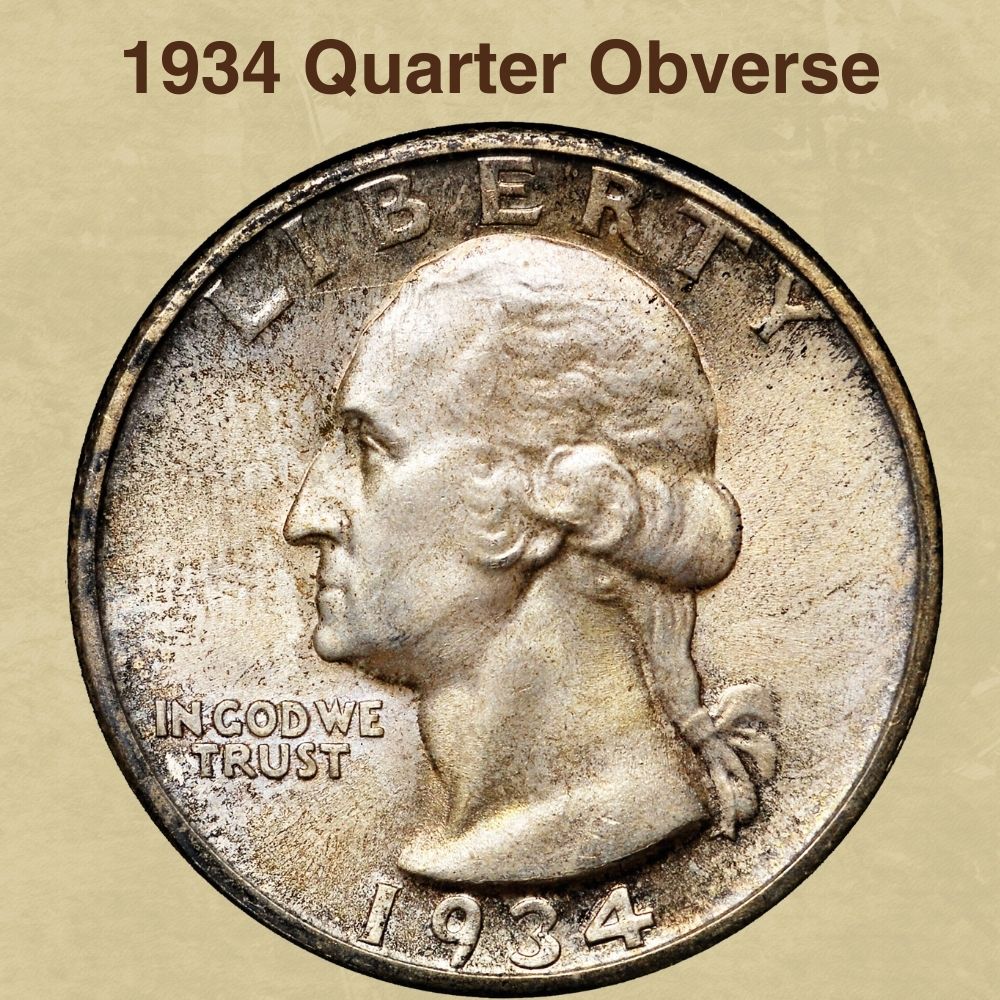 The 1934 quarter obverse features George Washington's profile surrounded by:
LIBERTY from above
1934 (the date) from below
Light, Medium, or Heavy Motto IN GOD WE TRUST from the left
The JF initials are placed at the President's neck base.
The reverse of the 1934 quarter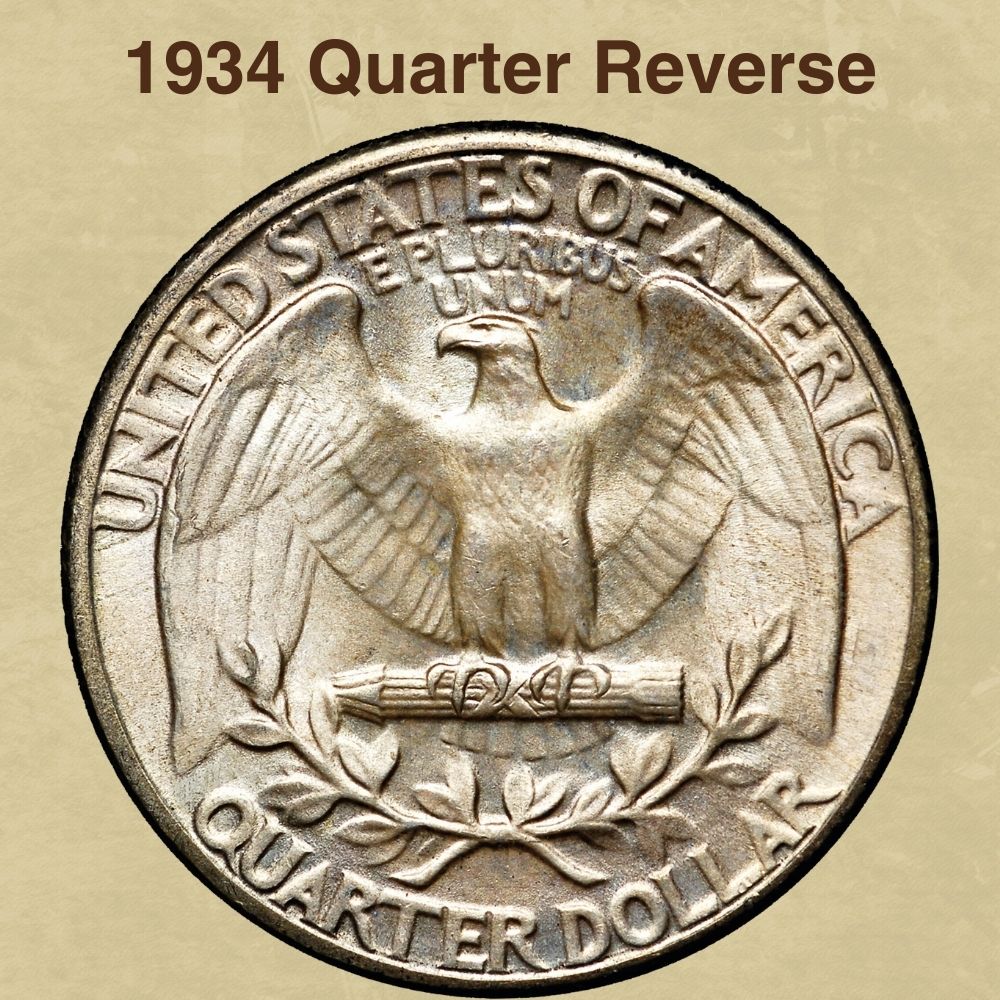 The reverse design is the complex side when it comes to these coins. It includes a lot of details, such as:
A centrally positioned bald eagle
Two olive twigs and arrows pointed left
QUARTER DOLLAR
UNITED STATES OF AMERICA
E PLURIBUS – UNUM
The mint mark D or the blank space
1934 quarter Details

Face value
Twenty-five cents ($0.25)
Compound
Silver coin with 10 percent copper
Coin weight
0.20094 troy ounces/6.25 g
Silver weight
0.1808 troy ounces/5.623 g
Coin diameter
0.95669 inches/24.3 mm
Edge
119 reeds
Coin thickness
0.06870 inches/1.75 mm
Shape
Round
Other features of the 1934 quarter
The 1934 quarters have Washington's profile on the reverse and the face value of twenty-five cents. They are made of 90% silver, which is 0.1808 troy ounces/5.623 g of total coin weight of 0.20094 troy ounces/6.25 g.
Each of these round specimens with a reeded edge has the same thickness of 0.06870 inches/1.75 mm and a standard diameter of 0.95669 inches/24.3 mm.
Also read: Top 16 Most Valuable Modern Quarters Worth Money
1934 Quarter Grading Guides
The first thing every collector checks on coins, including quarters minted in 1934, is their condition. In this particular case, checking the Motto appearance is crucial since three possible variations directly affect each piece's price range.
Since superior-looking quarters of impeccable condition can cost thousands of dollars, you should have your coin professionally estimated. Be aware that only properly packed coins with written necessary information can win auction records.
| # | Grade |
| --- | --- |
| 1 | Basal State-1 |
| 2 | Fair |
| 3 | Very Fair |
| 4, 5, 6 | Good |
| 7, 8, 10 | Very Good |
| 12, 15 | Fine |
| 20, 30 | Very Fine |
| 40 | Extremely Fine |
| 50 | About Uncirculated |
| 60 | Mint State |
| 65 | Mint State |
| 70 | Mint State |
Please check our grading guides to know your coin scale, It's the necessary step to know the exact value of your coin.
Check out now: How to Grade Washington Quarter?
1934 Quarter Value Guides
The mintage of quarters in 1934 was precisely 35,439,252 pieces. Two mints produced two coin types, those with the D mint mark and ten times more specimens without the mint mark. When it comes to this year, the curiosity is the different Motto appearance. Let's take a look.
1934 Washington quarter Value

With a mintage of 31,912,052 quarters, the Philadelphia mint produced almost ten times more of these coins in 1934 than the mint in Denver. You can differentiate three types based on the Motto appearance.
Light Motto
You can recognize the 1934 quarters with the Light Motto by blurry, almost indistinct letters, and you can expect to pay $5.75 to $25 for used pieces. Those that were never realized into circulation cost approximately $35 to $400.
The only exceptions are coins with MS 67 ranking, which are costlier. Their price range is $1,400 to $2,200. The best-looking pieces with this motto variety were those in MS 67+ grade sold in 2014 for $8,813 and $8,519.
Medium Motto
The circulated 1934 quarters with powerfully struck and clear Medium Motto cost about $5.75 to $13, while those in the mint state are worth $20 (MS 60-graded coins) to $750 (MS 67-graded coins). On the other hand, almost perfect pieces ranked MS 68 have estimated prices ranging from $6,000 to $7,800.
These coins prove how the tiniest detail significantly affects the final price. For instance, one 1934 MS 67+ quarter with Medium Motto reached $1,763 at an auction in 2014, while a similar coin in MS 68 grade was sold at $15,275 in 2013.
Heavy Motto
This variety also has a clear and firmly struck Motto but with thicker letters. You can expect to pay one of these 1934 quarters from $5 to $29, while uncirculated pieces are always more valuable.
An average price range for pennies in MS 60 to MS 66 grades is $37 to $450. The genuine surprise is coins ranked MS 67. Their assessed prices are from $2,250 to $3,000, but one such piece was paid $3,760 in 2015.
The auction winner is the 1934 MS 67+ Heavy Motto quarter. One numismatist set aside an impressive $9,400 in 2022 to get it.
1934 D Washington quarter Value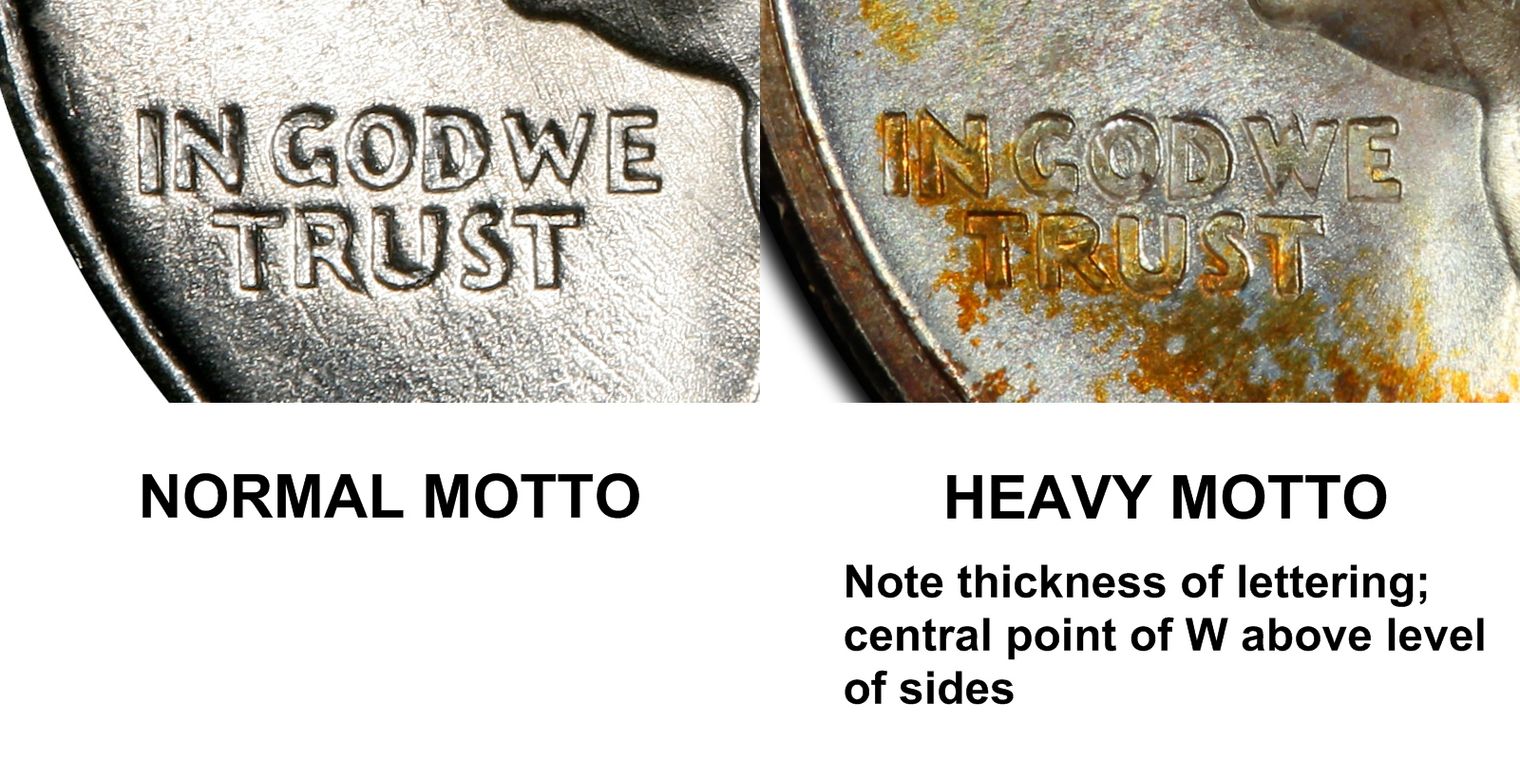 The Denver mint struck 3,527,200 quarters in 1934. They appeared in two variations, which differ in the appearance of the Motto and estimated prices.
Medium Motto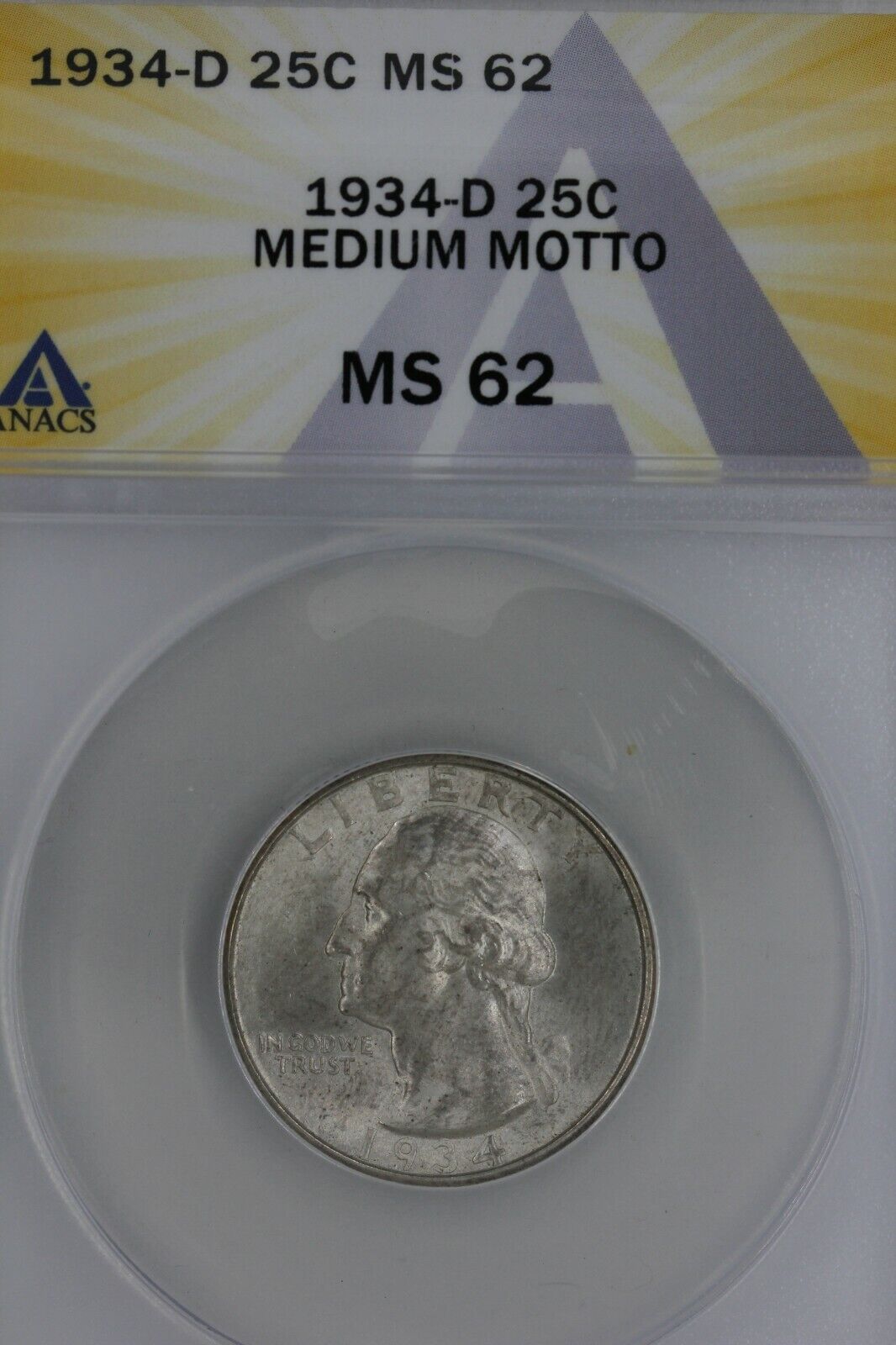 Quarters with this motto type cost $5 to $132 after years spent in circulation. Those in the mint state are immeasurably more expensive, ranging from $150 to $950 (graded from MS 60 to MS 66).
Even though the estimated price for the 1934 MS 67 Medium Motto quarter is $5,500 to $7,000, the auction price for this coin type is significantly higher. The priciest coin in the set became one of these quarters after selling at $21,850 in 2007.
Heavy Motto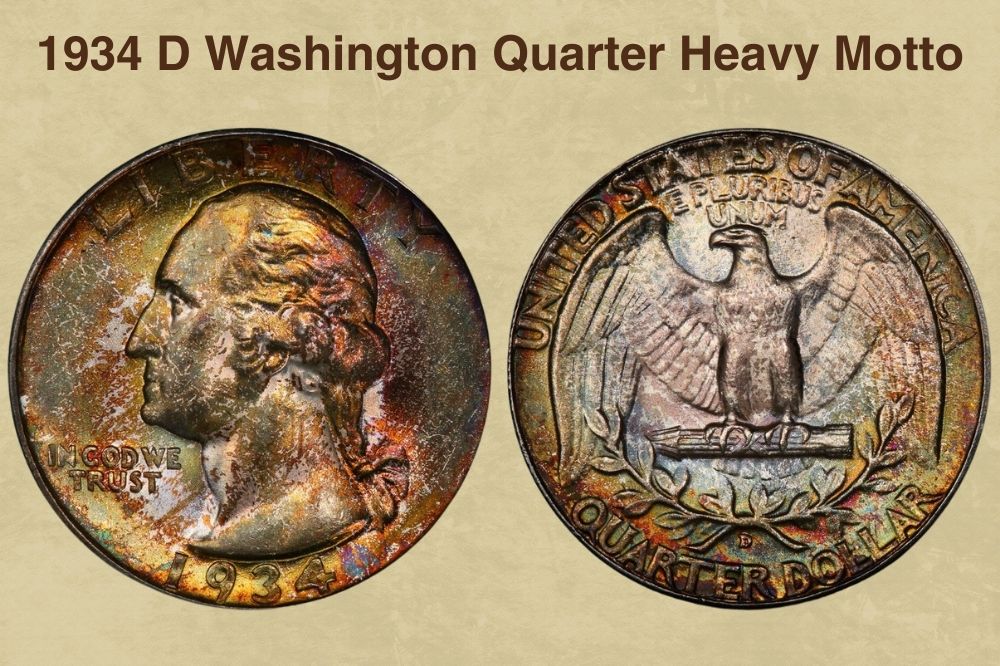 Circulated quarters minted in Denver in 1934 with Heavy Motto are available for $6 to $144, while you should set aside at least $160 for the lowest-ranked coins in the mint state. Others cost more, depending on grade:
MS 61-ranked pieces are worth $175 to $210
MS 62-ranked pieces are worth $210 to $252
MS 63-ranked pieces are worth $250 to $300
MS 64-ranked pieces are worth $265 to $318
MS 65-ranked pieces are worth $500 to $600
MS 66-ranked pieces are worth $850 to $1,020
MS 67-ranked pieces are worth $8,500 to $10,000
The auction record of $15,275 went to the 1934 D MS 67 Heavy Motto quarter (CAC) in 2013.
Also read: 17 Most Valuable Quarter Errors Worth Money
Rare 1934 Quarter Errors List
Most coin series came with multiple kinds of errors. The same thing is valid with the 1934 Washington quarters, but only one error is clearly notable and valuable. Coins with doubling on the Motto and lettering can bring high sums to their owners. Let's see.
DDO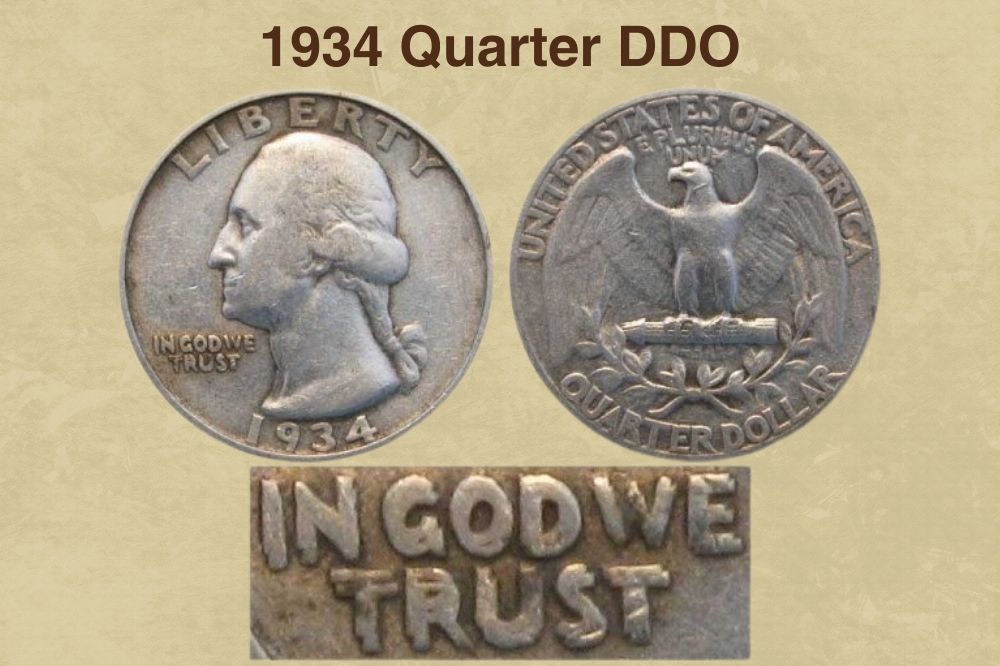 The best-known error among the 1934 quarters is the Double Die Obverse, which resulted from the doubled die that struck this coin side. Doubling is of different strength and intensity, depending on the pressure during minting and the die misalignment degree.
These factors affect the prices you can expect when selling one of these error coins. Those from circulation are typically worth $25 to $528, while perfectly preserved ones cost differently.
MS 60-graded quarters – $660 to $792
MS 61-graded quarters – $700 to $840
MS 62-graded quarters – $760 to $912
MS 63-graded quarters – $900 to $1,080
MS 64-graded quarters – $1,400 to $2,000
MS 65-graded quarters – $2,150 to $3,050
MS 66-graded quarters – $6,000 to $7,200
Despite high estimations, the achieved auction records are even higher. So, the officially most expensive 1934 error quarter is the one in MS 65 grade, bought for $10,350 in 2005.
Off-center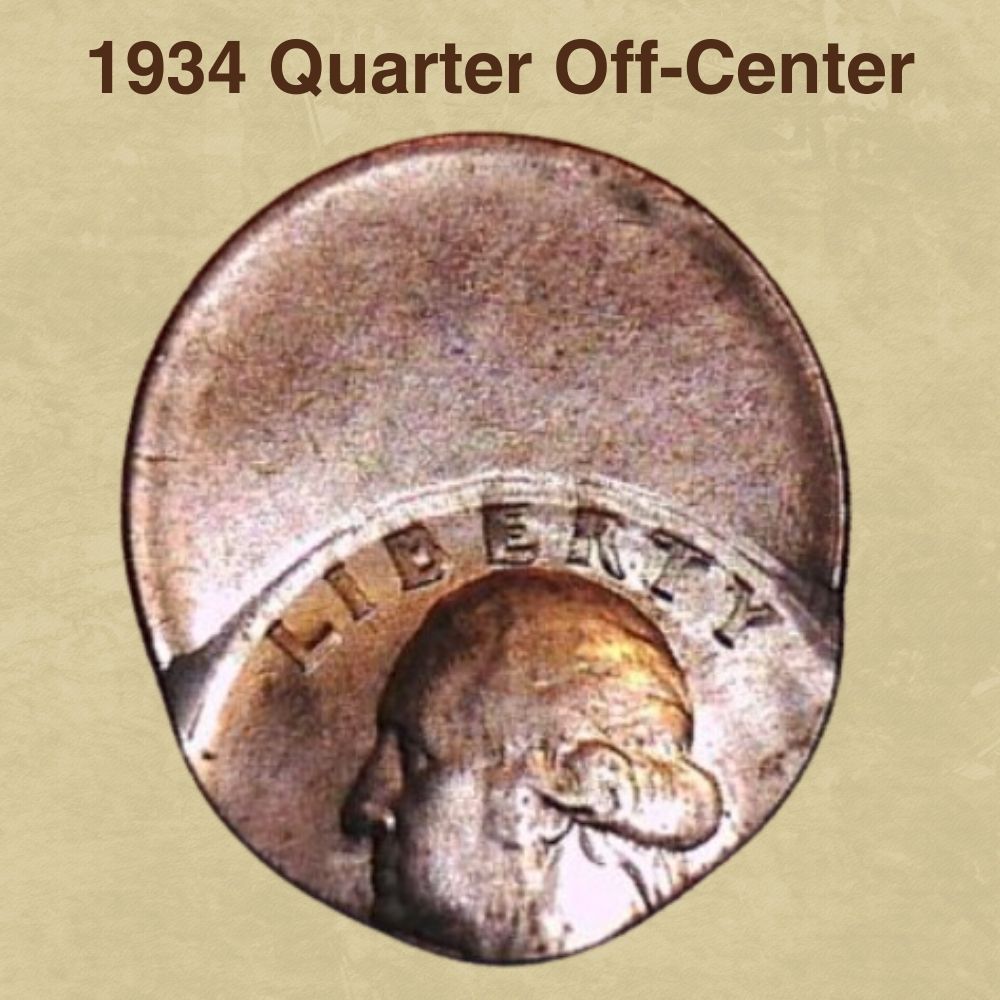 The improperly centered 1934 quarter resulted from the planchet movement during minting. Such pieces are imperfect but highly collectible. Their prices depend on the lack of design expressed in a percentage.
Clashed dies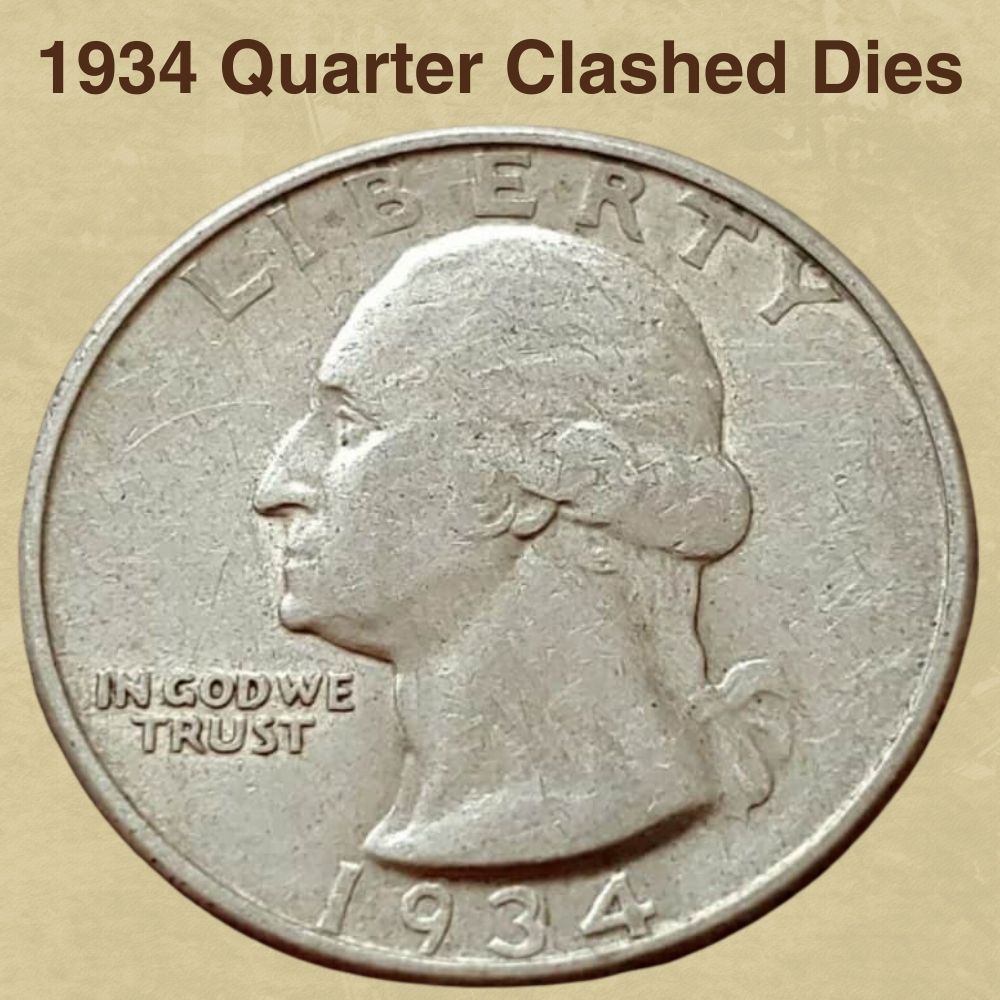 This intriguing error happened when the obverse and reverse dies were in contact before striking the next coin. Therefore, these pennies got a surface with a die impression, looking like a ghostly pattern. Even though these coins are interesting, their prices are typically modest.
Quarter struck on a nickel planchet
A few silver Washington quarters minted in Denver in 1934 were mistakenly struck on a nickel planchet. The result is coins weighing 0.176 ounces (5 g) instead of 0.2 troy ounces (6.25 g) standard for quarters.
Besides, such coins came without a complete design since quarters have a diameter of 0.957 inches (24.3 mm), which is larger than the 0.835 inches (21.21 mm) standard for nickels.
Where to Sell Your 1934 Quarter ?
Now that you know the value of your coins, do you know where to sell those coins online easily? Don't worry, I've compiled a list of these sites, including their introduction, pros, and cons.
Check out now: Best Places To Sell Coins Online (Pros & Cons)
FAQ about the 1934 Quarter
What makes a 1934 quarter rare?
Offering the answer to this question can be tricky because it depends on the coin type. Be aware that two mints issued five variations of this coin, and some are rarer than others. Besides, pieces in impeccable condition are challenging to find since the demand has been greater than the supply over the years.
Which 1934 quarter is worth a lot of money?
1934 D MS 67 Medium Motto quarter – $21,850 in 2007
1934 MS 68 Medium Motto quarter – $15,275 in 2013
1934 D MS 67 CAC Heavy Motto quarter – $15,275 in 2013
1934 D MS 67 Small D Heavy Motto quarter – $11,400 in 2021
1934 MS 65 DDO quarter – $10,350 in 2005
1934 MS 67+ Heavy Motto quarter – $9,400 in 2022
1934 MS 67+ Light Motto quarter – $8,813 in 2014
1934 MS 67+ Light Motto quarter – $8,519 in 2014
1934 MS 66+ DDO quarter – $8,400 in 2018
1934 MS 67 Heavy Motto quarter – $3,760 in 2015
1934 MS 67+ Medium Motto quarter – $1,763 in 2014
How much is the 1934 quarter from Philadelphia worth?
You can recognize three 1934 Washington quarter varieties that differentiate in the Motto look. The most affordable pieces are those with Light Motto, with the price range from $5.75 to $25 for circulated coins and $35 to $2,200 for perfectly preserved ones.
It is necessary to set aside $5 to $30 for 1934 quarters with Heavy Motto that spent years in circulation, while those in the mint state cost $37 to $3,000. The costliest are coins with a Medium Motto. Circulated ones are worth $6 to $13, while those in MS 68 grade are estimated at $6,000 to $7,800.
What is the priciest quarter with Washington on the obverse?
The costliest quarter in the series is the one silver quarter minted in Denver. One collector paid $143,750 in 2008 to add the 1932 D MS 66 coin to their collection. All others are more affordable but still expensive, including:
1932 MS 66 silver quarter paid $45,500 in 2020 is the costliest piece minted in San Francisco
1948 MS 68+ silver quarter paid $43,200 in 2021 is the costliest piece minted in Philadelphia
1950 PR 68 quarter paid $31,200 in 2022 is the costliest silver proof
1966 MS 68+ quarter paid $21,000 in 2023 is the costliest regular clad coin
1974 S PR 70 quarter paid $10,925 in 2009 is the costliest clad proof