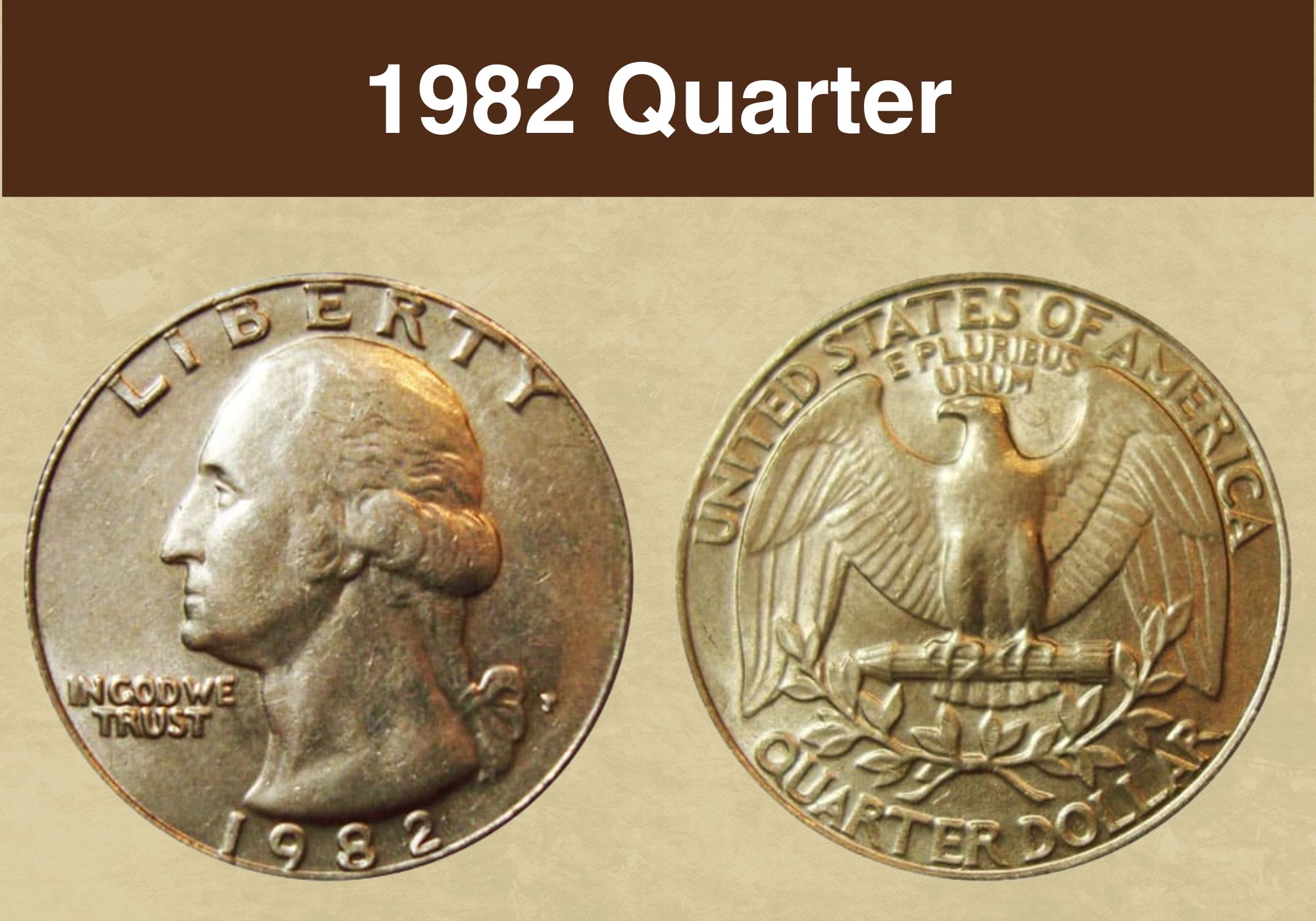 Have you found a 1980s quarter in your pocket change? Wondering if it might be valuable? You've come to the right place to find out.
We're going to investigate one particular mintage – the 1982 quarter value, history and design. We'll look at what separates a run of the mill quarter from something special. And we'll check out some interesting Mint errors too.
Ready to discover what your quarter might be worth? Read on!
1982 Quarter Value Chart

Mint mark
XF45
MS60
MS65
MS67
1982 P Quarter Value
$0.25
$1
$40
$475
1982 D Quarter Value
$0.25
$1
$26
$460
PR60
PR65
PR69
PR70
1982 S Proof DCAM Quarter Value
$2
$6
$15
$36
History of the 1982 Quarter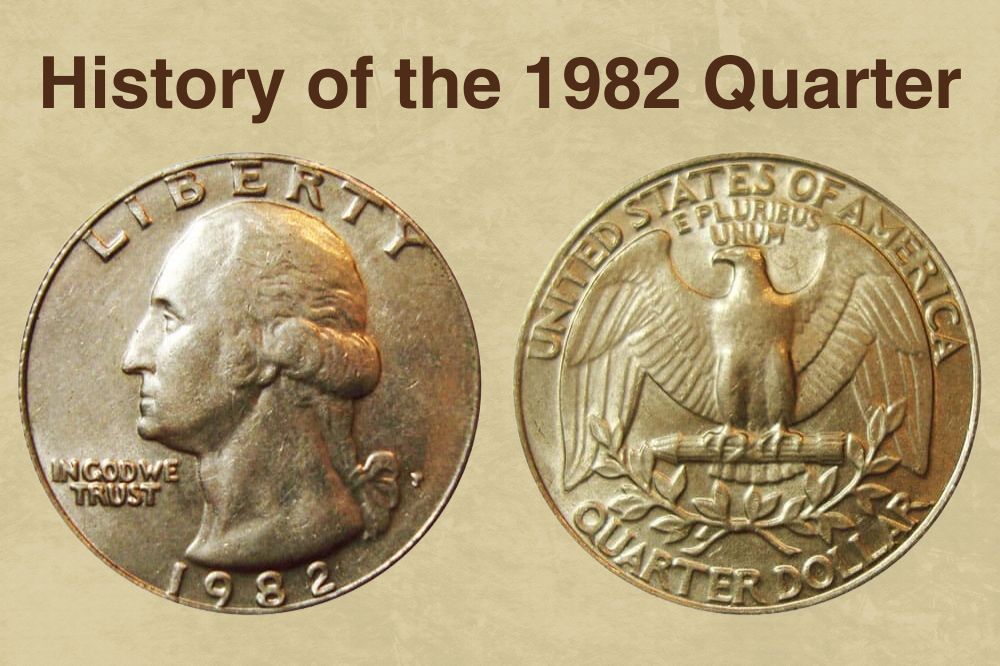 The very first Washington quarters were struck in 1932. They get their nickname from the portrait on the obverse, the first president of the US, George Washington.
The early quarters were made of silver. But over the years, the price of silver rose, and the coins became steadily more expensive to produce.
Their intrinsic value also meant that people started to hoard them. With silver prices apparently only moving in one direction, it was hoped that the coins might be worth more as scrap than their face value.
The Mint couldn't afford to keep producing expensive coins that didn't circulate. So in 1965, they took action. They continued to strike quarters dated 1964 well into the following year. The idea was that more coins would reduce the public appetite for hoarding.
But the problems continued. And in June 1965, it was announced that both dimes and quarters would no longer be made using silver.
The new quarters instead had a copper core. They kept their familiar silver tone because the copper was clad in an alloy of copper and nickel.
The cupronickel alloy was harder than silver, so it was more difficult to capture every detail of the design when the coins were struck. To deal with this, the relief of the design was lowered.
The first of the clad quarters didn't have mint marks, but that changed in 1968. That year saw the Mint facilities at both San Francisco and Denver add marks to the reverse of their coins. San Francisco used a small "S", Denver a "D".
The original Mint facility in Philadelphia produced quarters too. And the 1982 mintage is noteworthy as the first quarters to be marked with a "P" on the reverse.
That year saw the Denver and Philadelphia facilities both strike large numbers of clad quarters for circulation. The San Francisco facility, meanwhile, produced proof coins in smaller numbers, and these were marketed at collectors.
Also read: Top 13 Most Valuable State Quarters Worth Money
Features of the 1982 Quarter
The Obverse of the 1982 Quarter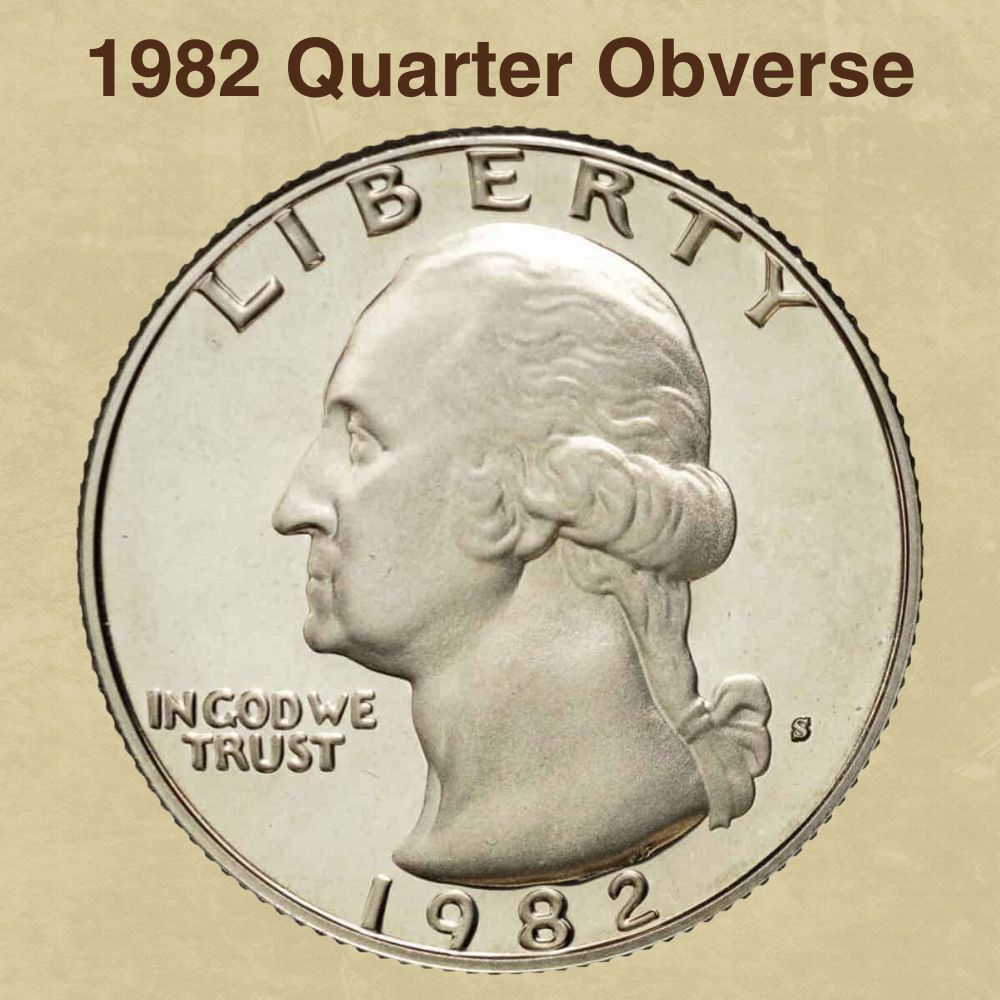 The image of President George Washington on the obverse – or "heads" side – of the 1982 quarter is very familiar. It's the same portrait, created by the artist John Flanagan, that appeared on modern quarters until 2022.
But while it's been around for a long time, its selection has stimulated much debate.
That's because it wasn't the first choice. That had been a portrait by Laura Gardin Fraser. And the man who chose Flanagan's work instead, Treasury Secretary Andrew W. Mellon, has been accused of misogyny by some.
The controversy arose because it had originally been intended that Washington would appear on a coin for a single year. A special edition of the half dollar would be produced, marking the bicentenary of American independence.
A committee had been set up to oversee the celebrations, and they had selected Fraser's portrait for the coin. But it was subsequently decided that Washington's portrait would instead be a permanent addition to the coinage, and that it would appear on the quarter instead.
That meant the decision on the design fell to the Treasury. The Bicentenary Committee wrote to Mellon recommending their choice. But he preferred the portrait by Flanagan. And although he had left his post by the time the coin was issued, his successor refused to reopen the debate.
Flanagan's portrait, then, won the day. But after much campaigning, the obverse design of the quarter was finally changed in 2022 – to the one prepared by Laura Gardin Fraser.
The 1982 quarter shows Washington in profile, facing left. Above his head arches the word "LIBERTY", while the date is inscribed at the bottom, parallel with the lower coin edge. The motto "IN GOD WE TRUST" is on the left, while the mint mark is on the right.
The Reverse of the 1982 Quarter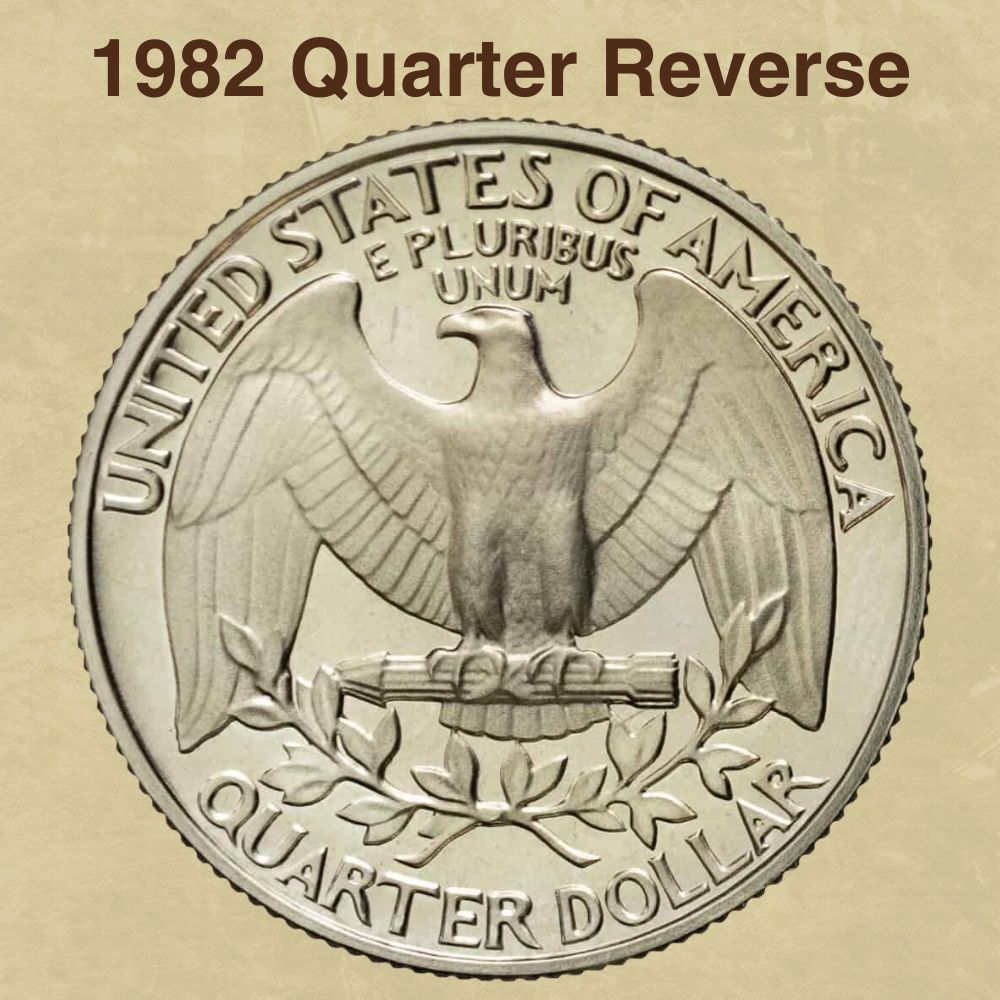 The reverse of the Washington quarter has changed regularly since 1999. But in 1982, it was the same design that had appeared for the previous 50 years. It shows an eagle perched on a fletch of arrows, with two olive sprigs below. And like the obverse, it's the work of John Flanagan.
The appearance of the eagle prompted much speculation as to its species when the coin was launched. The New York Times put the matter to an ornithologist, who concluded that it was a bald eagle, the traditional symbol of the USA.
The bird covers almost the whole of the surface area of the reverse. The words "UNITED STATES OF AMERICA" fit around the edge, filling the area alongside the curve of the eagle's wings.
Just below them, above the eagle's head, is the inscription "E PLURIBUS UNUM". The Latin motto refers to the country's creation from individual states. It translates as "From the many, one".
The denomination, inscribed as "QUARTER DOLLAR", is at the bottom, parallel to the lower coin edge.
Other Features of the 1982 Quarter
The quarters struck in 1982 have a copper core clad in cupronickel to give them their silver appearance. They measure 24.3 millimeters in diameter and weigh 5.67 grams.
If you turn one on its edge, you'll see a series of parallel grooves. These are known as "reeds" and were originally introduced in the eighteenth century to prevent "coin clipping". They allowed anyone offered the coin to see at once if any precious metal had been sliced off the edge.
This YouTube video from Treasure Town provides a close-up of a 1982 quarter from Denver, so you can see all the details.
1982 Quarter Grading
| # | Grade |
| --- | --- |
| 1 | Basal State-1 |
| 2 | Fair |
| 3 | Very Fair |
| 4, 5, 6 | Good |
| 7, 8, 10 | Very Good |
| 12, 15 | Fine |
| 20, 30 | Very Fine |
| 40 | Extremely Fine |
| 50 | About Uncirculated |
| 60 | Mint State |
| 65 | Mint State |
| 70 | Mint State |
Please check our grading guides to know your coin scale, It's the necessary step to know the exact value of your coin.
Check out now: How to Grade Washington Quarter?
1982 Quarter Value Guides
1982 P Quarter Value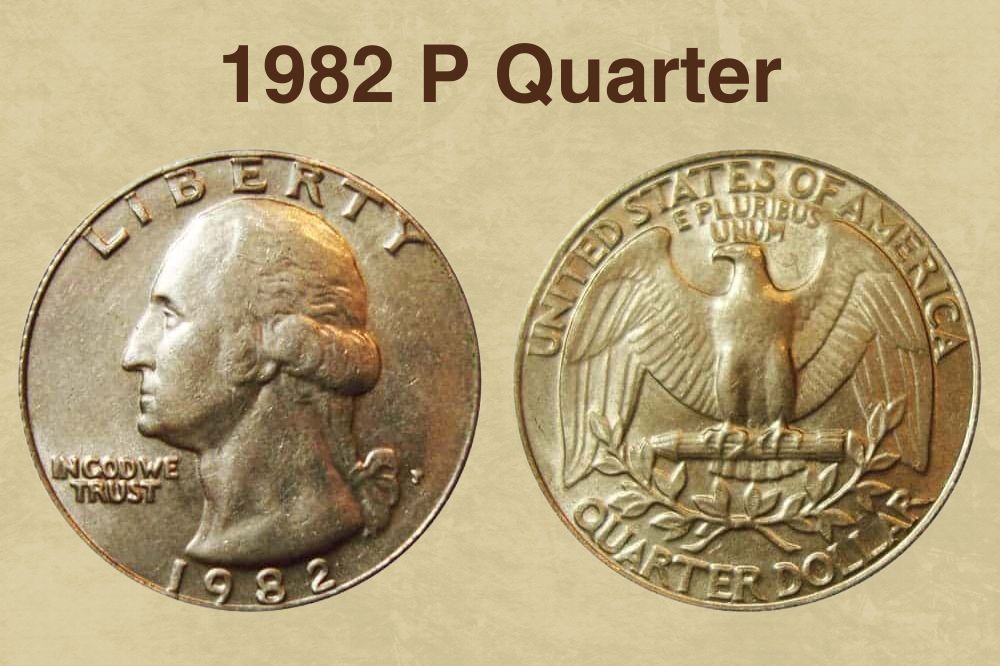 As the first quarter to carry the "P" mint mark for Philadelphia, the 1982-P has a special place in numismatic history. The Philadelphia facility struck over half a billion of the coins that year. And today, the PCGS estimates that around two in five of those survive.
Finding a 1982-P quarter in any condition, then, isn't difficult. And in circulated condition, most will only be worth their face value.
Even mint states coins – those that have never been circulated – are plentiful. More than 50 million are believed to survive. And at the lowest end of the scale, coins graded MS60 are worth around a dollar apiece.
In gem condition – coins graded MS65 or higher – availability drops. Around 10,500 coins are believed to survive at those grades. The value at MS65 is around $40, but at MS66+, it breaches three figures ($150).
The finest examples known to exist are graded MS68. The PCGS has certified two coins of that quality, and values them at a cool $8,750 apiece.
1982 D Quarter Value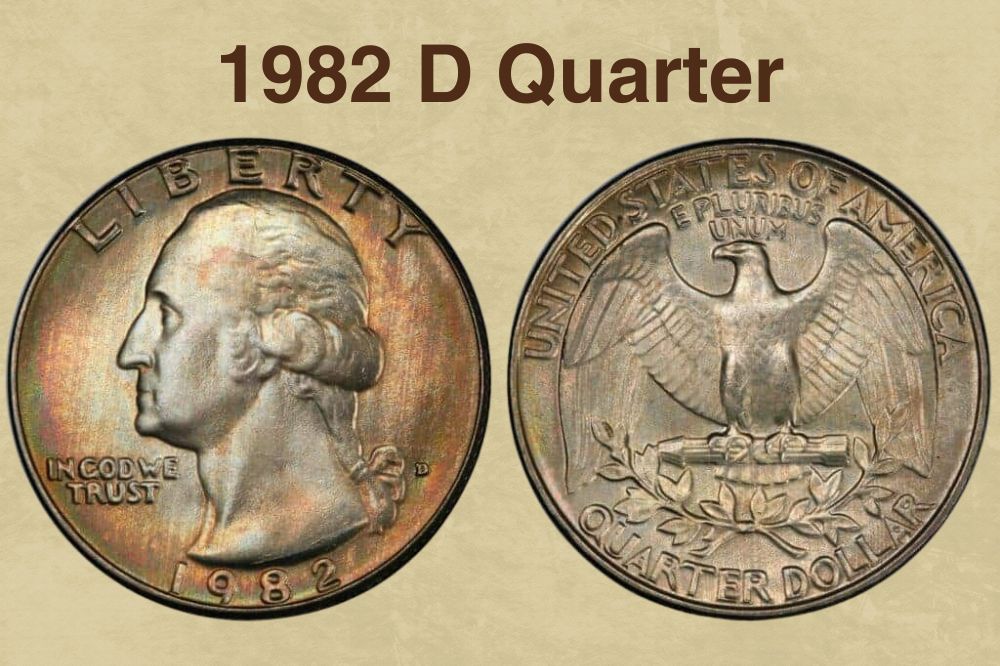 The Denver facility was also very busy striking quarters in 1982. It produced almost as many as Philadelphia, upwards of 480 million.
Their ready availability means that coins in circulated condition are usually worth no more than their face value. The exceptions are those with an interesting Mint error (we'll look at some error coins later).
Values for uncirculated coins are mostly modest. They start at around a dollar for a quarter graded MS60, and even a gem MS65 is worth only around $26.
At MS66 and above, though, values begin to rise more steeply. An MS66 quarter is worth around $70, while that rises to $100 at MS66+, and jumps to $460 at MS67.
Eight coins have been certified at MS67+, and each of those is worth around $2,500. And to date, just one has been graded MS68. The PCGS values that at $4,500.
1982 S (Proof) Quarter Value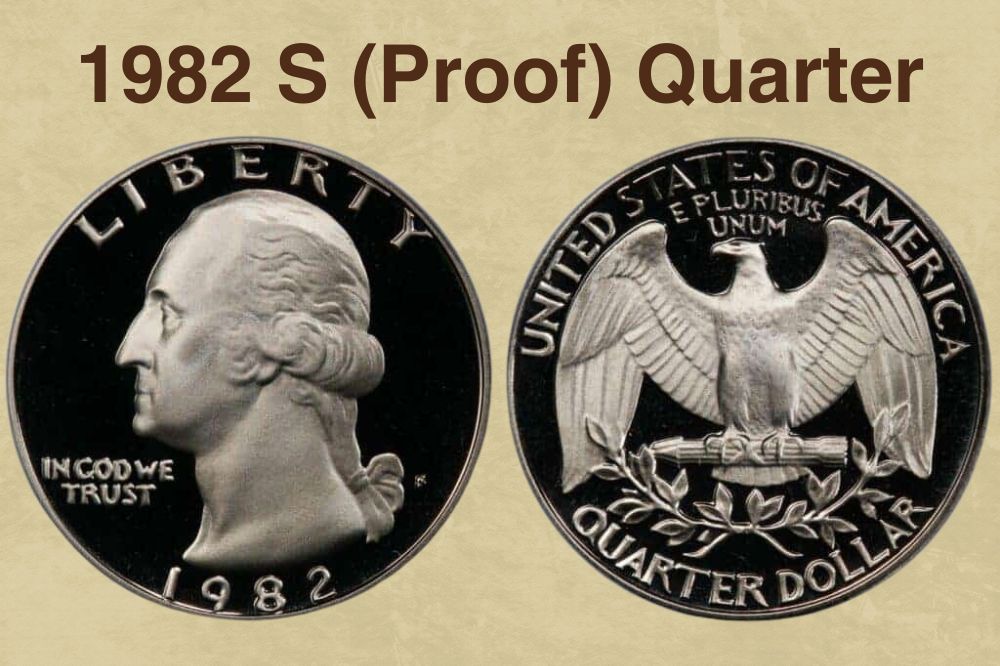 The San Francisco Mint facility concentrated on producing proof quarters. These are coins struck using specially prepared dies on highly polished planchets. They're designed to be attractive and high quality, and are aimed at the collecting market.
That doesn't, however, make them valuable. Over 3.8 million proof quarters were struck in 1982. And because they were always marketed as collector's items, attrition rates are low. The PCGS estimates that more than 3.4 million of them survive to this day.
They are, by definition, uncirculated coins. Values for a PR60 proof start at just a couple of dollars and remain in single figures all the way up to PR68+. A PR69 example is worth around $15.
And over 1,200 1982-S quarters have been certified as a flawless PR70. Each of those is valued by the PCGS at just $36.
Also read: Top 16 Most Valuable Modern Quarters Worth Money
Rare 1982 Quarter Errors List
1982 S Quarter, Double Die Obverse
A double die error occurs as the die used to strike the coins is made. If it moves as the design is being transferred from the hub, the result will be doubling on parts of the image or lettering. That doubling will then appear on the coins struck by the defective die.
One such error appears on some of the proof quarters struck in San Francisco in 1982. And its presence adds a significant premium to the value of the coins.
Just as with non-error coins, the better the condition, the more valuable it will be. A 1982 S quarter with the double die obverse graded PR60 is worth around $18. That rises to $30 at PR63, $50 at PR65 and $150 at PR68.
Four examples with this error have been found in a perfect PR70. There's no public sales data for those, and the PCGS doesn't estimate their value. A PR69 double die obverse proof, however, is valued by the PCGS at an impressive $800.
1982 D Quarter, Double Die Reverse
The 1982 Denver quarter also includes some examples with a double die error. In this case, the doubling appears on the reverse, most notably in the letters of "QUARTER". The two tails of the "Q" are particularly easy to spot.
Only a handful of coins with this error have so far come to light. But because it's a relatively modern coin, it's difficult to know whether this is because only a few were struck, or because they just haven't been identified yet.
As a result, it's sensible to be circumspect when it comes to valuations. A conservative estimate for a coin graded AU50 ("about uncirculated") is $10, rising to around $25 at MS60, and around $75 for a gem MS65.
This YouTube video from Couch Collectibles provides more information on 1982 error quarters to look out for in your pocket change.
Also read: 17 Most Valuable Quarter Errors Worth Money
Where to Sell Your 1982 Quarter ?
Now that you know the value of your coins, do you know where to sell those coins online easily? Don't worry, I've compiled a list of these sites, including their introduction, pros, and cons.
Check out now: Best Places To Sell Coins Online (Pros & Cons)
FAQs
Are any 1982 quarters worth anything?
Most coins in circulated condition – that is, with scratches and other signs of wear – will only be worth their face value. But uncirculated coins are worth at least a dollar, and potentially much more.
The higher the grading of the coin, the more valuable it will be. The best-in-class examples of Philadelphia and Denver 1982 quarters are worth several thousand dollars.
And if your coin has an interesting Mint error, it will be worth more too. Look for signs of doubling on either side, or coins that have been struck off-center. Their exact value will depend on their condition and the rarity of the error.
What is a 1982 D quarter worth?
That will depend on its condition, and on whether it has a Mint error.
Coins that have been circulated will show signs of wear and will usually only be worth their face value of a quarter.
But if they're in mint state, they can be worth anything from one dollar to hundreds, or even thousands. The finest known example, graded MS68, is worth $4,500.
Mint errors add a premium to the value. So an error coin in a high mint state grade could be very valuable.