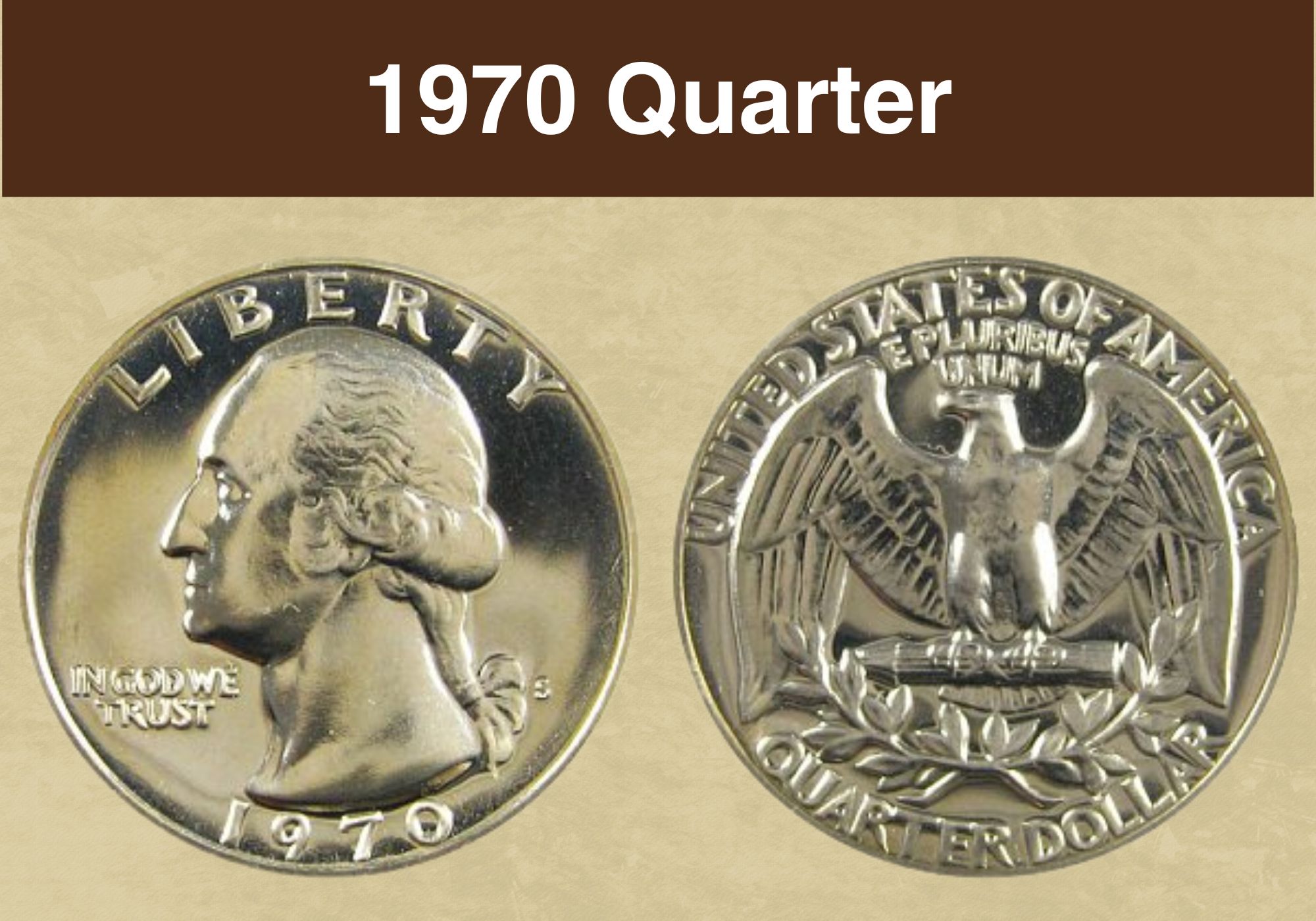 The 1970 25-cent Washington coins are among many in the Washington quarter series. Since the US Mint made these pieces with the first President on the obverse and the eagle on the reverse from 1932 to 1998, you can expect equal-looking specimens in the early 70s. Since the mintage was 556,394,174 coins, the 1970 quarter value is moderate and only varies on the mint mark and the coin appearance.
1970 quarter value Chart

Condition
1970 No Mint mark quarter
1970 D quarter
1970 S quarter
MS 65
$11
$6.81
/
PR 65
/
/
$5.84
History of 1970 Washington Quarters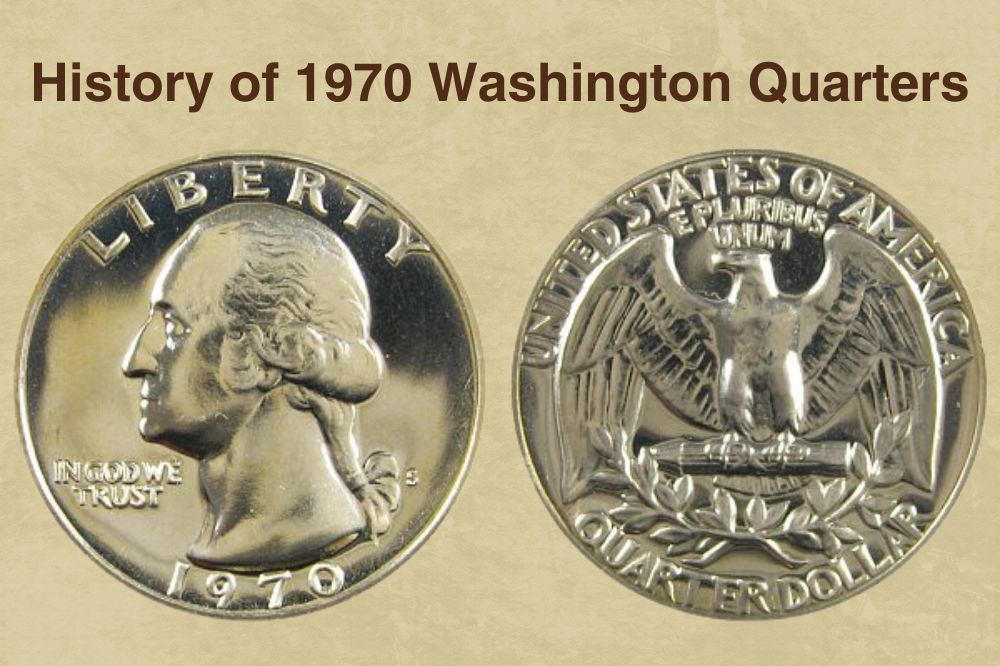 The 1970 quarter series is one of many that the US Mint minted to commemorate Presidents of the United States of America. In this case, they honored the 200th anniversary of Washington's birthday.
1970 Washington quarter Types

Location
Year
Minted
Philadelphia
1939 No Mint mark quarter
136,420,000
San Francisco
1939 S quarter (proof)
2,632,810
Denver
1939 D penny
417,341,364
Total
/
556,394,174
The quarter design was commissioned with a request for designers to complete the job on time and mints to release them by February 22. On that day in 1732, George Washington was born in Virginia. The chosen artist responsible for the reverse design was John Flannigan.
He also created the obverse side but needed to follow strict recommendations about this coin side. The request was to base it on Jean-Antoine Houdon's bust of George Washington from 1785.
Since that day, the US Mint has released several quarter varieties with different compositions. The most significant change appeared in 1964 when pieces of 90% silver were discontinued, and new cupronickel coins appeared.
Also read: Top 13 Most Valuable State Quarters Worth Money
Features of 1970 Washington Quarters
The Washington quarter from 1970 has similar features to other quarters minted in honor of George Washington. This coin type was struck with only some slight differences in appearance from 1932 to 1998.
The obverse of 1970 quarters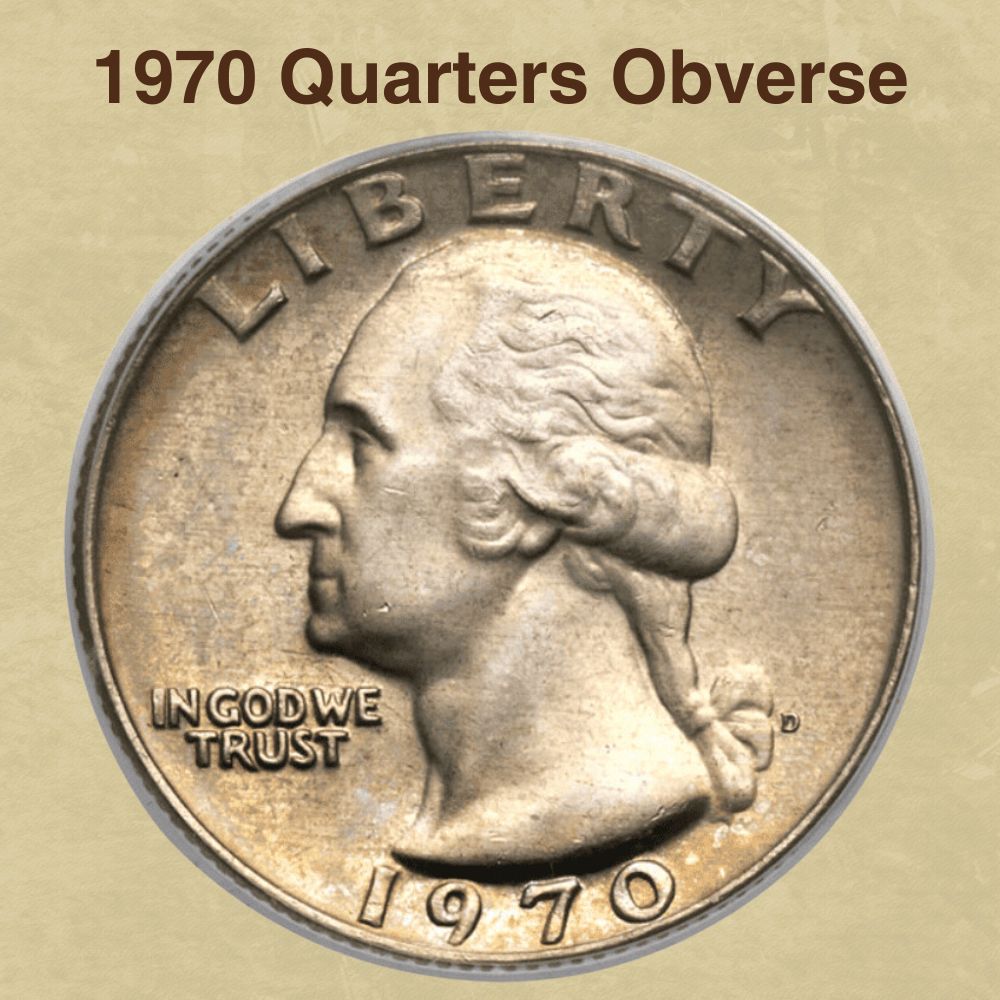 Like other Washington quarters, Washington's bust is in the central part, facing the left side of the coin. The designer used Jean-Antoine Houdon's sculpture as a base at the mint authorities' request.
The LIBERTY is struck above the President's centrally positioned figure. The phrase, IN GOD WE TRUST, written in capital letters, is placed slightly under his chin. Finally, you can see the year of minting (1970) at the bottom, just underneath Washington's head.
Not every coin has it, but the engraving S or D represents the mint where the coin was produced. The letter's place is on the right behind the end of the ribbon. Pieces without this mark are from the Philadelphia mint.
The reverse of 1970 quarters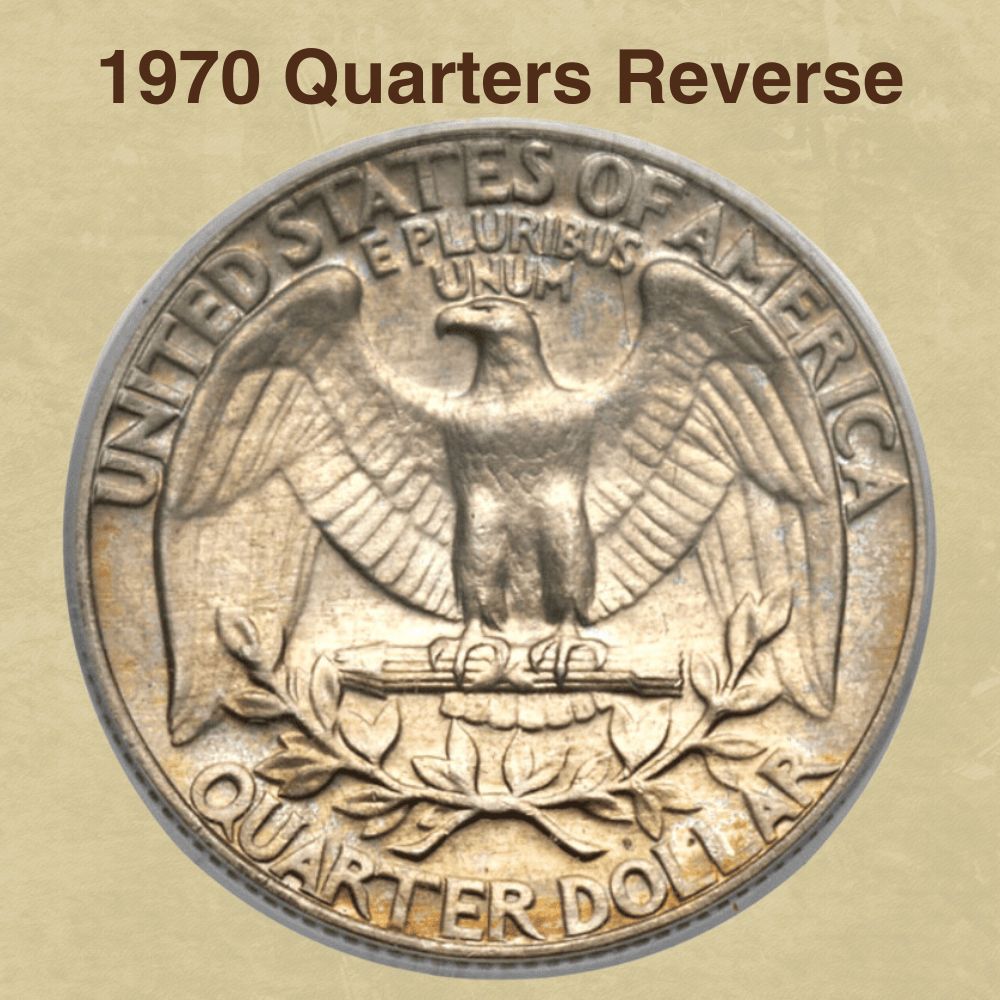 The 1970 quarter reverse consists of a widespread wings eagle holding wrapped arrows in its claws. Its head is facing left, similar to Washington's head on the obverse.
The UNITED STATES OF AMERICA is situated above the eagle's head along the coin's rim. The famous US motto E PLURIBUS UNUM is above the bird and under the country name.
Two olive branches stretch from both sides under the eagle and cross under the bundle of arrows. Below them is another engraving in capital letters, QUARTER DOLLAR, representing the coin value.
1970 quarter Details

Coin diameter
24.30 mm (0.96 inches)
Shape
Round
Compound
91.67% copper with a low percentage of nickel (the coin has a copper core with a cupronickel-clad outer layer)
Face value
$0.25 or twenty-five cents
Coin thickness
1.75 mm (0.07 inches)
Edge
119 reeds in total (reeded)
Coin weight
5.67 g (0.20 ounces)
Other features of the 1970 Washington quarters
From 1965, the Washington quarter metal content changed drastically. Initially, these coins comprised 90% of silver, but the precious metal was excluded in 1965 when the US Mint switched to copper and nickel alloy. Then, the composition became 91.67% copper with a low percentage of nickel, while the coin's core was only copper.
The 1970 quarter is round, with a value of twenty-five cents and the edge containing 119 reeds. It has a diameter of 24.30 mm (0.96 inches) and is 1.75 mm (0.07 inches) thick. The coin weight equals clad quarters from other years, or precisely 5.67 g (0.20 ounces).
1970 Quarter Grading
The 1970 quarters that didn't spend too long in circulation always have a higher value on the market than those spending years in use. In both cases, the Sheldon grading system is applicable when deciding their value.
The most valuable are coins in the mint state, ranging from MS 60 to MS 70. However, all circulated coins graded from GOOD to ABOUT CIRCULATED are also collectible, but their prices are often significantly lower.
The coins marked with POOR, FAIR, and ABOUT GOOD grades are the ones you should avoid. They are virtually worthless, and you can count on only precious metal value if they are made of one.
| # | Grade |
| --- | --- |
| 1 | Basal State-1 |
| 2 | Fair |
| 3 | Very Fair |
| 4, 5, 6 | Good |
| 7, 8, 10 | Very Good |
| 12, 15 | Fine |
| 20, 30 | Very Fine |
| 40 | Extremely Fine |
| 50 | About Uncirculated |
| 60 | Mint State |
| 65 | Mint State |
| 70 | Mint State |
Please check our grading guides to know your coin scale, It's the necessary step to know the exact value of your coin.
Check out now: How to Grade Washington Quarter?
1970 Quarter Value Guides
Mints from Philadelphia, Denver, and San Francisco produced 556,394,174 Washington quarters in the first year of the 70s. The San Francisco mint struck only proof coins, while regular 1970 quarters originated from the other two mints.
1970 No Mint mark quarter Value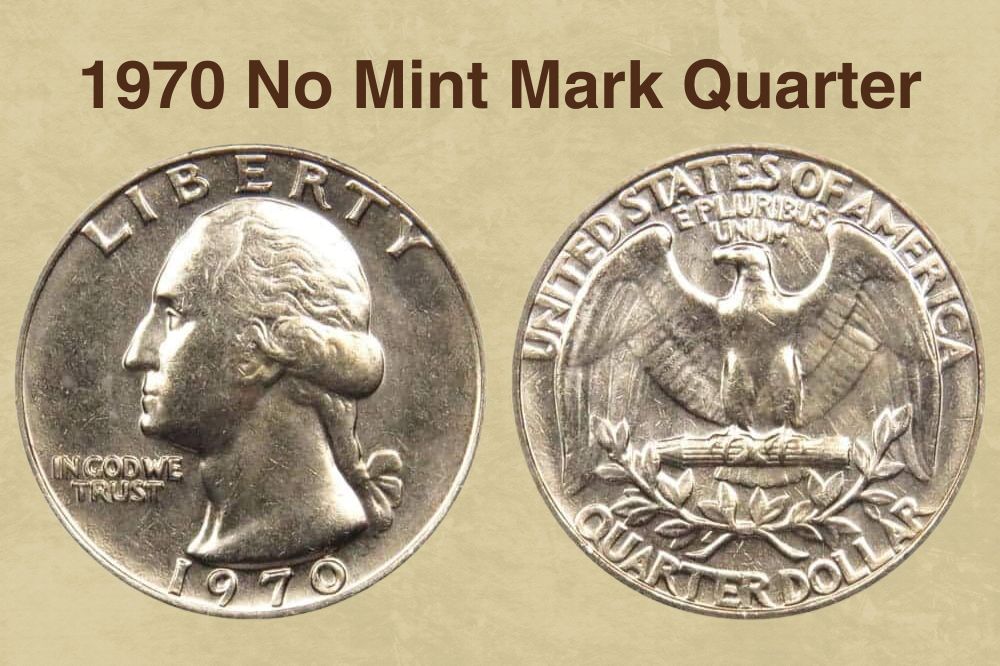 All old no-mint mark American coins come from the Philadelphia mint, and the same goes for the 1970 Washington quarters. Their number is 136,420,000 pieces.
The value of these coins is not high as they are only 50 years old and don't contain silver. You can find circulated and uncirculated quarters among those minted this year, and low-graded pieces are worth only their face value.
Depending on their quality and rarity, quarters in the mint state cost between $1 and $312, including:
MS 60 quarters cost between $1 and $1.20
MS 61 quarters cost between $1 and $1.20
MS 62 quarters cost between $1 and $1.20
MS 63 quarters cost between $1 and $1.20
MS 64 quarters cost between $1 and $1.20
MS 65 quarters cost between $9 and $10.80
MS 66 quarters cost between $25 and $30
Most quality pieces are more costly. For instance, those ranking MS 67 are estimated from $260 to $310. These coins may not be too valuable for dedicated coin lovers with unlimited budgets, but they are an important part of a collection.
The 1970 MS 67+ Washington quarter from the regular strike was the most expensive ever sold. It was bought for $2,160 in 2019.
1970 D quarter Value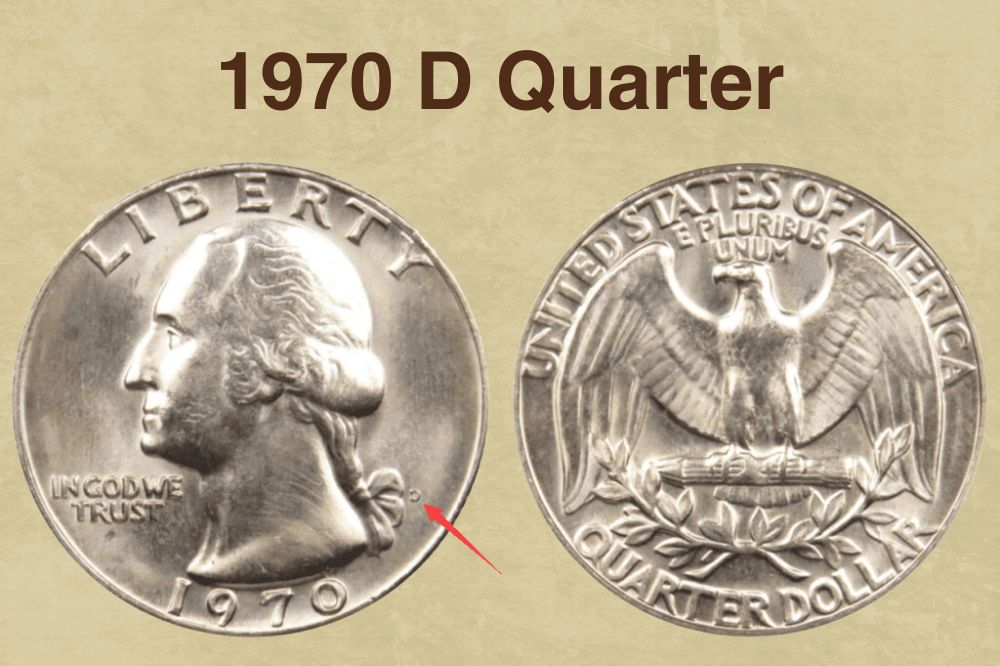 The Denver mint was the busiest, with 417,341,364 minted Washington quarters in 1970. All these 25-cent coins have the D mint mark on the obverse.
The value of circulated coins is the same as their face value of 25 cents, while perfectly looking pieces cost $1 to $42. Those ranking from MS 61 to MS 64 have estimated prices from $1 to $1.20, while the most quality specimens can reach higher prices, like:
You can find the MS 65 quarter for $4 to $4.80
You can find the MS 66 quarter for $8 to $9.60
You can find the MS 67 quarter for $35 to $42
However, the situation is entirely different with rare coins in MS 68 grade. Their estimated price is from $1,800 to $2,160, but some can reach even higher sums. For instance, the most pricey sold 1970 D quarter was the one graded MS 69. It was auctioned for $15,000 on eBay at the beginning of 2023.
1970 S proof quarter Value
The San Francisco mint was the only one in charge of proof coins in 1970, producing 2,632,810 those quarters in total. The value of these proof coins is $7 for PR 67-graded pieces, $9 for those in PR 68 grade, and $10 for the PR 69 ranking ones.
The most profitable 1970 S PR 69 quarter was sold in 2003 for $110. Compared to other rare coins in this set, it is not one with the highest price. Some proof Washington quarters minted this year are special for their cameo contrast. Those in grades from PR 67 to PR 69 have a value of $10 to $25.
In 2006, the 1970 S PR 66 quarter with CAM quality reached $1,553, a high price compared to other coins from this year. The same goes with the 1970 S proofs with deep cameo contrast, which are the most collectible. According to official estimations, they can cost about:
$35 for PR 67 DCAM coins
$65 for PR 68 DCAM coins
$350 for PR 69 DCAM coins
These specimens' rarity makes them desirable to collectors. For instance, the auction winner was the unimaginably beautiful DCAM 1970 proof quarter in PR 69 grade sold for $2,760.
Also read: Top 16 Most Valuable Modern Quarters Worth Money
Rare 1970 Quarter Error List
It sounds like a paradox, but collectors appreciate error coins the most. They are rare and represent uniqueness, so you should pay attention to such quarters minted in 1970.
Misprint quarters
Some of the 1970 quarters were printed over the 1941 Canadian quarters. This error is visible on the reverse side, where you can notice the year 1941 above the word DOLLAR when using good lighting. One collector found a unique misprinted 1970 S proof quarter and has offered it on eBay for an impressive $35,000.
Thin 1970 quarters
Some of the 1970 error quarters minted in Denver were so-called '1970 D Quarters on Dime Stock.' They looked thinner and lighter than standard pieces since they were accidentally struck over planchets prepared for dimes.
About 100,000 coins were produced this way before the mint staff noticed the mistake. As expected, these coins are desirable for collectors and can cost about $35 to $300, depending on their preservation levels.
Double-strike and off-center error quarters
This two-in-one error appears on one specific coin, making it a true rarity. It is double-pressed, with the 70% off-centered second struck. Both sides of this coin have the same double-strike off-center error, making it worth $1,020.
Other errors
Some 1970 quarters with the mint mark D were minted over a Jefferson nickel. The estimated price for such a coin was $216. Another example was a coin without copper-nickel cladding on the obverse sold for $540.
Also read: 17 Most Valuable Quarter Errors Worth Money
Where to Sell Your 1970 Washington Quarter ?
Now that you know the value of your coins, do you know where to sell those coins online easily? Don't worry, I've compiled a list of these sites, including their introduction, pros, and cons.
Check out now: Best Places To Sell Coins Online (Pros & Cons)
FAQ about 1970 Washington Quarters
What 1970 quarters are considered rare?
Errors made during minting often make coins unique and rare. Some are old, making it more challenging to find well-preserved specimens. In the case of Washington quarters produced in 1970, time is not an issue you should consider. Since they are only half a century old, they can be rare only because of possible minting errors.
Which 1970 quarters are the most expensive in the set?
1970 D MS 69-graded quarter from a regular strike won the price of $15,000 in 2023
1970 D MS 65-graded DDO quarter from a regular strike won the price of $2,875 in 2012
1970 S PR 69-graded quarter (DCAM proof) won the price of $2,760 in 2007
1970 D MS 63-graded DDR quarter from a regular strike won the price of $2,640 in 2014
1970 MS 67+-graded quarter from a regular strike won the price of $2,160 in 2019
1970 S PR 66-graded quarter (CAM proof) won the price of $1,553 in 2006
1970 D MS 66-graded DDR quarter from a regular strike won the price of $1,540 in 2014
1970 S PR 69-graded quarter (proof) won the price of $110 in 2003
Are 1970 No Mint mark quarters expensive?
Quarters minted in Philadelphia in 1970 are usually worth 25 cents or their face value. However, their prices depend on their condition and rarity. For example, most pieces cost $1 to $30 on average, while the most expensive coins are graded MS 67. They are worth $260 to $310, but some super rare specimens reach over $2,000 at auctions.
What are Washington quarter auction records?
Washington quarters exist for fifty years, so their value is connected to their quality, possible signs of wear, and mintage. The top five most expansive coins in the series are:
$143,750 was the price for the 1932 D quarter ranked MS 66 (January 2008)
$45,500 was the price for the 1932 S quarter ranked MS 66 (March 2020)
$43,475 was the price for the 1949 D quarter ranked MS 68 (June 2019)
$43,200 was the price for the 1978 quarter ranked MS 68+ (March 2021)
$40,250 was the price for the 1932 quarter ranked MS 67 (April 2012)