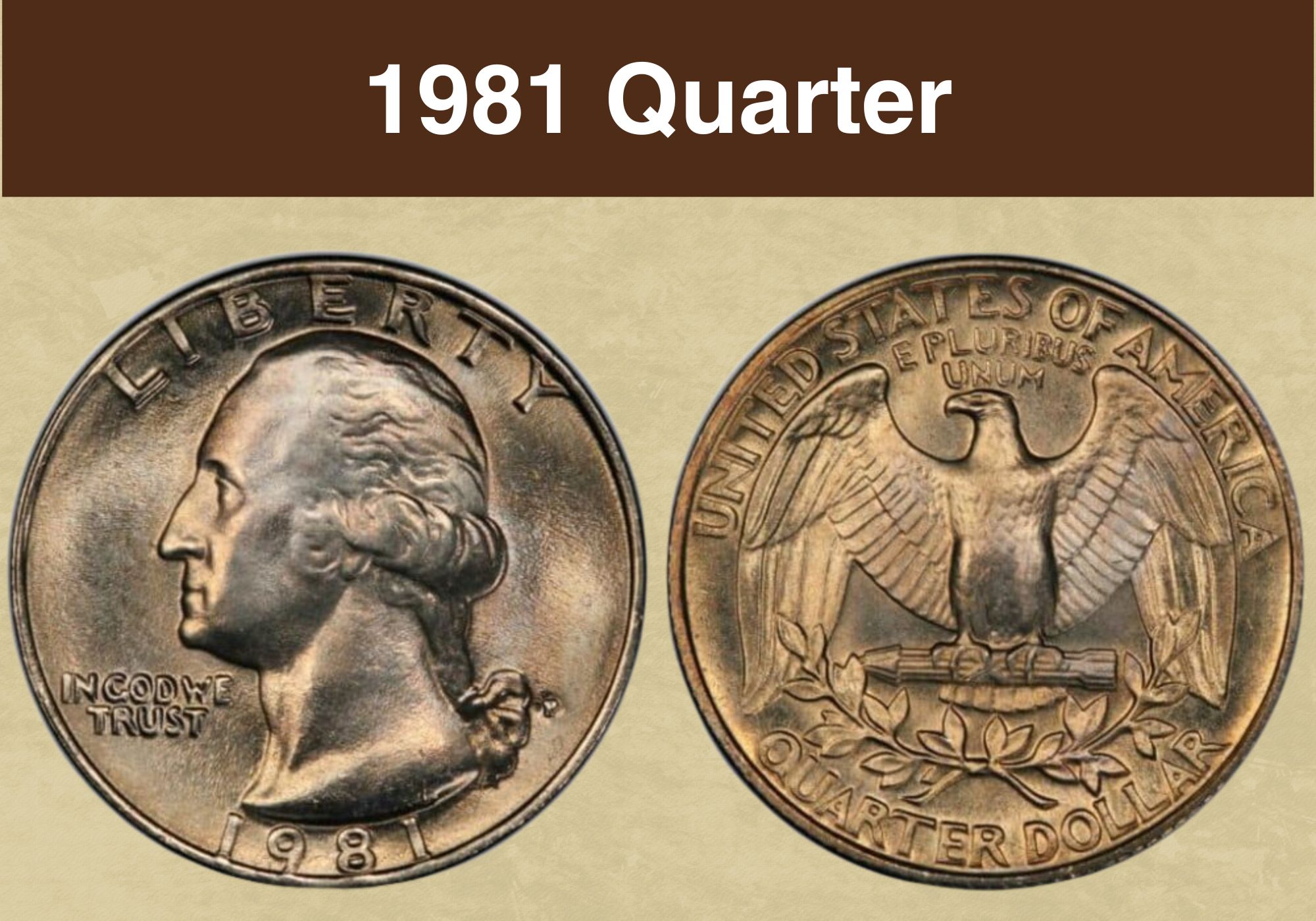 Do you own a 1981 quarter and wonder whether this relatively old coin is worth anything?
Maybe you are considering adding a 1981 Washington quarter to your collection and want to know whether it is worth any money.
You've come to the right place! In this article, you will learn everything you need to about the 1981 quarter value.
We'll explore the coin's interesting history, unique features, and what to look for to know whether your Washington Quarter is valuable. You will also discover errors that can significantly improve the value of your quarter.
So, let's get started!
1981 Quarter Value Chart

Mint Mark
Good
Fine
Extremely Fine
Uncirculated
1981-P Quarter Value
$0.30
$0.30
$0.30
$70
1981-D Quarter Value
$0.30
$0.30
$0.30
$105
1981-S Proof Quarter Value
–
–
–
$15
History of 1981 Quarter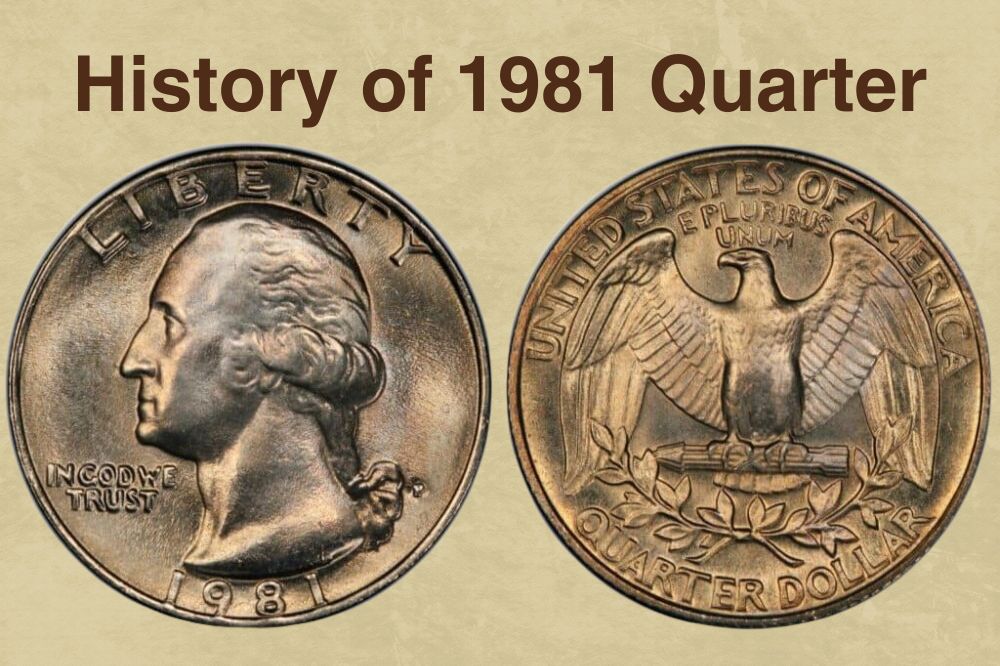 The Washington quarter entered circulation on August 1, 1981 and is still in circulation as the current quarter dollar.
Congress established a bicentennial committee to organize George Washington's 200th birth anniversary. The committee proposed that the United States Mint create a Washington half dollar as part of the celebrations. This new coin would, ideally, replace the Walking Liberty half dollar for 1932 only but Congress had other plans.
Instead of replacing the Walking Liberty half dollar, Congress replaced the Standing Liberty quarter with a permanent Washington quarter. The new silver coin would feature Washington's portrait on the obverse.
The bicentennial committee and Commission of Fine Arts had engaged a well-known sculptor, Laura Gardin Fraser to design a commemorative medal. The committee and commission had expected Fraser to use medal's design to create the newly proposed Washington quarter.
However, then-Treasury Secretary Andrew Melon rejected Fraser's design, instead organizing a new competition to choose the coin's next design. In the end, Mellon, who was in charge of approving coin designs, chose John Flanagan's design and this decision was publicly announced on April, 16 1932.
When the coin's first entered circulation, they were struck but the metal composition changed to copper-nickel in 1965 at the peak of the silver coin shortage. Washington's bust, as portrayed on the obverse of the coin was based on the work of sculptor Jean-Antoine Houdon.
Also read: Top 13 Most Valuable State Quarters Worth Money
Features of 1981 Quarter
Now, let's look at the features of a 1981 quarter. Knowing what to look for can help you identify quarters worth money.
The Obverse of a 1981 Quarter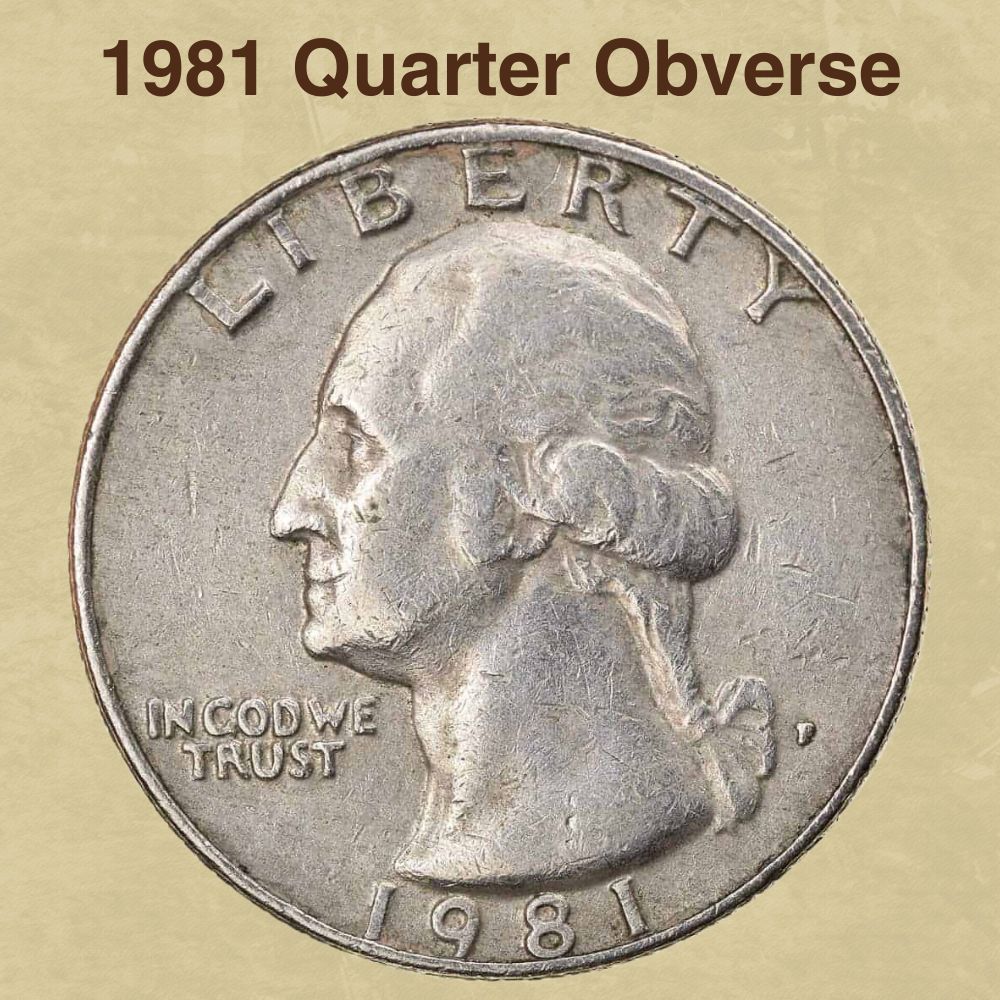 The obverse or heads of the 1981 quarter features the left-facing portrait of George Washington based on Jean-Antoine Houdon sculpted bust of our country's first president.
The word LIBERTY appears above his head while the date 1981 appears at the bottom of his truncated neck.
The country's motto, IN GOD WE TRUST, is displayed on the coin's surface to the left. You will also notice the mint mark right behind Washington's low ponytail.
The Reverse of the 1981 Quarter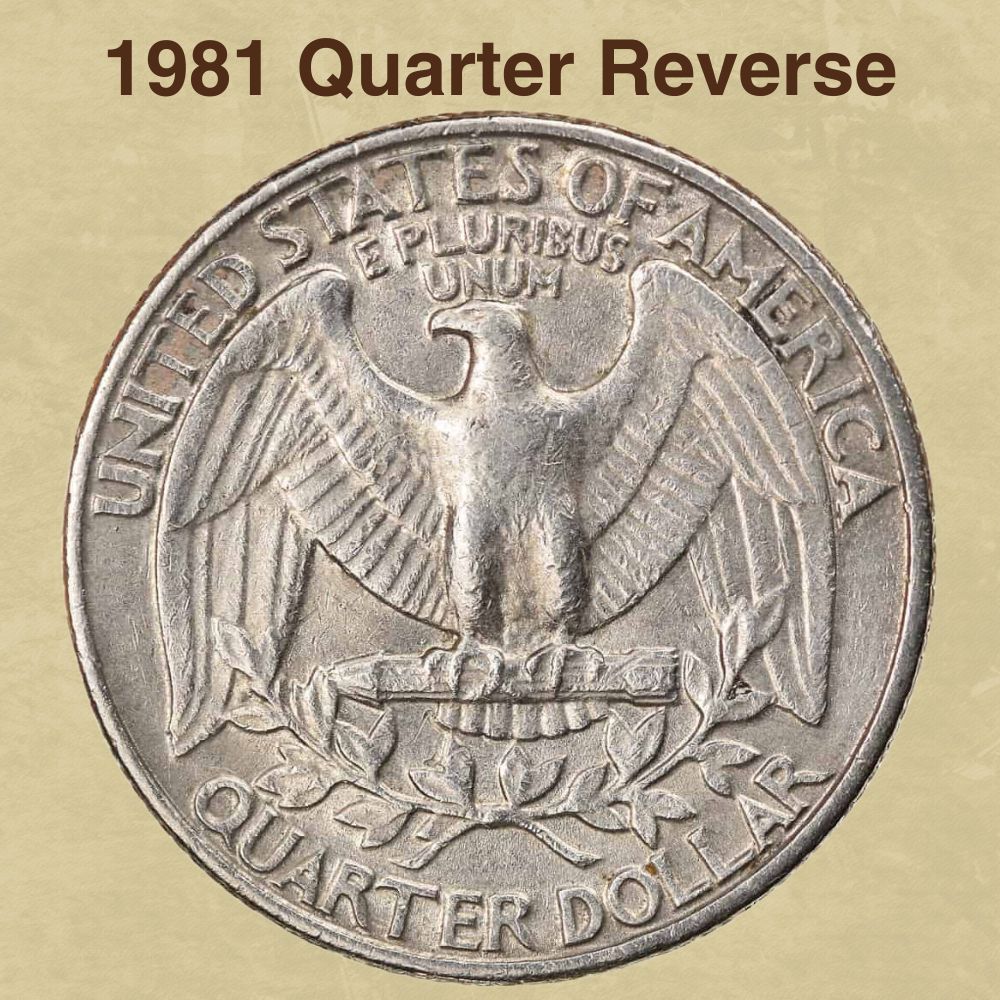 On the reverse of the 1981 quarter is an intricate design of the American heraldic eagle with wings spread out while perched on a bunch of arrows, symbolizing independence and readiness to defend the country. Two olive branches, entwined at the middle, frame the eagle's portrait.
Above the eagle's head is our country's name followed by the motto E PLURIBUS ENUM. The coin's denomination, QUARTER DOLLAR, appears below the olive branches.
Other Features of the 1981 Quarter
The Washington 1981 quarter comprises a pure copper core with a 75% copper and 25% nickel cladding.
The coin weighs 5.67 grams and measures 24.30 millimeters with a reeded edge.
In 1981, the U.S. Mint struck quarters at the Denver and Philadelphia minting facilities. These coins have mint marks P and D, representing the respective facilities where the coins were minted. You will notice the mint mark located at the back of Washington's pony tail.
Let's now explore the real value of 1981 Washington quarters.
1981 Quarter Grading
Washington quarter are among our country's longest running coin series and a collector's favorite. So what should you look for when grading your 1918 quarter?
First, you want to focus on uncirculated coins because these are worth money. As mentioned earlier, quarters in circulated condition are not profitable and are worth more or less their face value.
When examining a quarter in mint state, check for a brilliant luster and very faint wear and tear of any. Placing your coin under a single light source can help you check that the luster is intact.
Examine the high points prone to luster-loss and wear and tear. In particular, you should pay attention to the top of Washington's head, the hair that curls around his ear, and the cheek too.
On the reverse, examine the eagle's chest feathers, legs, and the wing's top edges. These spots are typically prone to wear and tear but should be lustrous in uncirculated coins.
| # | Grade |
| --- | --- |
| 1 | Basal State-1 |
| 2 | Fair |
| 3 | Very Fair |
| 4, 5, 6 | Good |
| 7, 8, 10 | Very Good |
| 12, 15 | Fine |
| 20, 30 | Very Fine |
| 40 | Extremely Fine |
| 50 | About Uncirculated |
| 60 | Mint State |
| 65 | Mint State |
| 70 | Mint State |
Please check our grading guides to know your coin scale, It's the necessary step to know the exact value of your coin.
Check out now: How to Grade Washington Quarter?
1981 Quarter Value Guides
Are 1981 quarters worth money? Well, the value of these quarters will depend on factors such as their physical condition, grade, rarity. The presence of errors can also increase the coin's value, but this too depends on the type of error.
There are three varieties of the 1981 quarter whose value we will look at. These are:
1981-P Quarter
1981-D Quarter
1981-S Proof Quarter
In the following sections, we will explain how much a 1981 quarter is worth.
1981-P Quarter Value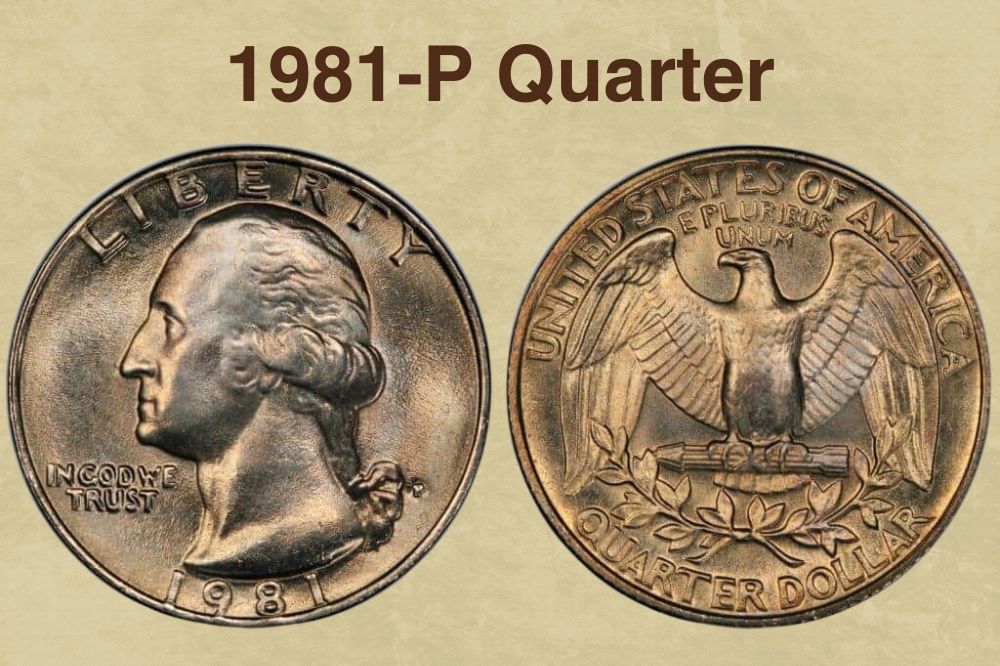 The Philadelphia mint struck an estimated 601,716,000 Washington quarters. You are right if you think these are a lot of quarters! These coins have a mint mark P on the obverse right behind Washington's ponytail.
The mint produced more than half a billion quarters so it should not come as a surprise that these coins are extremely common; you can easily find 1981-P quarters in circulation today.
Washington quarters from 1981 are worth more or less their face value because they are so common. In circulated condition, 1981-P Washington quarters are worth between $0.30 and $0.75 depending on the coin's condition.
These coins are equally common in mint state and can be found in uncirculated rolls and mint sets. In grade Mint State (MS) 60, a Washington 1981-P quarter can fetch as much as $1.50 but this price can increase to $70 for a rare quarter graded MS67.
According to the Professional Coin Grading Service (PCGS), there are only three known examples of 1981-P quarters graded MS67 and the most expensive one sold for $700 in 2018 at an online auction.
1981- D Quarter Value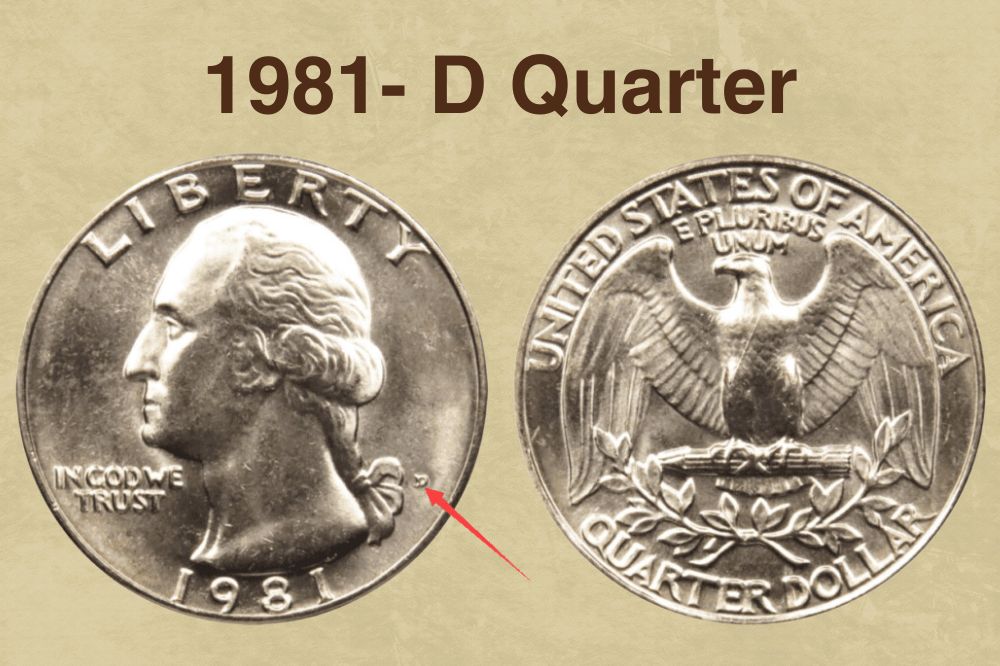 More than half a billion 1981-D Washington quarters were struck at the Denver minting facility. Like with the Philadelphia lot, these are a lot of coins.
With so many coins released into circulation, you can expect value of 1981-D quarters to be a bit low. In circulated condition, a 1981-D Washington quarter is worth between $0.30 and $0.85.
These coins are common in mint state and even in gem condition but will fetch slightly more. You can expect about $3 for a 1981 quarter graded MS61 and up to $195 for one graded MS67. A rare example graded MS67 was auction in 2011 for an impressive $375.
1981-S Quarter Value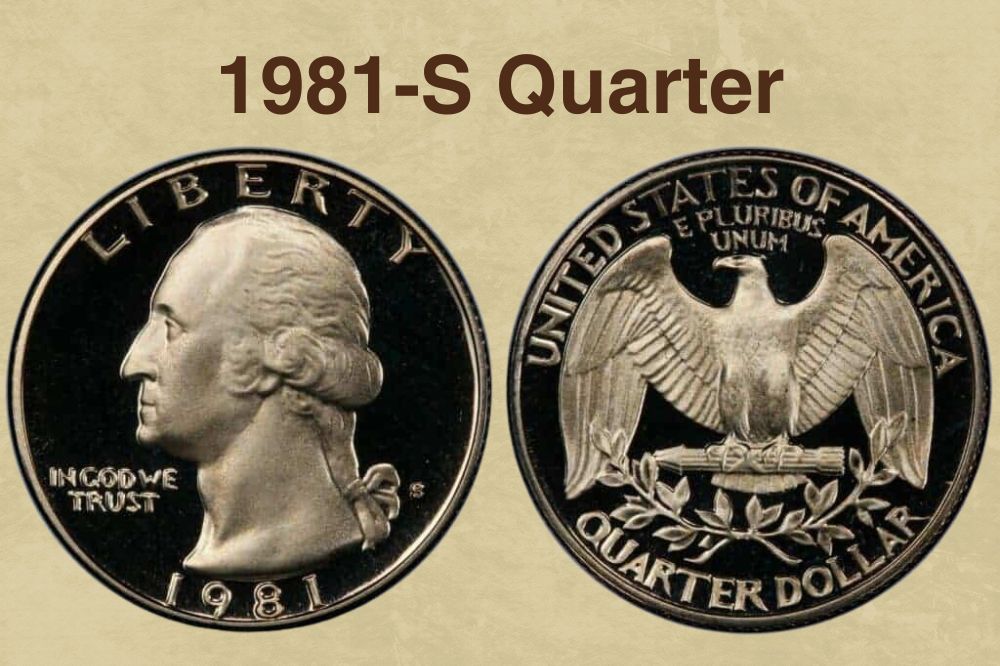 The San Francisco mint struck proof quarters for 1981 to be issued to collectors. That year, there were two types of proof coins, also known as Type 1 and Type 2.
Type 1 1981-S proof quarters have a small, filled-in, and unclear S mint mark. On the other hand, Type II proof quarters have a clearer, well-defined, and visible S mint mark.
About 4 million proof quarters were struck in 1981. But, despite the relatively low mintage, these coins are generally not worth significantly more.
For example, you can buy a Type I 1981-S proof quarter graded MS67 for about $15 and one in perfect condition graded MS70 for about $22. The most expensive 1981 proof Washington quarter graded MS70 Deep Cameo (DCAM) was auctioned for $508 in 2018.
A Type II 1981-S proof quarter graded MS67 is worth about while one graded MS70 can bring in up to $140. A rare specimen graded MS70 DCAM sold for an enviable $2350 at a 2007 auction.
Also read: Top 16 Most Valuable Modern Quarters Worth Money
Rare 1981 Quarter Errors List
Washington quarters, including those minted in 1981, are generally well struck and feature only a few errors. Some errors can significantly increase the value of a circulated coin, so it is important to know the 1981 quarter errors to look for.
1981 Quarter Doubled-Die Obverse Error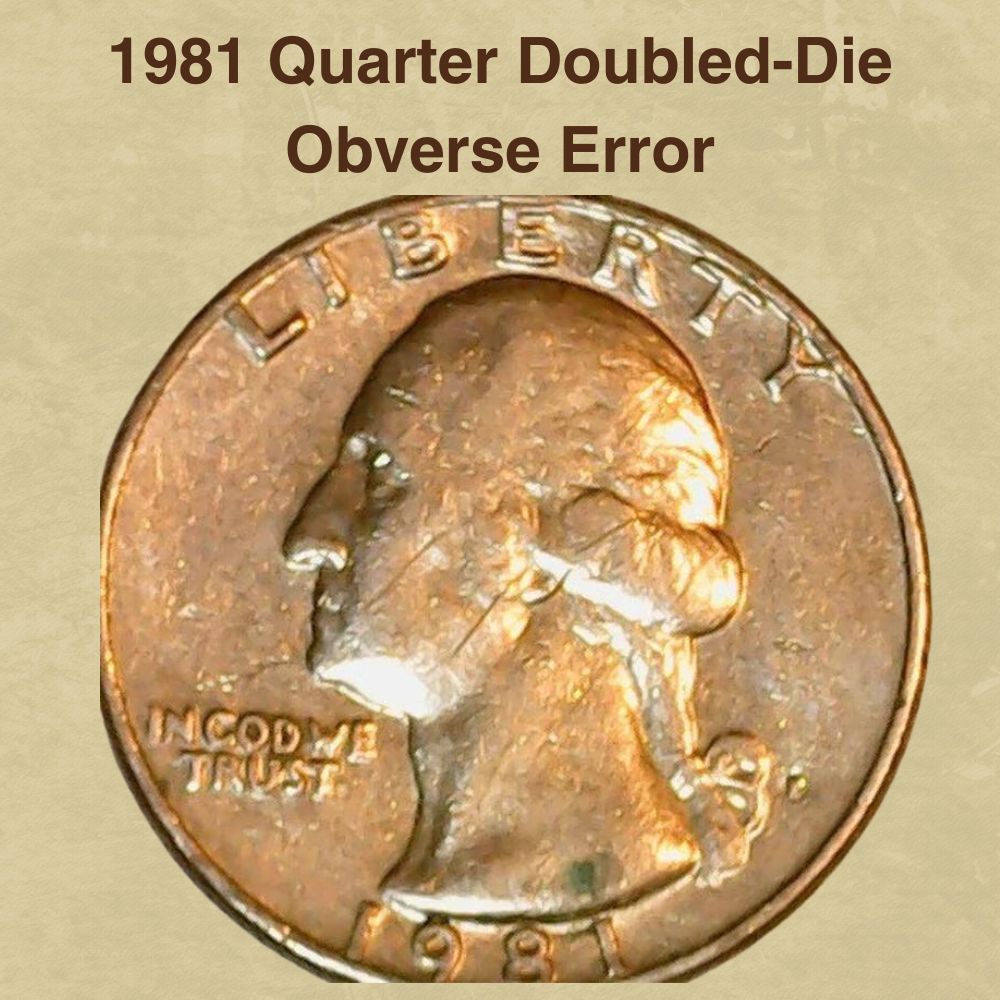 Double die errors are quite common among the 1981 quarter errors but they remain very desirable to collectors. on the obverse, you will mostly notice the doubling on the motto IN GOD WE TRUST and on the date.
This error occurs when the die hub strikes one coin multiple times at slightly different angles so you will notice doubling in the design and/or lettering. You can get about $100 for such an error coin.
Expect to pay up to $150 for a 1981-quarter with a visible double die error.
1981 Quarter over Dime Planchet Error
In 1981, the workers at the Philadelphia mint accidentally struck several quarters on dime planchets and these made their way into circulation.
Because the dime is much smaller than a quarter, the quarter's design and lettering cannot properly fit on the dime, leading to some missing or displaced words and images.
A quarter with 30-80% missing details can fetch as much as $200.Coins with too few details are worth the least.
1981 Quarter Flip-Over Double Strike Error
This complex error occurred when a partial indent was struck over the coin's lower reverse. On the second strike the reverse die was used alongside a different planchet and the current one, with this impression being clearer/sharper than the first one especially in the date.
This error piece stands out for satiny luster as well as the visible mintmark and date. Heritage Auctions sold this piece in August 2020 for a whopping $7,000.
1981 Quarter Off-Center Error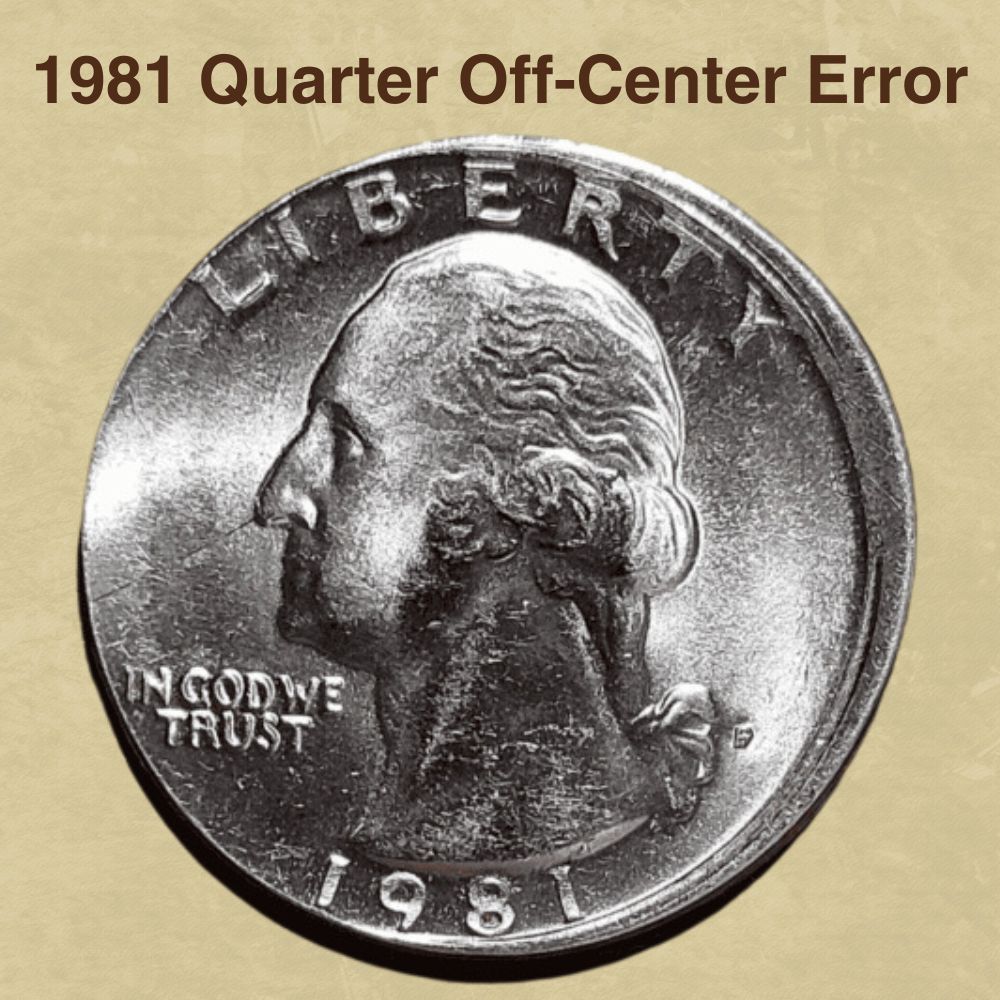 An off-center error occurs when the planchet is not placed properly in the hub, resulting in an uncentered design. So instead of the design appearing in the middle, it appears sideways with some features missing. Off center errors in Washington quarters are worth about $100.
Also read: 17 Most Valuable Quarter Errors Worth Money
Where to Sell Your 1981 Quarter ?
Now that you know the value of your coins, do you know where to sell those coins online easily? Don't worry, I've compiled a list of these sites, including their introduction, pros, and cons.
Check out now: Best Places To Sell Coins Online (Pros & Cons)
FAQ
What does the P mint mark mean on a quarter?
The P on your 1981 quarter means the coin was struck at the Philadelphia mint. Coins with mint marks are generally worth slightly more than those without but other factors such as the condition and grading will also affect the coin's value.
Is my 1981 quarter worth anything?
Although Washington quarters are a favorite collectors' item, these coins are usually not worth more than their face value. If you have a circulated 1981 quarter, it is probably worth only face value of $0.25. If the coin seems to be uncirculated i.e. has little to no signs of wear and tear and has mint luster, it might be worth slightly more than face value. If you suspect to have a gem quality or min 1981 quarter, we recommend getting it graded by a professional coin grading company.
How much is a 1981 P quarter filled in mint mark worth?
There is nothing special about a 1981 P quarter with a filled in mint mark; such a coin is not considered an error and is general worth its face value in circulated condition. But, your coin can also bring in at least $100 in gem condition.