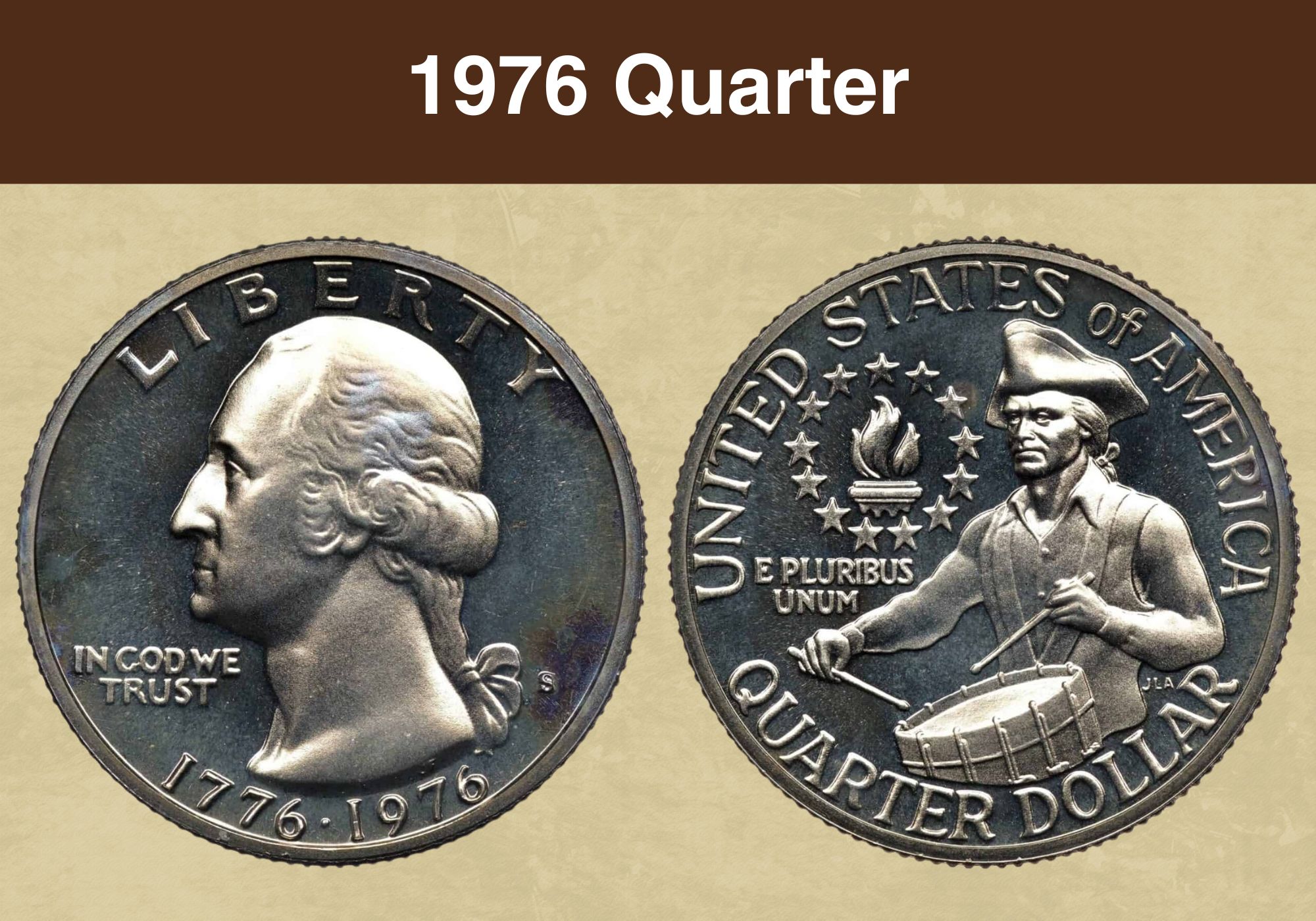 The quarter issued in 1976 was a rather special coin. It commemorated 200 years since American Independence.
But while these coins are historically interesting, are they valuable? That's what we're going to investigate!
We're going to look at the 1976 quarter value, exploring the different mint marks and varieties. We'll learn about the coin's design and interesting features. And we'll check out some of the unusual error coins out there.
Ready? Let's get started!
1976 Quarter Value Chart

Mint mark and Variety
XF45
MS63
MS65
MS68
1976 (P) Clad Quarter Value
$0.25
$4
$28
$4,500
1976 D Clad Quarter Value
$0.25
$4
$28
$4,350
1976 S Silver Quarter Value
$4
$6
$10
$90
PR62
PR65
PR68
PR70
1976 S Clad Proof Quarter Value
Cameo: $5Deep cameo: $5
Cameo: $8Deep cameo: $8
Cameo: $18Deep cameo: $35
Cameo: $125Deep cameo: $150
1976 S Proof Silver Quarter Value
Cameo: $5Deep cameo: $6
Cameo: $11Deep cameo: $12
Cameo: $12Deep cameo: $18
Cameo: $20+Deep cameo: $180
History of the 1976 Bicentennial Quarter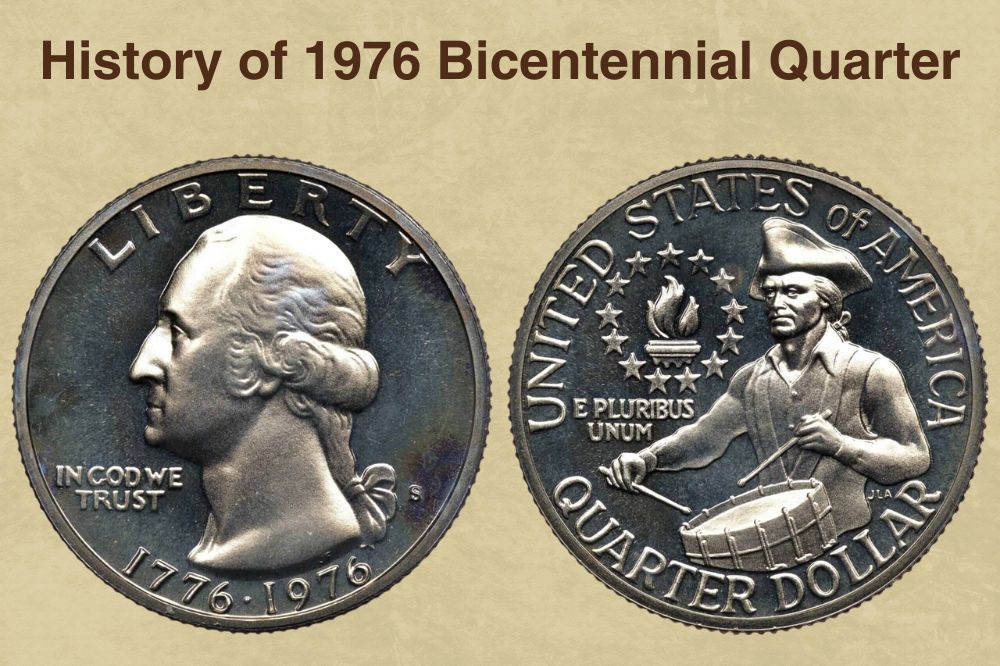 The quarters produced in 1976 were one of three denominations to have a commemorative design on the reverse. The others were the half dollar and dollar. And all three were the suggestion of a special Committee set up to oversee the celebration of the bicentenary of American Independence.
The Treasury had at first been reluctant to agree the proposals. Its experience of commemorative coins had been mixed. The last issue, in 1952, had been something of a disaster. The coins didn't sell, and after repeated discounts, many of them had passed into circulation.
The Mint had endured bad publicity as a result, and Treasury officials were anxious not to repeat the experience. But with considerable political support for the idea of bicentennial coins, they eventually acquiesced.
The obverse – the heads side – of the coins would remain largely unchanged from standard issues. But a competition was run to find a design for the reverse of all three commemorative denominations. Almost 900 designs were submitted from across the country.
A judging panel whittled these down to a shortlist of twelve, and then to six. The Bicentenary Committee reviewed the final six and made recommendations to the Treasury Secretary, George Shultz.
Shultz picked a design by Jack L. Ahr for the quarter. It showed a colonial drummer, together with a torch of victory.
The design attracted some controversy, with the designer of a 1973 Bicentennial stamp, William A. Smith, accusing Ahr of copying his work. Both designs featured a colonial drummer, but Ahr maintained that he had based his image on his son.
The Mint Director, Mary Brooks, ruled the design was sufficiently different, and the coin went ahead as planned. The Mint's Chief Engraver, Frank Gasparro made minor changes, altering the expression on the drummer's face and making the design of the drum more authentic.
Ahr later expressed regret that he had not had more time to finalize the design. He nevertheless agreed that Gasparro's changes had improved it.
The first prototypes were struck in 1974 in Philadelphia, so didn't have mint marks. Three of them were presented in special Bicentennial Sets to VIPs. The remainder were melted down.
Also read: Top 13 Most Valuable State Quarters Worth Money
Features of the 1976 Quarter
The Obverse of the 1976 Quarter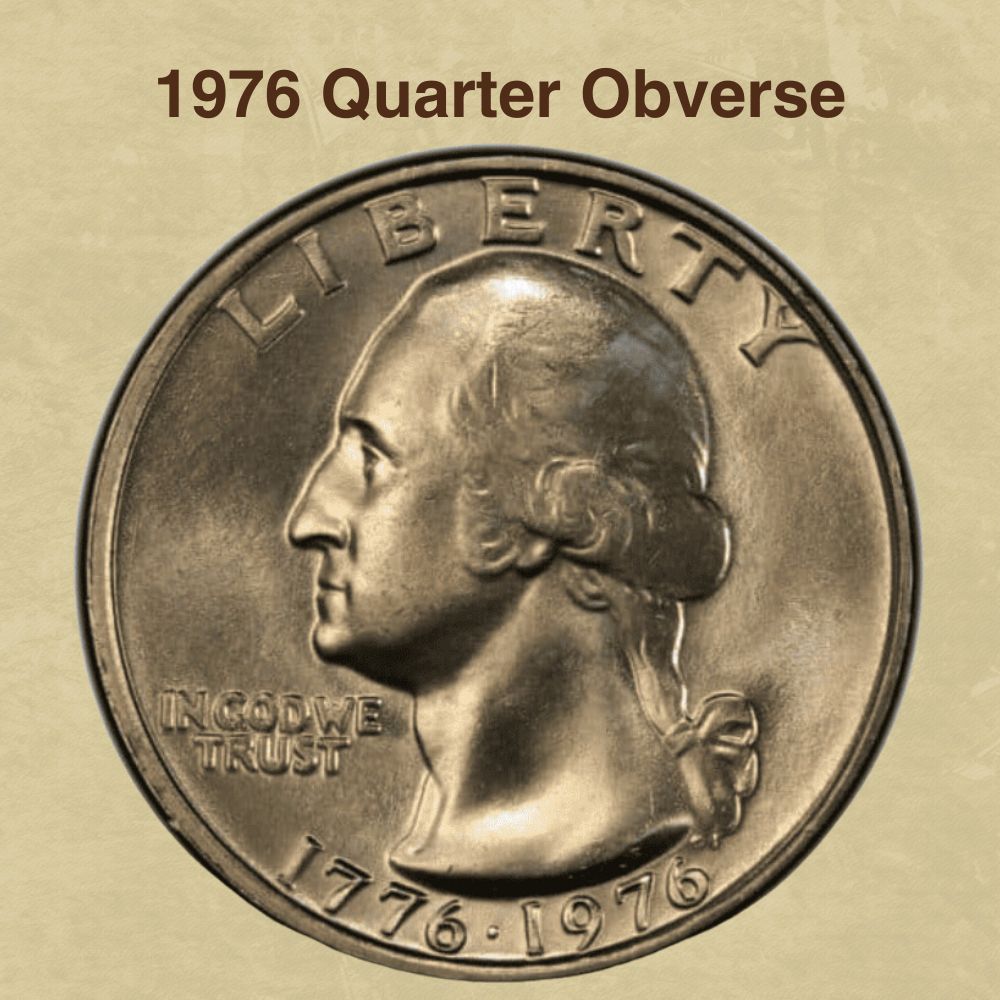 The obverse of the bicentennial quarter carries almost the same design as the quarter of the previous year. It shows the head of the first US president, George Washington, in profile facing left. It was the work of John Flanagan, but it had not been everyone's first choice.
The Washington quarters were first issued in 1932 to mark the bicentenary of Washington's birth. Another committee had been set up to oversee the celebrations, and they had recommended that the commemorative coin use a design by Laura Gardin Fraser.
But when it was decided that the Washington quarter would continue to be struck every year, the decision on the design passed to the Treasury. The Treasury Secretary at the time, Andrew W. Mellon, preferred Flanagan's portrait.
The only difference between the bicentennial obverse and that of other Washington quarters is the date.
This appears at the bottom of the coin, but on the bicentennial quarter, two dates are shown. These are 1776, the year in which the Declaration of Independence was signed, and 1976, the year of the bicentenary.
The Reverse of the 1976 Quarter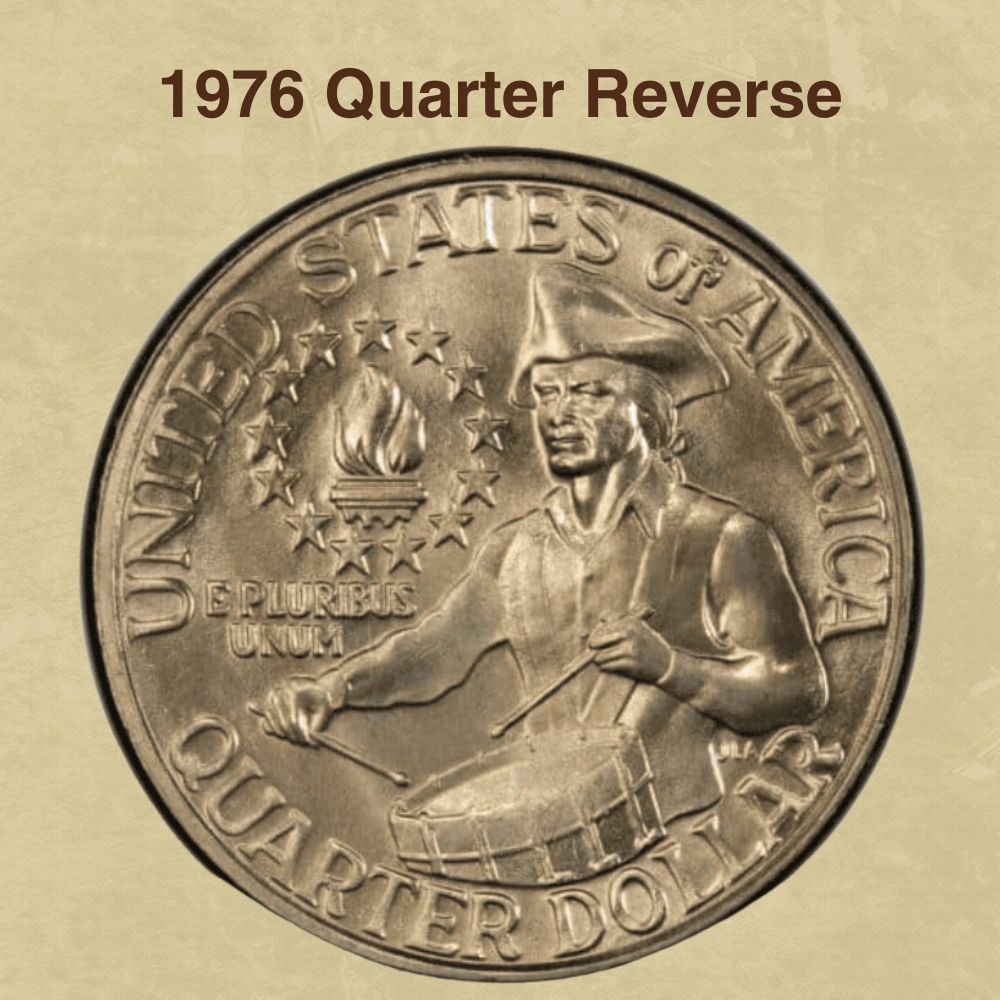 Ahr's design for the reverse shows a colonial drummer alongside a torch of victory. The torch is surrounded by a circle of thirteen stars, representing the first states to join the union.
The country name curves along the top edge of the coin face, while the denomination is at the bottom.
The Latin motto, E PLURIBUS UNUM, is inscribed between the circle of stars and the drummer's right arm. It means "From the many, one", and refers to the country's creation from the union of states.
Look closely, and you'll see the designer's initials, JLR, just above the "A" and "R" of DOLLAR.
Other Features of the 1976 Quarter
Both clad and silver quarters were struck in 1976.
The "silver" coins were actually 40% silver overall, with the remainder copper. They measured 24.3 millimeters in diameter and weighed 5.75 grams.
The clad variety of coins combined copper with nickel. Their core was pure copper, while the cladding was a mixture of 75% copper and 25% copper, giving them a silver appearance. They too measured 24.3 millimeters across, but were slightly lighter, at 5.67 grams.
This YouTube video from Mint Miser looks at the different varieties and features of the 1976 bicentennial quarter.
1976 Quarter Grading
| # | Grade |
| --- | --- |
| 1 | Basal State-1 |
| 2 | Fair |
| 3 | Very Fair |
| 4, 5, 6 | Good |
| 7, 8, 10 | Very Good |
| 12, 15 | Fine |
| 20, 30 | Very Fine |
| 40 | Extremely Fine |
| 50 | About Uncirculated |
| 60 | Mint State |
| 65 | Mint State |
| 70 | Mint State |
Please check our grading guides to know your coin scale, It's the necessary step to know the exact value of your coin.
Check out now: How to Grade Washington Quarter?
1976 Quarter Value Guides
1976 (P) Clad Quarter Value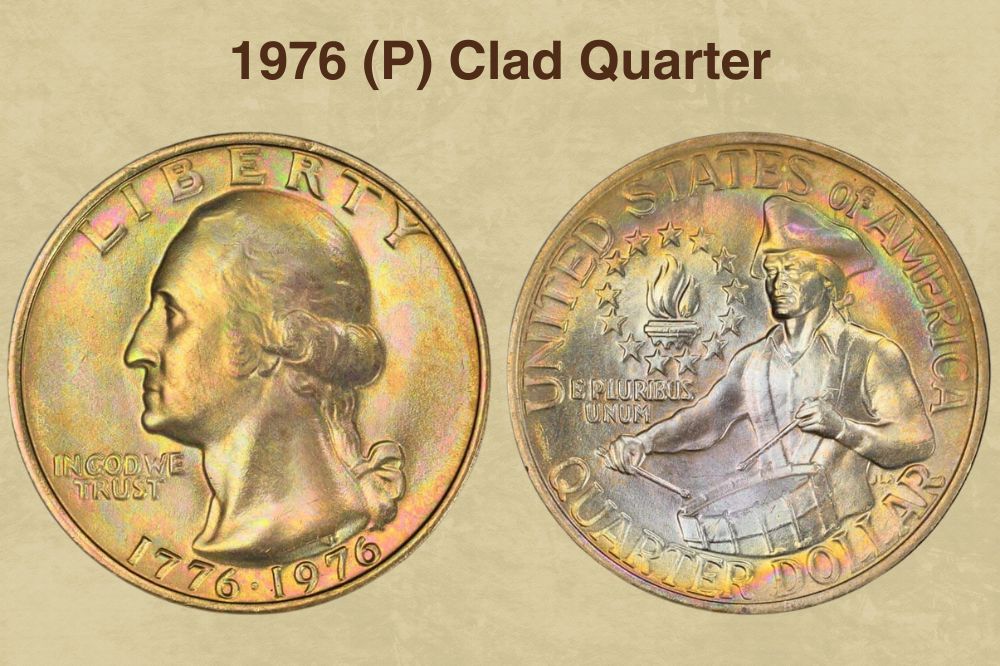 In 1976, the Philadelphia Mint facility wasn't marking any of its coins with a mint mark. So if your 1976 quarter has no mint mark on the obverse, it was struck in Philly. That also means it's a clad coin, as the silver variety were only struck in San Francisco.
Almost 810 million Philadelphia bicentennial quarters were produced in 1976. And the historic design meant that many people kept them as mementoes. As a result, they're pretty easy to find in good condition today.
Coins in circulated condition are generally only worth their face value unless they have an interesting error. (We'll look at some error coins later.)
For a 1976 Philadelphia quarter to be worth more than its face value, it will need to be graded at around MS63. The "MS" stands for "mint state" and means the coin has never been circulated. An example graded MS63 is valued by the independent coin graders, the PCGS, at $4.
Coins graded between MS65 and the maximum, MS70, are referred to as "gem quality". A Philadelphia bicentennial quarter graded MS65 is worth around $28, while one graded MS67 is worth about $110.
Coins graded higher than this are much rarer, and command high prices as a result. An example graded MS67+ is worth about $2,500. And the finest example to have been graded by the PCGS to date is half a point higher, at MS68. That coin is valued today at $4,500.
1976 D Clad Quarter Value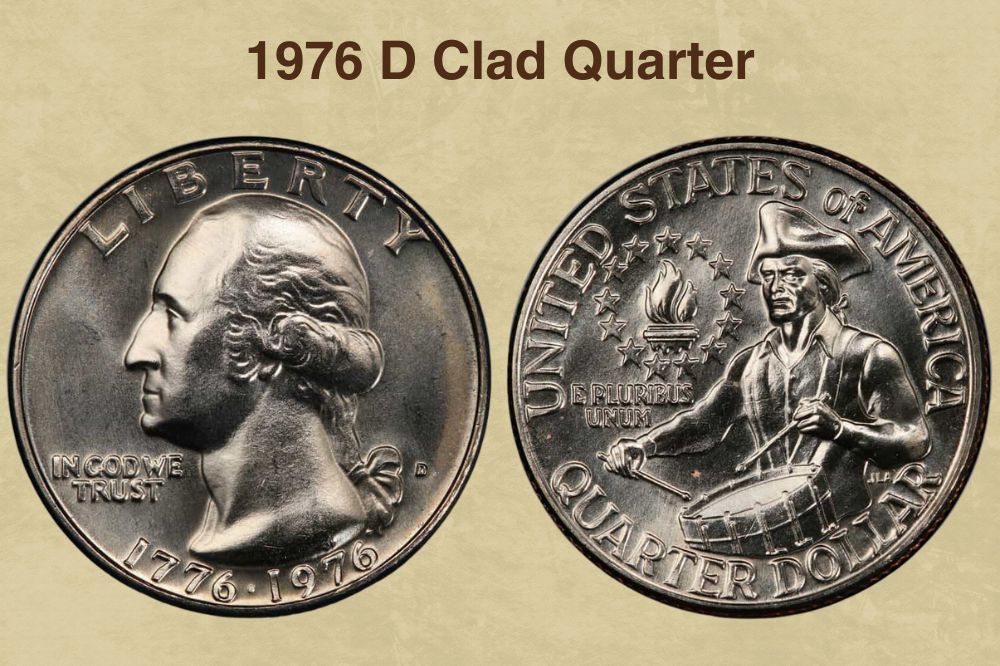 The Denver Mint facility struck about 50 million more bicentennial quarters than Philadelphia – over 860 million in all. They can be identified by the small "D" on the obverse of the coin, just next to the bottom of Washington's braid.
Just as with their Philadelphia counterparts, circulated coins will usually be worth only 25 cents. And values at most grades are very similar: $4 for MS63 coins, $28 for MS65, and $110 for MS67.
For the Denver quarters too, the finest examples are graded MS68. But more of these have been certified by the PCGS – eleven to date. They're valued slightly below their Philadelphia equivalents, at $4,350 apiece.
1976 S Silver Quarter Value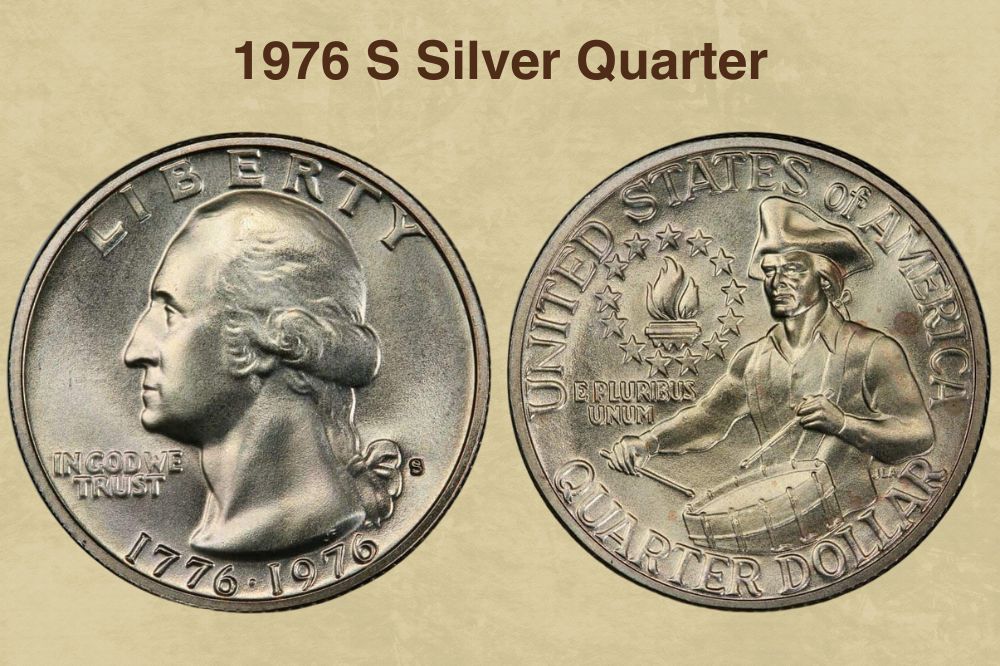 The San Francisco Mint facility struck both regular and proof bicentennial quarters in silver. Both varieties have the "S" mint mark on the obverse.
The mintage of business strike coins (the regular quarters) was 11 million. And the high mintage and public interest in them mean they remain easy to acquire to this day.
Values for circulated coins hover between $3 and $5. And uncirculated coins are readily available all the way up to MS68. An example at that level is worth about $90.
The finest example to have been graded by the PCGS is a sole coin at MS68+. But the likelihood is that there are many others out there. For that reason, the PCGS values it at a relatively modest $400.
1976 S Proof Clad Quarter Value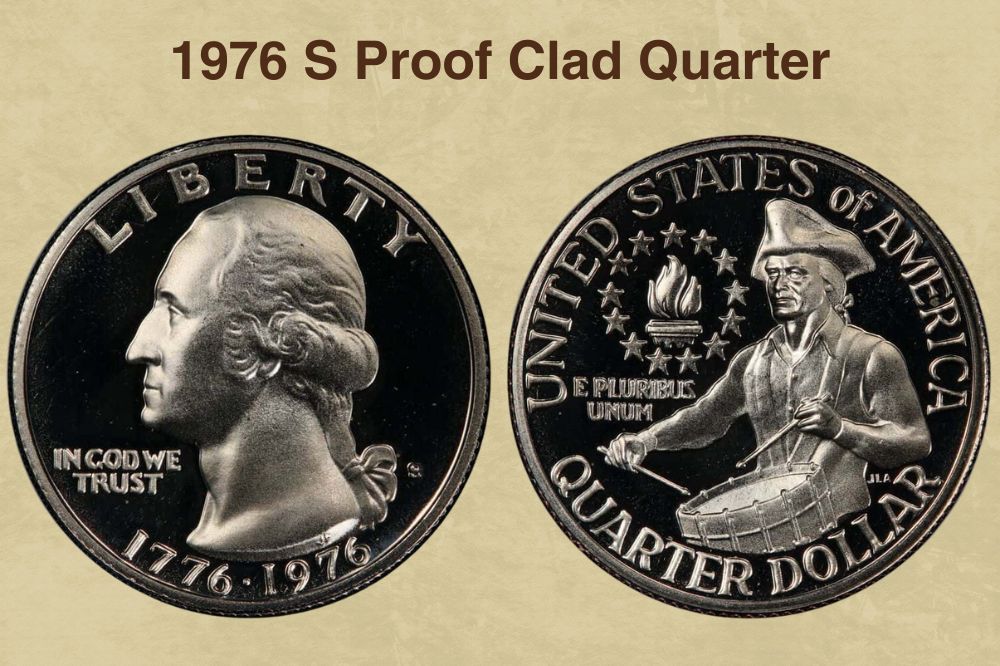 Both clad and silver proofs were struck at the San Francisco Mint facility in 1976. The mintage of the former was a little over 7 million.
Proofs come in three grades – standard, cameos and deep cameos. Coins are designated cameos if they display an appealing contrast between reflective fields – the flat parts of the coin – and frosting on the raised areas. Deep cameos are coins where that contrast is especially dramatic.
Standard clad bicentennial quarters at PR60 are numerous, and values are negligible. But cameos and deep cameos in higher grades can be worth significantly more.
The finest cameos are graded a perfect PR70. The PCGS values those at $125 apiece.
Deep cameos are also available at PR70 – and there are plenty of them! The PCGS has certified almost 800 coins at that level to date, valuing them at $150 each.
1976 S Proof Silver Quarter Value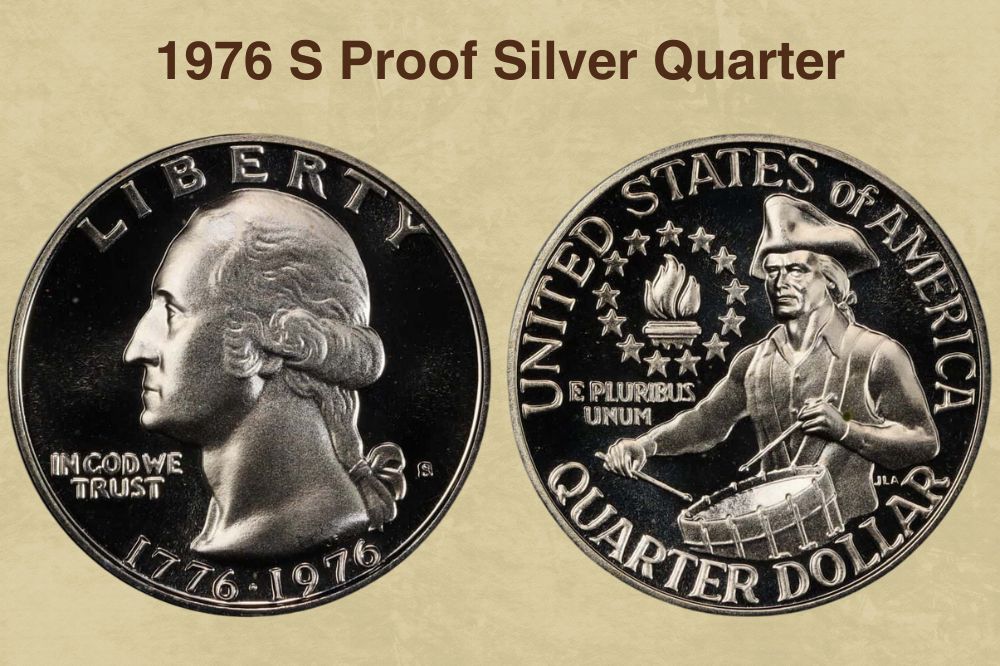 Fewer of the silver proofs were minted in San Francisco, 4 million in all. And just as with the clad variety, you can find standard proofs, cameos and deep cameos in uncirculated grades.
Standard proofs at grades up to and including PR63 are worth about a dollar. That rises to $14 at PR65, and $66 at PR68. The finest coins without a cameo or deep cameo designation are graded PR69, and those are worth around $280.
Over 1,100 PR69 quarters have been designated cameos, and the PCGS values those at $20 apiece. But four cameo coins have been graded a perfect PR70 – and the PCGS doesn't estimate a value for those.
The finest coins of all are the deep cameos. Over 1,300 of those have the perfect grading of PR70. The PCGS values each one at $180.
Also read: Top 16 Most Valuable Modern Quarters Worth Money
Rare 1976 Quarter Error List
1976 D Quarter, Double Die Obverse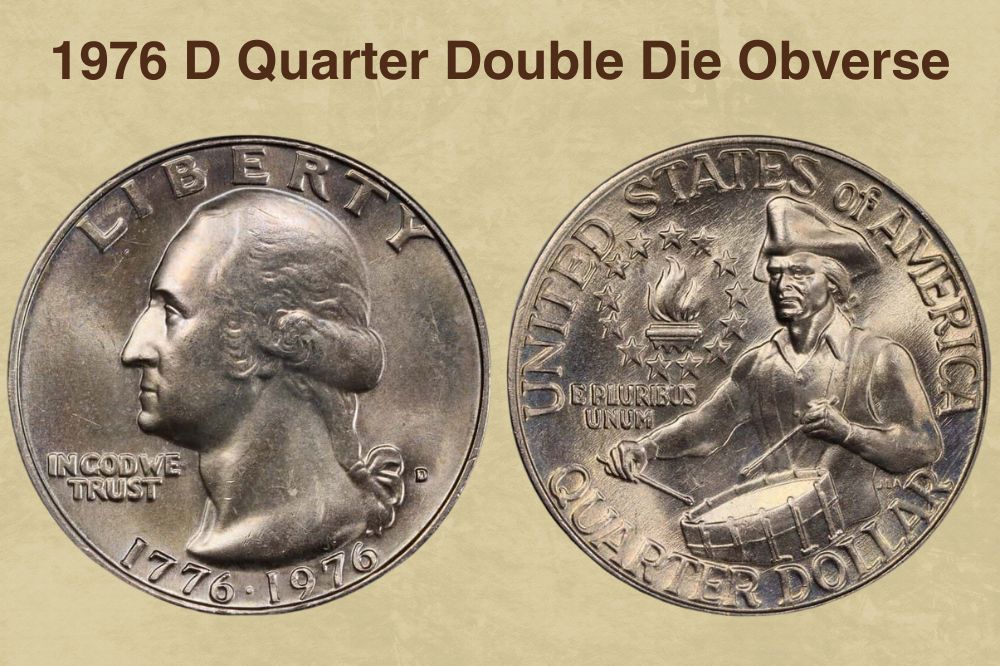 Double die errors occur as a result of a problem during the manufacture of the die used to strike the coins.
The die has to be struck more than once with a hub to capture every detail of the design. And if there's any movement between strikes, the die is left with a double image. That's then transferred to any coins it strikes.
Some of the bicentennial quarters struck in Denver in 1976 exhibit a double die error on their obverse. This error is coded FS-101, and can add significantly to a coin's value.
Even examples in poor condition, graded 4, are valued by the PCGS at $20. Values tip into three figures for coins graded 25. And an example graded "extremely fine", XF45, is worth around $235.
A mint state coin at MS60 is valued at $725, rising to $3,250 at MS65. And the finest example of a 1976 Denver quarter with this error is graded MS66. That last sold at auction in 2023, fetching $8,400.
1976 D Quarter, Double Clip
When a planchet is incorrectly punched from a piece of metal so that some of the coin is missing, the error is known as a "clip". Clips can be curved or straight edged – and one 1976 Denver quarter had both types on the same coin.
One of them was an elliptical clip, covering about 20 per cent of the coin between the 6 and 9 o'clock positions. The second clip was straight-edged and more minor. It shaved off about 2% of the coin surface at the 5 o'clock position.
The coin was in otherwise great condition, graded MS62 by the independent coin graders ANACS. It sold at auction back in 2004 for $89.
Check out this YouTube video from Couch Collectibles for more examples of error coins amongst 1976 quarters.
Also read: 17 Most Valuable Quarter Errors Worth Money
Where to Sell Your 1976 Quarter ?
Now that you know the value of your coins, do you know where to sell those coins online easily? Don't worry, I've compiled a list of these sites, including their introduction, pros, and cons.
Check out now: Best Places To Sell Coins Online (Pros & Cons)
FAQs
How much is a 1976 quarter worth today?
That depends on the condition of the coin, what it's made from, and whether it has an interesting error.
All the varieties of the 1976 quarter – clad and silver, business strikes and proofs – were made in large numbers. That means coins in circulated condition will usually only be worth their face value.
Uncirculated coins can be worth anything from a couple of dollars to many thousands, depending on their condition.
Are there any valuable 1976 quarters?
Yes! The finest examples of any denomination are always desirable to collectors. For example, a 1976 Philadelphia quarter graded MS68 is worth $4,500, while a 1976 Denver quarter at the same grade is worth $4,350.
Error coins can be valuable too. Look out for the 1976 Denver quarter with the double die obverse. That's worth good money at all grades. But the finest example to have so far come to light, graded MS66, is worth over $8,000.