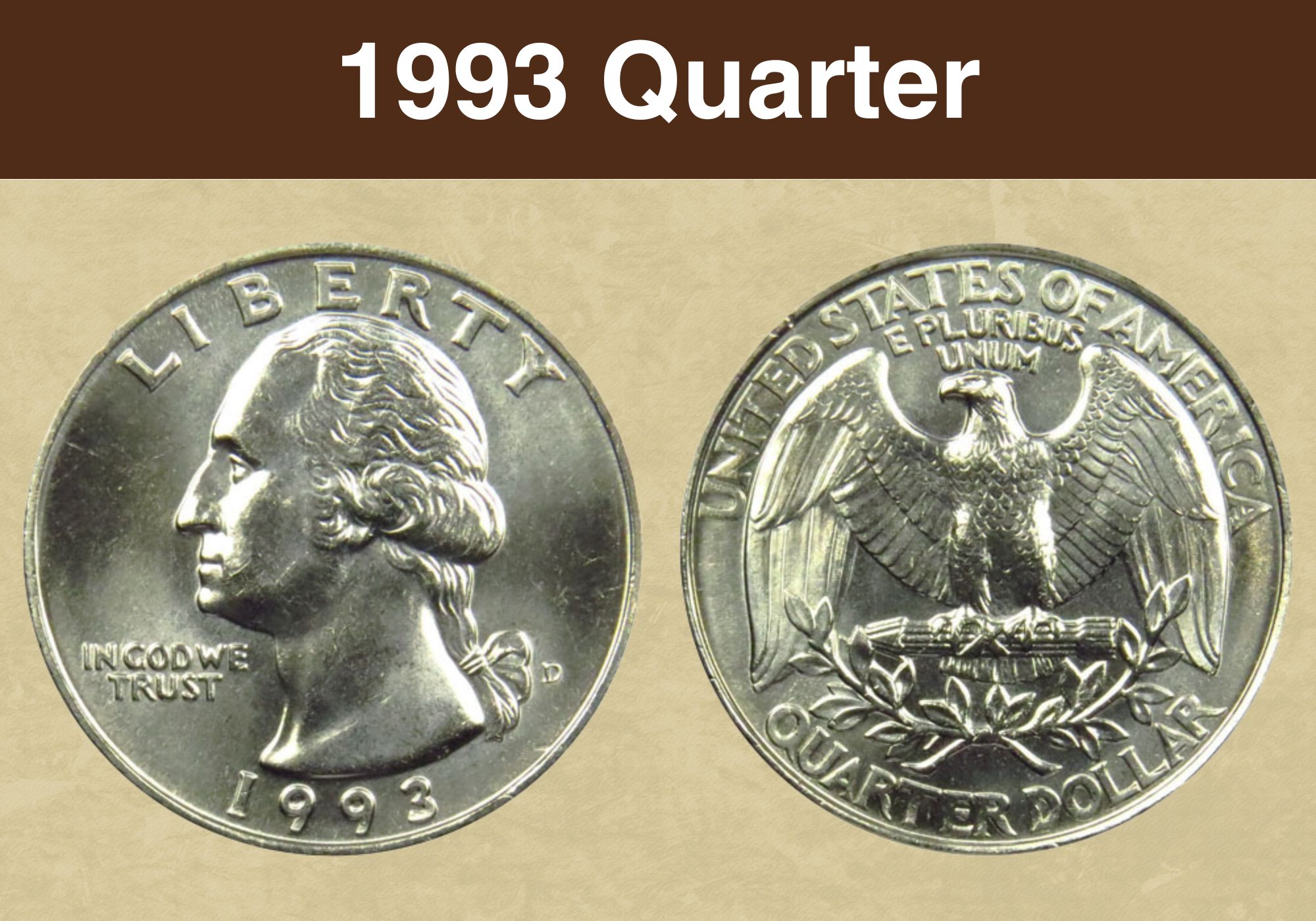 Have you found a quarter dated 1993 in your pocket change? Or are you looking for one to add to your coin collection? Either way, you're probably wondering how much it's worth – and we're here to help!
We're going to explore the 1993 quarter value, and we'll discover what makes some coins worth serious money. We'll check out some interesting Mint errors too. And we'll take a look at the quarter's history and design along the way.
Ready to get started? Then step this way …
1993 Quarter Value Chart

Mint mark
MS60
MS63
MS65
MS67
1993 P Quarter Value
$1
$2
$12
$225
1993 D Quarter Value
$1
$2
$14
$525
PR60
PR65
PR68
PR70
1993 S Silver Proof Quarter Value
$4
$8
$11
$50
1993 S Clad Proof Quarter Value
$5
$5
$10
$40
History of the 1993 Quarter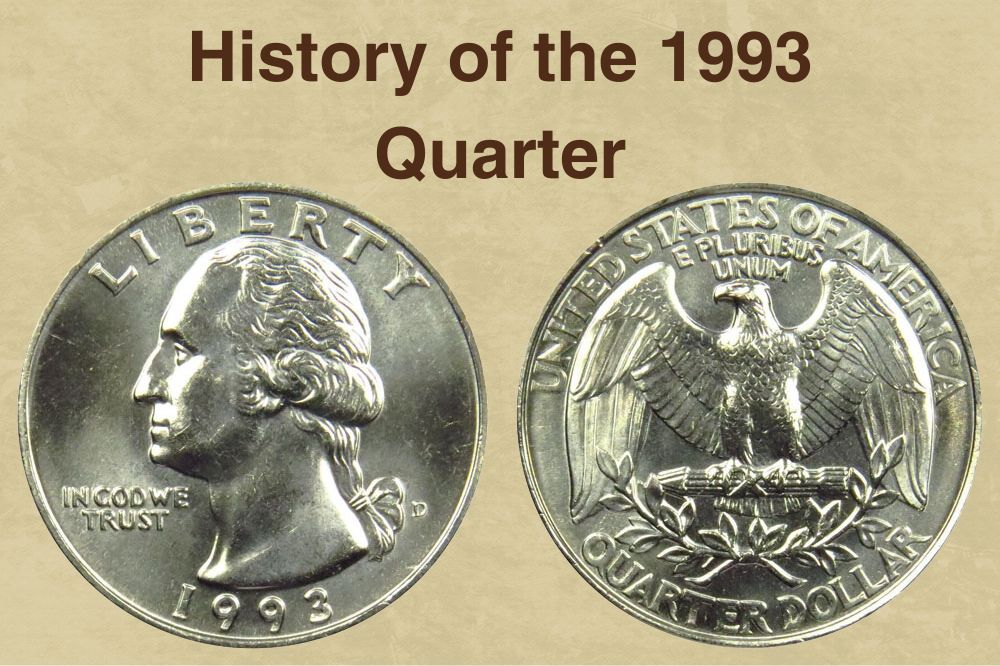 The quarters struck by the US Mint in 1993 continue a series that began in 1932. They're known as Washington quarters, after the portrait of the first US President which adorns their obverse.
They were first produced to commemorate 200 years since Washington's birth. The original idea was that a coin honoring Washington would be struck for the bicentenary year only. And that coin was supposed to be a half dollar.
But it was eventually decided that it should instead be a permanent addition to the nation's coinage. And rather than a half dollar, it should be a quarter.
The first quarters were made of 90 per cent silver. But over the years, rising silver prices meant the coins became increasingly expensive to produce.
In 1965, it was decided to remove the silver from the quarter, as well as from the dime. The silver content of the half dollar was cut too, from 90 to 40 per cent.
The new quarters had a copper core, which was clad in an alloy of copper and nickel to give it a silver color. The recipe was known at the time as the "Johnson sandwich" after the president, Lyndon B. Johnson, who supported the change.
By the time the 1993 quarter was produced, both clad and silver Washington quarters were being struck. Business strikes for everyday use utilized the clad composition. But collectors could choose between proof coins in either form.
The proofs were struck at the Mint facility in San Francisco, while business strikes came out of the facilities at Philadelphia and Denver. By that time, all three locations were using mint marks on quarters.
Also read: Top 13 Most Valuable State Quarters Worth Money
Features of the 1993 Quarter
The Obverse of the 1993 Quarter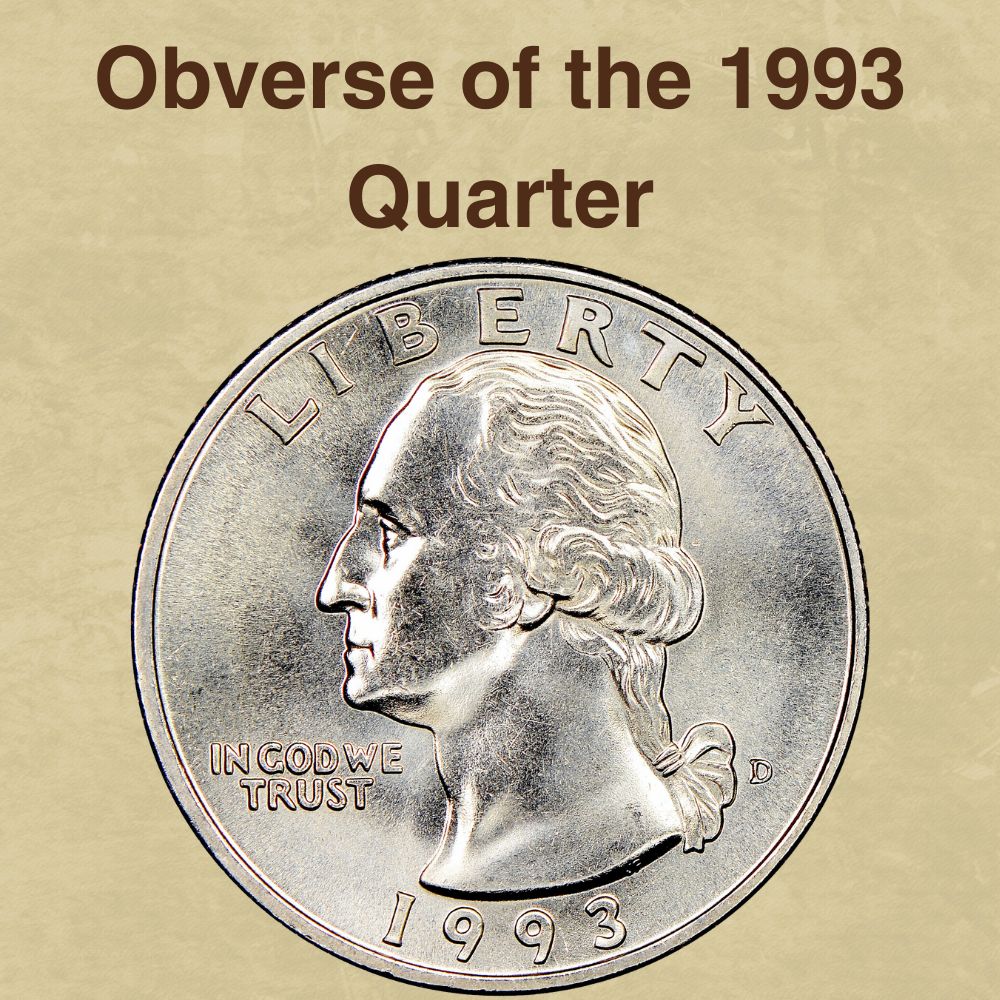 The "heads" side of the 1993 quarter is known as the obverse. And it's the obverse design, with its portrait of George Washington, which gives these coins their nickname of "Washington quarters".
That portrait was the work of a man named John Flanagan. But it wasn't everyone's first choice.
As it had originally been intended for the coin to be a single year issue, the decision on the design was expected to fall to the Bicentennial Committee. That committee had been set up to oversee all aspects of the celebrations of the anniversary of Washington's birth.
But when it was decided that the coin would instead be produced on an ongoing basis, the decision on the design transferred to the Treasury.
By then, the Bicentennial Committee had already selected a portrait of Washington to appear on the coin. It was the work of a well-known coin artist called Laura Gardin Fraser. The Committee wrote to the Treasury Secretary, Andrew D. Mellon, recommending that he stick with their choice.
But Mellon preferred Flanagan's portrait. He left his post before the coins were issued, and the Committee tried to persuade his successor, Ogden Mills, to think again. But Mills declined, and it was Flanagan's portrait that won the day.
Washington's head is shown in profile, facing to the left. The motto "IN GOD WE TRUST" is to his left, while the mint mark is to the right, level with the bottom of his braid. A small "P" indicates the coin was struck in Philadelphia, a "D" Denver, and an "S" San Francisco.
Above Washington's image curves the word "LIBERTY", while the date is at the bottom of the coin.
The Reverse of the 1993 Quarter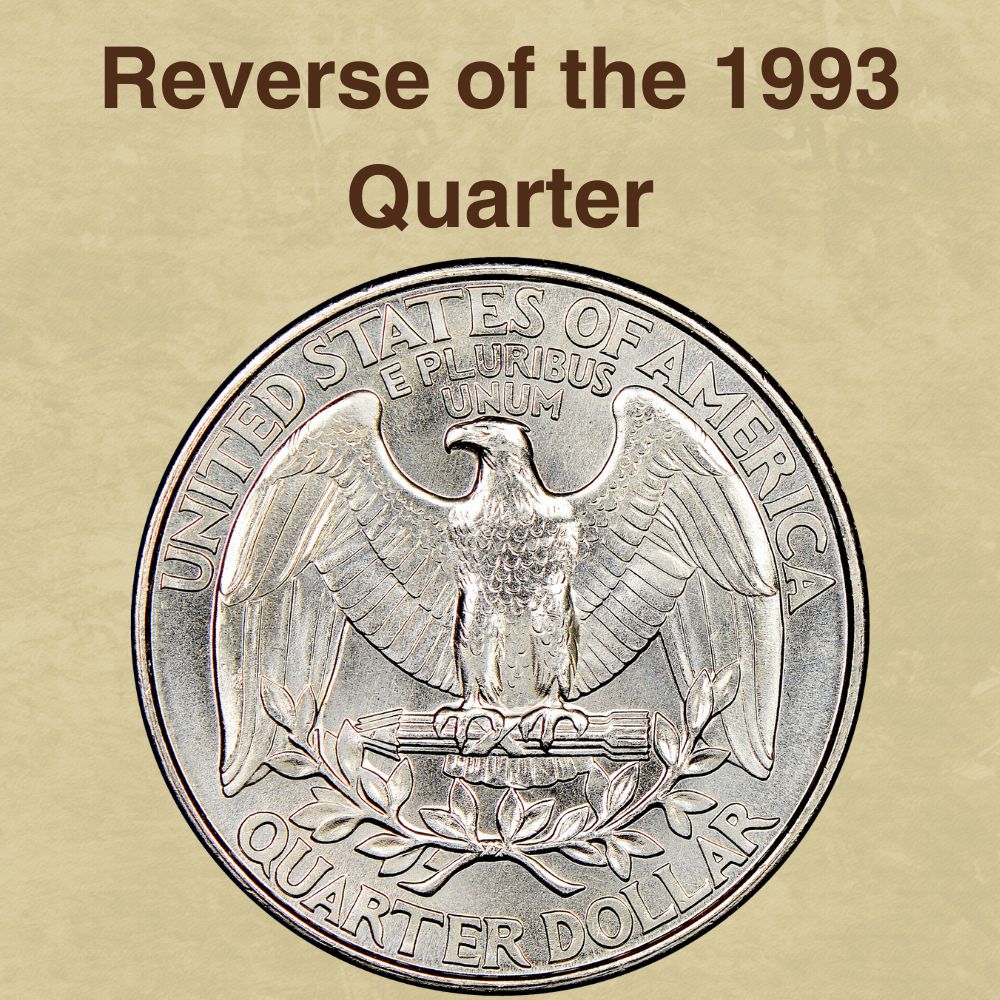 The "tails" side of a coin is known to collectors as the reverse. In the case of the 1993 quarter, the same artist – John Flanagan – designed both sides.
His reverse features an eagle in a heraldic pose, perched on top of a bundle of arrows. An olive branch, symbolizing peace, is below.
The country name is inscribed around the top of the coin, while the denomination – written as "QUARTER DOLLAR" – mirrors it at the bottom.
Between the country name and the image of the eagle are inscribed the words "E PLURIBUS UNUM". They are Latin and mean "From the many, one" – a reference to the country's creation as a union of states.
The earliest Washington quarters featured their mint mark on this side, just below the middle of the olive branch. But by 1993, the mint mark was on the obverse, in the position it still occupies on modern quarters.
Other Features of the 1993 Quarter
Quarters struck in 1993 can be found in both silver and copper clad in cupronickel. While all business strike coins were clad metals, proofs – struck on polished planchets with specially prepared dies – can be found in both types.
If you have a proof quarter, you may be able to tell whether or not it's silver by turning it on its side. If you see any traces of red or brown metal on the edge, your proof is clad. The cladding sometimes wears away as the coin is handled.
If you can't see any copper, you may have a silver coin. But the best way to tell for sure, is to weigh it. You will, though, need a very accurate set of scales.
Although the dimensions of both types of quarter are the same, clad coins are slightly lighter than silver ones. They weigh 5.63 grams, compared to 6.3 grams for silver.
Also read: Top 16 Most Valuable Modern Quarters Worth Money
1993 Quarter Grading Guides
| # | Grade |
| --- | --- |
| 1 | Basal State-1 |
| 2 | Fair |
| 3 | Very Fair |
| 4, 5, 6 | Good |
| 7, 8, 10 | Very Good |
| 12, 15 | Fine |
| 20, 30 | Very Fine |
| 40 | Extremely Fine |
| 50 | About Uncirculated |
| 60 | Mint State |
| 65 | Mint State |
| 70 | Mint State |
Please check our grading guides to know your coin scale, It's the necessary step to know the exact value of your coin.
Check out now: How to Grade Washington Quarter?
1993 Quarter Value Guides
1993 P Quarter Value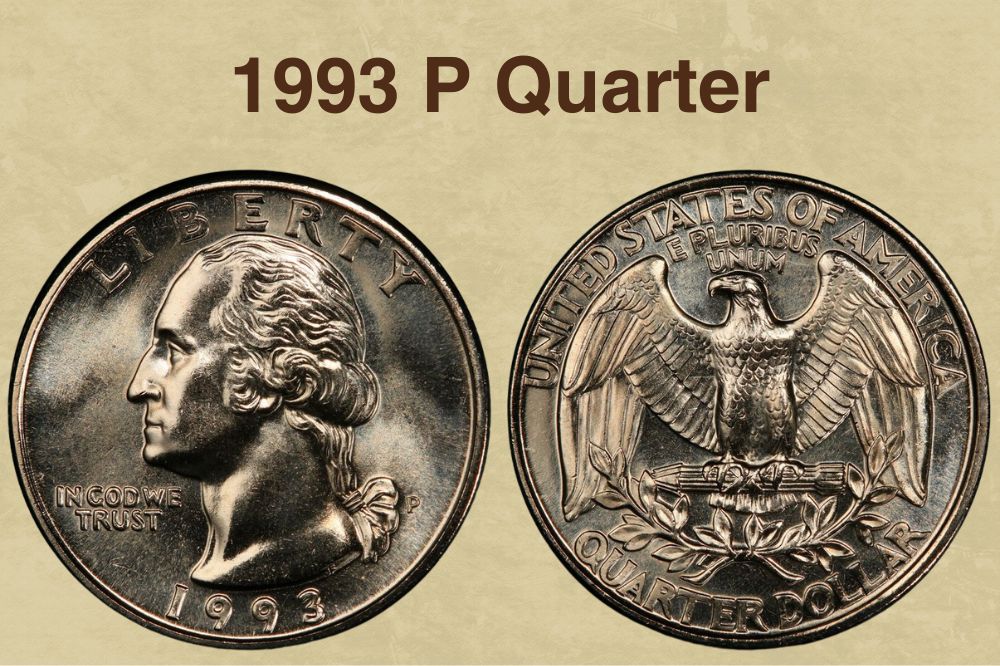 The Philadelphia Mint facility struck 639 million quarters in 1993. So while it's not the largest mintage of the decade, these coins remain easy to find today. The independent coin grading agency, the PCGS, estimates that around 320 million of them survive in all conditions.
The value of an individual coin depends on its quality. That's measured on a scale from 1 to 70, with 1 being the poorest and 70 designating a flawless coin. Coins that have never been circulated are known as "mint state" and graded from 60 upwards.
In circulated grades, 1993 P quarters are generally worth only their face value unless they have an interesting Mint error. And even uncirculated examples can be purchased for modest sums.
A 1993 P quarter graded MS60 (the letters stand for "mint state") is worth only around a dollar. That rises to $2 at MS63, and $12 at MS65, the lowest level at which a coin is termed a "gem".
Coins graded MS66 and MS66+ have values in double figures. But at MS67 and above, availability declines sharply, and prices rise accordingly. A 1993 P quarter graded MS67 is valued by the PCGS at $225, while at MS37+, it's $285.
The cream of the crop is a single coin graded MS68 and valued at $1,000.
1995 D Quarter Value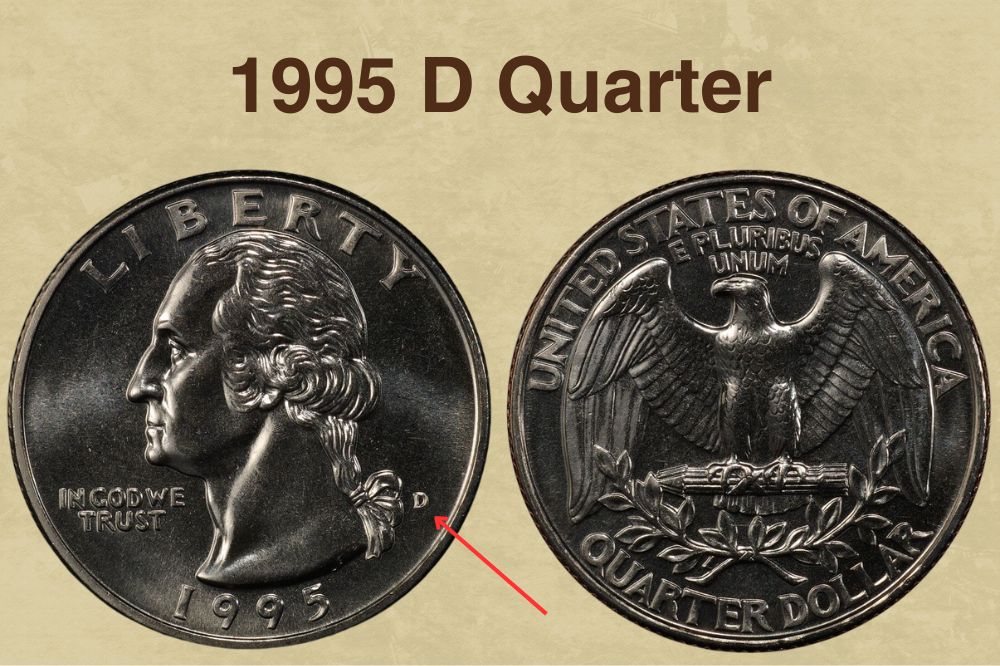 The Denver Mint facility produced slightly fewer quarters than the Philadelphia Mint in 1993. Some 645 million coins were struck there that year. And today, the PCGS estimates the number of survivors at all grades at a shade under 323 million.
As with Philadelphia examples, that means that circulated coins are usually worth their face value of 25 cents. At MS60, a 1993 D quarter is worth around a dollar, the same as a Philly example. And at MS63, the value is $2, again the same as the Philadelphia equivalent.
At higher grades, the D mint mark carries a premium, which grows as the grade improves.
At MS65, a 1993 D quarter is worth a couple of dollars more than a 1993 P, at $14. But at MS67, the difference in value is more significant. While the Philadelphia quarter is valued at $225, the Denver quarter is worth around $300 more.
1993 S Silver Proof Quarter Value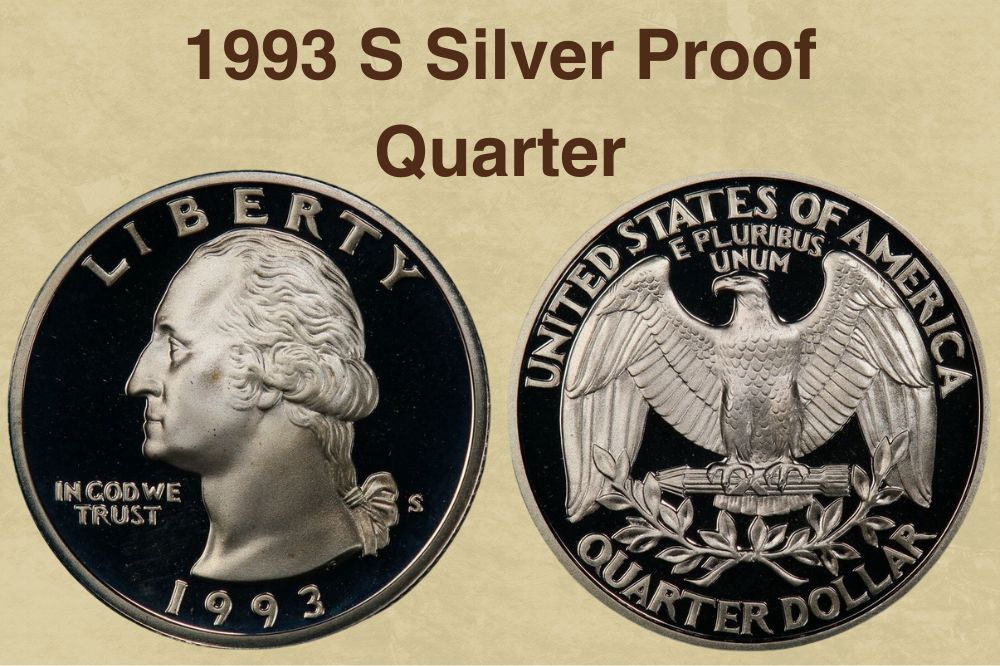 All the proof quarters struck in 1993 originated in San Francisco. That facility produced 761,353 silver proofs that year.
They were struck on highly polished planchets, and are all designated "deep cameos". That's the term used for proofs with a dramatic contrast between mirror-like fields and frosted devices.
Because they were targeted at collectors, most of the silver proofs survive in excellent condition. As a result, it's possible to acquire a very attractive coin without having to send a fortune.
A silver 1993 S proof quarter graded PR60 (the letters designate a proof coin) can be picked up for around $4. A gem PR65 is worth around twice that. And even a flawless PR70 proof can be yours for around $40.
1993 S Clad Proof Quarter Value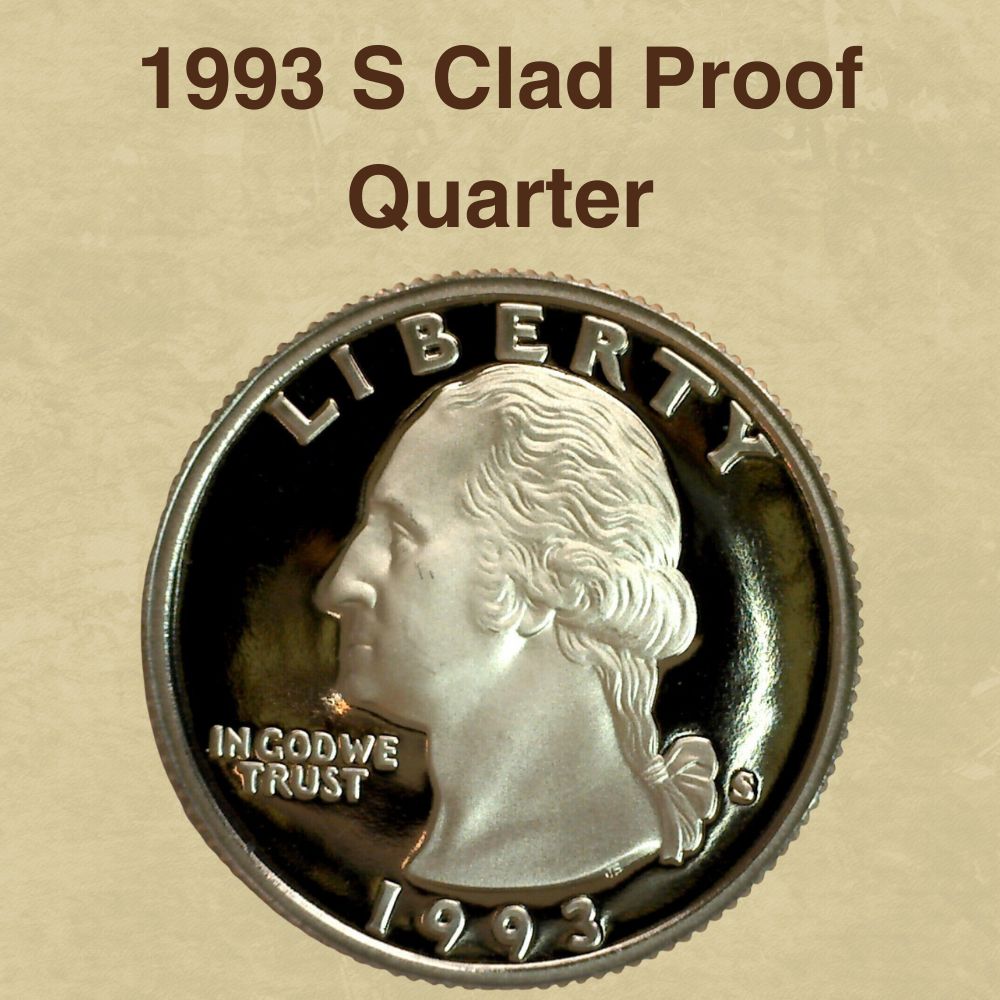 The 1993 mintage of clad proof quarters was larger than the silver versions, at over 2.6 million. And almost all those coins are believed to survive to this day.
Proof coins are, by definition, uncirculated. And around 90 per cent of the survivors are thought to be worthy of grading PR65 or above.
As a result, values are modest. A proof graded PR60 is worth only around $5, a value that stays steady all the way to PR66+. An example graded PR67 is worth a dollar more, at PR68 the value is $10, and at PR69 it's $16.
Perfect 1993 S clad quarters are readily available, with the PCGS having graded well over 1,000 coins at that level to date. Those are each worth around $40.
Also read: 17 Most Valuable Quarter Errors Worth Money
Rare 1993 Quarter Errors List
1993 P Quarter, Double Struck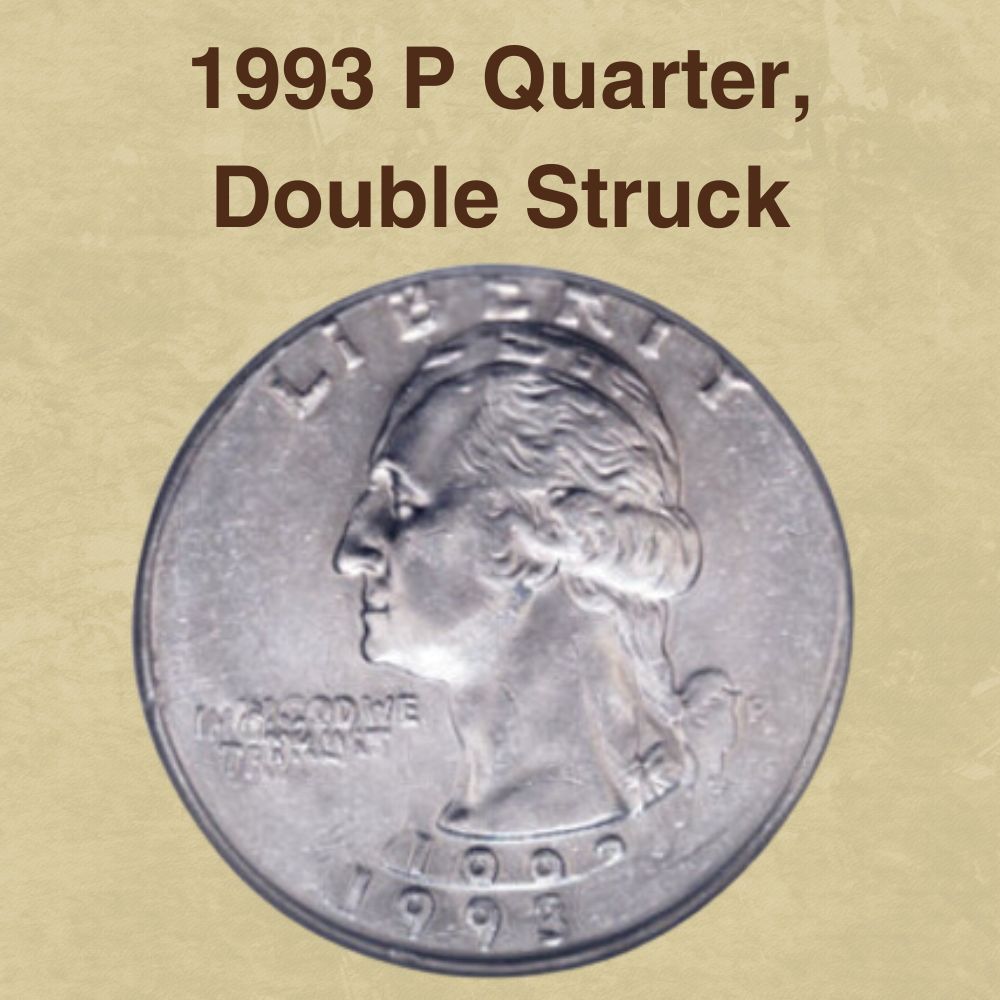 Sometimes, a planchet isn't properly ejected after it's been struck. It's then struck a second time, with the second strike often off-center.
With this type of Mint error, the value usually depends on how far off-center the second strike is. The more dramatic the misalignment, the more collectors are prepared to pay.
One 1993 quarter minted in Philadelphia was double struck. The second strike was some 60 per cent off-center, creating a very unusual looking coin.
It was graded by the coin grading agency the NGC at MS64. And when it was presented at auction, it achieved a price of $280.
1993 D Quarter, Missing Clad Layer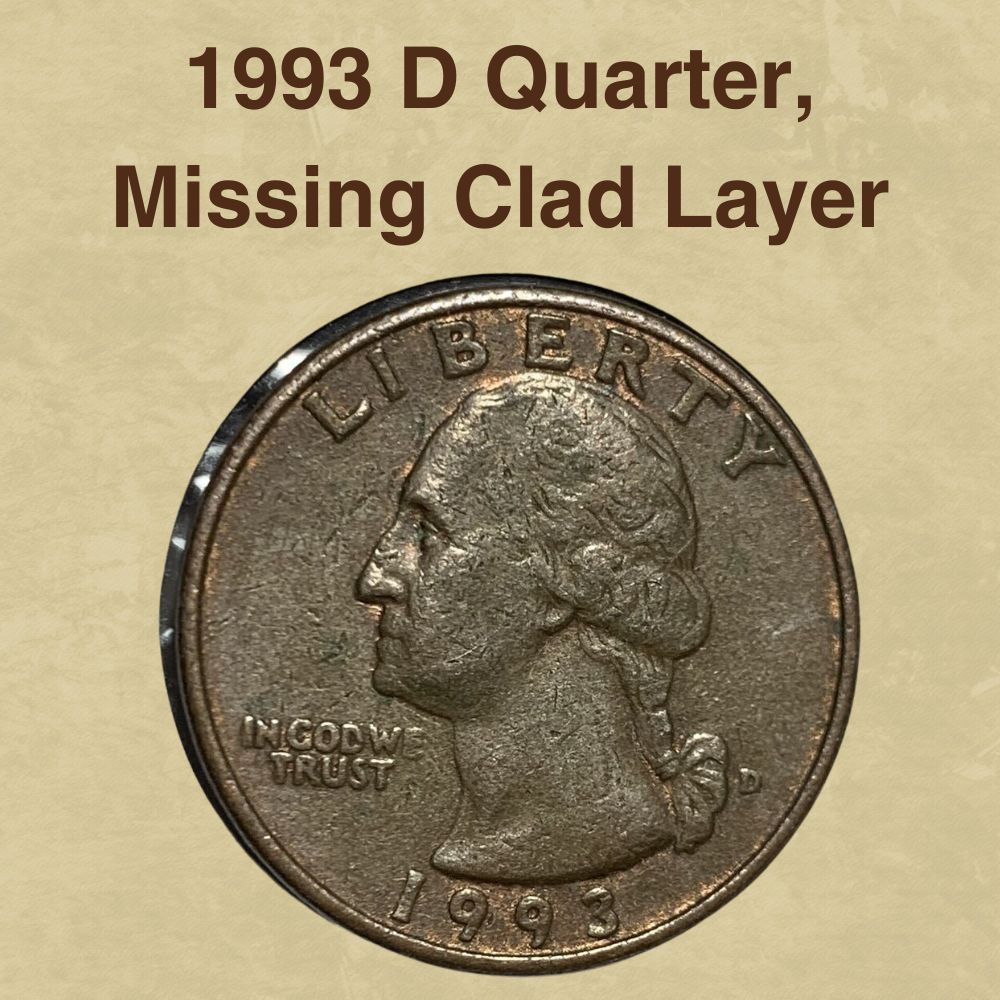 The sandwich construction of the 1993 clad quarter opened up a new avenue for errors. One 1993 D quarter somehow failed to be clad on the reverse side. So while the obverse was the usual silver color, the reverse had the rich red shade of new copper.
It was graded MS62 red by the coin grading agency ANACS. And when it was offered at auction, it sold for $155.
This YouTube video from Couch Collectibles shows a range of Mint errors among 1993 quarters.
Where to Sell Your 1993 Quarter ?
Now that you know the value of your coins, do you know where to sell those coins online easily? Don't worry, I've compiled a list of these sites, including their introduction, pros, and cons.
Check out now: Best Places To Sell Coins Online (Pros & Cons)
FAQs
Is a 1993 quarter silver?
The 1993 quarters produced for everyday use aren't silver. They have a copper core, and the silver color comes from a cladding of copper and nickel.
But some of the proof quarters produced that year are silver. All proof coins were made in San Francisco, so they're marked with the "S" mint mark on the obverse. But not all proofs are silver – some of them are copper clad in cupronickel.
The easiest way to tell the difference is to look at the edge of the coin. If you can see any traces of brown or red metal, the coin is clad, not silver. But a clad coin with minimal wear may not show any evidence of the copper core.
To tell for sure, you'll need to weigh the coin with an accurate set of scales. A silver version should weigh 6.3 grams, while a clad one will be around 5.67 grams.
How do I know if I have a rare quarter?
The very finest quarters from each year are rare and valuable. But even minor differences in grading can make a huge difference to how much a coin is worth.
To get a precise grading, you'll need to have your coin assessed by a professional agency like the PCGS or NGC. But there's a fee for this, and unless your coin is in exceptional condition, it probably won't be worth spending the money.
To help decide if it's worth getting your quarter professionally assessed, check out this YouTube video from Len Here. It provides useful hints and tips on grading your Washington quarter.