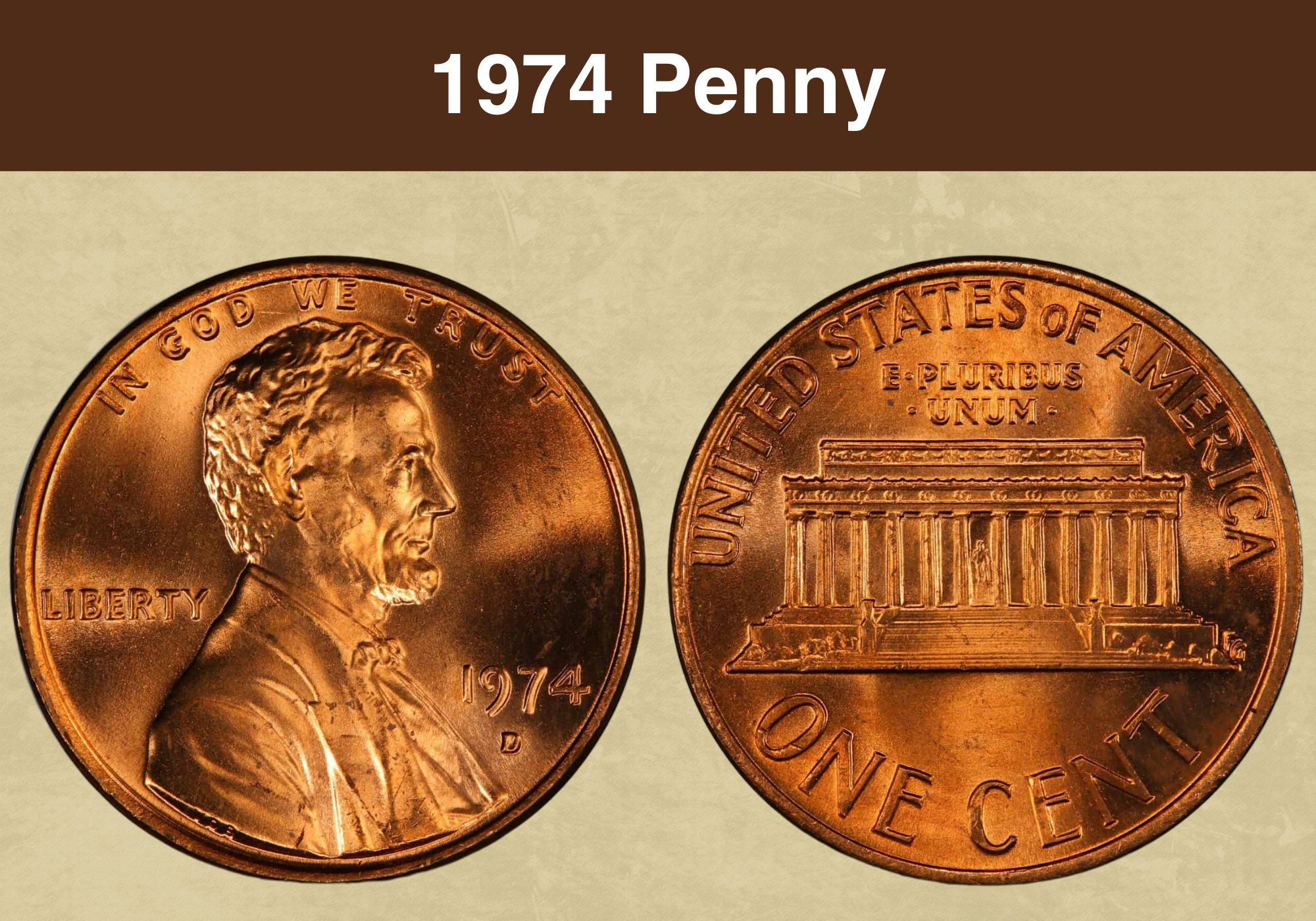 Are you interested in discovering how 1974 pennies made from Aluminum instead of copper are worth an estimated 2 million dollars? Yes, you heard right, two million dollars. If you're interested in discovering the truth, read on.
Here, we'll value and grade 1974 Lincoln cents and explain why owning a 1974 Aluminum penny is considered illegal. In addition to uncovering the truth about the 1974 Aluminum Lincoln cents, you'll learn the art of appraising a coin by examining its grade, the presence or absence of mint marks, and the presence of errors.
1974 Penny Details
Category:

Lincoln Penny

Year:

1974

Mint Locations:

Philadelphia, San Francisco, and Denver

Total Mintage:

8,876,665,183

Obverse Designer:

Victor D. Brenner

Reverse Designer:

Frank Gasparro

Coin Shape:

Round

Edge:

plain

Diameter:

19mm

Composition:

95% copper, 5% zinc

Weight:

3.11g
Finding a regular 1974 penny is easy, as their face and dollar values are similar. However, some unique pieces are rare and cost quite a fortune. Here is a detailed analysis of the 1974 Penny.
Here, we'll reveal details about the coin's obverse, reverse, material, and unique features.
The Obverse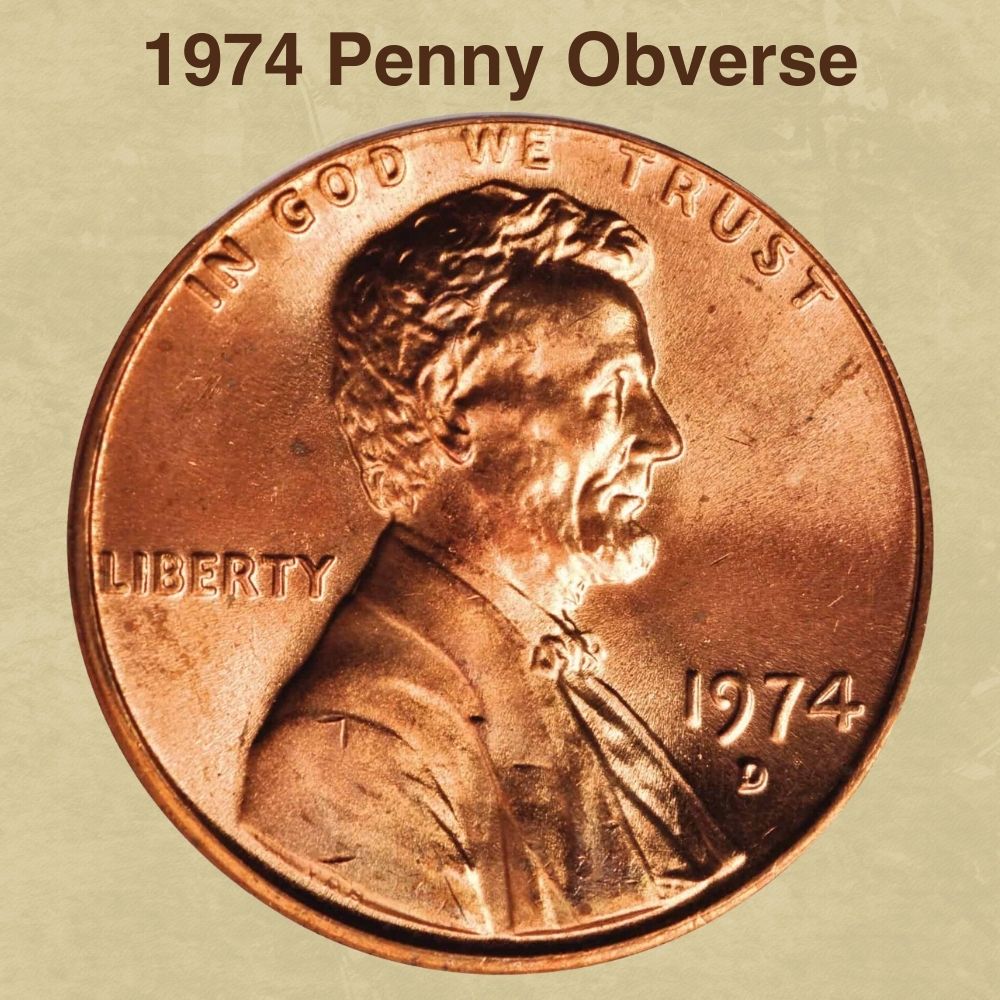 On the obverse of the 1974 penny are a handful of features, one of which includes a right-facing portrait of Abraham Lincoln. You'll also find the mint mark on the obverse of the coin, just below the year of minting "1974".
Additionally, you'll find the words "In God We Trust" written and curved above the Bust of Abraham Lincoln. Lastly, on the obverse is the word "Liberty" written on the obverse's left.
The Reverse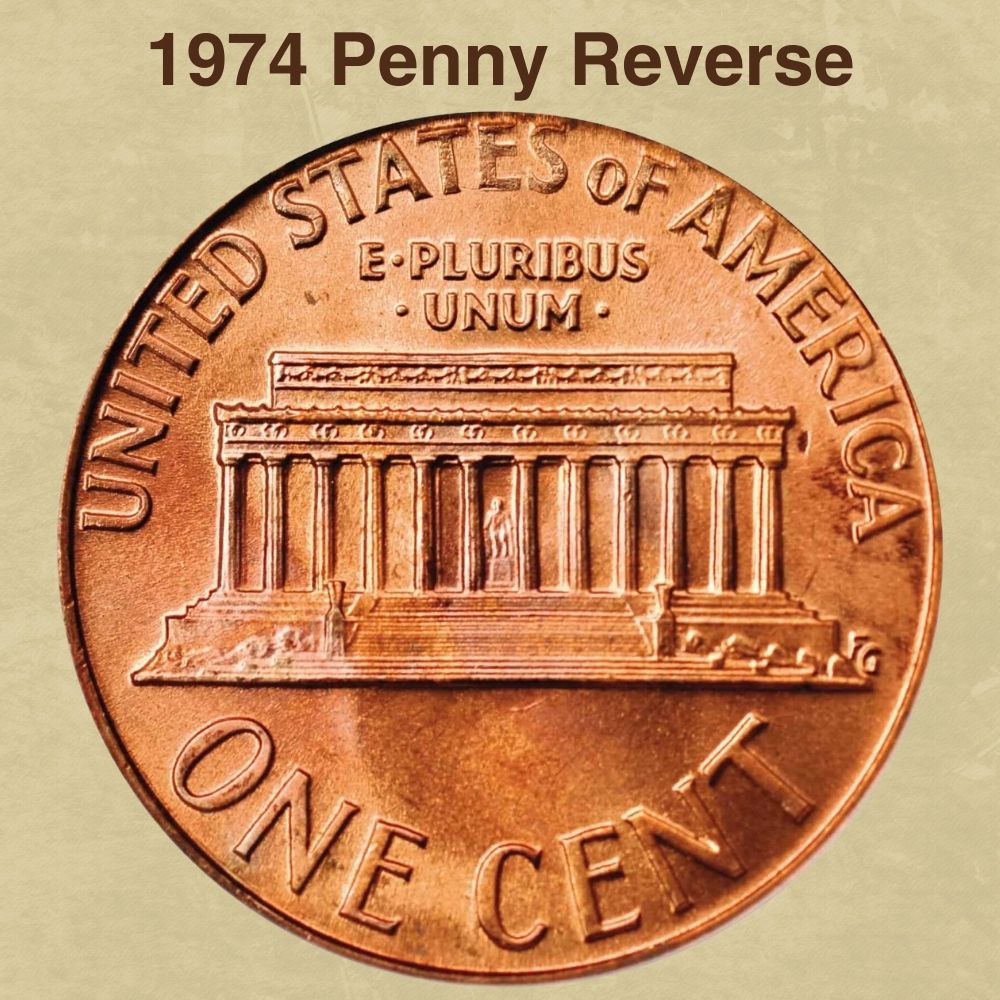 The reverse of the 1974 penny features the Lincoln Memorial Building located center-wise. Here, you'll also find the works of Frank Gasparro. He wrote and curated the "One Cent" remark at the coin's bottom.
Other words written on the Lincoln penny include;
UNITED STATES OF AMERICA, E. PLURIBUS. ANUM and the face value of the coin "ONE CENT"
1974 Penny Value Chart

Mint Mark
Uncirculated

(MS 60)

Choice Uncirculated

(MS 63)

Gem Uncirculated

(MS 65)

Superb Gem Uncirculated

(MS 67)

1974 No Mint Mark Penny Value

$0.35

$0.55

$1.50

$81

1974 "D" Mint Mark Penny Value

$0.35

$0.55

$1.5

$74

1974 "S" Mint Mark Penny Value

$0.5

$0.9

$2.65

$650
1974 Penny Grading
By adopting the Sheldon Scale, grading your 1974 Lincoln Penny is possible. However, the bulk of these coins in circulation isn't worth much. Those with the highest value are graded Gem uncirculated, superb Gem uncirculated, and Proof. The Gem Uncirculated and Superb Gem uncirculated have high luster appeal and are shiny. Proof grades have almost no flaws.
| # | Grade |
| --- | --- |
| 1 | Basal State-1 |
| 2 | Fair |
| 3 | Very Fair |
| 4, 5, 6 | Good |
| 7, 8, 10 | Very Good |
| 12, 15 | Fine |
| 20, 30 | Very Fine |
| 40 | Extremely Fine |
| 50 | About Uncirculated |
| 60 | Mint State |
| 65 | Mint State |
| 70 | Mint State |
Please check our grading guides to know your coin scale, It's the necessary step to know the exact value of your coin.
Check out now: How to Grade Lincoln Wheat Penny?
1974 Penny Values and Varieties Guides
The 1974 Pennies vary in grade and production locations. Here we'll be exploring the different varieties of the 1974 Lincoln pennies.
1974 No Mint Mark Penny Value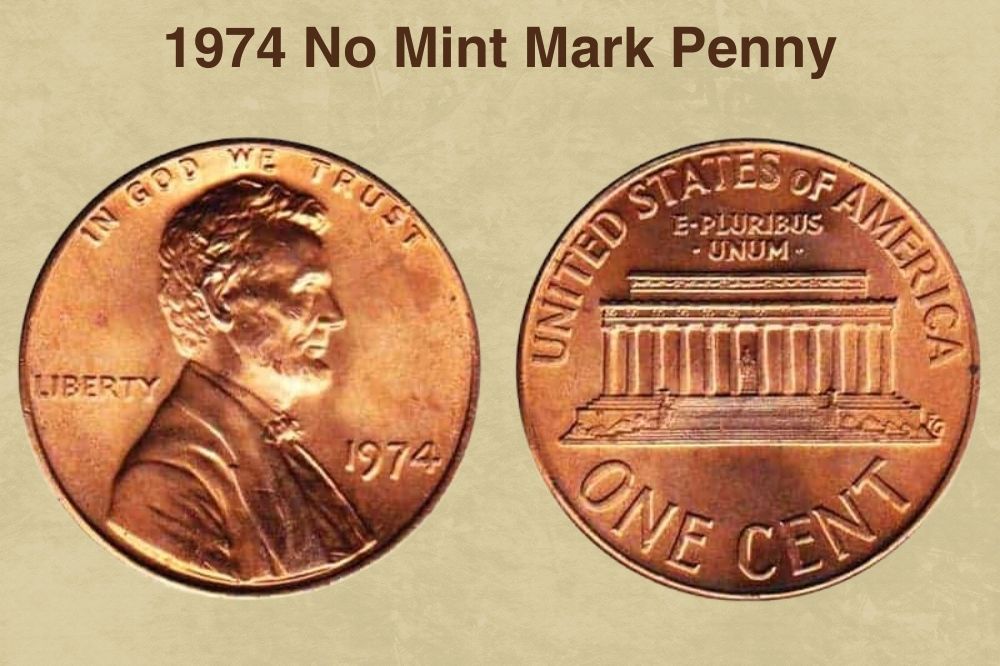 Mint Location:

Philadelphia

Mint Mark:

None

Obverse Designer:

Victor David Brenner

Reverse Designer:

Frank Gasparro

Dollar Value:
Face Value:

One Cent

Number of Coins Minted:

4,232,140,523
The 1974 Philadelphia-minted Lincoln pennies were produced in large quantities, and like other coins which were produced in bulk, finding a regular 1974 Philadelphia Mint Lincoln penny wouldn't make you rich as a lot of the grades in circulation are worth only a little above their face value.
The highest value for the Philadelphia mint 1974 penny is $81 and the coin in question is a superb Gem grade uncirculated 1974 Lincoln cent.
Although finding a super rare piece worth any value is quite difficult, once in a while, there comes a rare coin that breaks the record. A typical example is a Philadelphia mint 1974 Lincoln cent sold in 2019 which holds the auction record of $15,390.
1974 D Mint Mark Penny Value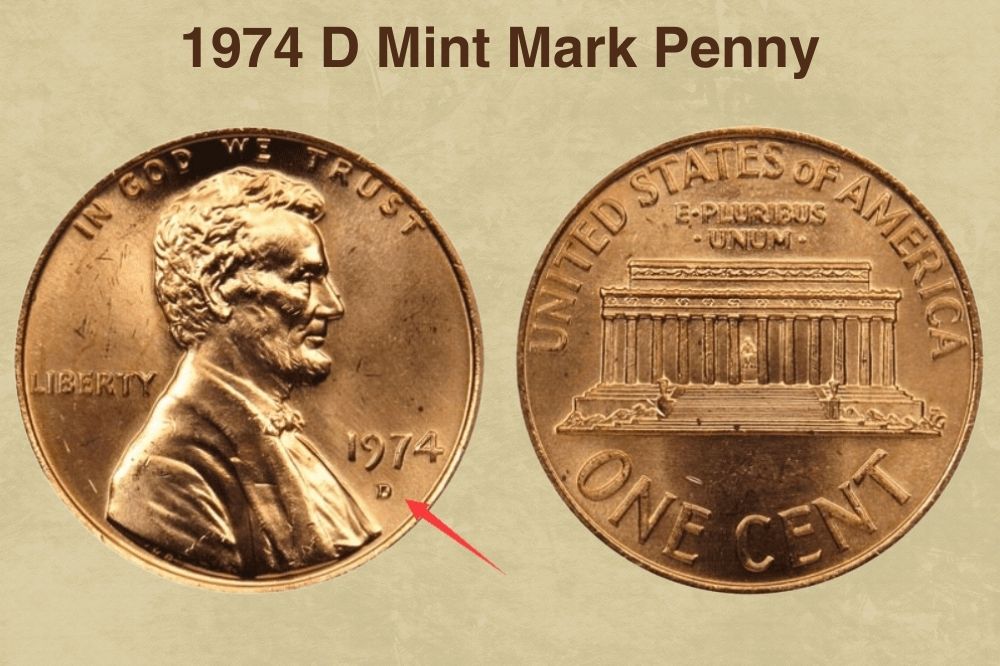 Mint Location:

Denver

Mint Mark: "D"
Obverse Designer:

Victor David Brenner

Reverse Designer:

Frank Gasparro

Dollar Value:
Face Value: One Cent
Number of Coins Minted:

4,235,098,000
1974 Lincoln pennies from Denver number around four billion, with the bulk of the lot valued at face value. However, those in superb Gem uncirculated condition can go for $74. The highest anyone has paid for a Denver mint coin is $950. This was a VF25RD grade specimen posted on eBay on the 17th of January 2019.
1974 S Mint Mark Penny Value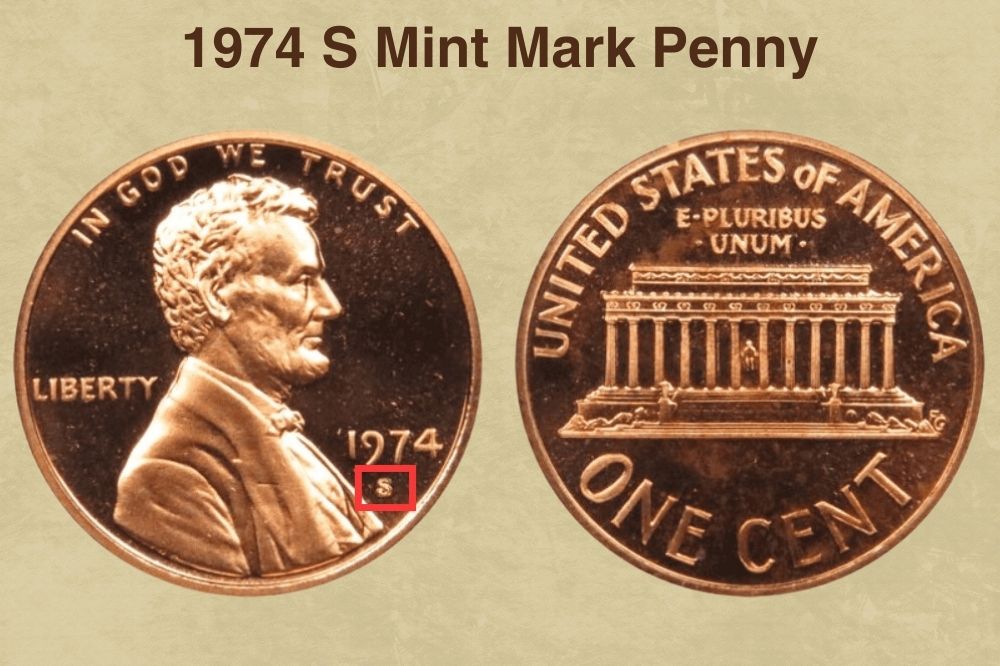 Mint Location:

San Francisco

Mint Mark: "S"
Obverse Designer:

Victor David Brenner

Reverse Designer:

Frank Gasparro

Dollar Value:
Face Value: One cent
Number of Coins Minted:

412,039,228
The San Francisco mint produced the least number of 1974 Lincoln pennies, and coins in superb Gem uncirculated condition are valued at least $650. An MS67RD grade 1974-S Lincoln cent holds the auction record. It was sold by Heritage auctions in 2016 for $2,703.
1974 No Mint Mark Aluminum Penny Value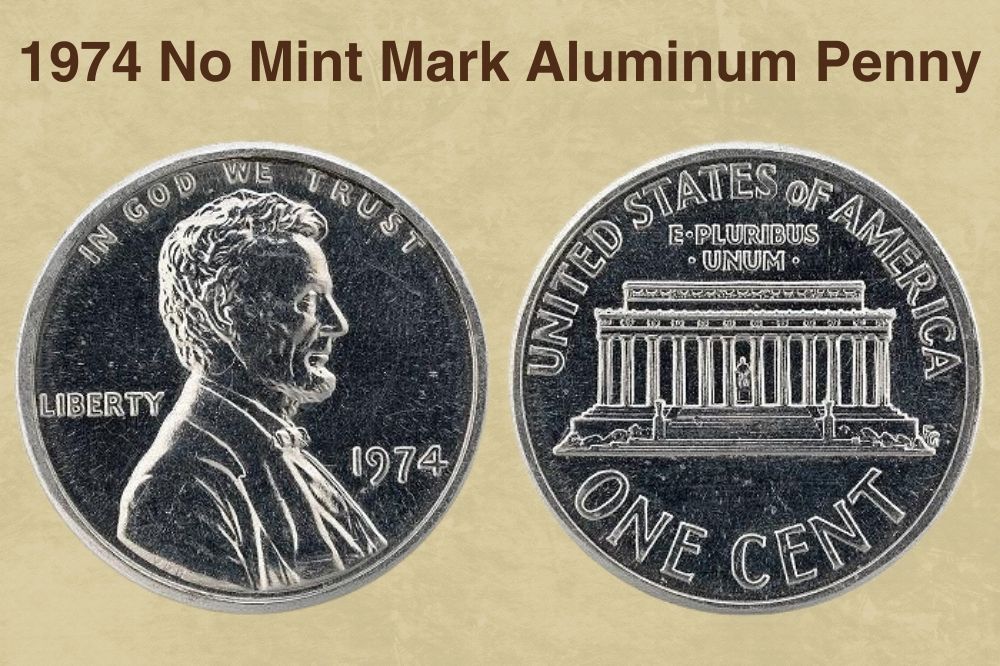 Mint Location:

Philadelphia

Mint Mark:

None, D

Obverse Designer:

Victor David Brenner

Reverse Designer:

Frank Gasparro

Dollar Value

: $160,000

Face Value: One cent
Number of Coins Minted:

Unknown

Weight:

0.93g
Owning a 1974 Lincoln Penny made from Aluminum, as we've stated earlier, is illegal. This no-mint mark specimen is the only certified 1974 Aluminum in private hands. All others have been recalled, donated to a public institution, or destroyed.
This coin is worth an estimated $160,000. Finding one today in uncirculated condition can fetch you as much as 2 million US dollars.
1974 D Mint Mark Aluminum Penny Value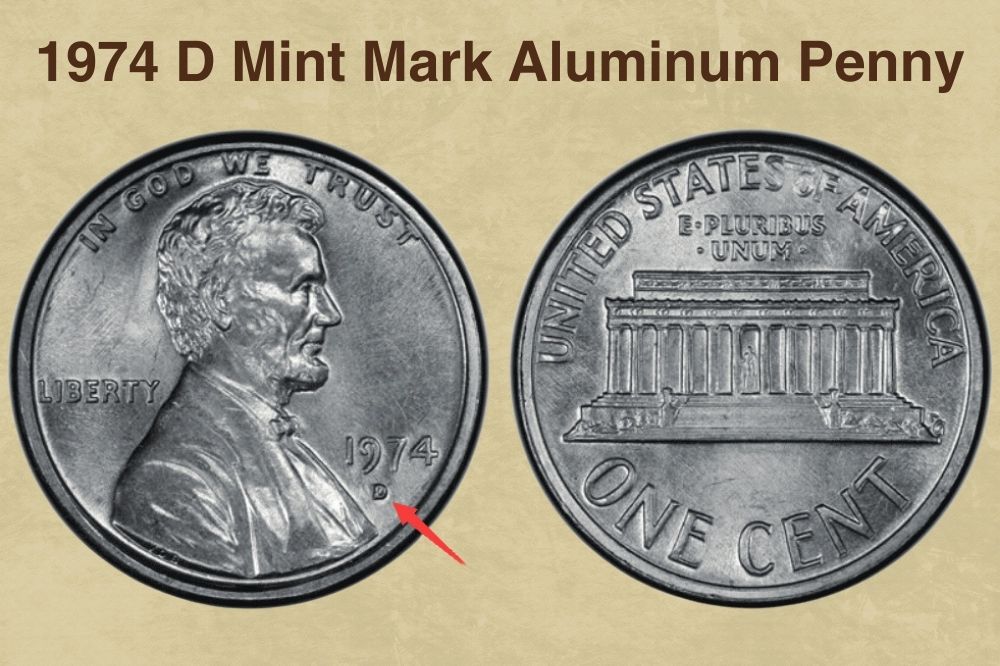 Mint Location:

Philadelphia

Mint Mark:

None, D

Obverse Designer:

Victor David Brenner

Reverse Designer:

Frank Gasparro

Dollar Value

: $250,000

Face Value: One cent
Number of Coins Minted:

Unknown

Weight:

0.93g
The Denver Mint is also responsible for a few of the 1974 Aluminum Lincoln Penny still in private hands today. In fact, in 2013, one of such coins caught the attention of the numismatic world. Since wind about the coin circulated, the Secret Service had to get involved, and the US Government litigated the coin. Before this, however, after its verification, this coin was valued at $250,000.
Also read: 12 Most Valuable Lincoln Penny Worth Money
1974 Penny History
The year is 1973, and the cost of producing copper coins is rising. In fact, the cost of making one cent of a coin from copper was equal to the cents' face value, and something needed to be done about the situation.
To remedy the situation, the United States Mint decided to opt for an alternative metal. Aluminum metal and bronze-clad steel were chosen to replace copper because of their longevity and their ability to resist tarnish.
After producing about 1,571,167 of these Aluminum 1974 Lincoln cents and distributing several samples of the Aluminum pennies created to get congressmen on board with the Aluminum Lincoln cents idea, no sooner was the notion to begin releasing these pennies to the public conceived that production was halted.
This was due to mechanical issues the new Aluminum cent caused vending machines, vending machine manufacturers' unwillingness to alter their machines, and the fact that if children swallowed one of these Aluminum pennies mistakenly, detecting them would be difficult through X-ray imaging.
The only logical next step was to recall the already distributed sample of 1974 Aluminum pennies. However, several of them remain unrecovered. When questioned, the congressmen replied that they had never received any samples.
1974 Aluminum Lincoln pennies still in circulation are now illegal and Government property. So, when one is found, the Secret Service seizes it. However, one 1974 Aluminum cent was donated to the Smithsonian Institute.
Apart from this, other times we've heard about the 1974 Aluminum penny were on the 20th of February 2001 and January 2014.
Officer Albert Toven of the US Capitol Police was the possessor of the 2001 1974 Lincoln Aluminum specimen. He had initially thought it to be a dime dropped by an Unnamed Congressman. When he tried to return it, however, the Congressman asked that he keep it. This specimen is certified by the Professional Coin grading Service.
The 2014 specimen is a 1974-D aluminum cent found by Randy Lawrence. Randy's father was a former deputy Superintendent of the United States Mint. This coin was valued at around $250,000 to $2 million and it is certified MS63 grade by the professional coin grading service.
Although Randy planned to sell this coin at an auction and wanted to use the proceeds to travel the world and help the needy, the United States Mint requested that the coin be withdrawn from the Auction.
After a series of legal back and forths, the United States Mint now possesses the coin. It is deposited in the United States Bullion Depository.
Now, recall that we mentioned that Bronze clad steel was also experimented on. Although more information is needed about what went wrong with this, the gist however is that while they were taken to be destroyed, some escaped melting, and no one outside the mint knew they existed until a specimen surfaced in 1994.
The possessor of said coin worked in the Pennsylvania steel mill in 1974 and recalled that the mint officials had brought the coins to be destroyed. However, the bag broke open, and some pieces got missing and were never recovered.
Prior to this, the US Mint had stated that apart from Aluminum, no other material was experimented with while producing the 1974 Lincoln penny. However, once news about the discovered Bronze Clad steel was released to the public, the US Mint released a report on the Bronze clad pieces.
Also read: 13 Most Valuable Wheat Penny Worth Money
Rare 1974 Penny Error List
Finding error coins is quite thrilling and with every noticeable error, the numismatic value of the coin increases. The 1974 Lincoln penny is no different. Here we'll examine the errors you might find in varieties of this coin.
1. 1974 Lincoln Penny Double Die Errors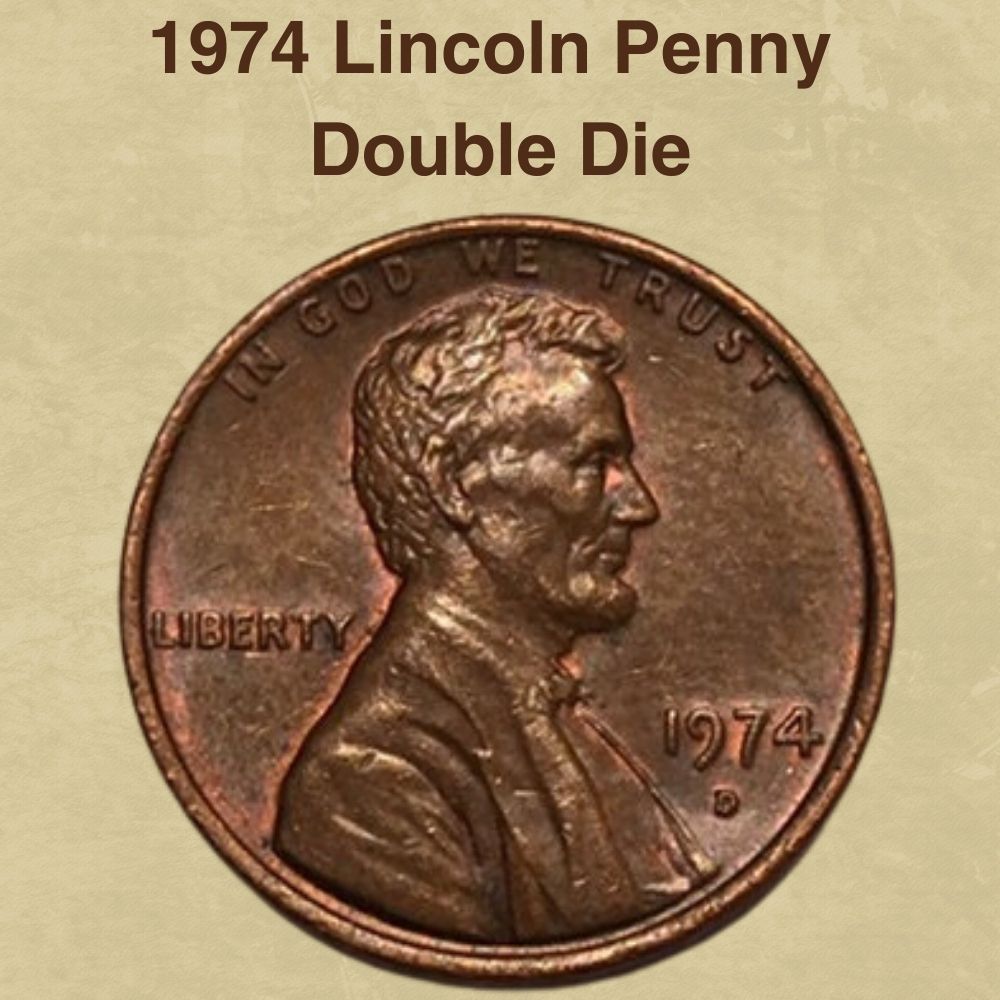 Double die errors leave a doubling effect on the features of the 1974 Lincoln Penny. On the obverse of Denver Mint coins, they are visible on the D-mint mark, Lincoln's nose, the year of production, and the legends. On the reverse of the 1974 Lincoln penny, you'll also notice the doubling effect on the pillars and stairs of the Lincoln memorial image.
Double-die errors are valued at $25. However, this value is subject to the coin's grade.
2. 1974 Lincoln Penny Double Head Errors
The double head error occurred because the coins were counter-stamped after minting, creating, and leaving two Lincoln heads on the coin's obverse. Although this error is much sought after, it has little to no numismatic value
3. 1974 "S" Penny with a Die Break Error
There is an S-mint mark 1974 penny with a visible die break error on its obverse. Although this usually occurs due to damage from circulation, there are times when it could be the Mint's fault. In situations like this, you will find the missing piece on the obverse or reverse of the coin. Since this error is rare, finding one in pristine condition can be valued as high as $184.
Also read: 11 Most Valuable Wheat Penny Errors
Where to Sell Your 1974 Penny?
Now that you know the value of your coins, do you know where to sell those coins online easily? Don't worry, I've compiled a list of these sites, including their introduction, pros, and cons.
Check out now: Best Places To Sell Coins Online (Pros & Cons)
1974 Penny FAQs
What is the Oldest Penny Ever?
The oldest penny ever was the one cent struck in 1793, one year after the mint was established. Although this penny was challenging to use because of its large size, it was not replaced until 1857.
Is It Legal to Damage Pennies?
Damaging pennies or any other United States coin or currency is illegal. Anyone who does this is liable to a fine or Prison time. This also includes altering, defacing, diminishing, falsifying, mutilating, lightening, impairing, and scaling a coin.
How much are 1974 pennies worth?
Regular 1974 pennies are only worth a little, especially if they fall below the uncirculated grade.