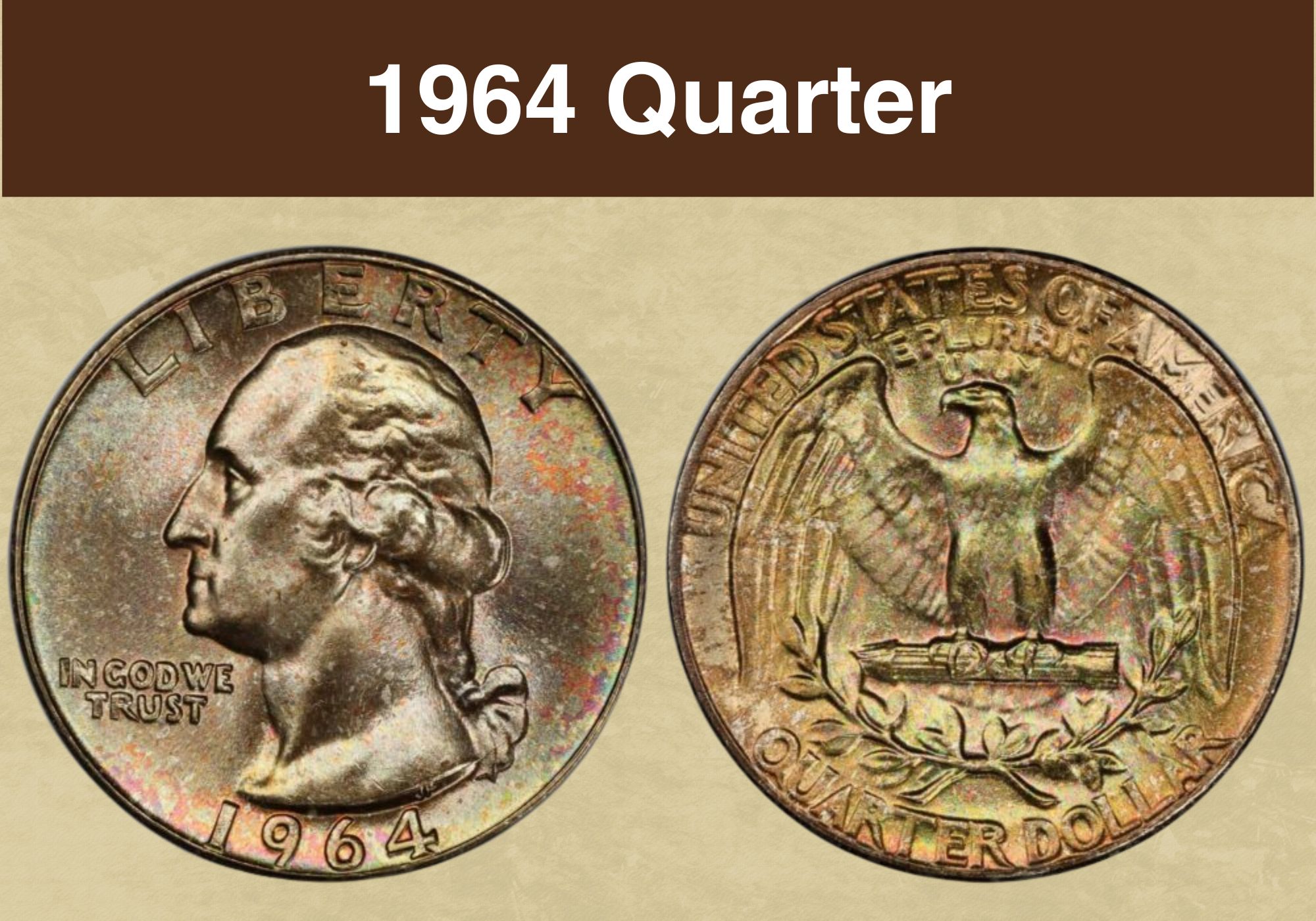 1964 is a landmark year for collectors and investors because it was the final year for silver coins in circulation. Due to the coin shortage, the next few years would see a switch to clad cupronickel coins that eventually replaced silver currency. Let's find the 1964 Quarter Value.
1964 Quarter Value Chart
For clarity's sake, we're going to divide the 1964 Quarter Value into regulars and collectibles.
1964 Circulating Quarter Value

Coin
AU 55
MS 65
MS 65+
MS 66
MS 67
MS 67+
MS 68
1964 (P) No Mint Mark Quarter Value
$7
$36
$42
$55
$700
$3,750
–
1964 (P) Type B Quarter Value
$20
$110
$160
$450
–
–
–
1964-D Quarter Value
$7
$30
$40
$60
$465
$1,700
$38,500
1964-D Type C Quarter Value
$90
$575
$700
$2,350
–
–
–
1964 Collectible Quarter Value

Coin
PR/SP 60
PR/SP 62
PR/SP 65
PR/SP 66
PR/SP 67
PR/SP 68
PR/SP 70
1964 (P) Proof Quarter Value
$6
$8
$15
$20
$26
$32
$1,150
1964 (S) Special Mint Set Quarter ValueSatin Finish SMS
$1,250
$1,350
$7,250
$9,000
$13,500
$25,000
–
History of the 1964 silver Quarter
In the early days of hard currency, coins were made of gold or silver. Back then, the physical weight and melt value of these precious metal coins were equivalent to their face value. But over time, the mint found ways that were cheaper to produce. This allowed the mint to earn extra revenue through seignorage (the difference between production costs and face value).
That said, at certain times in history, metal prices would fluctuate and affect seignorage. It even led to the mint making a loss! To solve this, the mint would reduce expenses by cutting coin sizes or changing minting metals. This scenario played out in the early 1960s as silver prices hiked. Through the 1965 law, the mint switched to coins made of copper and nickel.
1964 was therefore a significant year because it was the final time that circulating coins were made of silver. But since citizens hoarded almost every new coin that was released, the mint got smart. Instead of making silver coins dated 1965 and 1966, all the silver pieces issued in those years claimed to be minted in 1964. Any and all 1965 and 1966 dates were cupronickel.
Today, people still collect quarters dated 1964 as 'junk silver'. This means they use their 25c stacks as a form of layman's bullion in case they ever need to melt them for fine silver. It's a kind of apocalyptic stash for ordinary folk. But specific 1964 Quarters still have collector's merit so they can be a sensible investment category. Let's explore the most valuable pieces.
Also read: Top 13 Most Valuable State Quarters Worth Money
Features of the 1964 silver Quarter
1964 Washington Quarters have reeded edges, with the edge being the thinnest side of the coin. The heads side is called the obverse while the tails side is the reverse. The words on the coin are legends or mottos while the images are devices. Most coins have a raised rim called a collar. These technical terms are quite useful in describing the features of the 1964 Quarter.
Obverse of the 1964 Quarter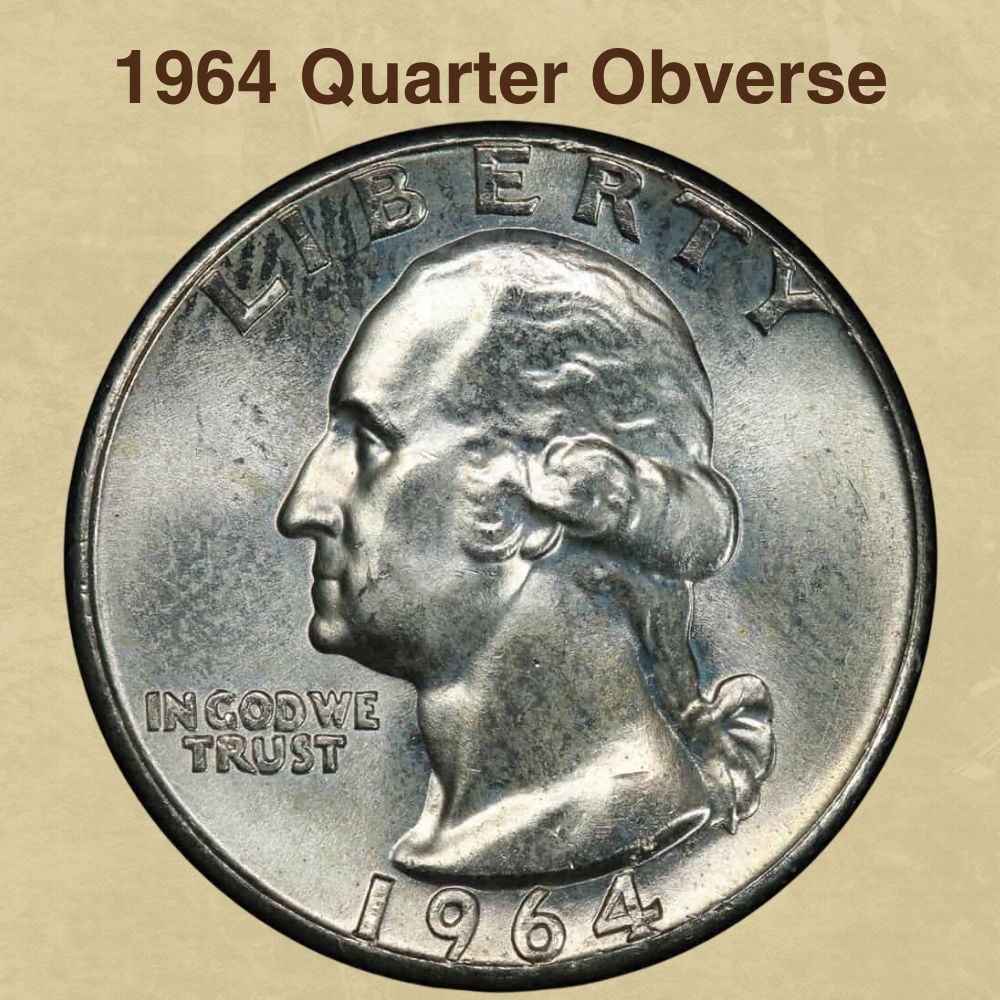 It shows George Washington facing left with Liberty over his head and In God We Trust on the left side of the coin, underneath his chin. The designer's initials, JF for John Flanagan, are towards the right of his neckline cut-off. The mint date is struck at the bottom of the coin.
Reverse of the 1964 Quarter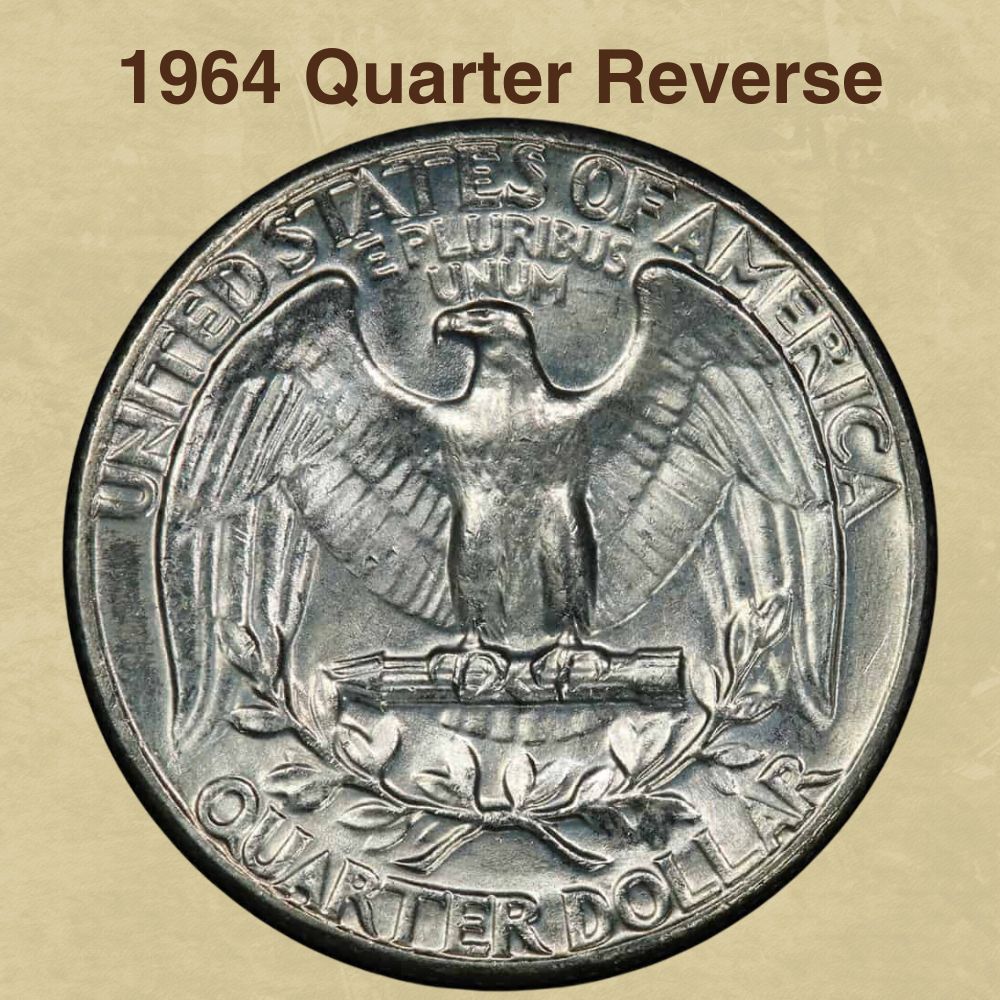 It shows an eagle with its wings spread out but pointing down. The bird has a bundle of arrows in its claws. An olive wreath curls under the eagle, touching both its wings. The mint mark is below the mid-point of the olive wreath. The top of the coin reads United States of America with E Pluribus Unum above the bird's head. The bottom reads Quarter Dollar.
Other Features of the 1964 Quarter
In 1964, all the Washington Quarters were still 90% Silver and 10% Copper. The copper served to harden the metal so it could mint better and last longer. The coins weighed 6.3g and were 24.3mm in diameter (0.96"). And as we said, Silver Washington Quarters struck in 1965 and 1966 were also dated 1964 since the mint didn't want people hoarding newer coins.
1964 Quarter Grading
Circulating coins are generally graded from PO-1 (Poor) to Mint State (MS 70). But the mint also makes collectibles including proof coins (PR/PF) and special strikes (SP/SMS). Other categories include satin-finish and uncirculated. Uncirculated coins don't have a proof finish but if the grades are high enough, they're additionally classified as Gem, Choice, or Brilliant.
| # | Grade |
| --- | --- |
| 1 | Basal State-1 |
| 2 | Fair |
| 3 | Very Fair |
| 4, 5, 6 | Good |
| 7, 8, 10 | Very Good |
| 12, 15 | Fine |
| 20, 30 | Very Fine |
| 40 | Extremely Fine |
| 50 | About Uncirculated |
| 60 | Mint State |
| 65 | Mint State |
| 70 | Mint State |
Please check our grading guides to know your coin scale, It's the necessary step to know the exact value of your coin.
Check out now: How to Grade Washington Quarter?
1964 Quarter Value Guides
1964 Quarters had three reverse varieties – Types A, B, and C. You'll sometimes see them listed as Type 1, 2, and 3. To spot the difference, you can compare the size of the gap between E and S in States and between the leaf and A in Dollar. There's also a minor mule variety where a 1964 obverse goes with a 1965 reverse, but it's not a particularly expensive error.
1964 No Mint Mark Quarter Value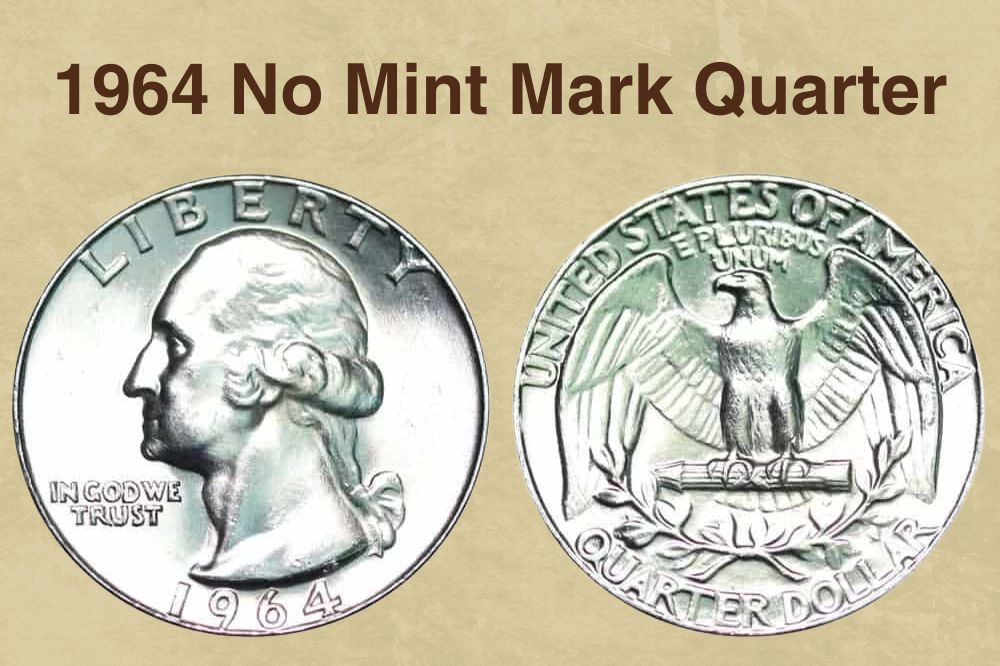 This is the 'normal' version of the coin, aka Type 1 or Type A. It's the original design of the coin and has the smallest gap between E and S in States. In contrast, the coin has the biggest gap between the A in Dollar and the lowest leaf. In 1964, the mint made 560,390,585 coins in Philadelphia. They had no mint marks and included Silver Quarters from 1965 and 1966.
In January 2004, an MS 67 was $7,188. It's the highest recorded price so far and PCGS has received 50 coins in this grade. This lowers their 2023 price estimate to $700. However, a dozen MS 67+ coins are known to exist. In October 2022, one of them sold for $3,840, but the price had dropped to $960 by January 2023. The current PCGS value estimate is $3,750.
1964 Type B Reverse Quarter Value (FS-901)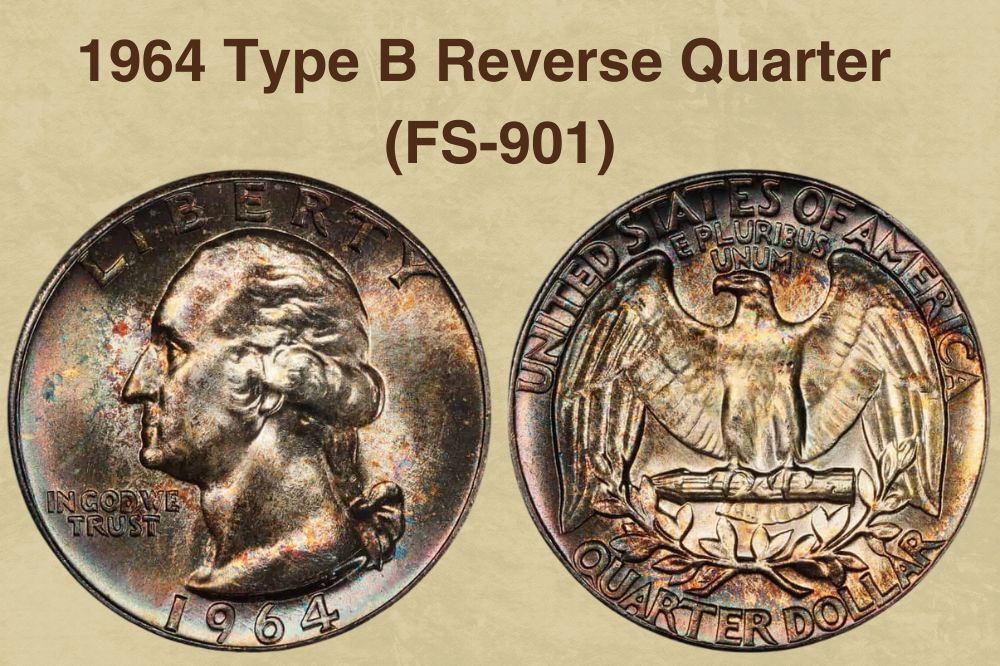 Type B or Type 2 Reverses have the widest gap between the E and S in States. Conversely, the A in Dollar and the lowest leaf are touching. It's an easy design to recognise and can instantly be identified but it doesn't cost a lot. The best price so far is $494 for an MS 66 on February 16th 2017. And with 31 known coins in this grade, the 2023 estimate is set at a mere $450.
1964-D Quarter Value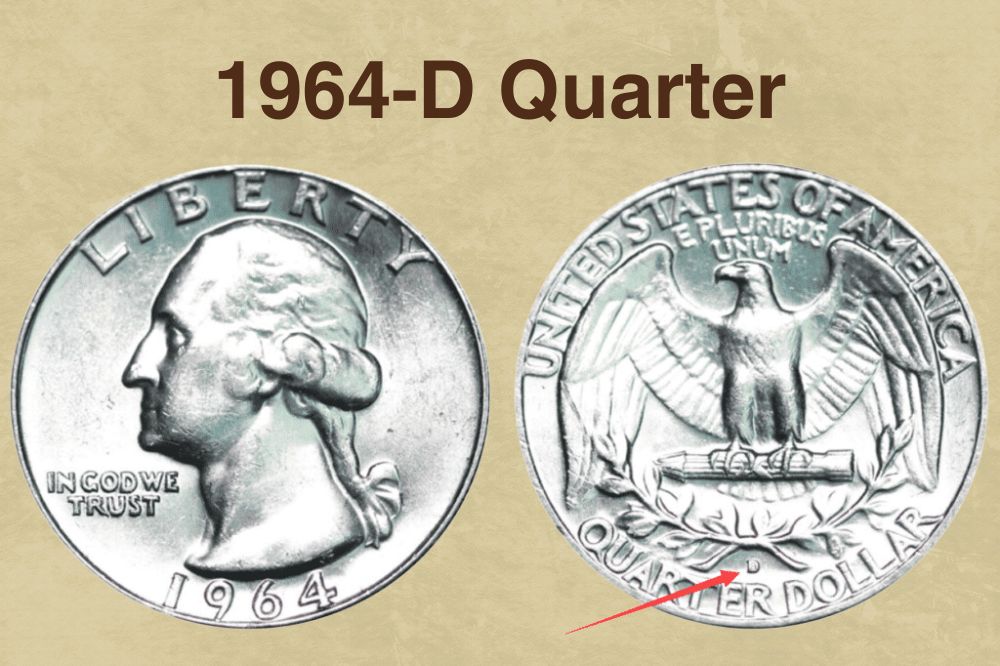 The Denver Mint coined 704,135,528 Quarters in 1964, all carrying the D Mint Mark. The highest known grade is MS 68, and it sold for $38,400 on 31st March 2021. Only two samples have shown up so far. Half a step down, with 21 coins graded MS 67+, the price estimate plummets to $1,700. In MS 67, the coin is worth a quarter of that at $465, no pun intended.
1964-D Type C Reverse Quarter Value (FS-901)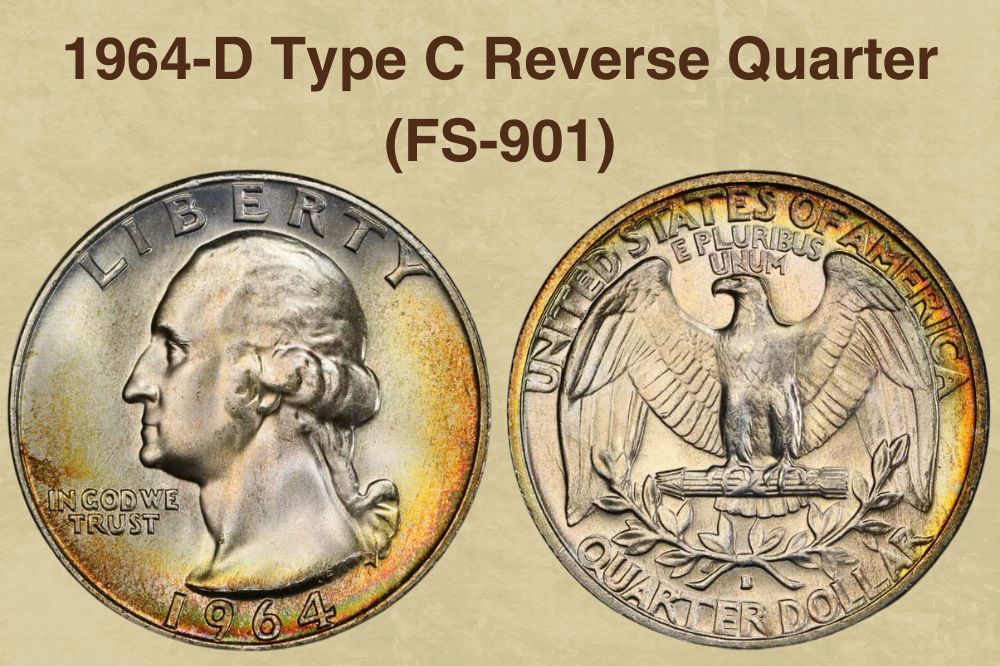 Type C or Type 3 Reverses have a mid-sized gap between the E and S in States. At the bottom of the coin, the A and the leaf are almost touching but there's still a visible gap. These Type C coins were only minted in Denver. An MS 66 sold for $2,350 on 4th June 2014. But by March 2023, that price was down to $1,800. Almost 10 of these coins have been graded at MS 66.
1964 Proof Quarter Value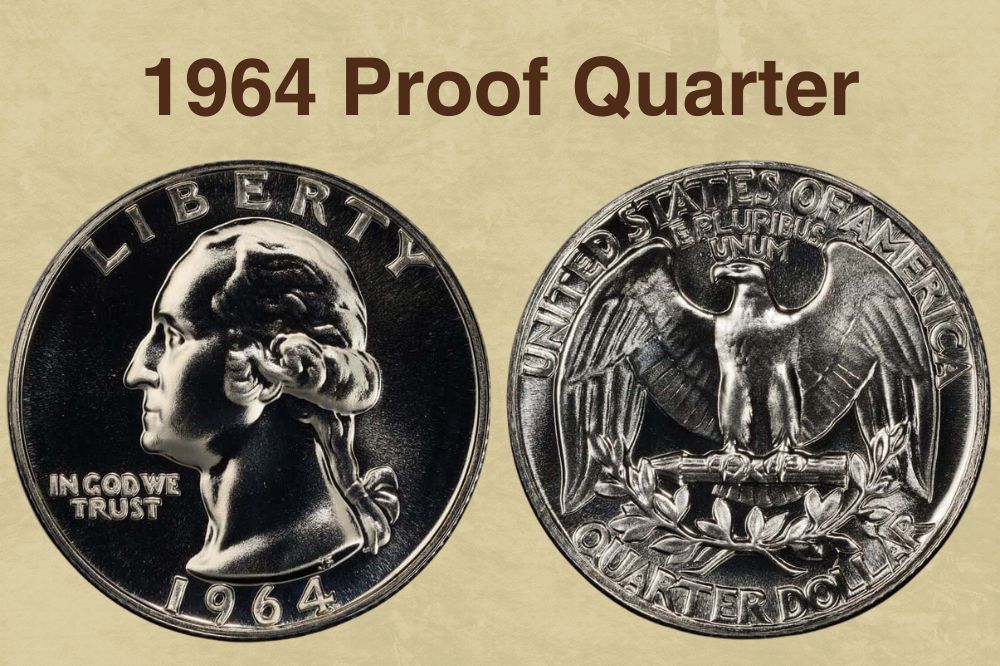 In 1964, Quarters were struck with mirrored proofs. This means the field of the die had a mirror-like polish while the device was frosted with an acid wash. Like all proof coins, the planchet was pre-burnished in a vat of stainless steel balls before striking. The coin is also struck with extra force to ensure design clarity. Deep Cameo coins have the greatest contrast.
This usually covers the first 50 to 100 coins. After that, the contrast between the field and the device starts to fade so later coins are Cameos. Eventually, the final coins exit the press as regular proofs. Usually, proof coins are made in San Francisco, but that branch was closed from 1955 to 1965, so 1964 Proof Quarters were made in Philadelphia without mint marks.
They made 3,950,762 in total. And the current sales record is $1,150 for a PR 68 on 2nd March 2006. Cameo coins sell a little better, with an NGC-graded PR 70 CAM going for $2,185 on 13th February 2008. And Deep Cameos are only slightly more valuable. A sample PR 69 DCAM went for $2,350 on 27th May 2021. About 100 Deep Cameos have been graded.
1964 Special Strike Quarter Value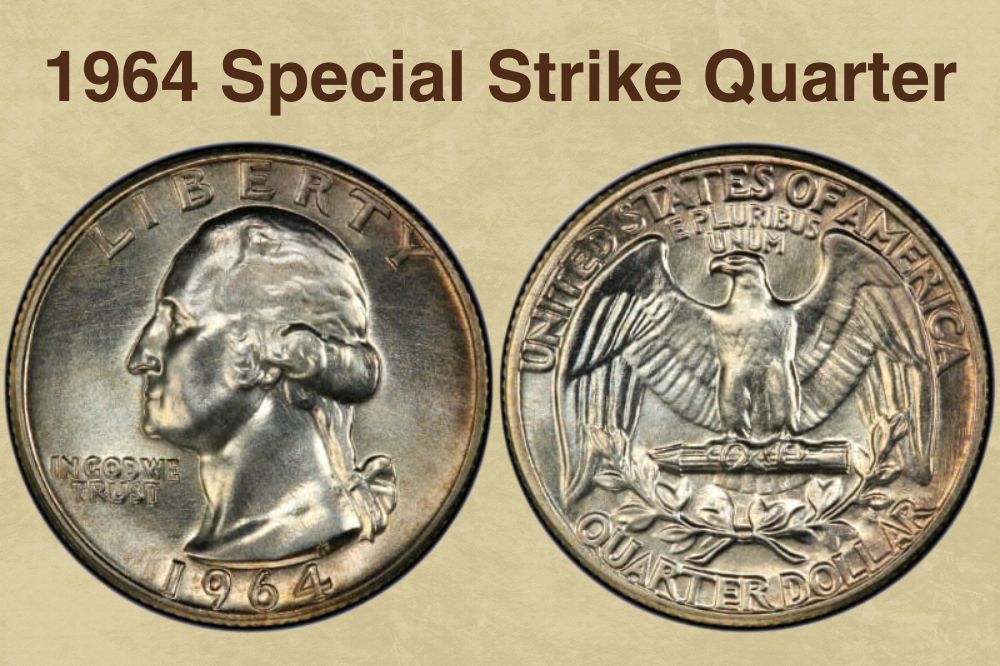 From 1965 to 1967, coins wouldn't have mint marks to allegedly discourage hoarding. Also, the mint didn't plan on making proofs, so they prepped Special Mint Sets aka Special Strikes (SMS or SP) starting in 1964. They didn't have time to pre-burnish the blanks so the results weren't as shiny as proofs. And unlike proofs, SMS coins were only struck once at high force.
To differentiate them from proof coins, SMS coins had a satin finish on both the field and the device. In 1964, between 20 and 50 of these coins were made at the San Francisco Mint but none of them had mint marks. The sales record for this coin was set rather recently. On 12th February 2023, an SP 67 sold for $23,400. Thirteen SP 67s are known, but only one SP 68.
Also read: Top 16 Most Valuable Modern Quarters Worth Money
Rare 1964 Quarter Error List
While the process of minting coins is closely monitored, mistakes do happen. And these mint errors can significantly increase the 1964 Quarter Value. So let's look at a few common examples. Depending on condition, their price can range from hundreds to thousands. For this coin, First Strike errors (spotted within 30 days of release) are DDRs, DDOs, and RPMs.
1964-D Repunched Mint Mark Errors (RPM FS-501 and FS-502)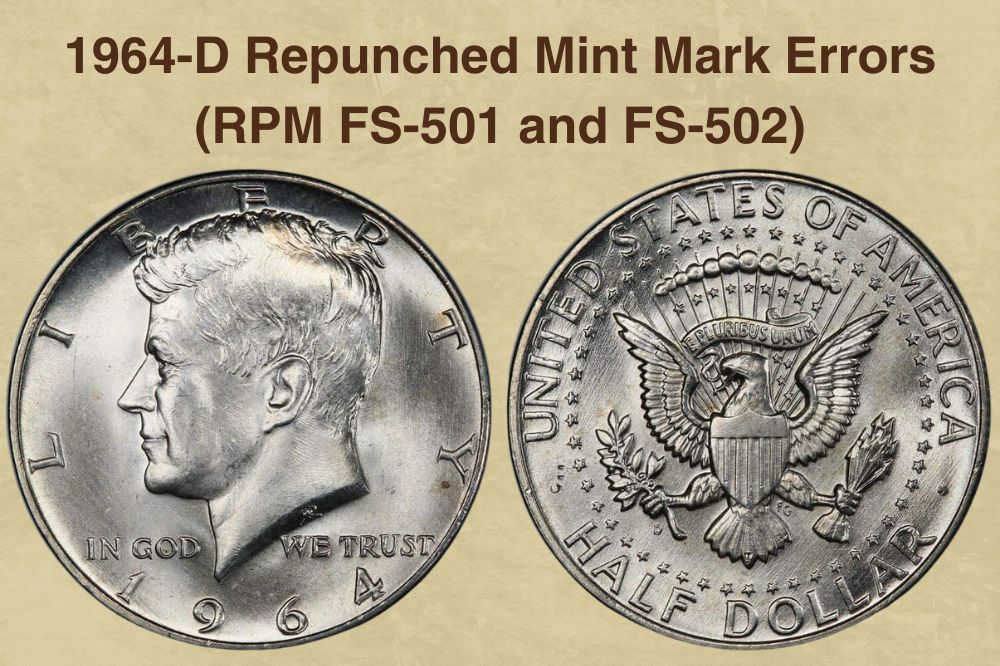 Mint marks used to be placed manually, so the puncher's hand may wobble. You'll see traces of the earlier impression underneath. This is called an RPM. It's written as D/D (D over D) and has two varieties. In April 2022, a 1964-D/D RPM graded MS 66 sold for $10,000 on eBay, though PCGS estimates its value at $450. An AU 58 FS-502 was $288 in May 2019.
1964 Doubled Die Obverse Errors (DDO FS-101)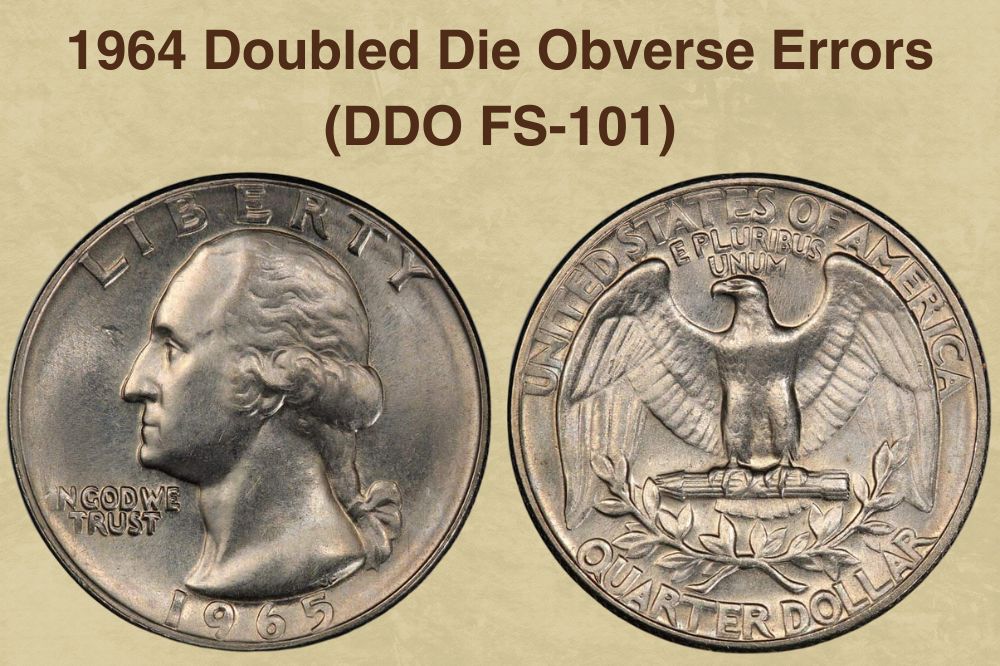 DDOs happen when the die shifts between the first and second hub strikes. This makes the second imprint land on a slightly different spot, and this error is copied onto every coin that die makes. An MS 65 Philadelphia DDO sold for $228 in April 2018. In the same grade, its Denver counterpart fared better. An eBay vendor sold a 1964-D DDO for $500 in June 2018.
1964 Doubled Die Reverse Errors (DDR FS-801 to FS-804)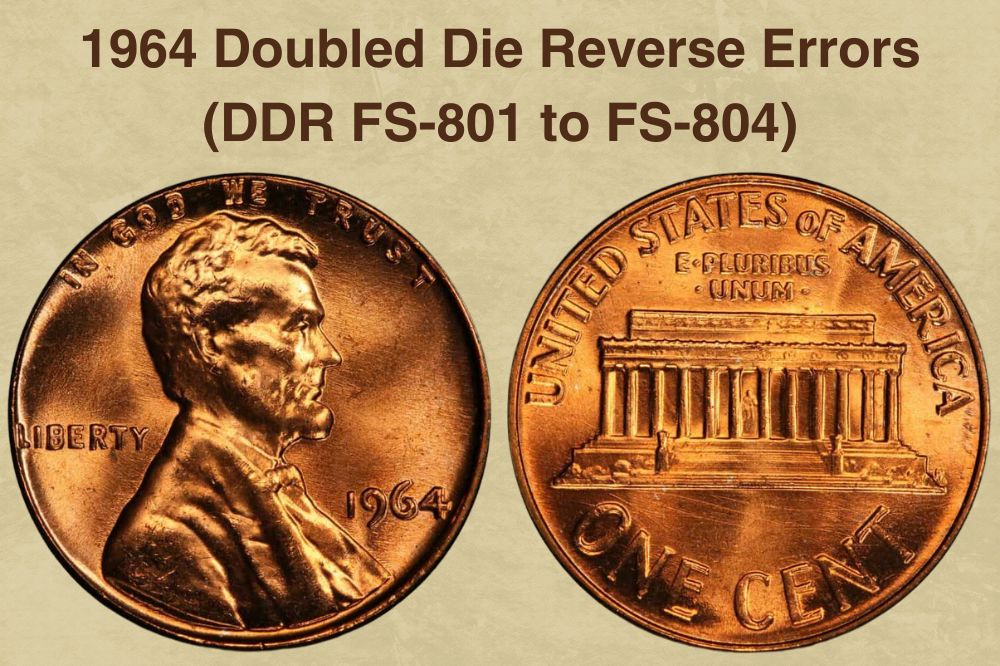 DDRs are similar to DDOs, but the mistake occurs on the reverse die instead. On the 1964 Quarter, four DDRs were found in the first 30 days – FS-801, 802, 803, and 804. On Denver coins, a 1964-D DDR graded MS 65 was $385 in June 2014. On 1964 Philadelphia Quarters, an MS 65 was $978 in 2012 (FS-804), $876 in 2020 (FS-803), and $1,920 in 2021 (FS-801).
1964-D Quarter with 1965 Reverse
Sometimes, the obverse of one coin is paired with the reverse of another. This mint mistake happens when the dies get mixed up, especially in transitional years. 1965 saw the switch from silver quarters to clad cupronickel ones, so some 1964 obverses were struck with 1965 reverses. This example in MS AU 58 sold for $140. Check the feathers to confirm the error.
Also read: 17 Most Valuable Quarter Errors Worth Money
Where to Sell Your 1964 Quarter ?
Now that you know the value of your coins, do you know where to sell those coins online easily? Don't worry, I've compiled a list of these sites, including their introduction, pros, and cons.
Check out now: Best Places To Sell Coins Online (Pros & Cons)
FAQs About the 1964 Quarter
How Much is the 1964 Plain Quarter Worth?
A 1964 (P) Quarter graded MS 64 – that's the silver business strike without a mint mark – was worth $7,188 in January 2004. Today, it's $700. But two other coins may be mistaken for plain 1964 quarters because their mint marks were deliberately omitted. If you're talking about the plain proof quarter, that's the 1964 (S) Proof without a mint mark. A PR 68 was $1,150 in March 2006, the current estimate of a PR 70. But if you're talking about the plain SMS quarter, that would be the 1964 (S) Special Strike Quarter which also lacks a mint mark. A sample graded SP 67 sold for a whopping $23,400 in February 2023. We've seen 13 so far.
What is Special About the 1964 Quarter?
It was the last year when circulating quarters were silver. After that, regular strike coins were minted in base metals, namely cupronickel. The 1964 Quarter was also the first year when the mint experimented with Special Strikes aka Special Mint Sets as a proof coin substitute.