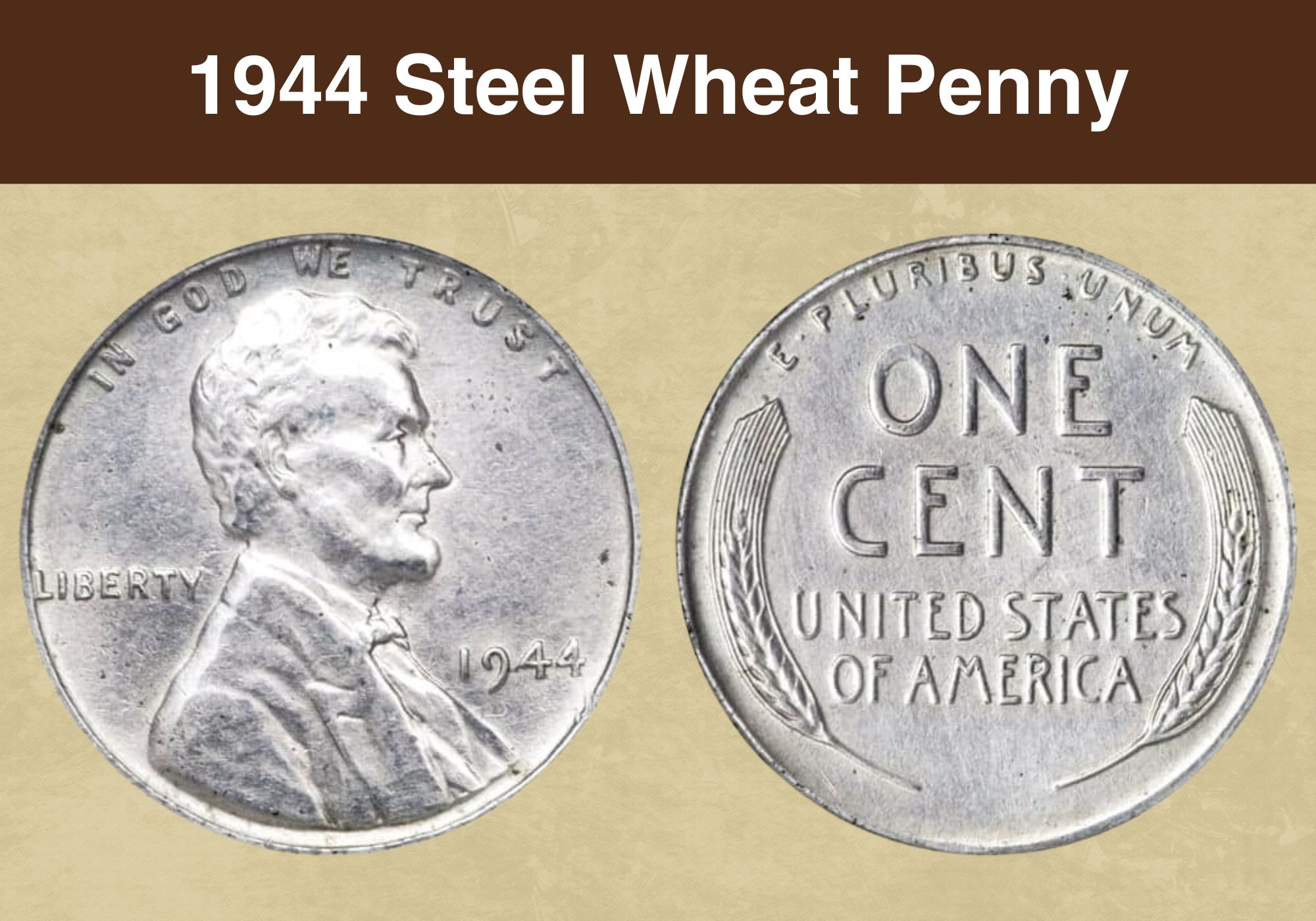 Over two billion Lincoln pennies with wheat on the reverse were minted in 1944. That makes their value pretty low nowadays despite being almost eight decades years old. However, the US Mint struck several 1944 pennies made of steel, and they ended up in circulation, probably by mistake.
Experts guessed that steel planchets were made by mistake and then stayed mixed up and forgotten with other regular coins. Anyway, the 1944 steel penny value is high, thanks to the fact they are highly sought-after among collectors.
1944 Steel Wheat Penny

Condition
1944 No mint mark steel penny
1944 D steel penny
1944 S steel penny
Extra fine
$28,893
$34,803
$409,304
AU
$34,803
$46,688
$759,524
MS 60
$58,491
$62,001
$1,137,794
History of the 1944 Steel Wheat Penny
Steel pennies are not rare coins when minted in 1943. However, the US Mint returned to bronze pennies the next year, resulting in only a few dozen steel pieces with the 1944 year on the obverse.
No one can be sure why these coins even exist. One theory is that steel planchets were forgotten in the press machines. Another possibility is mistakenly replaced planchets since the Philadelphia mint produced Belgian two-franc coins made of steel that year.
However, there is no explanation for the pieces minted in the other two mints. The only possibility is that these planchets mistakenly ended up in Denver and San Francisco.
1944 Steel Wheat Penny Types

Location
Year
Minted
Philadelphia
1944 No Mint mark bronze penny
1,435,400,000
Philadelphia
1944 No Mint mark steel penny
About 30
San Francisco
1944 S bronze penny
282,760,000
San Francisco
1944 S steel penny
2
Denver
1944 D bronze penny
430,578,000
Denver
1939 D steel penny
7
Total
/
2,148,738,000 + 39
Interestingly, the mystery surrounding these coins doesn't end there. Some experts claim that bronze Wheat cents were made of shell casings. Others are convinced that it is an urban myth to encourage patriotic feelings among Americans.
On the other hand, it is confirmed that the reason for steel penny production in 1943 was the lack of copper needed for war purposes. These so-called Silver Pennies don't contain precious metal but have a silverish color because of their non-standard metal composition.
Also read: 12 Most Valuable Lincoln Penny Worth Money
Features of the 1944 Steel Wheat Penny
The 1944 steel Lincoln pennies are made of steel covered with a thin outer layer of zinc that provides an unusual silvery color. However, most have a powdery, almost rusty surface appearance. Except for the composition, these cents have the same look as all other Wheat pennies based on Victor David Brenner's design.
The obverse of the 1944 Steel Wheat Penny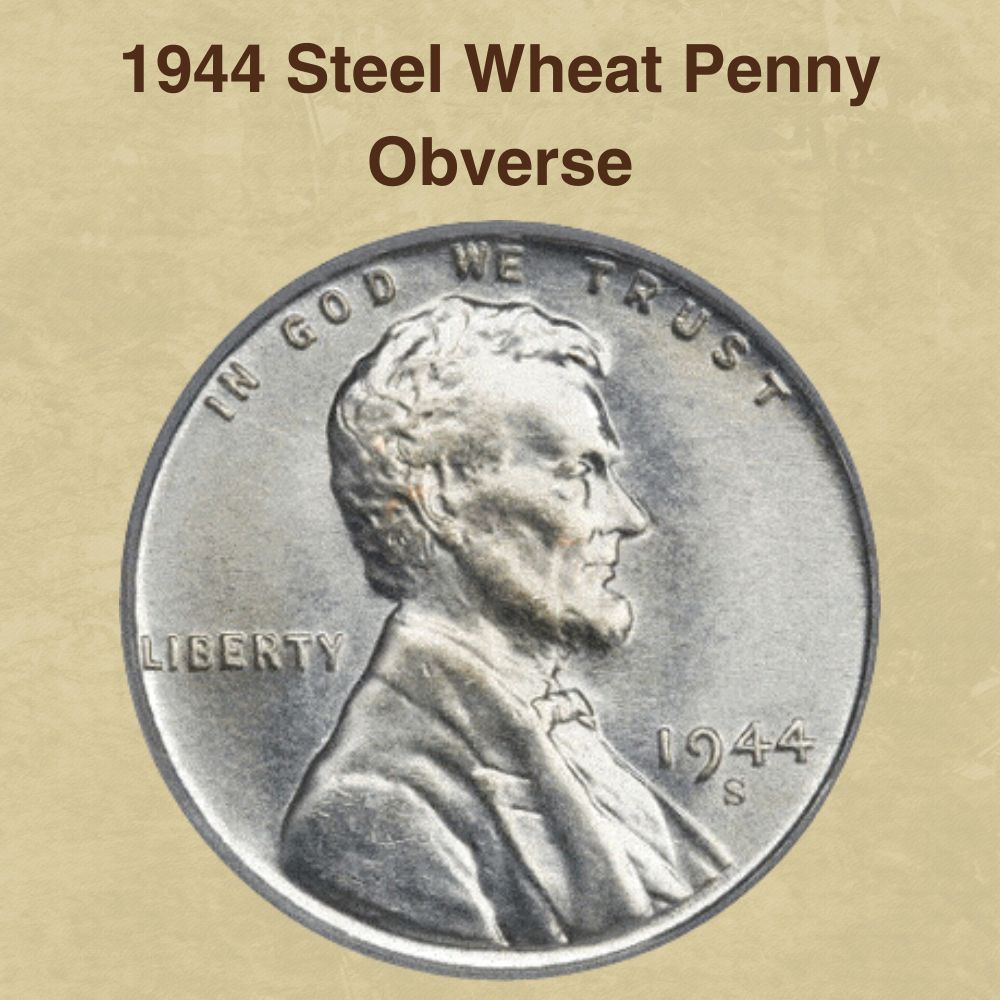 The 1944 Lincoln steel penny's obverse is the same as every other coin depicting the 16th President. You can see Lincoln's face looking to the right with IN GOD WE TRUST above his head.
Besides, there is the date (1944) on the right and one word (LIBERTY) on the left coin side. While pieces struck in Philadelphia have no mint mark, other pennies came with a D or S letter below the year of minting. The initials VDB are struck at the Lincoln's shoulder's cut-off.
The reverse of the1944 Steel Wheat Penny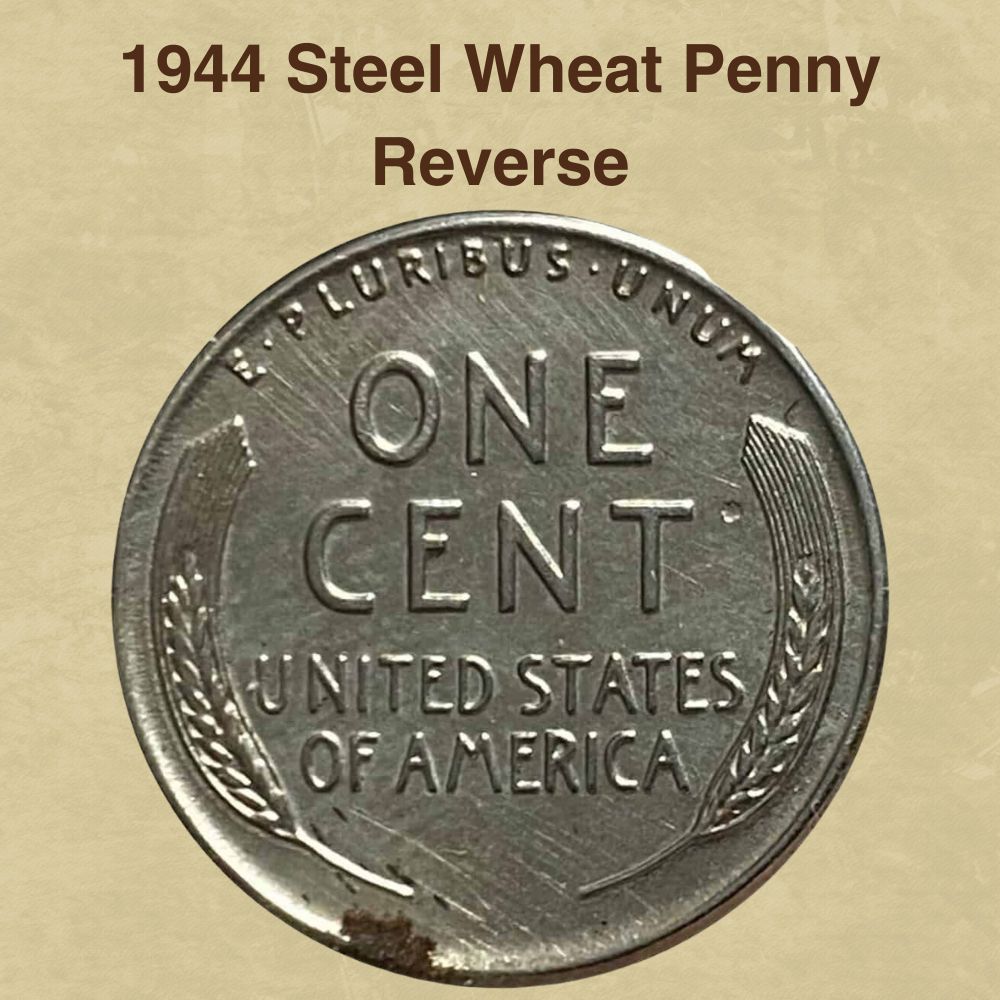 Like other Wheat cents, these made of steel include wheat stalks on the reverse. They frame a sizable ONE CENT and the UNITED STATES/OF AMERICA written in smaller font and divided into two lines. E·PLURIBUS·UNUM is at the coin top.
1944 Steel Wheat Penny Details

Face value
One cent ($0.01)
Shape
Round
Compound
Steel coated with zinc
Coin thickness
0.059055 inches (1.5 mm)
Coin diameter
0.75 inches (19.05 mm)
Coin weight
0.095310 ounces (2.702 g)
Edge
Plain
Other features of the 1944 Steel Wheat Penny
Unlike standard pennies made of copper with zinc or tin alloy, these unique 1944 cents contain 99% steel coated with a thin zinc outer layer.
They are round coins that are precisely 0.059055 inches (1.5 mm) thick, with a diameter of 0.75 inches (19.05 mm). Steel pennies weigh less than those made of copper (0.10970 ounces / 3.11 g) or only 0.095310 ounces (2.702 g).
Also read: 13 Most Valuable Wheat Penny Worth Money
1944 Steel Wheat Penny Value Guides
Victor David Brenner designed both Wheat penny sides, and steel cents are no exception. In fact, they look the same as other pieces from previous years, except for unique composition.
Keep in mind that the US Mint produced standard cupronickel pennies in 1944. So, those made of steel are only a variation, not regular strike coins like those from the previous year.
1944 No Mint Mark steel penny Value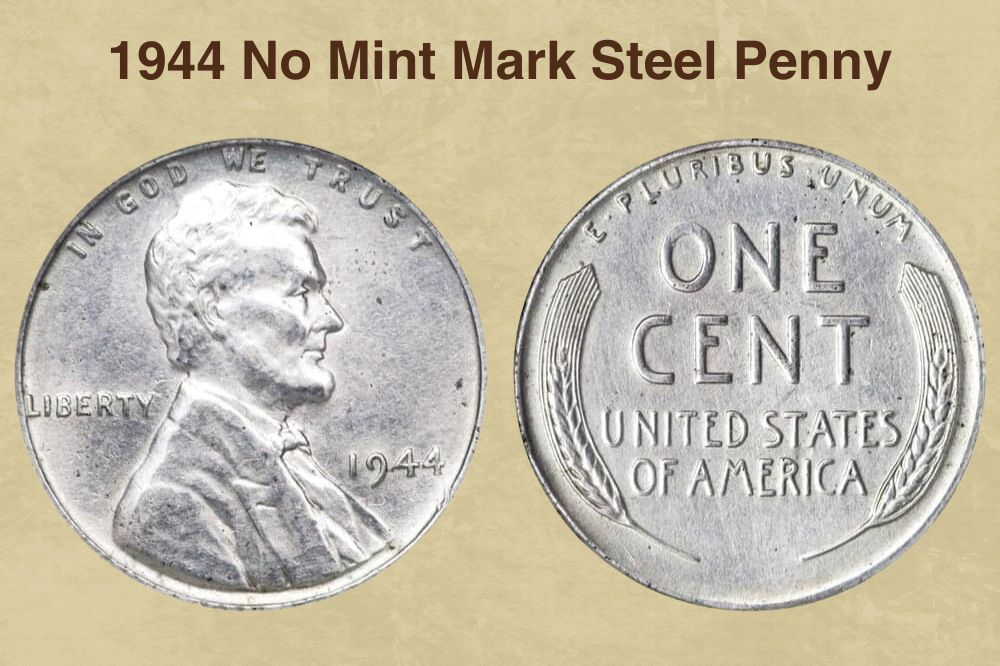 Besides 1,435,400,000 cupronickel coins minted this year, the mint in Philadelphia also produced about 30 pennies made of steel. No one can be sure about their total mintage, and estimations go from 25 to 40 pieces.
As expected, these coins are rare nowadays, and no one can claim how many have survived until now. In any case, these steel cents are expensive, and you can expect to pay at least $26,500 to $40,800 for one in About Uncirculated condition. Those in the mint state are more costly, with an appraised value of:
$37,500 to $45,000 for 1944 MS 60 steel penny
$40,000 to $48,000 for 1944 MS 61 steel penny
$55,000 to $66,000 for 1944 MS 62 steel penny
$75,000 to $90,000 for 1944 MS 63 steel penny
Experts agree that scarce pieces with the MS 64 grade can be sold for about $120,000 to $140,000, but one coin in this grade exceeded expectations at an auction in 2021. One collector set aside a fantastic $180,000 to get this rarity.
1944 D steel penny Value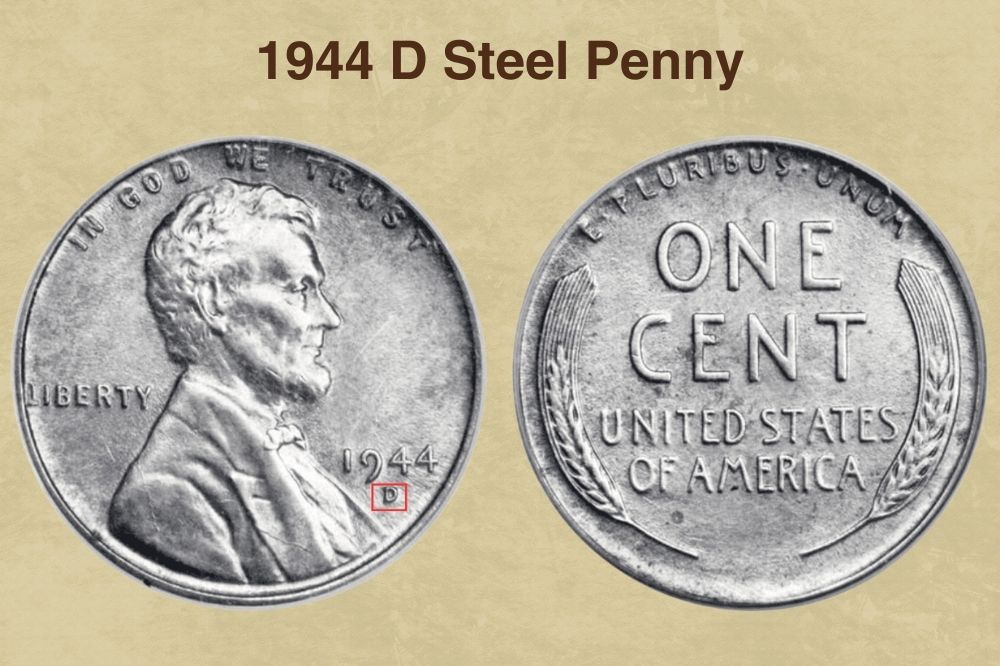 The mintage of regular coins with the D mint mark was 430,578,000, but the Denver mint also produced seven coins made of steel for some reason. Most 1944 D steel cents are in the mint state, but those in AU condition are estimated to cost $30,000 to $36,000. Perfectly preserved coins are typically worth:
MS 60 – $35,000 to $42,000
MS 61 – $40,000 to $48,000
MS 62 – $52,500 to $63,000
As expected, best-preserved pieces are the most collectible and priciest. In this case, they are in MS 63 grade, and their price range can be from $80,000 to $96,000. However, one of these coins was sold at an astonishing $115,000 in 2007.
1944 S steel penny Value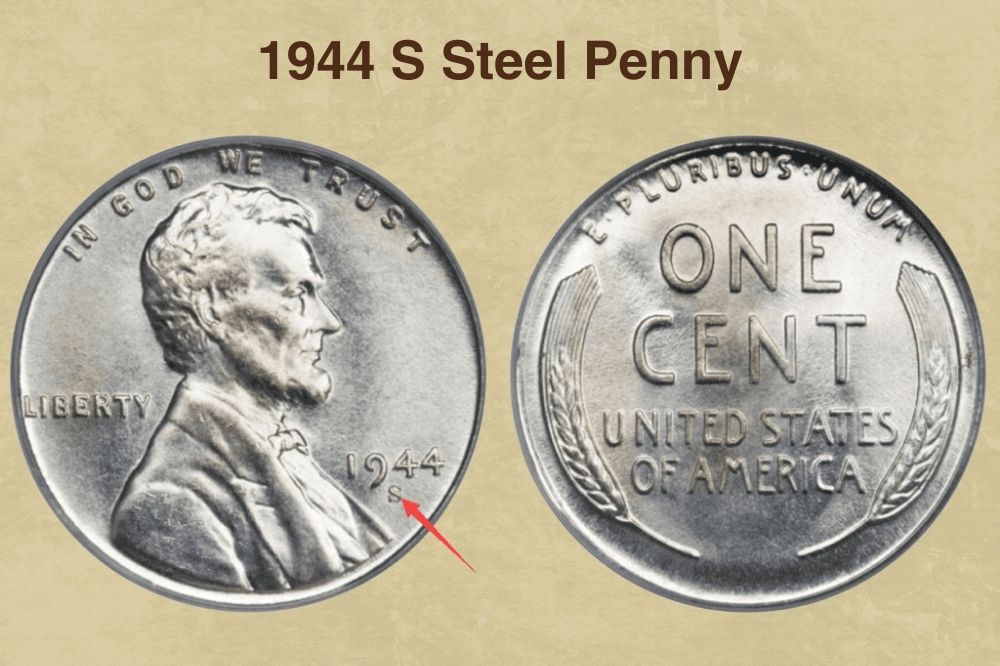 No one exactly knows why the San Francisco mint produced these two steel pennies besides 282,760,000 standard cupronickel coins. However, grading service companies estimated their value to be high sums.
For instance, the US Coin Book offers a price of $409,304 for a piece in Extra Fine condition. The one in possible AU condition is almost twice as expensive, costing $759,524. Finally, their estimation of the 1944 steel penny with the MS 60 grade is an open-mouthed price of $1,137,794.
On the other hand, PCGS is much more moderate, with a current estimation of $475,000 for such a piece. According to NGC, rare pennies in MS 64 grade are worth about $55,000, and only those ranking MS 66 can cost about $500,000.
As always, the only thing that counts is the prices achieved at auctions. One 1944 S MS 66 Lincoln steel penny of two produced reached $408,000 in 2021. You can say that it is its real current price for now and only guess how much it will cost in the future.
1944 Lincoln bronze penny Value
Compared to rare pennies made of steel in 1944, standard bronze pieces minted the same year cost only $0.06 to $6. Slight price variations depend on the mint where they were produced.
You can expect only 1944 D over S errors to be more expensive. Most collectors are prepared to pay $60 to $800 per piece, depending on their quality. As always, you can expect a few exceptions.
For instance, the scarce 1944 MS 68 red bronze penny from Philadelphia has an estimated price of $6,000. Interestingly, finding such high-quality minted specimens in the other two mints is impossible. Those in lower grades rarely exceed the price of $100.
Also read: 17 Most Valuable Indian Head Penny Worth Money
1944 Steel Wheat Penny Grading
Despite a standard method of coin grading, these steel pennies are exceptions to the rule. In other words, there is no strict correlation between their preservation levels and prices. They are collectible in any grade and often cost hundreds of thousands of dollars, even more.
Ways to check whether the penny is made of steel:
Color – These coins appear silver with rusting on the surface.
Measures – These pieces are lighter than a standard bronze penny and weigh 0.095310 ounces (2.702 g).
Magnetic test – A magnet attracts steel, and thus pennies made of this metal.
Rare 1944 Steel Wheat Penny Error List
The situation with error steel pennies produced in 1944 is a bit weird. Precisely speaking, all these coins can be considered an error since the US Mint should have minted only bronze ones. In this case, you can say that error coins have their errors, adding to their value.
Double denomination planchet struck
It is the best-known error among the 1944 steel pennies that can be worth hundreds of thousands of dollars. This coin was struck on a planchet initially meant for a dime, so it looks like a dime and has its size and shape.
Double die obverse
You can find only one DDO 1944 steel penny, meaning its price is estimated to be millions of dollars. It has a doubling on IN GOD WE TRUST and LIBERTY.
Off-center strike
Interestingly, the off-center 1944 steel penny is not particularly valuable but can be a lovely addition to your collection.
Strike-through reverse
It is a rare case of the 1944 steel penny error. One such coin in EF 40 grade was struck through grease between the planchet and the die. Consequently, it has an atypical appearance of the reverse.
Also read: 11 Most Valuable Wheat Penny Errors
FAQ about the 1944 Lincoln Steel Penny
What makes a 1944 Lincoln steel penny rare?
Since these pennies are scarce, they cost a lot despite the quality. Since no one can be sure how many of these pieces were struck and have survived over 75 years, their prices never correlate with their appearance. Therefore, they always cost several tens or hundreds of thousands of dollars.
Which 1944 Lincoln steel penny is worth a lot of money?
The 1944 S MS 66 Lincoln steel penny with the wheat reverse won the auction record of $408,000 on August 22, 2021
The 1944 MS 64 Lincoln steel penny with the wheat reverse won the auction record of $180,000 on June 20, 2021
The 1944 D MS 63 Lincoln steel penny with the wheat reverse won the auction record of $115,000 on August 9, 2007
Interestingly, all three coins were sold at Heritage Auctions.
How much is the 1944 No Mint mark Lincoln steel penny worth?
Since the Philadelphia mint produced only about 30 steel pennies, you can guess their prices are high. Those in lower grades can cost at least $26,500, while the highest estimation is for the 1944 MS 64 steel penny. It is $120,000 to $140,000, while the most expensive piece ever sold reached$180,000 in 2021.
What are the priciest pennies ever?
The brown 1943 D MS 64 bronze cent with the wheat reverse won the auction record of $840,000 on January 24, 2021
The brown 1943 S MS 63 bronze cent with the wheat reverse won the auction record of $504,000 on November 22, 2020
The 1944 S MS 66 steel cent with the wheat reverse won the auction record of $408,000 on August 22, 2021
The brown 1943 MS 62 bronze cent with the wheat reverse won the auction record of $372,000 at Heritage Auctions on February 25, 2021
The red DDO 1958 MS 64 cent with the wheat reverse won the auction record of $336,000 on March 21, 2018
The 1909 VDB PR 67+ cent with the wheat reverse won the auction record of $258,500 on August 5, 2014
The 1943 AU 58 cent with the wheat reverse won the auction record of $218,500 on January 6, 2010