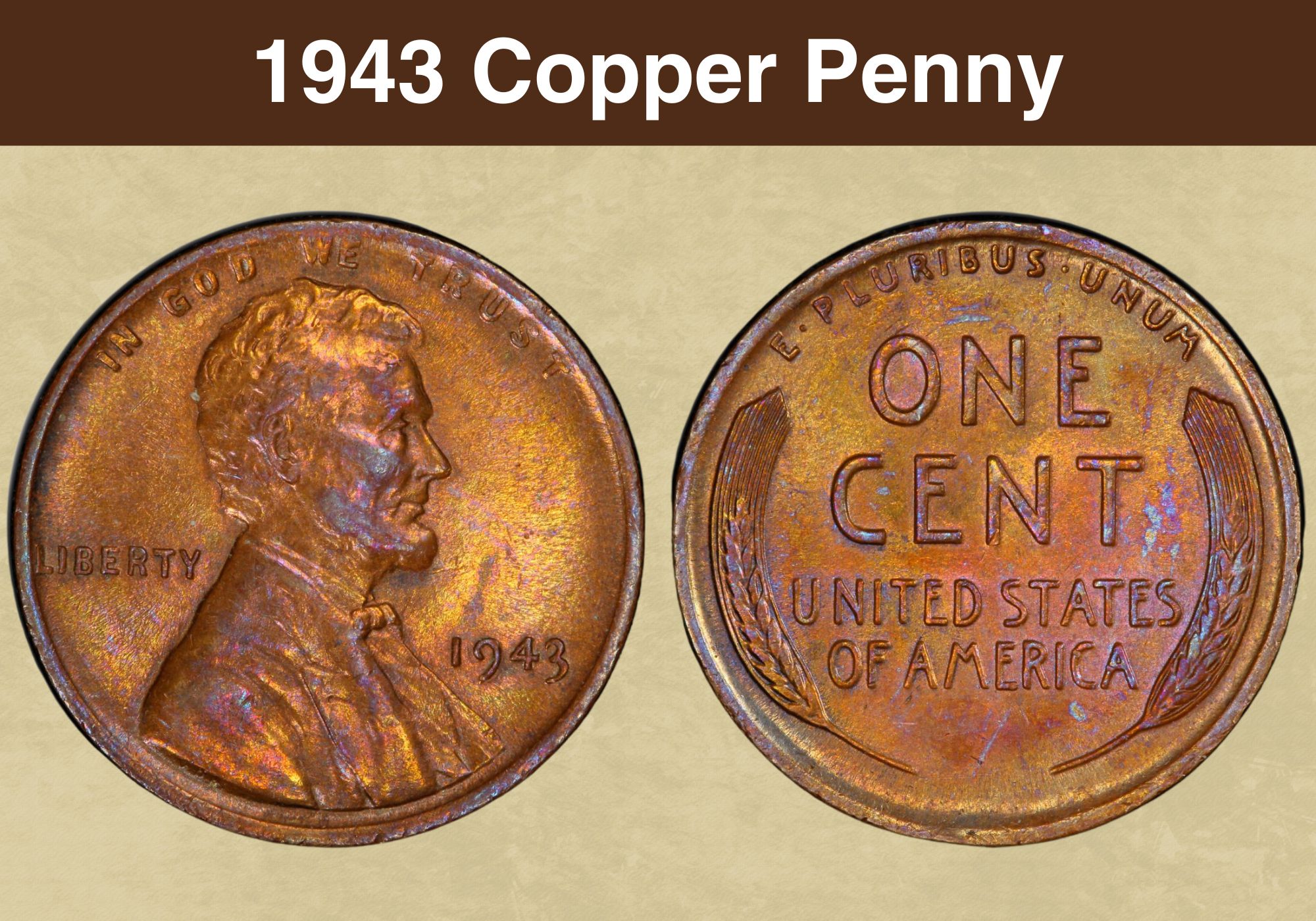 Finding a rare 1943 copper penny is similar to striking gold. This is because copper pennies from 1943 are one of the rarest and most expensive coins obtainable. For this reason, learning how to determine the true value of these rare finds is crucial.
Here, you will learn how to recognize, grade, and determine the value of the 1943 copper penny.
1943 Copper Penny Details
Category:

Wheat Penny

Mints:

Philadelphia, Denver, San Francisco

Total Mintage:

26

Obverse Designer:

Victor D. Brenner

Reverse Designer:

Victor D. Brenner

Composition:

95% copper 5% tin & zinc

Weight:

3.11g

Diameter:

19 mm

Thickness:

1.5 mm

Edge:

Smooth
The first step to valuing a 1943 copper penny is familiarizing yourself with its appearance and details. This will prepare you for situations when spotting a counterfeit is crucial.
The Obverse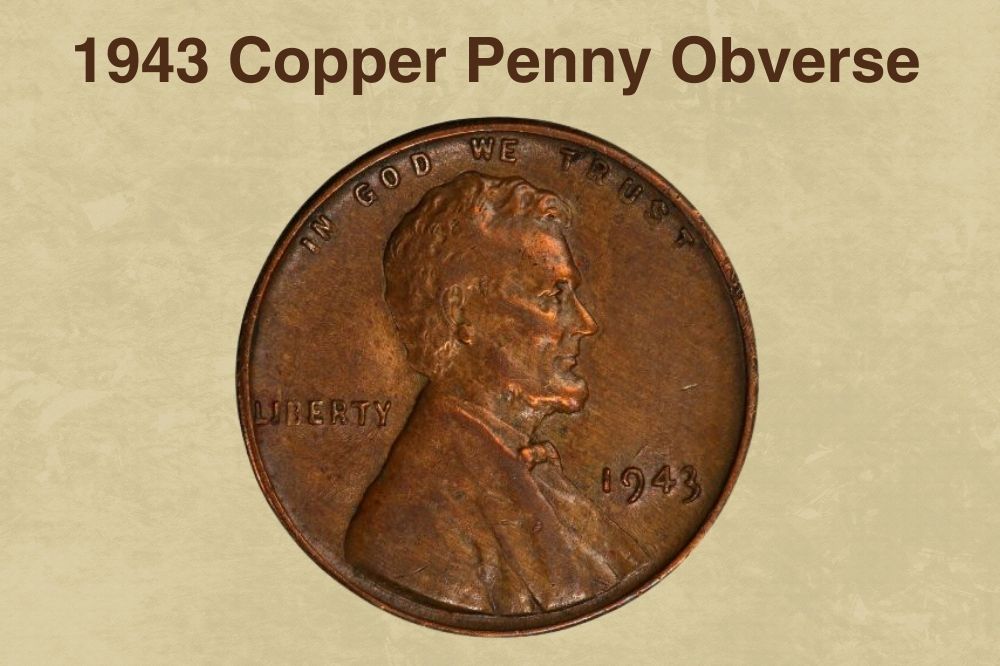 On the obverse of the 1943 copper penny, you'll find a rightward-facing bust of the former president of the United States, Abraham Lincoln. In this portrait, he adorns a suit with a bow tie.
Supporting this image is the famous inscription "IN GOD WE TRUST" placed above Lincoln's head, representing unity for Americans. Looking to the mid-left section of the obverse is the word "LIBERTY,". In addition to this, the obverse also carries the year of production, 1943 and the entirety of this design is the work of none other than Victor D. Brenner.
The Reverse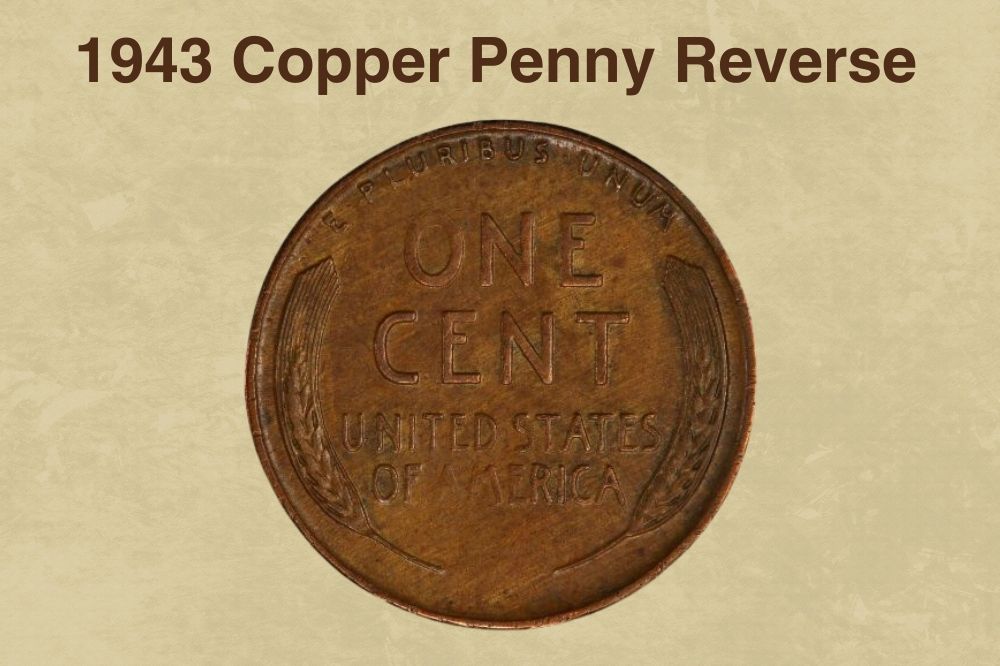 Being able to Identify the details on the reverse of the 1943 copper penny is just as important as the obverse.
On this side of the coin, the coin's face value "ONE CENT" is at the center of the coin. Above this is the American motto "E. PLURIBUS. UNUM" curved at the top of the coin.
In addition to this, the inscription "UNITED STATES OF AMERICA" features below the coin's face value and to bring this design together are wheat sheaths curved on both ends of the 1943 copper penny reverse.
N.B: The wheat sheaths are the reason why the 1943 copper penny is often referred to as the wheat penny.
1943 Copper Penny Value Chart

Mint mark
Good
Fine
Extremely Fine
Uncirculated (Mint State)

1943 No Mint Mark Copper Penny

$100,000

$100,000

$144,613

$409,301

1943 D Copper Penny

$100,000

$150,000

$451,026

$2,305,706

1943 S Copper Penny

$100,000

$150,000

$252,182

$593,651
1943 Copper Penny Value and Varieties Guide
Identifying the physical attributes of the 1943 copper penny alone is not enough to determine its value. Knowledge of the different varieties in circulation will also be helpful in determining their value.
1943 No Mint Mark Copper Penny Value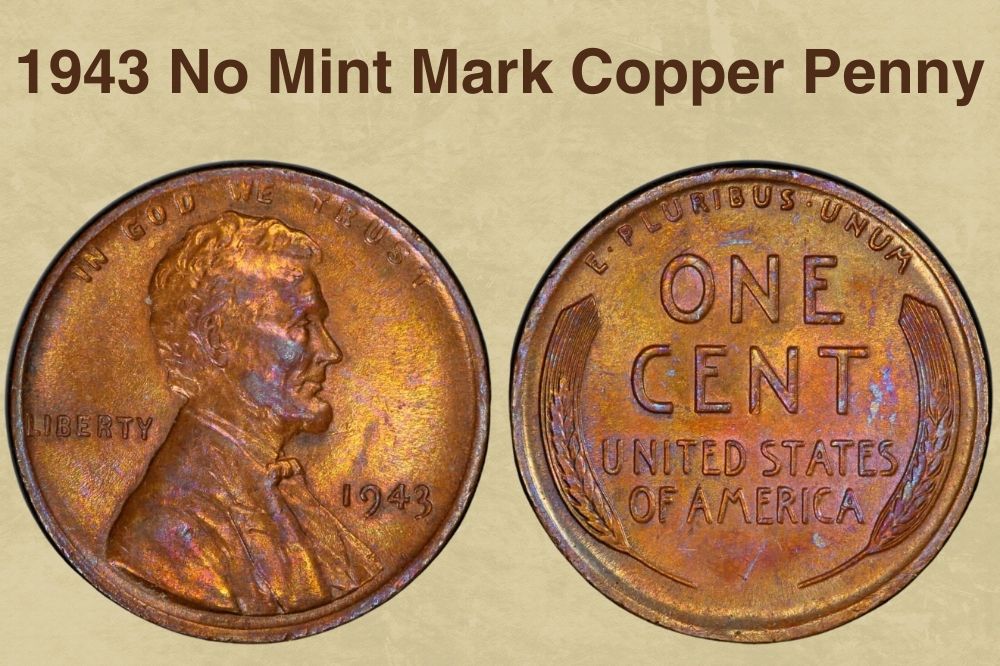 Category:

Wheat Penny

Edge:

Smooth

Mint Mark:

None

Place of Minting:

Philadelphia

Year of Minting:

1943

Face Value:

1 Cent

Melt Value:

$0.0269

Dollar Price:

$100,000 – $409,301

Quantity Produced:

20

Designer:

Victor D. Brenner
The no-mint 1943 copper penny is one of the rarest U.S. coins ever minted. This rarity translates to an increased value, and if you play your cards right, you can make a fortune off these copper pennies.
Several of the 1943 coins are made of steel and their existence is owed to leftover copper planchets from 1942, which were used to forge these rare copper pennies. A total number of 20 coins emerged from this mintage in Philadelphia, making it the most common variety of the 1943 copper penny.
Although many numismatists believe this variety may be more, this remains undiscovered. The value of the discovered specimens however is quite high and as expected, their grade also influences their final value.
Notwithstanding, extremely fine grade 1943 copper pennies are worth $144,613, this is far more than the value of several other coins even in mint condition. The uncirculated pile is worth even more, with a value of $224,813 for the AU50 grade, while those in the MS60 grade can cost as high as $409,301.
In 2014 during a public sale, one AU55 grade 1943 copper penny sold for $329,000.
1943 D Mint Mark Copper Penny Value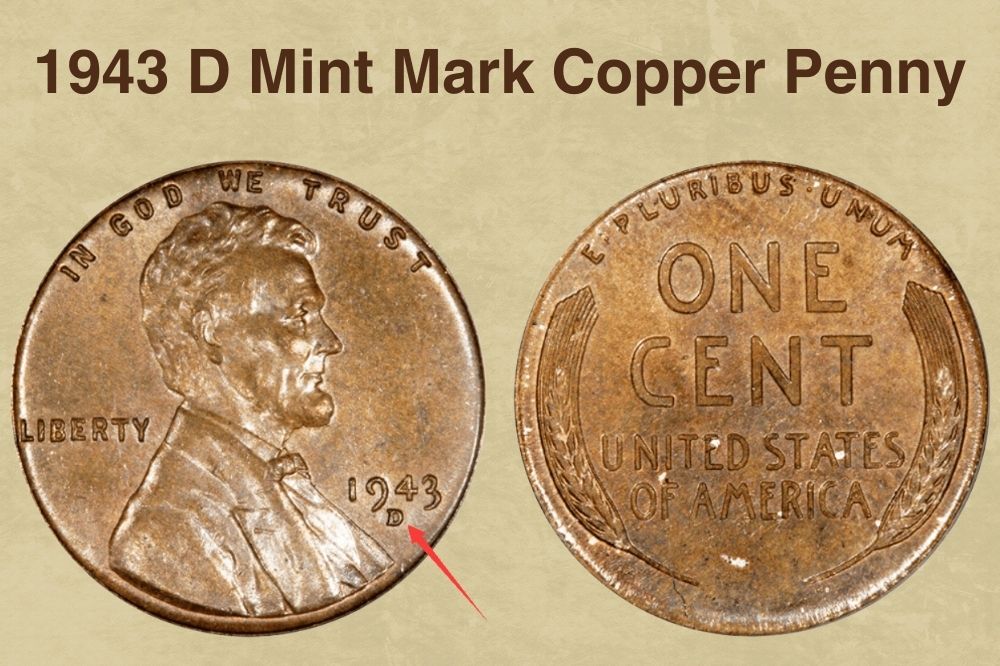 Category:

Wheat Penny

Edge:

Smooth

Mint Mark:

D

Place of Minting:

Denver

Year of Minting:

1943

Face Value:

1 Cent

Melt Value:

$0.0269

Dollar Price:

$$100,000 – $2,305,706

Quantity Produced:

1

Designer:

Victor D. Brenner
The 1943 Denver Mint copper penny is the rarest in the 1943 copper penny series. This is because there is only one confirmed example in this series which naturally makes it the most expensive 1943 copper penny coin.
Like the Philadelphia variety, the coin's mintage in Denver is a result of excess copper planchets. It is important you know that this coin is only worth much when it remains a copper penny, when melted, its value decreases.
In its uncirculated state, this 1943 copper penny is worth $2,305,706. However, for the possibility of a newly discovered D mint series, a coin in good grade is estimated to be worth at least $100,000 and $150,000 for a fine grade, while an extremely fine mint is valued as high as $451,026.
This coin sold for $1,750,000 in 2010 but the price has almost doubled since it was last graded.
1943 S Mint Mark Copper Penny Value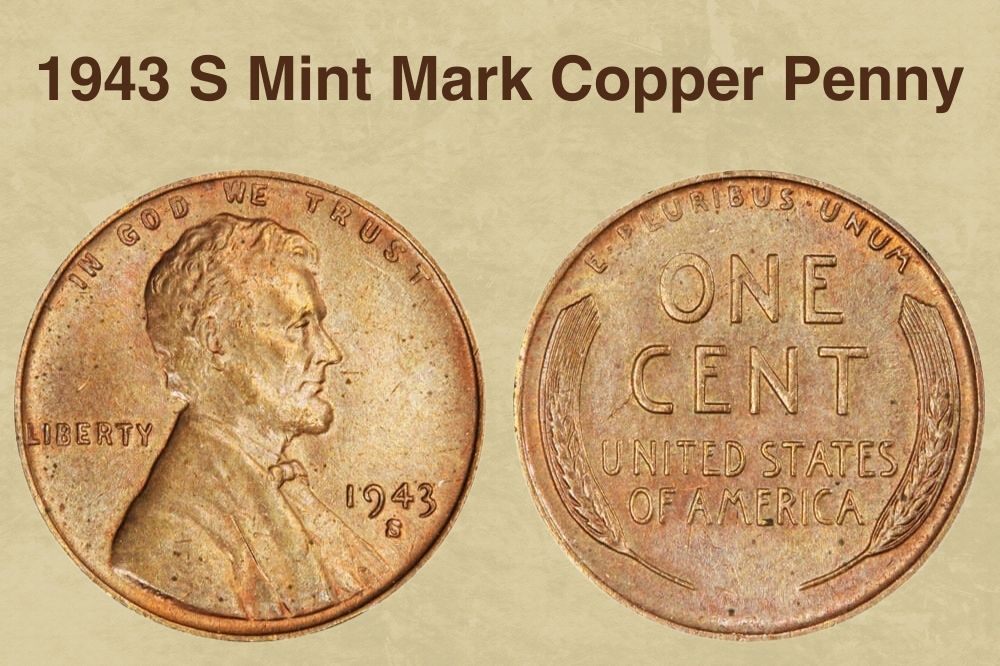 Category:

Wheat Penny

Edge:

Smooth

Mint Mark:

S

Place of Minting:

San Francisco

Year of Minting:

1943

Face Value:

1 Cent

Melt Value:

$0.0269

Dollar Price:

$100,000 – $438,763

Quantity Produced:

5

Designer:

Victor D. Brenner
The San Francisco mint produced only five verified samples of the 1943 copper penny; these five units are some of the most expensive coins ever recorded and although rarer than the Philadelphia mintage they are more common than the Denver variety.
An extremely fine copper wheat penny with an S mint mark is valued at around $252,182, while an uncirculated mint in a lower grade like the AU50, goes for $438,763—the higher MS60 grade values for as high as $593,651 in the coin market.
If you find a coin of higher grade, you should know that it automatically becomes the most expensive coin in this variety. In January 2018, one 1943 copper penny with an S mint mark was sold for $228,000 by Heritage Auctions.
Also read: 12 Most Valuable Lincoln Penny Worth Money
1943 Copper Penny History
In addition to being tagged fortune-making pennies due to the history surrounding their formulation and circulation, the copper pennies of 1943 are also known as error coins because of how they came to be, especially during the mintage era.
During World War II, the U.S. government resolved that mints would use only steel to make coins. This decision was so that the country would channel the bulk of the available copper into armor production for the soldiers in the war.
The 'error' that brought about this set of rarities is that copper planchets left in the press hoopers were used while minting the details on the 1943 pennies before the switch to steel was affected. Interestingly, this issue occurred across all three Mints, so it is debated whether it is truly an error coin.
As the mint released the few mints produced, they instantly became valuable in the coinage market as they were rare. These made many coin collectors seek these coins to discover why it is so rare and the demand plunged the prices upward.
Furthermore, a rumor sparked in the United States in the late 1940s that Henry Ford, the owner of the Ford Company was also interested in these rare coins and would grant anyone who came across one of these rare coins a car.
Finding one of these 1943 copper coins was difficult and it was not until 1944 that collectors first discovered and confirmed its existence when they found it with a 14-year-old This coin was found to be in extra fine grade condition and it sold for $40,000.
At least 40 pieces of these coins are rumored to have come from these mints but there are 26 confirmed pieces according to the U.S coin book. Twenty of these come from the Philadelphia mint, five from San Francisco, and one from the Denver mint.
Additionally, you must know there are many fakes flying around. Some of them are ordinarily copper plated, while a lot of the others are pennies from other years filed down, especially by the three from the mint year.
Below are four ways you can use to verify if your copper penny is a genuine one.
A 1943 copper penny will not attract a magnet like its steel counterpart

The three at the end of the mint year for the genuine copper penny usually have a long-tailed appearance

A copper penny weighs 3.11g, while steel weighs lesser 2.702g

The quality of the strike is higher because the soft copper planchets were used with the same pressure used for the steel counterparts
Also read: 13 Most Valuable Wheat Penny Worth Money
1943 Copper Penny Grading
Although not many of these coins are confirmed, grading remains necessary because this will help determine the coin's worth at any point in time. The 1943 copper pennies can be classified into good grade when they are not in the best of conditions or fine grade if they possess slight scratches.
Extremely fine and the uncirculated grades are usually the most valuable in this variety. They will possess no marks and are very much sought after.
Also read: 17 Most Valuable Indian Head Penny Worth Money
Rare 1943 Copper Penny Error List
The 1943 copper penny is a rare coin itself, so any coin from this series with an extra error is a real discovery. Error coins in this category are few since the total number of mintages here are few, but here is one valuable mint mistake.
1943 Copper Penny Die Crack Error
One verified error coin from the 1943 copper category is the die crack error at the bottom of the coin's obverse side. It features a visible die break on the coin and many collectors refer to it as the cud of the obverse.
This error happened while the coin was struck at the Philadelphia mint. The planchet metal shifted, creating a blob on the coin. The blob cuts out part of Lincoln's coat on the design, it's no wonder the coin is graded an MS62 by the NGC, and valued at around $575,000.
The owner of this coin was Albert Michael Pratt, who worked at the U.S mint during the same period the min produced the 1943 copper penny. His son inherited this fortune coin from him.
Also read: 11 Most Valuable Wheat Penny Errors
1943 Copper Penny FAQs
How Do You Spot a Fake 1943 Copper Penny?
If your 1943 copper penny is anything but a brown color, it is most likely fake. To confirm, try using a magnet to attract the coin; if it does, you can confirm that it is fake.
Another way is to use a magnifying glass to check if the number 3 from the mint year 1943 has any work done. If it is filed, it means the coin is a dupe due to artisans altering the coins from the same era.
Can You Make a Fortune Off the 1943 Copper Penny?
Typically, the 1943 copper penny fetches a whooping sum of $100,000 – $250,000, which you can consider a fortune. If you possess a verified original, chances are you can make a fortune off your penny.
How Rare is the 1943 Copper Penny?
The 1943 copper penny is an incredibly rare variety from the other 1943 pennies as a result of its composition. Many believe this coin is a famed error coin and it has few numbers in terms of mintage. This rarity is one of the reasons for the high value of these coins.
How Many 1943 Copper Pennies did the Mints Produce?
These 1943 copper pennies have limited mintage however, no one is sure of the exact amount produced across the mints. Coin experts suggest that these coins may be up to forty based on the production error but only 26 are confirmed to exist so far.