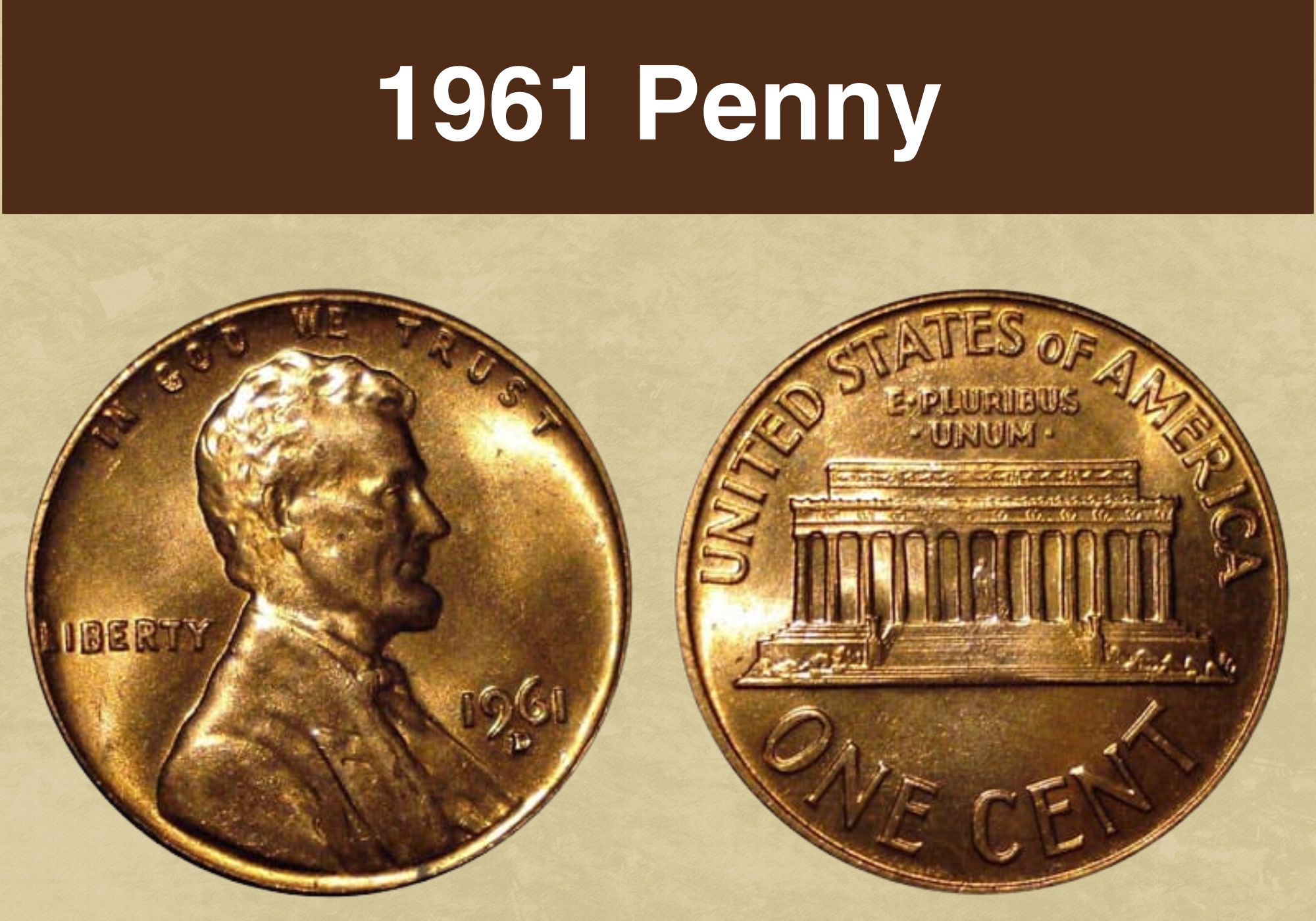 The first Lincoln Memorial pennies appeared in 1959 when the US Mint re-designed their reverse appearance. The 1961 penny value is connected with the mintage, the mint they were produced, and the fact these coins belonged to the early series.
Many people consider pennies inexpensive without thinking about their face value. In reality, even the $1 for one-cent coins is a hundred times higher price than their denomination. It is not cheap at all, don't you think so?
1961 penny value Chart

Condition
1961 No Mint Mark penny
1961 D penny
MS 60
$0.17
$0.17
MS 65
$1.16
$1.16
PR 65
$1.75
/
History of the 1961 Penny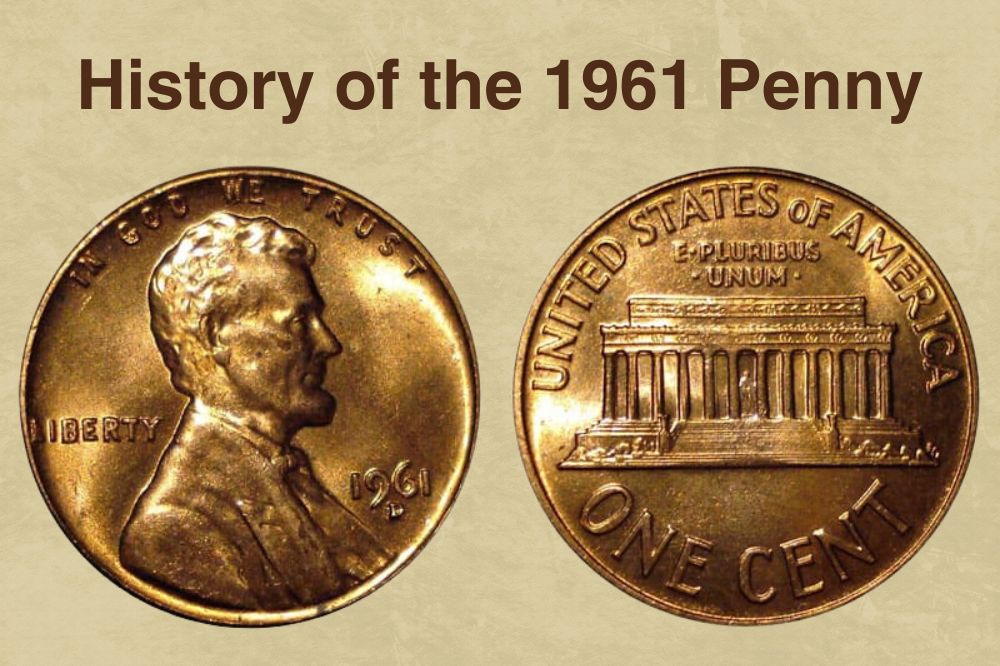 The first pennies with the Lincoln bust on the obverse appeared in 1909. It was a way for the US Mint to contribute to celebrating the 100th birth anniversary of one of the most beloved American presidents.
The curiosity was that this penny was the first in American coinage with a real person and President to appear on the obverse. By that moment, the US Mint stuck to Washington's principle that adding genuine people on the coins is too British and monarchical.
1961 penny Types

Location
Year
Minted
Philadelphia
1961 No Mint Mark penny
753,345,000
Philadelphia
1961 proof
3,028,244
Denver
1961 D penny
1,753,266,700
Total
/
2,509,639,944
After 50 years, the US Mint officials decided to celebrate 150 years of the President's birth. The decision was to keep the initial obverse while the reverse was re-designed.
Engraver Frank Gasparro replaced famous wheat ears occupying most of the reverse design. He intended to depict the Memorial based on the original in Washington, DC.
Interestingly, a brilliant artist incorporated a small Lincoln statue inside the monument. You can see it when looking better between the pillars. That idea made this lovely coin unique one more time and probably the most recognizable piece in American coinage.
Lincoln cents showing the third re-designed reverse are still circulated coins, but the first two series are also valuable collectibles. The 1961 cents are considered moderately old pieces, but their value in the mint state can be significant.
Also read: 12 Most Valuable Lincoln Penny Worth Money
Features of the 1961 Lincoln Memorial Penny
Even though only two mints produced 1961 pennies, their mintage is exceptionally high. The total number of coins released into circulation this year was 2,509,639,944, including over three million collectible proofs.
The obverse of the 1961 Memorial penny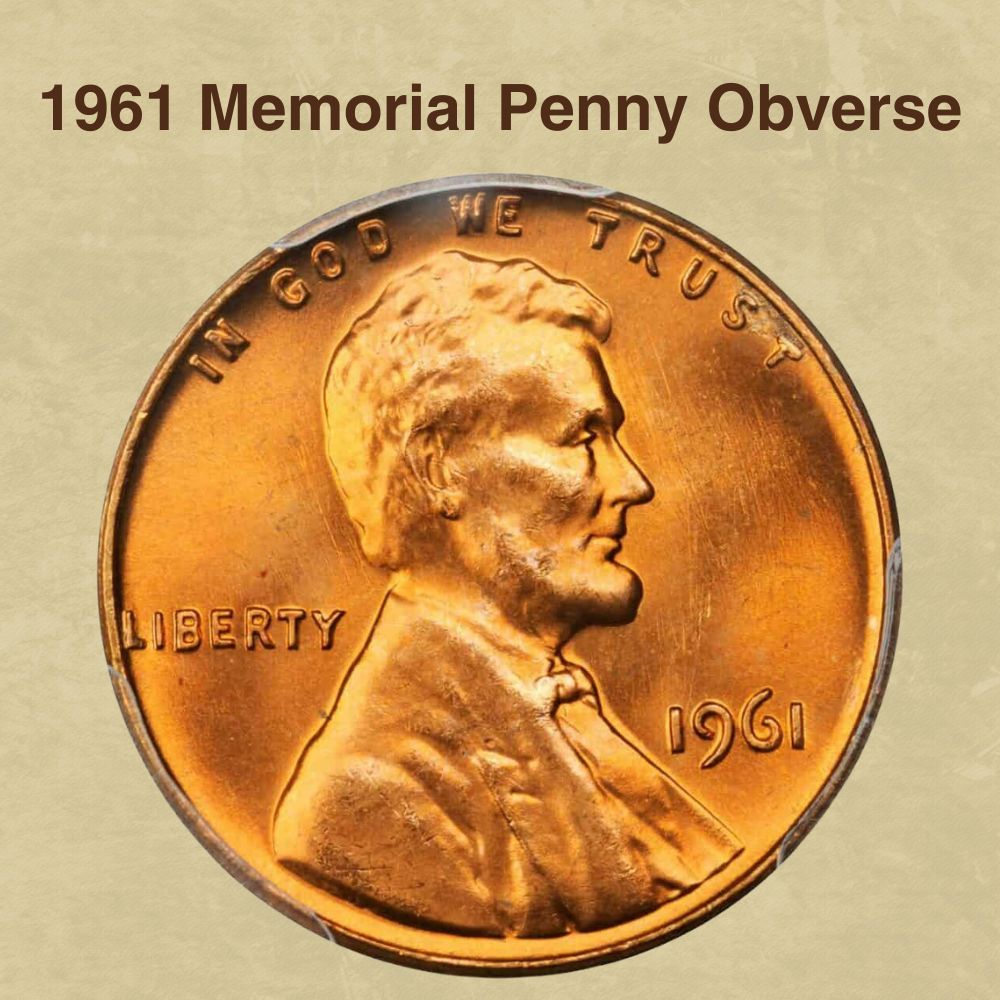 Unlike the reverse, which changed its look every 50 years, the obverse stayed the same over time. Therefore, you can expect to see Lincoln's profile on the 1961 Memorial penny that looks identically to his image on coins from the first series.
Besides the 16th President's bust, this side depicts the minting year with the mint mark below on coins from Denver. The encouraging motto, IN GOD WE TRUST, is above his head, offering hope and showing Americans' faith.
Finally, there is LIBERTY struck on the left side of the coin. The designer's initials (VDB from Victor David Brenner) are found their place below Lincoln's shoulder.
The reverse of the 1961 Memorial penny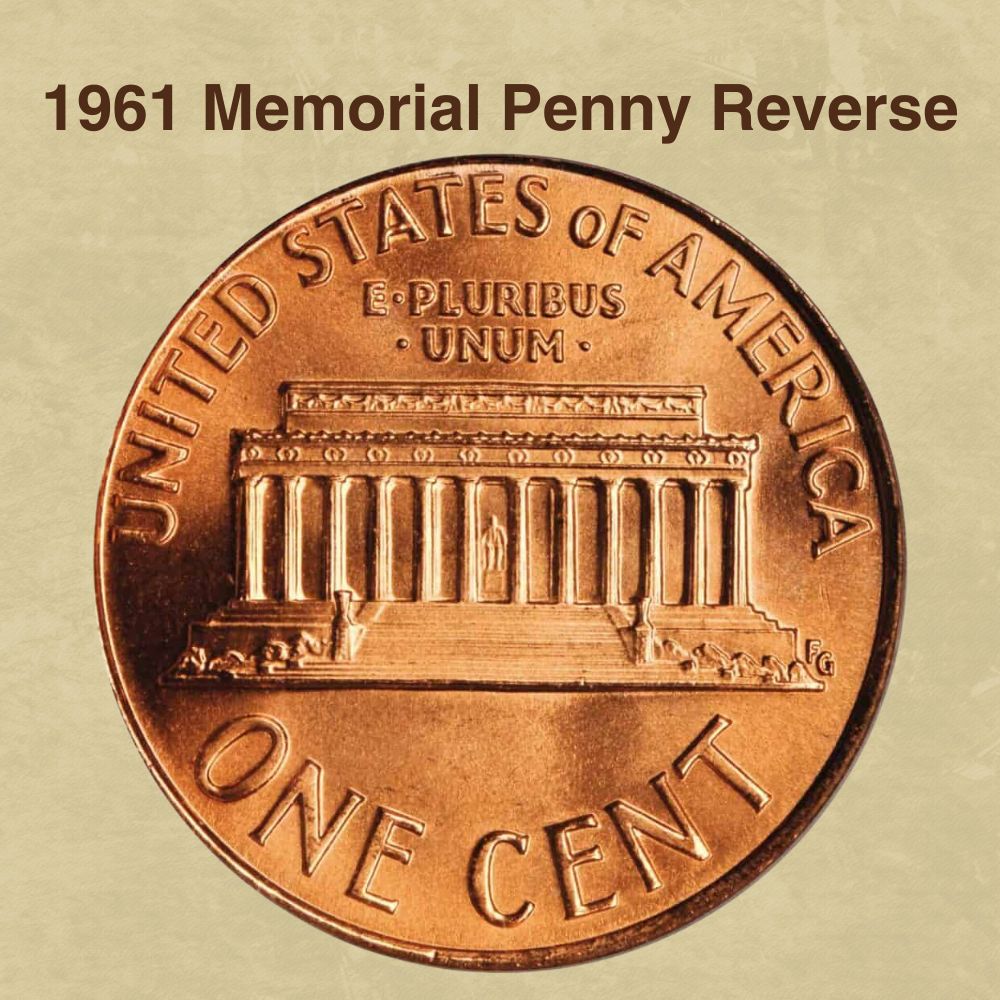 As its name suggests, this penny minted in 1961 has a Lincoln Memorial on the reverse, occupying most of the space. Besides, a few inscriptions surround the building.
The Memorial is framed by the ONE CENT denomination from below. The top coin part is reserved for the name UNITED STATES oF AMERICA, and E · PLURIBUS · UNUM · placed under it.
Interestingly, the designer placed a tiny sculpture representing the 16th President between the two centrally positioned pillars. You can also see his initials on the right of the stairs.
Always pay attention to the stairs when looking at this penny. Frank Gasparro's design included six steps, but only rare coins have all of them visible.
Therefore, specimens with 5 or 6 steps (Full Steps coins) are highly collectible. On the other hand, those with less than four are less sought-after and tend to be inexpensive.
1961 penny Details

Face value
$0.01 (one-cent coin)
Compound
An alloy of 95% copper with tin or zinc (5%)
Coin thickness
0.06 inches (1.52 mm)
Shape
Round
Coin diameter
0.75 inches (19.05 mm)
Coin weight
0.11 ounces (3.11 g)
Edge
Plain
Other features of the 1961 Lincoln penny
Like other Memorial pennies, those minted in 1961 are plain-edged one-cent coins that weigh 0.11 ounces (3.11 g) and have a diameter of 0.75 inches (19.05 mm). These 0.06-inch (1.52 mm) thick coins are made of 95% copper.
Also read: 13 Most Valuable Wheat Penny Worth Money
1961 Penny Value Guides
Only two mints produced 1961 Memorial pennies and released most into circulation. Besides regular coins, the Philadelphia mint struck proofs, so the total cent mintage for circulation and collectors this year was 2,509,639,944.
1961 No Mint Mark penny Value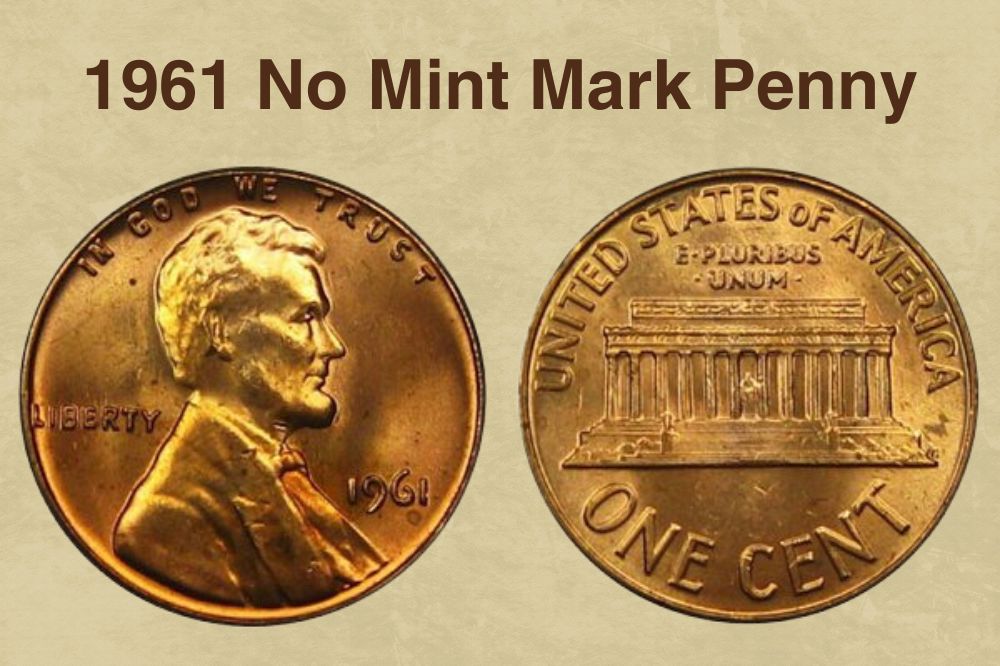 The Philadelphia mint produced significantly fewer 1961 No Mint mark pennies than the one in Denver, 753,345,000 pieces. That affects their current prices, which range from $2 to $16 per red-colored piece. Only those graded MS 67 can be pricey for this coin type. Their assessed price is approximately $375.
The most expensive coin of such quality sold at $5,720 in 2013. You can also find brown and red-brown pieces, but their prices are rarely over their face value. However, a few appeared at auctions and reached $100 to almost $600.
1961 proof penny Value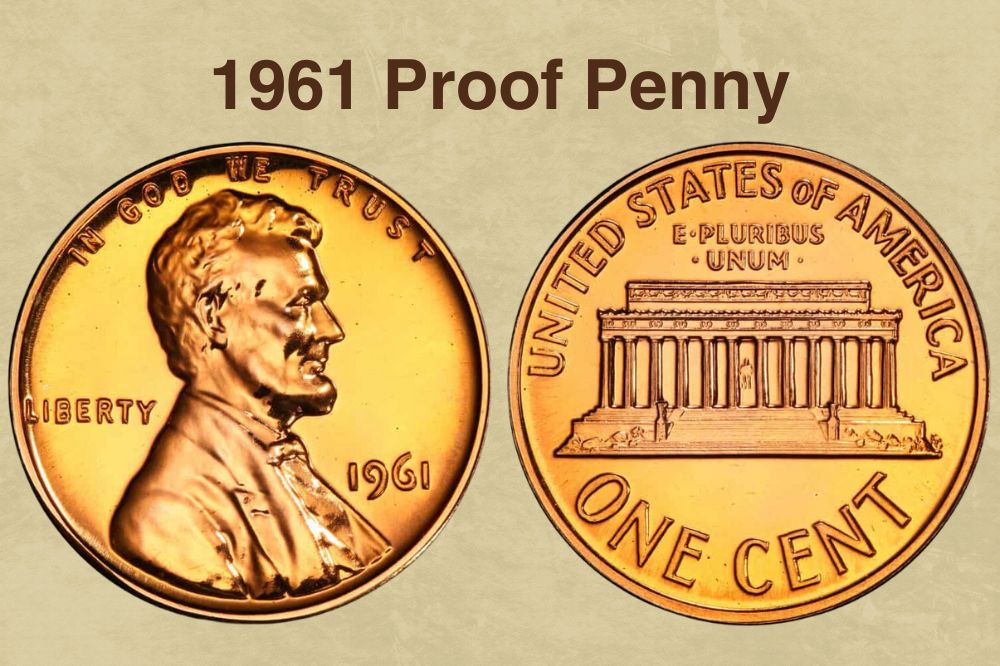 The Philadelphia mint issued 3,028,244 proofs in 1961 to respect all interested collectors. You can recognize coins with different toning, depending on their quality and preservation over the years.
For instance, red-colored 1961 pennies cost their face value in PR 60 to PR 63 grade, while higher-rated pieces (PR 68) can reach $22. You can buy the best-looking PR 69-graded cents for approximately $100.
The red 1961 pennies with cameo contrast cost $1 to $40, while those with a PR 69 rating are worth about $175. However, the party starts with DCAM coins. While you should pay $24 to $75 for those in lower grades (PR 66 to PR 67), the best-preserved ones cost:
PR 68-rated pennies are assessed to $440 to $600
PR 69-rated pennies are assessed to $5,000 to $6,000
Auction records can be a surprise when it is about these coins. For instance, one collector bought a PR 65-graded red cent from 1961 for $1,265 in 2006.
The one with CAM quality and PR 69 grade sold at $1,035 in 2005, while the most expensive is the 1961 PR 69 DCAM cent. Its auction price was $4,320 in 2018.
1961 D penny Value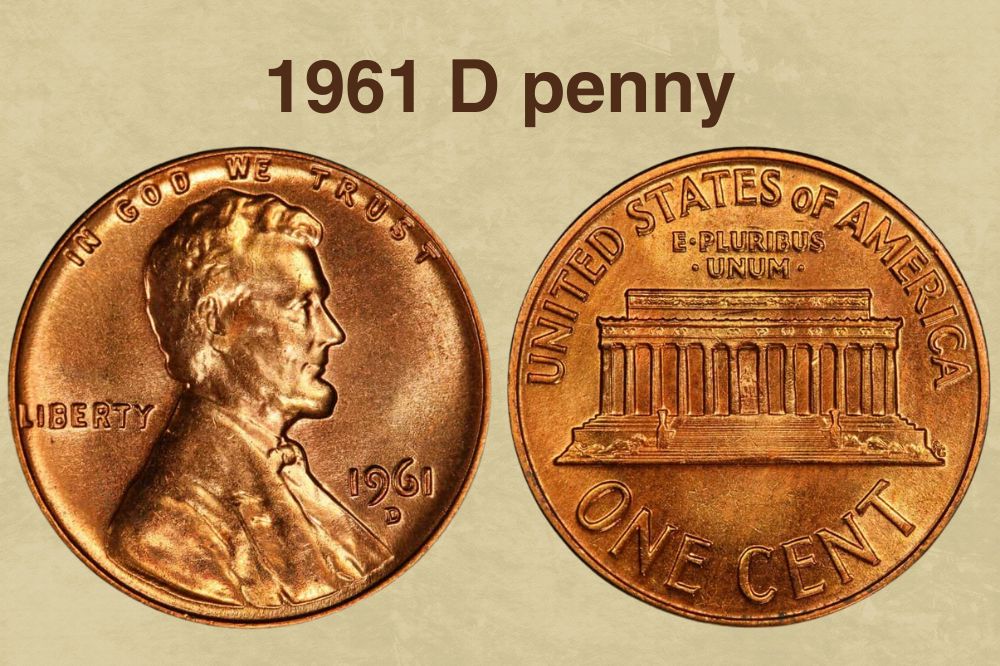 Thanks to a huge mintage of 1,753,266,700 pennies, you can expect these coins to be affordable despite their condition. Collectors consider only red specimens worth collecting, and their prices range from $0.40 for an MS 60-ranked piece to $15 for a cent in an MS 66 grade.
Relatively rare pennies with MS 67 ranking are worth about $320, but a few specimens reached significantly better prices at auctions. For instance, one excellently preserved red penny minted in Denver was purchased for $4,406 in 2014.
Also read: 17 Most Valuable Indian Head Penny Worth Money
1961 Penny Grading
Since pennies in this set are typically widely available and of relatively low value, most owners refuse to pay for their precise evaluation. Only rare coins unique by some criteria go through professional hands. That is the only way to find their exact place on the Sheldon grading scale and determine their precise price.
Rare 1961 Penny Errors List
Like most pennies, the 1961 Memorial cent set is full of errors that are standard for this coin type. Only rare pieces with significant imperfections stand out from the crowd and can be more collectible and costly more than others.
Doubled die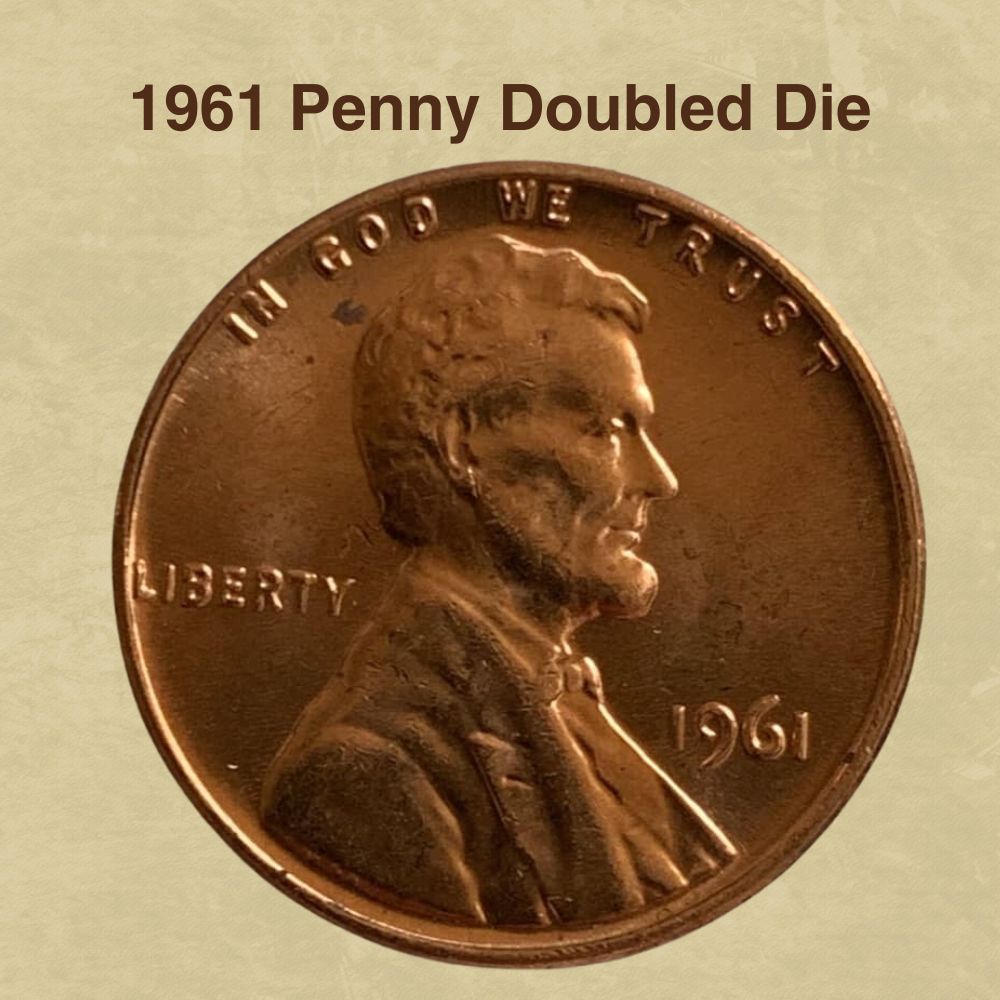 Doubled die error pennies are always collectible, and you can expect them to be more valuable than regular ones. However, those imperfections among cents minted in 1961 are typically minor and often visible only under a magnifying glass.
So, there is no need to look for pieces worth hundreds of dollars, like in some other sets. Your best shot is to buy a coin with a minor doubling on lettering or the date for about $5 to $20. Thanks to low prices, these pieces are an ideal solution for low-budget collectors and novices.
Re-punched mint mark
Since workers from the Denver mint didn't have machines for punching the mint mark, they did it by hand. Even though this manual method was abandoned in the early 1960s, cents minted in 1961 can still appear with an RPM error.
You can recognize three penny varieties depending on the mint mark position. They include:
Pennies showing the sideways-struck initial mint mark with another one re-punched over it on the correct way
Pennies with re-punched the previously upside-down struck letter D
Pennies with two letters D, the one in the wrong place and another one struck at the right place
Most of these error coins are easy to find on the market for approximately $3 to $5, but specific 1961 D/horiz D pennies can bring you $10 to $60. Only rare, stunning pieces are worth more, like the red one in MS 65 grade, which sold at $228 in 2010.
Off-center
If you are a passionate coin collector, you know how desirable and collectible pennies with a 40% to 60% off-center error are. Be aware that most serious collectors look for pieces with over 50% crescent-shaped blank space.
However, they won't accept those with too little design, particularly without a visible date. You can count on $100 for cents with a 50% off-center error.
Remember that coins with minimal imperfections of 1% to 3% off-center are virtually worthless. On the other hand, 5% to 10% off-center 1961 Lincoln pennies have a standard price range from $5 to $15.
Also read: 11 Most Valuable Wheat Penny Errors
FAQ about the 1961 Penny
What makes a 1961 Memorial penny rare?
Memorial pennies minted in 1961 are inexpensive and abundant nowadays, which is excellent news for most collectors, particularly novices.
Interestingly, even those prepared to pay thousands of dollars for one coin can find satisfying pieces. Rare perfectly preserved pennies or a few unique errors can be rare, making them expensive collectibles.
Which 1961 Lincoln pennies are the most expensive in the set?
At Great Collections, the 1961 MS67 penny, red, was sold at $5,720 in 2013
At Heritage Auctions, the 1961 D MS67 penny, red, was sold at $4,406 in 2014
At Heritage Auctions, the 1961 PR69 penny, DCAM, was sold at $4,320 in 2018
On eBay, the 1961 D Genuine penny, brown, was sold at $4,000 in 2021
At Heritage Auctions, the 1961 PR65 penny, red, was sold at $1,265 in 2006
At Heritage Auctions, the 1961 PR69 penny, CAM, was sold at $1,035 in 2005
At Heritage Auctions, the 1961 MS63 penny, brown, was sold at $576 in 2022
On eBay, the 1961 D MS65 penny, red, D/horiz D, was sold at $228 in 2010
At Heritage Auctions, the 1961 MS60 penny, red-brow, was sold at $104 in 2003
At Heritage Auctions, the 1961 D MS63 penny, red-brown, was sold at $72 in 2006
At Heritage Auctions, the 1961 D XF45 penny, brown, D/horiz D, was sold at $45 in 2022
On eBay, the 1961 D MS64 penny, red-brown, D/Horiz D, was sold at $42 in 2018
How much is the Philadelphia 1961 Memorial penny worth?
Collectors are often uninterested in circulated cents since those in the mint mark are available on the market. You need only $2 to $16 to get one decent piece. If you want to get ultimate quality, the best solution is the MS 67-graded pennies. In this case, it is necessary to count on an average price of $375.
What is the most pricey Memorial penny?
The first Memorial cents appeared in 1959, and you can see this reverse design on all coins minted during the next 50 years. Most are affordable, but some unique pieces are sold at high sums, including the costliest ones:
In 2006, the 1999 MS66 Lincoln cent cost $138,000
In 2008, the 1969 S MS64 Lincoln (Doubled Die Obverse) cent cost $126,500
1959 D MS60 Lincoln cent cost $48,300
1963 PR70 Lincoln cent cost $40,250
1992 MS67 red Lincoln cent (Close AM) cost $25,850