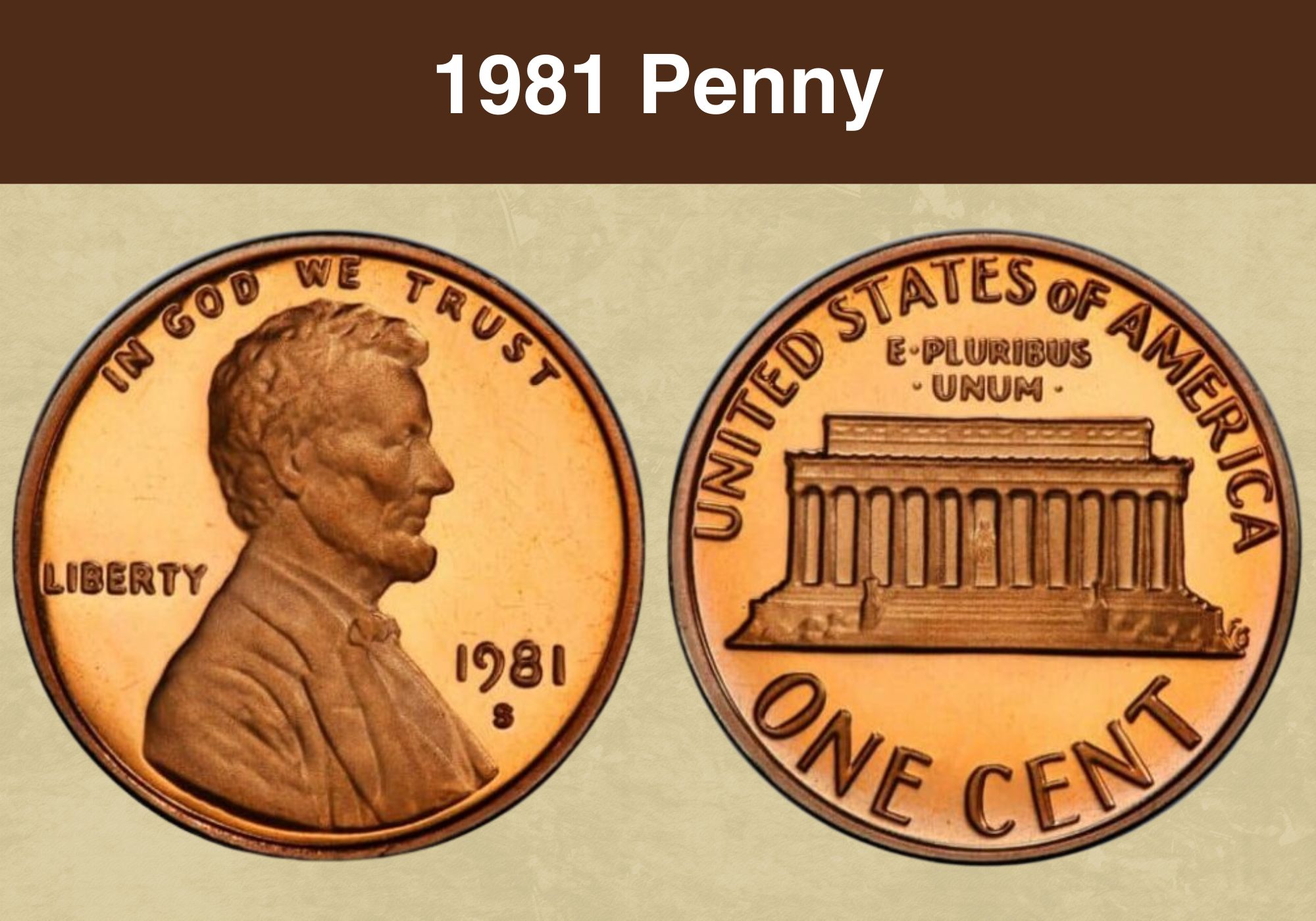 The Lincoln Memorial Penny is the US Mint's lowest denomination. These coins have a long history as the first commemorative specimens with a portrait of one of the American presidents. Consequently, they still attract a lot of attention from collectors, especially pieces from an earlier period.
Expectedly, coins from the later sets are not so attractive for collecting, making them affordable in today's coin market. Due to the high circulation, the 1981 penny value is not particularly significant. Even though condition and the mint mark significantly affect their value, pieces with errors are often those with the highest price.
1981 penny value Chart

Condition
1981 No Mint Mark penny
1981 D penny
1981 S TY 1 penny
1981 S TY 2 penny
MS 65
$1.16
$1.16
/
/
PR 65
/
/
$3.38
$17
History of the 1981 Penny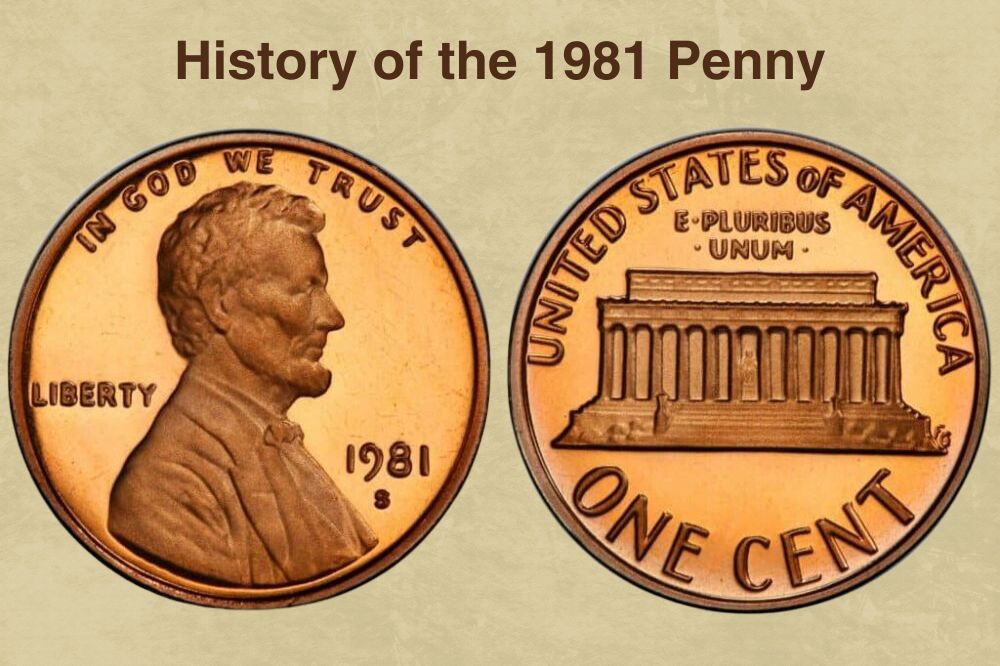 Lincoln pennies have a long history and are one of the most popular coins from the United States Mint. The first specimens were minted in 1909 as commemorative coins in honor of the 100th anniversary of Lincoln's birth. With their appearance, they replaced Indian head pennies.
The creator of this design was Victor David Brenner. He showed the late President's portrait on the obverse while wheat stalks found their place on the reverse. Because of these stalks, this coin got the name the Wheat penny.
Until that year, the American public considered it inappropriate to have the likeness of a real-life person on coinage, so all previous coins depicted Lady Liberty or fictional Native Americans. The Lincoln penny was the first coin that deviated from that custom.
This coin type experienced several changes in composition and design during its long life. While the obverse appearance didn't change, the reverse underwent the first redesign in 1959.
In honor of the commemoration of the 150th anniversary of Lincoln's birth, Frank Gasparro created a new reverse design depicting the Lincoln Memorial. Additionally, the designer placed a President's figure between the pillars, making this coin the first with such a design solution. The last Memorial pennies appeared in 2008.
1981 penny Types

Location
Year
Minted
Philadelphia
1981 No Mint Mark penny
7,491,750,000
Denver
1981 D penny
5,373,235,677
San Francisco
1981 S proof penny (Type 1 and Type 2)
4,063,083
Total
/
12,869,048,760
These pennies experienced changes in their composition several times. Initially, they contained 95% copper, but the increase in this metal price on the stock market forced the US Mint to change this. Coins from 1981 are the last containing such a high copper percentage. Since 1982, the metal alloy has become 97.5% zinc.
Also read: 12 Most Valuable Lincoln Penny Worth Money
Features of the 1981 Penny
Almost all American coin designs changed from time to time, so pennies were not an exception. While the obverse look remained unchanged, showing Lincoln's profile, the US Mint changed the reverse every 50 years. Pennies from 1981 are a part of the Memorial series with this President on both coin sides.
The obverse of the 1981 Lincoln penny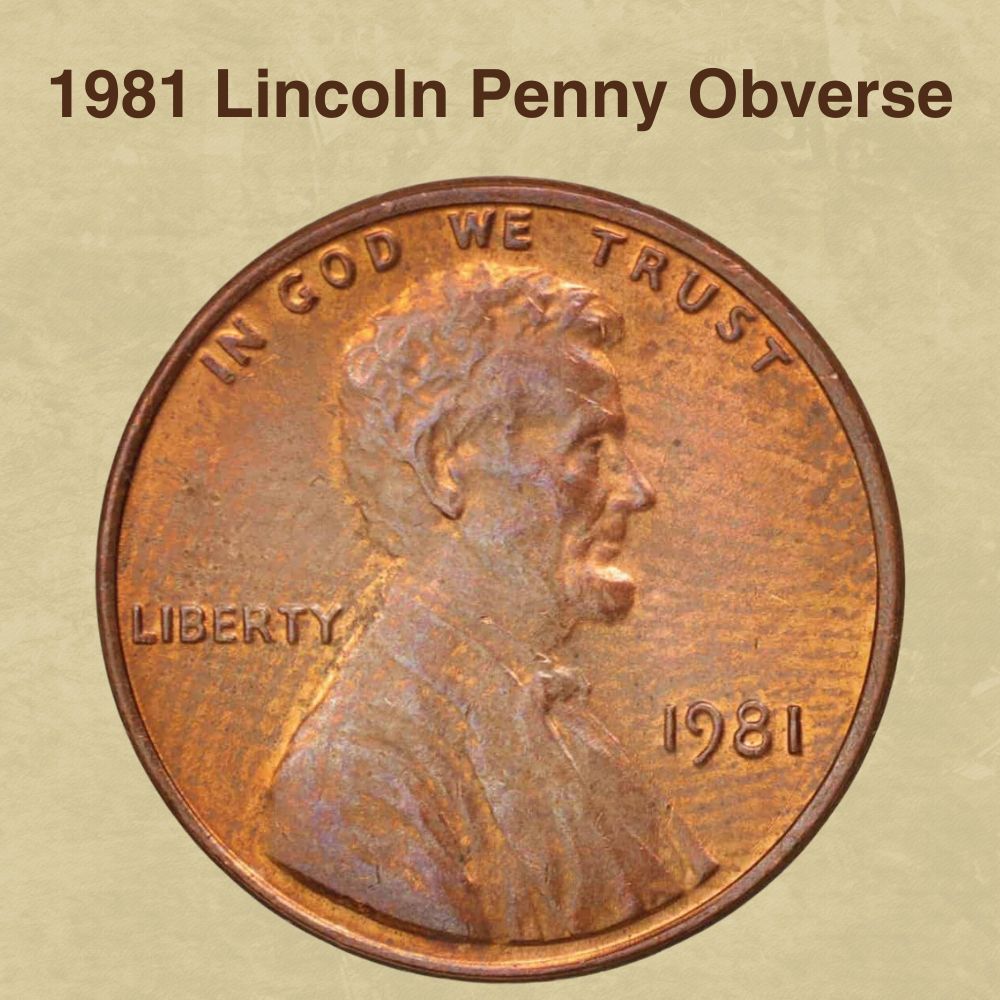 The bust of the 16th American President is dominant on the coin obverse. This right-facing profile occupies the central part of the coin's surface, depicting Lincoln in an elegant coat with a shirt and tie underneath.
Above his head on the top rim, you can see the phrase IN GOD WE TRUST. Behind the portrait on the left side of the coin is the word LIBERTY, while the minting year is in front of it on the right side. There is also the mint mark, except on coins minted in Philadelphia.
The reverse of the 1981 Lincoln penny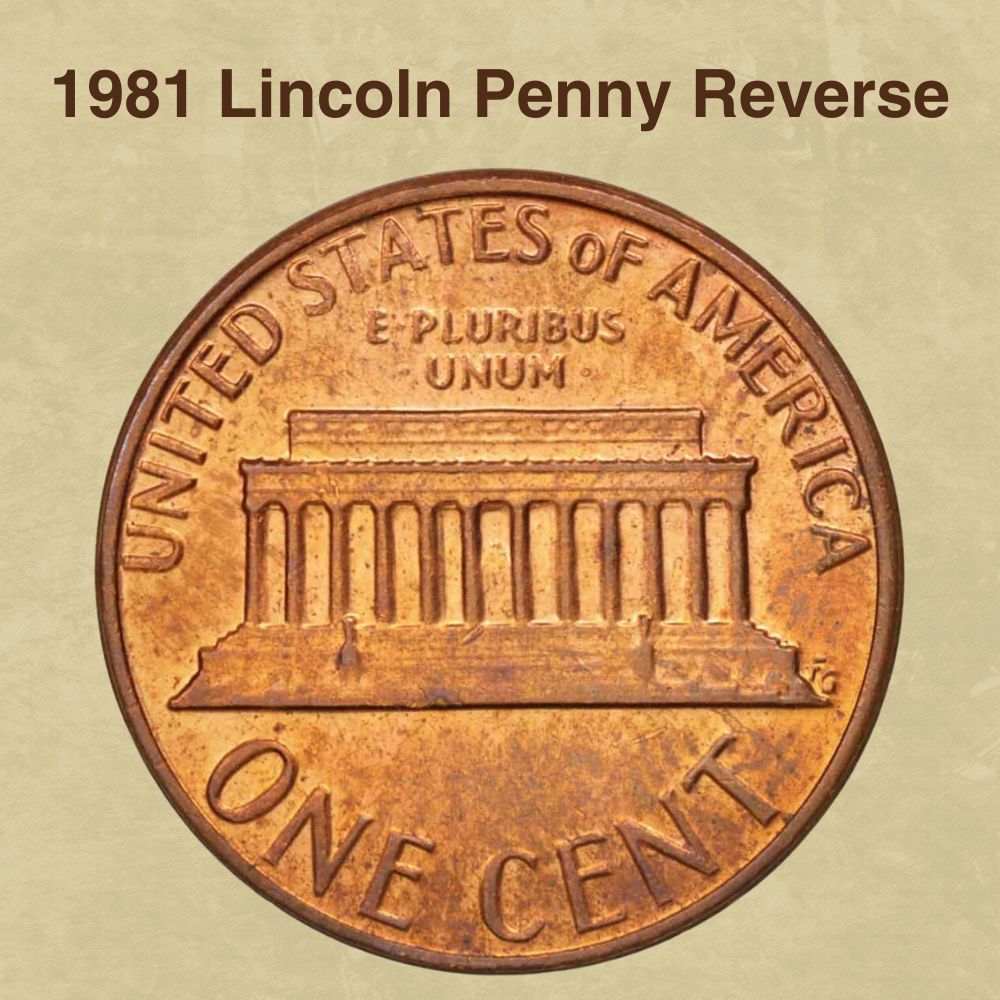 The reverse shows the Lincoln Memorial with twelve pillars. You can notice the characteristic Lincoln figure between centrally positioned ones. Directly above the Memorial is the saying, E PLURIBUS UNUM, and the name of the country stretches along the upper rim.
On the lower rim under the stairs of this building, you can see the denomination ONE CENT. Plus, on the stairs' right side, you can read the letters FG, the designer Frank Gasparro's initials.
1981 penny Details

Face value
$0.01 (one-cent coin)
Compound
An alloy of 95% copper with zinc (5%)
Coin thickness
0.06 inches (1.5 mm)
Shape
Round
Coin diameter
0.75 inches (19 mm)
Coin weight
0.11 ounces (3.11 g)
Edge
Plain
Other features of the 1981 Lincoln penny
The 1981 Lincoln penny has 95% copper with a small amount of zinc. This coin is round in shape with a plain edge, while its diameter is 0.75 inches (19 mm). With a weight of 0.11 ounces (3.11 g) and a thickness of 0.06 inches (1.5 mm), it matches the standards of other pennies minted over the years.
Also read: 13 Most Valuable Wheat Penny Worth Money
1981 Penny Value Guides
The US Mint struck a high mintage of 12,869,048,760 pennies in 1981 at three different mints. You can distinguish between four variants in that coin's mintage, and two belong to proof pennies.
1981 No Mint Mark penny value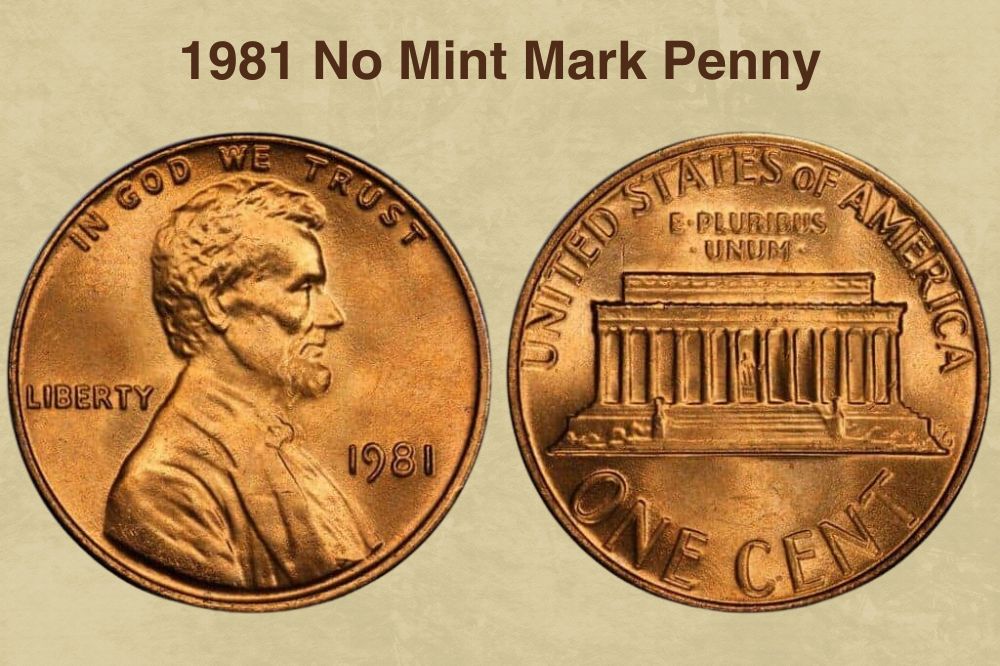 Among 7,491,750,000 pennies minted in Philadelphia in 1981, none has the mint mark. Such a high mintage has a significant impact on these coins' value, and you can effortlessly find them in circulation nowadays.
One red 1981 Memorial penny in average condition is worth its face value of one cent. Uncirculated specimens in an MS 60-graded cost $0.2, while you should set aside $1 for the one ranked MS 65.
Pieces with MS 66 and MS 67 grades are a bit more expensive and typically cost $15 to $85. Auction records for these coins range from $700 to $3,000, depending on their color.
1981 D penny value
In 1981, the Denver mint minted 5,373,235,677 Memorial pennies. The letter D on the obverse can help you distinguish them from other coins released that year. As the mintage was plentiful, you can still find them in circulation.
The circulated pennies' value is low, and their price on the coin market is only one cent. Specimens in the mint state are not particularly valuable either, except for those with high grades.
Therefore, you can buy pieces graded up to MS 65 for up to one dollar. Coins ranked MS 66 are worth $9, while you need to set aside $130 for an MS 67-graded coin. The record price of $5,170 went to the red 1981 D MS 67+ Lincoln penny in 2017.
1981 S proof penny value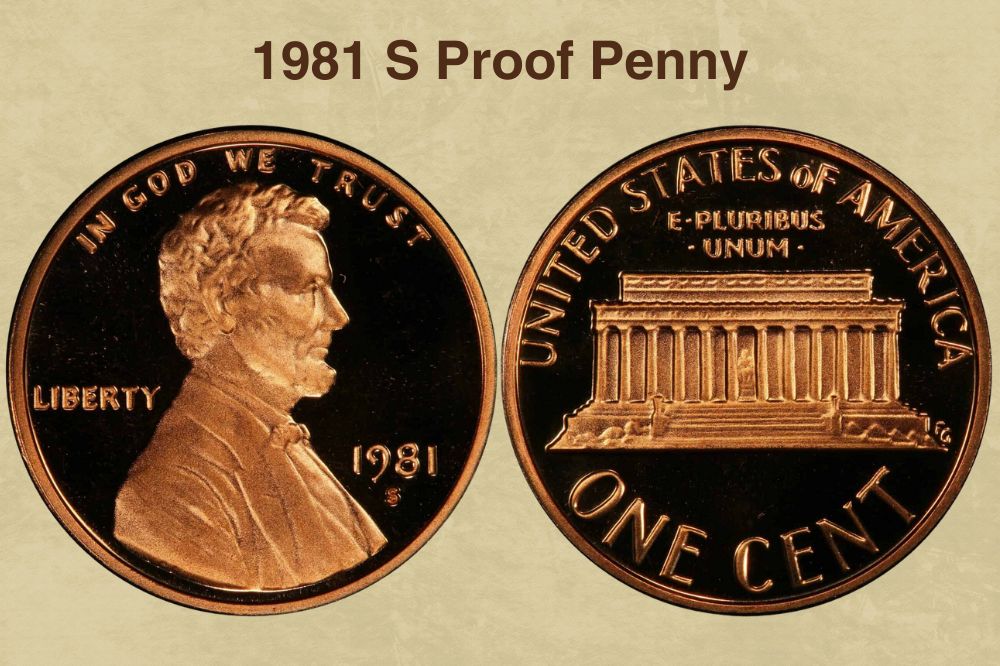 Proof pennies from 1981 are marked S on their obverse, which means they are from the San Francisco mint. In the total mintage of 4,063,083 specimens, there are two variants of these coins, Type 1 and Type 2.
In Type 1, the letter S is filled in and looks like it is in bold. That's why this variant is also called Filed S. On the other hand, the letter S is thinner in Type 2, and this variant is called Clear S.
Both coin types have different values, but they are not high due to their abundance on the coin market. You can buy Type 1 DCAM specimens with a grade of PR 60 to PR 65 for up to one dollar. Pieces with PR 66 and PR 67 rank stand out with a price range from $15 to $85.
The Type 2 DCAM proof penny prices are somewhat different. If you decide to buy coins graded between PR 60 and PR 63, only $5 is enough. Pieces estimated from PR 64 through PR 67 can cost you anywhere from $6 to $25.
On the other hand, a specimen with a PR 68 grade is worth $35, while the most expensive is a PR 69 with a price of $75. Interestingly, the most expensive cent (Type 1) was sold at $8,050 in 2003, while Type 2 reached only $863 the following year.
Also read: 17 Most Valuable Indian Head Penny Worth Money
1981 Lincoln Penny Grading
Each coin's value is significantly affected by the grade it receives from an authorized expert. Collectors rely on the standard Sheldon grading system and evaluate each piece based on its color, shine, and preservation. Coins receive grades that range from Poor to perfect Mint State.
Rare 1981 Penny Errors List
Although the US Mint makes great efforts to avoid errors during the coining process, they can still occur. In some cases, these imperfections are clearly noticeable, but they are sometimes so subtle that you need special equipment to notice them.
Some collectors collect only coins with errors, increasing their prices up to tens of thousands of dollars. The 1981 pennies come with a few well-known errors.
Doubled die
A die that hits double coins is a result of an irregularity in the hub process. Therefore, it leaves a partially or fully doubled image on the coin surface. You can find pennies from 1981 with this error type on eBay, with prices ranging from $37 to around $150.
Die break
This error occurs as a result of the die breaking or cracking during coin striking, leading to the appearance of scratches or raised defects on the coin surface. The 1981 pennies with this error can have significant value. For instance, you can find one brown specimen in MS 64 grade on eBay for almost $700.
Off-center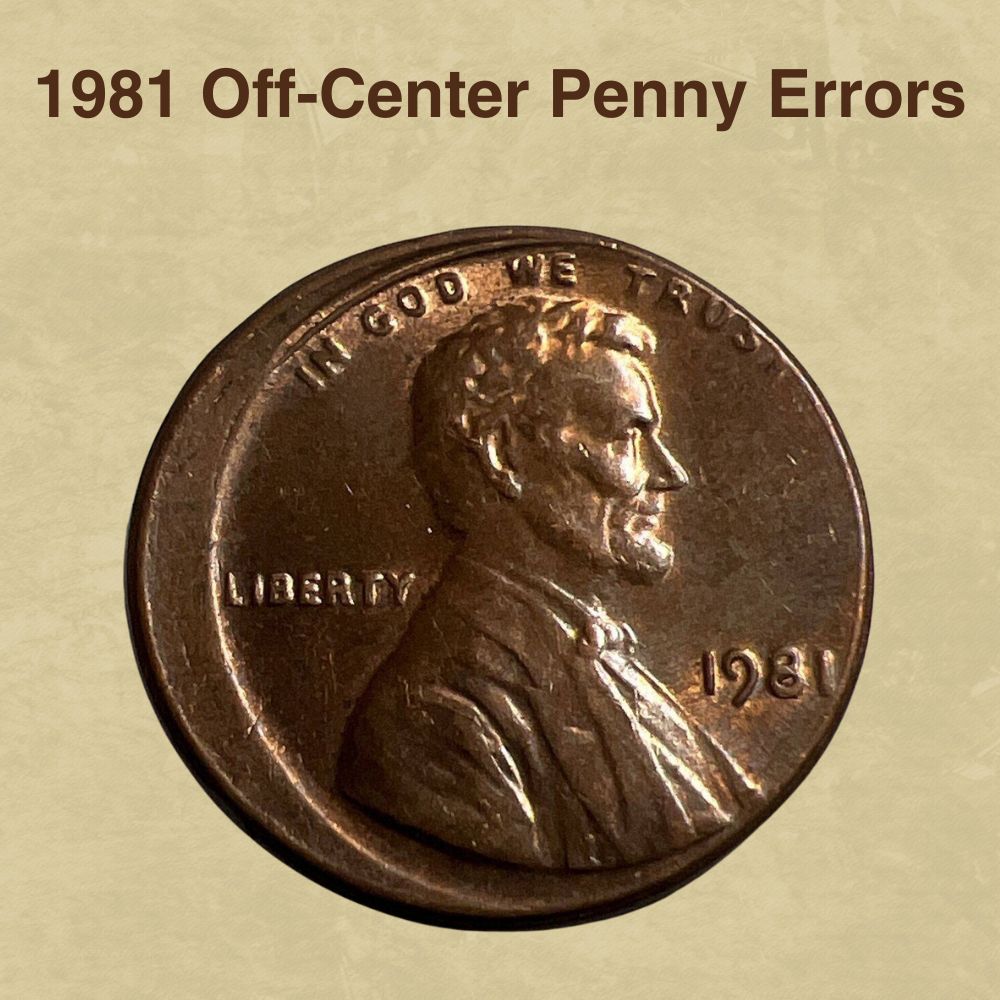 This error occurs when the die hits an improperly centered coin during minting. When you look at this penny, you can notice that part of the design is missing and has a crescent moon shape. The greater the deficiency, the greater the coin value, provided the minting date and mint mark are visible.
The value of the 1981 pennies with this error varies. You can buy them at a low price of only a few dollars or find some for a significantly higher amount of about $900.
Double struck
A double-striking error occurs when a coin is struck twice during the minting. When the second strike is a little off the coin center, the coin looks like it has two pictures on the surface.
You can find pennies from 1981 created in this way on eBay. Their price ranges up to almost $250, depending on the preservation state and the error size.
Re-punched mint mark
When you look at a coin with this error type, the mint mark appears duplicated. That happens when this letter is struck on a penny more than once. You can often notice 1981 pennies with this error to the naked eye and buy one on eBay for $200 to $400.
Also read: 11 Most Valuable Wheat Penny Errors
FAQ about the 1981 Penny Value
Which are 1981 Penny rare?
The mintage of almost 13 billion pennies doesn't allow considering these coins rare, particularly because you can still find most of them in circulation. However, the 1981 S TY 1 and TY 2 pennies, along with coins with specific errors, can be considered hard-to-find and valuable specimens.
Which 1981 pennies are worth a lot?
The 1981 S Type 1 PR 70 DCAM Lincoln cent cost $8,050 in 2003
The 1981 D MS 67+ RD Lincoln cent cost $5,170 in 2017
The 1981 MS 68 RD Lincoln cent cost $3,000 in 2022
The 1981 MS 65 RB Lincoln cent cost $1,208 in 2003
The 1981 S Type 2 PR 69 DCAM Lincoln cent cost $863 in 2004
The 1981 MS 66 BN Lincoln cent cost $700 in 2018
The 1981 D MS 65 BN Lincoln cent cost $345 in 2010
The 1981 D MS 63 RB Lincoln cent cost $43 in 2004
How much money for 1981 pennies from the Philadelphia mint?
The 1981 Lincoln cents from the Philadelphia mint are coins that have no significant value. You can buy circulated specimens for as little as $0.01, while the price of pieces in the mint state goes up to $85, depending on their condition.
Which Lincoln cents are the costliest in the series?
Lincoln cents are coins that are over 100 years old, but the most collectible pieces are from the early 1940s. One collector paid a record $840,000 for the MS 64-graded brown cent minted in Denver in 1943 at a 2021 auction.
Additionally, there is the brown 1943 S MS 63 cent priced at $504,000 and the one from 1944 in MS 66 grade. This coin from San Francisco sold at $408,000. On the other hand, the brown 1943 MS 62 cent had a slightly lower price of $372,000.