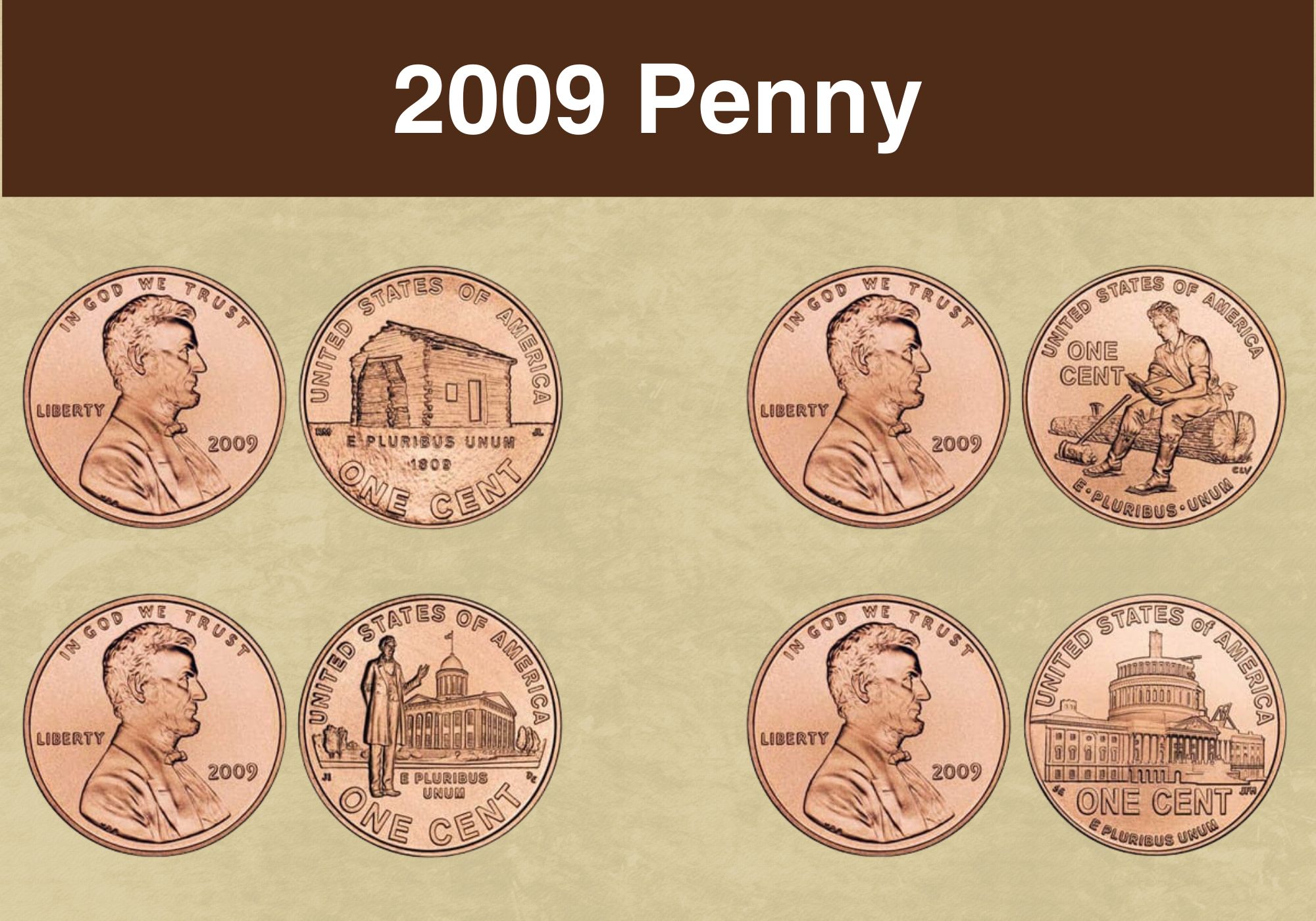 2009 marked 200 years since the birth of the American president Abraham Lincoln. To mark this special occasion the US Mint changed the design of the coin's reverse and instead of just one design, the coin was released in four different designs, which are now worth different amounts. But which 2009 designs are worth the most money?
If you are looking to learn the value of your 2009 Lincoln penny, you will find the answer in this article. We cover the valuations of all four reverse designs together with a brief history of the Lincoln penny and an explanation of how coins are graded on the Sheldon scale. Read on to find out if your 2009 Lincoln penny could be valued higher than its face value.
2009 Penny Details
Category: Lincoln Penny
Mints: Philadelphia, Denver, San Francisco
Reverse designer: Victor D Brenner
Obverse designers: Richard Masters, Charles Vickers, Joel Iskowitz, Susan Gamble
Edge: Smooth
Diameter: 19.05 millimeters (0.75 inches)
Thickness: 1.52 millimeters (0.05983 inches)
Weight: 2.5 grams (0.08818 ounces)
Composition: 97.5% Zinc – 2.5% Copper/ 95% copper and 5% tin and zinc
Face Value: $0.01
The Obverse of the 2009 Lincoln Penny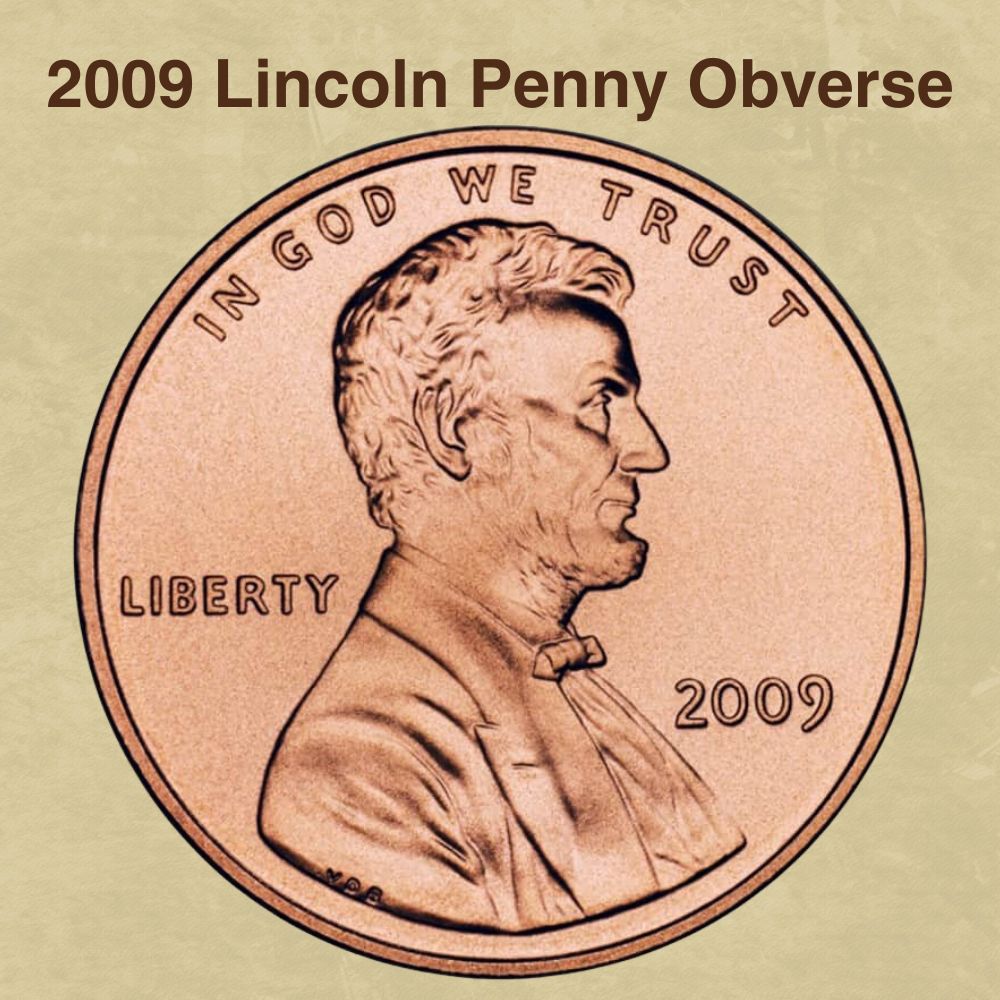 The obverse of the 2009 Lincoln penny features a portrait of Abraham Lincoln, the 16th American president. This portrait has been on the obverse since the penny was first minted in 1909 to mark 100 years since Lincoln's birth.
The word "Liberty" is behind Lincoln's head and the phrase "In God We Trust" run along the top rim above the president's head. The mint mark for coins minted in Denver or San Francisco is below the date, which is in front of the portrait.
The Reverse of the 2009 Lincoln Penny
Unlike all the other Lincoln pennies, there are four different designs that were used on the reverse of the 2009 Lincoln pennies. The designs depict different moments of Abraham Lincoln's personal and professional life. The coins were released throughout the year one at a time with the first one released on 12th February, Lincoln's 200th birthday.
Lincoln's Early Childhood Coin Design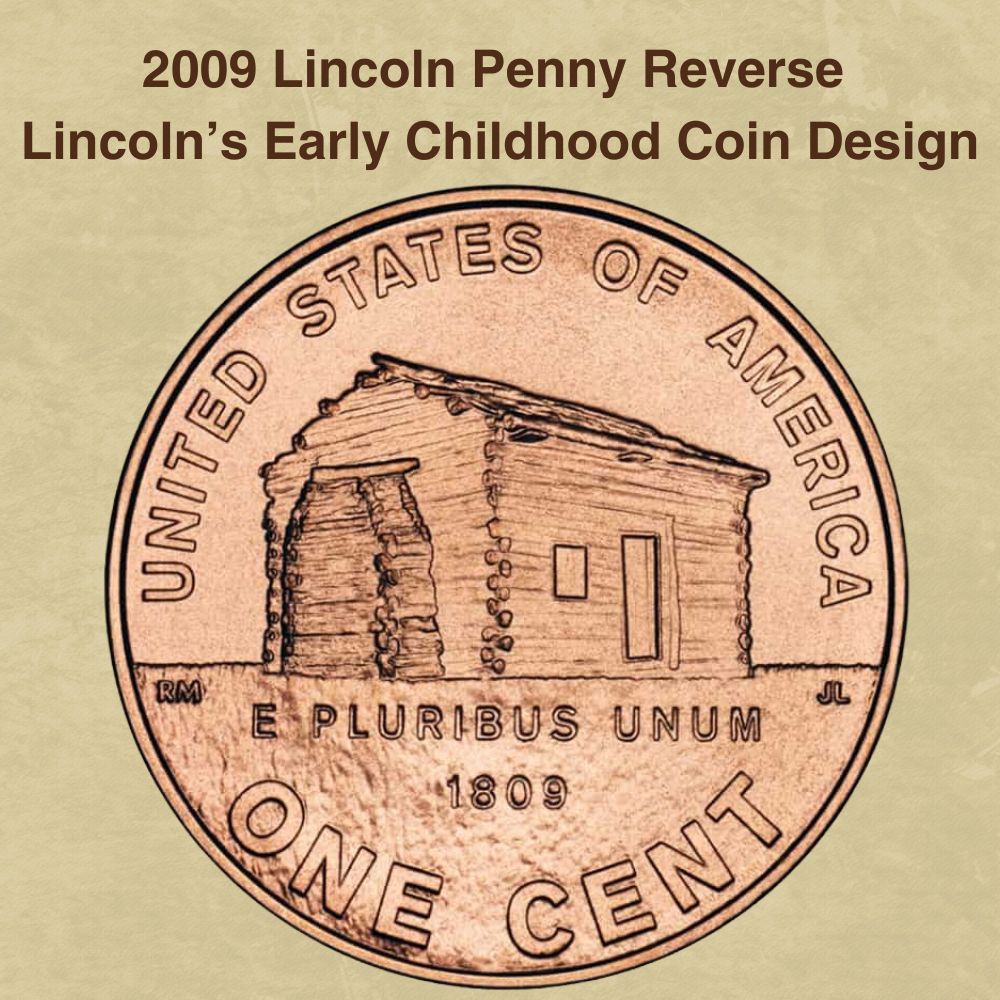 The first of the four coins features the log cabin home in Kentucky where Lincoln was born. He grew up in humble circumstances but despite this, his parents taught him to value and love learning. Lincoln himself later in his life recalled listening to his father telling him stories. The log cabin is depicted with neatly stacked logs and a slightly ajar door.
Formative Years Coin Design
The second coin in the 2009 Lincoln penny series focuses on his years in Indiana from 1816 until 1830. These years were hugely influential on the values and beliefs that would come to shape his Presidency. The reverse has a young Lincoln sitting on a log reading a book during a break at work when he worked for the railroad.
Lincoln Professional Life Coin Design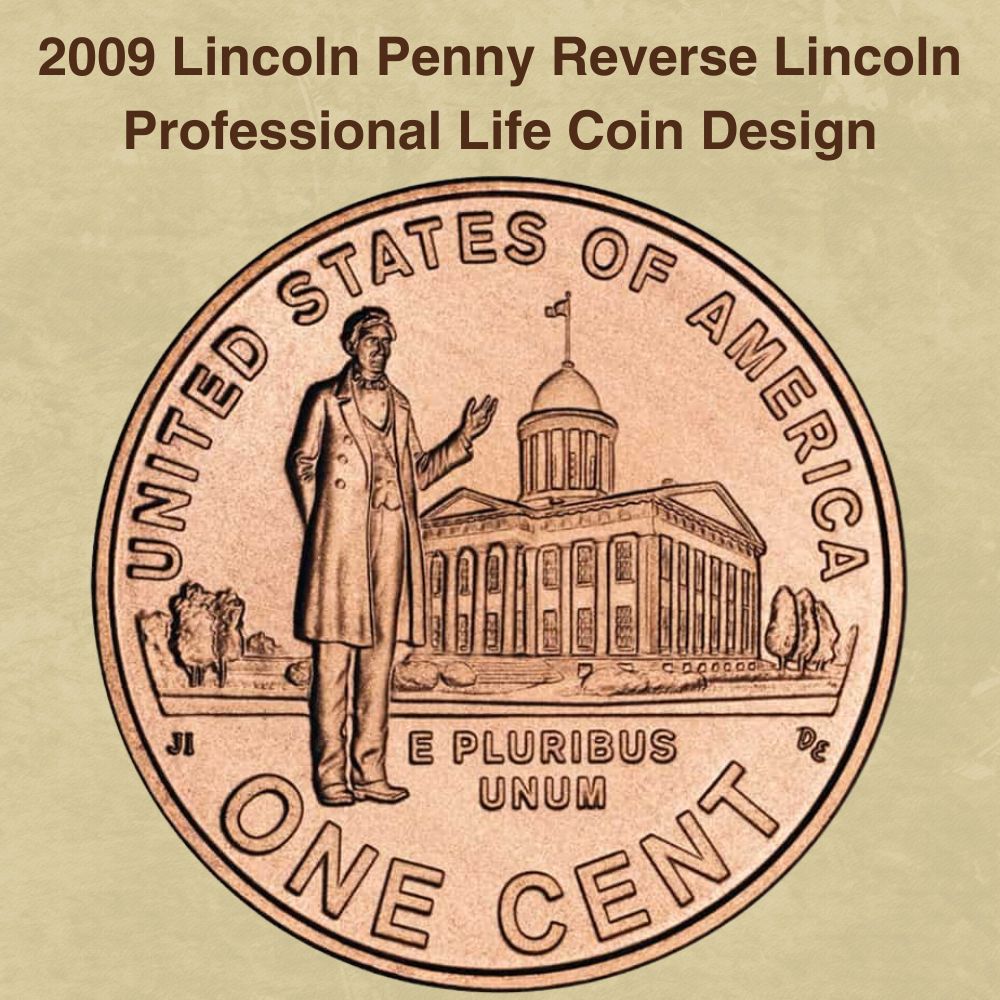 Before Lincoln became president, he worked as a lawyer in Illinois. During this time, he proved to be a skilled public speaker and debater. His success as a lawyer provided him with the funds to enter into politics. The reverse of this version of the 2009 penny features Lincoln giving his speech that became to be known as the "House Divided" speech.
Lincoln as President Coin Design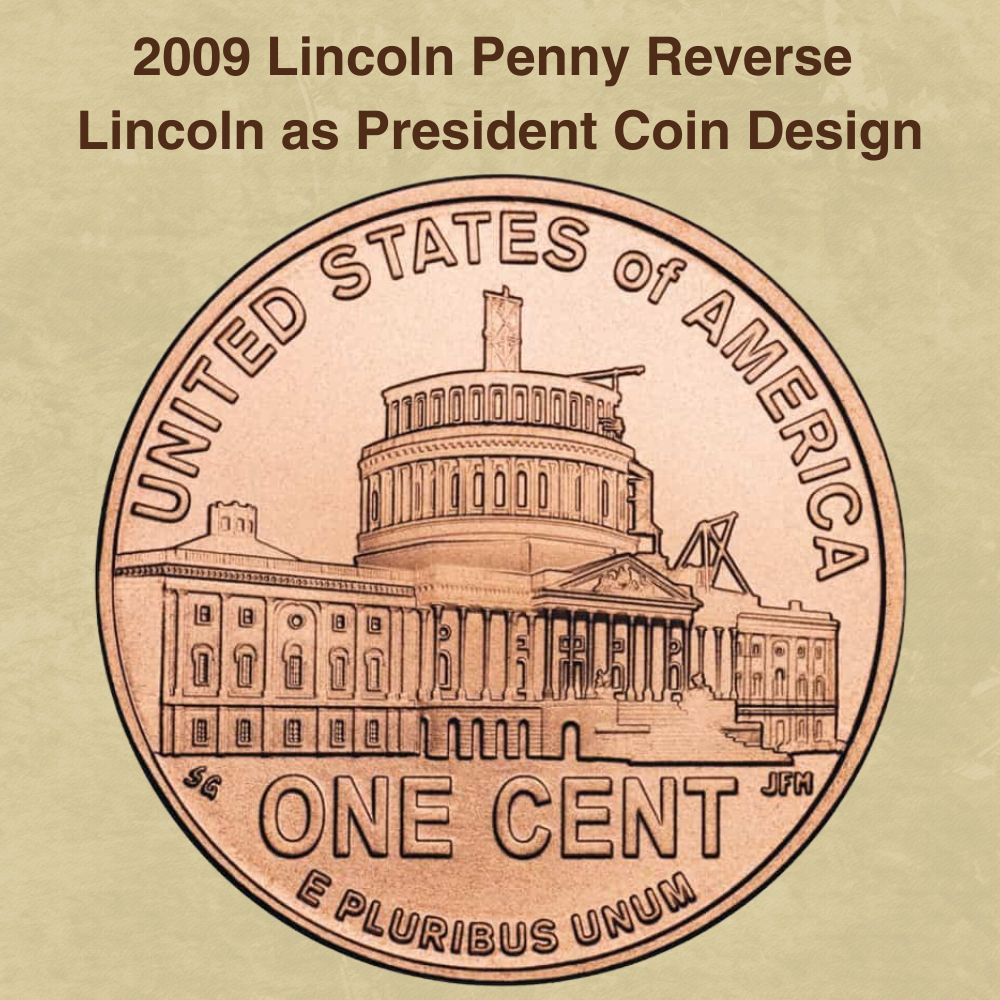 The fourth design in the 2009 commemorative penny series has the U.S. Capitol dome when it was under construction. It was built between 1855 and 1866, which was a time when the United States was struggling to become united again after a period of conflict. The dome is symbolic of the resilience and strength of the American people.
2009 Penny Value Chart

Mint Mark
Number Minted
MS63/ PR67
MS65/ PR69
MS67/ PR70
2009 No Mint Mark Lincoln Early Childhood Penny Value
284,400,000
$7
$12
$225
2009 D Lincoln Early Childhood Penny Value
350,400,000
$7
$12
$450
2009 No Mint Mark Formative Years Penny Value
376,000,000
$5
$10
$375
2009 D Formative Years Penny Value
363,600,000
$5
$10
$180
2009 No Mint Mark Professional Life Penny Value
316,000,000
$7
$12
$300
2009 D Professional Life Penny Value
336,000,000
$7
$12
$725
2009 No Mint Mark Presidency Penny Value
129,600,000
$7
$12
$135
2009 D Presidency Penny Value
198,000,000
$7
$12
$300
2009 S Lincoln Early Childhood Proof Penny Value
The total number of proof coins struck in 2009

2,995,615

$7
$14
$150
2009 S Formative Years Proof Penny Value
$7
$14
$140
2009 S Professional Life Proof Penny Value
$7
$14
$140
2009 S Presidency Proof Penny Value
$7
$14
$135
2009 Penny Value and Varieties Guide
2009 No Mint Mark Penny Value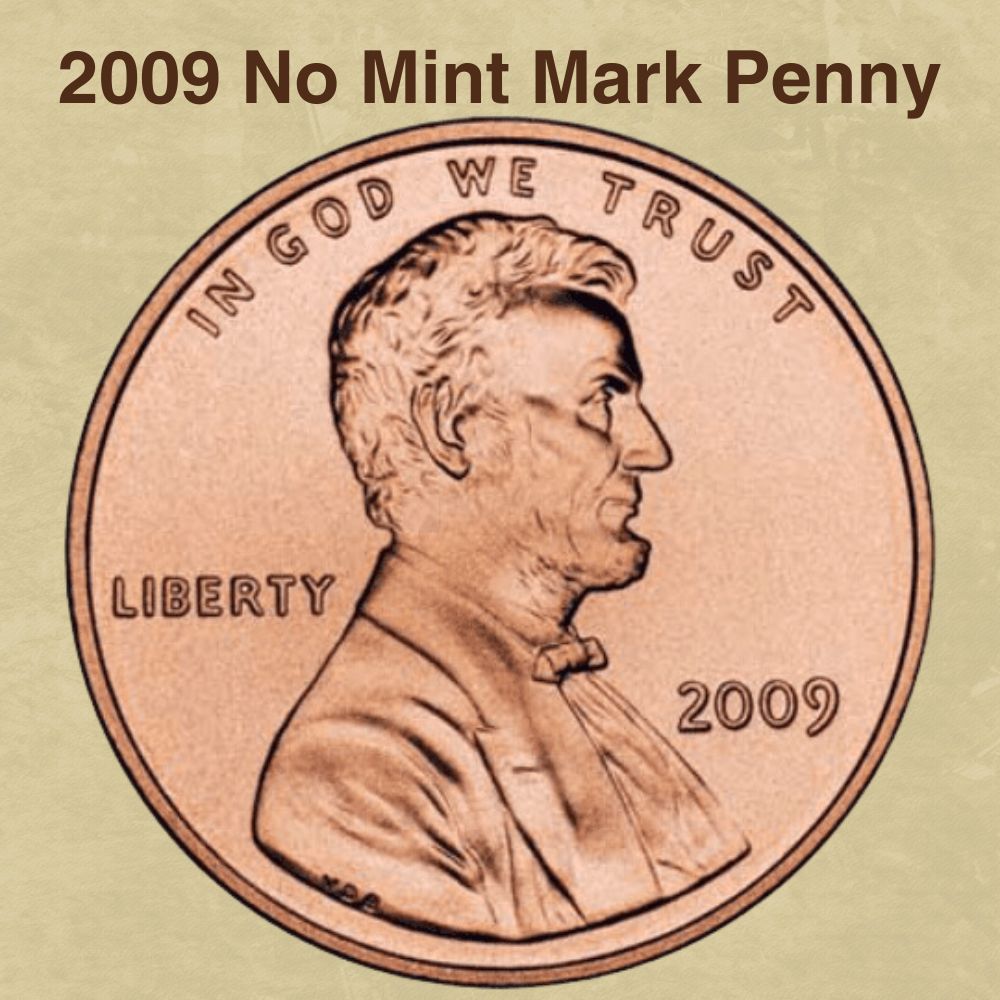 Type: Lincoln Penny
Edge: Smooth
Mint mark: None
Place of minting: Philadelphia
Year of minting: 2009
Face value: $0.01
Price: $7 – $375
In 2009, 129.6 million pennies, covering all of the designs, were struck at the Philadelphia mint. While this is a relatively low number, the coins that were released into circulation are not considered rare and therefore are only worth their face value.
However, coins minted in Philadelphia in 2009 that have not been in circulation can be worth considerably more. Coins that are still in the mint state can be valued at over $100 or even several hundred dollars.
Coins graded as MS63 are generally worth around $5 to $7, while no-mint mark 2009 Lincoln pennies graded as MS67 can be worth around $135 for the presidential design. 2009 pennies featuring the early childhood design can be worth around $225, professional life coins around $300, and formative years $375 when graded as MS67.
There were some special coins produced in Philadelphia in 2009 that feature a satin finish. These satin finish coins are worth more than the regular strike coins. For example, an early childhood satin-finish 2009 MS69 penny can be worth approximately $60, while a rare special strike 2009 formative years MS68 penny is worth in the region of $3,500.
2009 D Penny Value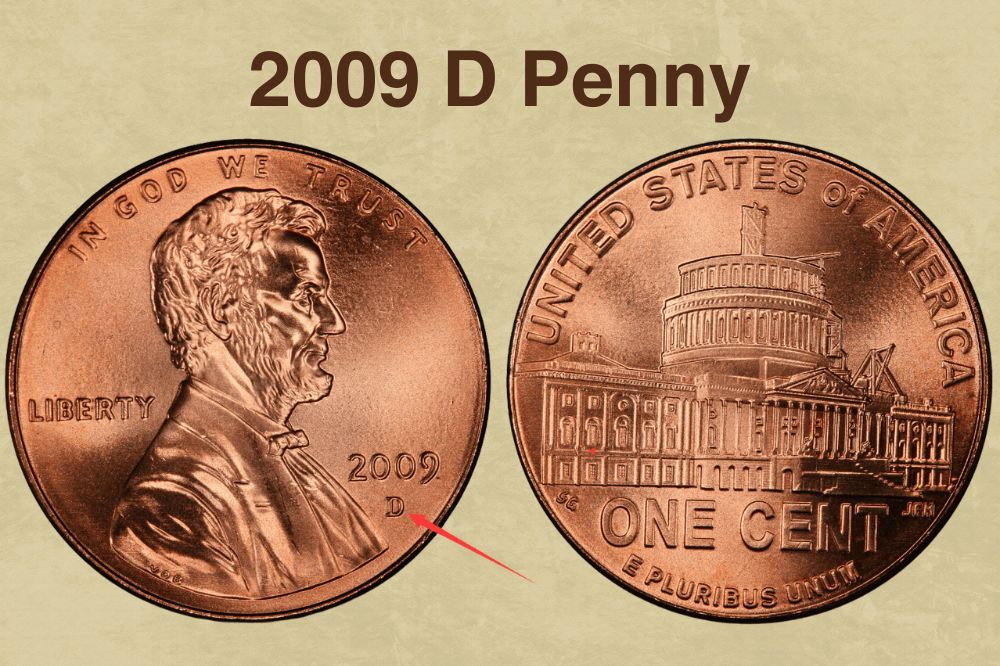 Type: Lincoln Penny
Edge: Smooth
Mint mark: D
Place of minting: Denver
Year of minting: 2009
Face value: $0.01
Price: $7 – $725
The Denver Mint struck 198 million Lincoln pennies in 2009 and also covered all four designs. The values of mint state 2009 D Lincoln pennies are similar to those minted in Philadelphia with MS65 graded coins worth from $5 up to $12. However, valuations for coins graded MS67 and higher vary more.
While a 2009 D penny featuring the formative years reverse is valued at $180, a penny with the same grade but a professional life design on the reverse is worth $700. There are two known MS68-graded Lincoln pennies from 2009 that feature the design from Lincoln's presidential years. These have been valued at $6,000 each.
Similarly to Philadelphia, Denver also produced coins with a satin finish in 2009. The auction record for a 2009 D satin finish penny with the grade SP69 is less than $300. This is considerably less than the highest value for a no-mint mark 2009 penny with a satin finish.
2009 S Penny Value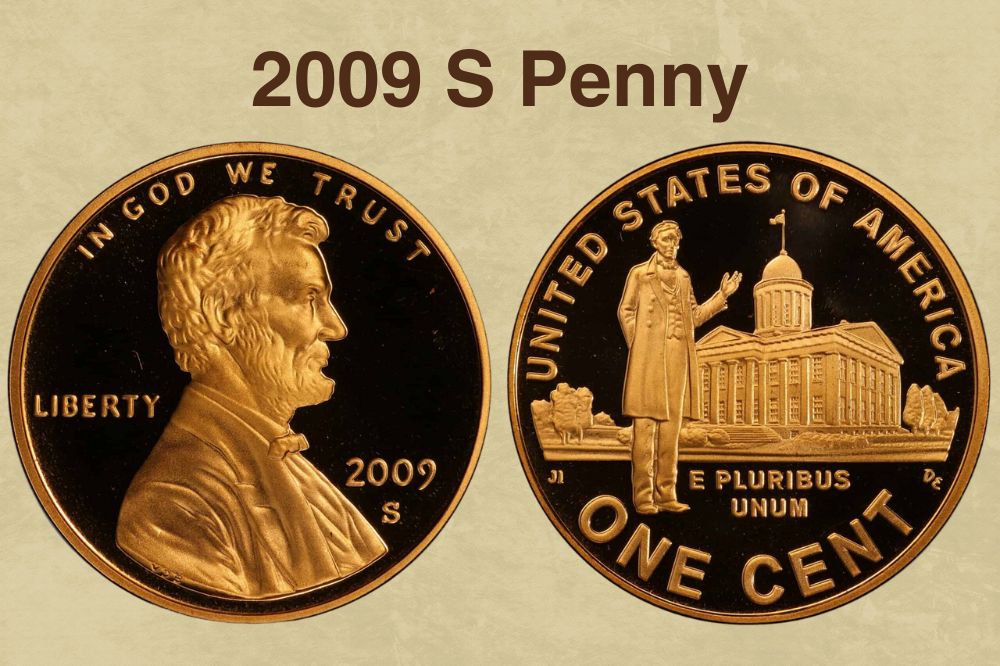 Type: Lincoln Penny
Edge: Smooth
Mint mark: S
Place of minting: San Francisco
Year of minting: 2009
Face value: $0.01
Price: $7 – $150
In 2009, all Lincoln pennies struck in San Francisco were proof coins intended for collectors rather than circulation. Because of this, they are usually in mint condition and not considered rare. This is reflected in their value which is generally lower than coins with high MS grading. PR70 graded 2009 pennies are worth between $135 and $150.
Also read: 12 Most Valuable Lincoln Penny Worth Money
2009 Penny History
The first Lincoln pennies were minted in 1909, a hundred years before the 2009 commemorative coin. When the 1909 Lincoln penny was released to commemorate one hundred years since the President's birth, it was a historical coin. Before the Lincoln penny, coins had not featured portraits of real people in America.
The first Lincoln penny featured two sheaves of wheat on the reverse. This design was changed in 1959 to commemorate 150 years since Lincoln's birth. The design from 1959 featured the Lincoln memorial with a statue of Lincoln in the middle. This, too, was a historical design as it was the first time each side of the coin featured the same person.
Again, the design remained the same for fifty years until it was changed in 2009 to mark 200 years since Lincoln's birth. This time, the reverse featured four instead of one design. All four designs were released both as circulated and uncirculated coins intended for collectors.
The coins for collectors used the same metal composition as the original pennies from 1909, which was 95% copper and 5% tin and zinc. Coins that were intended for circulation had a different composition. They contained 97.5% zinc and 2.5% copper. After the 2009 penny series finished, the design was changed again to feature the "Union Shield".
Also read: 13 Most Valuable Wheat Penny Worth Money
2009 Penny Grading
The Lincoln pennies are graded using a grading system known as the Sheldon scale, which rates coins from 1 to 70 based on their overall condition and rarity. While coins at the lower end of the scale are not worth more than their face value, rare coins with higher grades can be worth hundreds or even thousands to collectors.
Coins that were struck as proof coins use the letters PR followed by a number, while special strike coins use SP. The letter combinations for coins struck for circulation range from P = poor, G = good, to MS = mint state. The coins that are worth more than their face value will generally be graded as mint state coins.
Also read: 17 Most Valuable Indian Head Penny Worth Money
Rare 2009 Penny Errors List
2009 Lincoln Penny Doubled Die Reverse Errors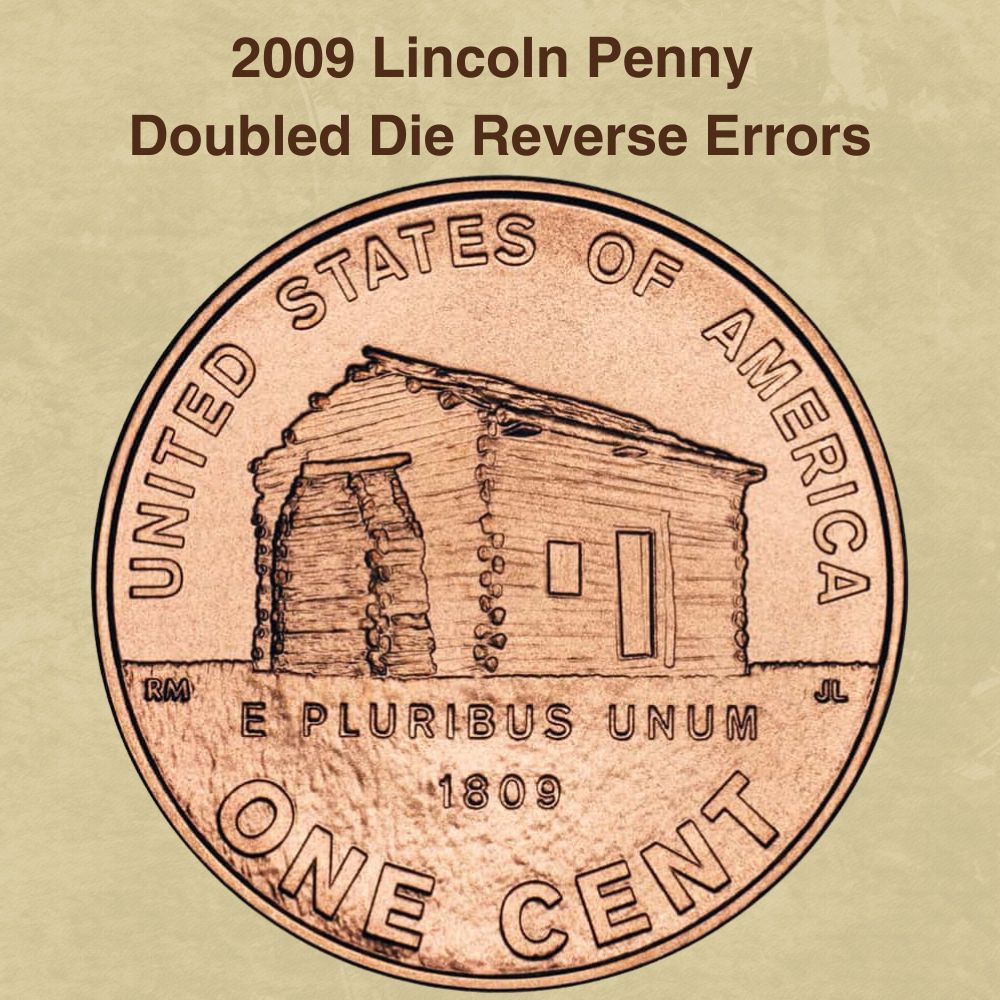 Doubled die errors cause doubling on the coins. Sometimes they may be very small and barely noticeable, other times they are more obvious. There are doubled die errors on several design varieties of the 2009 Lincoln penny.
The early-years design has doubling on the circular ends of some of the logs used for the log cabin. This doubling is not visible to the naked eye so you will need a magnifying glass or a coin loupe to see it. Look for the logs at the front corner of the log cabin. These coins are worth around $10 a piece.
The pennies with the design depicting Lincoln's formative years also have doubled die errors. These are on the proofs struck in San Francisco. Look for an extra index finger or thumb on Lincoln's hand holding the book. If the coin is in an almost uncirculated condition, it is worth approximately $5. An MS64-graded coin is valued in the region of $50.
There are also doubled die errors evident in the 2009 pennies featuring the image of Lincoln during his professional years. On these coins, the doubling can be seen on the Illinois Capitol building's columns. There is no sale information currently available for coins with this error.
2009 S Lincoln Penny Horizontal Misalignment Error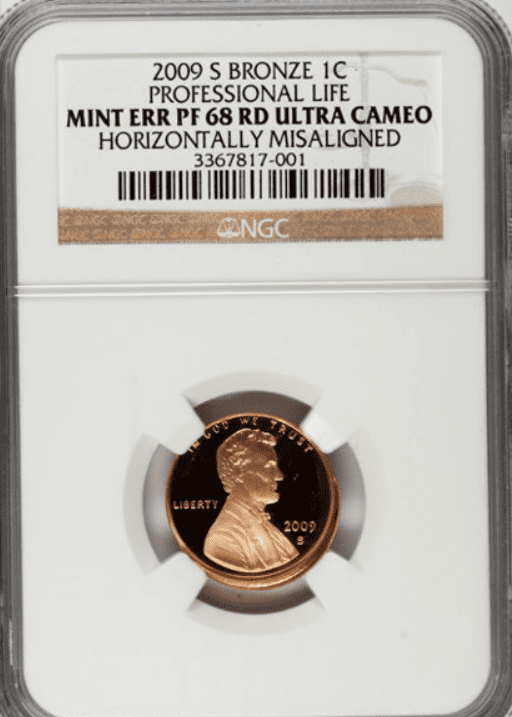 Some proof coins struck by the San Francisco mint have an error known as horizontal misalignment. On these coins, the rim around the design is uneven. One coin with this error and graded as PR68 sold at an auction for £345. The coin was also graded ultra cameo, which refers to the color of the coin.
Also read: 11 Most Valuable Wheat Penny Errors
2009 Lincoln Penny FAQs
How much is a 2009 penny worth?
How much a 2009 Lincoln penny is worth depends on a variety of factors. These include the design on the reverse, its overall condition, whether it is a proof or a circulated coin, and does it have any errors on it. While circulated coins in poor condition are not worth more than their face value, others in mint condition can be worth several hundred or more.
Is there anything special about a 2009 penny?
The 2009 penny is special because to commemorate 200 years since the birth of President Lincoln, the US Mint released pennies with four different designs on the reverse. While the obverse still featured a portrait of the president, the reverse had different designs focusing on different periods of the president's life.