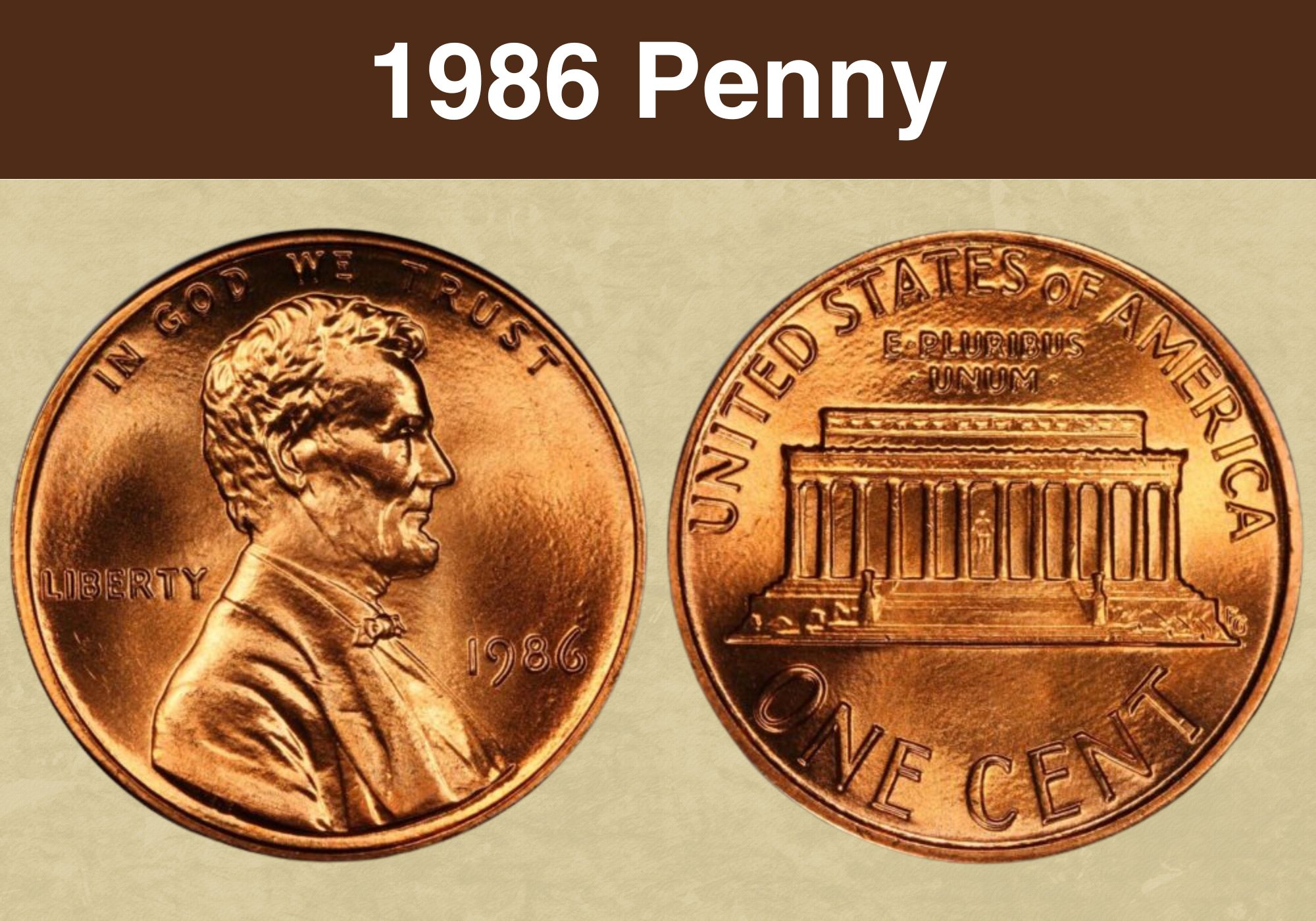 Are you considering collecting 1986 pennies and wondering how much money you can make from these old coins?
Or are you curious how much a 1986 penny you own is worth?
We've got all the answers you need about the 1986 penny value!
The truth is pennies from 1986 are quite modern, considering the long history of United States coinage.
Like most modern coins, the pennies dated 1986 are generally not worth much and may not change your fortunes.
The good news is the 1986 pennies are very affordable, so you can add them to your Lincoln penny collection without breaking the bank.
In this guide, you will discover the real value of a 1986 Lincoln Memorial penny. We'll review the coin's unique features, error varieties worth money, and tips on grading your penny.
So, let's jump in and find out: how much is a 1986 penny worth?
1986 Penny Value Chart

Mint Mark
Good
Fine
Extremely Fine
Uncirculated
1986 No Mint Mark Penny Value
$0.05
$0.05
$0.05
$7.50
1986- D Penny Value
$0.05
$0.05
$0.05
$7.50
1986-S Proof Penny Value
–
–
–
$550
The History of the 1986 Penny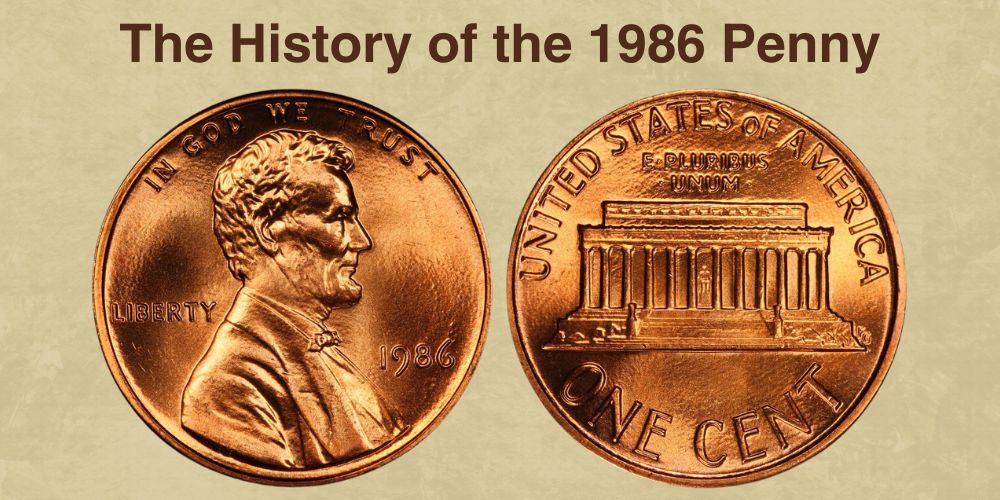 The 1986 penny is part of the Lincoln penny series, which the Mint first introduced in 1909.
Between 1900 and 1958, these coins were known as Wheat Pennies as they depicted two wheat ears on the reverse.
As early as 1952, the United States Mint considered replacing the wheat ears on the reverse with another design. But it was only in 1958 that a unanimous decision was reached to create a new design to give the Lincoln penny a fresh look.
The Mint commissioned the renowned sculptor Frank Gasparro to implement the new coin design. The Lincoln Sesquicentennial Commission and the Treasury also played an important role in envisioning the coin's design and bringing it to fruition.
The new design would feature the Lincoln Memorial in Washington, D.C., constructed between 1914 and 1922. Gasparro had never seen the Memorial in person but did a generally good job of depicting the building on the penny.
The Secretary of Treasury and President Eisenhower approved the new design, and the coin was released into circulation in February 1959, commemorating Abraham Lincoln's 150th anniversary.
When copper prices began rising in 1973, the Lincoln penny's intrinsic value rose significantly as well, leading to widespread hoarding of these coins.
In the following years, the Mint experimented with various metal compositions to discourage hoarding and circulation deficiencies. In 1983, in the face of yet another copper price hike, the Mint changed the cent's metal composition to zinc with an outer copper layer, which has remained more or less the same to date.
Like other Lincoln pennies, the 1986 penny holds great historical and sentimental value. Adding this coin to your collection is an excellent idea.
Let's now look at the features of the 1986 Lincoln penny.
Also read: 12 Most Valuable Lincoln Penny Worth Money
The Features of the 1986 Penny
The 1986 penny shares similar physical features as all the Lincoln Memorial pennies minted since 1959. Familiarizing yourself with these features will help you identify 1986 pennies worth money.
The Obverse of the 1986 Penny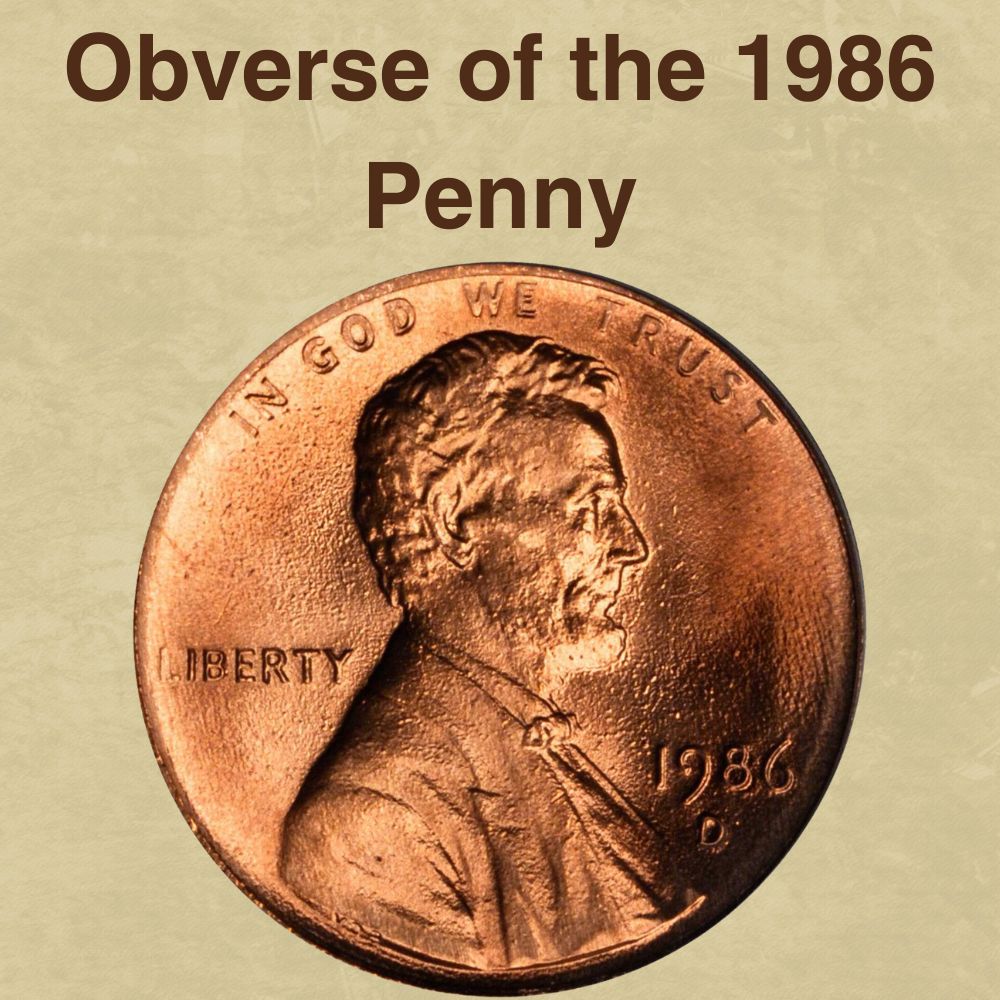 Abraham Lincoln's portrait occupies most of the obverse surface of the 1986 penny. In the right-facing portrait, the president adorns a suit and a bowtie.
Our country's motto, IN GOD WE TRUST, appears at the top.
You will also see the word LIBERTY on the left surface and the year date, 1986, on the right.
The Reverse of the 1986 Penny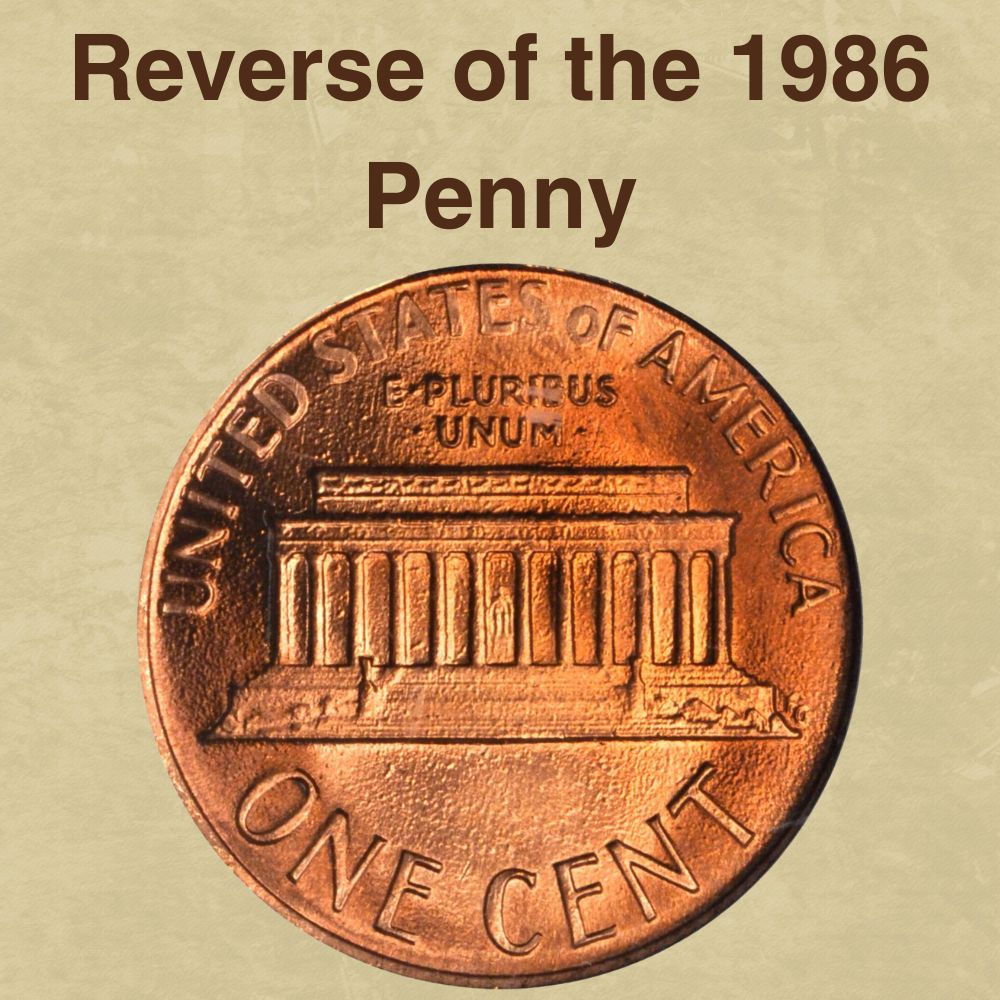 The reverse is more detailed than the obverse of the 1986 penny. Here, you will find the Lincoln Memorial as the most prominent feature of the coin.
Our country's name is shown at the top, followed by the motto, E PLURIBUS UNUM, which means "Out of many, One."
Upon closer look, you will notice Lincoln's seated statute inside the Memorial building. Also, on the furthest right, you will notice Frank Gasparro's initials, FG.
The coin's denomination, ONE CENT, appears at the bottom along the inner rim.
Other Features of the 1986 Penny
The 1986 Lincoln penny is 19.00 millimetres wide in diameter and weighs 2.5 grams.
The coin has a plain edge and comprises a copper-plated Zinc metal composition.
In mint condition, these pennies are reddish in color due to their copper composition. But it is common for the Lincoln pennies to change color to brown or red-brown due to exposure to the elements.
Also read: 13 Most Valuable Wheat Penny Worth Money
1986 Penny Value Guides
So, how much is a 1986 penny worth?
The value of your Lincoln penny will depend on several factors.
For example, pennies in mint condition are worth more than circulated ones. Red pennies will also fetch more than their red-brown and brown counterparts.
Rarity, mint marks and errors are other factors that will affect the value of your Lincoln Memorial penny.
There are three varieties of the 1986 penny whose value we will explore below. The three include the following:
1986 No Mint Mark Penny
1986-D Penny
1986-S Proof Penny
1986 No-Mint Mark Penny Value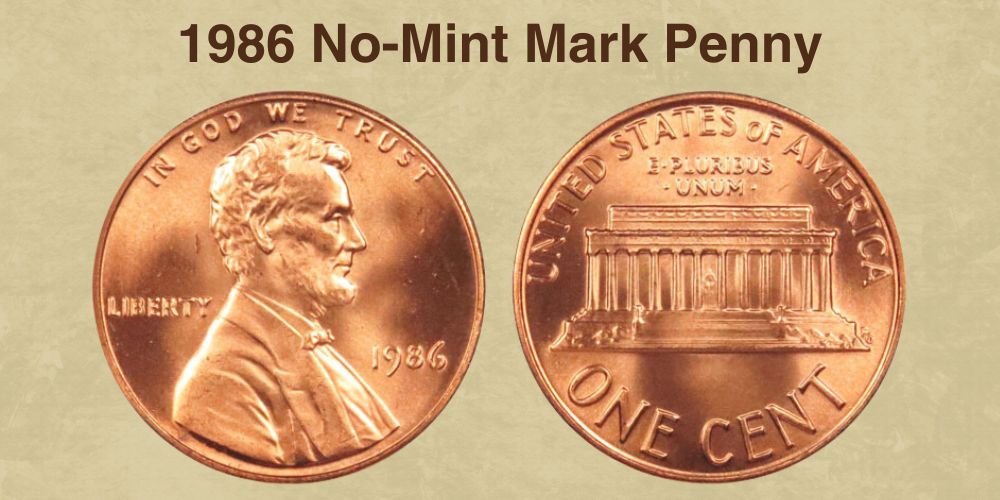 The Philadelphia Mint produced 4,491,395,493 Lincoln pennies in 1986. This record-high mintage affects the value of the 1986 penny.
As per tradition, the Lincoln pennies struck in Philadelphia do not have a mint mark either on the obverse or reverse.
Due to the high mintage and the coin's relative recency, you will still find 1986 pennies in circulation. These circulated examples are worth between $0.05 and $0.10, which is more or less their face value.
The high mintage means that the 1986 no-mint mark Lincoln pennies are abundant across all grades, making mint uncirculated examples very affordable even for newbie collectors. For example, an MS66 penny from 1986 is worth about $6.
Full red pennies from 1986 are extremely rare, with fewer than 1,000 known existing examples. You need about $900 to acquire one graded MS68.
According to the Professional Coin Grading Service (PCGS), the most expensive 1986 penny is a full red specimen graded MS68. It was sold at an eBay auction for an eye-watering $2,400!
1986-D Penny Value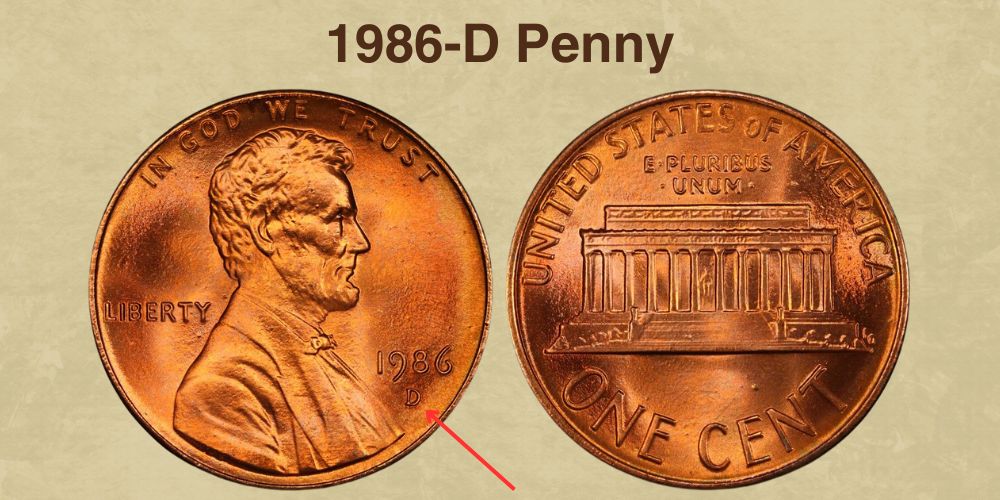 The Denver Mint also recorded a high mintage, producing as many as 4,442,866,698 pennies in 1986.
These coins are worth more or less their face value, so you can expect between $0.05 and $0.10 for circulated 1986 Lincoln pennies from Denver.
It is also worth noting that the Philadelphia Mint struck better quality coins than the Denver facility.
These pennies are extremely affordable even in mint state, allowing you to acquire a brown, gem-quality example for just $7.50.
Red-colored pennies from the Denver Mint are worth more than their brown counterparts and will fetch as much as $100 in the open market. In 2021, a collector paid a whopping $7,840 for a red gem graded MS69.
1986-S Proof Penny Value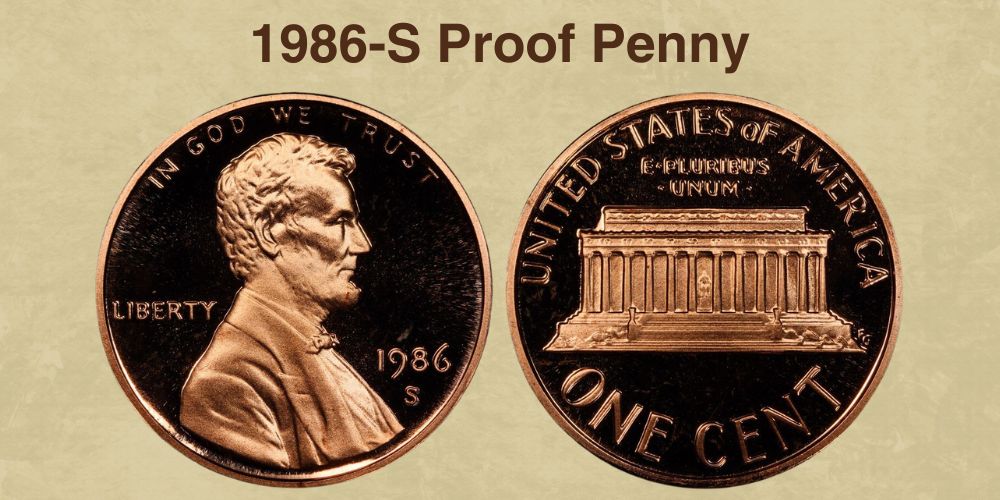 In addition to the regular strike coins, the U.S. Mint also struck proof coins for collectors in 1986.
The San Francisco facility struck 3,792,233, making proof pennies from this year abundant and readily available for collectors.
You can identify a proof coin by its brilliant luster and frosted surfaces. These coins also have a higher quality strike with few, if any, visible errors.
Proof coins are typically worth more than their regular strike counterparts, but this isn't always the case. Collectors can affordably obtain proof coins for high mintage years such as 1986.
For example, with only $5, you can acquire a nice-looking 1986 penny graded PF66, while about $12 will get you an M68. Gem-quality pieces from 1986 are extremely rare, with only a handful known existing examples, which can fetch up to $500.
Also read: 17 Most Valuable Indian Head Penny Worth Money
1986 Penny Grading Guides
If you decide to collect 1986 pennies, it is best to focus your efforts on uncirculated pieces. Circulated Lincoln pennies from 1986 are generally well-worn and will not fetch a premium.
In average grade, most details on a circulated coin will be worn, and the letters merged into the rim. The date may be completely worn, and on the reverse, most of the details will be almost invisible, including the memorial building and the wheat ears.
Your 1986 penny must show exceptional luster, strike, and eye appeal to be graded uncirculated. The coins will have no contact marks, scuff marks or hairlines, and the planchet will be well-designed with no flaws.
Check out this video for additional tips on grading your 1986 Lincoln Memorial penny.
Rare 1986 Penny Errors List
Although Lincoln pennies from 1986 may not be as profitable, some with minting errors can be worth more than face value.
Here are some 1986 penny errors worth money:
1986 Off-Center Strike Penny Error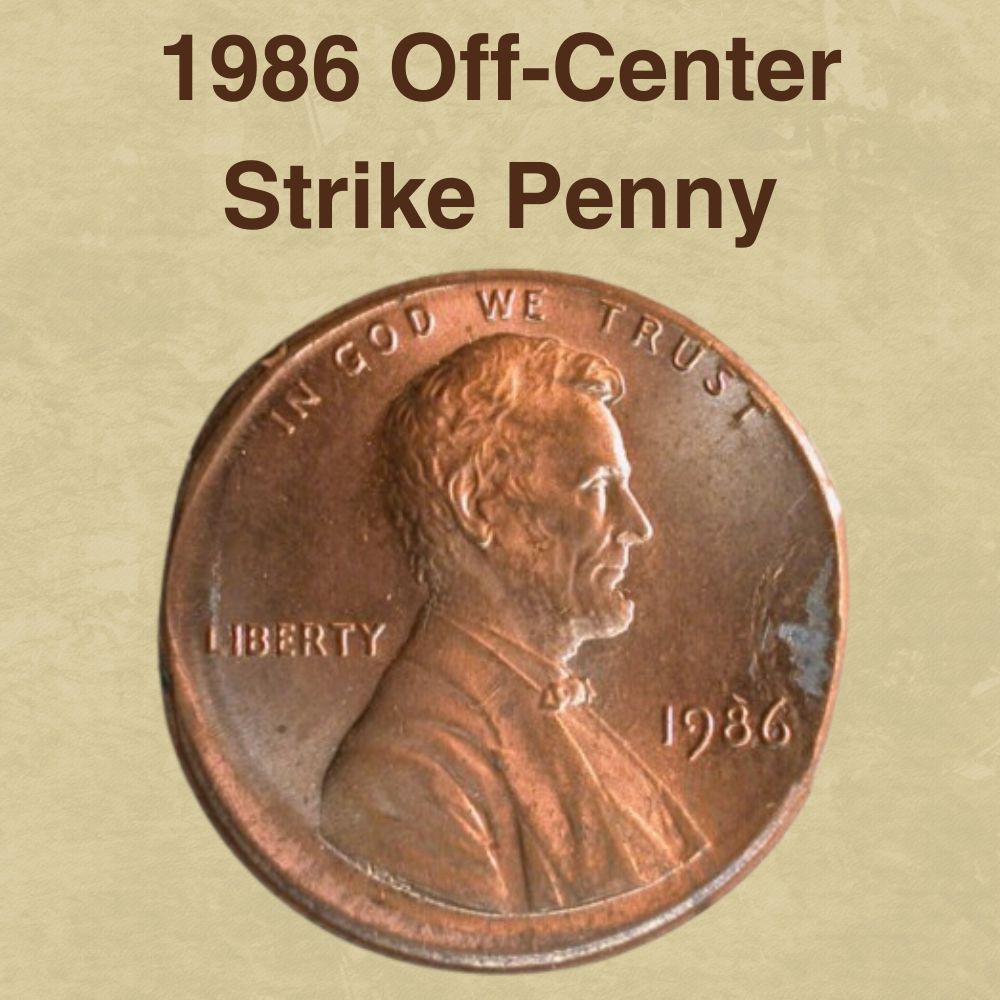 Off-center strike errors occur when the planchet is improperly aligned with the striking die, causing the die to strike the design away from the center.
The value of an off-center strike depends on the design's percentage away from the center. Off-center strikes that are more than 50% are typically more valuable.
Some 1986 pennies will demonstrate about 30% off-center strike error. These can be worth as much as $65.
1986 Wide AM Penny Error
The wide AM error is unique to the Lincoln pennies. It refers to the space between the A and M in the words UNITED STATES OF AMERICA.
In some pennies, the space is noticeably wide; in others, the two letters are unusually close. Changes in the die used in designing these coins are believed to have brought about these two variations.
Both wide and narrow AM pennies are a source of fascination among collectors, with many willing to pay as much as $260 for wide AM 1986 pennies in mint state.
1986 Missing Copper Clad Penny Error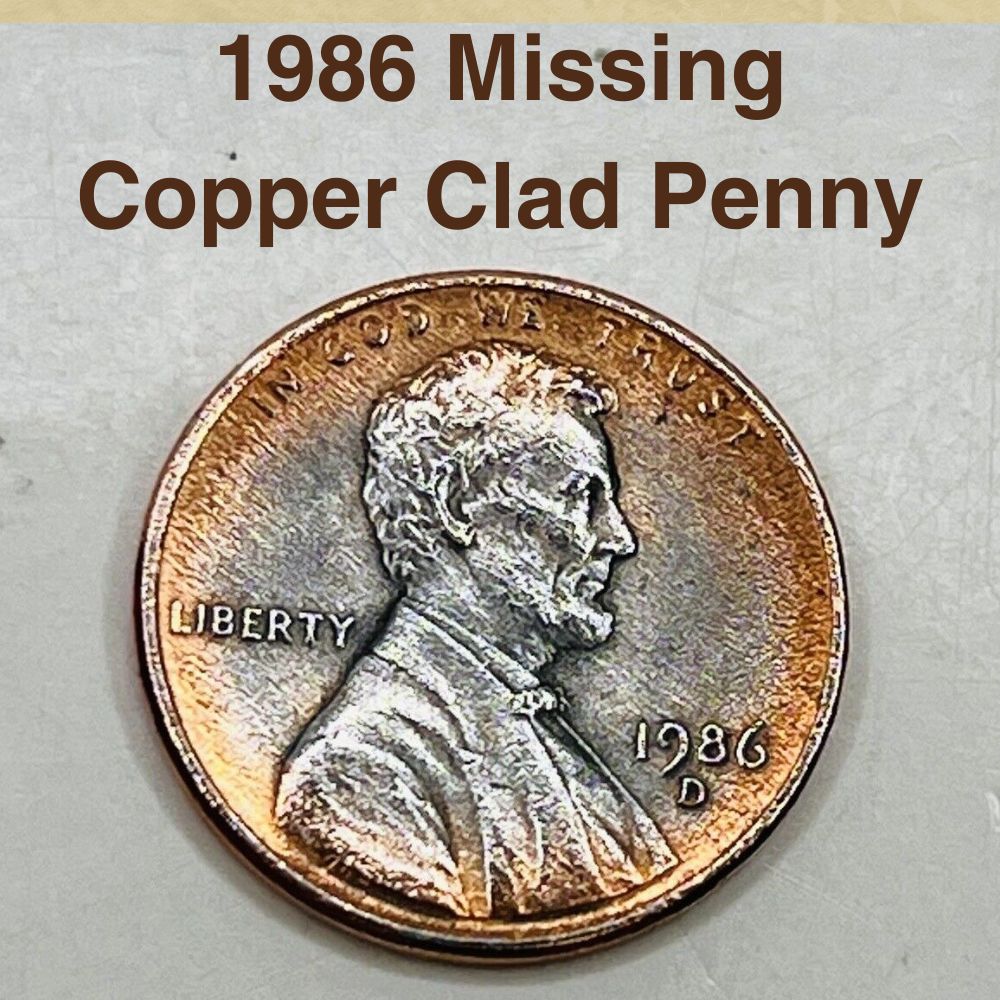 The 1986 Lincoln pennies comprise a zinc core and a copper outer layer.
This out layer may be missing in some Lincoln Memorial pennies and can be attributed to a minting error.
This is known as a delamination error and occurs due to the presence of impurities in the metal alloy. As you can imagine, a Lincoln penny missing the copper clad can be quite fascinating.
If you happen to own such a penny, it can fetch up to $100 or more if the coin is in mint state.
1986 Double Struck Broadstrike Penny Error
Double-struck broadstrikes are quite an interesting group of minting errors.
A broadstrike occurs when the anvil strikes outside the collar that holds the coin, resulting in a coin with a flattened rim and an extended but distorted diameter.
Sometimes, the distorted coin does not exit the collar, causing it to be struck again. This results in a double-struck broadstrike coin.
A 1986 double-struck broadstrike penny is worth about $100, but this figure can increase to as much as $250 if the coin is in mint state.
Also read: 11 Most Valuable Wheat Penny Errors
FAQ
What is the most valuable 1986 penny?
To date, the most expensive 1986 Lincoln penny was struck in Denver and graded MS69. This gem-quality, fully red Memorial penny was sold for $7,840 in 2021 at an online auction.
Why is the 1986 penny so valuable?
The 1986 penny is actually not so valuable in either circulated or uncirculated condition. In their circulated form, these coins are worth more or less their face value. Even uncirculated examples are plentiful and affordable for any calibre of collectors. For a 1986 penny to fetch a premium, it must have exceptional eye appeal and superior strike.
Is the 1986 no-mint mark penny valuable?
A 1986 no-mint mark penny is worth only $0.05 and $0.10 in circulated condition. Even uncirculated coins in mint state are not worth much and will typically bring in $2 to $8. As a general rule, you shouldn't expect a premium from a 1986 Lincoln penny.