Each cent minted in 1904 is almost 120 years old. That makes these humble coins collectibles according to all numismatic criteria. However, the 1904 Indian Head penny value varies, depending on numerous factors used for precise grading.
Remember that every survived coin in collectible condition from the set is worth more than its face value, while some pieces can bring you a fortune. Since their number is limited nowadays, you should be careful and grab the best available penny for your collection while it is still possible.
1904 Indian Head Penny value Chart

Condition
1904 No Mint mark penny
Good
$2.33
Very good
$3.38
Fine
$5.84
Very fine
$6.80
Extra fine
$11
AU
$23
MS 60
$46
MS 63
$75
PR 63
$292
History of the 1904 Indian Head Penny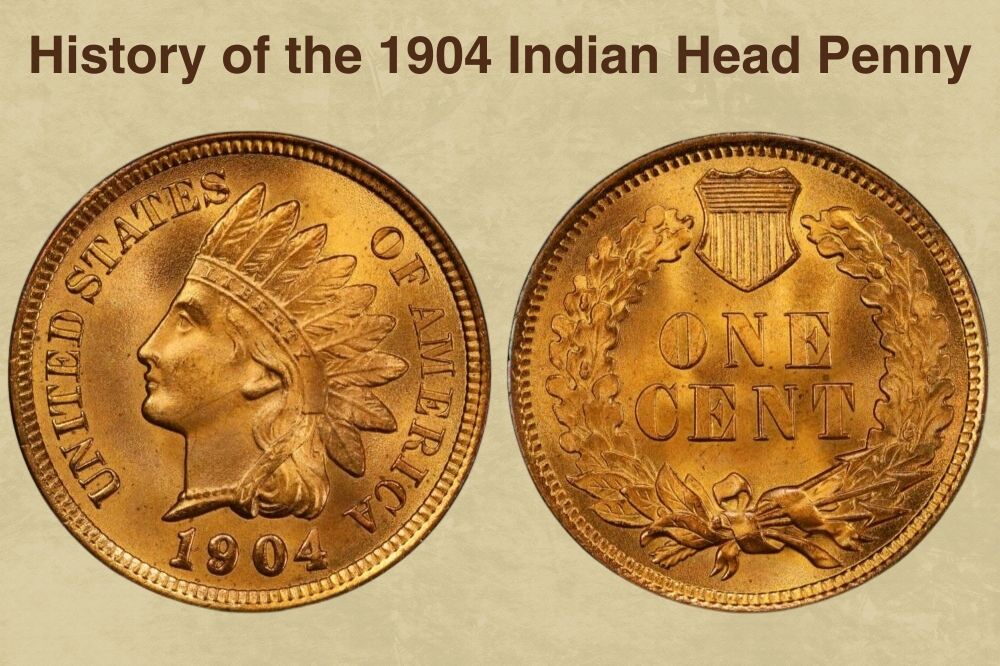 The US Mint issued Indian pennies (cents) from 1859 to 1909, based on the inspirative work of Chief Engraver and designer James Barton Longacre. You can find numerous speculations about the inspiration for the girl's portrait shown on the coin obverse.
There was a romantic version about an Indian princess, but some rumors said about placing his own daughter on this American coin. He always strongly denied this belief and claimed that his inspiration came from an ancient Greek statue.
On the other hand, the headdress came without specific tribal features since the designer's idea was to pay tribute to all Native American warriors.
In those times, there were no competitions, and only mint engravers had an opportunity to design coins. They never got any extra credit for their work except for placing barely visible initials somewhere incorporated in the design.
In this case, the artist added his initials on pennies only in 1864 when they became legal tender. You can find a letter discreetly hidden in Lady Liberty's hair. Most people fail to find it unless they know where to look exactly.
1904 Indian Head Penny Types

Location
Year
Minted
Philadelphia
1904 no Mint Mark penny
61,326,198
Philadelphia
1904 proof penny
1,817
Total
/
61,328,015
Coins minted in 1904 belonged to one of the last series before the US Mint replaced them with popular Lincoln pennies. They were almost perfect, with intricate detailing on both sides, but even that couldn't help this lovely design.
As the centennial of Lincoln's birth approached, congress started a campaign for new pennies with the 16th President's image on the obverse.
As soon as collectors understood that the US Mint planned to phase out the old design gradually, they started collecting coins to preserve this vital piece of American history.
Also read: 12 Most Valuable Lincoln Penny Worth Money
Features of the 1904 Indian Head Penny
James Longacre designed lovely Indian Head pennies, and the US Mint started these coins production in the Philadelphia mint in 1859. Fifty years later, Lincoln pennies replaced them in 1909.
The obverse of the 1904 Indian Head Penny
Despite the first thought that this penny depicts a Native American chief on the obverse, it is not quite true. Instead, you can see a white woman wearing a pearl necklace around her neck and a traditional Indian feather headdress on her head.
Two inscriptions are visible along the coin edge surrounding the centrally positioned Caucasian female. You can read the UNITED STATES/OF AMERICA separated into two parts, and 1904, the minting year. The script used is Latin, like in most American coins.
The reverse of the 1904 Indian Head Penny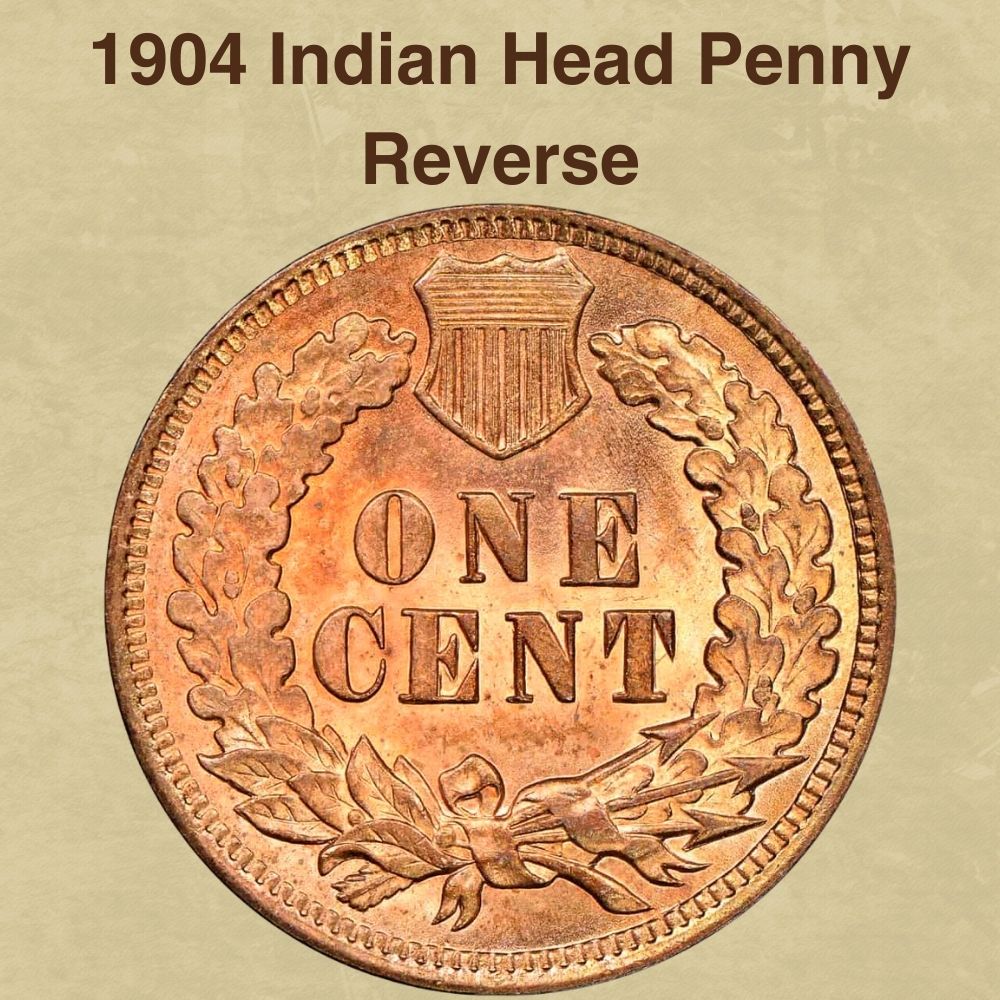 The elegant reverse penny side includes a wreath made of two oak twigs. You can also notice a sizable ribbon tiding the wreath's ends and three arrows pointing right on the bottom.
The top wreath ends surround a shield on both sides. It includes 13 strips, one for each first State that joined the Union from 1787 to 1790. The wreath also surrounds the centrally positioned denomination of ONE CENT. These old coins have tiny denticles along both rims on the obverse and reverse.
1904 Indian Head Penny Details

Face value
One cent ($0.01)
Compound
An alloy of 95% copper with zinc or tin
Coin diameter
19.05 mm (0.75 inches)
Coin thickness
1.47 mm (0,058 inches)
Shape
Round
Coin weight
3.11 g (0.10970 ounces)
Edge
Plain
Other features of the 1904 Indian cent coin
The 1904 copper Indian cent coins with a plain edge contain 95% of this metal. Their weight is a standard 0.10970 ounces (3.11 grams), while each piece has a thickness of 0,058 inches (1.47 millimeters). The expected diameter has been unchanged for years and is 0.7500 inches (19.05 millimeters).
Also read: 13 Most Valuable Wheat Penny Worth Money
1904 Indian Head Penny Value Guides
In this early period of minting, only one mint produced Indian pennies. Their total number in 1904 was 61,328,015, including less than 2,000 specimens of high quality intended for collectors.
1904 No mint mark Indian Head Penny Value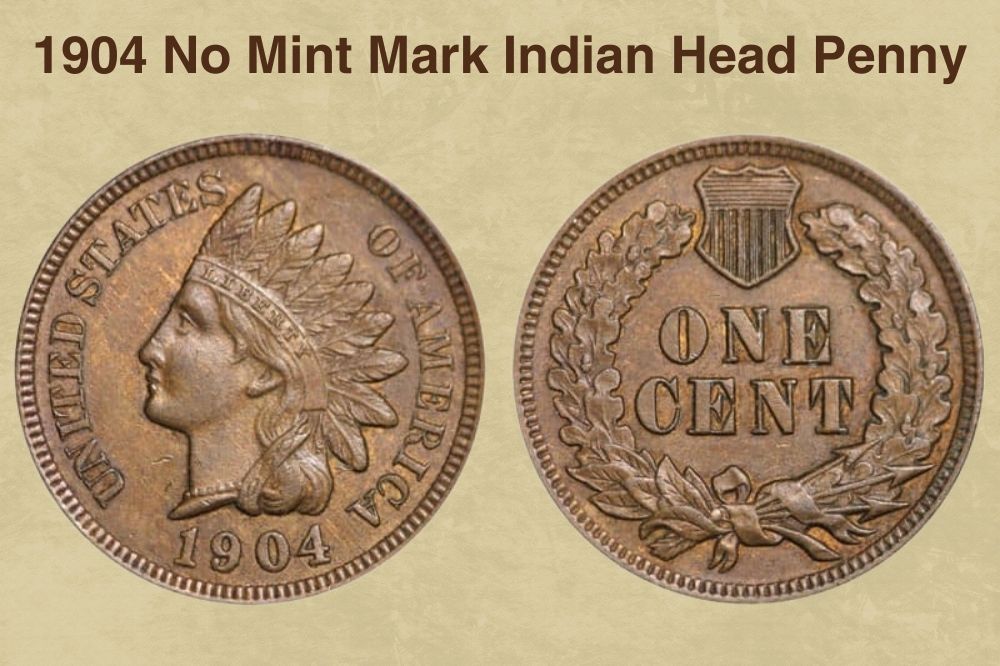 The Philadelphia mint was the only one to produce pennies in 1904, including 61,326,198 coins from regular strikes. They come in three toning, the crucial feature affecting each specimen's value besides the condition.
For instance, the brown penny minted this year cost $1.10 to $28.75, while those in uncirculated condition come with prices from $32 to $375. Only rarer pennies in MS 67 grade have an assessed price from $1,350 to $1,688.
Red-brown cents from 1904 are more expensive. Their estimated prices range from $50 to $62.50 for MS 61-graded pieces but can go up to $2,100. You should count to that sum to get one MS 67-rated penny.
The 1904 pennies with the desirable red surface cost at least $90, while the best-rating ones cost more. Therefore, you can expect the following:
An estimated price of $1,210 to $1,700 for pennies graded MS 66
An estimated price of $6,600 to $12,000 for pennies graded MS 67
The auction record reached in 2019 was a great surprise since one collector paid $33,600 for one red-toned 1904 MS 67 Indian Head cent coin.
1904 proof Indian Head Penny without mint mark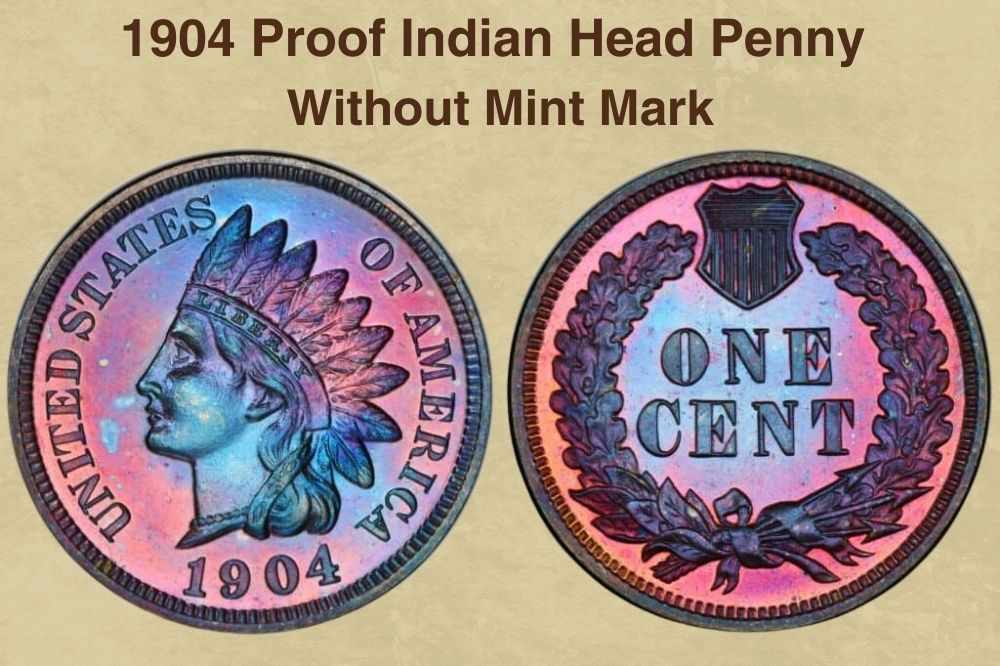 Besides regular pennies, the mint in Philadelphia issued 1,817 proofs in 1904. Since they were intended for collectors only, none of these pieces ever appeared in circulation.
Expectedly, beautifully lustered red Indian pennies (proofs) are the most expensive. However, they rarely reach auction records typical for regular pieces in the same grades.
For instance, red-colored 1904 proofs have estimated prices ranging from:
$220 to $264 for proof pennies in PR 60 grade
$240 to $288 for proof pennies in PR 61 grade
$260 to $312 for proof pennies in PR 62 grade
$300 to $360 for proof pennies in PR 63 grade
$440 to $528 for proof pennies in PR 64 grade
$875 to $1,050 for proof pennies in PR 65 grade
$1,400 to $1,680 for proof pennies in PR 66 grade
Pennies rated PR 67 are scarce, and you can rarely come across one such coin on the open market. Their estimated prices are from $3,100 to $7,720, but no one could predict how far a dedicated collector can go at an auction.
Believe it or not, the precious red-toned 1904 PR 67 Indian cent coin sold at $29,900 in 2009.
Red-brown pennies are more affordable, and you should set aside $150 to $660 for pieces from PR 60 to PR 65 grades. However, better-ranked coins cost more, so you should set aside over $1,000 per one.
For instance, one 1904 PR 66 penny is worth $1,000 to $1,350, while those graded PR 67 cost approximately $2,200 to $2,640. The auction record for one CAC Indian cent in the highest rank is $6,463 (2014).
If your budget is limited, but you still want to add one 1904 proof to your collection, you can choose one of the affordable brown specimens. One typically costs $120 to $144 in the lower PR 60 grade, while the best-looking pennies rated PR 67 are estimated at $1,700 to $2,040.
The auction winner is the 1904 brown cent coin in PR 65 grade, sold at $1,920 in 2019. On the other hand, one piece with a PR 66 rating and cameo contrast reached $7,800 at an auction in 2019.
Also read: 17 Most Valuable Indian Head Penny Worth Money
1904 Indian Head Penny Grading
Grading an old coin like the 1904 Indian penny should be a professional job. Of course, you can check the basic condition described in the Sheldon scale yourself if you are an experienced numismatist.
However, your estimation is not enough if you want to win the highest prices at auctions. Most collectors want to know the genuine value of the pieces they want to buy and always require a professional opinion for offered valuable pennies.
Rare 1904 Indian Head Penny Errors List
The list of the 1904 Indian pennies includes only two standard errors. These imperfect coins appeared during minting when the die was damaged or worn out, or the machine failed to work evenly.
Re-punched date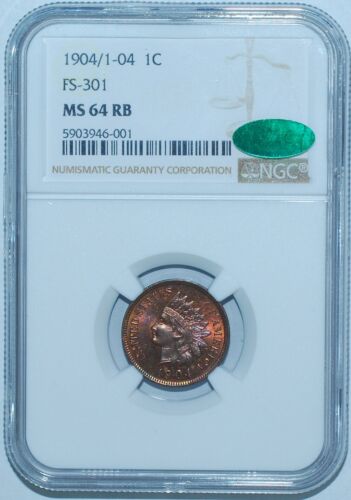 This error is relatively rare among the 1904 pennies and implies hitting the same date twice or even three times because the first attempt was incorrect. You can notice doubling on three of four numbers, including 9, 0, and/or 4.
A few brown and red-brown pieces are reported with this imperfection, while only one such red penny error was officially graded. The costliest brown coin offered at an auction in 2018 was paid $501, while the red-brown specimen in MS 64 grade was sold on eBay in 2022 for $550.
Off-center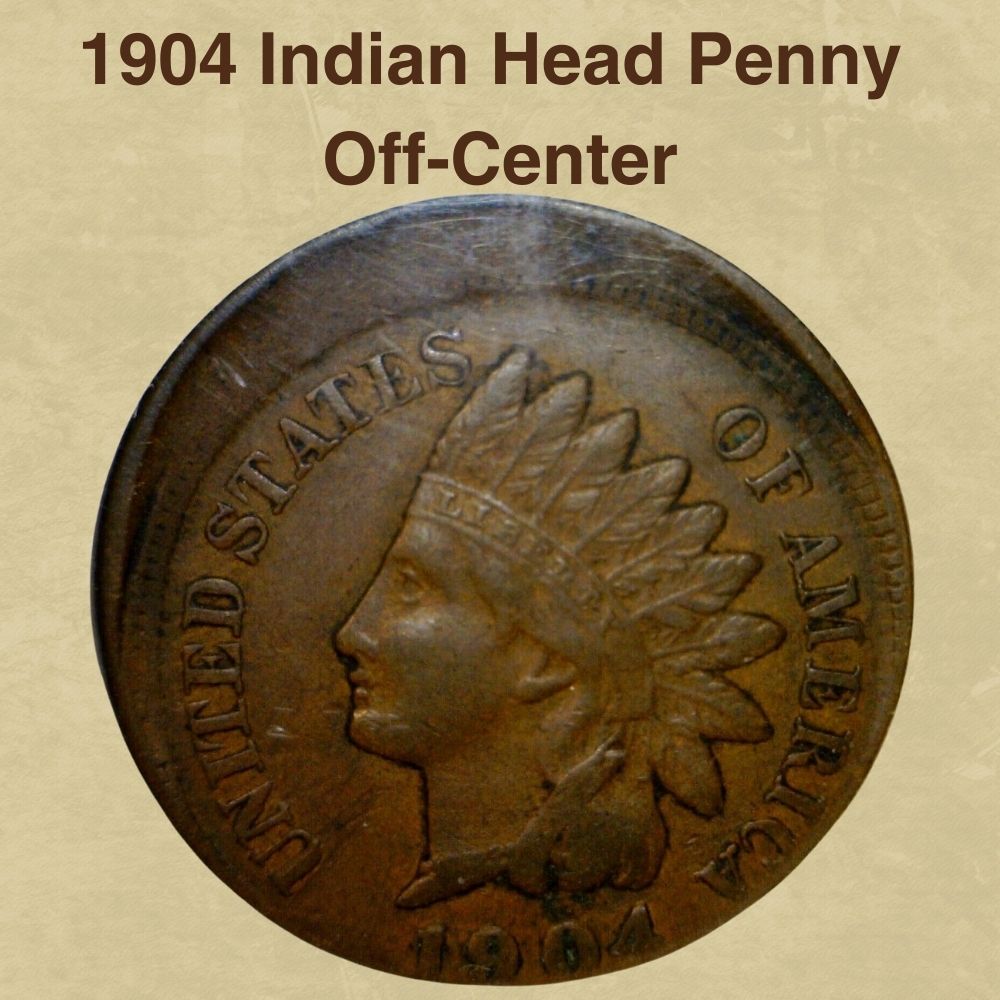 Off-center pennies minted in 1904 never come with significant deviation. However, you can find pieces with 10% off-center with attractive crescent-shaped blank space along the edge at prices of about $50 above their standard value. Some can reach up to $250 at auctions.
Also read: 11 Most Valuable Wheat Penny Errors
FAQ about the 1904 Indian Head Penny Coins
What makes a 1904 Indian Head cent coin rare?
Pennies struck in 1904 are conditionally rare. Circulated coins are typically available, but finding red ones in the highest grades can be challenging. None of these cents is scarce, like the rarest 1877 Indian penny, but you have to make an effort to find the best quality specimens.
Which 1904 Indian Head cent coin is worth a lot of money?
The 1904 RD Indian cent coin in MS 67 grade appeared at Heritage Auctions in 2019 and sold at $33,600
The 1904 RD Indian cent coin in PR 67 grade appeared at Heritage Auctions in 2009 and sold at $29,900
The 1904 CAM Indian cent coin in PR 66 grade appeared at Stack's Bowers in 2019 and sold at $7,800
The 1904 RB Indian CAC cent coin in PR 67 grade appeared at Heritage Auctions in 2014 and sold at $6,463
The 1904 BN Indian cent coin in PR 65 grade appeared at Heritage Auctions in 2019 and sold at $1,920
The 1904 BN Indian cent coin (PCGS Genuine) appeared on eBay in 2021 and sold at $810
The 1904 RB Indian cent coin in MS 66 grade appeared on eBay in 2021 and sold at $760
The 1904 RB Indian cent coin (RPD) in MS 64 grade appeared on eBay in 2022 and sold at $550
The 1904 BN Indian cent coin (RPD) in MS 64 grade appeared on eBay in 2018 and sold at $501
How much is the 1904 Indian Head cent coin worth?
The price range for the 1904 pennies is pretty wide since their value depends on two crucial things. They include each piece's current condition and its surface's toning.
Brown coins are the less expensive and cost $1 to almost $1,700, while red-brown ones are worth $50 to $2,100 on average. Typically, red coins are the most valuable, with prices ranging from $90 for pieces in MS 61 grade to $12,000 for those ranked MS 67.
What is the priciest Indian Head cent coin?
The most expensive Indian penny sold by now is the 1864 PR 65 error coin with L On Ribbon. One collector purchased this piece in 2011 for an incredibly high $161,000.
The most expensive regular specimen from Philadelphia is the next, after selling at $149,500 in 2007. It is a penny in MS 66 grade minted in 1877. Finally, the 1897 PR 67+ Indian cent coin with DCAM quality is the priciest proof in the series after winning the auction record of $108,000 in 2021.