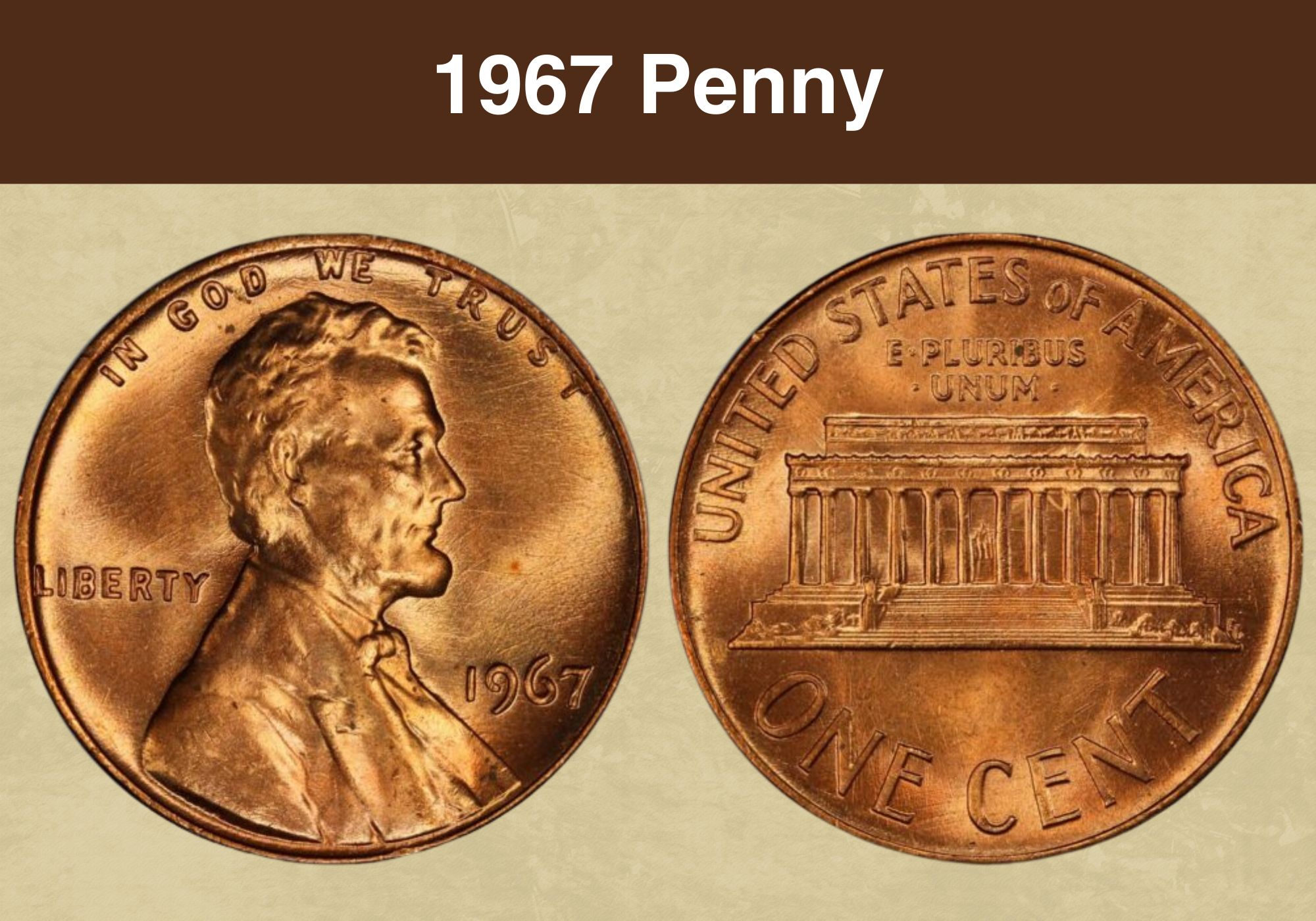 The first pennies with Abraham Lincoln on the obverse appeared in circulation in 1909. After half a century, the US Mint changed famous wheat stalks depicted on the reverse with a Memorial erected in Washington DC.
Like most Lincoln cents from the Memorial series, the 1967 penny value is relatively low. Most modern coins are affordable, except for a few exceptionally preserved ones. Expectedly, coins from Special Mint Sets are more expensive. Let's see.
1967 Penny value Chart

Condition
1967 penny (no mint mark)
MS 60
$0.23
MS 65
$1.16
History of the 1967 Penny
American penny (cent) changed throughout history, and you can recognize:
100% copper large pennies weighing 208 grains (13.48 grams, 0.47549 ounces), minted from 1793 to 1795
100% copper large pennies weighing 168 grains (10.89 grams, 0.38413 ounces), minted from 1795 to 1857
88% copper small pennies weighing 72 grains (4.67 grams, 0.16473 ounces), minted from 1856 to 1864
95% copper (bronze) small pennies weighing 48 grains (3.11 grams, 0.10970 ounces), minted from 1864 to 1942
Zinc-coated steel small pennies weighing 42 grains (2.72 grams, 0.09595 ounces), minted in 1943
95% copper (gilding metal) small pennies weighing 48 grains (3.11 grams, 0.10970 ounces), minted from 1944 to 1946
95% copper (bronze) small pennies weighing 48 grains (3.11 grams, 0.10970 ounces), minted from 1947 to 1962
95% copper (gilding metal) small pennies weighing 48 grains (3.11 grams, 0.10970 ounces), minted from 1962 to September 1982
5% zinc (copper-plated zinc) small pennies weighing 38.6 grains (2.5 grams, 0.08818 ounces), minted from October 1982 to present
In 1967, pennies were still cupronickel coins and were in a group of those minted from 1965 to 1967. They were without the mint mark, regardless of the mint they were issued. Experts quickly recognize two types, regular coins and those intended for Special Mint Sets.
The reason for such extraordinary measures was the penny shortage in the 1960s, so the US Mint tried to find a way to prevent hoarding. Unfortunately, workers used an old coin obverse hub in 1967, making a Lincoln portrait dull with barely noticeable details.
1967 Penny Types

Location
Year
Minted
(Philadelphia)
1967 No mint mark penny
3,048,667,100
San Francisco
1967 SMS penny
1,863,344
Total
/
3,050,530,444
Pennies minted in 1967 are a part of two historically significant decades because of their connection with the space race and Vietnam War. Besides, it was a transitional period when the US Mint experimented with different penny compositions and issued SMS coins instead of proofs.
Also read: 12 Most Valuable Lincoln Penny Worth Money
Features of the 1967 Penny
Memorial cents kept the original Victor D. Brenner's obverse design, but the US Mint replaced the reverse after 50 years. Chosen designer, Frank Gasparro, decided to add the famous Memorial instead of wheat stalks.
The 1967 cents are ordinary coins among numerous similar in the series. They don't deviate from the standard either in terms of appearance or quality.
The obverse of the 1967 Penny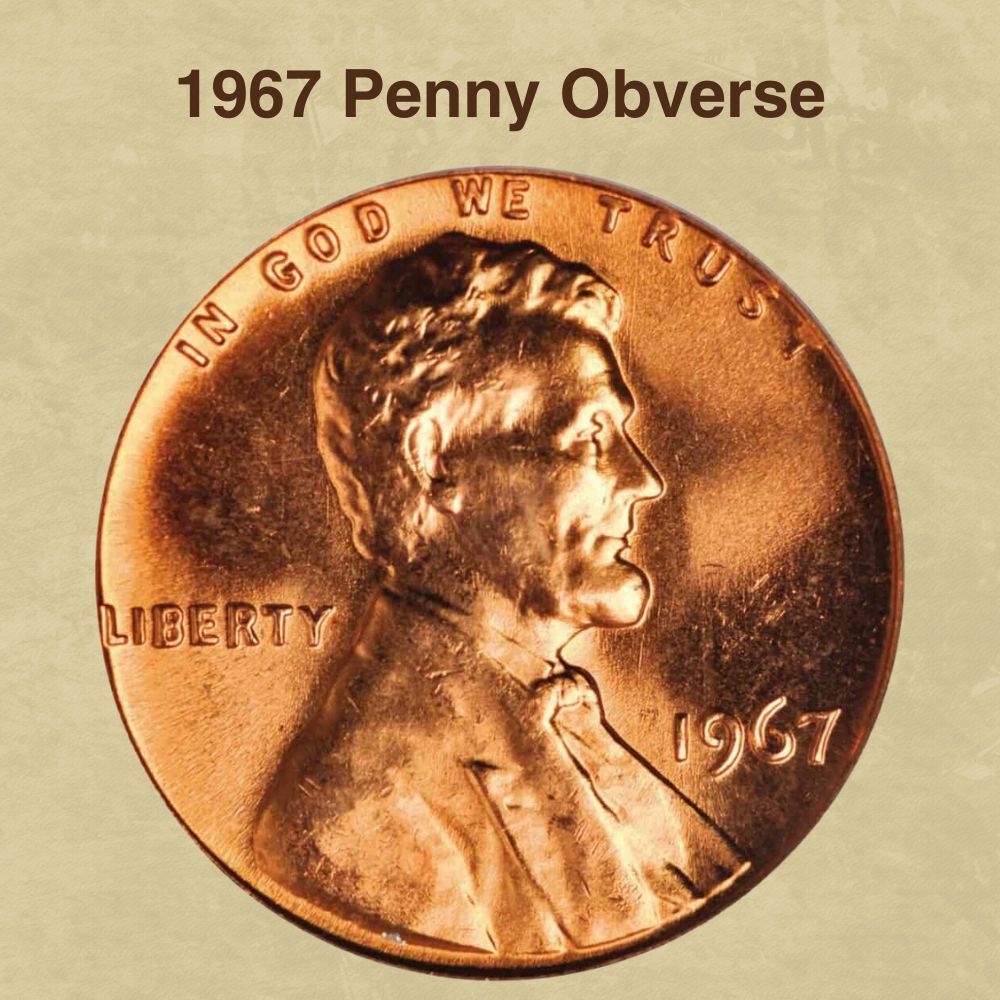 The 1967 pennies are a part of the Memorial cent series that replaced Wheat pennies in 1959. However, the US Mint decided to keep Victor David Brenner's original obverse design and only changed the coin reverse. His initials are visible below President's sleeve.
Besides Lincoln's profile, you can also see the LIBERTY, a significant word for Americans, and the date. The inscription, IN GOD WE TRUST, covers the design from above.
Even though not all regular cents were minted in Philadelphia this year, none has the mint mark under the date. Even SMS coins produced in San Francisco came without the mint mark S as an attempt to prevent hoarding.
The reverse of the 1967 Penny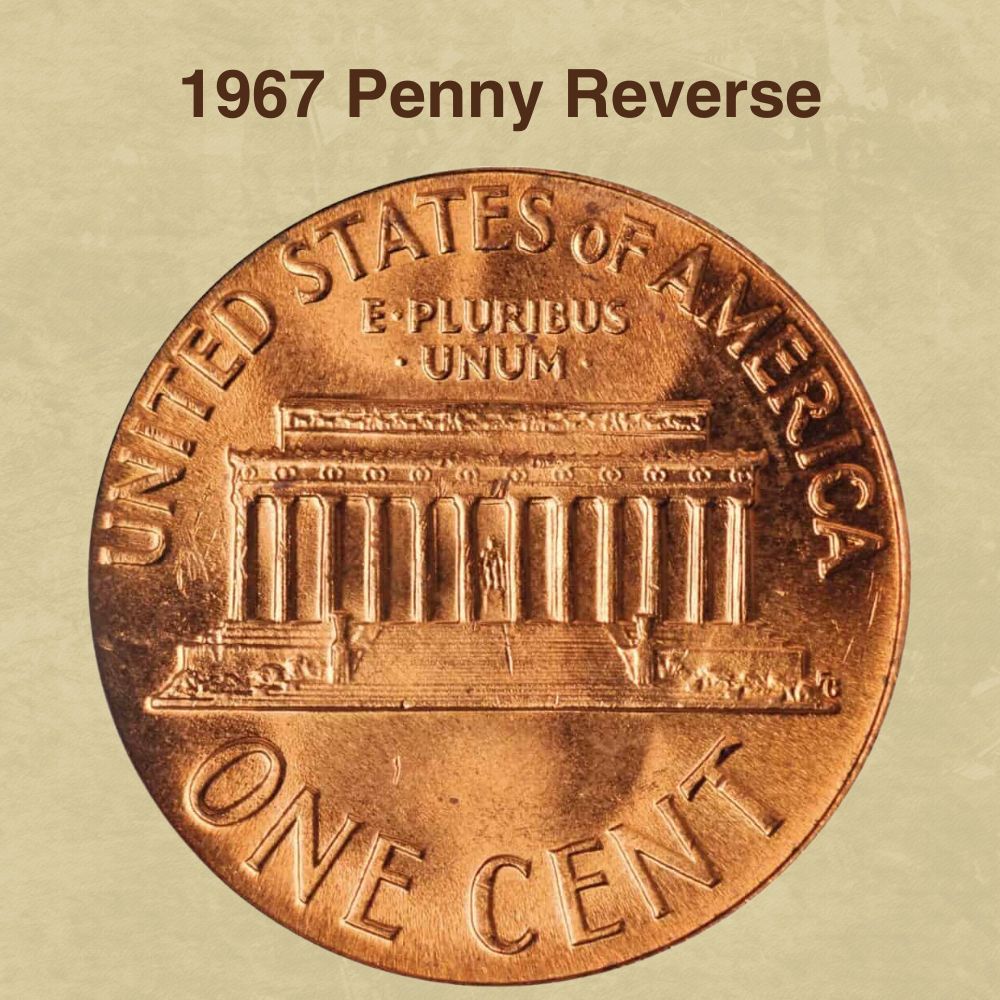 The 1967 penny reverse depicts Lincoln Memorial, designed by Frank Gasparro. Therefore, you can see his initials next to the steps. Interestingly, the artist also added the President's sculpture, making an exception with the same person shown on both sides.
Besides the centrally positioned monument, the designer also added inscriptions required by American law, including:
UNITED STATES oF AMERICA
EPLURIBUS
UNUM·
ONE CENT
All cents minted from 1959 to 2008 had this design when four Bicentennial cent reverse solutions replaced it. It was a way to celebrate 200 years after Lincoln was born.
1967 Penny Details

Face value
$0.01 (one-cent coin)
Compound
An alloy of 95% copper (gilding metal)
Coin thickness
0.059 inches (1.5 mm)
Shape
Round
Coin diameter
0.75 inches (19 mm)
Coin weight
0.11 ounces (3.11 g)
Edge
Plain
Other features of the 1967 Penny
Memorial cents minted in 1967 are copper coins with a low percentage of the other metal (zinc or tin). These one-cent specimens are thick 0.06 inches (1.5 mm) and weigh 0.11 ounces (3.1 g). Their diameter is 0.75 inches (19 mm), and the edge is plain.
Also read: 13 Most Valuable Wheat Penny Worth Money
1967 Penny Value Guides
Most people believe that all 3,050,530,444 pennies from 1967 were minted in Philadelphia because they were without the mint mark. On the contrary, four mints produced these coins:
907,575,000 pennies from regular strikes (Philadelphia)
1,327,377,100 pennies from regular strikes (Denver)
813,715,000 pennies from regular strikes (San Francisco)
1,863,344 pennies with satin finish as a part of a Special Mint Set (San Francisco)
You should consider a few factors affecting the 1967 penny value. The first thing to check is whether the coin you are looking at is from regular strikes or a part of a more costly Special Mint Set.
The next step is to determine the penny's grade, which shows each piece's rarity and the level of demand. For instance, some highly-ranked coins and scarce errors are sought-after among collectors.
If you have a low-quality cent, you can grade it yourself. However, hiring a professional to evaluate rare and expensive specimens is a better option. Remember that professionally graded coins almost always win the highest prices at auctions.
1967 No Mint Mark Penny Value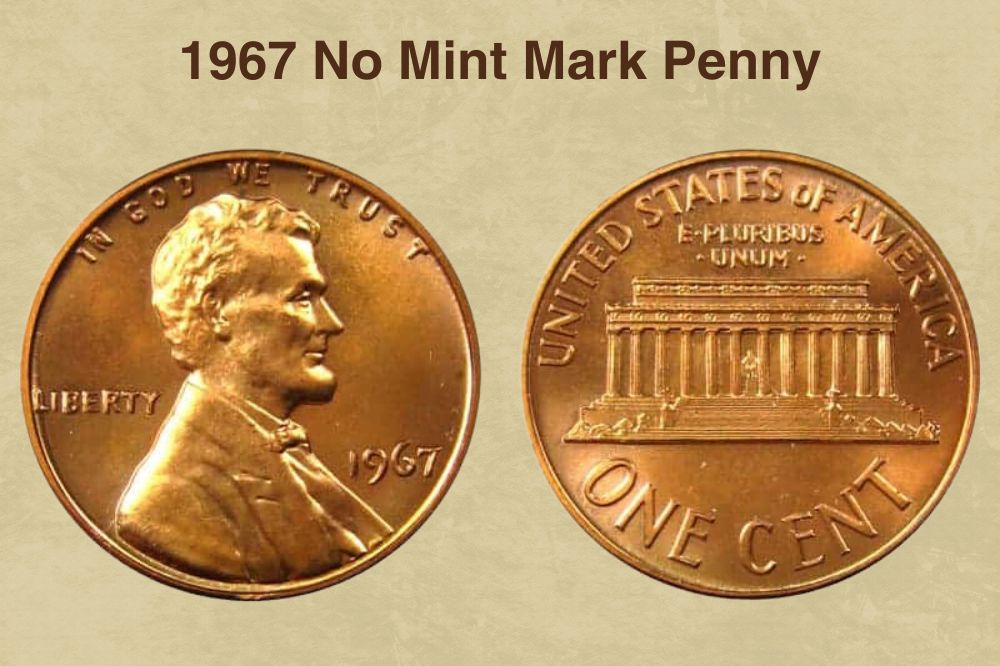 The 3,048,667,100 pennies without the mint mark were issued in 1967. You can find them in three shades thanks to the high copper content. The most collectible are red coins that cost $0.30 to $17, depending on the estimated rank.
Only those graded MS 67 are more expensive, so it is necessary to set aside approximately $360 to get one. The record price for such a coin type is $4,945.
However, some collectors are prepared to add less-appreciated coins to their collections. So, one brown piece with the MS 70 grade was bought on eBay for $2,650 (August 2021), while another collector paid $85 for the red-brown 1967 MS 65 cent in 2018 on the same selling site.
1967 Special Mint Set Penny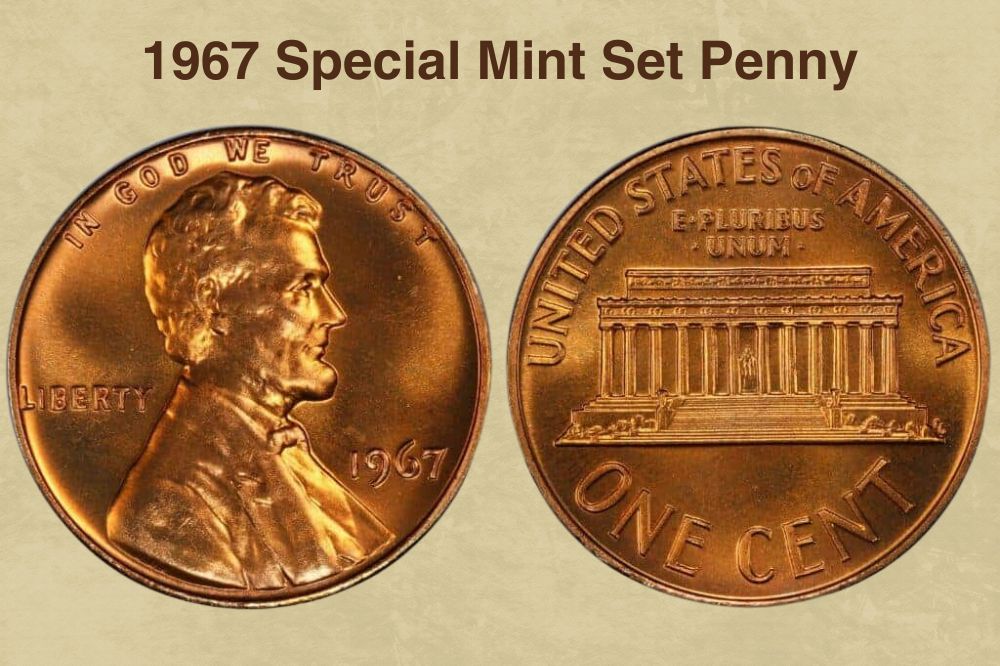 The US Mint didn't issue proof pennies from 1964 to 1967, but you can find coins from the Special Mint Set. They are better-looking than regular cents, but they never reached the quality of proof specimens.
The San Francisco mint released 1,863,344 SMS pennies without the mint mark in 1967. The idea was to prevent hoarding and promote an increasing cent number in everyday transactions.
These coins are more valuable than regularly struck pieces. Depending on their quality, an average price range for red-colored cents is from $3 (MS 65-graded coin) to $105 (MS 68-graded coin).
Record prices are expectedly higher, so the highest value for the red SP 68 SMS penny is $978. The costliest red-brown coin was sold for $510, while the brown-toned one reached $103 on eBay in 2021.
Collectors also look for red 1967 SMS CAM pennies, which value depends on numerous characteristics. You can expect to pay:
1967 SP 65 penny – $75
1967 SP 66 penny – $180
1967 SP 67 penny – $350
1967 SP 68 penny – $2,500
The most expensive CAM cent sold by now reached twice the price of $5,581 in 2014. Finally, rare SMS DCAM red cents in SP 65 grade are estimated at $2,000. However, the record won in 2018 was $3,360 for one such coin.
Also read: 17 Most Valuable Indian Head Penny Worth Money
1967 Penny Grading
You can effortlessly estimate your 1967 penny by using the Sheldon grading scale. Avoid the original one, but use a modified version from the 1970s. Almost all relevant companies for coin evaluation use it today. Each specimen's value depends on the ranking number from 1 to 70.
Rare 1967 Penny Error List
Unlike many other Lincoln cents in the series, the 1967 penny set doesn't have exceptionally costly or specific errors. However, such imperfect coins can be worth a few dozen of dollars, making them valuable among numerous worthless and low-valued pieces.
Doubled die
The 1967 doubled die penny is less sought-after than similar but drastic error coins produced in 1955 or 1972. However, you can still get $20 to $50 per piece.
The condition is that the imperfection is significant and clearly visible, increasing the coin price. On the other hand, a dull, minor doubling you can only see with a magnifying glass brings only a few bucks.
Die crack and die break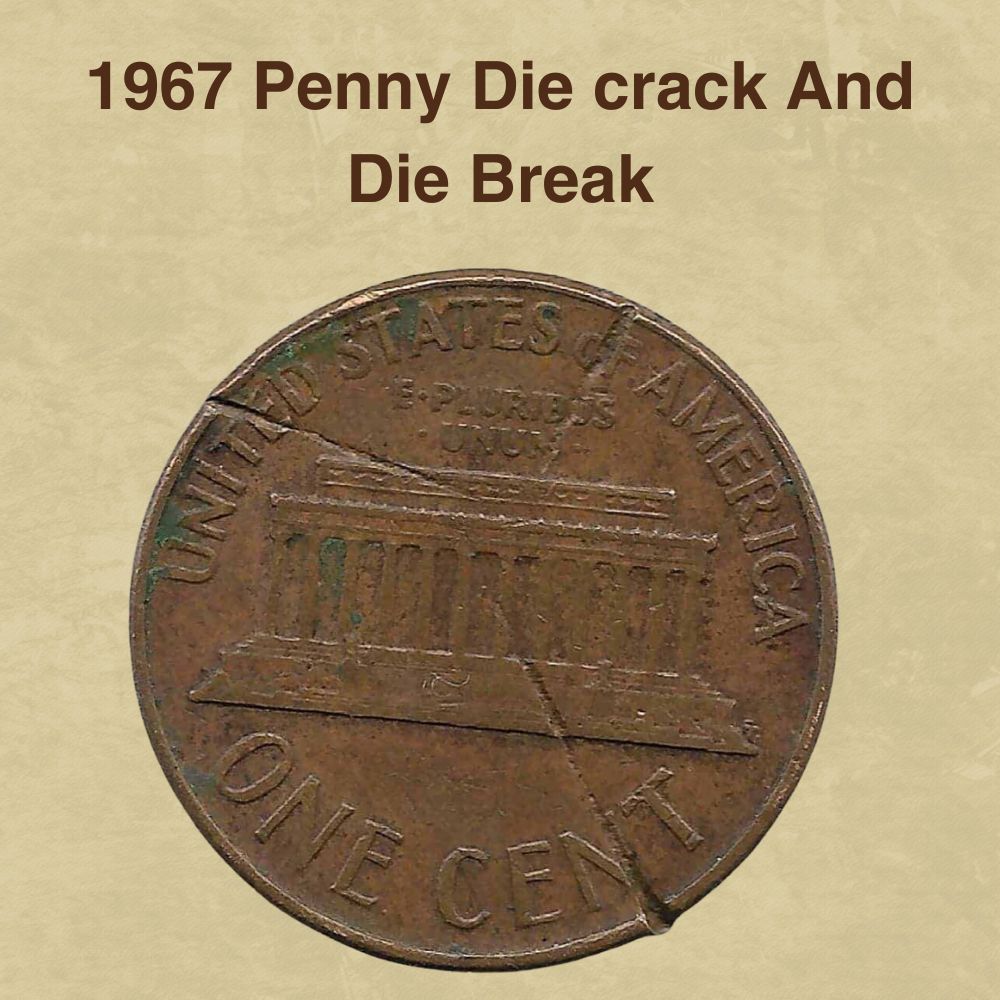 Mints often used dies for too long, and they became old, broken, or cracked over time, leaving traces on penny surfaces. The result is damage to coins like lines, holes, and bumps.
The crack type and size determine such a coin price, reaching $5 to $100. Even though such sizable imperfections have never been seen among pennies minted in 1967, you should keep trying for one.
BIE error
This error is common among pennies, so you can count on $5 to $15 per piece if you come across one minted in 1967. The uniqueness of these error coins is referred to a line appearing between letters in the word LIBERTY. It looks like a capital I and results from a vertical crack on the die.
Double/triple strike
When the die strikes the blank planchet twice or three times, you can see deformed coins of various shapes. Experts estimate them at approximately $900, but some specimens are paid more at auctions.
Cap dies (mushrooms, bottle caps)
Such a penny resulted from sticking the coin to the die after the first strike. Since minting new pennies continues, new-made ones are weird-looking. Collectors like these pieces and pay about $25 to get one.
Also read: 11 Most Valuable Wheat Penny Errors
FAQ about the 1967 Penny
How much are the 1967 Penny rare?
Unlike collectible and expensive War Cents, those minted in 1967 are common and of low value. Except for a few pieces, including those intended for collectors, most of these coins are worth only as pieces of the series. Separately, they are almost uninteresting for numismatists.
Which 1967 Penny won auction records?
The 1967 SP 68 CAM SMS Memorial cent (Lincoln penny) – $5,581 on 06-04-2014 at Heritage Auctions
The red 1967 MS 67 Memorial cent (Lincoln penny) – $4,945 on 11-01-2008 at Bowers & Merena
The 1967 SP 65 DCAM SMS Memorial cent (Lincoln penny) – $3,360 on 06-17-2018 at Heritage Auctions
The brown 1967 MS 70 Memorial cent (Lincoln penny) – $2,650 on 08-10-2021 on eBay
The red 1967 SP 68 SMS Memorial cent (Lincoln penny) – $978 on 08-11-2011 at Heritage Auctions
The red-brown 1967 SP SMS Memorial cent (Lincoln penny) – $510 on 06-30-2010 on eBay
The brown 1967 UNC Details SMS Memorial cent (Lincoln penny) – $103 on 01-31-2021 on eBay
The red-brown 1967 MS 65 Memorial cent (Lincoln penny) – $85 on 02-01-2018 on eBay
How much to set aside for the 1967 Penny?
Red coins are the most collectible, and they are often worth $0.30 to $17, depending on their quality. Only high-graded coins ranked MS 67 cost $360 or even more. For instance, the highest sum paid for one penny minted this year was $4,945.
What are the priciest Lincoln coins in the series?
The most valuable cents with Wheat reverse (1909-1958)
Brown 1943 D penny (bronze) in MS 64 grade – $840,000
Brown 1943 S penny (bronze) in MS 63 grade – $504,000
1944 S penny (steel) in MS 66 grade – $408,000
Brown 1943 penny (bronze) in MS 62 grade – $372,000
Error 1958 red penny in MS 64 grade (doubled die obverse) – $336,000
The most valuable cents with Memorial reverse (1959 to date)
1999 MS 66 cent – $138,000
Error 1969 S MS 64 cent (doubled die obverse) – $126,500
1959 D MS 60 cent – $48,300
1963 PR 70 cent – $40,250
Error red 1992 MS 67 cent (close AM) – $25,850