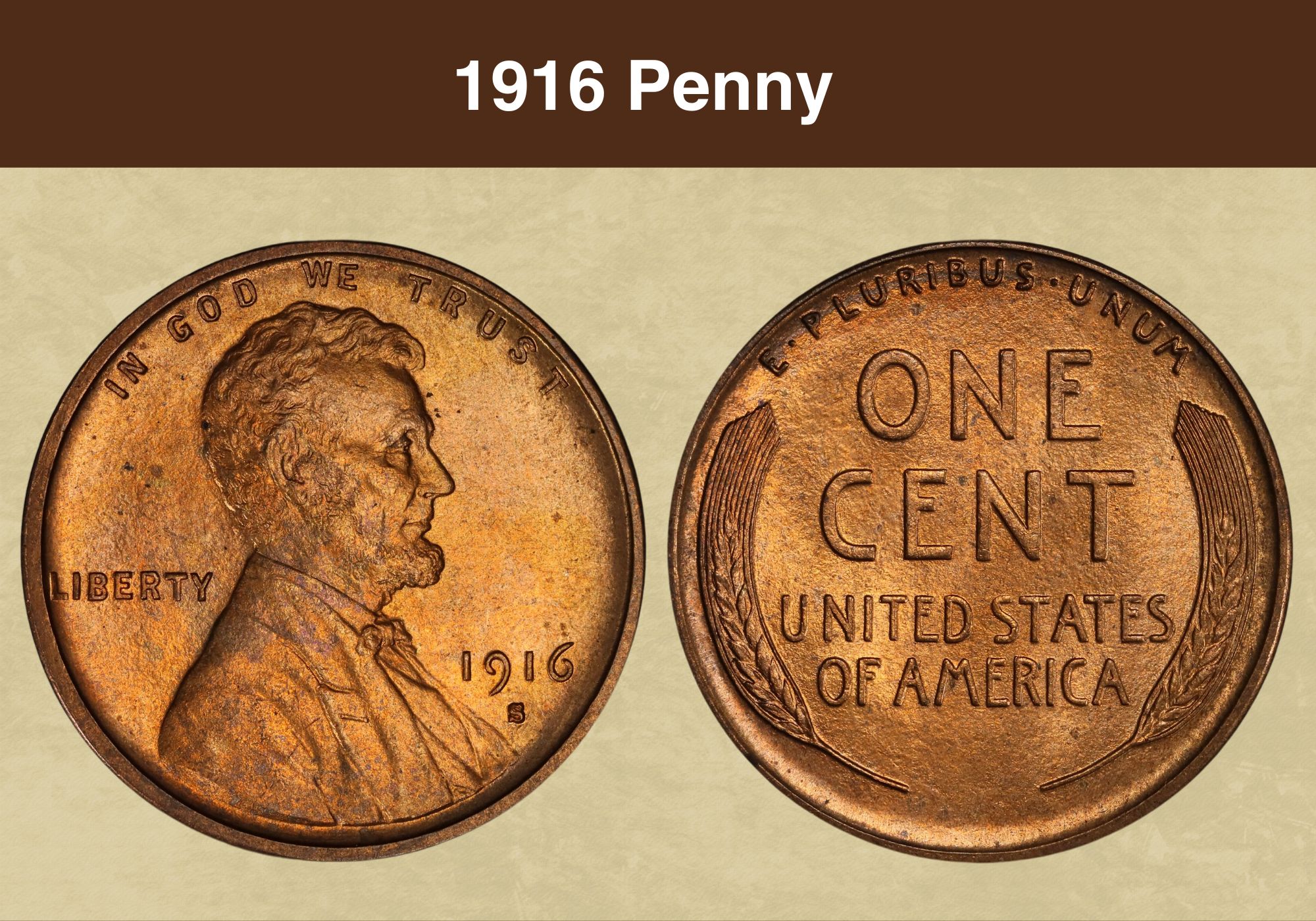 Have you found a penny dating from 1916 in your pocket change? If so, you might be wondering whether being over a century old makes it valuable.
The answer is, it depends on the coin! But what factors make the difference between a standard example and something that will get collectors hot under the collar?
That's what we're here to find out, as we investigate the 1916 penny value. We'll look at coin condition and the different mint marks. And we'll discover some of the interesting Mint errors that are out there.
So if you're ready to learn more, let's get started!
1916 Penny Value Chart
Mint mark
XF45
MS60
MS65
MS67
1916 No Mint Mark Penny Value
Brown: $10
Brown: $30

Red and brown: $30

Red: $34

Brown: $160

Red and brown: $225

Red: $400

Brown: $400+

Red and brown: $2,000

Red: $2,150

1916 D Penny Value
Brown: $35
Brown: $90

Red and brown: $85

Red: $100

Brown: $475

Red and brown: $625

Red: $1,450

Brown: $10,000

Red: $60,000

1916 S Penny Value
Brown: $30
Brown: $110

Red and brown: $140

Red: $125

Brown: $850

Red and brown: $875

Red: $8,500

n/a
PR60
PR63
PR65
PR67
1916 (P) No Mint Mark Proof Penny Value
Brown: $775

Red and brown: $900

Red: $900

Brown: $2,050

Red and brown: $3,000

Red: $3,500

Brown: $4,500

Red and brown: $6,250

Red: $9,500

Brown: $11,000

Red and brown: $27,500

Red: $35,000+
History of the 1916 Penny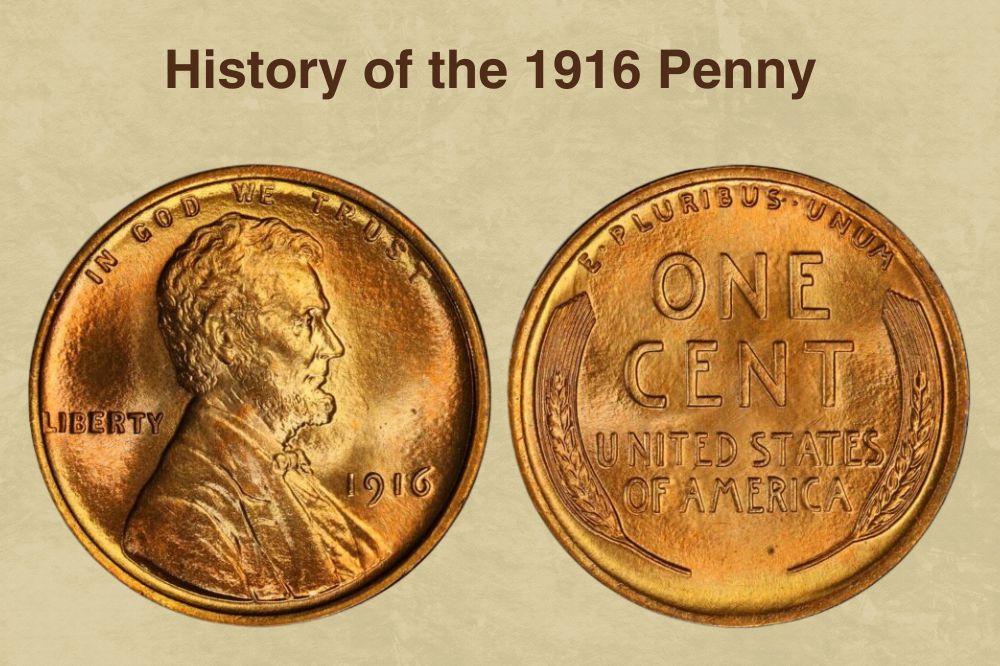 The penny struck in 1916 continued a series that had started seven years earlier.
The first Lincoln penny marked an important moment in the history of American coinage. It was the first time any US coin had borne the image of a real person. Until then, the figures on the "heads" side had been Lady Liberty.
The idea of departing from this tradition would once have been seen as un-American. It was monarchies, after all, who displayed the heads of kings and queens on their coins.
But 1909 marked a special occasion, the centenary of Lincoln's birth. And as the year approached, the idea of honoring the former president with a coin gained ever more support.
So it was that a new penny was commissioned. The first of these coins are also referred to as Wheat pennies, after the design of two ears of durum wheat on the reverse.
The reverse design changed several times over the years. The portrait of Lincoln, however, is still essentially the same on cents being struck today as it was in 1909. And that makes the obverse design the longest running in American history.
Despite its success, however, it wasn't all smooth sailing for its designer. Victor David Brenner had originally proposed signing the portrait, but was told this would not be appropriate. So instead he added his initials to the reverse.
But when the first coins were issued, there was an outcry. The initials were criticised as being too large and prominent. Such was the furore that coin production was halted.
With time pressing, the Mint decided that making the initials smaller would take too long. Instead, they removed them altogether, over the artist's complaints. The 1916 penny, therefore, is unsigned.
In 1918, the initials were reinstated, this time on the obverse. Their position – on the cut-off at the bottom of Lincoln's bust – has been unchanged ever since.
Also read: 12 Most Valuable Lincoln Penny Worth Money
Features of the 1916 Penny
The Obverse of the 1916 Penny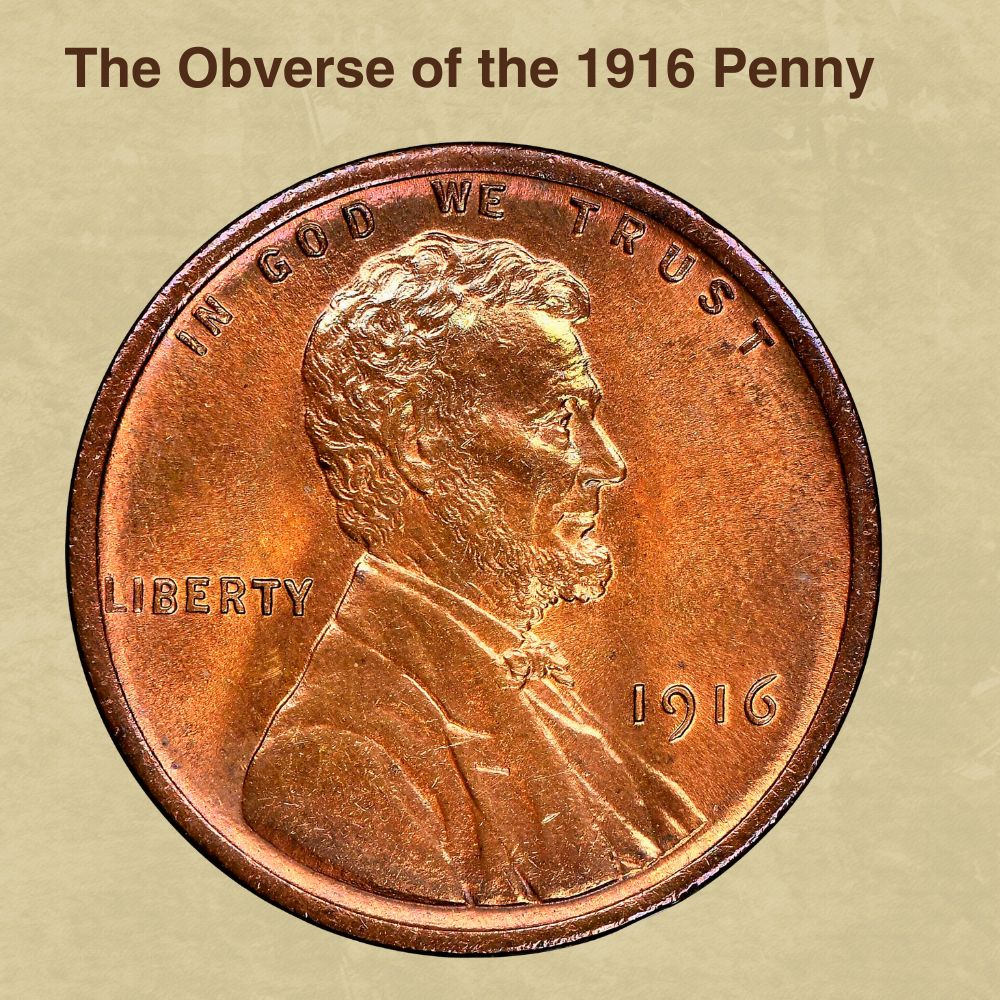 The obverse of all Lincoln pennies shows Abraham Lincoln in profile, facing to the right.
The artist, Victor David Brenner, had wanted to depict Lincoln at his most engaging. He wrote later that he had imagined the president as he would have looked when reading to a child.
Of course, by the time Brenner started work on his portrait, Lincoln was long since dead. It's thought that Brenner used as his source material a photograph of the president that had been taken at the studio of Matthew Brady.
Above the portrait, arching parallel to the upper coin edge, is the motto "IN GOD WE TRUST". To the left is the word "LIBERTY". And to the right is the date.
If the coin has a mint mark, it will appear below the date. 1916 saw regular pennies struck in Philadelphia, Denver and San Francisco, while proof pennies were struck in Philadelphia too.
At that time, Philadelphia didn't place a mint mark on its coins. But the 1916 pennies struck in Denver will be marked with a "D", and those from San Francisco with an "S".
The Reverse of the 1916 Penny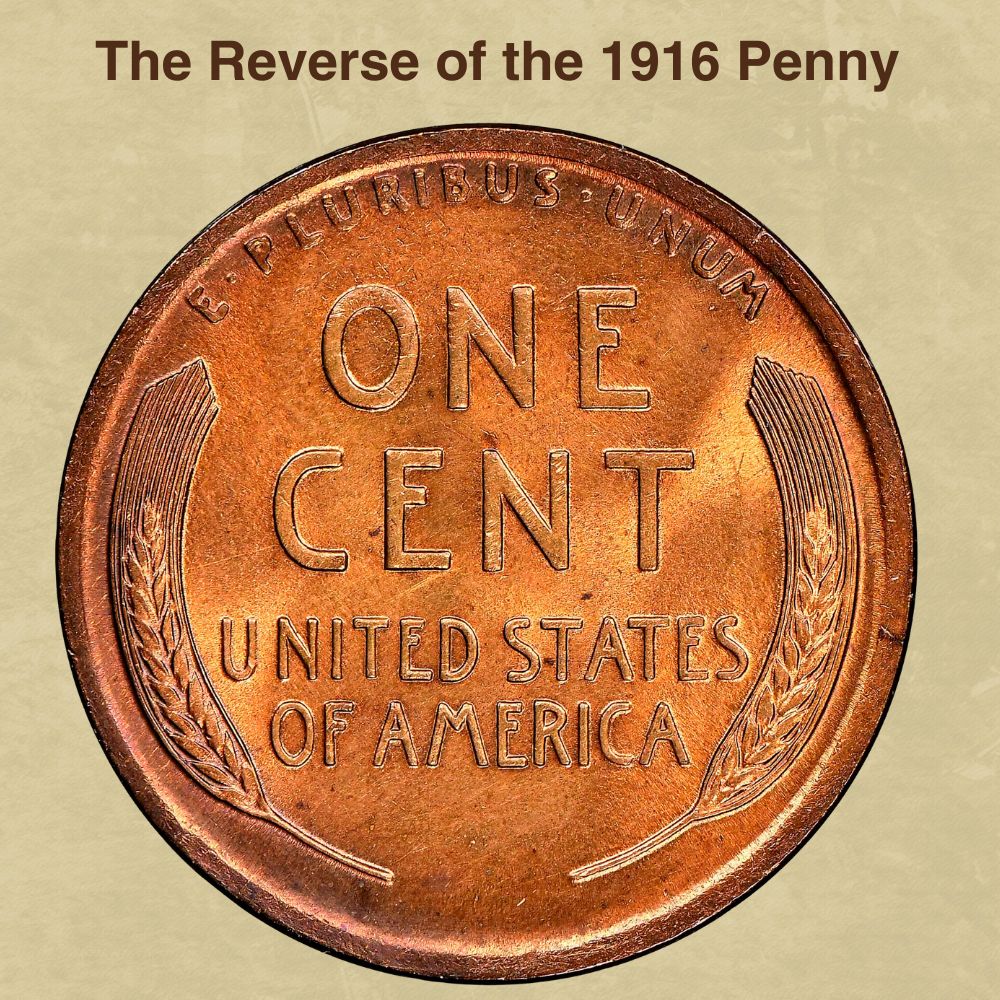 The reverse of the 1916 penny utilizes a simple design of two stylized ears of wheat. They curve up either side of the coin, framing the denomination, which is inscribed in large lettering in the center.
The words "E PLURIBUS UNUM" are at the top, curving parallel to the upper coin edge. The phrase is Latin for "From the many, one", and it's a reference to the creation of the country as a union of states.
The country name itself appears in smaller lettering in the center of the coin, below the denomination.
Other Features of the 1916 Penny
The 1916 penny is made of bronze – an alloy of 95 per cent copper, and 5 per cent tin and zinc. The high copper content means that individual coins vary in color from red to brown.
Coins that have received minimal handling or exposure to the air will be closer to the rich red of new copper. Those that have been handled more, or exposed to oxygen, will be a duller brown shade.
Generally speaking, red coins are more collectable than brown ones. And coin grading agencies follow strict criteria in color grading pennies.
In order to be graded "red", a coin must show that color over at least 95 per cent of its total surface area. A coin that's red over between 5 and 95 per cent of its surface area is graded "red and brown". And if 5 per cent or less of the surface is red, it's classified as a "brown" coin.
You can find out more about how to grade the color of Lincoln pennies in this YouTube video from CoinOpp.
Also read: 13 Most Valuable Wheat Penny Worth Money
1916 Penny Value Guides
1916 No Mint Mark Penny Value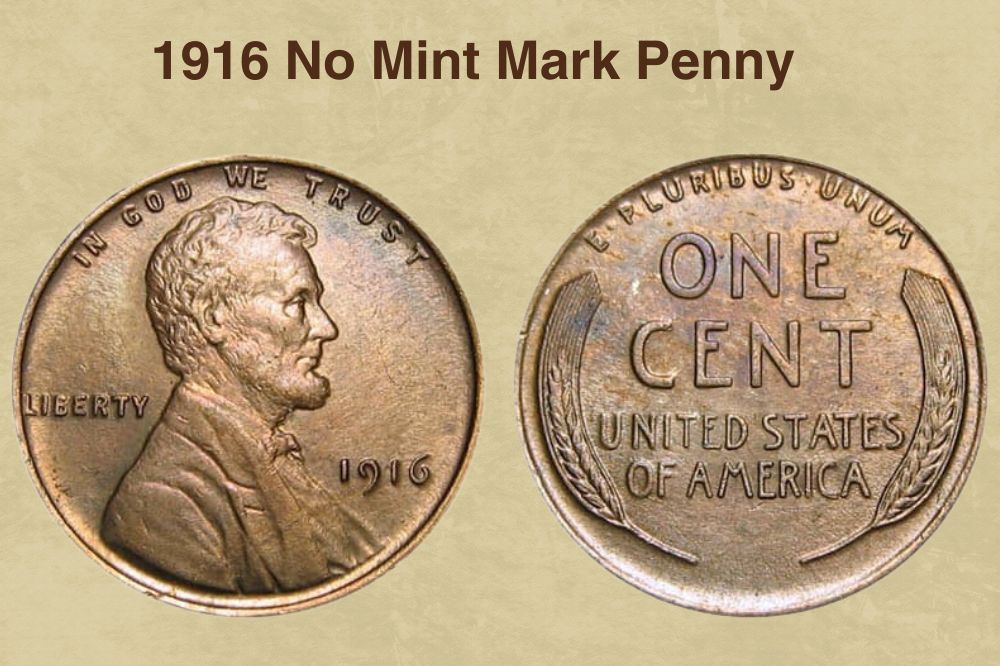 The Philadelphia Mint struck almost 132 million business strike pennies in 1916. If your coin doesn't have a mint mark, it's from Philadelphia. But it could be either a regular penny or a proof.
Proofs can be distinguished by their quality planchets and crisp strikes. They were produced in far smaller numbers, and their value differs significantly from regular strike coins. (We'll look at the value of 1916 proof pennies later.)
The value of an individual coin will depend on its color and condition. Coins are graded on a scale from 1 to 70, with 1 designating a coin in the poorest – but still identifiable – condition. A coin graded 70 is flawless.
The vast majority of surviving 1916 no mint mark business strike pennies are circulated brown coins. Most of those have a modest value, although they'll be worth more if they have a Mint error. A brown 1916 (P) penny graded XF45 (the letters stand for "extremely fine") is worth around $10.
In mint state – i.e. coins that have never been circulated – values are higher. Mint state coins are graded from 60 upwards, and a brown 1916 (P) penny graded MS60 will sell for around $30. It's the same if it's red and brown, and slightly more – around $34 – for a red example.
Gems are coins graded 65 or higher. And if you want a 1916 (P) penny in gem condition, you'll be looking at a minimum of around $160 for a brown coin. A red and brown example is worth significantly more – around $225. And for a red MS60 coin, you'll need to spend around $400.
The finest coin to have been certified by the independent coin graders, the PCGS, is a single example at MS68. And that penny is valued at an impressive $62,500.
1916 D Penny Value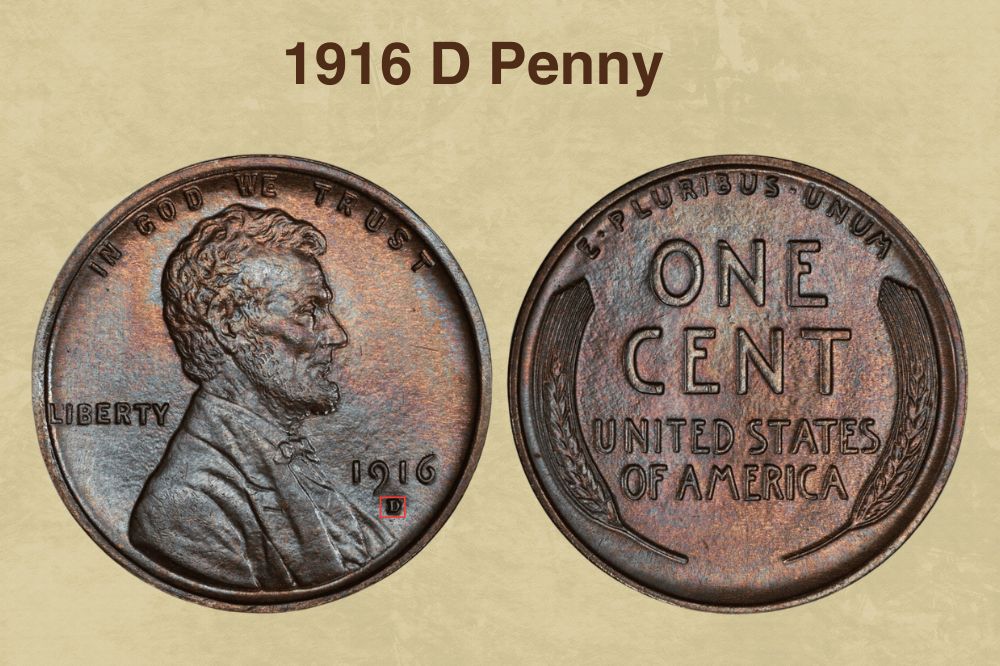 Compared to the 1916 (P) penny, the Denver mint mark is relatively scarce. Fewer than 36 million of them were ever produced, and today it's estimated that only around one in ten survive. If you're looking for a red coin, pickings are far slimmer, with only around a thousand believed to remain.
A brown 1916 D penny graded XF45 is worth around $35 – more than three times as much as its Philadelphia equivalent. A brown MS60 example is worth around $90, while at MS65 the value is around $475.
The finest known brown example is graded MS67, and is valued by the PCGS at $10,000.
Red and brown 1916 D pennies start at around $85 at MS60 – unusually, that's slightly lower than the value for a brown coin at the same grade. Quality tops out at MS66, and the two coins certified at that level are valued at $2,250 apiece.
For red pennies, the range is from $100 at MS60, to a breathtaking $60,000 apiece for the three coins graded MS67.
1916 S Penny Value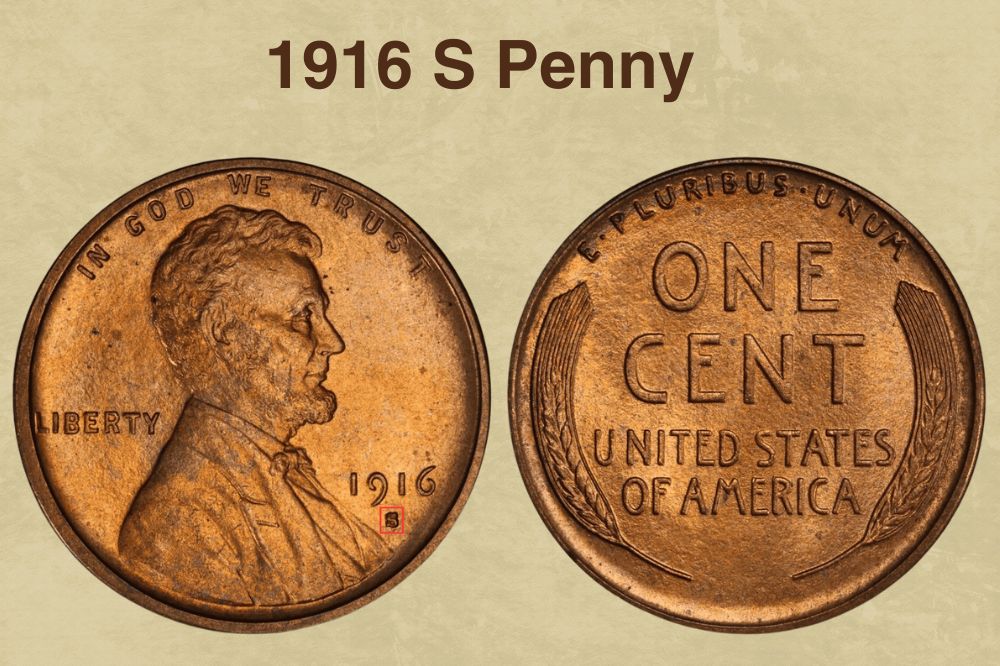 The original San Francisco 1916 penny mintage was the lowest of the three locations, at just 22.5 million coins. Values of circulated coins are similar to the D mint mark, with a brown coin graded XF45 worth around $30.
In mint state, values start at around $110 for a brown coin graded MS60. A red coin at the same grade is around $15 to $20 more.
In gem condition, the range is from $850 for a brown coin at MS65, to ten times that figure for a red example.
The finest red 1916 S penny to have been certified by the PCGS is graded MS65+, and that's valued at $18,000. But rival grading agency the NGC has certified a handful of coins at MS66. The last of those to change hands publicly was sold at auction in 1998, when it made $3,450.
1916 (P) No Mint Mark Proof Penny Value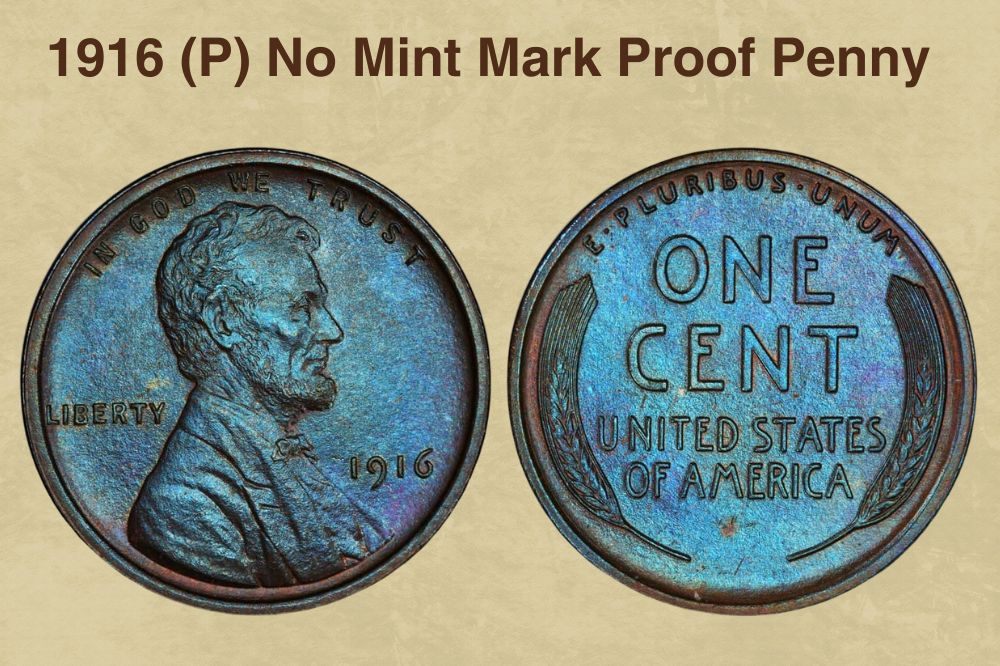 Like the business strikes, 1916 proof pennies come in the three standard color grades. No cameos or deep cameos have been found.
The mintage was just 1,050 coins – so examples in any condition fetch good money. A brown coin graded AU58 ("about uncirculated") is valued by the PCGS at $700, and values reach four figures at MS61.
19 brown coins have been certified at MS65, and they're worth around $4,500 each. And the finest example in that color is a single coin graded MS67 and valued at $11,000.
Red and brown examples are available from MS60 ($900) to MS67 ($43,500). And for red coins, the range at the PCGS is from $900 at MS60 to $27,500 at MS66. The NGC has graded one coin at MS67, and that last sold in 2011 for $34,500.
Also read: 17 Most Valuable Indian Head Penny Worth Money
Rare 1916 Penny Errors List
1916 (P) No Mint Mark Penny, Obverse Lamination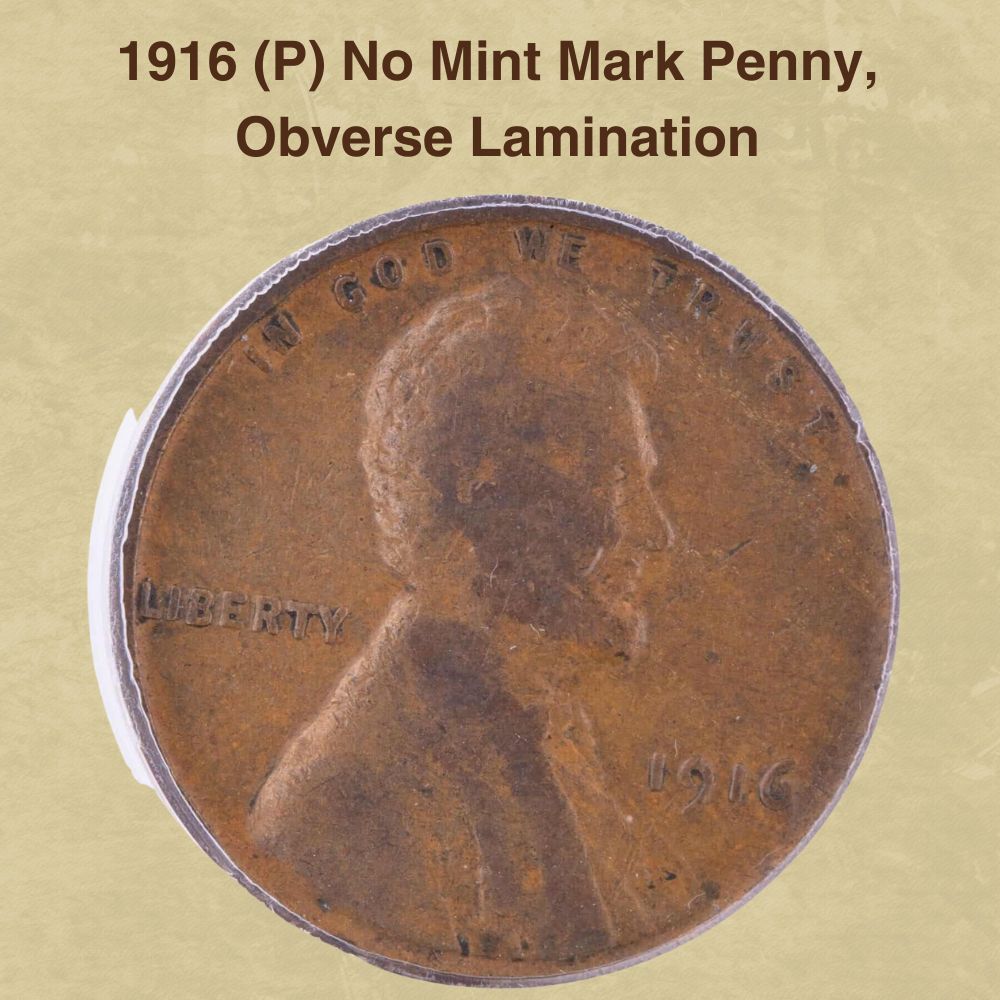 Lamination errors occur because of a defect in the composition of the planchet. This results in the appearance of a layer of metal having been peeled away.
This type of error can be difficult to distinguish from later damage. So if you're thinking of paying a premium for a coin with a lamination error, look for one that's been authenticated by an independent grading agency like the PCGS or NGC.
One 1916 penny struck in Philadelphia had this kind of error. Traces of lamination were visible on Lincoln's head and neck. The coin was in excellent condition, graded MS66 red by the PCGS. And it sold at auction in 2005 for $150.
1916 Penny, Double Die Obverse
Error coins are few and far between amongst 1916 pennies. But that doesn't stop some unscrupulous dealers trying to pass off damaged or doctored coins as Mint errors.
Amongst the most well known types of error are double dies. These occur as a result of movement during the process of transferring the design from the hub to the die. This leaves double lines on parts of the design, which are then transferred to the coins struck by the defective die.
The PCGS does not recognise any double die errors amongst 1916 pennies of any mint mark. But at the time of writing, several 1916 pennies with alleged double die obverses or reverses were being offered for sale.
That included a 1916 D penny with a supposed double die obverse being offered for $777 on eBay. So buyer beware! Don't part with big money for coins that aren't backed by a grading from the PCGS, NGC or ANACS.
This YouTube video from Couch Collectibles shows high-grade 1916 pennies that are worth serious money.
Also read: 11 Most Valuable Wheat Penny Errors
FAQs
How much is a 1916 penny worth today?
That depends on its color, condition and mint mark, and on whether or not it has a Mint error.
Coins in the poorest condition are usually worth only a few dollars. But red coins in mint condition can be worth hundreds, or even thousands.
And the very finest examples are today worth over $60,000.
How rare is a penny from 1916?
It isn't too difficult to find a regular 1916 penny struck in Philadelphia and in circulated condition.
Coins from Denver and San Francisco are rarer – look for the "D" or "S" mint mark below the date.
And proof pennies – which, like the business strikes from Philadelphia, don't have a mint mark – are much rarer. They can be distinguished from business strikes by the detail of the design.