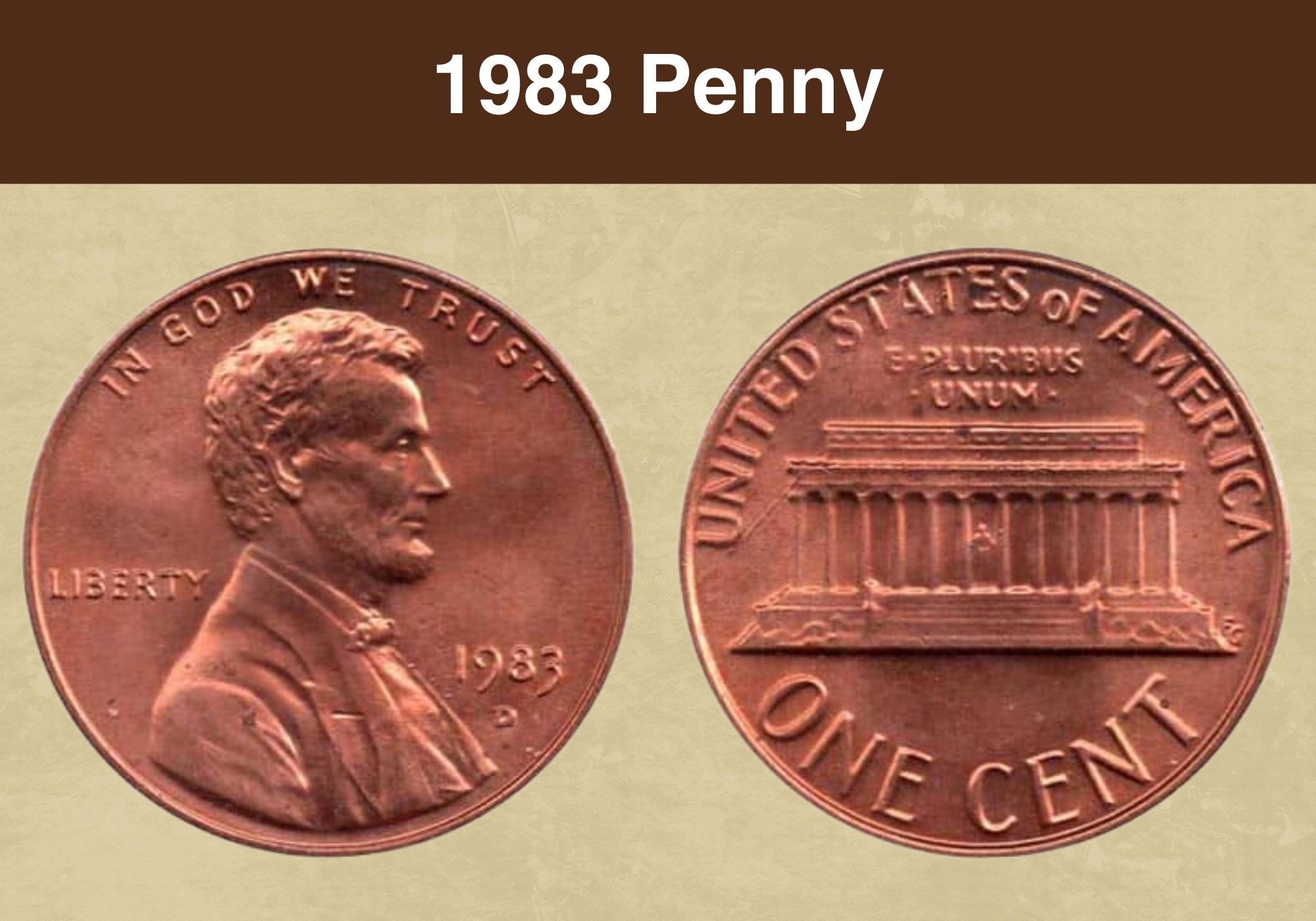 In 1982, the Lincoln Memorial cents went through some changes. Due to the increased price of the metal used for minting, their composition went from solid copper to copper-plated. That made coins minted in 1983 the second in the series with this metal combination.
Denver and Philadelphia mints produced regular strike coins, while San Francisco produced proofs. Due to a high mintage, these coins are not rare. However, the 1983 penny value varies from their face value to a couple of thousand dollars for some rare error specimens.
1983 Penny Value Chart

Condition
1983 No mint mark penny
1983 D penny
1983 S penny
AU
/
$0.34
/
MS 65
$0.34
/
/
PR 65
/
/
$3.38
History of the 1983 Penny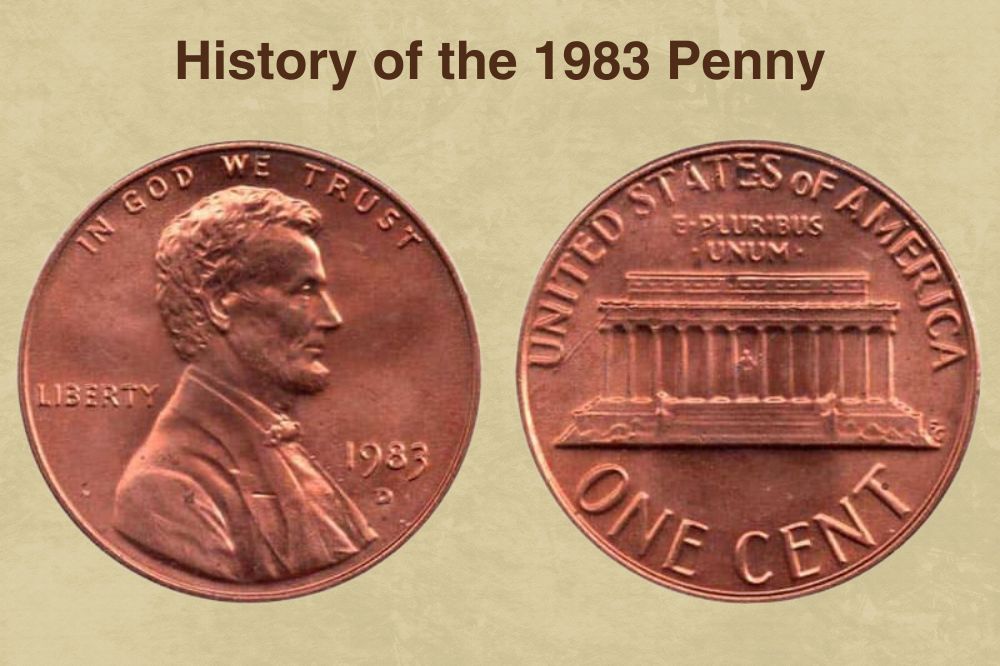 Abraham Lincoln was a lawyer who entered politics young. He was elected President for the first time in 1861 and reelected in 1864.
Besides issuing the Emancipation Proclamation that presented the beginning of slavery end, he was known for establishing a national banking system. Unfortunately, his second presidential mandate ended in 1965 after his assassination.
The first Lincoln pennies were released into circulation in 1909 to honor 100 years after his birthday. Coin designer and engraver Victor D. Brenner created those cents, and their obverse has stayed the same until now.
1983 Penny Types

Location
Year
Minted
Philadelphia
1939 No Mint mark pennies
7,752,355,000
San Francisco
1939 S proof pennies
3,279,126
Denver
1939 D pennies
6,467,199,428
Total
/
14,222,833,554
In 1959, the pennies' reverse was changed, and a new variety appeared with the Memorial, including a tiny Lincoln statue inside. It was the first and the only time the US coin featured the same President on both sides.
Frank Gasparro's reverse design commemorated Lincoln's 150th birthday and remained unchanged for the next fifty years. Cents minted from 1959 to 2008 are known as Memorial reverse cents because of these new coins' appearance.
In 2009, the reverse side of the cent changed once again. This time, you can recognize four designs featuring different periods of Lincoln's exciting life:
Childhood (Log cabin)
Youth (Lincoln reading a book)
Professional life (Lincoln as a lawyer)
Presidency (half-completed Capitol dome)
The penny composition from 1909 to 1982 was 95% copper, except for war years (1942 to 1944), when these coins were made of zinc-plated steel. However, persistent copper price increases led to a final composition change in 1982.
It was a necessary step for the US Mint once the price of copper used for minting each coin exceeded one cent. So, Lincoln pennies minted from 1982 until these days contain copper-plated zinc.
Also read: 12 Most Valuable Lincoln Penny Worth Money
The 1983 Penny Features
The features and composition of Lincoln pennies (cents) changed several times until 1982, including their reverse design. Besides, 1983 was the second year after transitioning from copper to copper-plated zinc composition.
The obverse of the 1983 Penny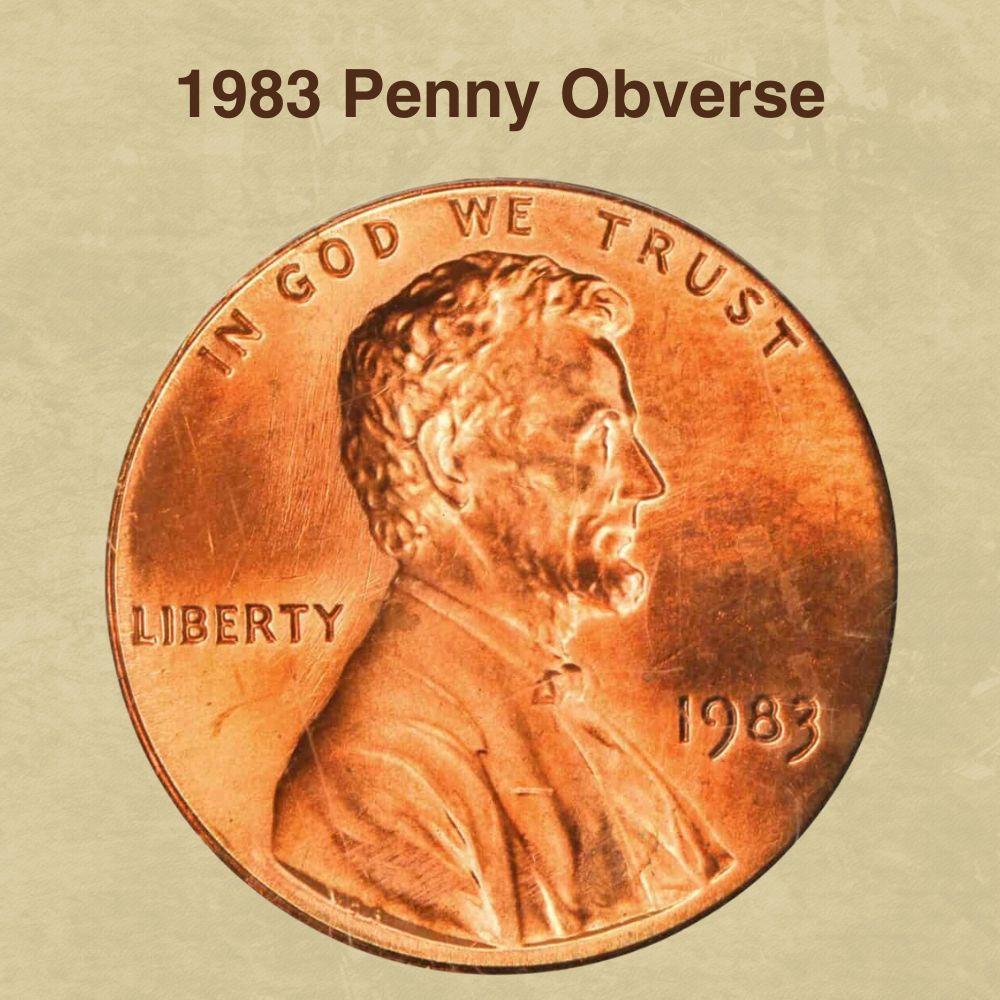 In 1909, Victor D. Brenner designed the obverse side of the new coin. It featured Abraham Lincoln's bust profile in the center, framed by the motto, IN GOD WE TRUST, from above.
LIBERTY was in the left obverse coin side area and behind Lincoln's back, while the mint date 1983 was in front of his chest. The designer placed the S or D mint mark below the date, while the initials, VDB, were indicated between the lower rim and President's shoulder.
The reverse of the 1983 Penny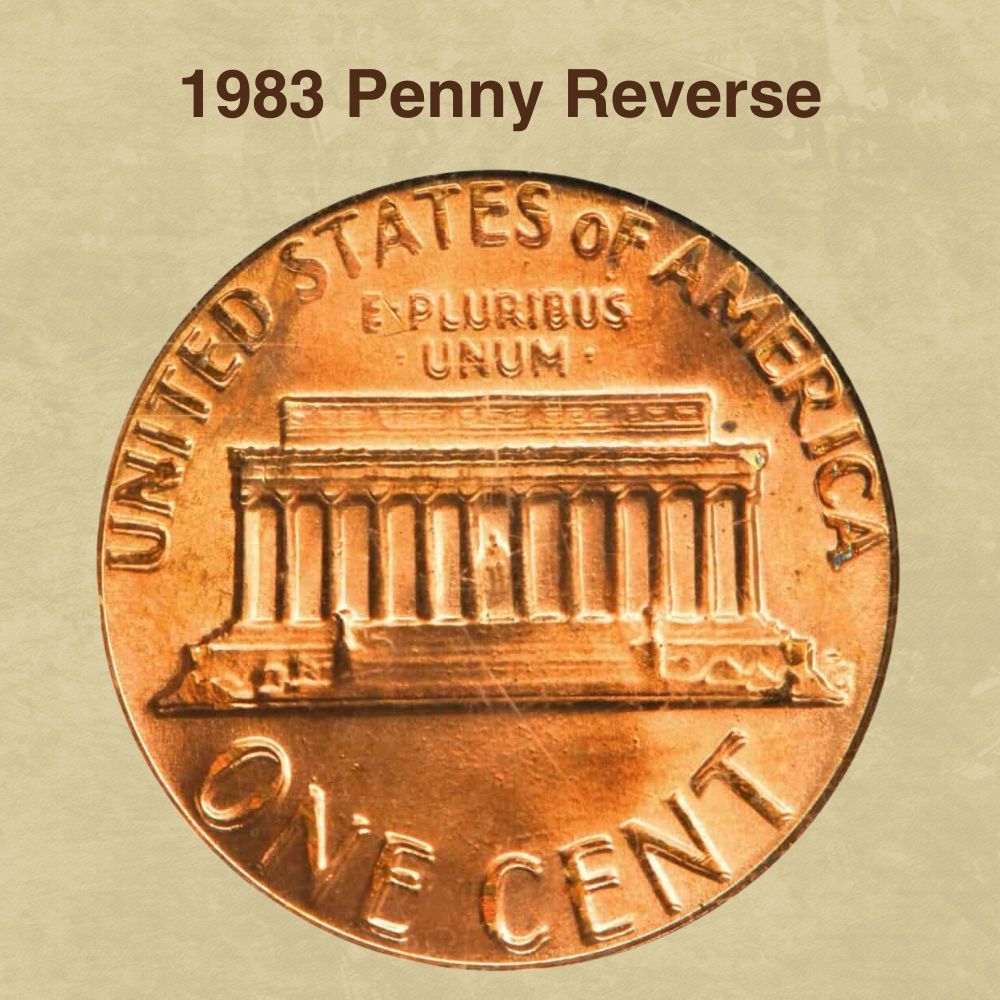 The current reverse design was a result of an idea to honor 150 years of Lincoln's birth by changing it in 1959. Frank Gasparro designed this coin side with the Lincoln Memorial as the main detail in the center. You can also see the President's statue inside the building.
The motto, E · PLURIBUS · UNUM, is just above the Memorial, while the denomination, ONE CENT, is below it. The UNITED STATES oF AMERICA is positioned along the upper edge, framing the central image. This coin side also features the initials, FG, placed on the right, next to the building.
1983 Penny Details

Face value
One cent ($0.01)
Coin diameter
1.75 inches (19.05 mm)
Shape
Round
Compound
2.5% Cu, 97.5% Zn
Coin thickness
0.0598 inches (1.52 mm)
Coin weight
0.0705479 ounces (2.5 g)
Edge
Plain
Other 1983 Penny features
The Lincoln one-cent coins from 1983 are round with a plain edge and a diameter of 1.75 inches (19.05 mm). They are 0.0705479 ounces (2.5 g) in weight and 0.0598 inches (1.52 mm) in thickness.
Their composition is 97.5% Zn with traces of copper. Despite the low percentage, copper plating gives these lovely coins an attractive variety of colors, from red to brown.
Also read: 13 Most Valuable Wheat Penny Worth Money
the 1983 Penny Value Guides
Three mints produced the 1983 Lincoln cents with a total mintage of over fourteen billion coins. Coins without the mint mark came from Philadelphia, while the San Francisco mint struck only proofs. In circulated conditions, most 1983 pennies cost $0.01, their face value. Only pieces in uncirculated conditions can be worth a premium.
1983 No Mint mark Penny Value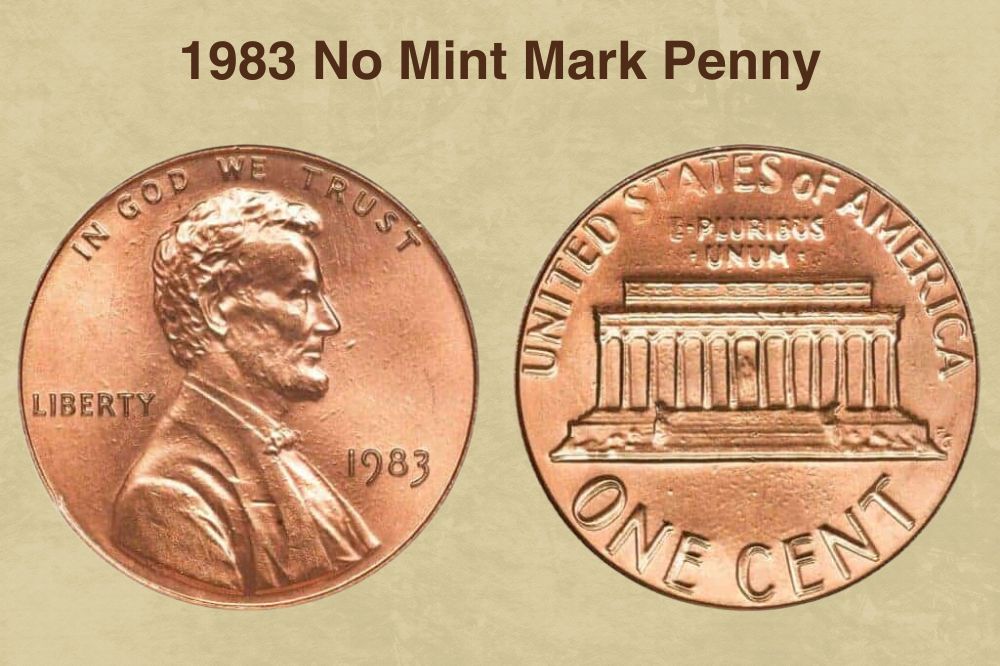 The Philadelphia mint produced 1983 pennies with a total mintage of 7,752,355,000 coins. The price of specimens in MS 60 grade is $0.20, while the value of the higher-grade coins is pretty different. So, the sum you need to spare is:
$0.25 for the 1983 MS 61-graded cents
$0.30 for the 1983 MS 62-graded cents
$0.35 for the 1983 MS 63-graded cents
$0.50 for the 1983 MS 64-graded cents
$1 for the 1983 MS 65-graded cents
$10 for the 1983 MS 66-graded cents
$34 for the 1983 MS 67-graded cents
If you are looking for the 1983 Lincoln cent in MS 68 grade, be prepared to pay up to $350 for it. However, at an auction on September 2008, one of these coins was sold for $1,840.
1983 S Penny Value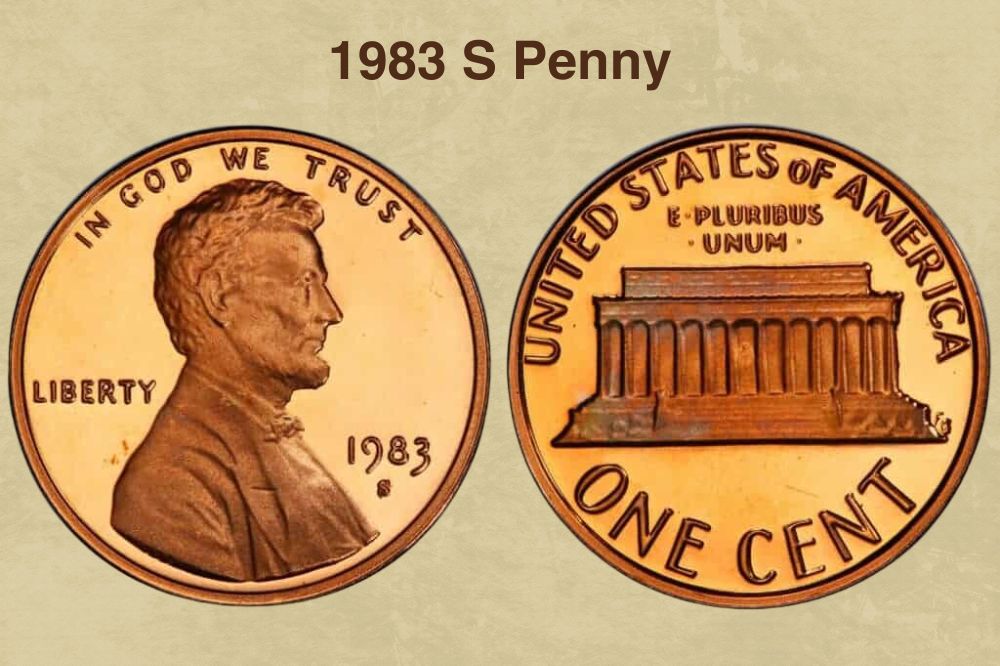 All 3,279,126 penny proofs minted in 1983 came from the San Francisco mint. The most available coins among them are in PR 60 to PR 63 grade, which cost approximately $0.18. When looking for higher-grade 1983 proofs, you should be prepared for higher prices.
Proofs from 1983 in PR 64 grade cost $0.25
Proofs from 1983 in PR 65 grade cost $1
Proofs from 1983 in PR 66 grade cost $2.50
Proofs from 1983 in PR 67 grade cost $3
Proofs from 1983 in PR 68 grade cost $4
Proofs from 1983 in PR 69 grade cost $6
The priciest proof pennies from 1983 are in PR 70 grade, and their prices go from $360 to $1,955. It is how much one collector paid for one of these coins on January 2004 at Heritage Auctions.
1983 D Penny Value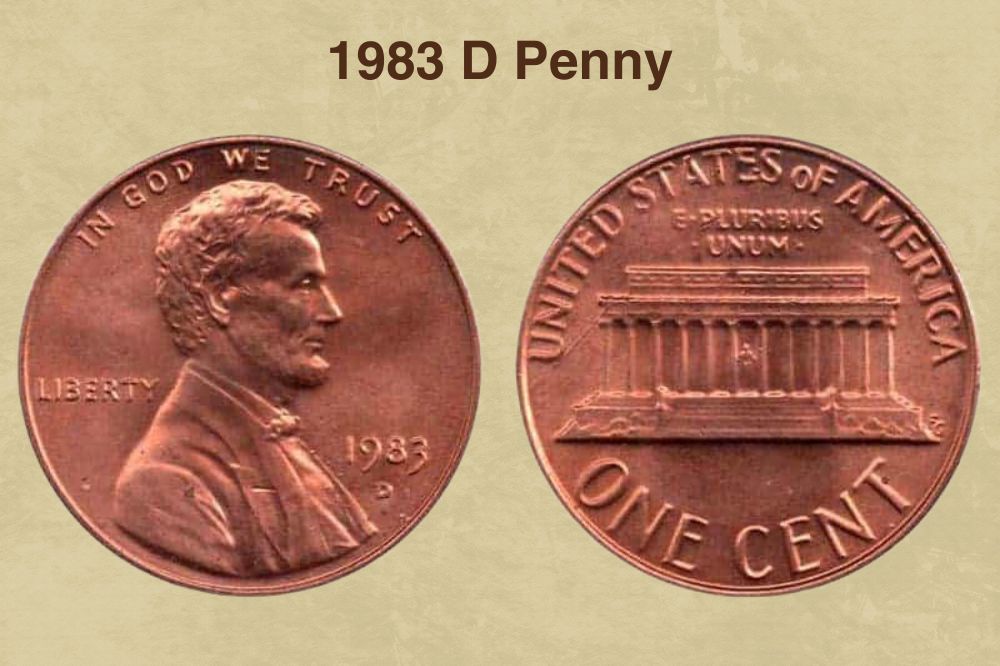 The Denver mint minted 6,467,199,428 Lincoln coins this particular year. The most affordable are those with MS 60 rank. They cost approximately $0.20, while the value of pieces in higher grades is as follows:
The 1983 penny in MS 61 grade is $0.25
The 1983 penny in MS 62 grade is $0.30
The 1983 penny in MS 63 grade is $0.35
The 1983 penny in MS 64 grade is $0.50
The 1983 penny in MS 65 grade is $1
The 1983 penny in MS 66 grade is $6
The 1983 penny in MS 67 grade is $22
The 1983 pennies with MS 68 rank are the most valuable and cost about $175. However, their prices can go up to $1,380 at auctions, the price one collector set aside on September 2008.
Also read: 17 Most Valuable Indian Head Penny Worth Money
Grading of the 1983 Penny
Grading is a way to determine the coins' quality that defines their value. The completely worn-out cents have the lowest grade, POOR, while those from GOOD to EXTRA FINE conditions are considered circulated cents.
Issues such as corrosion, scratches, and holes can reduce the grade of each coin. Experts also consider the minting quality, coins' luster, and the mint mark's existence during the evaluation.
rare 1983 Penny Error list
Error coins are the ones produced with some imperfections. They can be minor, barely visible, or so pronounced to affect the coin design. Cents with an error on the surface are rarer than regularly struck pieces and can be worth a premium in high grades. The most common errors found in the 1983 penny set include:
Doubled die reverse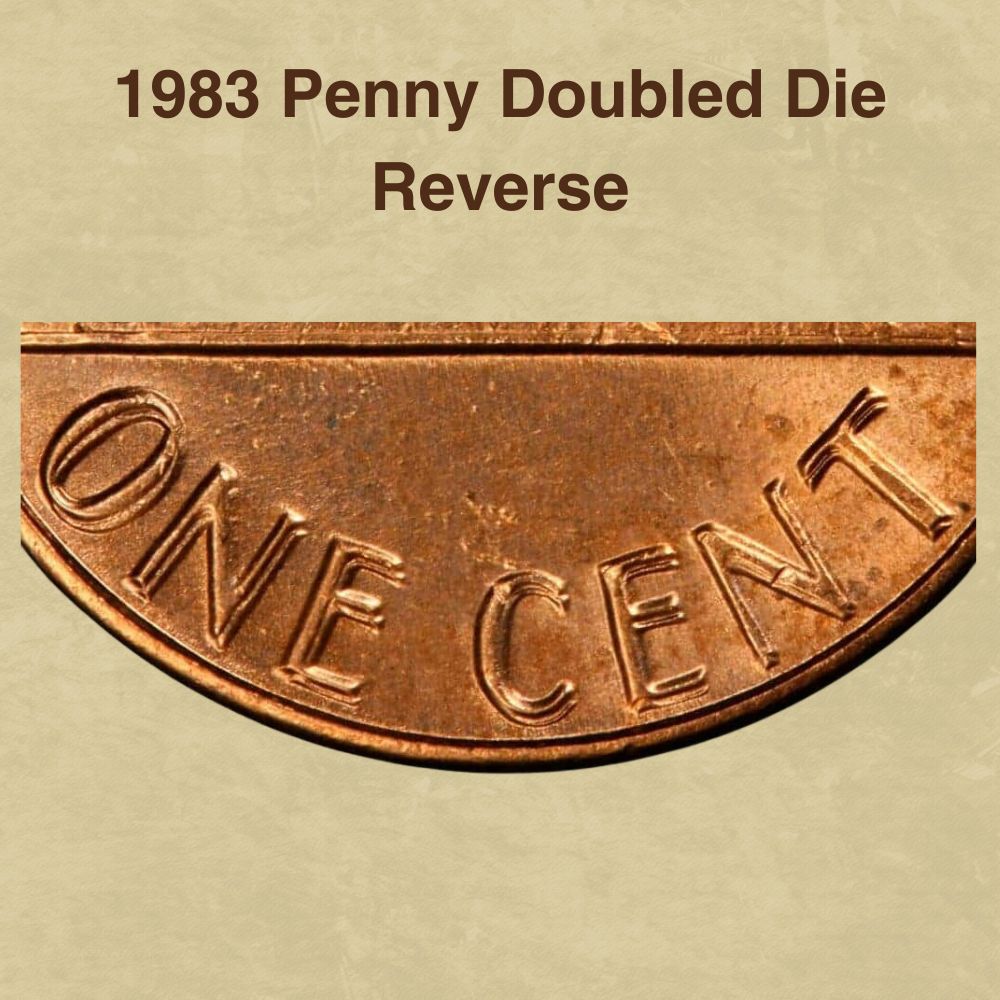 The doubling effect on the reverse resulted from an issue in the hubbing process. The problem typically appeared due to a mismatch between the die and the working hub. In the 1983 cent, the doubling effect is usually visible on the lettering.
The stronger and more visible the doubling is, the more valuable coins will be. Believe it or not, the maximal price for one red MS 68 DDR penny is $7,050.
Doubled die obverse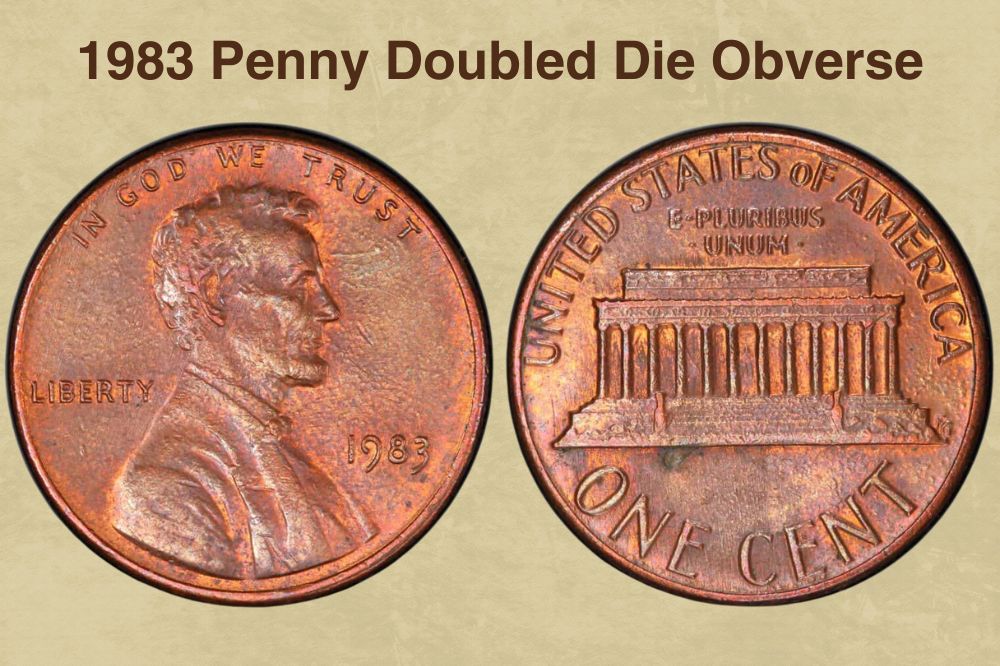 This error occurs the same way as the DDR but on the obverse side. Since such coins are more common, they are less valuable. In the 1983 cents, this doubling is visible in inscriptions and the date.
Cent struck on a bronze planchet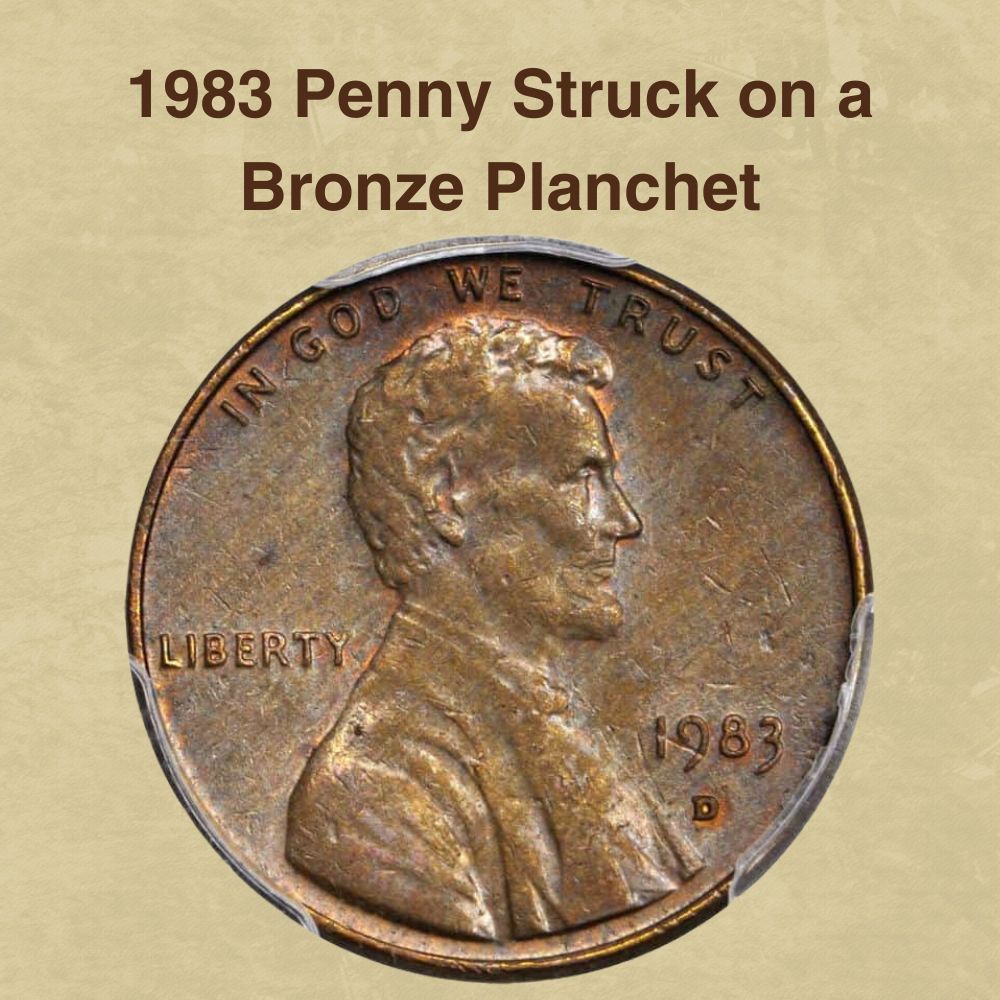 In 1983, regular Lincoln cents were minted on copper-plated zinc planchets weighing 0.088 ounces (2.5 g). This specific error happened when a few coins were struck on a bronze planchet that mistakenly ended up among regular ones. Due to its composition, this highly collectible coin weighs more than standard pieces.
Cent struck on a copper planchet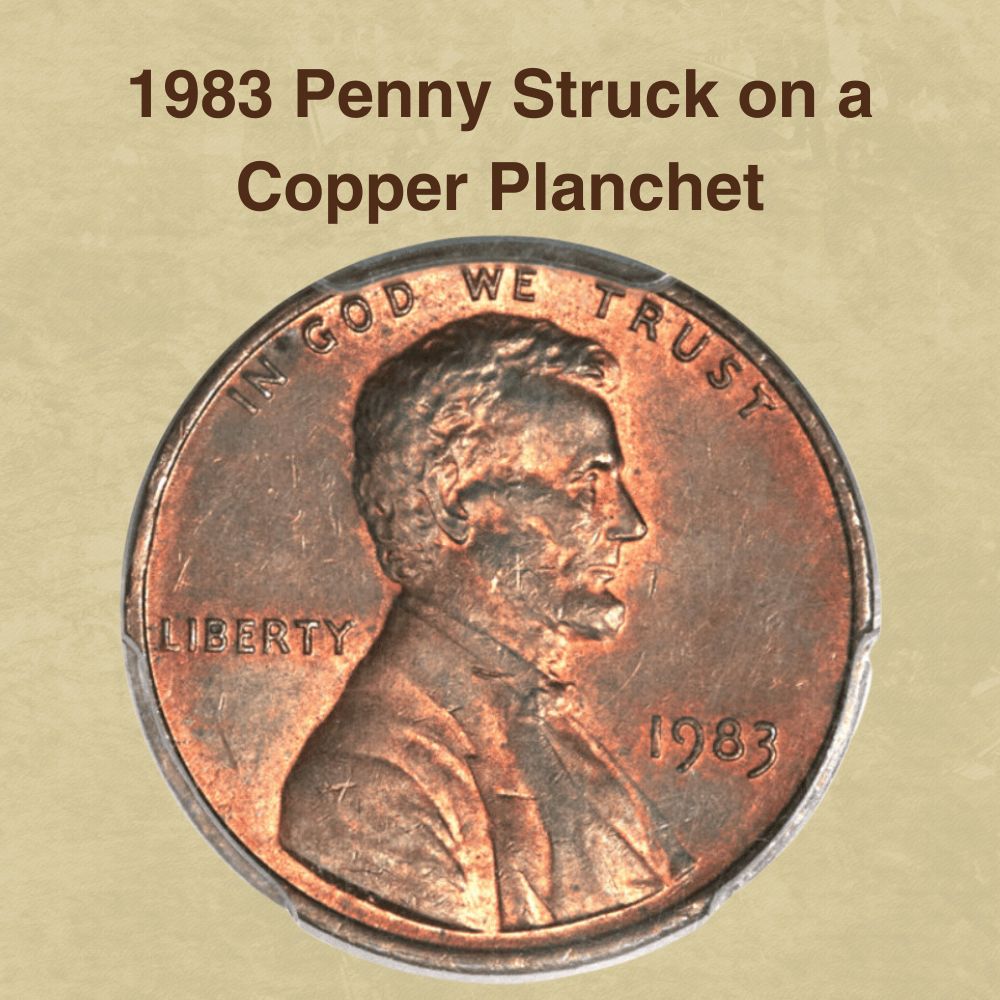 This error appeared after striking the 1983 cent on the copper planchet instead of the required copper-plated zinc one. These error cents are scarce since only a few exist. The quickest way to check whether your 1983 cent belongs to this variety is to weigh it. It might be the error coin if it is heavier than 0.088 ounces (2.5 g).
Cent struck on an un-plated planchet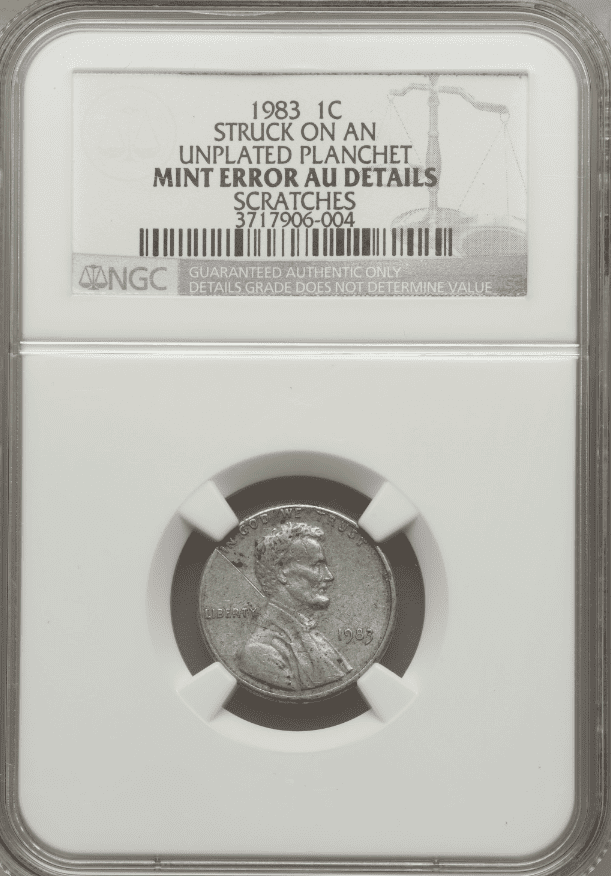 Unlike the previous two error coins, cents with this imperfection were struck on the correct but incomplete planchet. In this case, it was a 100% zinc planchet without copper plating. Due to the changed composition, these coins had a lighter-colored surface.
Also read: 11 Most Valuable Wheat Penny Errors
FAQ about the 1983 Penny
Are pennies minted in 1983 rare?
Pennies minted in 1983 are not rare, but some error specimens can be worth a premium. Their prices depend on their condition and preservation levels.
What 1983 pennies are the most valuable?
The 1983 penny (MS 68, RD, DDR) reached $7,050 in July 2017 at Heritage Auctions
The 1983 penny (PR 70, DCAM) reached $1,955 in January 2004 at Heritage Auctions
The 1983 penny (MS 68, RD) reached $1,840 in September 2008 at Heritage Auctions
The 1983 D penny (MS 68, RD) reached $1,380 in September 2008 at Heritage Auctions
The 1983 D penny (MS 63, BN) reached $600 in November 2019 on eBay
The 1983 penny (MS 64, BN, DDR) reached $495 in July 2021 on eBay
The 1983 penny (MS 64, RB, DDR) reached $400 in May 2021 on eBay
The 1983 penny (MS 66, RB) reached $322 in February 2007 at Heritage Auctions
The 1983 D penny (MS 60) reached $184 in February 2007 at Heritage Auctions
The 1983 penny (PR 69, DCAM, die variety) reached $30 in April 2018 on eBay
How much money for the 1983 penny from the Philadelphia mint?
The 1983 pennies from Philadelphia in circulated condition are worth their face value of $0.01. In MS 64 grade, their value is a bit higher, $0.34. The rule of thumb is that the coin rating is better, the more valuable it is. So, the costliest cent is in MS 68 grade with a price of at least $350.
What are the most expensive pennies in history?
The most expensive Lincoln coins with the Wheat reverse are:
The 1943 D bronze MS 64 BN penny (wrong planchet error) – $840,000
The 1943 S bronze MS 63 BN penny – $504,000
The 1944 S steel MS 66 penny – $408,000 in 2021
The highest auction records among the Lincoln coins with the Memorial reverse are:
The 1999 MS 66 cent – $138,000
The 1969 S MS 64 (DDO) cent – $126,500
The 1959 D MS cent – $48,300