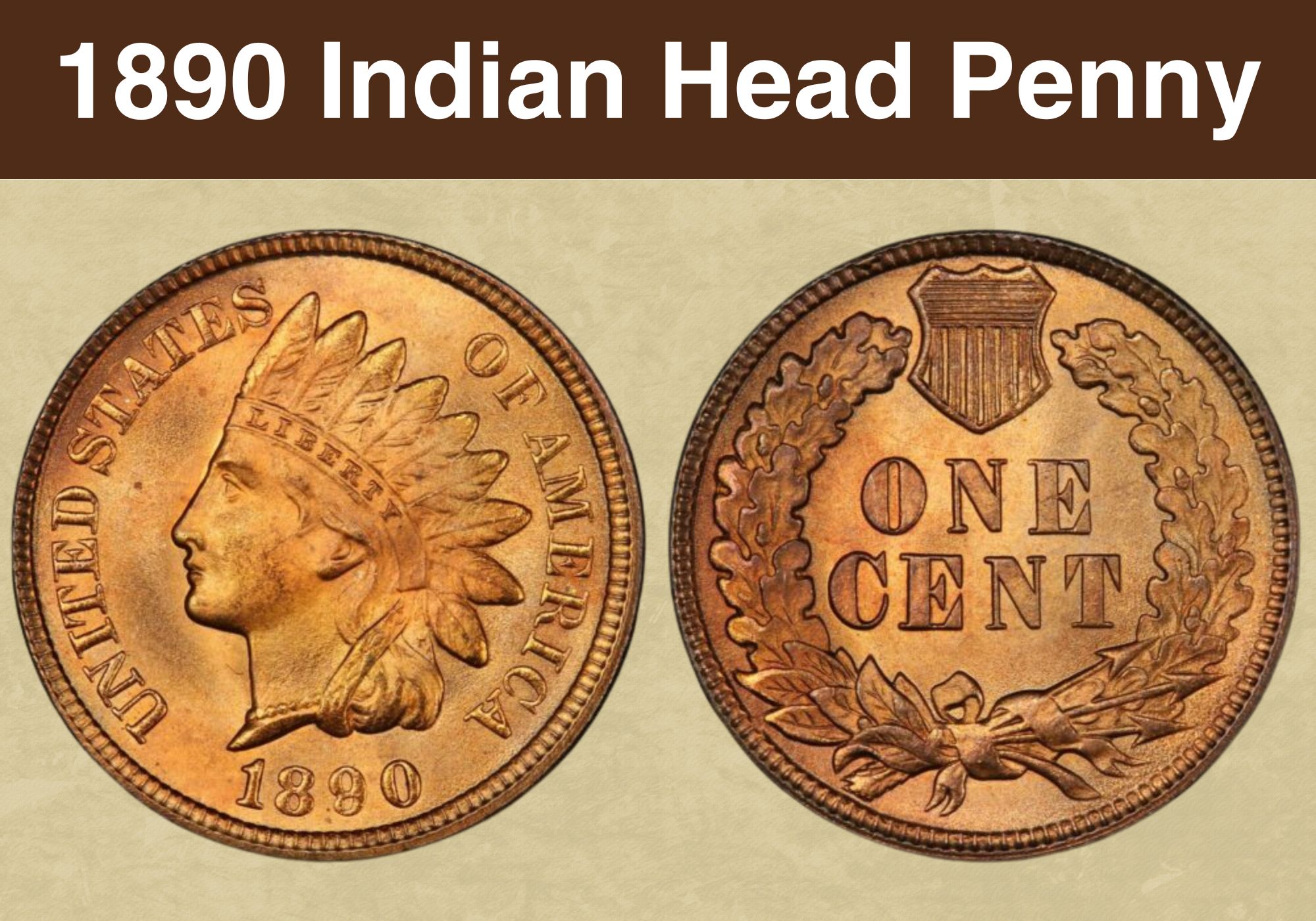 The Indian Head penny series is probably the most popular small cent series besides Lincoln cents. Since these coins are sought-after among collectors, the 1890 Indian Head penny value can be significant.
On the other hand, lower-graded pieces are typically available and affordable for most numismatists despite their age. The reason is the exceptionally high mintage and many well-preserved coins saved. Still, finding them in pristine condition can be tricky.
1890 Indian penny value Chart

Condition
1890 No Mint mark penny
Good
$3.38
Very good
$4.63
Fine
$5.84
Very fine
$8.07
Extra fine
$18
AU
$32
MS 60
$68
MS 63
$94
PR 63
$292
History of the 1890 Indian Head Penny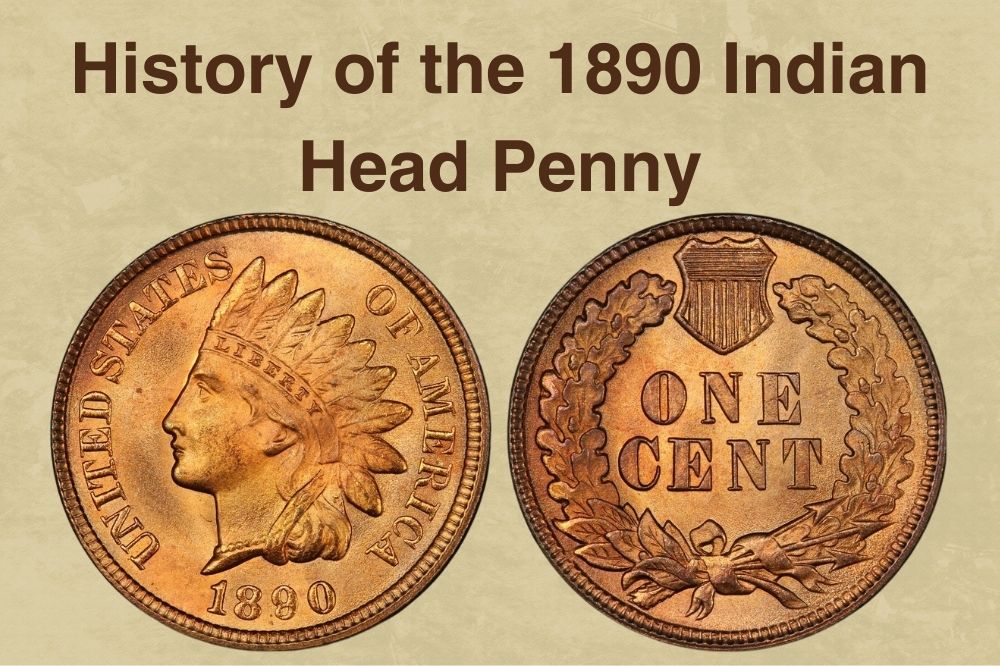 The first pennies were so-called Large cents. They appeared in 1793 for the first time, and their minting ended in 1857. You can find seven variations of this coin type in 65 years with different, more or less attractive designs.
Unfortunately, the increased copper prices forced the US Mint to reduce these coins' size, and the first pieces in the Small Cent series appeared in 1956. After Flying Eagle cents that were minted from 1856 to 1858, the first Indian Head pennies took over the primacy.
Even though small cents looked less attractive than larger ones, they were much more convenient for everyday use. Americans liked their Head pennies, but Lincoln cents replacing them after half a century were a full hit. That was a reason for these two coins' long minting history and their collectability.
1890 Indian Head penny Types

Location
Year
Minted
Philadelphia
1890 no mint mark penny
57,180,114
Philadelphia
1890 proof penny
2,740
Total
/
57,182,854
The first Indian Head pennies appeared in circulation in 1859 with a recognizable laurel wreath on the reverse. All others, starting with 1860, depicted an oak wreath instead. It stayed the same until 1909 when the US Mint replaced these coins with a new Lincoln penny.
Interestingly, these one-cent coins' production, along with five-cent nickels' minting, was limited to the mint in Philadelphia by law. Therefore, almost all coins during the 50 years of minting came without the mint mark.
Only pennies minted in 1908 and 1909, before the US Mint realized the first Lincoln cents into circulation, came from two mints. Therefore, you can recognize pieces without the mint mark and those with the letter S under the wreath on the reverse.
Also read: 12 Most Valuable Lincoln Penny Worth Money
Features of the 1890 Indian Head Penny
Many collectors believe that James Barton Longacre designed the obverse Indian Head penny profile based on his daughter, Sarah Longacre.
He intended to create a Native American woman, but the result was a Caucasian female dressed as an Indian. Anyway, the initial coin name stayed, despite the apparent character appearance mistaken look.
The obverse of the 1890 Indian Head penny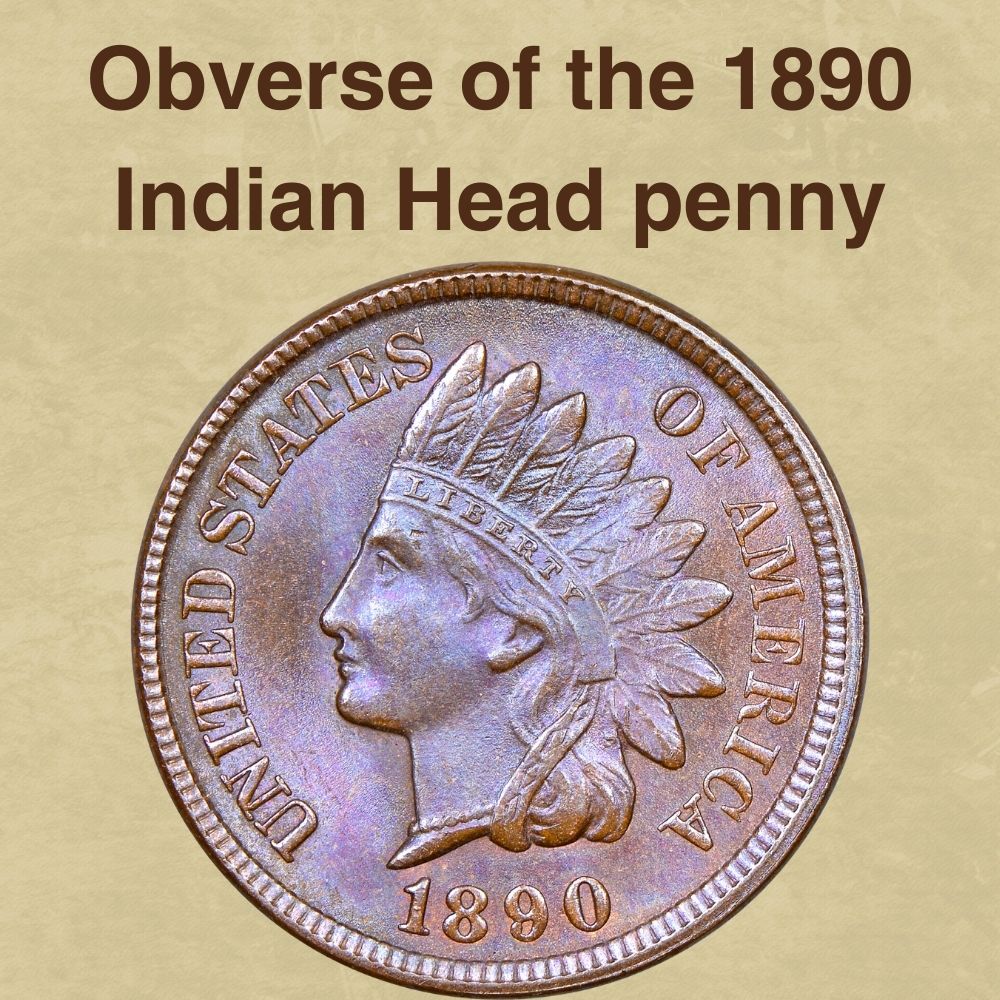 Even though Longacre planned to create a coin with an Indian girl on the obverse, it turned out it was a Caucasian woman. She wears (a bit inappropriately) an Indian chief's headdress, making a strange combination with a pearl necklace.
The date, 1890, is below her image, with the UNITED STATES on her left side and OF AMERICA on the right. The ribbon placed in her hair is adorned with the word LIBERTY.
The reverse of the 1890 Indian Head penny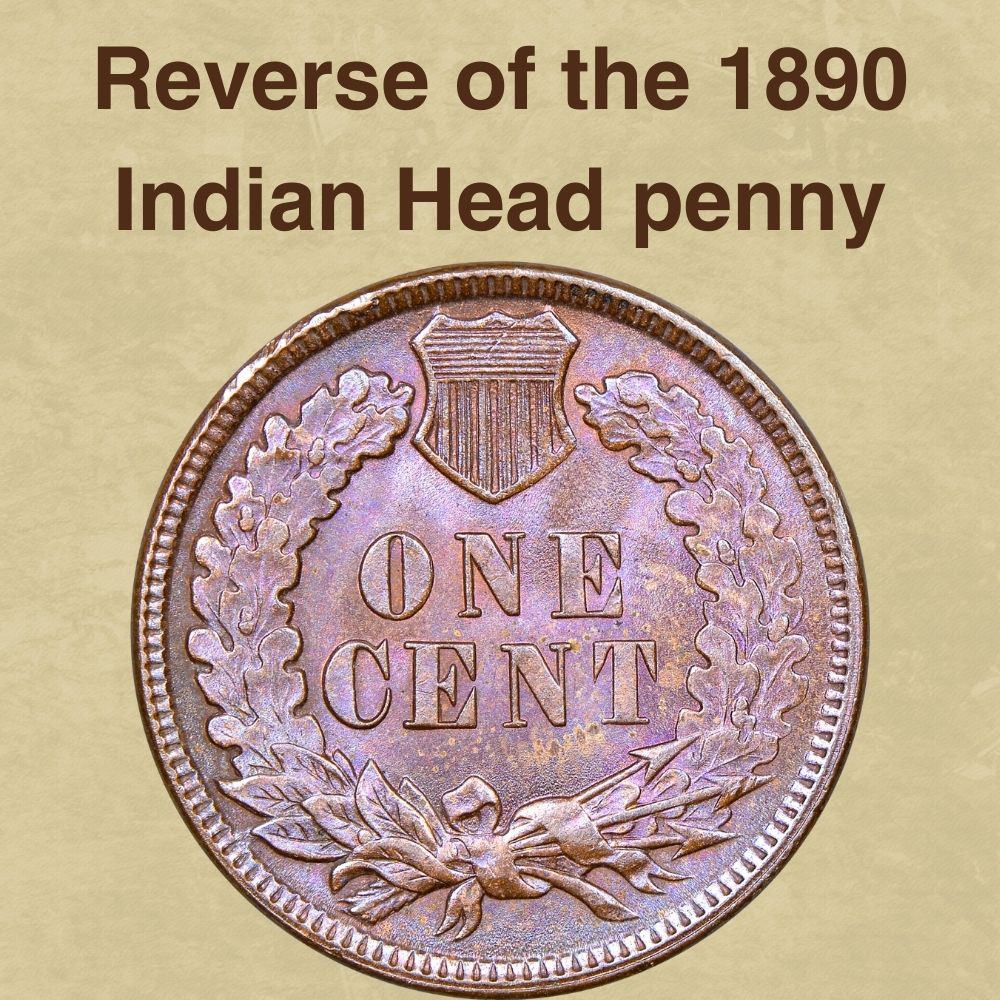 The 1980 Head penny has an elegant reverse without many ornaments. You can see a centrally positioned denomination with a shield on the top.
Unlike the first specimens minted in 1859 with laurel wreath, all later pennies, including this one from 1890, included an oak wreath along the rim. They were attached with a bow and three arrows tied at the bottom.
1890 Indian Head penny Details

Face value
One cent ($0.01)
Coin diameter
0.75 inches/19.05 mm
Shape
Round
Coin weight
0.10970 ounces/3.11 g
Compound
An alloy of 95% copper with zinc and tin
Coin thickness
0,058 inches/1.47 mm
Edge
Plain
Other features of the 1890 Indian Head penny
The Indian Head pennies minted in 1890 were 1.47 mm (0,058 inches) thick one-cent coins made of a 95% copper alloy. They came with a weight of 0.10970 ounces/3.11 g and a diameter of 0.75 inches/19.05 mm.
Also read: 13 Most Valuable Wheat Penny Worth Money
1890 Indian Head Penny Value Guides
The mintage of 1890 Indian Head pennies was 57,182,854, and the only relevant mint releasing them into circulation was the one in Philadelphia. Most of these coins were from regular strikes, but the mint also thought about collectors. Therefore, almost 3,000 proofs were intended only for numismatist's needs.
1890 No Mint Mark Indian Head penny Value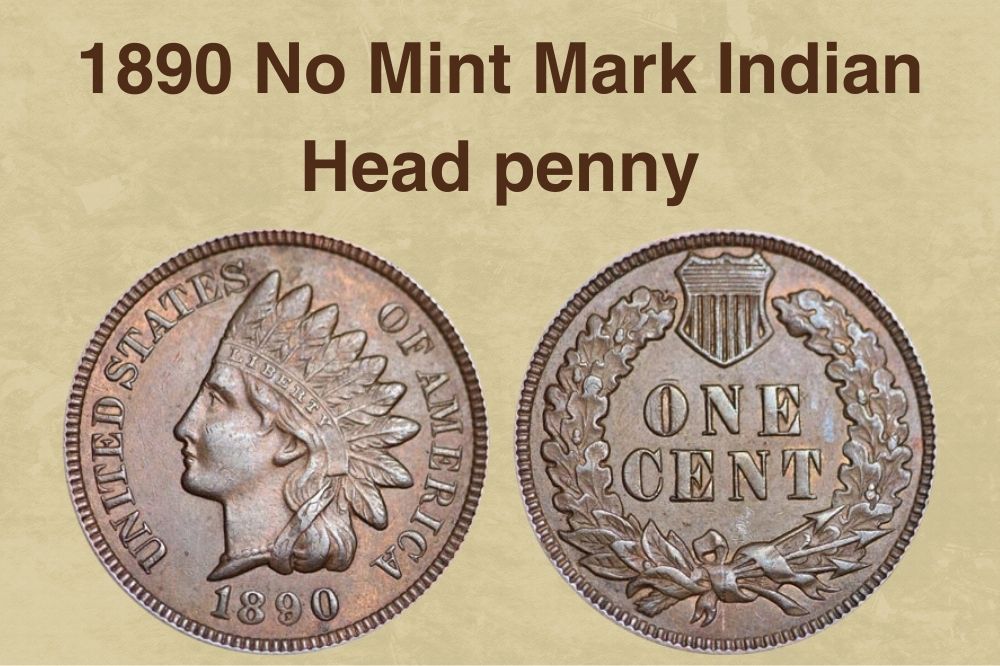 In 1890, only the Philadelphia mint issued Indian Head pennies, 57,180,114 pieces in total. Most of these coins are brown-toned and in low-graded condition. However, enough circulated coins of collectible quality still exist. Their average prices depend on preservation level, and you can get one for $1 to $40.
Pieces in the mint state are less available on the market, but you can still find them for $42 to $345. The most expensive existing coins are in MS 66 grade. Their expected price range is $750 to $937.50. One 1890 GEM BU brown penny from this set sold at $1,150, winning a record at Stack's auction in 1999.
The 1890 red-brown pennies are slightly costlier, and you should pay $140 to $750 for most pieces. Only those rated MS 66 are worth $1,400 to $1,750, but one of these specimens won an auction record after selling at an impressive $4,113 in 2014.
Expectedly, the priciest in the set are 1890 red pennies. The most inexpensive pieces in MS 63 grade are estimated at $180 to $225, while better-ranked ones cost approximately:
MS 64-graded – $395 to $493.75
MS 65-graded – $1,000 to $1,400
MS 66-graded – $3,500 to $4,500
One of these red-toned specimens is the most expensive Indian Head penny, issued in 1890. This coin in MS 67+ grade was sold at $91,063 in 2020.
1890 proof Indian Head penny Value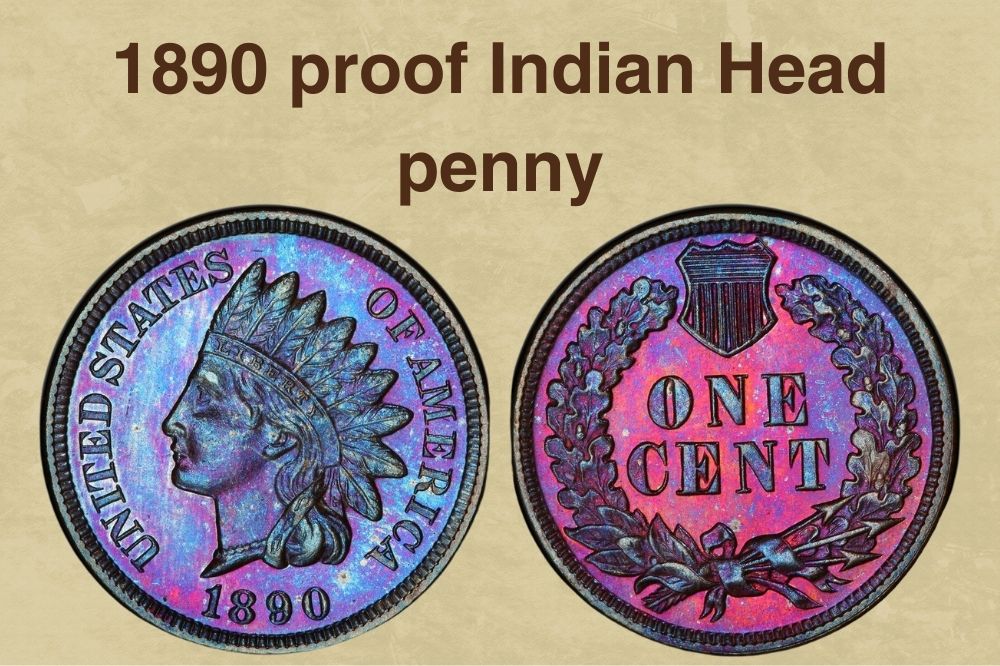 Besides pennies intended for circulation, the Philadelphia mint also produced proofs in 1890. Precisely 2,740 coins had such quality and were made for collecting purposes.
Nowadays, you can recognize three penny types, depending on their color. These features dictate their price range, from the cheapest brown coins to those with beautiful red toning and superb luster.
The 1890 brown proof pennies in PR 60 to PR 66 grades cost $120 to almost $950, while the rarest PR 67-ranked pieces are worth $1,700 to $2,000.
The 1890 red-brown Indian pennies in the same grade ratio come with prices ranging from $150 to $1,300. The best-preserved specimens with a PR 67 rating can become yours at $2,200 to $2,640.
Finally, you should set aside the highest sum to get one red coin from this set. While most pieces in PR 60 to PR 66 grades cost $220 to $1,680, those ranked PR 67 are assessed at $3,100 to $3,720.
The most expensive 1890 PR 65 Indian penny is the one with CAM quality. One collector wanted to add it to their collection and was prepared to pay $5,040 for it in 2019 without hesitation.
Also read: 17 Most Valuable Indian Head Penny Worth Money
1890 Indian Head Penny Grading
The 1890 Indian penny grading is a crucial thing for every collector because these coins are old. Besides pieces with visible wear and tear, some have at least small traces of use or signs of contact with the coin packaging bag.
Besides, this set is known for one rare and expensive error, and the best option is to let the expert check its significance and visibility. Be aware that even the tiniest detail can make a drastic difference in prices.
Rare 1890 Indian Head Penny Errors List
This set of Indian pennies minted in 1890 is relatively poor in imperfectly struck coins. You can find only a few such pieces, including the significant double-strike error. They are typically collectible and pricier than standard pennies.
Double strike
The double strike is the crucial error among the 1890 Indian Head pennies. It occurs when the die strikes the same coins twice because their removal between the dies fails for some reason. In most cases, you can notice off-center design because hitting the same coin at an identical angle is virtually impossible.
Slightly doubled design parts are favorites to collectors, determining such coins' prices. For instance, you can find the imperfect, double-struck Indian penny minted in 1890 for approximately $500 to $2,000. As always, the exact price depends on the coin condition and error visibility and significance.
Tripled die obverse
An improperly aligned coin hub and a die resulted in this error. Such coins cost a few hundred dollars, with auction records from $460 to $560.
Misplaced date (MPD)
In some old coins, one or more date digits were in the wrong place on the die. Therefore, it left such a weirdly placed minting date on the coin obverse. Such pieces are costlier than regular ones nowadays, including the red auction winner in MS 64 grade, bought for $700 in 2019.
Misaligned die clash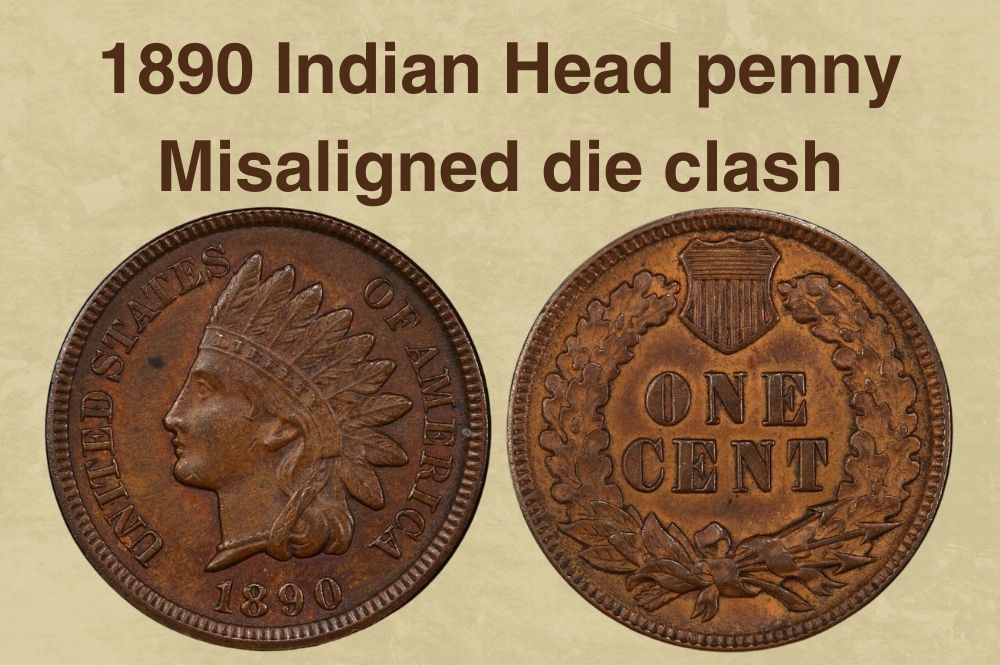 Coins with this imperfection appeared when a hammer die had a significant horizontal and/or vertical misalignment. Such a tilted die was improperly lined up with an anvil die, resulting in flaws on the coin surface. One such 1890 MS 63 brown Indian Head penny occurred on eBay in 2019 and sold at $900.
Also read: 11 Most Valuable Wheat Penny Errors
FAQ about the 1890 Indian Head Penny
What makes an 1890 Indian Head penny rare?
Be aware that the 1890 Indian pennies are over 130 years old, so you can expect them to be rarer than modern coins. However, you can still find one of these pieces in lower grades relatively effortless. Only the top-ranked coins are hard to find, and you need to pay significantly more for one.
Which 1890 Indian Head penny is worth a lot of money?
The 1890 MS 67+ Indian Head red penny sold at $91,063 (2020 Legend Rare Coin Auctions)
The 1890 PR 65 Indian Head CAM penny sold at $5,040 (2019 • Stack's Bowers)
The 1890 MS 66 Indian Head red-brown penny sold at $4,113 (2014 • Heritage Auctions)
The 1890 PR 65 Indian Head red penny sold at $2,875 (2001 • Goldberg Auctioneers)
The 1890 PR 66 RB Indian Head red-brown penny sold at $2,000 (2021 • eBay)
The 1890 GEM BU Indian Head brown penny sold at $1,150 (1999 • Stack's)
The 1890 MS 63 Indian Head brown penny with Misaligned Die Clash error sold at $900 (2019 • eBay)
The 1890 PR 64+ Indian Head brown penny sold at $800 (2022 • eBay)
The 1890 MS 64 Indian Head red-brown penny with MPD error sold at $700 (2019 • eBay)
The 1890 AU 58 Indian Head brown CAC penny with TDO error sold at $558 (2013 • Heritage Auctions)
The 1890 MS 63 Indian Head red-brown penny with TDO error sold at $518 (2011 • Stack's Bowers)
The 1890 MS 63 TDO RD Indian Head red penny with TDO error sold at $460 (2011 • Stack's Bowers)
The 1890 UNC Details Indian Head penny sold at $78 (2023 • eBay)
How much is the 1890 No Mint mark Indian Head penny worth?
Like other pennies in the Indian Hread series, those minted in 1890 are available in three colors. The least expensive are brown pieces, and they typically cost $1 to $40 in circulated condition. On the other hand, you can find those in perfect condition for $42 to $937.50.
The 1890 red-brown pennies are costlier and are estimated at $140 to $1,750. The priciest red pieces are worth $180 to an astonishing $4,500, but the record price from 2020 is multiply higher, $91,063.
What is the most pricey Indian Head penny?
The most expensive Indian Head penny is one error coin. This specimen, minted in 1864 with a specific L On Ribbon in PR 65 grade, was sold at a record price of $161,000 in 2011. The priciest penny from regular strikes is the 1877 coin with an MS 66 rating. One collector bought it for $149,500 in 2007.
The most valuable proof is the 1897 PR 67+ penny with deep cameo contrast. Its price won in 2021 was $108,000. Finally, the San Francisco mint produced the 1909 penny in MS 67 grade. It became the most expensive piece from this mint in the Indian Head penny series after selling at $97,750 in 2006.