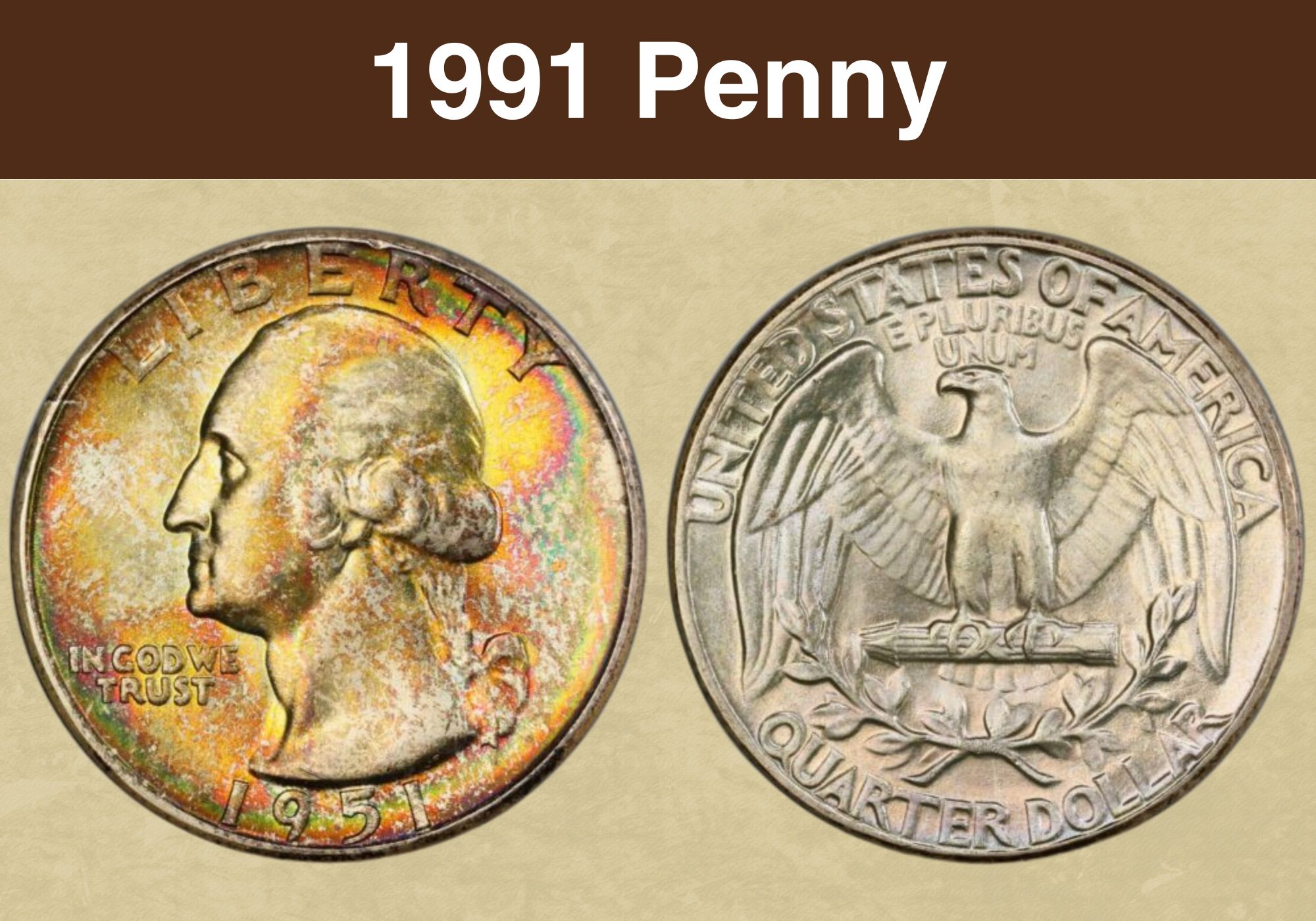 Have you discovered a 1951 Washington quarter, or do you own one and wonder whether your silver coin is worth much money?
A 1951 silver quarter is a great find for its silver content and its sentimental and historical value.
If you are a George Washington fan, collecting quarters might be satisfying and profitable if you know what to look for in your coins.
In this guide, we will explain everything you need to know about the 1951 quarter value.
You will discover the coin's historical significance, features to look for when grading your coin, and tips for grading your Washington quarter.
We will also explore minting errors that can sometimes be worth hundreds, if not thousands of dollars!
So, is a1951 quarter worth money?
Let's find out!
1951 Quarter Value Chart

Mint Mark
Good
Fine
Extremely Fine
Uncirculated
1951 No-Mint Mark Quarter Value
$4.65
$4.65
$4.65
$4,250
1951-D Quarter Value
$4.65
$4.65
$4.65
$5,000
1951-S Quarter Value
$4.65
$4.65
$4.65
$3,000
1951 Proof Quarter Value
–
–
–
$1,400
History of 1951 Quarter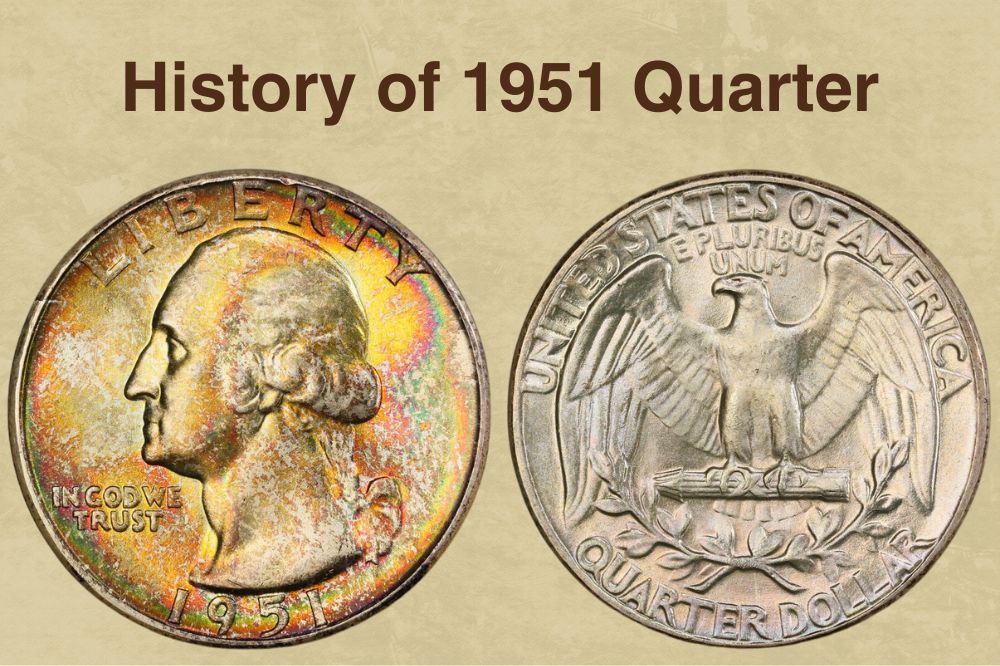 The 1951 quarter belongs to the Washington Quarter series, first struck in 1932.
Congress formed a Bicentennial George Washington Committee in 1930 to oversee preparations for the George Washington bicentennial celebrations, which also included launching a new coin.
While the Committee had proposed that the new coin replace the Walking Liberty half-dollar, Congress opted, instead, to replace the Standing Liberty Quarter dollar.
Earlier, the Committee had commissioned sculptor Laura Gardin Fraser to design a commemorative medal and had anticipated that she would also design the new Washington coin based on the medal's design.
To the Committee's surprise, the Treasury Department, headed by Andrew Mellon, rejected Laura Gardin, insisting that the Department was not involved in selecting a sculptor for the new Washington coin.
The Treasury Department, therefore, opted to launch its own competition to select a sculptor. Eventually, John Flanagan won the competition and was commissioned to design the new Washington quarter.
After several reiterations, production began in July 1932, and by August, the new quarter was released into circulation. The coin featured President George Washington on the obverse and the balding eagle on the reverse.
This highly anticipated quarter was struck in silver until 1965, when the Mint changed the composition to copper-nickel due to the increasingly exorbitant cost of silver metal.
Also read: Top 13 Most Valuable State Quarters Worth Money
The Features of the 1951 Quarter
Familiarizing yourself with the features of the 1951 quarter will help you determine if your Washington quarter is worth money.
By examining the obverse and reverse attributes, you can grade your coin, ensuring you get the best value for your money.
The Obverse of the 1951 Quarter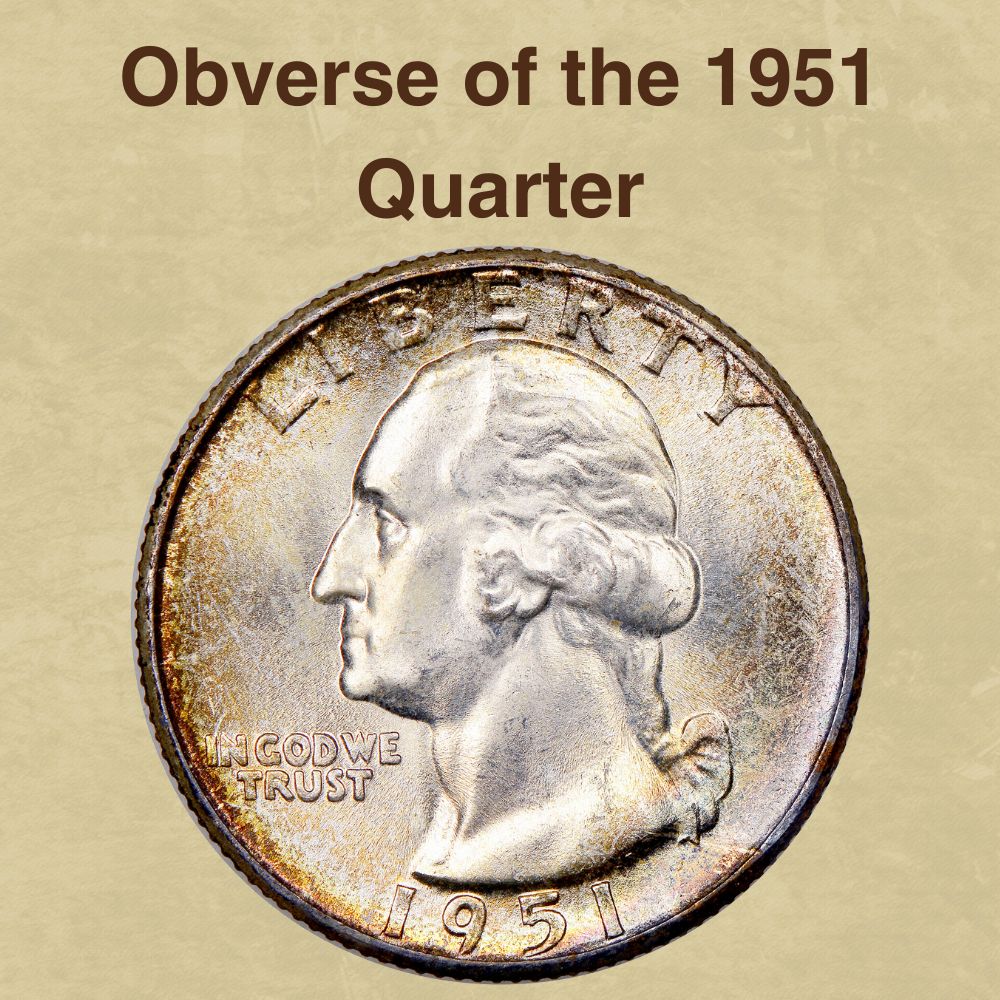 George Washington's portrait occupies most of the obverse surface of the 1951 quarter.
The word LIBERTY boldly appears at the top around the inner rim.
On the left, you will see the motto IN GOD WE TRUST, a testament to our country's deep belief in a superior creator.
The coin's year date, 1951, also boldly appears at the base.
The Reverse of the 1951 Quarter
When you turn the coin over, you are met with a beautiful, intricate design featuring the eagle with its wings wide open.
The left-facing bird holds several arrows in its talons, while two olive branches tied together underline the image.
The olive branch symbolizes peace, while the arrows represent freedom and a readiness to defend our sovereignty.
Our country's name boldly appears at the top of the coin along the inner rim. Right underneath is the motto E PLURIBUS UNUM, which means "Out of one, many."
You will also see the coin's denomination, QUARTER DOLLAR, at the base along the inner rim.
Other Features Of The 1951 Quarter
The 1951 quarter is made of 90% silver and 10% copper. This reeded coin measures 24.30 millimeters and weighs 6.30 grams.
The mints at Philadelphia, Denver and San Francisco struck the Washington quarter in 1951, but only the Denver and San Francisco coins have a mint mark D and S, respectively.
You can spot the mint mark on the reverse just below the olive branch.
Also read: Top 16 Most Valuable Modern Quarters Worth Money
1951 Quarter Grading
Knowing how to grade coins lets you determine if your Washington quarter is worth money. If you want to invest, grading knowledge can help you know if you are getting good value for your money.
When grading a 1951 quarter, check for signs of wear on high contact spots. On the obverse, these include the top of George Washington's hair, his cheek, and the curl of hair behind his ear.
For the quarter to be graded uncirculated, it should have few to no contact marks, flaws, or signs of wear. The presence of any of these will promptly lower the coin's value.
| # | Grade |
| --- | --- |
| 1 | Basal State-1 |
| 2 | Fair |
| 3 | Very Fair |
| 4, 5, 6 | Good |
| 7, 8, 10 | Very Good |
| 12, 15 | Fine |
| 20, 30 | Very Fine |
| 40 | Extremely Fine |
| 50 | About Uncirculated |
| 60 | Mint State |
| 65 | Mint State |
| 70 | Mint State |
Please check our grading guides to know your coin scale, It's the necessary step to know the exact value of your coin.
Check out now: How to Grade Washington Quarter?
1951 Quarter Value Guides
So, how much is the 1951 quarter?
The 1951-quarter value will depend on the coin's condition and rarity. Other factors, such as minting errors, can influence the coin's value.
The 1951 quarter was minted at the Philadelphia, Denver and San Francisco facilities.
Each facility has a different mintage, and the quality of the strike also varies from one minting facility to the other.
Below, we will explore the four varieties of the 1951 quarter. These are the:
1951 No-Mint Mark Quarter
1951-D Quarter
1951-S Quarter
1951 Proof Quarter
1951 No-Mint Mark Quarter Value
The Philadelphia Mint produced an estimated 43,448,102 quarters in 1951. These coins do not have a mint mark on the reverse or obverse.
The relatively high mintage means that 1951 no-mint mark quarters are quite common, especially in the circulated state.
Uncirculated examples are becoming less and less common, and gem pieces graded MS67 and above are extremely hard to come by.
When gem pieces show up in auctions, the experienced collectors with deep pockets are mostly the ones who can afford them.
On the upside, even in their circulated condition, no-mint mark Washington quarters are worth more than their face value even in circulated condition.
Circulated examples are worth between $4.65 and $7.25, which can be attributed to the silver coin's intrinsic value.
Uncirculated quarters in lower grades are quite affordable, with an MS65 costing about $35 while an MS66 will fetch up to $80.
Gem examples graded MS67 and above are rare in this series and left to deep-pocketed hobbyists. Prepare to part with as much as $1,300 for one graded MS67 and up to $4,250 for a quarter graded MS68.
During a 2015 Heritage Auctions sale, a collector parted with $4,700 for a 1951 no-mint mark quarter graded MS67, making it the most expensive purchase to date.
1951-D Quarter Value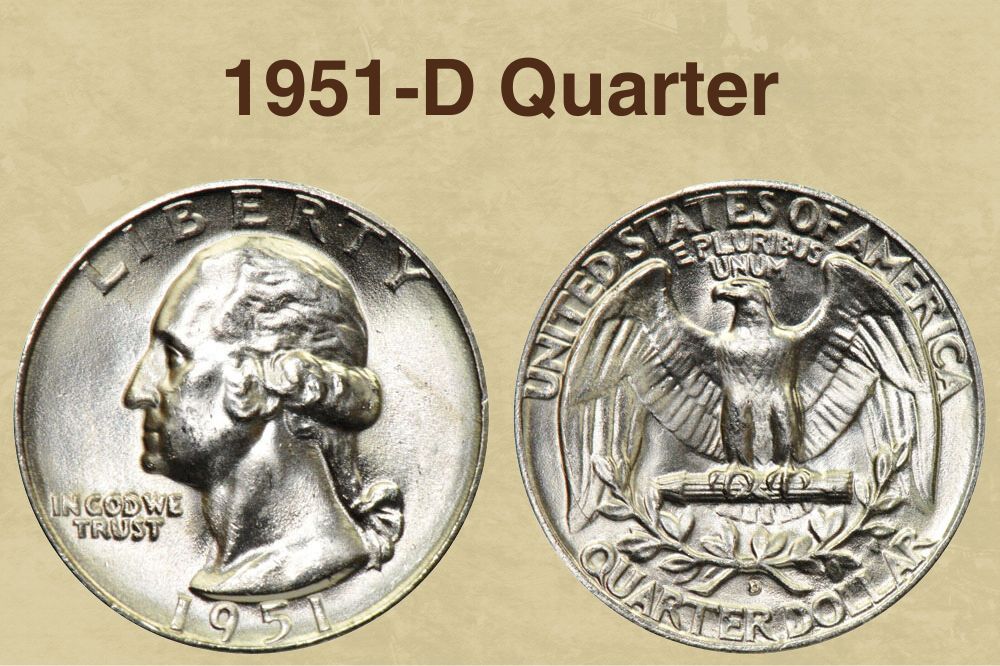 Like the Philadelphia coins, the Washington quarters struck in 1951 at the Denver mint were plentiful, with a mintage of 35,354,800.
With such a high mintage, you can expect the 1951-D quarter to be pretty common, affordable, and accessible to all calibres of collectors.
It is worth noting that the Denver quarters had more signs of contact marks than the coins struck at the Philadelphia and San Francisco mints. As such, very few examples of MS67 quarters from this series are notably pricey.
Circulated Washington quarters will fetch between $4.65 and $7.27. But, this figure increases significantly for uncirculated examples from MS67 and above, which cost up to $2150 and as much as $6,000 for an MS68 Washington quarter.
According to the Professional Coin Grading Service (PCGS), the most expensive 1951-D Washington quarter is graded MS68 and was sold by coin auctioneers David Lawerence RC for an eye-watering $17,750.
1951- S Quarter Value
The San Francisco Mint struck 9,048,000 Washington quarter in 1951, the lowest regular strike mintage in the series.
While the Denver quarters were prone to mint marks, the ones produced in San Francisco demonstrate a poor strike due to the over-use of dies caused by budget cuts since the end of the Second World War in 1945.
As such, gems graded MS67 are rare, although a few examples have been discovered.
Circulated examples are plentiful and readily available to any collector. These examples are worth between $4.65 and $7.25.
Uncirculated specimens are also relatively affordable; with about $115, you can get your hands on a nice 1951-S quarter-graded MS65.
Because gems are harder to find, they are considerably more expensive, with an MS67 valued at about $600 while an MS68 can fetch as much as $3,000.
In 2022, a collector paid an impressive $14,950 for a 1951-S quarter graded MS68 sold at an online auction.
1951 Proof Quarter Value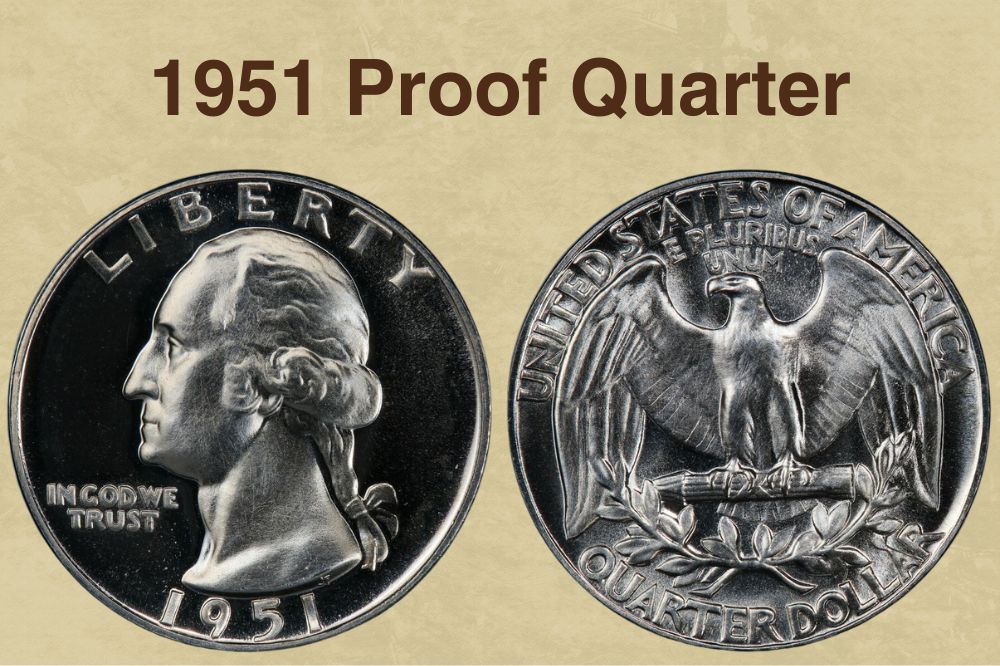 In addition to regular strike coins, the Philadelphia Mint also struck proof silver coins, amounting to about 57,500 pieces.
Proof coins boast a superior strike, with frosted details and shiny surfaces.
That said, the 1951 proof quarters are not as brilliant as proof coins struck in later years and only boast a semi-proof appearance.
Cameo and ultra-cameo examples are extremely rare and command high premiums meant for the sophisticated collector.
A regular proof quarter from 1951 is valued at about $1,400, but collectors have paid as much as $1,800 for specimen graded PF68.
The most expensive cameo example, graded PF68, was sold for $7,050 at a 2013 Heritage Auctions sale.
Also read: 17 Most Valuable Quarter Errors Worth Money
Rare 1951 Quarter Errors List
Minting errors are inevitable, sometimes resulting in odd-looking coins and, other times, coins with subtle peculiarities.
These error coins are often very collectible and can be worth more than their face value. Here are a few 1951 quarter error coins worth money to look out for:
1951 Re-punched Mint Mark Quarter Error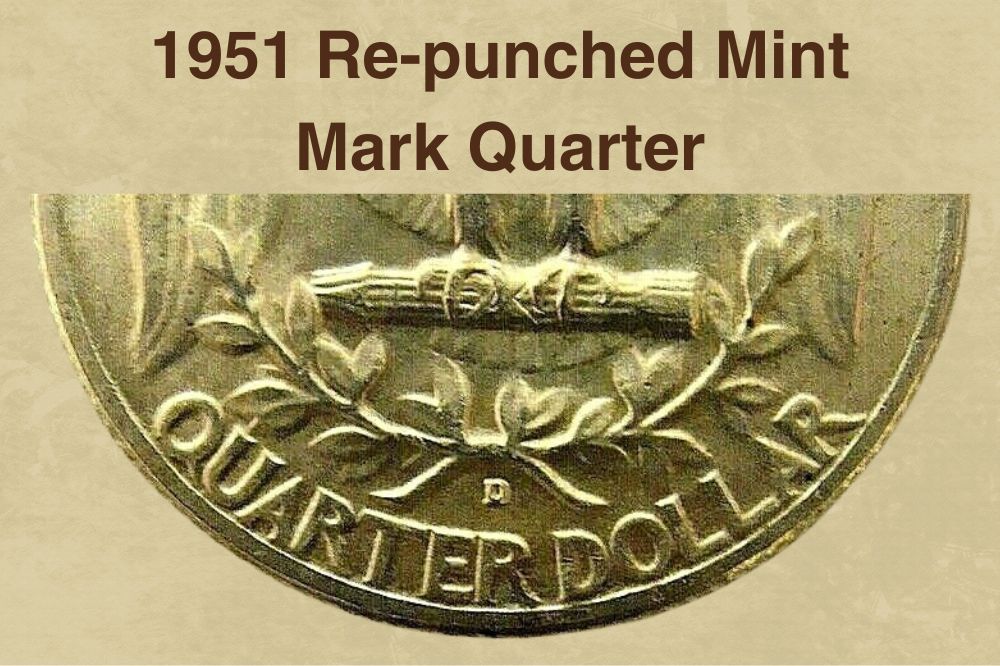 Re-punched mint mark errors are common in the 1951 Washington quarters series, especially for coins struck at the Denver and San Francisco facilities.
This error occurs when the die punches another mint mark on top of the initial one, so these two mint marks appear overlapped.
Depending on the coin's condition, collectors will pay as much as $500 for a 1951 quarter with a re-punched mint mark. The better the coin's condition, the pricier the error.
1951 Doubled Die Obverse Quarter Error
A doubled die is another common error, mostly observed in the 1951 quarter struck at the Denver mint.
This type of error occurs when the die strikes the planchet more than once, each time at a slightly different angle. This results in the design elements appearing overlapped.
In 1951 quarters, doubling mostly appears on the reverse side of the words LIBERTY, IN GOD WE TRUST, and DOLLAR.
One example was auctioned for a whopping $2,612 at a 2013 Heritage Auctions sale.
1951 Clipped Planchet Quarter Error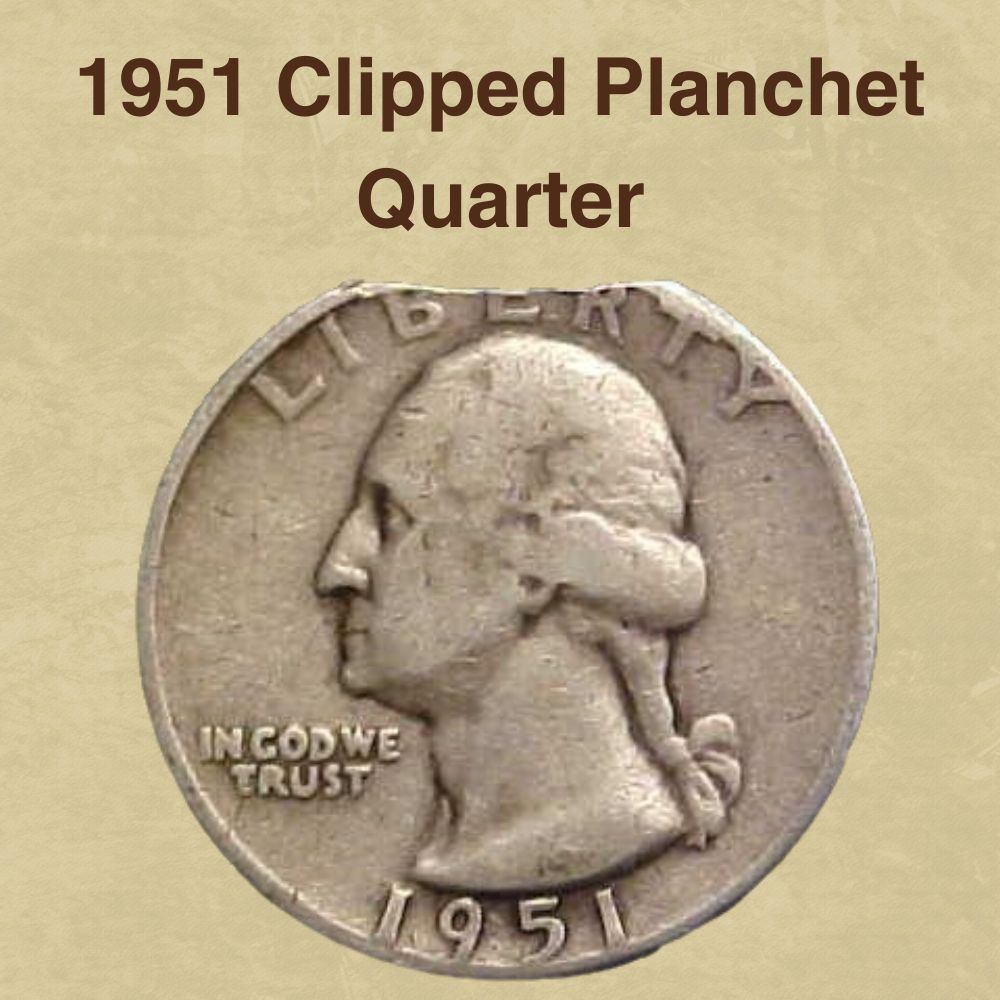 Clipped planchet errors are uncommon, but there are a few existing examples. If you come across such a coin, be sure it is a genuine minting error and not an artificially clipped coin.
Clipped planchet errors occur when a coin's design is punched on a broken planchet that looks like a part has been bitten off.
The larger the clip, the more desirable and expensive the coin. Collectors will pay between $200 and $1,300 for a 1951 quarter with a genuine clipped planchet error.
Where to Sell Your 1951 Quarter ?
Now that you know the value of your coins, do you know where to sell those coins online easily? Don't worry, I've compiled a list of these sites, including their introduction, pros, and cons.
Check out now: Best Places To Sell Coins Online (Pros & Cons)
FAQ
What is the 1951 quarter made of?
A common misconception is that 1951 Washington quarters are made of pure silver. The truth is these coins are made of 90% silver and 10% copper. It is also a misconception that you can smelt these silver Washington quarters to obtain pure silver. These are valued for their intrinsic and historical value, although it does help that they are made out of silver.
How do I know if my 1951 quarter is worth the money?
The great thing about a 1951 quarter is that it is worth more than face value. Your quarter is probably worth much more if it is in pristine, uncirculated condition. If the quarter achieves a grade of MS67 or more, you have an extremely valuable coin that may fetch hundreds or even thousands.
Are 1951 quarters worth collecting?
Old silver coins, such as the 1951 quarter, are worth collecting as their value increases. This Washington quarter is highly collectible for its intrinsic, historical and sentimental value, making it an excellent addition to your collection.