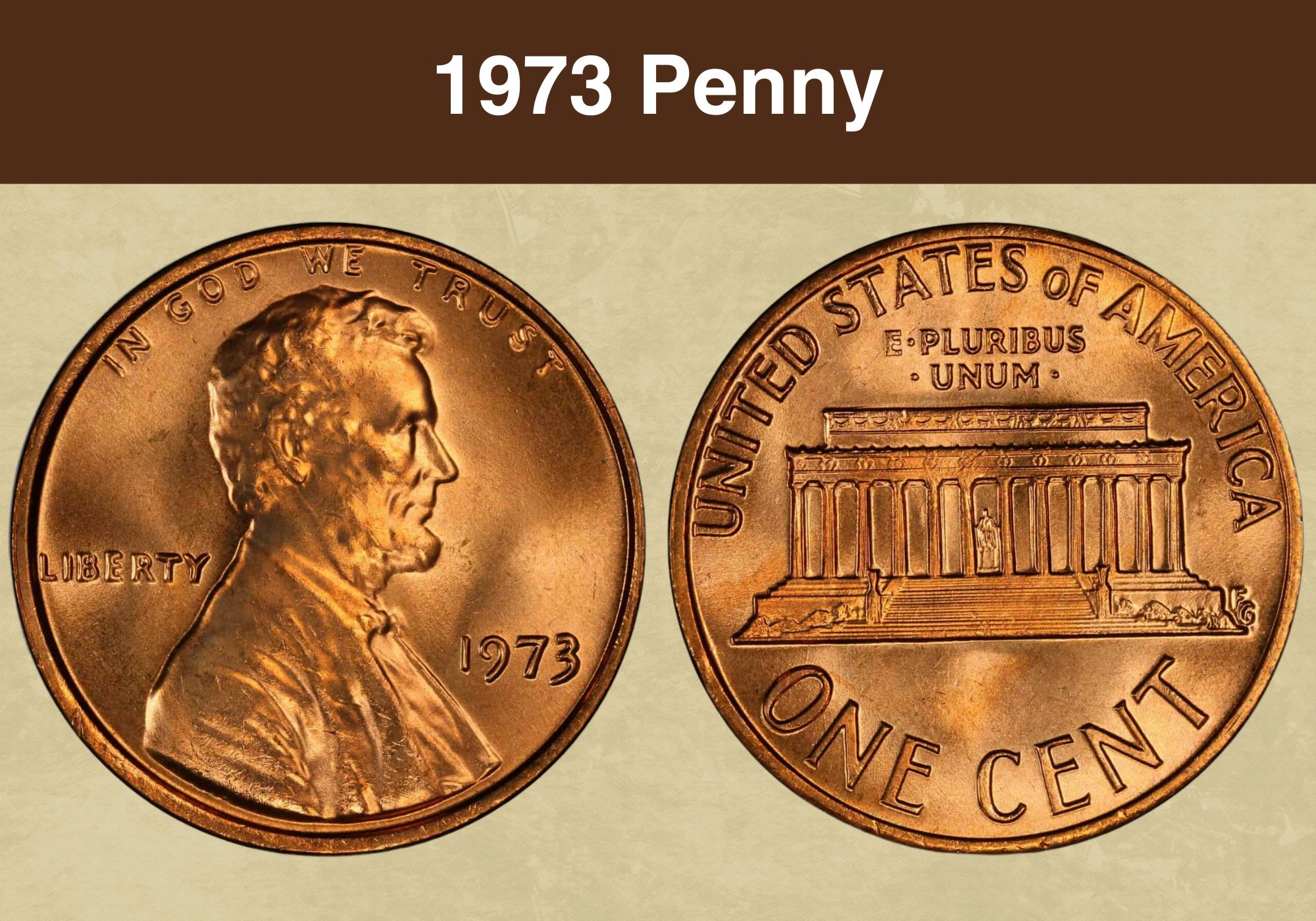 While most people know about money collecting, many do not realize that some of the smallest changes in your pocket could be worth considerably more than their face value. One of these coins is the Lincoln penny from 1973. But how do you know if the pennies from 1973 that you have are worth more than one cent?
In this article, we explore how the value of pennies from 1973 is determined. We will go over the basics of coin grading, what it means if a coin is in mint state, and what errors to look for in 1973 Lincoln pennies that may increase its value.
1973 Penny Details
Category: Lincoln Penny
Mints: Philadelphia, Denver, San Francisco
Reverse designer: Victor D Brenner
Obverse designer: Frank Gasparro
Edge: Smooth
Diameter: 19.05 millimeters (0.75 inches)
Thickness: 1.52 millimeters (0.05983 inches)
Weight: 2.5 grams (0.08818 ounces)
Composition: 95% copper and 5% tin and zinc
Face Value: $0.01
Melt Value: $0.0272
The Obverse of the 1973 Lincoln Penny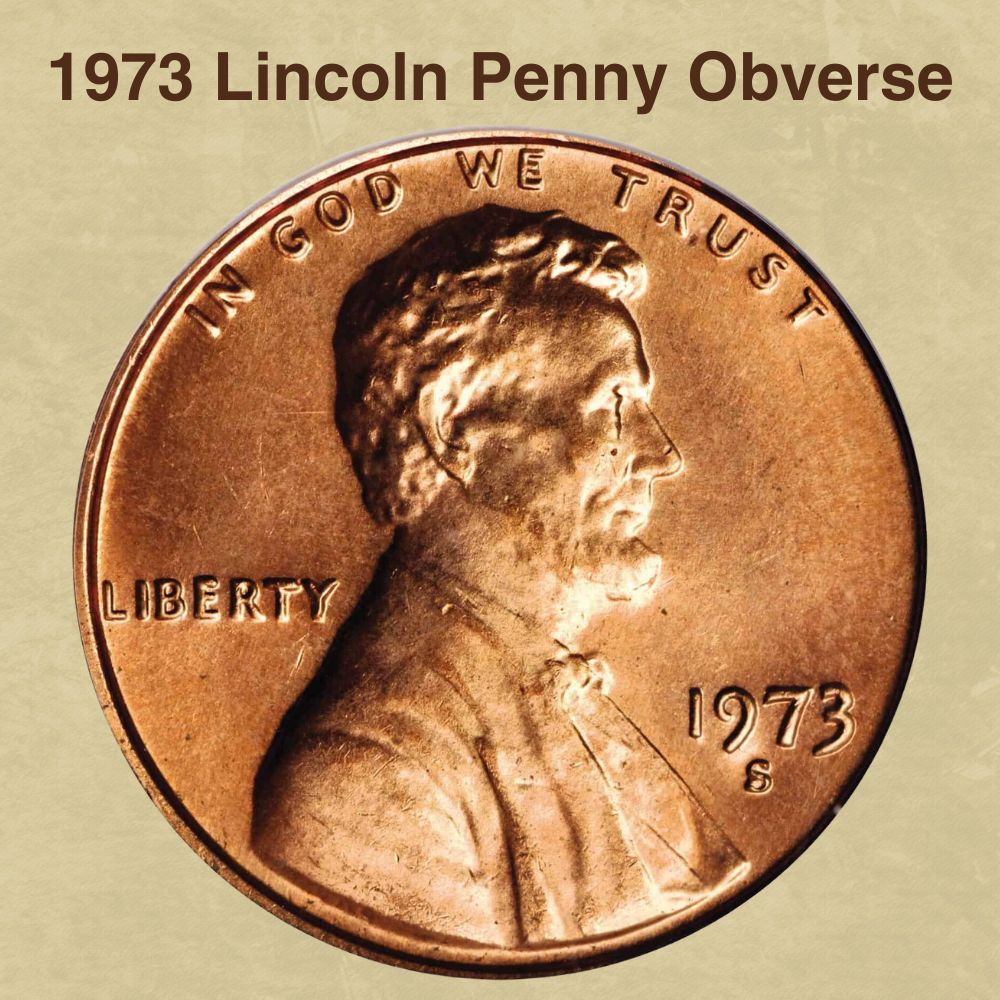 The obverse refers to the head side of a coin and on the 1973 Lincoln penny, the coin features a portrait of Abraham Lincoln, hence the name. The portrait of the president is facing right and the phrase "In God We Trust" is above his head in capital letters.
To the back of his head is the word "Liberty" also in capitals, and the designer's initials VDB are on the shoulder cut-off of the portrait. These initials have not been featured on all coins as that caused a lot of controversy at first. The date and the mint mark, unless it is a Philadelphia minted coin, are in front of the portrait, with the date just below the bow tie and the mint mark below it.
The Reverse of the 1973 Lincoln Penny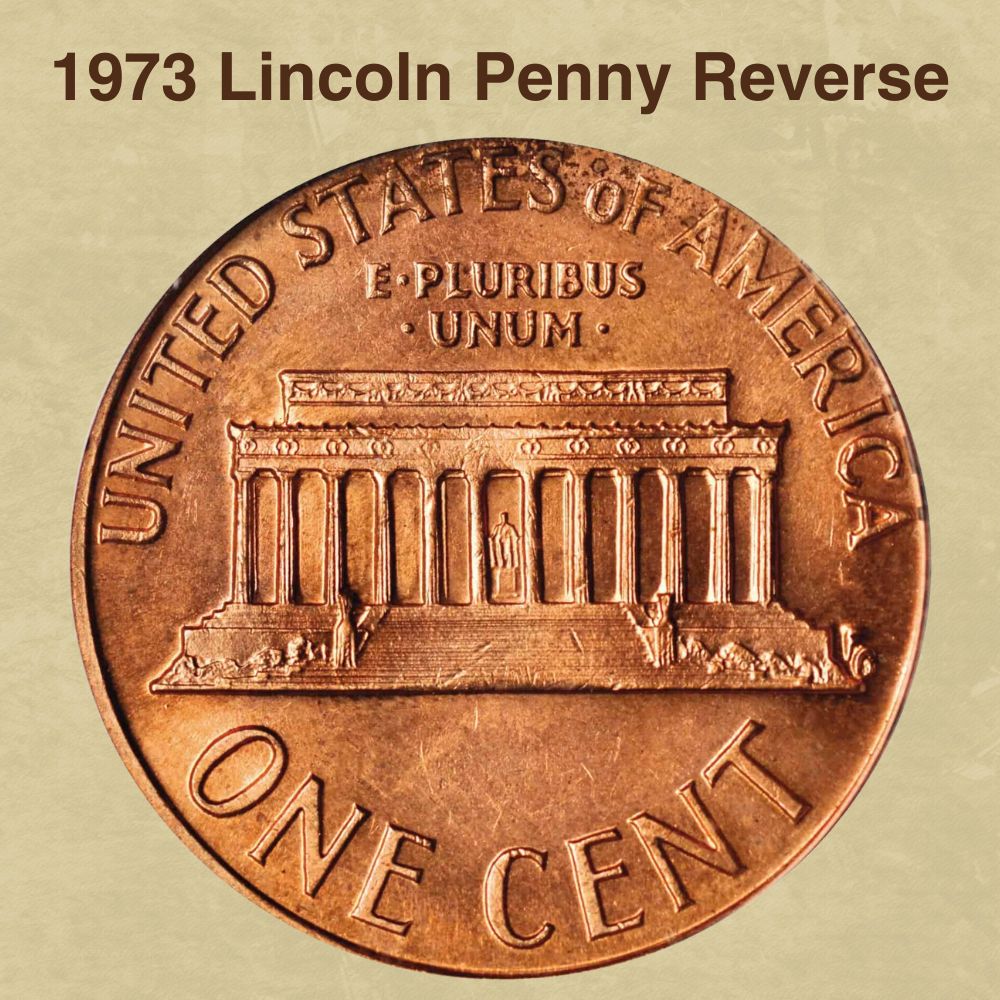 The 1973 Lincoln Penny features the second version of the reverse design. The original had two wheat sheaves but the design was changed in 1959 to commemorate Lincoln's 150th birthday. The reverse design is the one from 1959 and depicts the Lincoln Memorial with a statue of Lincoln in the middle.
Along the top rim of the coin are the words "United States of America" and along the bottom rim the denomination "One Cent". Both are in capital letters. The Memorial building is in the center of the coin and the Latin phrase "E Pluribus Unum" is above it. The designer's initials FG are to the right of the building, next to the steps on the side.
1973 Penny Value Chart

Mint Mark
Good – G2
Fine – F12
Extremely Fine – EF40
Uncirculated – MS60
Mint State – MS65
1973 No Mint Mark Lincoln Penny Value
$0.02
$0.02
$0.02
$0.02
$0.33
1973 D Lincoln Penny Value
$0.02
$0.02
$0.02
$0.02
$0.96
1973 S Penny Value
$0.02
$0.02
$0.02
$0.02
$0.33
1973 Penny Value and Varieties Guide
1973 No Mint Mark Penny Value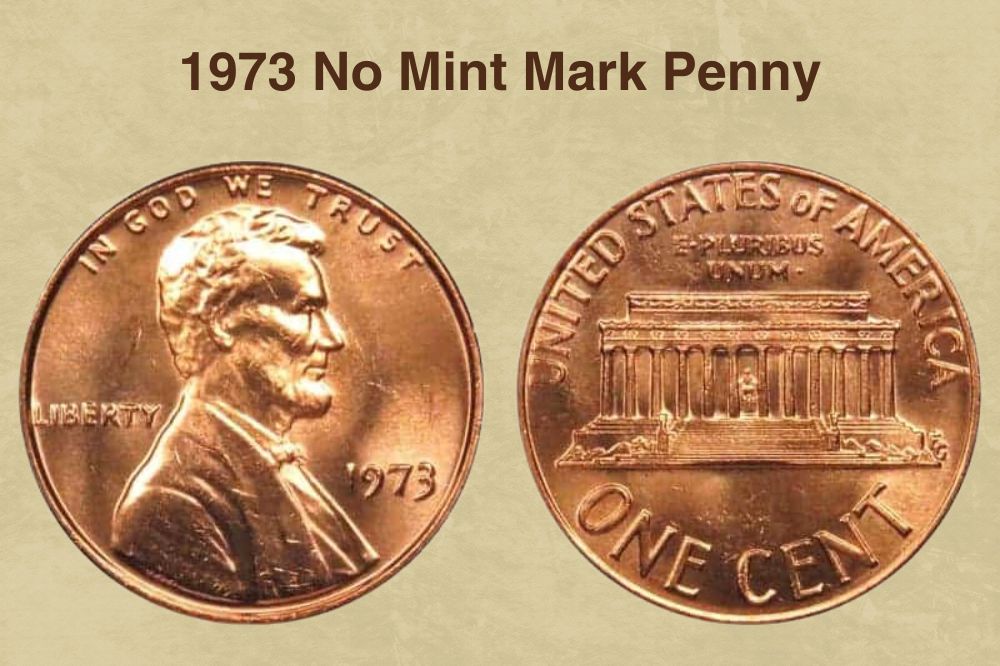 Type: Lincoln Penny
Edge: Smooth
Mint mark: None
Place of minting: Philadelphia
Total Minted: 3,728,245,000
Year of minting: 1973
Face value: $0.01
Price: $0.02 – $0.33
There were almost four billion 1973 Lincoln pennies minted in Philadelphia. You can tell these pennies apart from the other because there is no mint mark below the date. These pennies are not considered rare and in circulated condition are worth around $0.02 but this is mainly because of the copper they contain. Coins in uncirculated condition can be worth around $0.33.
However, there are some exceptions for rare specimens that are graded highly on the Sheldon scale. One such specimen was sold at a 2020 auction. It was graded as MS67+ RD by the Professional Coin Grading Service and sold for $3,850. The letters RD refer to its deep red color rather than brown.
1973 D Penny Value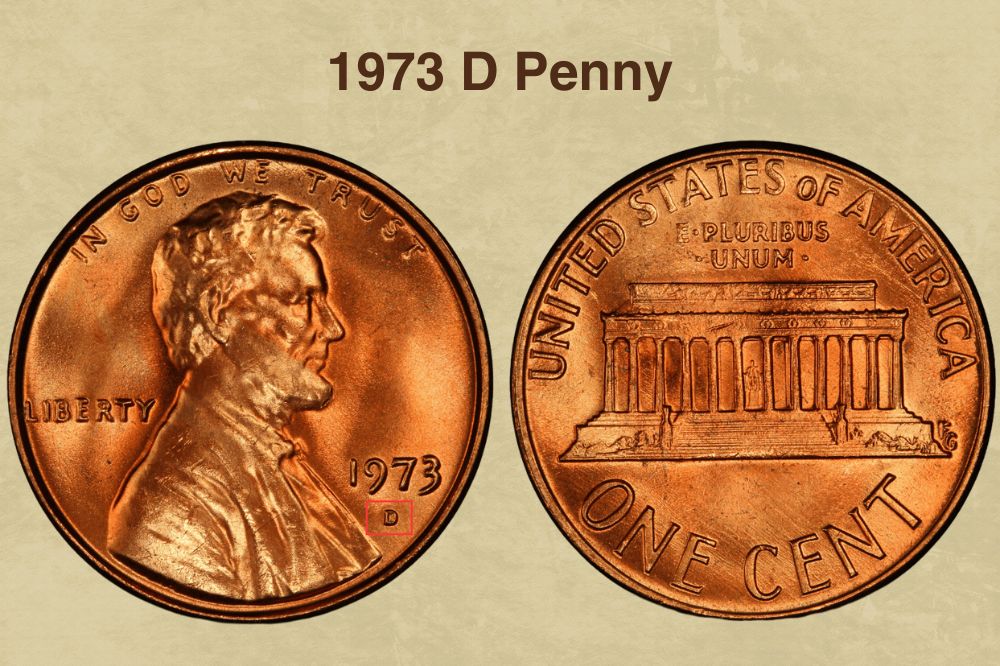 Type: Lincoln Penny
Edge: Smooth
Mint mark: D
Place of minting: Denver
Total Minted: 3,549,576,588
Year of minting: 1973
Face value: $0.01
Price: $0.02 – $0.96
The Denver Mint struck over 3.5 billion pennies in 1973 and therefore they are not considered rare either. Like the Philadelphia pennies, they are worth around two cents in circulated condition for the copper. MS65 graded 1973 D penny is worth around $0.96.
But there are again exceptions to the regular coin valuation. In a 2014 auction, a 1973 D penny sold for $4,993.75. It was graded MS67 RD by Professional Coin Grading Service and holds the record price for a 1973 D Lincoln penny.
1973 S Penny Value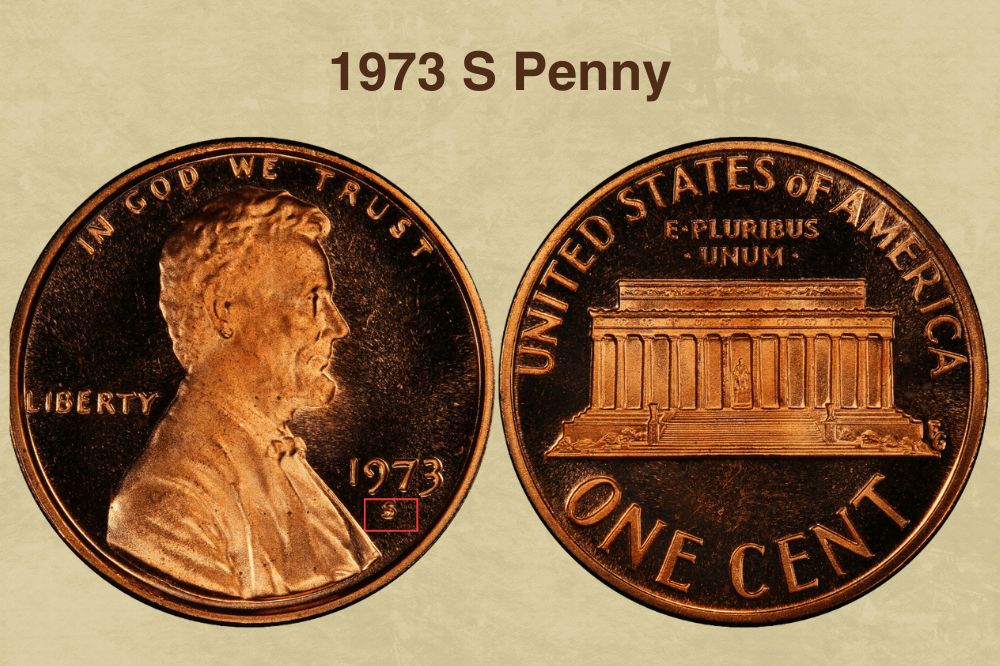 Type: Lincoln Penny
Edge: Smooth
Mint mark: S
Place of minting: San Francisco
Total Minted: 319,937,634
Year of minting: 1973
Face value: $0.01
Price: $0.02 – $0.33
There were over 300 million 1973 S pennies struck in San Francisco. Just like the Philadelphia and Denver pennies, they are worth approximately $0.02 in a circulated condition, depending on the copper value at a time, and in mint condition around $0.33.
The auction record for a 1973 S Lincoln penny is from 2016. This coin was also graded by the Professional Coin Grading Service and sold for $2,232. On the Sheldon scale, this 1973 S Lincoln penny was graded as MS67 RD.
Also read: 12 Most Valuable Lincoln Penny Worth Money
1973 Penny History
US pennies have not always borne the portrait of Abraham Lincoln. In fact, before the issue of the 1909 commemorative Lincoln penny, it was considered unacceptable to use images of real people on coins. Before that, only symbolic characters, such as Lady Liberty, had been featured on coins.
However, the policy was changed to mark one hundred years since the birth of the 16th American president Abraham Lincoln. The idea originated from the President at the time, Theodore Roosevelt, who had seen the design by Victor D. Brenner.
For the first fifty years, the reverse of the coin had two sheaves of wheat but this was changed in 1959 to mark 150 years since Lincoln's birth. The new design features the Lincoln Memorial and was in use until 2009 when four different reverse designs were released featuring different stages in Lincoln's life. In 2010, the design changed to the "Union Shield".
Unlike the reverse of the coin, the obverse has remained largely unchanged since the Lincoln pennies were first struck in 1909. One of the changes on the obverse is the removal and then inclusion again of the designer's initials. While they were included at first, they were then removed and did not appear on the coin permanently until 1918.
The 1973 Silver Penny
The silver penny from 1973 isn't silver at all but aluminum. More than 1.5 million "silver" pennies were made but only a few have survived the destruction. The pennies were coined in 1974 but dated 1973. The coins were the result of trying to find an alternative to copper coins, but the aluminum coins jammed in vending machine coin slots and the trial was abandoned.
The Mint Director, Mary Brooks, wanted to retrieve all the "silver" pennies, but not all could be retrieved. At least fourteen "silver" pennies are still unaccounted for. The coins are illegal to trade or own. However, they are estimated at $250,000 per piece.
Also read: 13 Most Valuable Wheat Penny Worth Money
1973 Penny Grading
All coins, including the 1973 Lincoln penny, are graded using the same scale. This scale, which is known as the Sheldon scale, starts with P1 for coins in poor condition. The finest grading is MS70.
The letters stand for mint condition and the grading means the coin is in perfect condition. This grading applies to coins that were intended or have been in circulation. Proof coins are graded using the letters PR to separate them from coins intended for circulation.
Also read: 17 Most Valuable Indian Head Penny Worth Money
Rare 1973 Penny Errors List
1. 1973 Lincoln Penny Doubled Die Error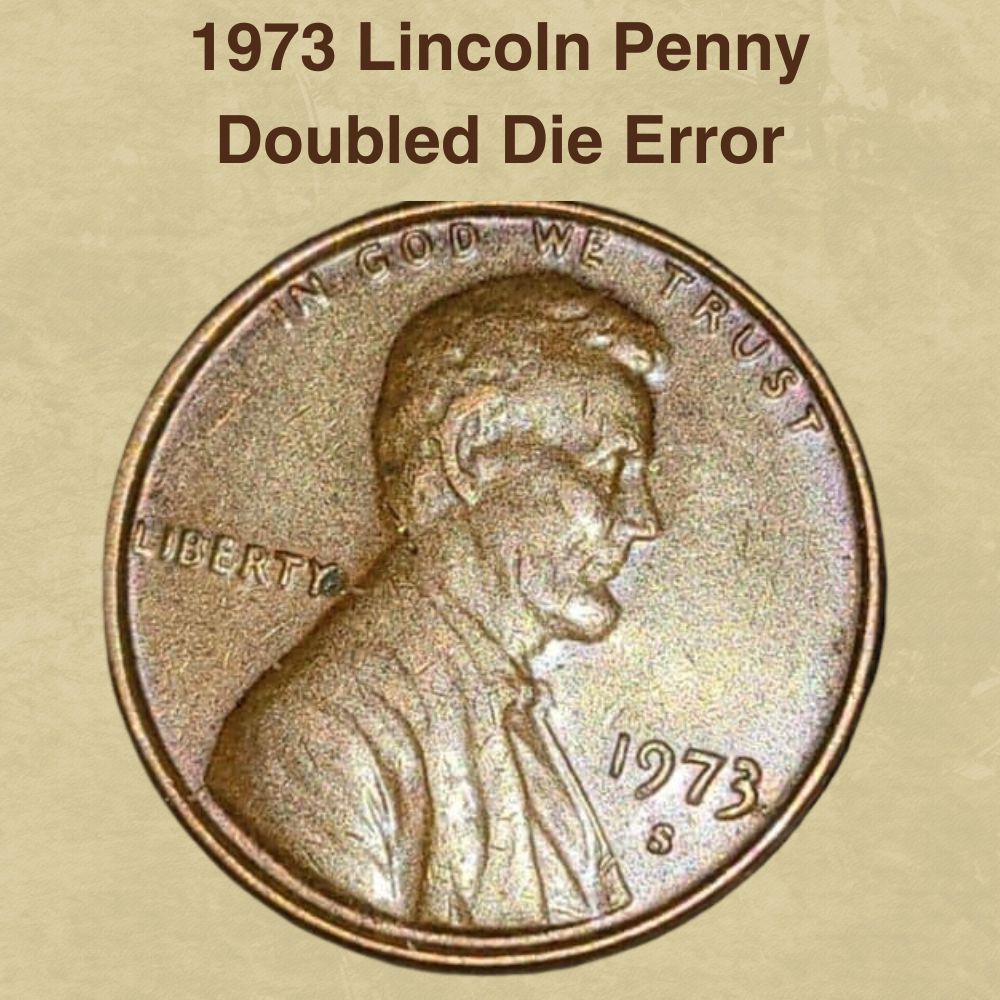 One of the first errors people look at in coins is doubled die error. These are errors where there is a doubling on some of the features of the coin. In the pennies from 1973, there are some examples of doubled die error coins. While they are not extremely valuable, they will be worth more than regular pennies from this year.
However, they do still need to be in good condition to be worth much over their face value. To find a 1973 Lincoln penny with a doubled die error, look for doubling in the lettering, the date, or Lincoln's eye and bowtie. These coins are valued between $25 and $100, depending on how extensive the doubling is.
2. 1973 Lincoln Penny Off-Center error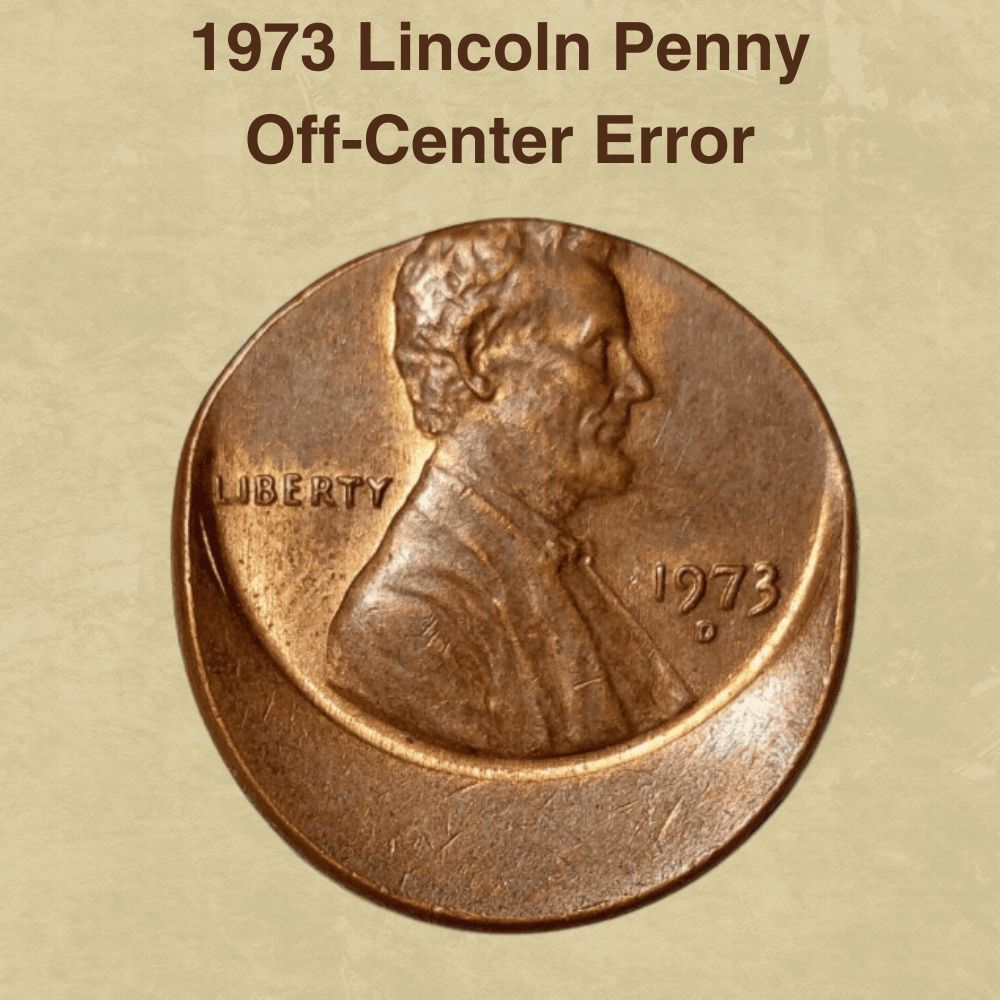 Sometimes coins are not inserted properly into the coin machine and they end up with what is referred to as an off-center error. On these coins, the image is not centered on the coin and parts can be missing. The value of the coin depends on its condition and the percentage of the off-centering.
1973 Lincoln pennies that have a 5% off-centering can be worth $10 to $20, while a coin with a 50% error can be valued closer to $100.
3. 1973 Lincoln Penny Repunched Mint Mark Error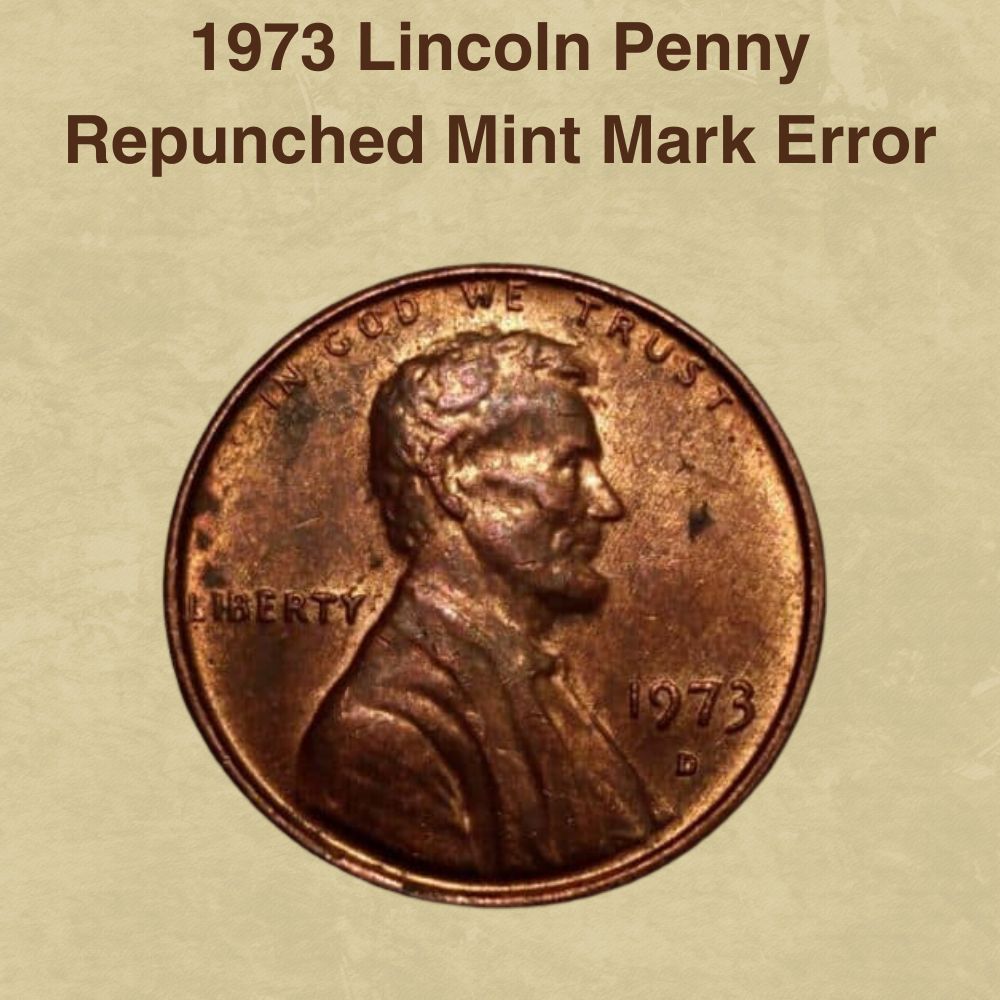 Mint marks were still punched by hand in 1973, which left a lot of room for error. Sometimes, the mint mark would be punched in the wrong place or wrong orientation first and the puncher would have to do it again.
Because mint mark errors from those days are reasonably common and most of them are minor, they are not worth huge amounts of money. However, they are still collectible and often valued between £3 and $10.
4. 1973 Lincoln Penny Die Break Error
When the coin die ages, it will start showing signs of wear and tear, including die breaks. These die breaks, which cut into the die's surface, are transferred onto the coins during the minting process and appear on the coin's surface as bumps, squiggles, or raised lines.
The value of a 1973 Lincoln penny with a die break error depends on its overall condition and how prominent the error is. Valuation for these error coins ranges from $3 to over $100. 1973 pennies with a die break error referred to as BIE error because it appears there is an extra "I" in liberty, are worth around $5 to $10.
5. 1973 Lincoln Penny Raised Edge Error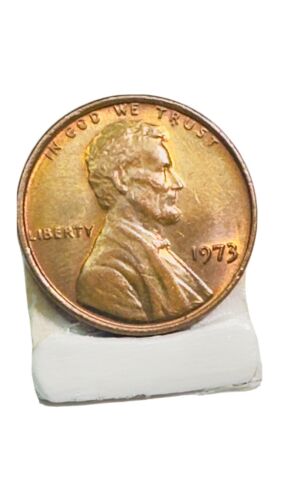 This error, which is also referred to as a raised-rim error, means the penny will have a higher than usual rim, which makes the coin appear thicker. This is usually the result of a tilted die during the minting process. These errors are not rare and most 1973 Lincoln pennies with a raised edge error are worth around $10 unless in an exceptional condition.
Also read: 11 Most Valuable Wheat Penny Errors
1973 Lincoln Penny FAQs
How much is a 1973 penny worth?
How much a 1973 penny is worth depends on many factors. The key factor is its condition. Coins that have been in circulation and are in poor condition are not worth much more than their face value. These usually sell for two to three cents and that is only because of the value of the copper they contain.
However, coins with errors or coins that are in mint condition can be valued a lot higher. Error coins, depending on their overall condition and the type and extent of the error, are usually valued from $3 to $100. Mint condition 1973 pennies can sell for hundreds and sometimes thousands of dollars.
What is the error on the 1973 penny?
There are several different types of errors on pennies struck in 1973. These errors include doubled die, off-center, raised rim, and die break errors. These error coins are usually worth more than regular coins. However, their value depends on how visible the error is and what condition the coin is in.