The relatively high 1911 Wheat penny value is connected with these coins being from the early series. In fact, it was the third year of their minting, after the US Mint started the new series with Abraham Lincoln's profile on the obverse.
Americans immediately liked the new coin, although there were objections about the genuine person appearing on the nation's coinage. It was taboo for decades because Washington considered this custom too European and monarchical.
1911 Wheat Penny Value Chart

Condition
1911 no mint mark penny
1911 D penny
1911 S penny
Good
$0.57
$6.68
$35
Very good
$0.81
$9.35
$46
Fine
$1.75
$14
$57
Very fine
$2.87
$35
$75
Extra fine
$9.35
$75
$95
AU
$14
$96
$134
MS 60
$23
$123
$233
MS 63
$57
$166
$409
PR 63
$770
/
/
History of the 1911 Wheat Penny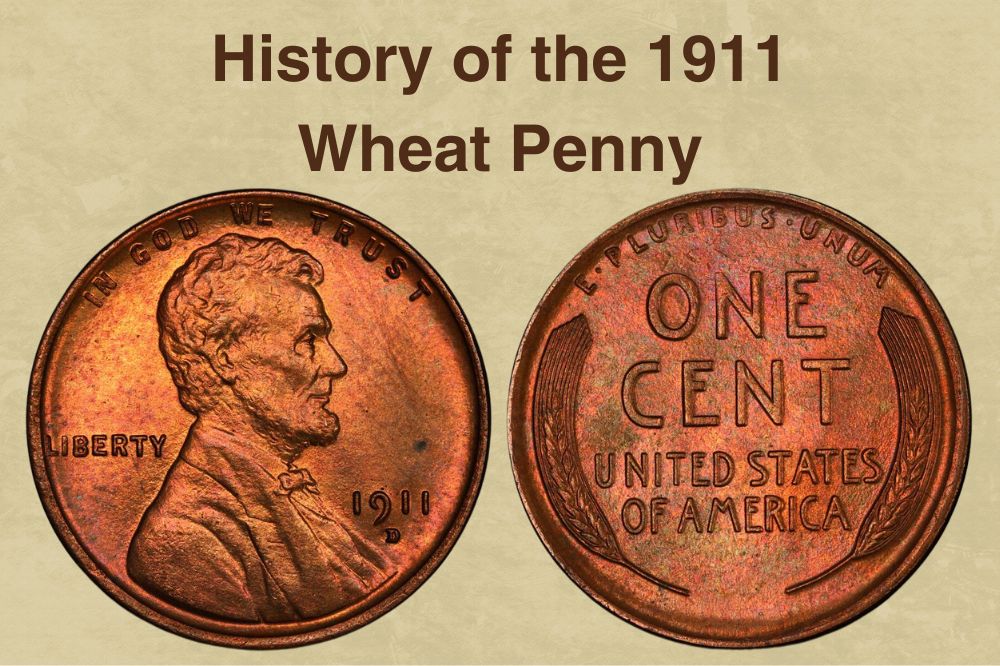 Lincoln cents are long-lasting American coinage that appeared in 1909. They appeared in circulation in the following 50 years with only slight design changes. After that period, the first reverse change happened, and it became a habit that took place every half-century.
The purpose of this is to commemorate the President's jubilee birthday anniversaries. Each coin had a simple design that allowed effortless minting and minimal cost.
1911 Wheat Penny Types

Location
Year
Minted
Philadelphia
1911 No Mint mark penny
101,176,054
Philadelphia
1911 No Mint mark penny proof
1,733
San Francisco
1911 S penny
4,026,000
Denver
1911 D penny
12,672,000
Total
/
117,875,787
The only deviation from established practice was the 16th President's image on the obverse as the first real man getting such an honor. It happened after years of following Washington's advice to avoid such a thing in the new state.
Also read: 12 Most Valuable Lincoln Penny Worth Money
Features of the 1911 Wheat Penny
Victor Brenner was responsible for the first American-circulated coins' look, including putting a genuine person on the obverse. Thanks to two stalks of wheat, these Lincoln cents got a popular nickname – Wheat pennies. The US Mint produced them from 1909 to 1958 when their reverse side was re-designed.
The obverse of the 1911 Wheat Penny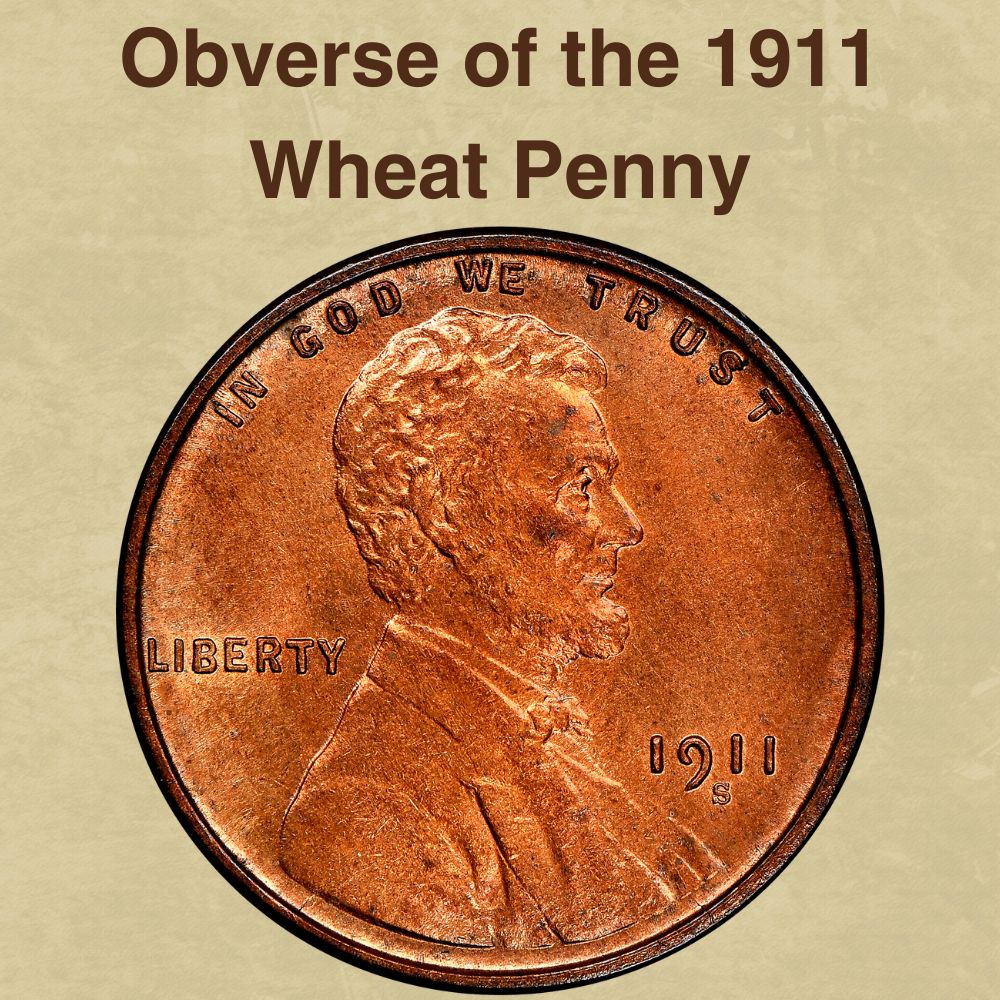 Like every Lincoln cent ever mint, those from 1911 have this President's profile on the obverse. It is vertically placed in the coin center, reaching the lower rim. Since Congress passed an act about required mottos on the US coinage in 1865, each cent design included recognizable inscriptions after then, including:
IN GOD, WE TRUST – It shows that the political and economic prosperity of this great nation comes from God.
LIBERTY – This word symbolizes a mythical American goddess that lights the path to freedom and democracy. Besides the nation's old coinage, she is depicted on the Liberty statue in NY.
1911 – It is a year of minting, and you can also see the corresponding letter below it, except on coins from Philadelphia. There are no VDB initials on the President's shoulder on coins between 1909 and 1918.
The reverse of the 1911 Wheat Penny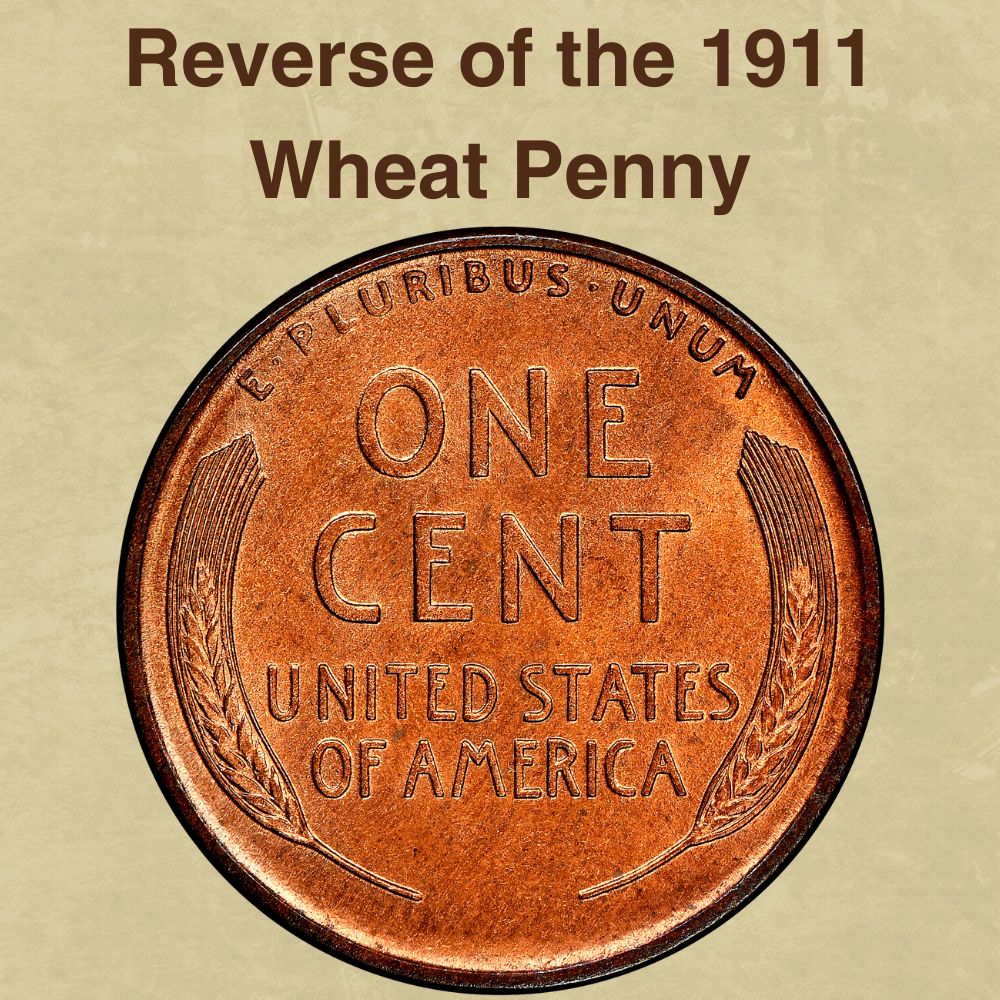 This coin side features two wheat ears along the rims with an inscription positioned on the top:
E PLURIBUS UNUM – This Latin phrase affirms the ability to create a great nation out of numerous States where people of various backgrounds, races, and beliefs can live together.
The central part is fulfilled with the following:
UNITED STATES OF AMERICA, the official State name
ONE CENT, coin denomination
1911 Wheat Penny details

Face value
One cent ($0.01)
Shape
Round
Compound
An alloy of 95% copper with 5 % zinc and tin
Coin thickness
1.52 mm (0.0598 inches)
Coin diameter
19.05 mm (0.75 inches)
Coin weight
3.11 g (0.10970 ounces)
Edge
Plain
Other features of the 1911 Wheat Penny
All Wheat pennies are small, one-cent copper coins, and those minted in 1911 are no exception. Their measures are standard, so you can expect your specimen to weigh 3.11 g (0.10970 ounces) and has a thickness of 1.52 mm (0.0598 inches). Its diameter is 19.05 mm (0.75 inches).
Also read: 13 Most Valuable Wheat Penny Worth Money
1911 Wheat Penny Value Guides
Even three mints produced the 1911 Lincoln cents, but the one in Philadelphia was the main bearer of production. So, 101,176,054 coins without the mint mark came from this place out of the total mintage of 117,875,787 pieces. Plus, all proofs struck this year came from the same place.
1911 no mint mark Wheat Penny Value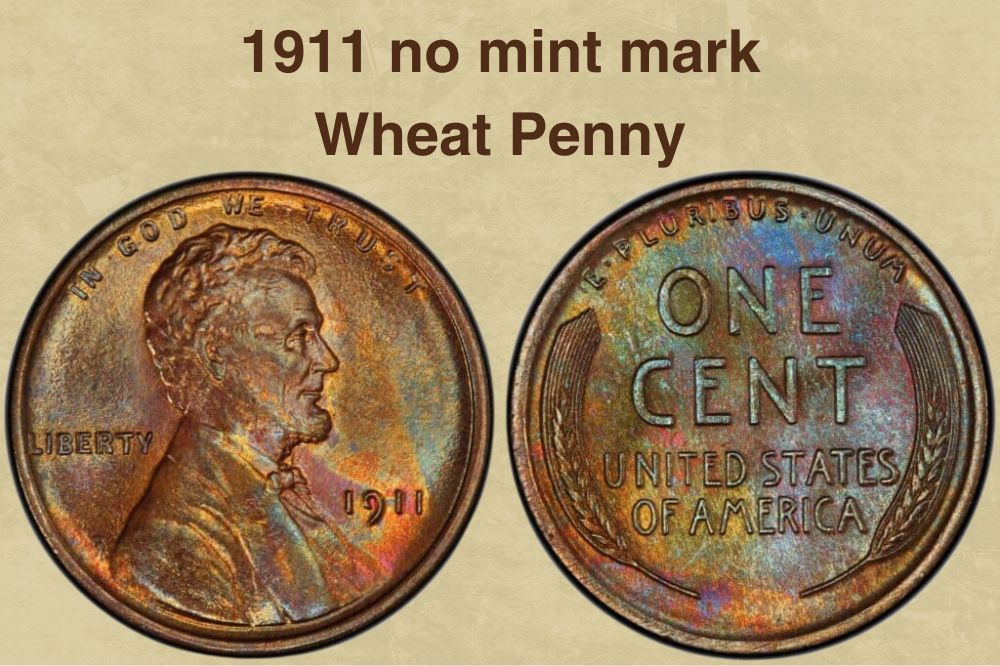 The Philadelphia mint had the highest mintage of pennies in 1911, precisely 101,176,054 coins. Their current price depends on their grade and color. The most affordable are brown pennies that typically cost $0.30 to $13 in circulated condition.
The value of specimens in the mint state ranges from $14 (MS 60) to $120 (MS 65). The record price from 2019 for one such coin is $3,290.
Red-brown pennies are costlier, and you can expect to pay $30 to $36 for those rated MS 63, while MS 64-graded pieces are assessed at $60 to $100. More expensive are the best-preserved pennies in MS 65 grade, which cost $150 to $200.
Those with an MS 66 rating are the most collectible. Their estimated price range is $300 to $400. The 1911 MS 65 CAC RB penny won an auction record in this category after selling at $1,175 in 2012.
Most collectors with a high budget look for red pennies as the most beautiful in the set. Their prices go from $100 for MS 63-graded coins to $6,600 for those rated MS 67.
The 1911 MS 68 cents have the best estimated price range from $75,000 to $100,000. However, such coins have never appeared at an auction. Therefore, the auction record of $21,850 won one piece in MS 67 grade.
1911 Wheat Penny Value (proof)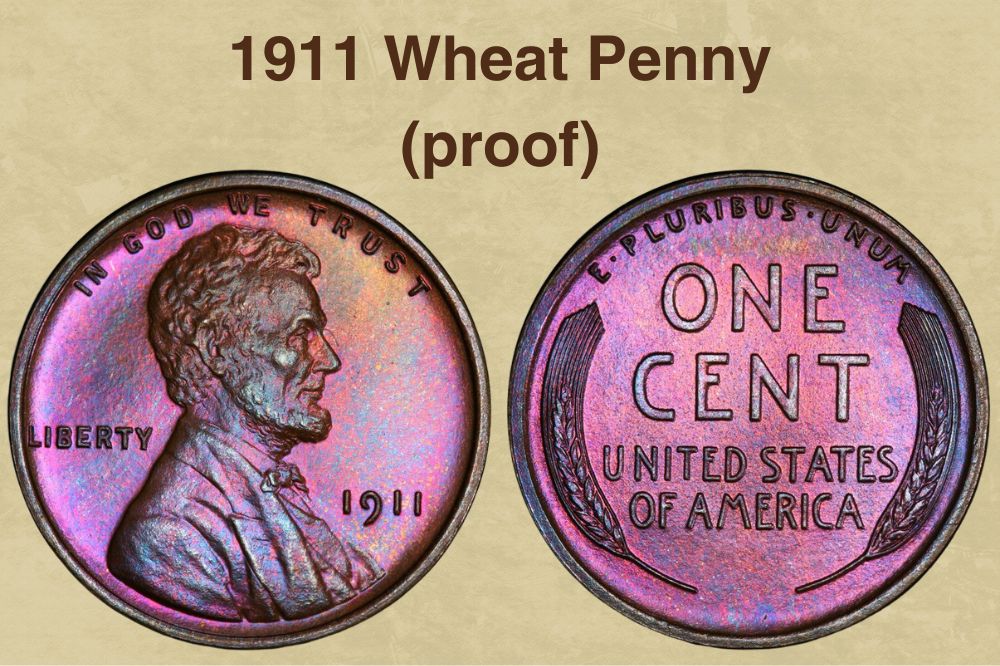 The Philadelphia mint also produced 1,733 proofs in 1911. These coins intended for collectors are worth differently, primarily depending on their color. Brown pennies are the most affordable, and you can buy one for $360 to $6,000, depending on their rating (PR 58 to PR 67).
Red-brown pieces are costlier, with a price range from $400 (PR 60) to $1,440 (PR 66), while red specimens cost $675 to an astonishing $9,600. Interestingly, some of these coins are worth even more.
For instance, one brown penny reached an auction record of $8,225. On the other hand, the costliest red-brown and red pieces were sold at over $14,000.
1911 D Wheat Penny Value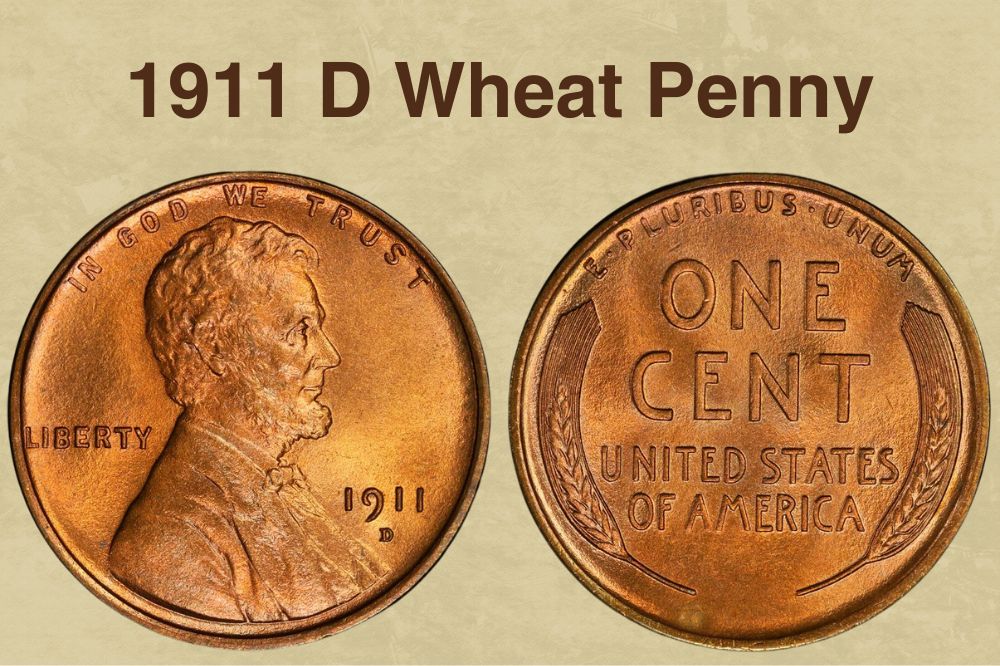 The mint in Denver issued 12,672,000 coins from regular strikes in 1911. Brown coins in circulated condition are worth $4.50 to $72, while those in the MS 65 grade are the best ranking nowadays. You can expect to pay about $325 to $390 per one.
Red-brown pieces are more appreciated among collectors, and their price range is from $120 (MS 63) to $1,000 for coins ranked MS 66. However, it is impossible to compare any of them to the value of red coins. The 1911 D red pennies cost approximately:
MS 63 – $280 to $350
MS 64 – $450 to $600
MS 65 – $800 to $1,050
MS 66 – $1,500 to $2,000
MS 67 – $56,000 to 67,200
As for auction records, they are about $1,500 for brown and red-brown coins, while the red one reached $66,000 at an auction held in 2022.
1911 S Wheat Penny Value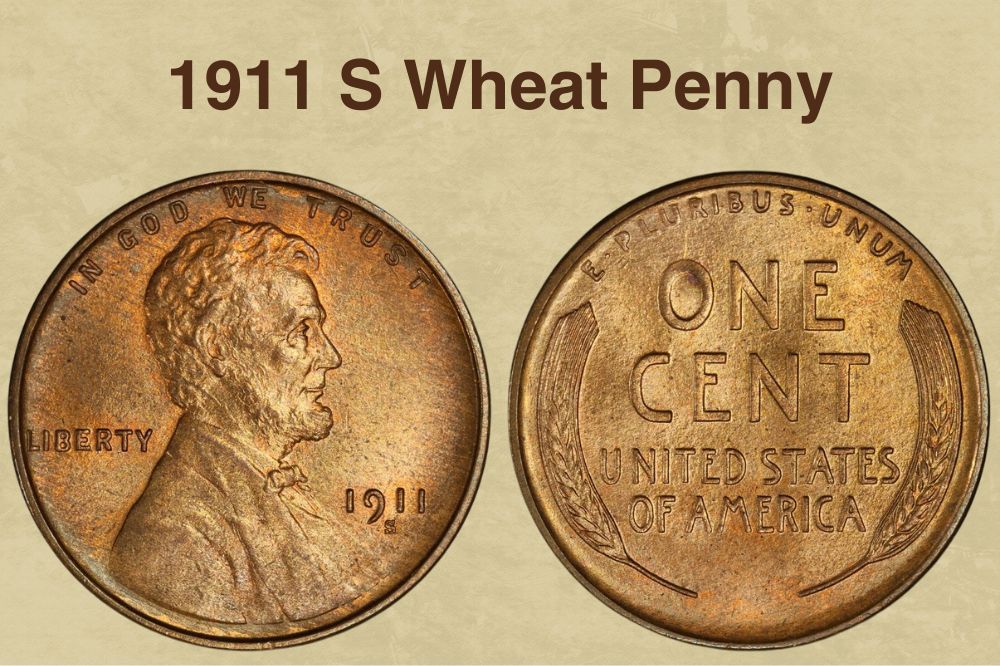 With 4,026,000 issued pennies, the mint in San Francisco had the lowest mintage in 1911. Therefore, you can expect to pay $22 to $140 for less-appreciated brown circulated pieces, while those in the mint state (from MS 60 to MS 65 grades) cost $145 to $960.
The 1911 S red-brown cents come with a price range from $240 in MS 61 grade to $1,200, which you have to pay for specimens rated MS 65. The priciest pennies are those with MS 66 quality, typically costing $2,800 to $3,600.
The estimated price range for red pennies is always the highest, so even coins with MS 61 to MS 64 rating are worth $250 to $750. Better-graded specimens are costlier, and you should set aside $2,000 to $2,500 for coins in MS 65 grade.
The estimated value for those rated MS 66 is $12,500 to $16,000. The record price ever paid for one 1911 red penny minted in San Francisco is $27,600.
Also read: 17 Most Valuable Indian Head Penny Worth Money
1911 Wheat Penny Grading
It is crucial to be particularly careful while grading an old coin like the 1911 Wheat cent because it is the only way to correctly estimate its genuine value. The first step is to check your piece by following the instructions standard for each coin type and determine the approximate ranking on the Sheldon scale.
When suspecting that the penny you have is without damage and circulation signs or noticing one of the rare errors, the next step is to consult a professional appraiser. It is the only way to get a certificate with a detailed estimation of your coin, making it more valuable for serious collectors.
Rare 1911 Wheat Penny Errors List
Like most old American coins, the 1911 Lincoln Wheat pennies came with numerous imperfections on both sides. They resulted from human error or worn-out machines used in production.
Learning how to determine valuable mint-made errors from worthless post-mint damage is crucial for every collector. It is the only way to avoid expensive purchase mistakes.
Re-punched mint mark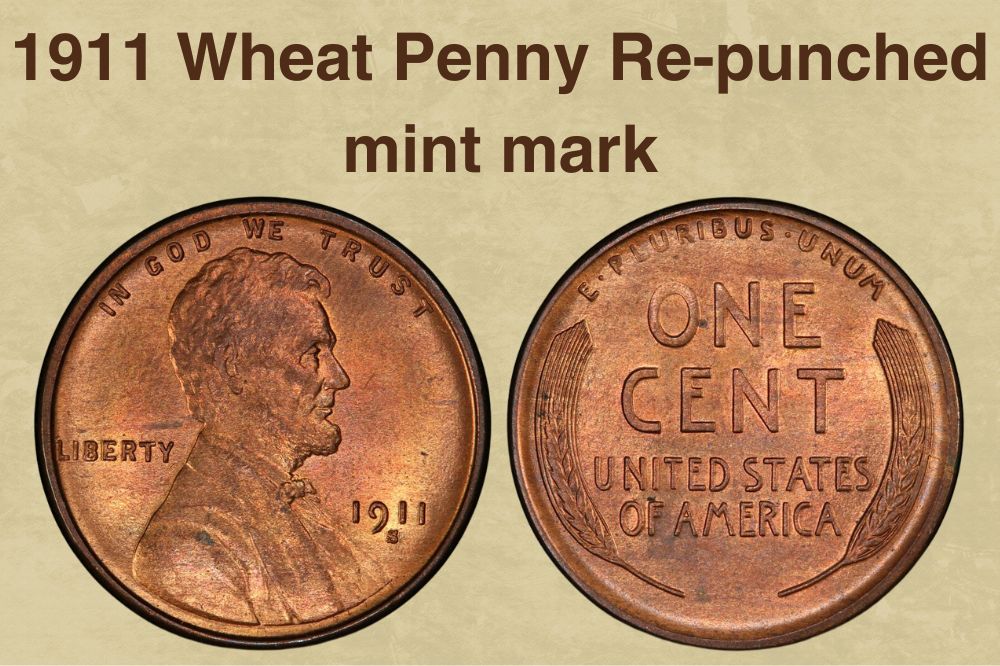 Two mints released pennies with the re-punched mint mark error in 1911. You can add both coins to your collection, but be prepared that they are more or less rare and can be expensive.
For instance, the 1911 brown penny with S/S error in MS 65 grade won an auction record of $1,750 in 2022. A piece of the same imperfection and quality but red-brown toning was bought for $1,320 three years earlier.
Pennies from Denver are less rare, making their auction records lower. Such coins were often sold at about $1,000. Since coins from Philadelphia came without the mint mark, this error was impossible to find among them.
Lamination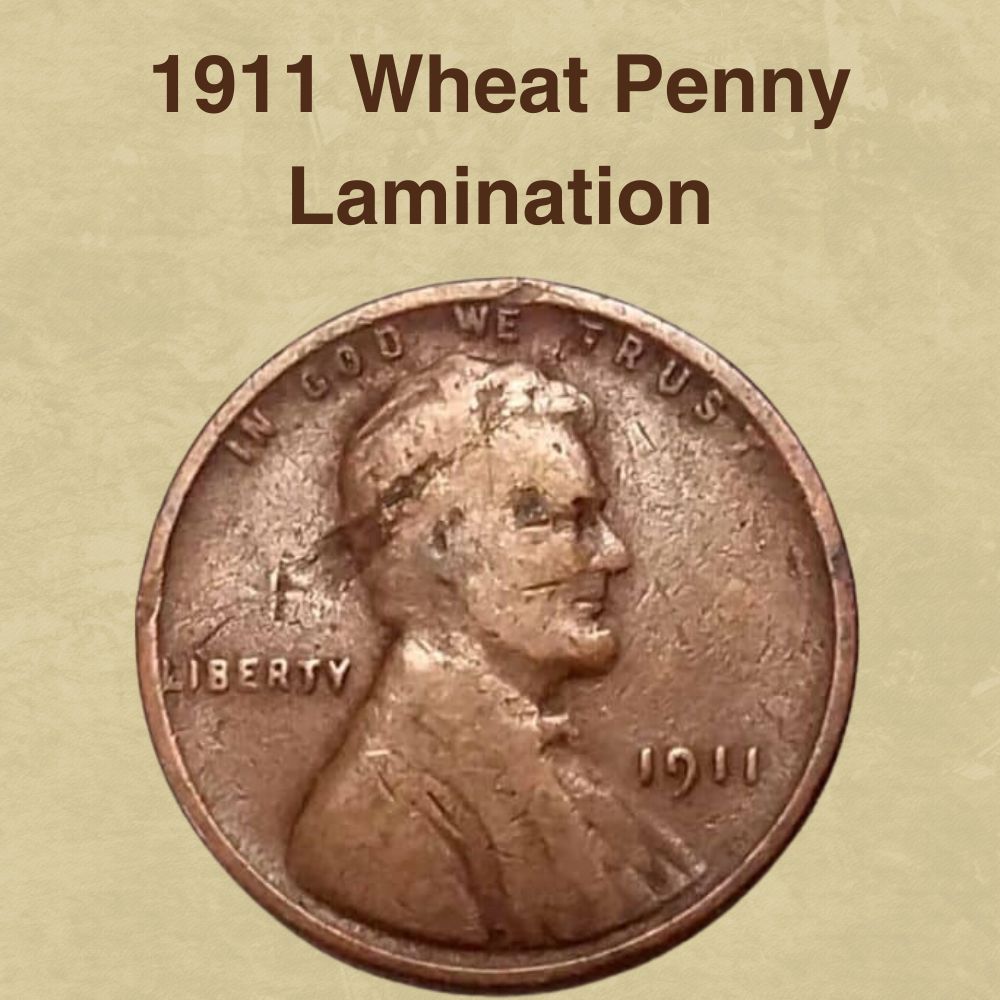 This error occurred because of debris struck in a metal strip during minting. In such cases, the issued coin ended up with a peeled metal fragment on the surface. You should set aside about $100 to $150 for one of these pieces.
Also read: 11 Most Valuable Wheat Penny Errors
FAQ about the 1911 Wheat Penny
What makes a 1911 Wheat Penny rare?
Most pennies minted in 1911 are common nowadays, particularly used ones. On the other hand, finding these in the highest grades can be tricky, even for collectors with high budgets.
Which 1911 Wheat Penny is worth a lot of money?
1911 D MS 67 RD penny – $66,000 (2022)
1911 S MS 66 RD penny – $27,600 (2007)
1911 MS 67 RD penny – $21,850 (2007)
1911 PR 66 RD penny – $14,950 (2005)
1911 PR 66 RB penny – $14,688 (2014)
1911 PR 67 BN penny – $8,225 (2017)
1911 S MS 66 RB penny – $3,840 (2019)
1911 MS 65 BN penny – $3,290 (2019)
1911 S MS 65 BN penny – $2,991 (2006)
1911 S/S MS 65 BN RPM penny – $1,750 (2022)
1911 D MS 63 RB penny – $1,500 (2022)
1911 D AU 58 BN penny – $1,438 (2010)
1911 S/S MS 65 RB RPM penny – $1,320 (2019)
1911 MS 65 CAC RB penny – $1,175 (2012)
1911 D/D VF 25 BN RPM penny – $1,006 (2022)
1911 MS 65 penny – $916 (2022)
1911 D/D MS 64 BN RPM BN penny – $910 (2022)
How much is the 1911 No Mint mark Wheat Penny worth?
The 1911 Wheat cent value depends on its grade, but the color has a crucial significance when determining each piece's value. The least attractive brown pennies in circulated condition produced in Philadelphia cost up to $13, while even the most expensive specimens rarely exceeded $120.
Red-brown pennies minted this year are typically worth $30 to $400, depending on quality, while red pieces can be surprisingly costly. Most perfectly preserved coins are worth $100 to $6,600, but those in the highest MS 68 grade are rare and estimated at dizzyingly high $75,000 to $100,000.
What penny is the costliest in the Wheat series?
The costliest penny Type 1 with Wheat reverse is the one minted in 1944 in San Francisco. Thanks to its uniqueness, MS 66 grade, and steel compound, it reached $408,000 in 2021.
However, the coin Type 2 produced in Denver in 1943 was even more expensive. This bronze, MS 64-ranked brown penny reached $840,000 at Heritage Auctions in 2021. The next in line is the 1909 penny proof Type 1 with VDB and in PR 67+ grade. It changed hands for $258,500 at an auction held in 2014.