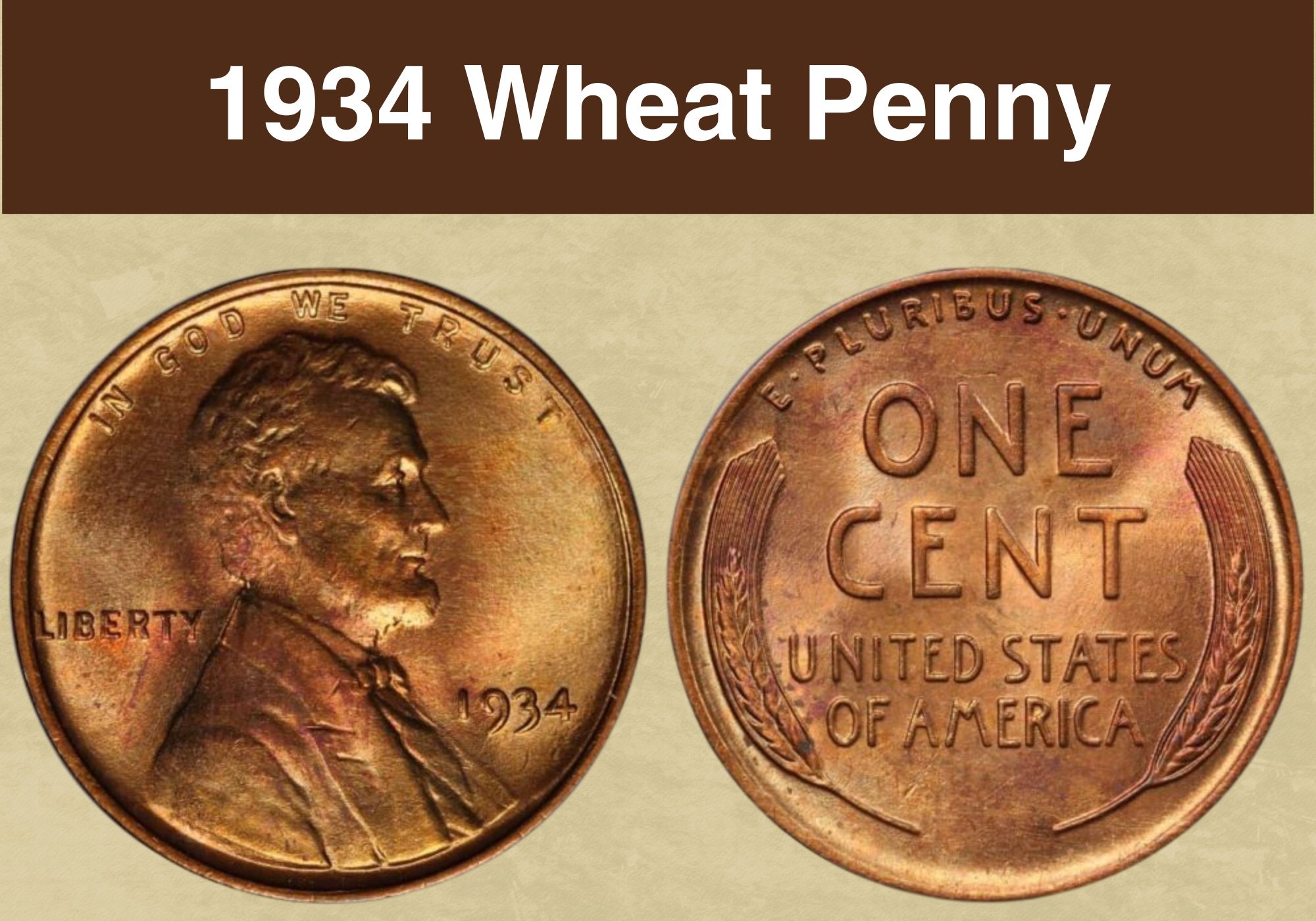 Are you wondering about the 1934 Wheat penny value? Then you've come to the right place!
We're going to explore everything you need to know about this interesting coin. We'll investigate its design and history. And we'll look at how the value of individual coins is affected by their condition, mint mark, and other factors.
Ready to find out more? Then step this way!
1934 Wheat Penny Value Chart
Mint mark
XF45
MS60
MS65
MS67
1934 No Mint Mark Penny Value
Brown: $1
Brown: $5Red and brown: $6

Red: $8

Brown: $20Red and brown: $27

Red: $42

Brown: n/aRed and brown: $50+

Red: $300

1934 D Penny Value
Brown: $3
Brown: $9Red and brown: $10

Red: $18

Brown: $52Red and brown: $70

Red: $150

Brown: n/aRed and brown: $235

Red: $3,500
History of the 1934 Wheat Penny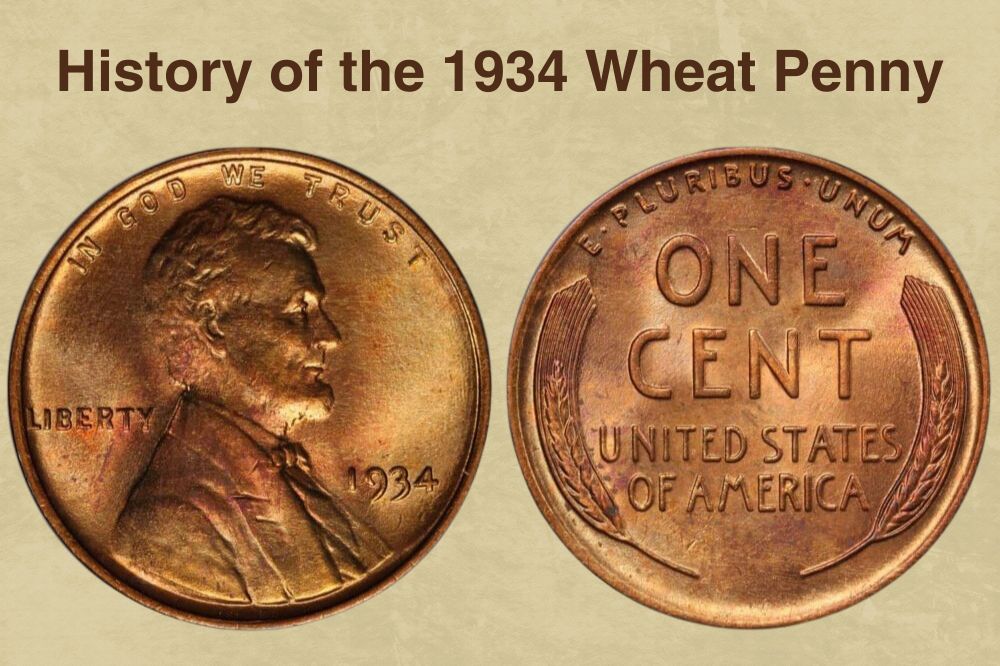 The Wheat penny gets its nickname from the design which appears on the reverse – two ears of durum wheat. You may also hear the series referred to as Lincoln pennies, after the portrait of Abraham Lincoln on the obverse.
Lincoln pennies were first produced in 1909, and they marked a seminal moment in the history of US coins. It was the first time the image of a real person had ever been used – previously, the "heads" side had usually depicted Lady Liberty.
The change in approach was a result of public sentiment supporting the idea of a coin to honor the former US president, Abraham Lincoln. 1909 marked a hundred years since Lincoln's birth.
The original reverse design remained in place until 1959. But after 50 years, it was considered time for a change. The replacement featured the Lincoln Memorial in Washington DC.
It changed again for the bicentenary of Lincoln's birth in 2009. That year saw four different reverses produced, each one showing a scene from a different stage in Lincoln's life.
The following year, the reverse changed again, to the design known as the Union shield. That's still being used to this day.
Throughout all this, the portrait of Lincoln on the obverse has remained essentially unchanged. That makes it the longest running design in the history of US coinage.
Also read: 12 Most Valuable Lincoln Penny Worth Money
Features of the 1934 Wheat Penny
The Obverse of the 1934 Penny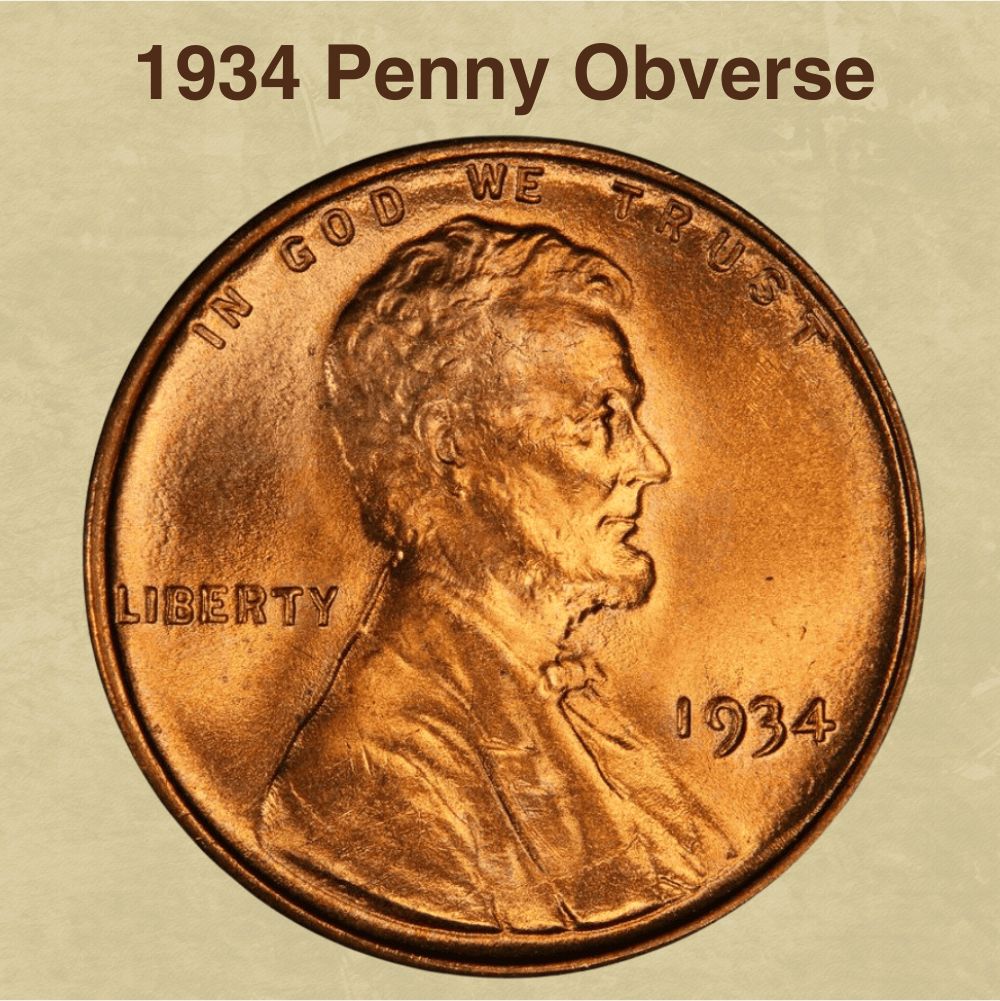 The obverse of the 1934 Wheat penny bears the portrait of Abraham Lincoln that will be familiar to anyone who's ever held a cent.
It was the work of a Lithuanian artist named Victor David Brenner. It shows Lincoln in profile, facing to the right. Brenner later wrote that he had imagined the President as he would have looked reading to a child.
Tucked away at the base of the portrait are the artist's initials – but they don't appear on all Wheat pennies. The very first coins had carried his initials on the reverse instead. But there was an outcry over how prominent they were, with some objecting to what they considered "advertising".
Coin production was halted in the face of the furore. And with time pressing on, the Mint decreed that the initials should be removed altogether.
This was done despite Brenner's protests. And the coin remained unsigned until 1918, when the initials were eventually reinstated on the obverse. They remain in the same position to this day.
Above the portrait, the words "IN GOD WE TRUST" curve parallel to the upper coin edge. The word "LIBERTY" is inscribed to the left of the portrait. And the date is a little further down and to the right.
A small "D" beneath the date indicates that the penny was struck in Denver. But if there's no letter, it means it was struck in the original Mint facility, Philadelphia.
The Reverse of the 1934 Wheat Penny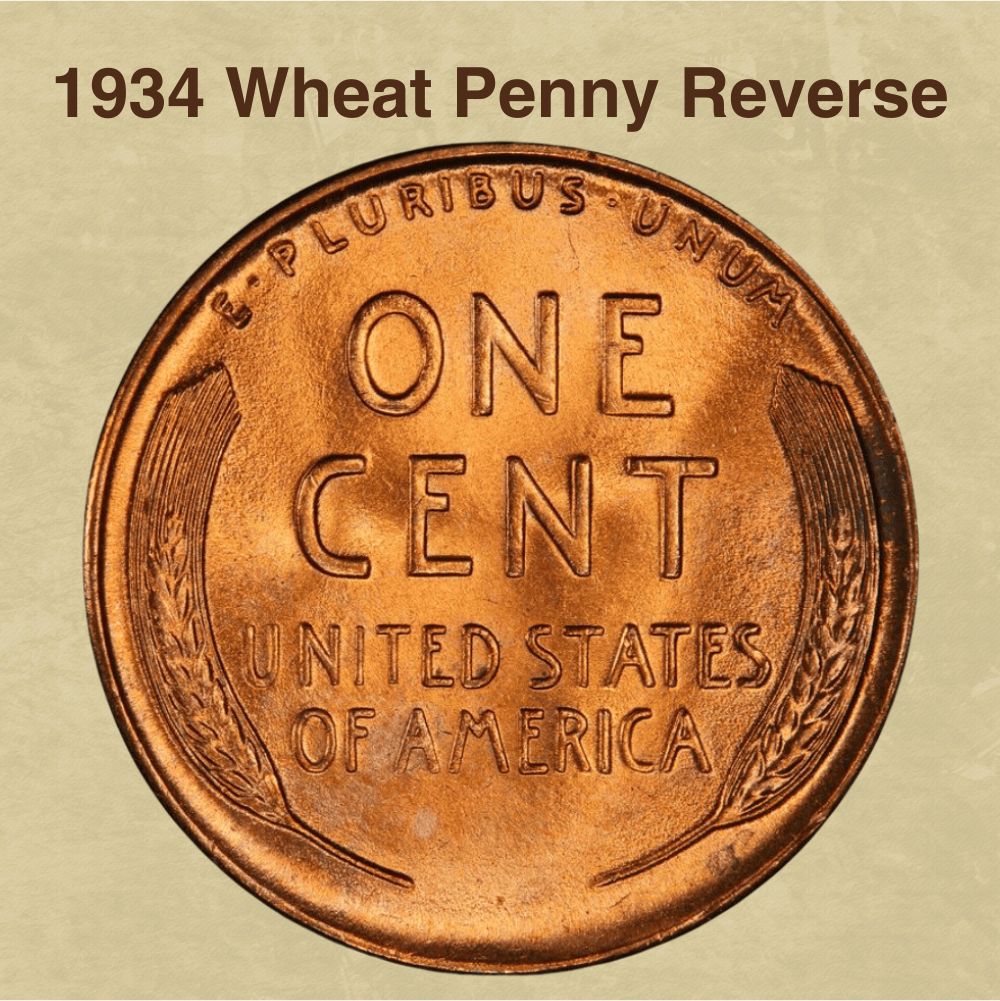 The reverse of the 1934 Wheat penny features a striking but simple design. Two wheat stalks curve up either side of the coin, forming a frame for the denomination and country name.
The Latin phrase "E PLURIBUS UNUM" arches across the top of the coin, running parallel to the edge. The words mean "From the many, one". It's a reference to the creation of the country as a union of states.
This design stood for 50 years – but it wasn't Brenner's first proposal. He had originally submitted an image of a tree branch. Mint officials, however, considered it too similar to French coins of the same period, and sent him back to the drawing board.
Other Features of the 1934 Wheat Penny
The 1934 penny is a bronze coin, made of a mixture of copper, tin and zinc. Copper forms the main component, and because of that, the color of individual coins can vary a great deal.
That's because copper changes color depending on environmental conditions. If it's brand new, it's a rich red color. But if it's handled or exposed to oxygen in the air, it gradually turns brown.
All other things being equal, red coins are generally more collectable – and valuable – than brown ones. And coin grading agencies employ strict criteria to determine the color of individual coins.
For a coin to be graded red, it must be that color over a minimum of 95 per cent of its total surface area. If it's brown over at least the same proportion of the surface, it counts as a brown coin. And anything in between is "red and brown".
You can find out more about how to grade the color of Lincoln Wheat pennies in this YouTube video from Len Here.
Also read: 13 Most Valuable Wheat Penny Worth Money
1934 Wheat Penny Value Guides
1934 No Mint Mark Wheat Penny Value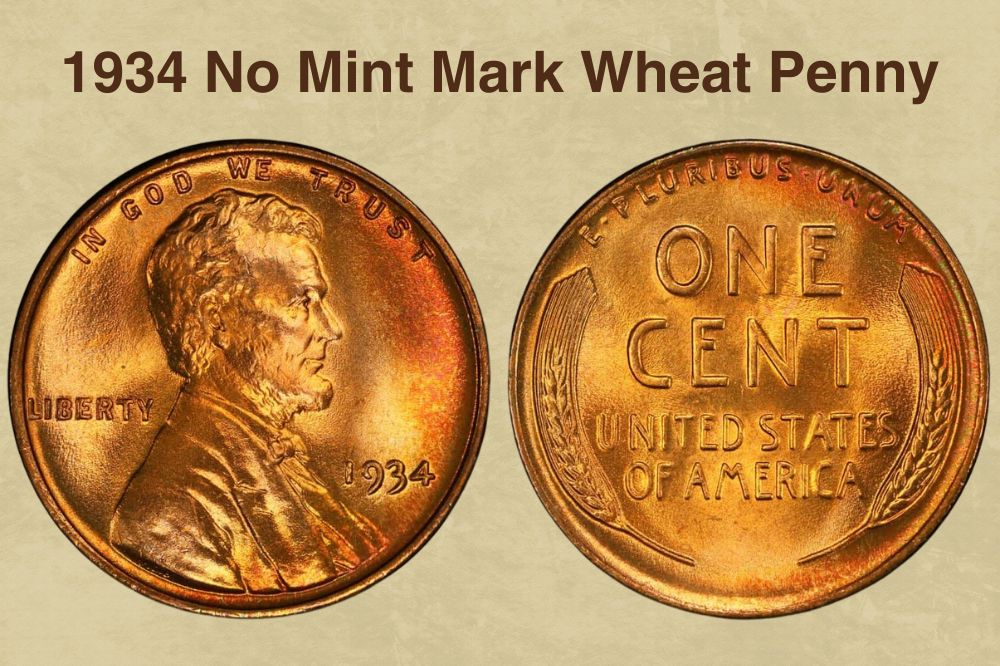 Pennies struck in Philadelphia don't have a mint mark beneath the date. That's because Philadelphia was the first of the Mint facilities, so it originally had no need to distinguish its coins from those struck elsewhere.
In other years, proof pennies were struck at Philadelphia too. But in 1934, there were neither proofs nor Special Mint Set coins. All 1934 pennies are business strikes – i.e., coins intended for circulation. And more than 219 million of them were produced.
The value of an individual example will depend on three factors: its color, its condition, and whether it has a Mint error. (We'll look at examples of Mint errors later.)
Coin condition is graded on a scale from 1 to 70. 1 is used for coins in the poorest condition where it's nevertheless possible to identify their denomination and mintage. At the other end of the scale, 70 designates a flawless coin.
Coins that have been circulated are graded from 1 to 59, while 60 and above is used for coins in "mint state". Coins graded 65 and above are known as "gems".
Most circulated coins are, by definition, brown in color. And, unless it has a Mint error, a brown 1934 no mint mark penny in the poorest condition will be worth only its face value.
In "extremely fine" condition – graded XF40 to XF45+ – a brown penny will be worth about a dollar. That rises to $3 for coins in "about uncirculated" condition – AU50 to AU58+.
For a mint state brown coin, prices start at around $5 and enter double figures at MS63. Gems start at $20 for a brown coin. And the finest brown examples are graded MS66 and worth around $35.
Red and brown examples can be found in grades from MS60 to MS67. At the lowest end of that range, the value is $6, while a gem MS65 can be yours for around $27. A point higher, and the value is almost double that, at $50.
The independent coin grading agency, the PCGS, has certified three red and brown 1934 (P) pennies at MS67. But there's no public sales history for any of those coins, and the agency doesn't estimate their value.
A coin certified at that level by rival grading agency the NGC, however, sold at auction in 2021 for $57.
For red coins, values are higher and the range slightly wider – from MS60 to MS68. At MS60, a red 1934 (P) penny is valued by the PCGS at $8. Values rise gradually to $42 at MS65.
But beyond that, availability plummets and prices rise more steeply. Anything graded MS66+ or above will be worth three figures.
The top grade for this mintage, MS68, has been awarded to more than 30 red coins. The PCGS values those at $5,250 apiece.
1934 D Wheat Penny Value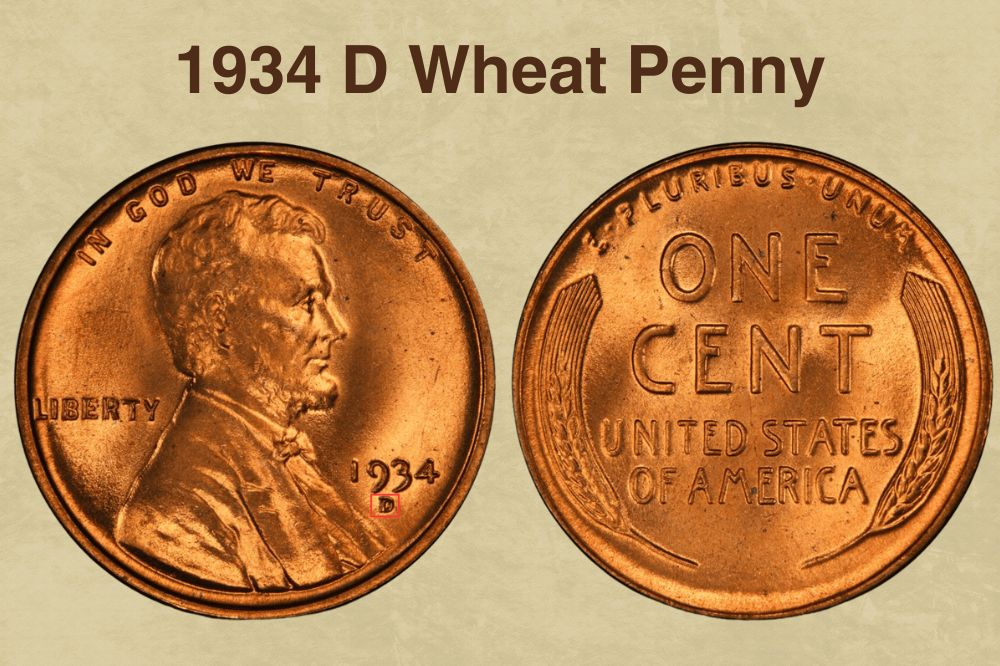 Far fewer Wheat pennies were struck in Denver in 1934 than in Philadelphia. The mintage was 28.4 million coins.
Brown coins in circulated condition nevertheless remain easy to find. It's estimated that around 2.9 million of them survive.
As a result, coins below 12 on the grading scale won't be worth more than their face value. And brown coins in "about uncirculated" grades will be worth around $8.
In mint state, values edge higher. An MS60 brown 1934 D Wheat penny is valued by the PCGS at $9, rising to $15 at MS63, and $52 for a gem MS65. The finest brown coins to have been certified by the PCGS to date are graded MS66 and valued at $70.
Red and brown examples tend to be found only in uncirculated grades. At MS60, they're worth around $10, rising to $18 at MS63, and $70 at MS65. Only one red and brown coin has been graded at MS67 to date, and that's valued at a modest $235.
Red coins are rarer and more valuable. The PCGS values an example graded MS60 at $18, and that almost doubles to $35 at MS63. A red gem will be worth at least $150.
And the highest grade to have been certified to date is MS67+. The PCGS has certified 20 coins at that level, and values them at $6,350 each.
Also read: 17 Most Valuable Indian Head Penny Worth Money
Rare 1934 Wheat Penny Errors list
1934 (P) No Mint Mark Wheat Penny, Double Die Obverse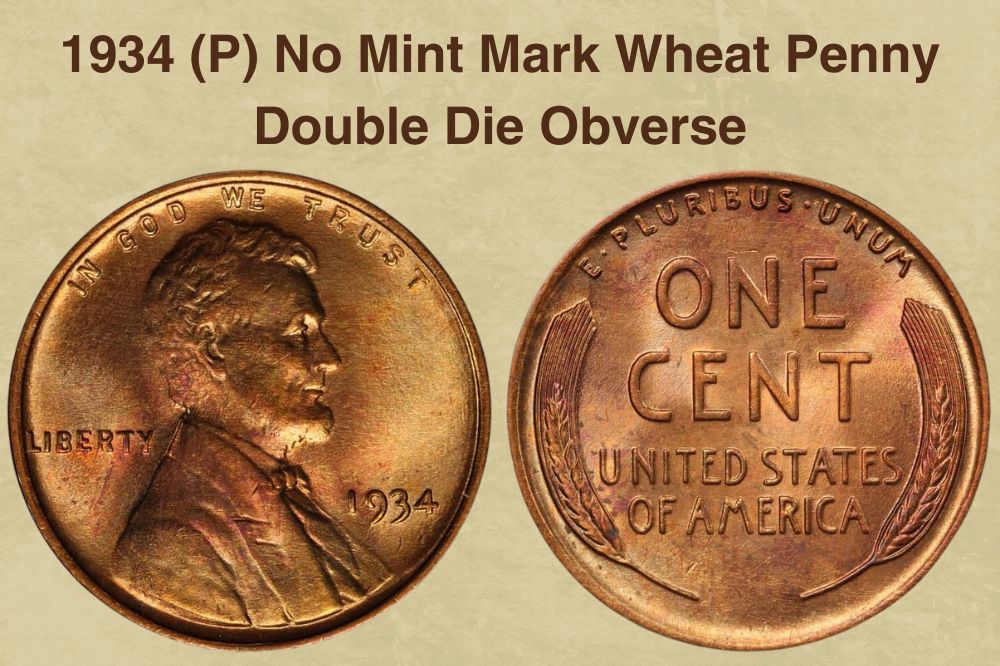 Among the 1934 Wheat pennies struck in Philadelphia are those that exhibit a type of error known as a double die obverse. That occurs during the manufacture of the die used to strike the obverse design onto the planchet.
The die has to be struck several times to capture every detail of the design in a process known as "hubbing". Any movement during that process will leave double lines on part of the design. And these are then transferred onto the coins struck by the defective die.
The value of a 1934 no mint mark Wheat penny with a double die obverse depends on its condition. A brown coin graded 15 sold at auction in 2014 for $248. But the PCGS has certified one brown example at MS66, and that's valued today at $1,350.
The value for a red and brown coin graded MS60 is $600. And the top grade to have been awarded for this color is MS65. The two error coins at that level are each worth $1,350 – the same as a brown coin a point higher on the grading scale.
For red coins, the PCGS has certified one example at MS65, and one at MS66. The former is worth a cool $2,000, but there's no sales information or value estimate for the cream of the crop.
1934 D Wheat Penny, Re-punched Mint Mark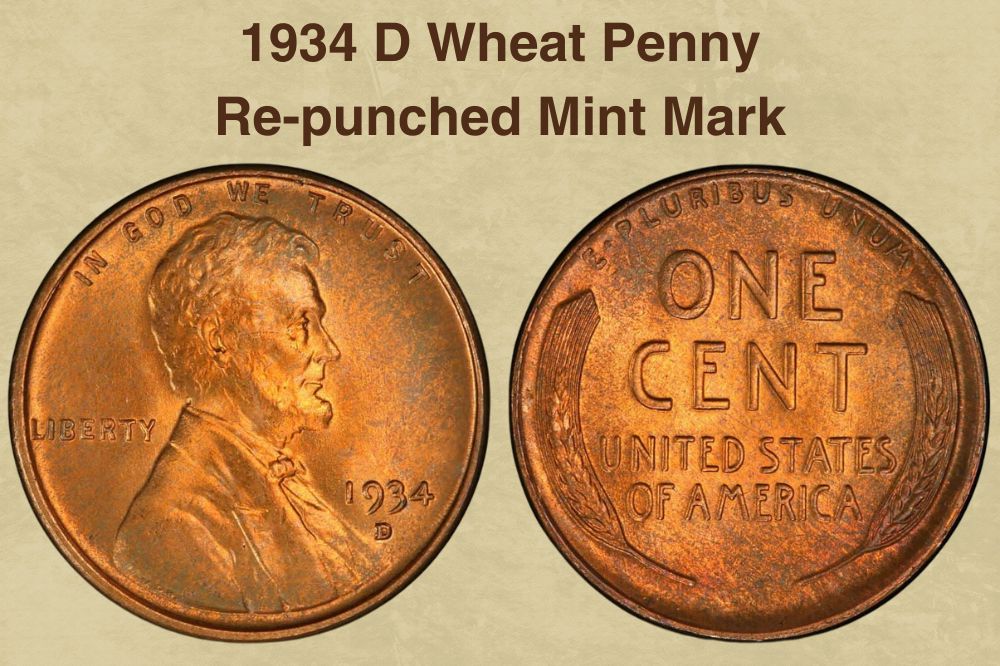 Some of the 1934 Wheat pennies struck in Denver had their mint mark re-punched. You'll probably need a microscope or loupe to spot the second D alongside the first.
Coin value again depends on condition. A coin with this error graded AU53 brown sold at auction in 2014 for $164. A year earlier, a red and brown example graded MS64 sold for $748. And a best-in-class MS67 red sold for $3,745 in 2018.
This YouTube video from Couch Collectibles shows some of the errors that can add value to 1934 Wheat pennies.
Also read: 11 Most Valuable Wheat Penny Errors
FAQs
What is the 1934 Wheat penny worth?
That depends on a number of different factors, of which condition is the most important. If your 1934 Wheat penny is brown and in circulated condition – i.e. with signs of wear and tear – it's unlikely to be worth more than its face value.
But if your coin is in uncirculated condition, especially if it's red in color, it could be worth much more. The very finest examples are worth over $6,000.
And whatever the condition of your coin, an interesting Mint error will add a premium to its value.
Is a 1934 Wheat penny rare?
There are still plenty of 1934 Wheat pennies around. The coin grading agency the PCGS estimates that over 22 million Philadelphia pennies (those without a mint mark below the date) survive to this day. The figure for Denver pennies (with a "D" below the date) is about 2.9 million.
But coins in uncirculated condition, those with a red color, and those with Mint errors are considerably rarer.