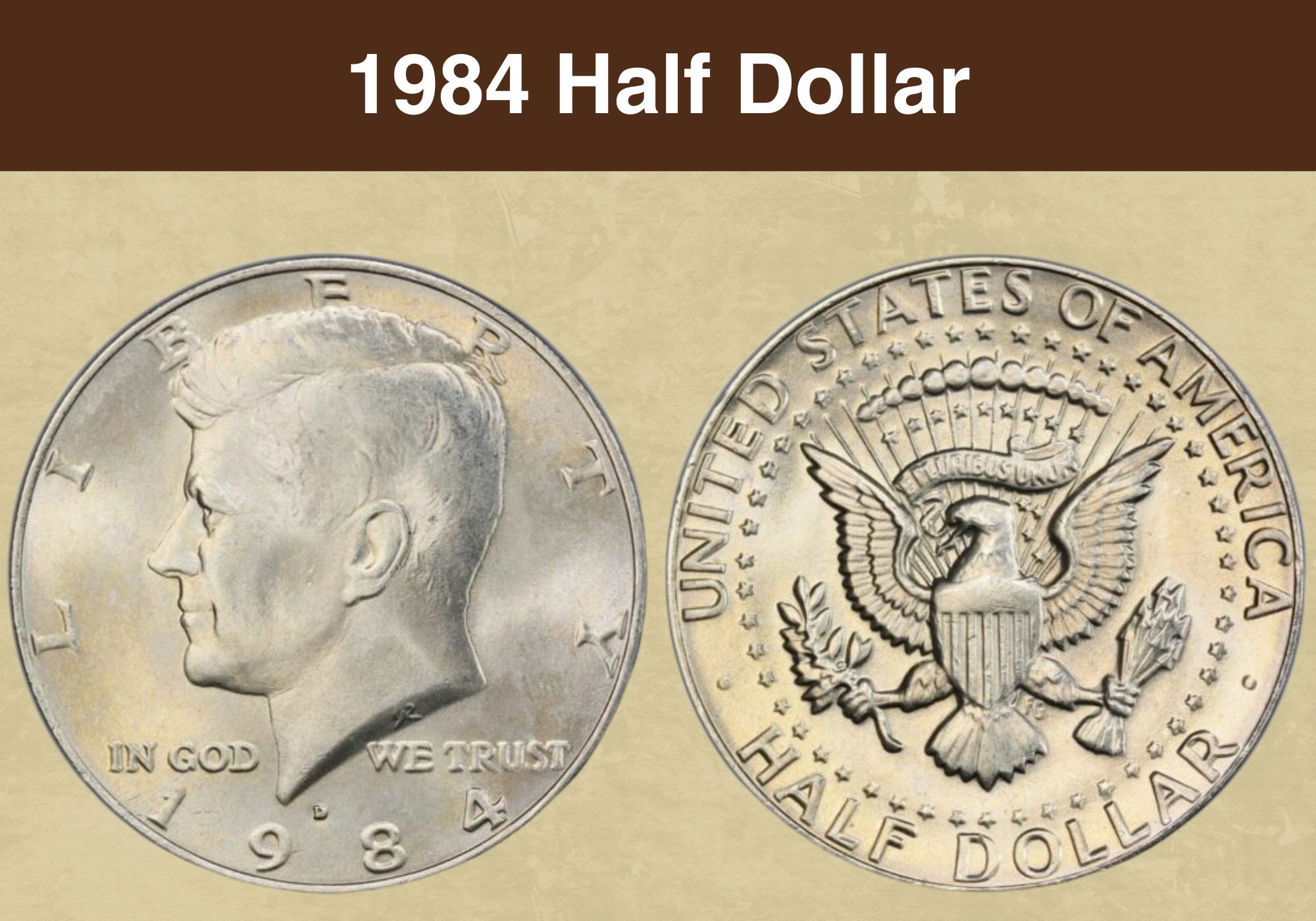 The first Kennedy Half Dollars were silver coins minted in honor of the Americans' assassinated President. That was quickly changed the following year when the US Mint started issuing 40% silver halves. Unfortunately, high precious metal prices resulted in a new change, and all half-dollars struck after 1970 were made of copper-nickel clad.
Expectedly, the 1984 Half Dollar value is not much since these coins are modern and contain only copper and nickel without any silver, unlike pieces issued in the 1960s. Only a few first-rated specimens can bring a premium of hundreds of dollars, while you can buy others for a couple of bucks.
1984 Half Dollar value Chart

Condition
1984 P dollar
1984 D dollar
1984 S dollar
MS 63
$3.38
$3.38
/
PR 65
/
/
$4.63
History of the 1984 Kennedy Half Dollar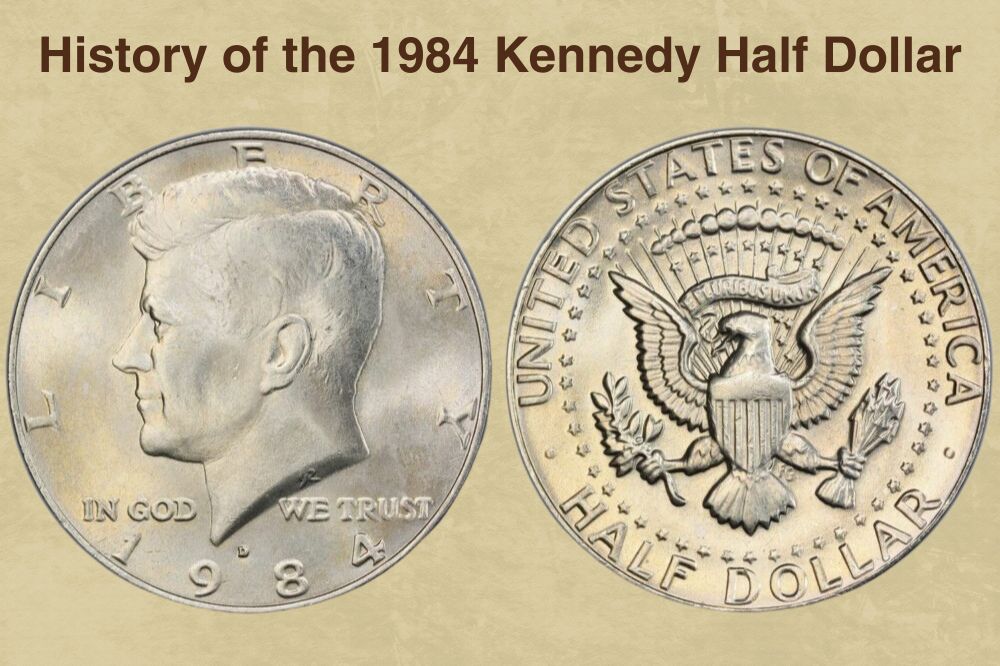 At the beginning of 1963, no one could assume that it was the last year for minting Franklin Half dollars. Unfortunately, November 22, 1963, roughly interrupted a carefree era in American lives after Lee Harvey Oswald assassinated the 35th President, John Fitzgerald Kennedy.
The US Mint officials reacted immediately, and the idea of the new coin with a murdered President on the obverse appeared within a few days. The first suggestion was to issue a quarter in his memory, but his widow found such a thing inappropriate.
She believed that no one, including her tragically killed husband, should replace the first American President's portrait. Respecting her wishes, the decision was made to mint a half dollar in honor and memory of John Kennedy.
Two engravers, experienced Gilroy Roberts and his assistant Frank Gasparro, made a miracle. They promptly completed new obverse and reverse designs based on their previous work to speed up the process.
Workers from the Philadelphia mint struck the trial strike series on December 13, 1963. President Johnson authorized it only two weeks later, on December 30, 1963, and the US Mint issued the first pieces only a few weeks later.
1984 Kennedy Half Dollar Types

Location
Year
Minted
Philadelphia
1984 P dollar
26,029,000
San Francisco
1984 S dollar (proof)
3,065,110
Denver
1984 D dollar
26,262,158
Total
/
55,356,268
The Treasury released new half-dollars into circulation on March 24, 1964, about four months after the President's assassination. All half-dollars produced that first year contained 90% silver, unintentionally encouraging hoarding.
Most Americans considered these coins memorabilia instead of regularly struck coins intended for circulation. People stayed in lines outside banks for hours to get new coins.
Even though all banks throughout the country limited purchases to forty pieces per person, 70,000 delivered Kennedy Half Dollars disappeared by noon. Respecting the high demand, the US Mint quickly increased the number of issued coins to 160 million, but it was not enough either.
Congress allowed additional minting of 1964-dated half-dollars during the following year. Consequently, the entire mintage of 410 million silver coins severely depleted the silver stocks.
That forced the next precious metal reduction in their composition based on the Coinage Act of 1965. Despite this move and the additional removal of precious metal in 1970, Americans still consider these coins collectible mementos of Kennedy's legacy.
Also read: 13 Most Valuable Franklin Half Dollars Worth Money
Features of the 1984 Kennedy Half Dollar
The Kennedy Half Dollars mintage started because of the horrible event but has continued until today. Two designers created this coin look in a short period. Gilroy Roberts designed the obverse, while Frank Gasparro came up with a solution for the reverse.
The obverse of the 1984 Kennedy Half Dollar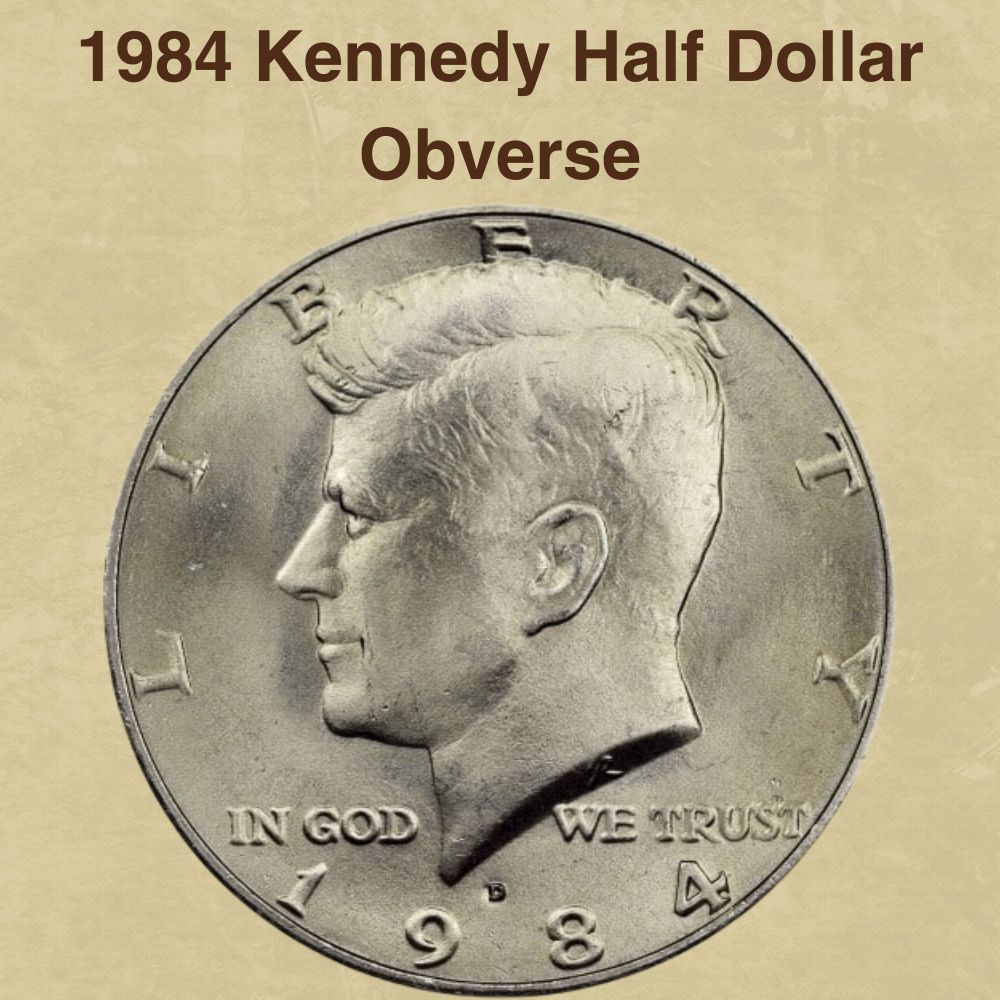 The 1984 Half Dollar obverse includes a sizable Kennedy's profile, partially covering the word LIBERTY written on the top edge of this lovely coin.
The lower half-dollar part is reserved for IN GOD/WE TRUST, divided by the President's neck truncation. The mint mark and the denomination are struck close to the bottom coin rim.
The reverse of the 1984 Kennedy Half Dollar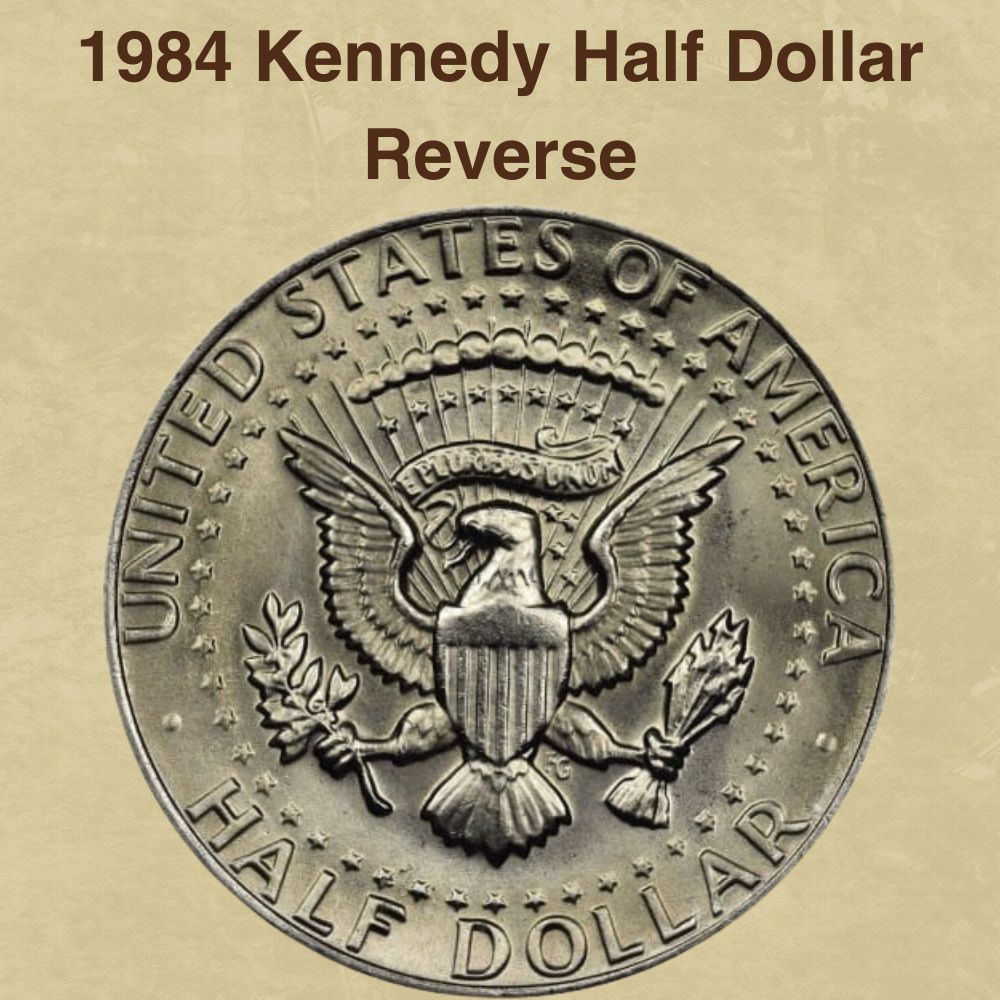 The 1984 Half Dollar reverse includes a heraldic bald eagle representing the presidential seal. It holds a shield over its chest while its claws grab an olive twig and arrows. The FG initials are placed under the bird's left leg.
Above the eagle's head is a band with a written Latin motto, 13 stars, and the same number of dots. An additional 50 stars surround the bird. Those numbers symbolize American states, the first 13 and the current 50. The designer engraved the UNITED STATES OF AMERICA and HALF DOLLAR along the coin rim.
1984 Kennedy Half Dollar Details

Face value
Fifty cents ($0.50)
Shape
Round
Compound
Copper and nickel in a 91.67%: 8.33% ratio
Coin thickness
0.08464 inches (2,15 mm)
Coin diameter
1.20472 inches (30.61 mm)
Coin weight
0.3646 ounces (11.34 g)
Edge
Reded (150 reeds)
Other features of the 1984 Kennedy Half Dollar
The 1984 Kennedy Half Dollars are round fifty-cent coins with 150 reeds along the edge. They are made of a pure copper center with an outer layer of copper-nickel alloy and weigh precisely 0.3646 ounces (11.34 g).
All pieces have a diameter of 1.20472 inches (30.61 mm), while their thickness is 0.08464 inches (2,15 mm) without deviation.
Also read: 13 Most Valuable Kennedy Half Dollar Worth Money
1984 Half Dollar Value Guides
The mints in Philadelphia and Denver issued almost the same number of 1984 Kennedy Half Dollars. Only a small part of the 55,356,268 produced coins came from San Francisco, which was responsible for proof production.
1984 P Half Dollar Value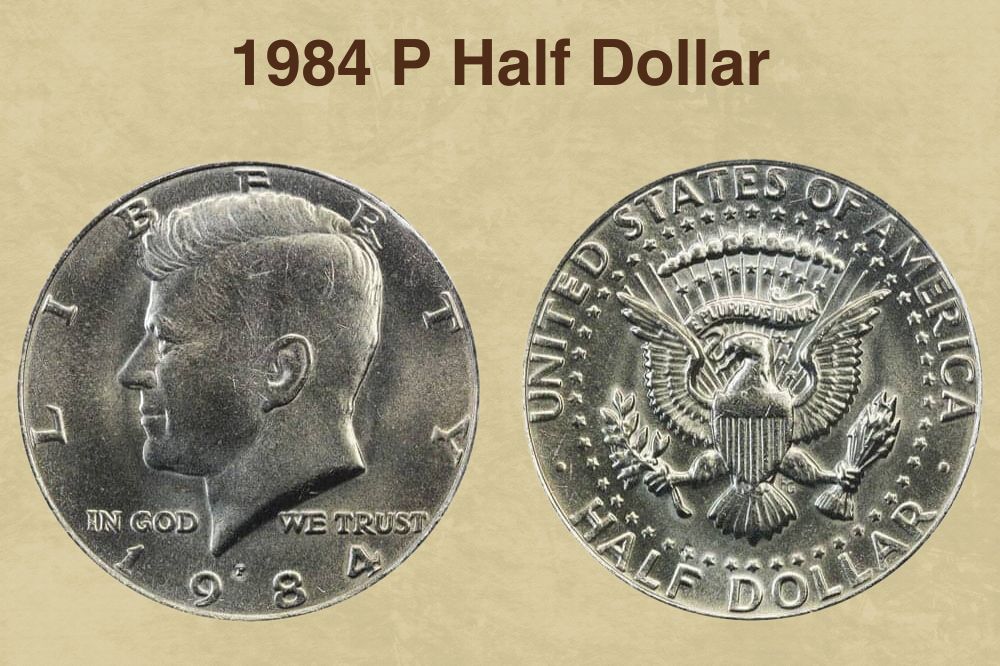 The half-dollar mintage from Philadelphia in 1984 was 26,029,000 coins from regular strikes. Since these coins with the P mint mark are still modern and widely available, you can expect circulated pieces to be worth only their face value.
Even though most half-dollars in the mint state are worth more than 50 cents, they are still affordable for most collectors. For instance, all specimens up to MS 63 cost under a dollar, while the price range for better-ranked ones is the following:
The 1984 Kennedy Half Dollar in MS 64 grade cost approximately $3
The 1984 Kennedy Half Dollar in MS 65 grade cost approximately $6
The 1984 Kennedy Half Dollar in MS 66 grade cost approximately $15
Only coins rated MS 67 are more expensive, with an average assessed price of $260. Despite that, one piece reached $1,116 at Heritage Auctions on August 5, 2014. That was a fantastic price for one modern half-dollar that doesn't contain any precious metal.
1984 D Half Dollar Value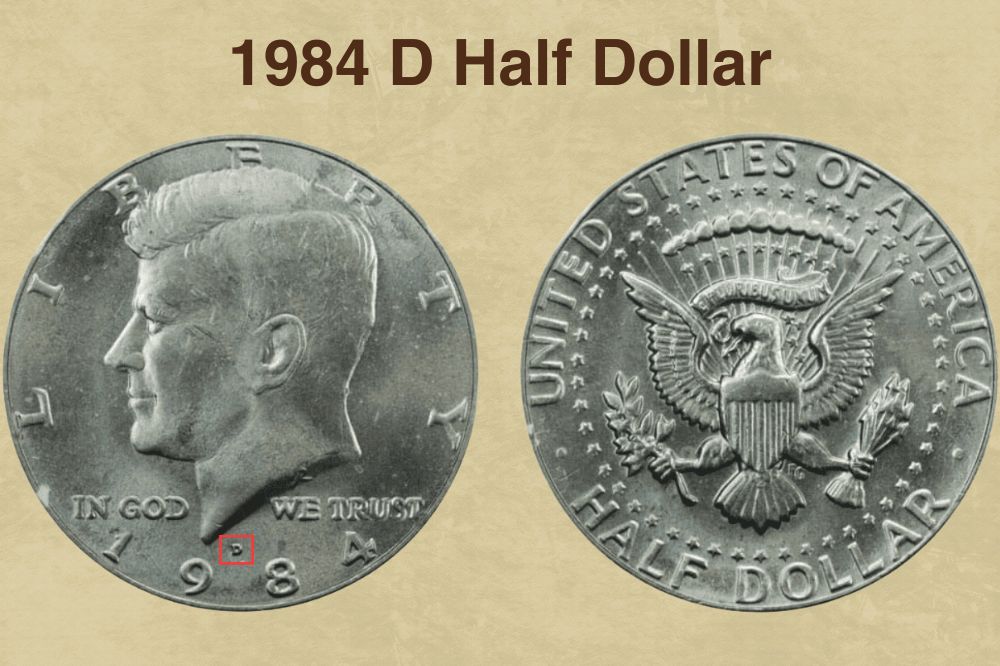 The precise mintage in the Denver mint in 1984 was 26,262,158 half-dollars with the D mint mark. You can expect that these modern coins are worth only their face value after years spent in circulation. However, those in About Uncirculated condition can cost about $0.70.
Expectedly, even specimens in the lower-graded mint state are affordable and cost $0.75 to $1. Coins rated MS 64 are available for $3, while you can buy one with MS 65 ranking for about $6.
The best-preserved half-dollars from this mint are those in MS 66 and MS 67 grades, and their estimated price range is $40 to $660 at the current coin market. Interestingly, one of the rarest Kennedy Half Dollars in MS 67+ ranking reached a far higher sum at an auction organized on October 3, 2016.
That day, one collector paid an incredible $3,760 for this coin. The hope remains that he knew what he was doing and that this investment could pay off in the future.
1984 S Half Dollar (proof) Value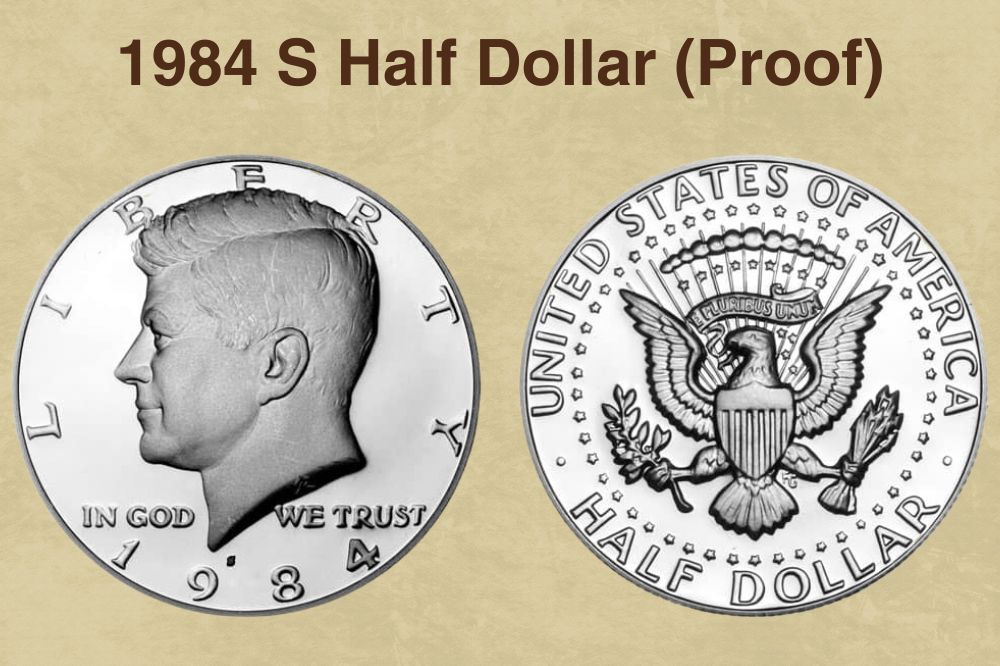 The San Francisco mint was responsible for proof production in 1984. A total amount of 3,065,110 coins with the S mint mark were issued for collectors.
Nowadays, only those with deep cameo contrast are worth collecting, and even almost-perfect pieces are relatively inexpensive. Depending on each coin's quality, you can count on prices as the following:
The 1984 S Kennedy Half Dollars graded PR 64 cost $3.75
The 1984 S Kennedy Half Dollars graded PR 65 cost $4.25
The 1984 S Kennedy Half Dollars graded PR 66 cost $5
The 1984 S Kennedy Half Dollars graded PR 67 cost $6
The 1984 S Kennedy Half Dollars graded PR 68 cost $7
The 1984 S Kennedy Half Dollars graded PR 69 cost $11
The 1984 S Kennedy Half Dollars graded PR 70 cost $40
Interestingly, the auction record for the best-rated half-dollar is much more than the average assessed price for this coin type. One collector bought it at Heritage Auctions for $690 on February 1, 2003.
Also read: 11 Most Valuable Half Dollars In Circulation
1984 Kennedy Half Dollar Grading
Grading the 1984 Kennedy Half Dollar is the most reliable way to determine each coin's condition and discover potentially valuable errors. On the other hand, these modern pieces are rarely worth more than a few dollars.
Since making their estimation is often unprofitable, you can use the Sheldon scale and assess your piece by following guidance. Then, you can decide whether to have it checked professionally or not.
Rare 1984 Kennedy Half Dollar Errors List
As you know, the 1984 Kennedy Half Dollars were produced only four decades ago. Despite the modern technology, the US Mint still has a problem with equipment imperfections that affect the coins' look. Therefore, you can find several errors that make these pieces more expensive. Let's take a look.
Broad strike error
The 1984 Half Dollars are relatively affordable coins, but this particular error can increase their value to at least $120.
You can recognize such specimens because they are thinner and have a more sizable diameter than regular ones. The reason for this appearance is a broken retaining collar and the impossibility of keeping the planchet inside it.
Double-struck error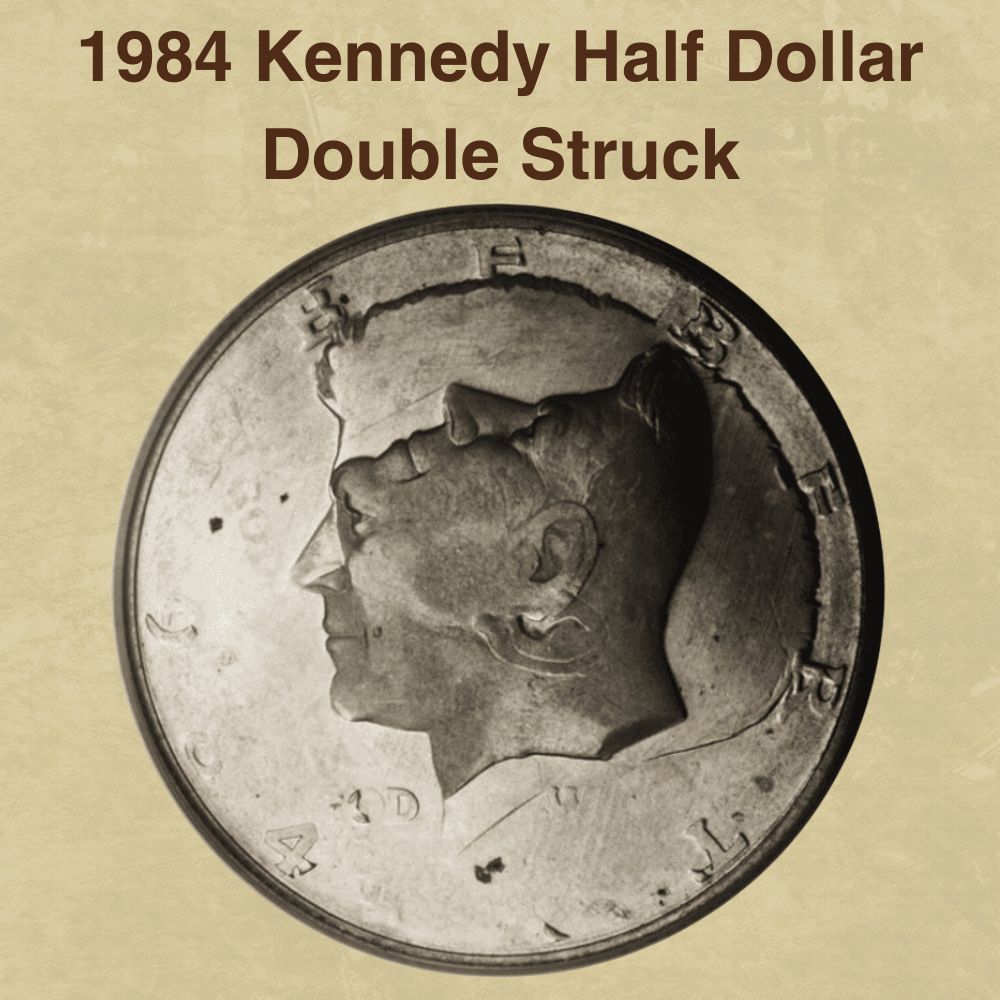 This error type occurs when the struck coin fails to be removed from the dies on time, so it gets one more off-center strike. Since one 1984 PR 62 Kennedy Half Dollar with this error reached $5,000 at an auction, numerous collectors carefully look for similar pieces.
Off-center error
The 1984 Half Dollars struck off-center has a partially visible design and a half-crescented blank area along the edge. In most cases, their value depends on its size, represented in percentage.
Pieces with 40% to 50% off-center are always collectible with the condition that the date is recognizable. Since there are not many excellently-preserved coins with this error, you can expect to get about $1,000 for one.
Rotated die error
Sometimes, dies became loose and rotated, resulting in the coins with improperly aligned obverse and reverse sides. In this case, the design on one side was offset 90 to 180 degrees relative to the other. Such coins are unusual, and collectors are prepared to pay a premium for one such piece.
FAQ about the 1984 Kennedy Half Dollar
What makes a 1984 Kennedy Half Dollar rare?
Since the 1984 Half Dollars are less than 40 years old, it is expected to find them in all possible grades at affordable prices. Only the top-graded pieces can be considered conditionally rare, but they are still available at higher prices.
Which 1984 Kennedy Half Dollars are precious?
The 1984 D MS 67+ Kennedy Half Dollar was sold to one collector for $3,760 on October 3, 2016 at Heritage Auctions
The 1984 P MS 67 Kennedy Half Dollar was sold to one collector for $1,116 on August 5, 2014 at Heritage Auctions
The 1984 S PR 70 Kennedy DCAM Half Dollar was sold to one collector for $690 on February 1, 2003 at Heritage Auctions
How much is the 1984 P Kennedy Half Dollar worth?
Most 1984 half-dollars from Philadelphia are worth less than a dollar, but better-ranked pieces cost $3 to $15, depending on grade. Be prepared that those rated MS 67 have an assessed price of $260, while the auction record from 2014 is a surprising $1,116.
What is the most pricey Kennedy Half Dollar?
The priciest Kennedy Half Dollar from the Philadelphia mint is the 1964 SMS SP 68 coin ($156,000 in 2019)
The priciest Kennedy Half Dollar error is the 1964 PR 69 DCAM Accented Hair coin ($45,600 in 2022)
The priciest Kennedy Half Dollar from the Denver mint is the 1964 D MS 68 coin ($22,325 in 2016)
The priciest Kennedy Half Dollar from the San Francisco mint is the 1968 S PR 70 DCAM coin ($21,600 in 2017)